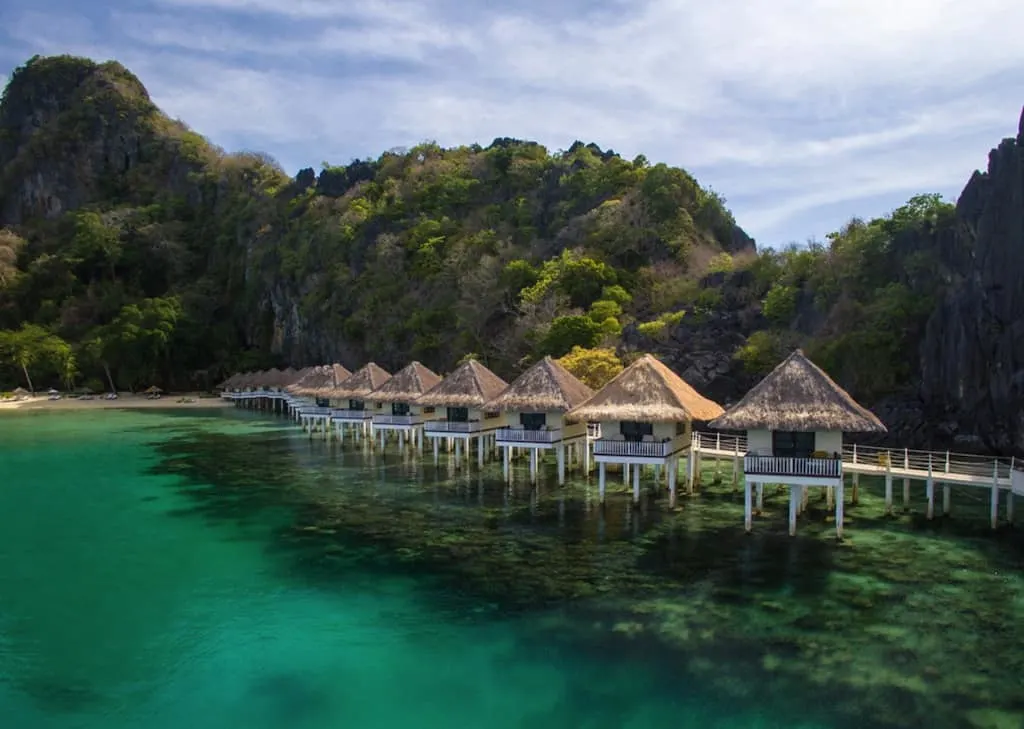 My arrival into what I call "Heaven on Earth" was nothing short of spectacular! If you're trying to choose where to go on vacation and the Philippines is on your radar, then man, do I have the place for you?! Palawan El Nido Resorts will blow you away! In fact, I have not seen such pure beauty in a tropical island setting in quite some time. But I do admit that I agree with Conde-Nast Traveler Magazine when they named Palawan El Nido as the best island paradise in the world!
What's in this post:
hide
✦ Palawan El Nido ✦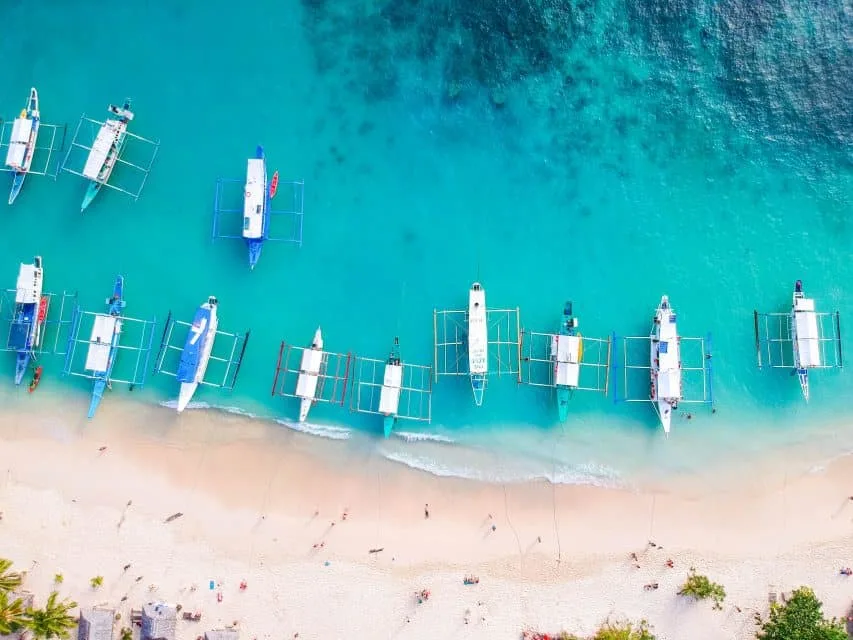 ✦ Simply Paradise!
I am almost positive that you have seen photographs of the jutting limestone formations that rise up above the crystal clear waters near El Nido. This area is one of the most popular destinations in the Philippines right now. However, the town of El Nido is not quite as pleasant, since the infrastructure hasn't caught up with the number of tourists that have started to come its' way. And this means a lot of construction, questionable toilets, contaminated water, and higher prices than you will want to pay.
So check out our guide to Palawan El Nido of things to do before you get here, so you can properly prepare for everything that you will need on your upcoming trip! It provides you with lots of things to do once you get there!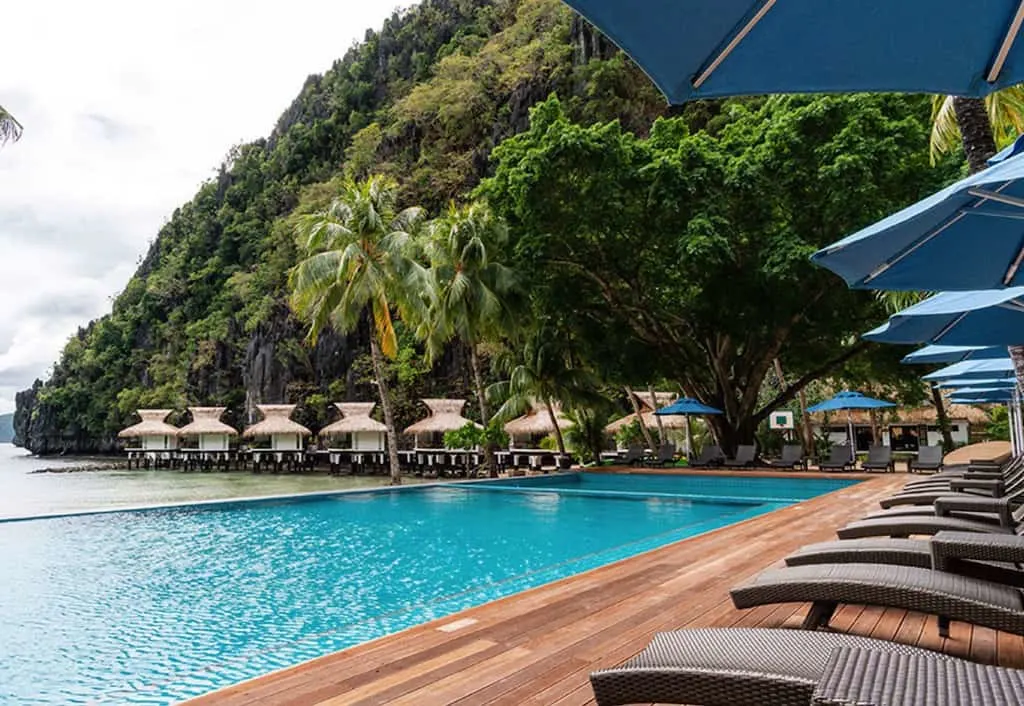 ✦ Where are the Palawan Islands?
You can locate Palawan in the map below pictured in red as an archipelago on the western part of the Philippines as a group of just over 1700 islands. It is a huge concentration of islands, but it is sparsely populated in the region, which makes it the perfect place for you to visit without the massive crowds. The landscapes are scenic and the beaches are beyond gorgeous. Some call the area "the last ecological frontier of the Philippines" because of its high biodiversity. And I couldn't agree more!

✦ How to Get to El Nido Palawan
Fortunately for you, they have a fairly new airport that has been built just 15 minutes outside of the town of El Nido (ENI), and AirSWIFT operates numerous flights a day between El Nido and other popular tourist destinations in the Philippines including Manila, Boracay, Busuanga (Coron), and Cebu. For me, I flew into Manila, spent the night in an airport hotel, and got up early the next day for my AirSwift flight to El Nido Palawan.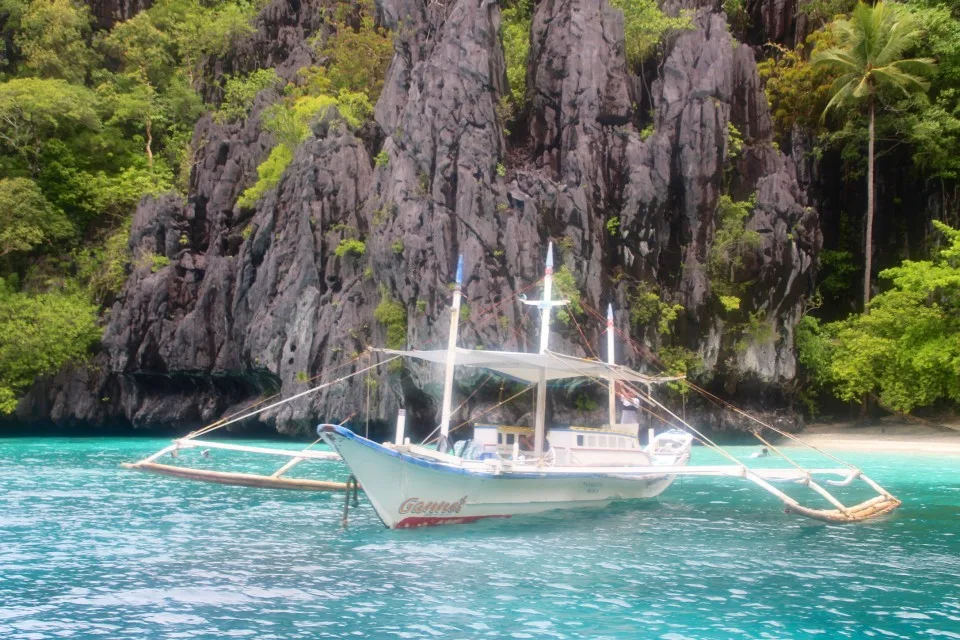 ✦ Jeepney's Buses Pick Up!
Once you land on the Palawan airstrip, you will see the colorfully decorated Jeepneys (which are traditional Jeep buses) that bring people back and forth to the airport from the panga boats (called Bangka here in the Philipines). Once your boat has arrived, it will take you to your specific island resort.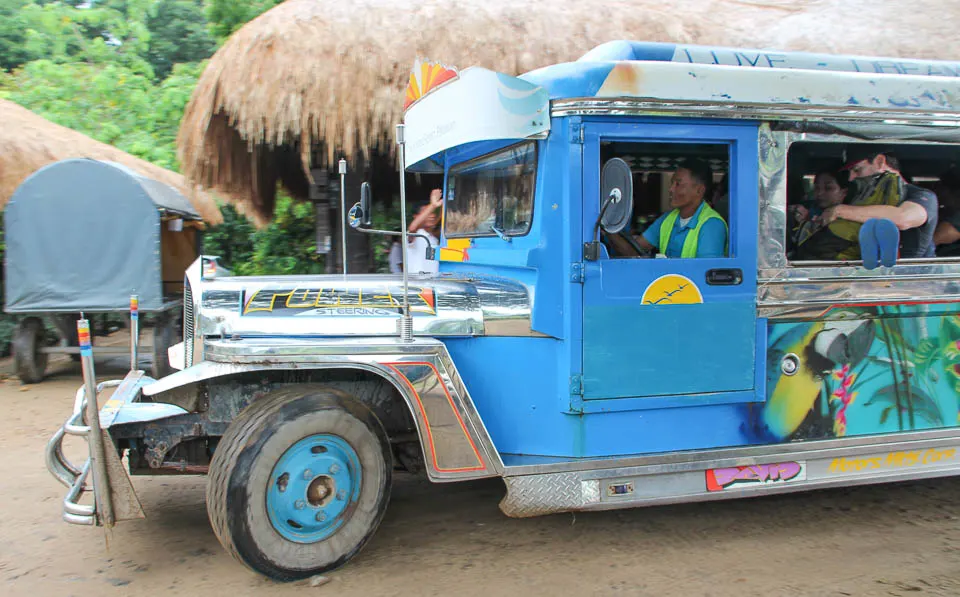 ✦ El Nido Palawan – Things to Do During Your Stay
My first reaction to arriving in Palawan El Nido was: "Wow!" This beautiful resort area in the Philippines is mind-blowing with its serenity, beauty, and pristine reef and beaches. Once you have sunk deep into your thousand thread count sheets, tanned in the sun, and walked from one end of the island to the other at the Palawan resorts, you will wonder, "What else is there to do in El Nido, Palawan?"
Well, stay tuned, as I've got you covered with my 10 favorites Palawan El Nido things to do! But before we do that, let's talk about where to stay.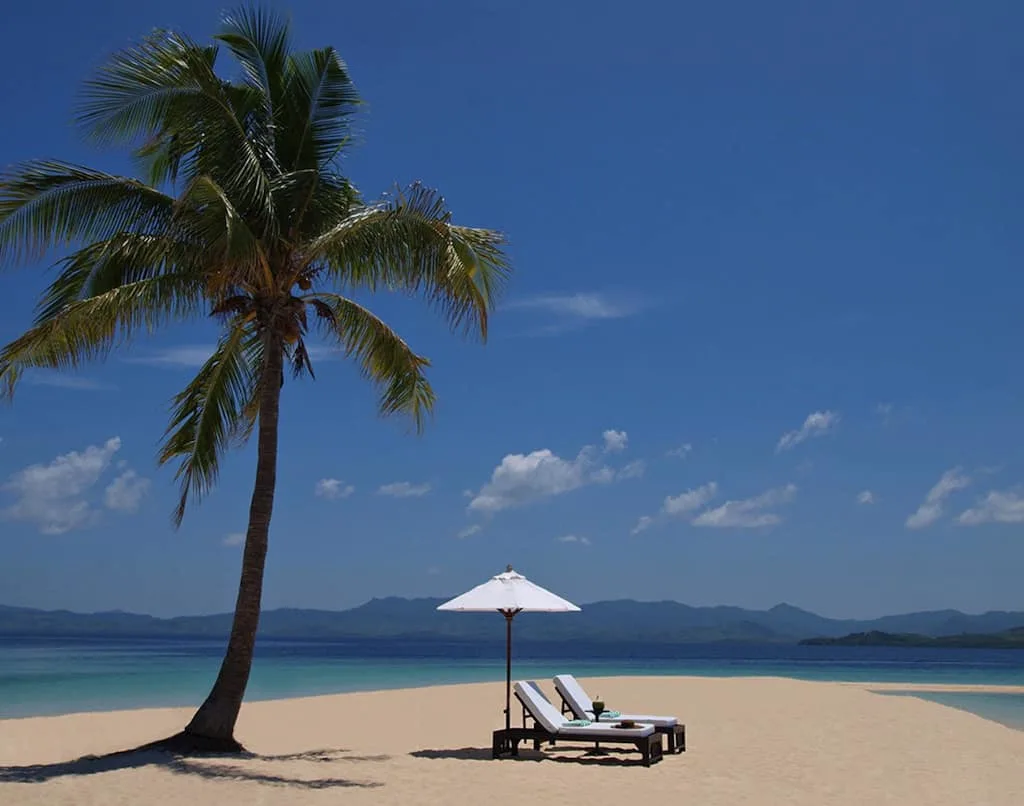 ✦ Where to stay? Palawan El Nido Hotels
Most of the places to stay in El Nido are in the town of El Nido itself. I was blessed to be a guest of El Nido resorts and so I was able to have a few luxury experiences to check out their group of hotels! El Nido resorts are a collection of luxury, sustainable resorts, located on four different islands in the El Nido archipelago. They occupy a truly special spot in El Nido.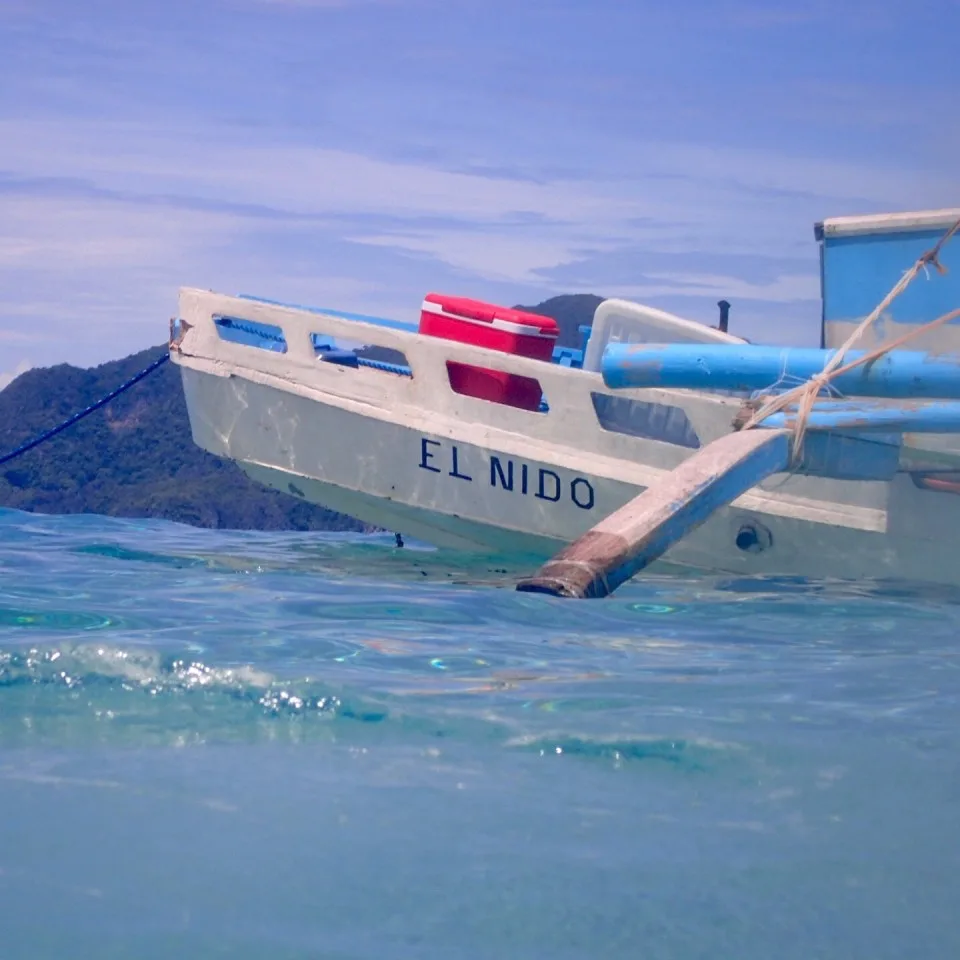 Further construction on the islands in the archipelago has been halted, meaning that the only chance you'll have to stay on an island is with the El Nido resorts. These Palawan El Nido beach hotels offer a truly unique experience. To get to the hotels, a transfer by boat is needed. You will be whizzing through the turquoise waters of the bay in no time! If you're looking for the best place to stay in El Nido, then look no further than Palawan El Nido Resorts.
---
Read more about our experience in the Philippines: Our stay with El Nido Resorts
---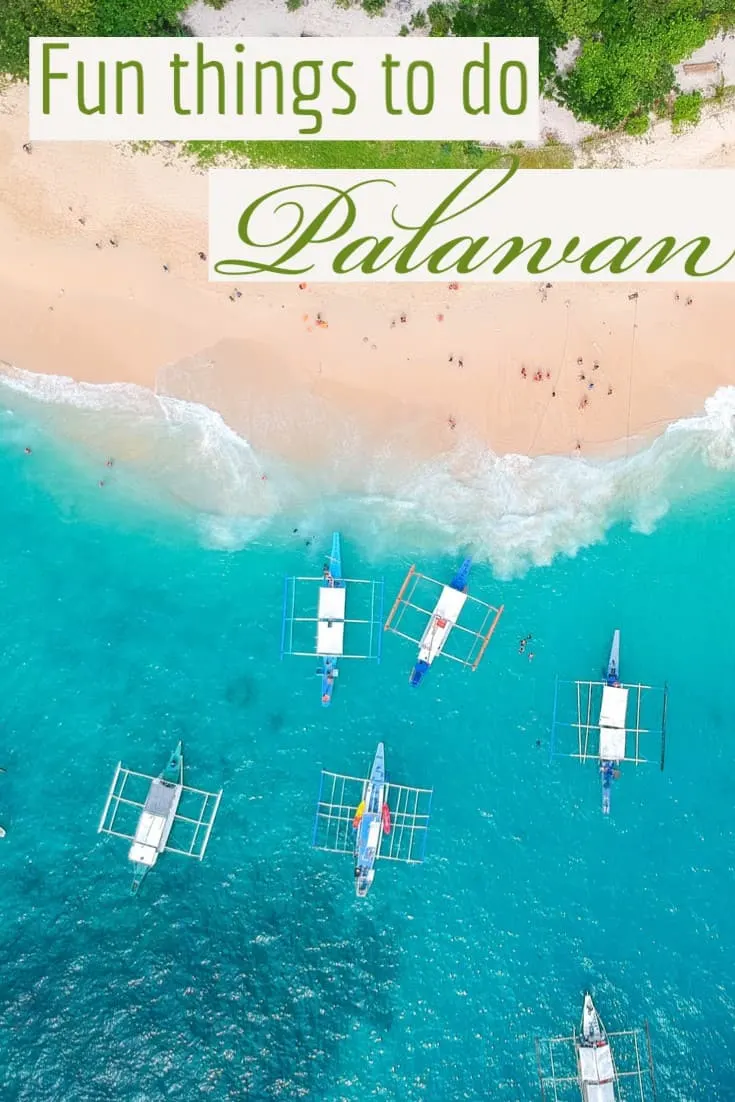 ---
Once you can tear yourself away from the amazing private beaches and hotel facilities, here are some tips on some of my Palawan favorite things to do.
---
✦ Palawan El Nido Things to do: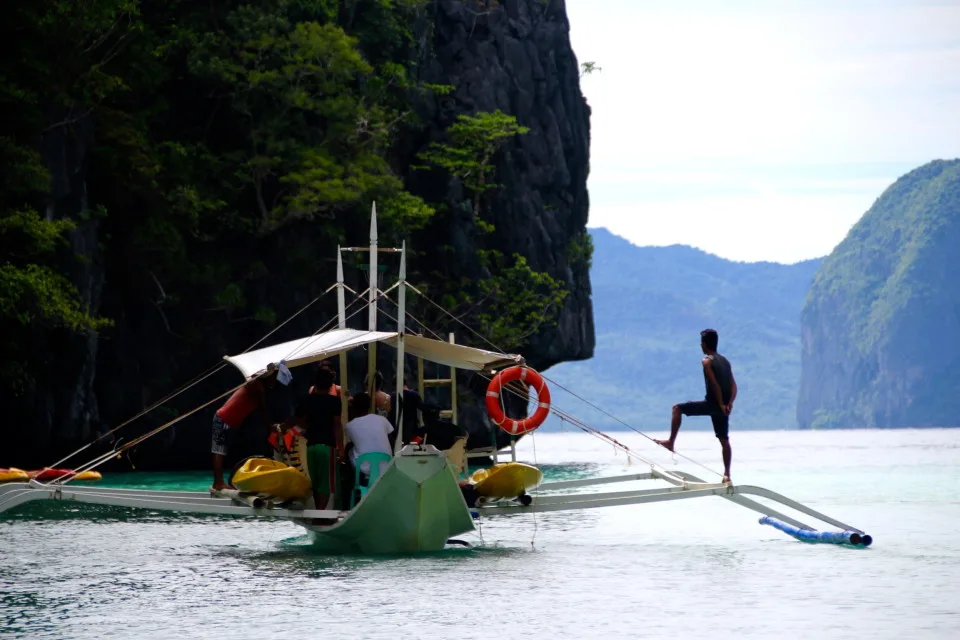 ✦ Visit Secret Beach
Secret beach, on Matinloc Island, is a pocket of white, sandy beach at the corner of a sinkhole that is inaccessible by boat. It is surrounded by steep limestone rock jutting out of the ocean. To reach it, you must swim underwater and go through an opening. It is a piece of beach that is surrounded by limestone cliffs on all sides.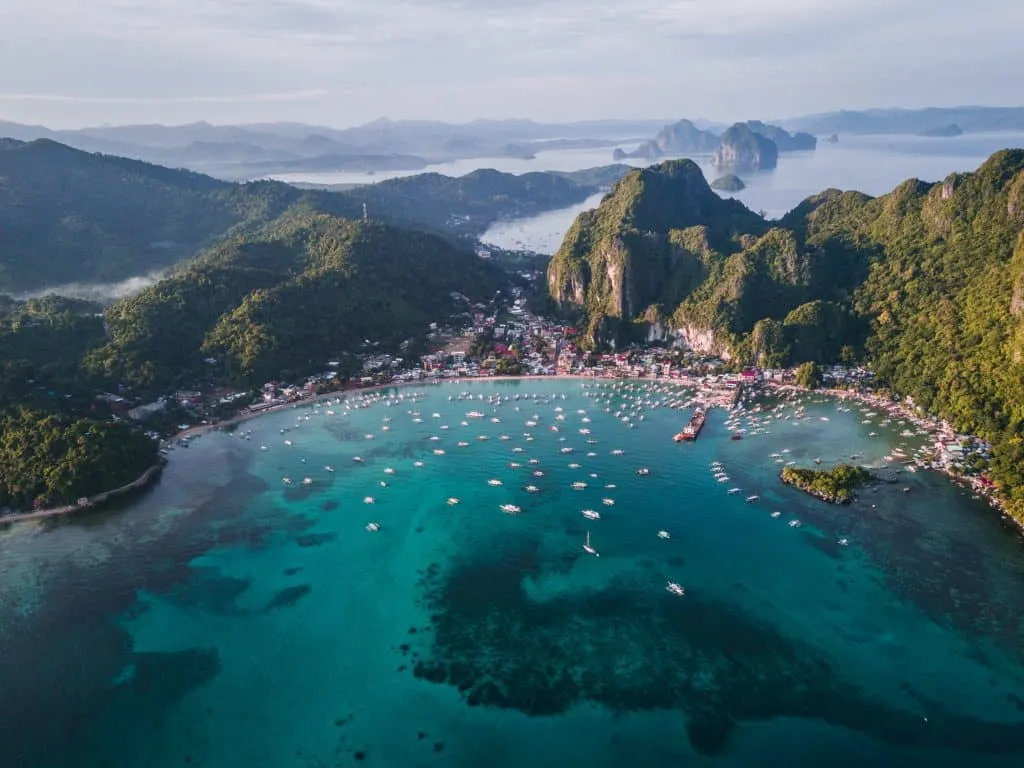 ✦ Go Scuba Diving in Bacuit Bay
As a diver, this has always been on my diver's wish list. There are 20 dive sites in Bacuit Bay alone! The Bay is also home to five species of marine turtles, four of which are endangered. This area is a naturally protected area from the government and at one time was a turtle sanctuary, so there will be plenty of creatures to see in the underworld of Palawan Philippines! If you are not a diver, don't worry, there is still plenty to see when you go snorkeling.
Right off the beach (accessed by Banca boat), we went on a black-tipped reef shark snorkel, where immediately upon entering the water we spotted 2 large sharks. Then we spent hours just hovering over the gorgeous local reef right off of Pangulasian Island where one of the Palawan El Nido Resorts finds a home. The limestone cliffs in Palawan, Philippines are natural attractions to a diverse variety of undersea creatures.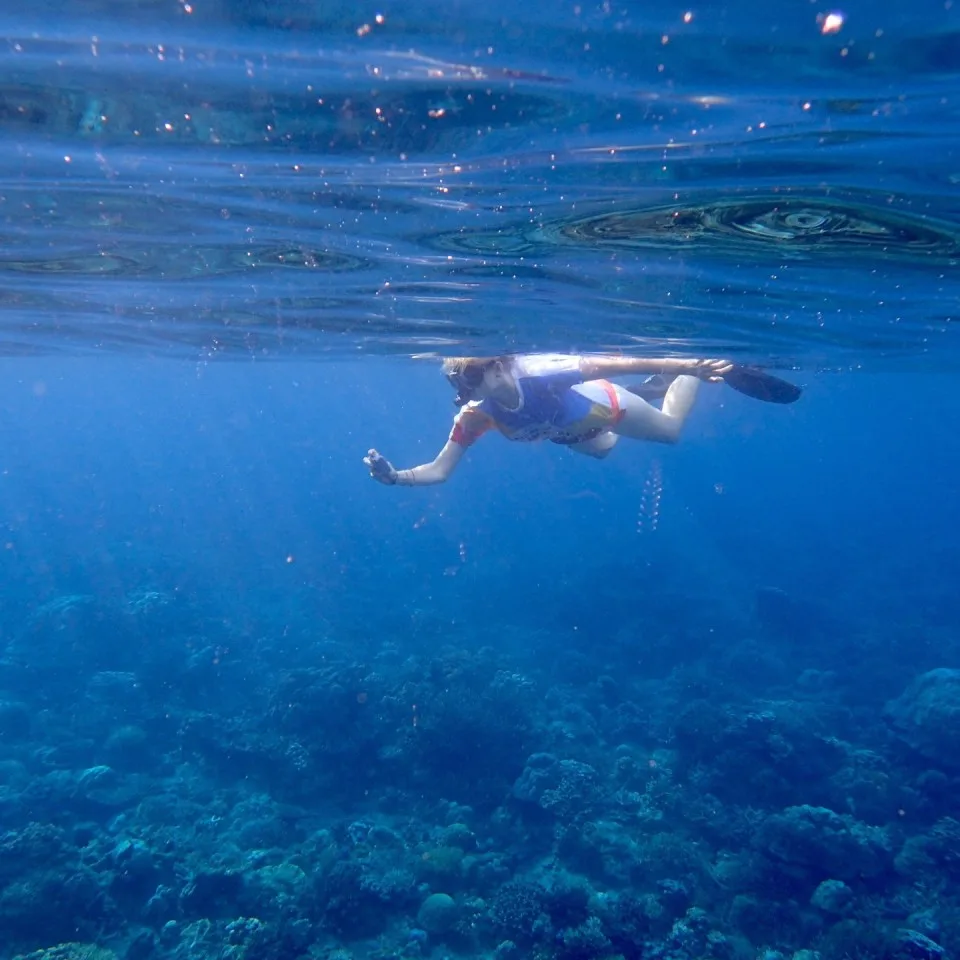 ✦ Visit Matinloc Shrine
Another one of those things I did not get to do but heard it was recommended quite often, so I wanted to add it to the list. It is an abandoned shrine to the Virgin Mary. Many people dock here for the day to take a hike for viewpoint photos, as you can see the entire channel running between the islands.
✦ Eat French, Spanish, and Asian Fusion Cuisines
There are different Palawan resorts and islands that offer places to eat and to spend the day. We took a day trip to Lagen Island Resort Palawan (another Palawan El Nido Resort), as well as has lunch on Miniloc Island. Don't think you are stuck eating at only the island you are staying on, as there is plenty of places to eat around here. There are so many fantastic restaurants that you will have a difficult time deciding where to eat.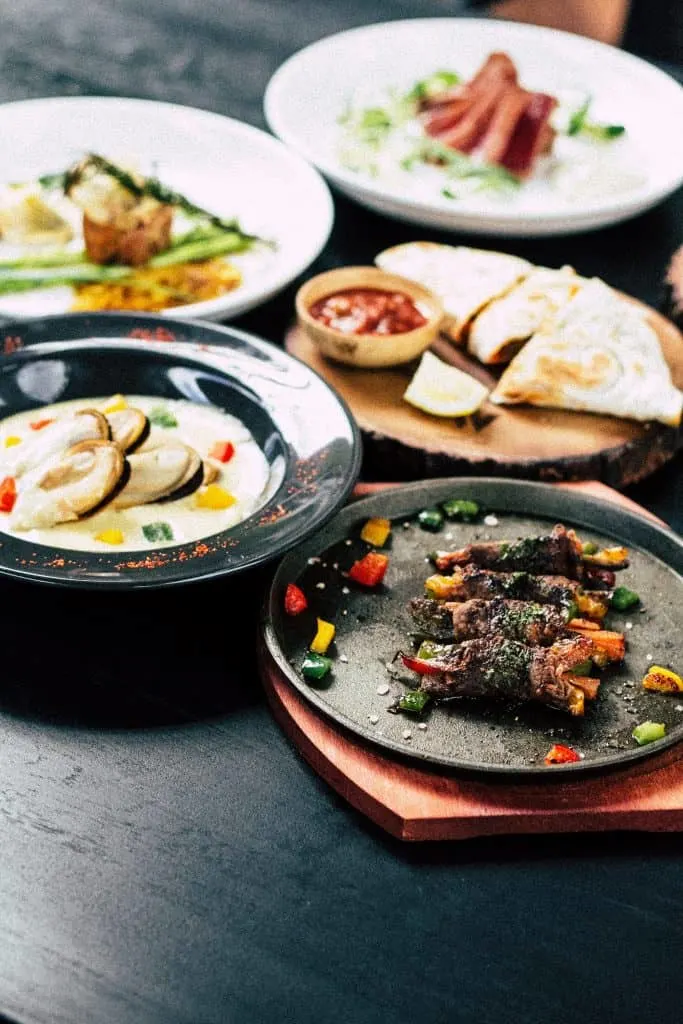 You'll find everything from Thai food to pizza and everything in-between. Mostly what you won't find is actual Filipino food! This did surprise me, but they actually cater to the Westerner palate. However, I did find tocino, which is a sweet cured pork with garlic rice. So be sure an try to find it on the breakfast menu during your stay at El Nido.
✦ Have a Beachfront Villa Massage
The staff at El Nido Resorts will set up your room for an in-suite massage so that once you receive your one or two-hour massage and/or scrub, you can go straight for a quick shower or to your comfy bed of thousand count thread sheets. You choose.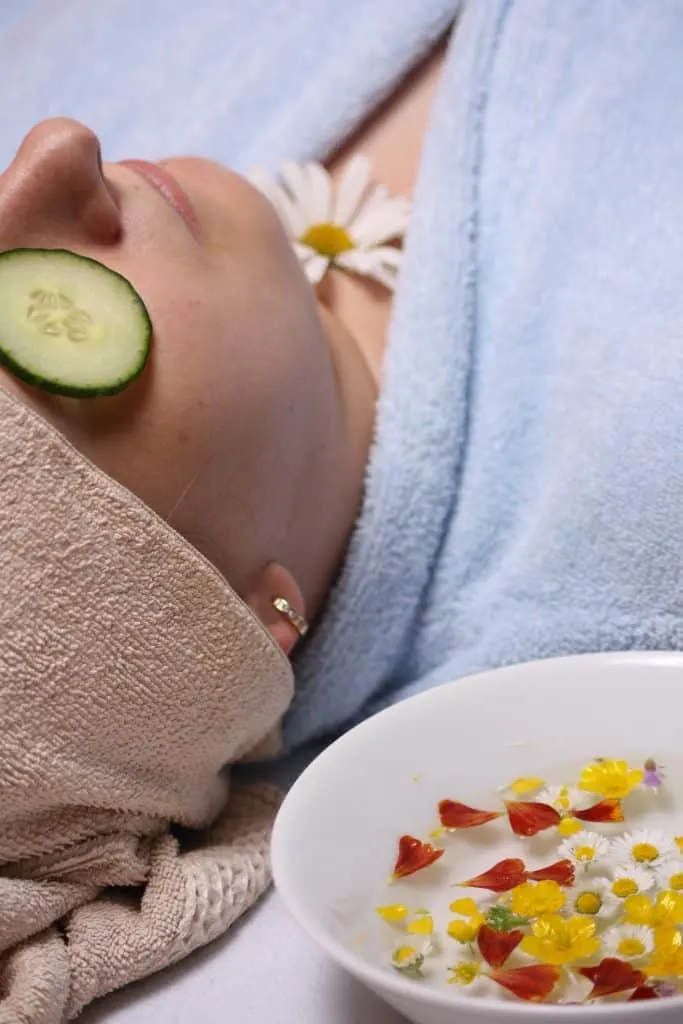 ✦ Pop a Bottle of Bubbly on a Sunset Cruise
The sunsets really are gorgeous here and why not take an evening to glide out on the water and enjoy the view? Watch the radiant sun slowly descend into the deep blue sea. This is a perfect way to cap off a memorable day.
✦ Go to the Spa at El Nido Resorts
I am sure I won't have to pull your leg to try an El Nido massage, but the spas of El Nido offer a variety of Asian and European body treatments as well as traditional Filipino hilot massages, so be sure to book a day to relax and do nothing.
✦ Swim Through the Hole at Secret Lagoon
This is typically the #1 thing on everyone's list when they come to Palawan and I am no exception. I couldn't wait to do this, but alas, the tide was too high when we arrived and I was unable to do this bucket list item, so I must return to Palawan El Nido!
✦ Stop for a Coconut and a Swim at Entalula Island
I enjoyed an afternoon of relaxing cool waters, swimming, and standing in the waters near Entalula island. The sand is talcum-powder soft, and is a perfect place for a picnic or add to the tropical flavor of the trip by sipping a rum-filled coconut. Entalula Island is a quick Banca boat ride from the El Nido Resorts.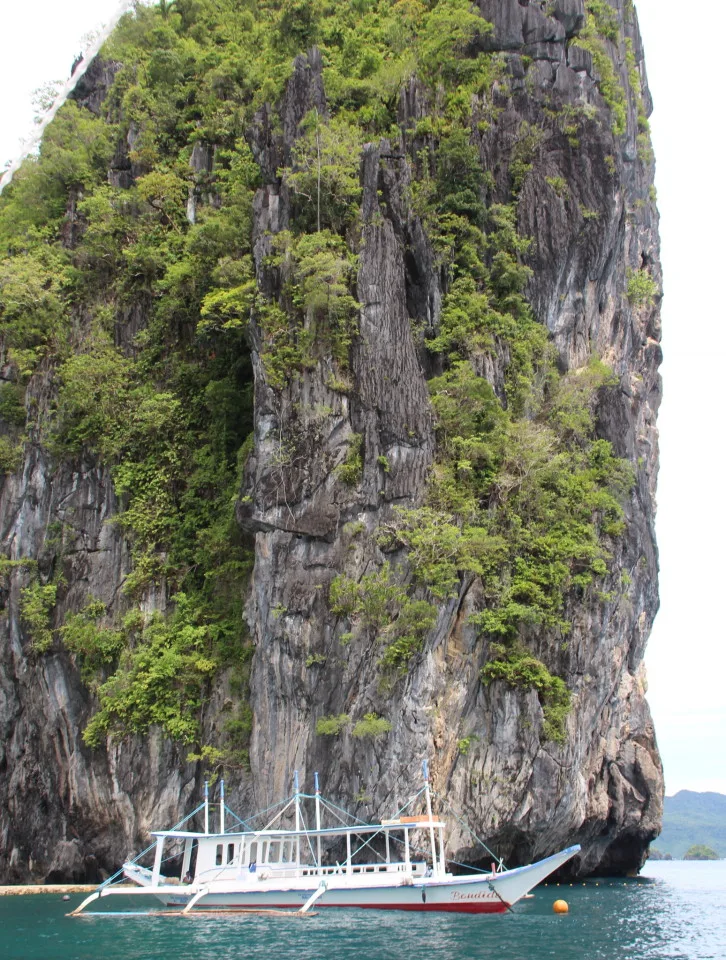 If you're staying in El Nido town as opposed to with El Nido Resorts, there are plenty of tour operators offering tours of El Nido's archipelago of Islands – which is, after all, the main attraction of El Nido. The tour companies all offer the same packages – creatively(!) named Tour A, Tour B, Tour C, and Tour D. The main differentials between them are the islands visited, snorkeling opportunities. and some packages require going further out to sea. In general, the tours that go further away offer more of an opportunity to get away from the tourist crowds.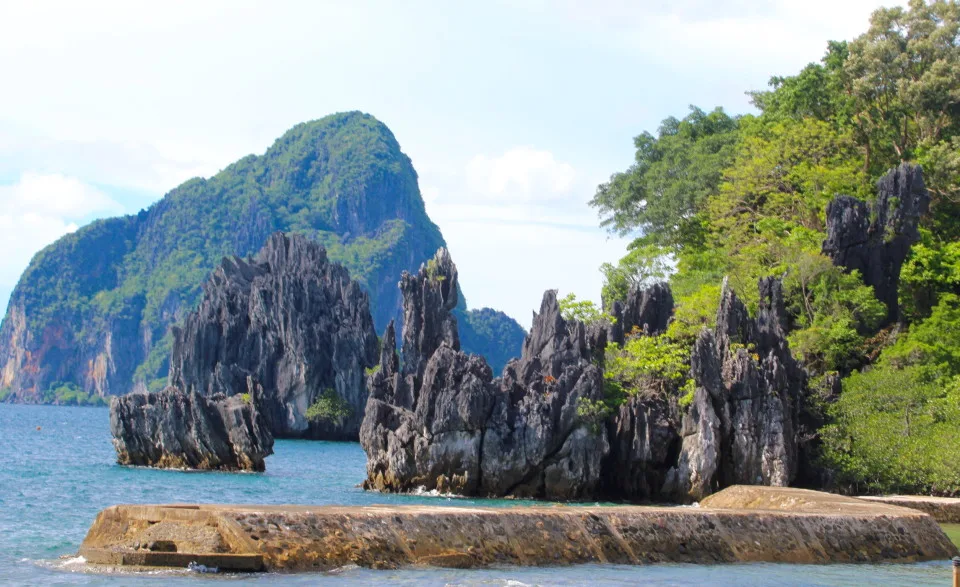 Interested in Reading more about Palawan? Read this article about Coron in Palawan.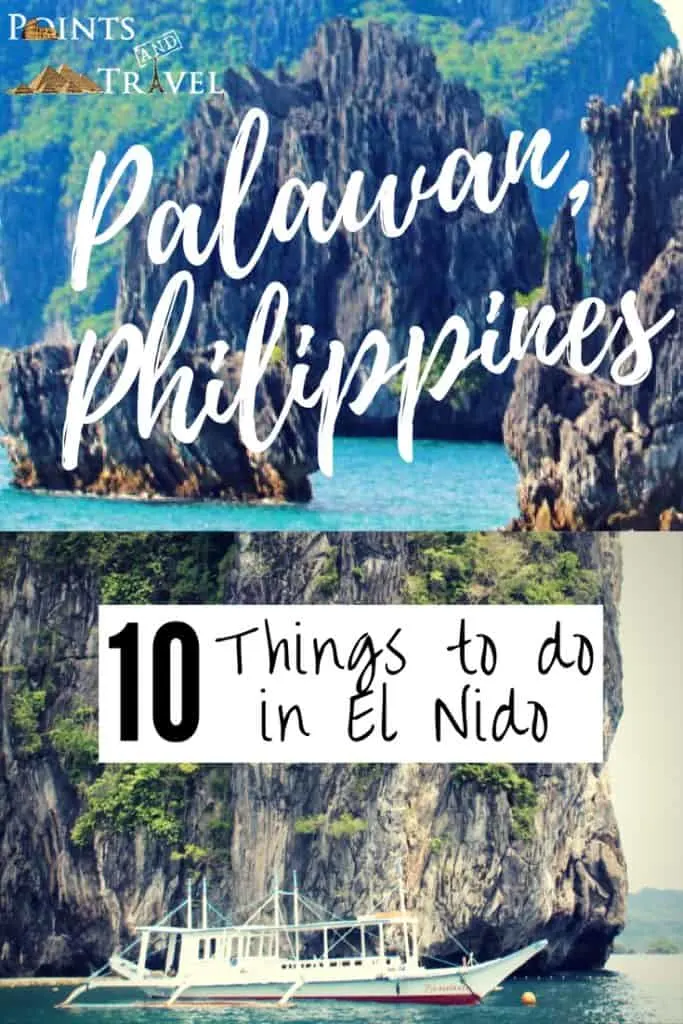 Disclaimer: I was a guest of the Philippine Tourism Board, in conjunction with the El Nido Palawan. However, the opinions expressed here are my own!