Coron, Palawan can be perplexing when you first arrive in Manila, Philippines. I should know, as I landed at the airport and it was pure chaos. But if you mention the name Coron Palawan or El Nido Palawan to any Filipinos while in the capital city of Manila, you will see their eyes light up with excitement. Why you might ask? Because these two islands are synonymous with the word "paradise." To the Filipinos, it is like "Heaven on earth." And for good reason, as it is the most picturesque part of Palawan. In fact, year after year it gets voted Best Island in the World by Travel + Leisure readers. I, honestly, agree that is it pretty much perfect, it just takes a long time to get there from the USA!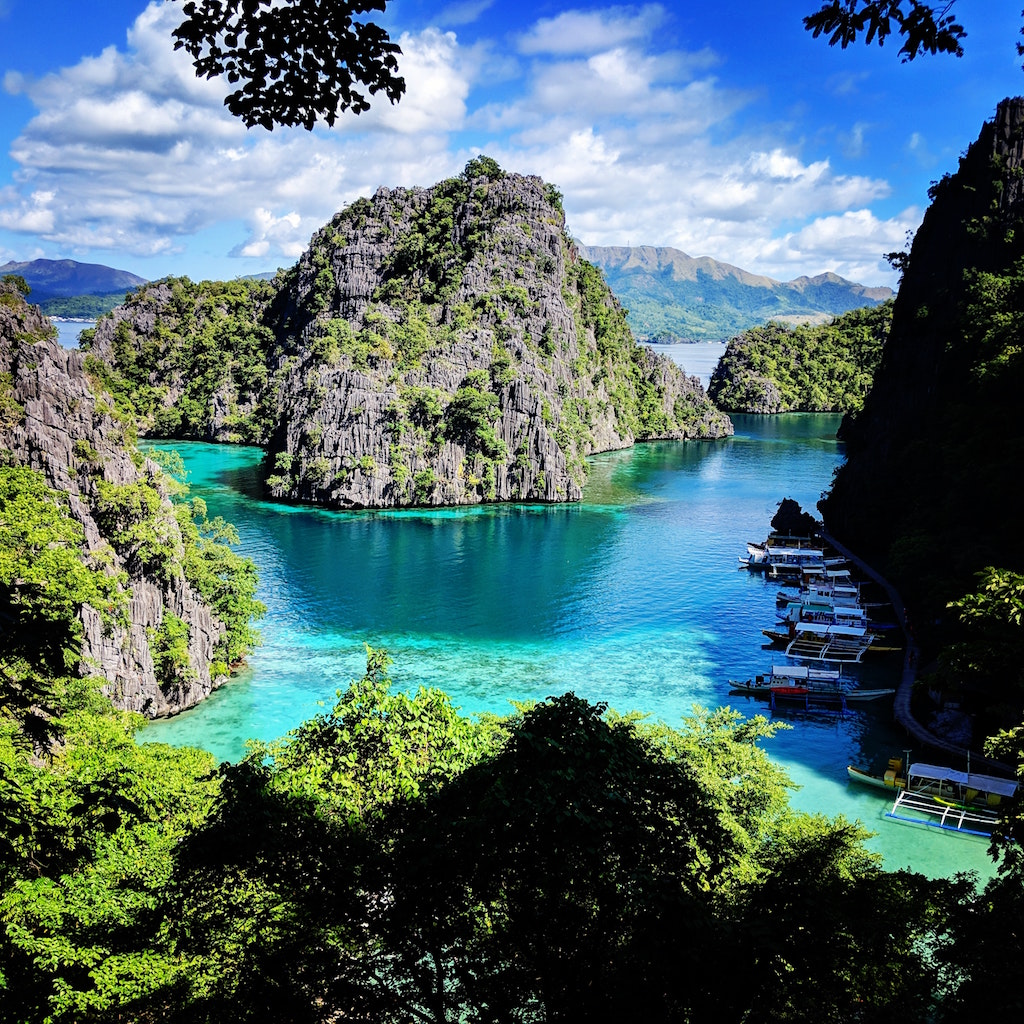 ---
What's in this post:
hide
Coron in Palawan:
Everything you Need to Know 2022 Guide
---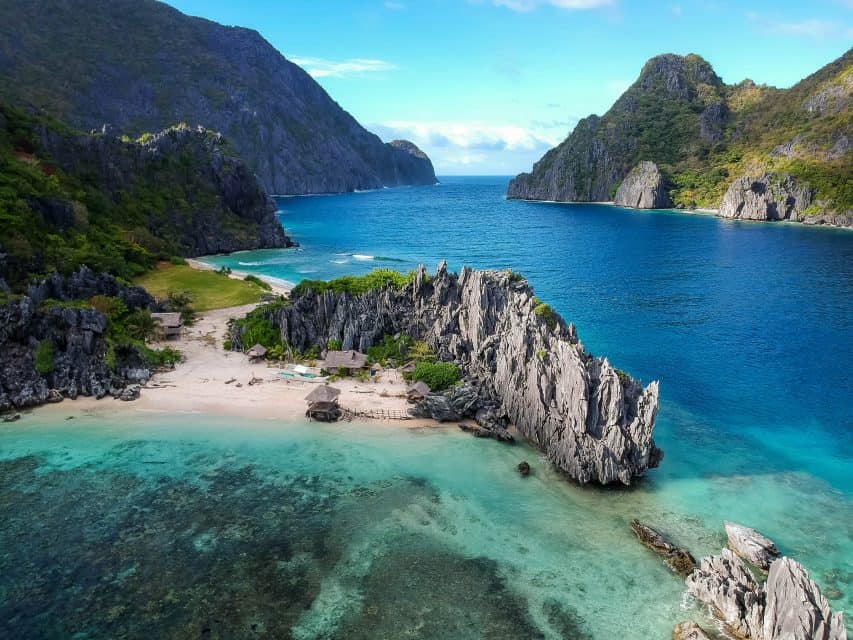 So what makes Coroñ or nearby El Nido Palawan so special and intriguing? Coron is a tropical area in the province of Palawan in the Philippines. It encircles nearby Coron Town, a village that is located on Busuanga Island, and over 50 very minor islets in the Philippines' Calamian archipelago. And El Nido, is super close to Coron. Coron Palawan is much smaller than El Nido, so it does not have the choices of beaches on the island like El Nido does, however, what it does have is a bit more peaceful. But either way, you can't go wrong.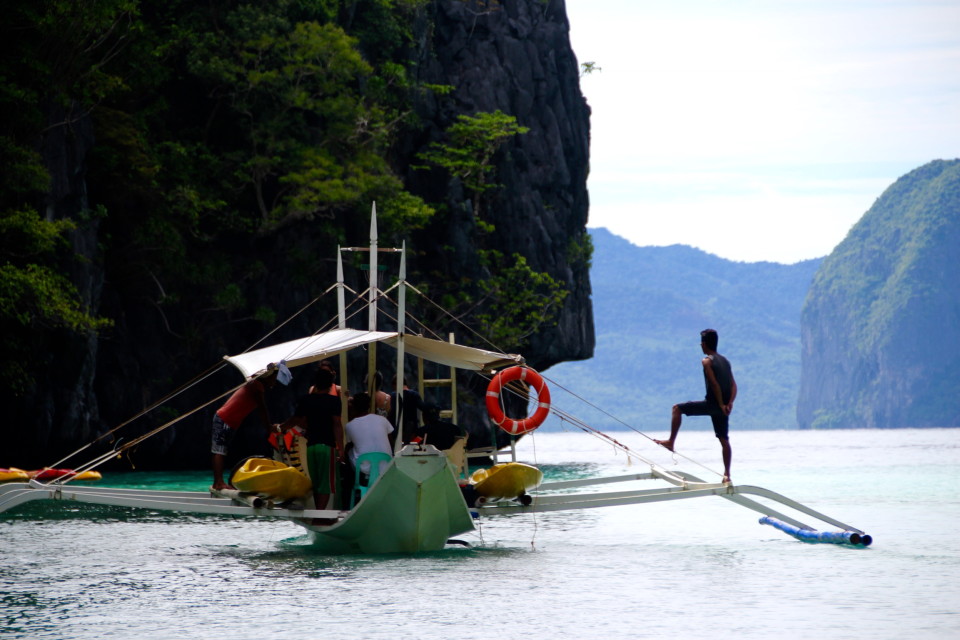 But I have to tell you that one of my favorite places in the entire world is Palawan. Once you go there, you will see what I mean! I have visited more than 93 countries around the world, but when my mind drifts to one of my favorite places – it always ends up in Palawan! Coron in Palawan! In this article, I write about the best time to go, the top things to do in the entire area of Coron and its famous islets, mention a few of my favorite places to stay, and the history of Coron. So keep on reading for some of the good stuff!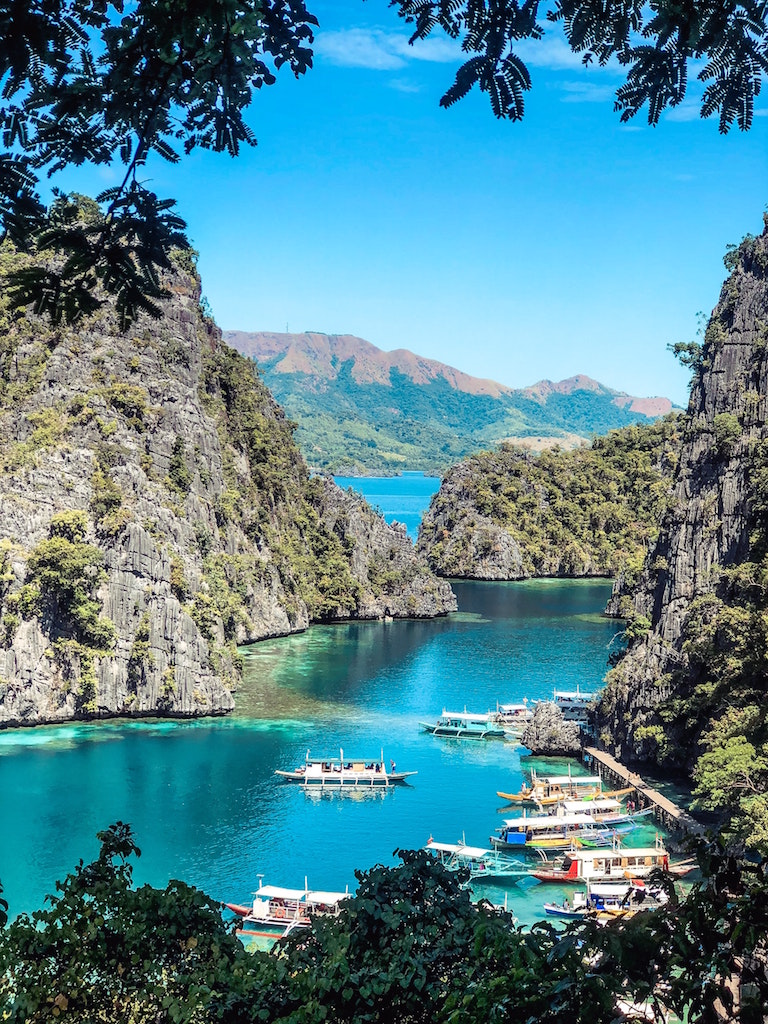 Best time to go to Coron, Palawan
Coron is best known for world-class World War II-era wreck diving. The island also offers limestone karst landscapes, beautiful beaches, crystal-clear freshwater lakes, and shallow-water coral reefs. Although Coron has warm or very hot weather all year-round, that doesn't mean that there are no better times to visit than others. For example, I think the best time to go to Coroñ is between January-April. These months usually guarantee perfect weather, clear blue skies, and a very low chance of things like rain, drizzle, sleet, or hail.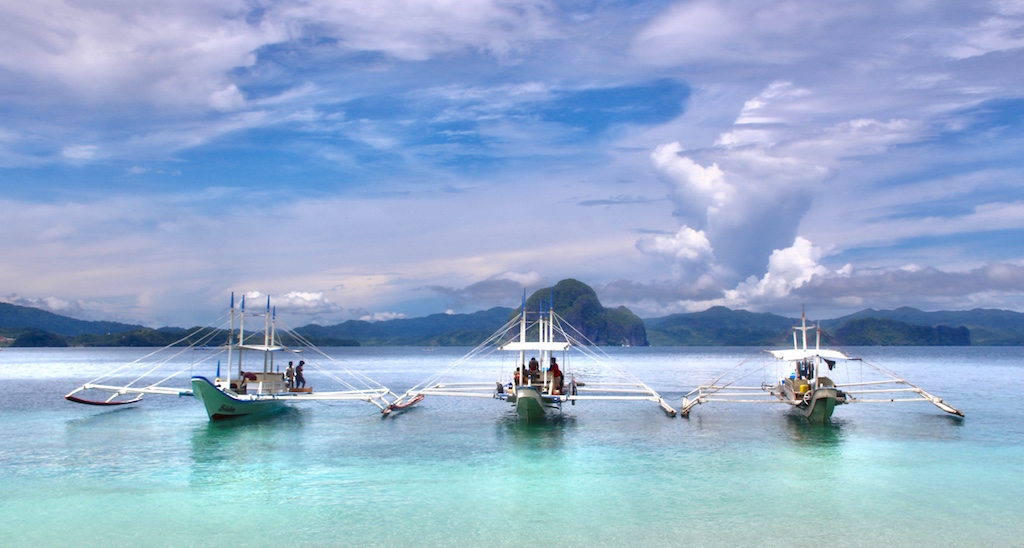 How To Get To Coron Palawan
If you are going to visit both Coron and El Nido, the best way to get there is to take the ferry between the two places, which only costs 1,800 Pesos ($37 USA dollars) and takes just a few hours. However, there are flights from El Nido to Coron on Air Swift. But first, you have to fly into the Busuanga Airport (USU). But keep in mind that this airport is not served internationally, so fly into one of the big cities: Manila's airport is Ninoy Aquino International Airport (MNL) or Cebu's airport is Mactan-Cebu (MCIA) in the Philippines. Stay overnight, and then catch the first flight out in the morning to Busuanga or Coron.
All arriving tourists will undergo a health assessment upon arrival at the international airport. If asymptomatic, an antigen test will be required. If you test positive, you will be sent to your hotel for COVID-19 isolation. If symptoms develop, you will be referred to the General Hospital.
---
Interested in Reading more about Palawan?
El Nido Resorts: Simply Stunning
---
What to Wear

in Coron
During the summer season, I wear beach outfits such as a swimsuit, or a rashguard with shorts and flip-flops. Be sure to bring other beach necessities such as sunglasses and a hat. Another essential thing to bring during your trip to Coron is sunscreen, as the weather here can get awfully hot, so this keeps that sun from burning your skin.
Want to know About the Weather?
Coron's has tropical weather. It is sunny if you plan to visit during the summer, with less chance of rainfall.
Here's an average overview of the monthly temperature in Coron:
---

---
Top 18 Things to do in Coron Palawan
1. Go on a Coron Island Hopping Tour
One of the best ways to get a full tour of Coron is to go on a Coroñ Island Hopping Tour. I did this and it was such a spectacular day! There is so much to see in Coron that you might miss out on all the beautiful places. By choosing a hopping tour, you can head from place to place in short intervals. An island-hopping tour might have you forgo the luxury of spending a whole lot of time in certain places, but you will have visited numerous places in a shorter period of time.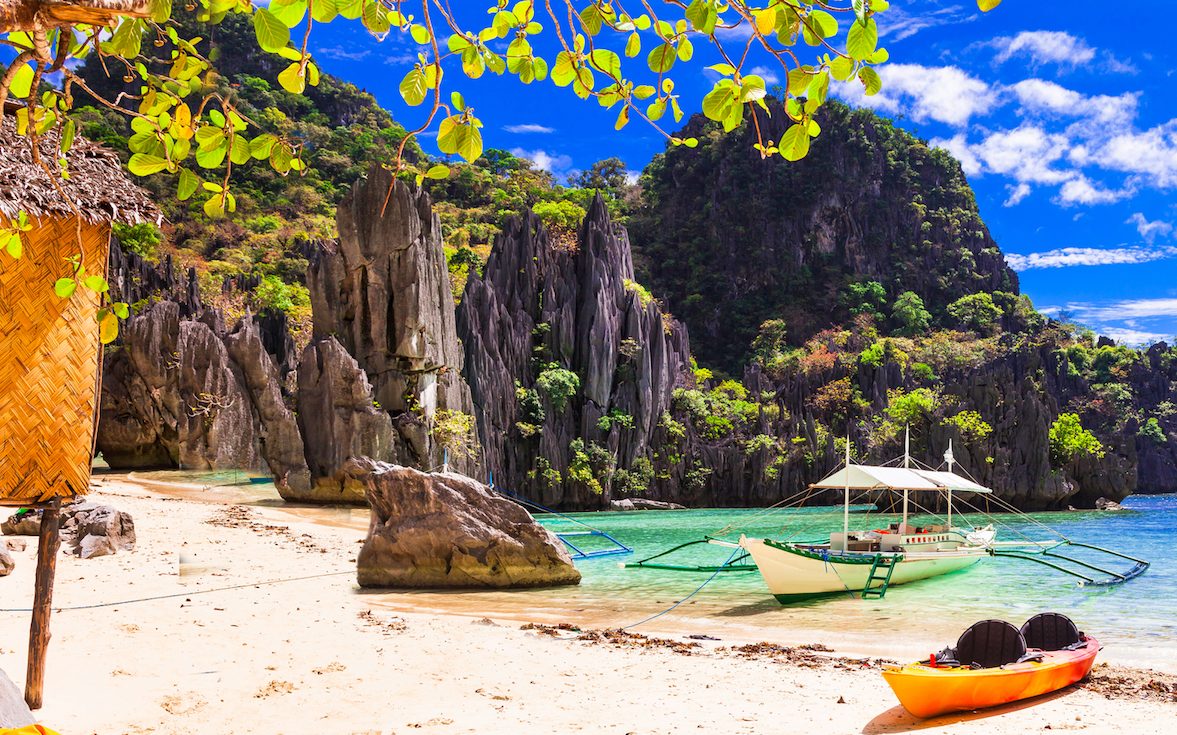 For less than $40, you can book a Coron Island Hopping Tour and visit places such as Kayangan Lake, Barracuda Lake, Twin Lagoon, and Skeleton Wreck. In my opinion, one of the best hopping tours to book is the Coron Super Ultimate Day Tour. My advice before going on this tour is to get a good nights' sleep and rest up because the day will be filled with new experiences that are fun. This day tour lasts 10 hours, allows for hotel pick-ups, and has English-speaking guides.
During this tour, you can expect to admire the stunning beachscape, limestone cliffs at Twin Lagoon, and dive at the Siete Pecados Marine Park. People of all ages can go on this tour, kids 0-3 years are free and a discount for children between 4-8 years old. A light snack and picnic-style lunch are included in the price of this day tour. Just remember to be ready bright and early to start your hopping adventure!
2. Snorkel Twin Lagoon
Twin Lagoon is the home to two blue lagoons that have a natural backdrop of the Coron Islands' jagged walls. The only way you can get to Twin Lagoon is by boat, either privately or with a tour. I recommend heading to the Twin Lagoon early in the morning to avoid crowds and stake out the best snorkeling spots. One thing you should keep in mind is that there is a lot of jellyfish at this lagoon! If you are not careful you can easily get stung.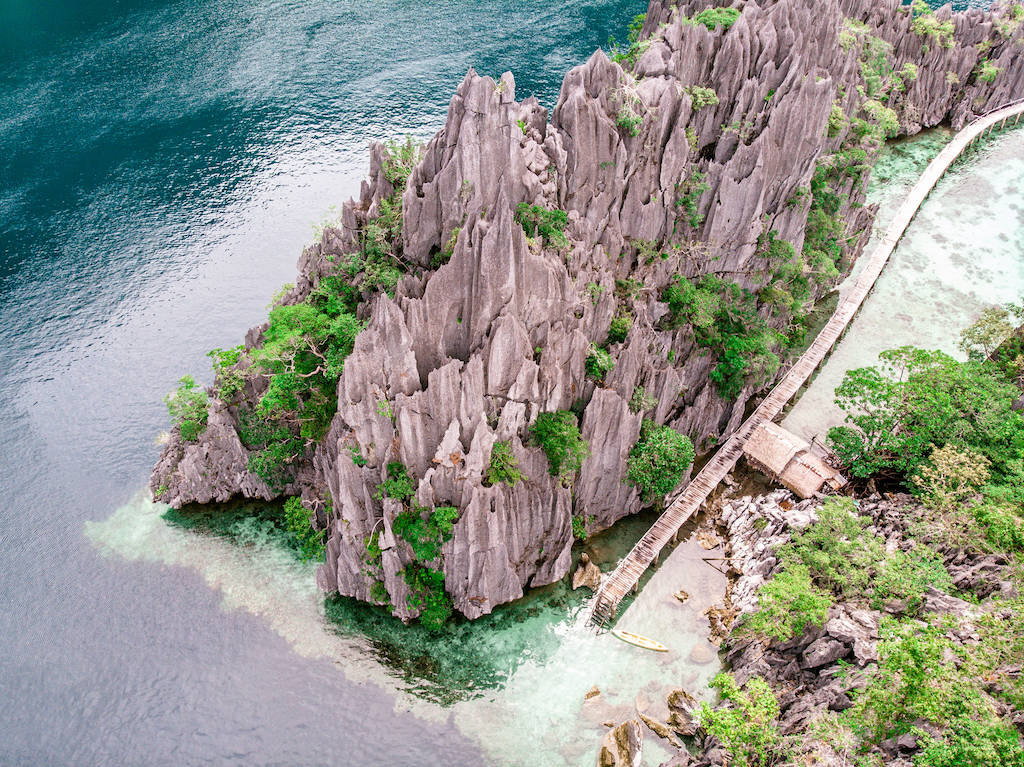 As you head on your snorkeling adventure keep in mind to wear a life vest. Swimming and snorkeling along the limestone cliffs at this lagoon are quite memorable experiences. Don't worry if your underwater vision suddenly becomes blurry because it is totally normal. The moment fresh and saltwater meet is when you will notice blurry visibility.
3. Meet the Gracious Tagbanua people
The Tagbanua people are the earliest inhabitants of the island as well as the oldest ethnic group in the Philippines. These people are easily identified because they have a unique slim figure, light brown skin, and straight hair. While on your trip to Coron, you have the opportunity to meet many gracious Tagbanua people.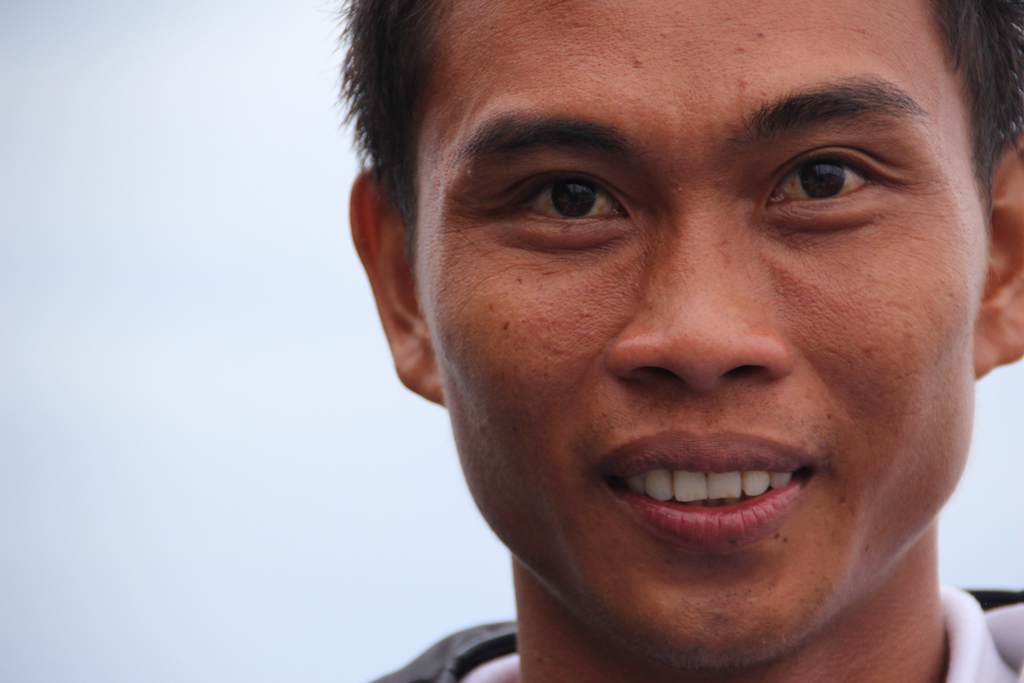 According to local residents, there are two types of Tagbanua people, those who live in the central part of Palawan and those who live in the northern part. The Calamian Tagbanua people live in the northern part of Palawan in places such as El Nido and Coron Island. They speak a different language than Filipino. As the Tagbanua people in Coron have their own dialect. The Tagbanua people typically live in huts that are located near the water. More than 22,000 hectares of sea and land were awarded to the Tagbanua tribe in Coron so they can do what they wish with it.
Religion is a big part of the Tagbanua tribe and they do not follow the Catholic religion as most Filipinos do. Instead, they follow their own religion which is practiced through various rituals and spiritual landmarks. The Tagbanua people are known for their ritual dances such as ceremonial, healing, and food offering dances. When you meet the gracious Tagbanua people they might show you their various instruments such as their boat flute, gongs, or ukuleles. Just remember to be kind and gentle when meeting these people and respect their traditions.
4. Explore the Beautiful Coron Bay
One of the coolest ways to explore Coron in Palawan is to visit the beautiful Coron Bay. This bay is situated between the Coron and Busuanga Islands and is completely protected by Coron Island. The easiest way to visit Coron Bay is by boat. As you sail along the bay you will spot the colorful coral reef. The marine life will be swimming all around and you can snap a photo or two of the stunning bay along with the marine animals. The seascape at Coron Bay will leave you with a relaxing feeling as you stare out at the clear waters and mountainside all while you dig your feet in the sand.
5. Search for Dugongs-Marine Mammals
There are several marine mammals that you will see during a snorkeling and diving adventure in Coroñ. One of the more difficult marine mammals to spot is the Dugong. This animal is in a vulnerable state and is the relative of the already extinct Steller's sea cow. Marine biologists have been lucky to find fossils of the Dugong that date back to more than 50 million years ago. Also, if you head to the Philippine National Museum there is a skeleton of a Dugong on display.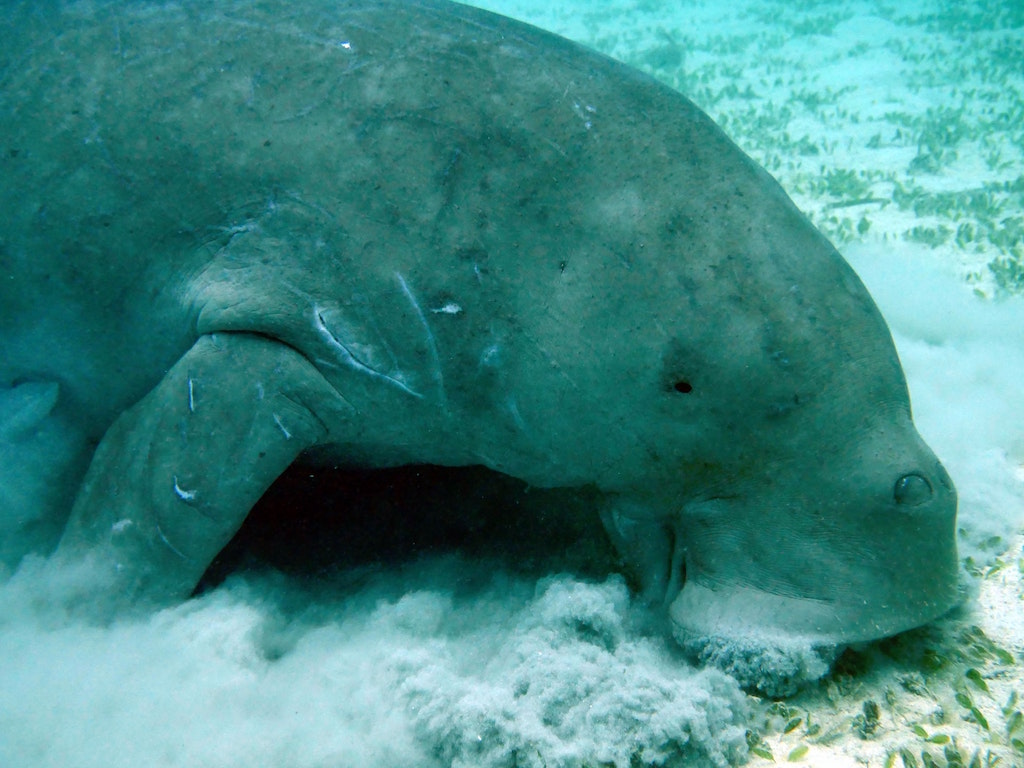 The Dugong is a marine mammal that has thick skin and a tail. At birth, the Dugong has smooth and pale skin but with age, the skin turns to brown and/or gray. Their tails are similar to those of dolphins, their nostrils are on their head and their ears are located on the side of their head. Female Dugongs tend to be larger than males and both usually weigh under 1,000 pounds and less than 10 feet long.
The dive center in Coron offers a Dugong Dive Package, but this is only for certified divers. This diving experience includes a 2-day dive and 4 chances to dive with the divemasters and take underwater pictures. Guests of the Club Paradise Resort also have a chance to search for Dugongs, but it cannot be up-close and there must always be a 16 feet distance between you and the mammal. Read up about the experience here.
6. Snorkel or dive shipwrecks from WW2
A diving experience at Coron Bay will allow you to check out the many shipwrecks that lie at the bottom of the bay. Coron Bay is well-known for having the best underwater shipwrecks in Coron. A diving excursion will take you to the World War 2 shipwrecks as well as the Skeleton Wreck. The Skeleton Wrecks at Coron Bay is a great place for new and beginner divers to visit. Snorkeling is allowed at the Skeleton Wreck because it has a shallow depth of 16 feet. Due to the erosion and water damage, the "skeleton boat" was stripped of everything and left with its "bones", which is why it is nicknamed the "Skeleton Wreck".
Snorkeling and/or diving the shipwrecks from WW2 is a one-of-a-kind experience. The shipwrecks from WW2 date back to September 24th, 1944. On this date, an American airstrike was launched and several Japanese ships were destroyed. As a result, they sunk. The largest shipwreck is known as Okinawa Maru. This was an oil tanker that was roughly 525 feet long. After it was destroyed, this ship sunk in an upright position and to this day you can dive to this site to visit this upright oil tanker. Other must-see shipwrecks include the East Tangat Wreck and the Lusong Gunboat Shipwreck. The latter lies just 1 ½ foot below the water's surface!
Another WW2 shipwreck is the Irkao, which is a ship that was used for refrigeration and food storage. This 475-foot Japanese Imperial Navy ship sunk in Coroñ Bay and is available for advanced divers to visit. This ship has become the home for a lot of marine life such as the scorpionfish, barracudas, and spadefish. You can book your underwater adventure here. This is a Coral Garden and Shipwreck Snorkeling Adventure from Coron. This 9-hour excursion includes picking you up at your hotel and 3 snorkeling adventures, as well as lunch!
7. Go Scuba Diving in Coron
I previously mentioned diving sites in which you could see WW2 shipwrecks and skeleton shipwrecks. Now you can read through scuba diving places to check out in Coron. Scuba diving to the 125ft depths of the Akitsushima shipwreck is truly an awe-inspiring moment. You can admire the radio tower, command room, engine room, and machine guns. Bogor Reef is a great spot for scuba divers to check out the diverse underwater life of Coron.
Neptune's Wall is a fan favorite among divers. Divers reach a depth between 46-82 feet. Just keep in mind that this spot becomes quite busy which can take away from the underwater beauty.
7. Feast at a "Boddle" (Sweet) Fight"
The Filipinos are full of traditions and one of their favorites is the "Boodle Fight". Don't worry this is not one of those harmful fights that led to injury or death. This "fight" involves food and a chance to eat with your hands. The boodle fight is a style of eating that is inspired by the military. There are few rules when participating in this fight such as no use of utensils. You must eat all the food prepared (even the food you might not like) and there are no toilet breaks (ha ha!). Once you understand the basic rules then you can begin to prepare for the fight.
There are several items you need to prepare when getting ready to boodle fight. For starters, you need a long table (preferably rectangle), dry and wet tissues, containers for spices and sauce, aluminum foil to line the table, and banana leaves to put the food on. If you have made friends with the locals you might want to ask to participate in one of their boodle fights.
8. Enjoy Banjul Beach
Snorkeling at the secluded Banjul Beach is another great way to make contact with friendly marine life. When looking to hide away from tourists, Banjul Beach is the best place to go. This beach offers tranquility and comfort along the stunning coastline of Coroñ . The only way to visit this beach is by boat, which adds to the allure of the beach. Everyone who visits this beach, myself included, will tell you that it has powder-like white sand, crystal-clear water, and a breathtaking backdrop. If you are looking for the keys to paradise, then you will certainly have found them at Banjul Beach.
There are a few things I would recommend doing before and during your trip to Banjul Beach. The first is to pack your own lunch and water. You are most likely not going to find restaurants at Banjul Beach so having a packed lunch and water is a must! I recommend bringing sunscreen and a hat to protect yourself from the hot sun. Although there are plenty of cabanas for shade, the sun rays can still burn you if you are not properly protected.
Just a quick tip: if you catch a boat early in the morning you might be lucky enough to have the beach to yourself for a little while!
9. Visit the Calauit Safari Park
Since 1976, the island of Calauit has been the home to the Calauit Safari Park. This park has over 9,100 acres of land and is home to 1,870 animals. Hundreds of animals from around the world have been transported to this park including Somali giraffe, Grevy's zebra, Common eland, and Topi. There are also local animals at this park which include: Calamian deer, Philippine crocodile, and the Binturong. Almost all of the animals at this park are able to run free and enjoy themselves. Some of the animals need to be held in captivity because of their hostile nature or to protect them from endangerment. These animals include pythons, wild boar, and tortoises.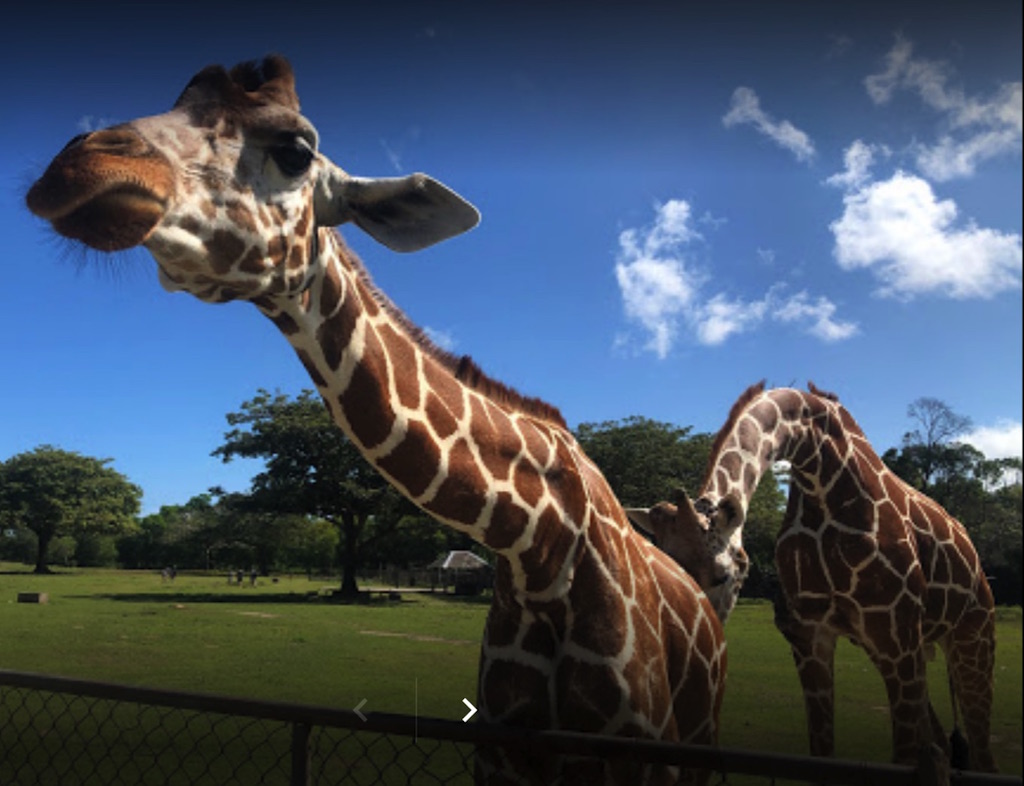 The entrance fee for the park is 400 Php (roughly $8) for foreigners and 200 Php ($4) for Filipinos. As of right now, a Calauit Safari with Black Island Tour is not available but hopefully, soon tours of this park will be available again.
10. Climb Mount Tapyas
In my opinion, one of the most breathtaking views of Coron Island is at the top of Mount Tapyas. There are two ways to get to the top of Mount Tapayas, either up the steps or along the mountain trails. If you choose to climb the steps then you should know that there are over 700 steps! There is no entrance fee to climb Mount Tapyas. However, I do not recommend this activity with families with young children and if you are not used to walking. As you might have a difficult time making it to the top. Regardless of the way you choose to get up there, you will have the same stunning view of the island.
I am going to share my wisdom with you and give you tips on how to make the trek up to the top more comfortable.
Things you need to know before hiking
Don't forget your camera!
You can take as many pictures as you like, but wait to post them on social media. Because you are going to want to put your phone down and take a few minutes to enjoy the landscape without any distractions.
For starters, take as many breaks as you need to. No one is going to tell you to hurry up or move faster, trust me the view isn't going anywhere.
Pace yourself and keep hydrated. You don't want to burn yourself out at the beginning of your climb, nor do you want to drink up all your water before you reach the top. There are a few locals at the base of Mount Tapyas selling water, so buy some if you don't have any. But I would make sure to bring a bottle of water with you. You will need it.
Wear comfortable athletic shoes.
There are plenty of restaurants and shops at the base of the stairs. There are plenty of things to purchase, so don't worry about that!
Believe me, it is worth the sweat!
11. Enjoy Maquinit Hot Springs
A relaxing way to soak away your tired aches and pains is at the Maquinit Hot Springs. After a 30–40 minute car ride from Coron, there is a hot spring here. This hot spring is the only saltwater spring in Palawan and is located in the heart of an underwater volcano, hence the heat. The temperature of the water reaches between 100 and 104 degrees Fahrenheit. The heat from the hot spring helps soothe and relax your muscles that were sore from the climb up Mount Tapyas.
The entrance fee for adults is 200 Php, which converts to roughly $4. People of all ages including children can soak up at the Maquinit Hot Springs. The hot springs are open daily between 8 am – 8 pm. Keep in mind that the last entry is at 7 pm, so don't be too late.
BONUS TIP: One of the busiest but most beautiful times to visit the Maquinit Hot Springs is right before sunset!
12. Birdwatching in Kingfisher Park
While in Coroñ you are constantly surrounded by Mother Nature's beauty. Kingfisher Park is one of the nature parks in Coron. This park is protected and preserved by the people of Coron and Palawan. A walk through this park should not be without sunscreen and bug spray for you will either be stung by the sun rays or an insect. Aside from this minor annoyance, the park offers many activities to engage in including boating, kayaking, tours, and birdwatching.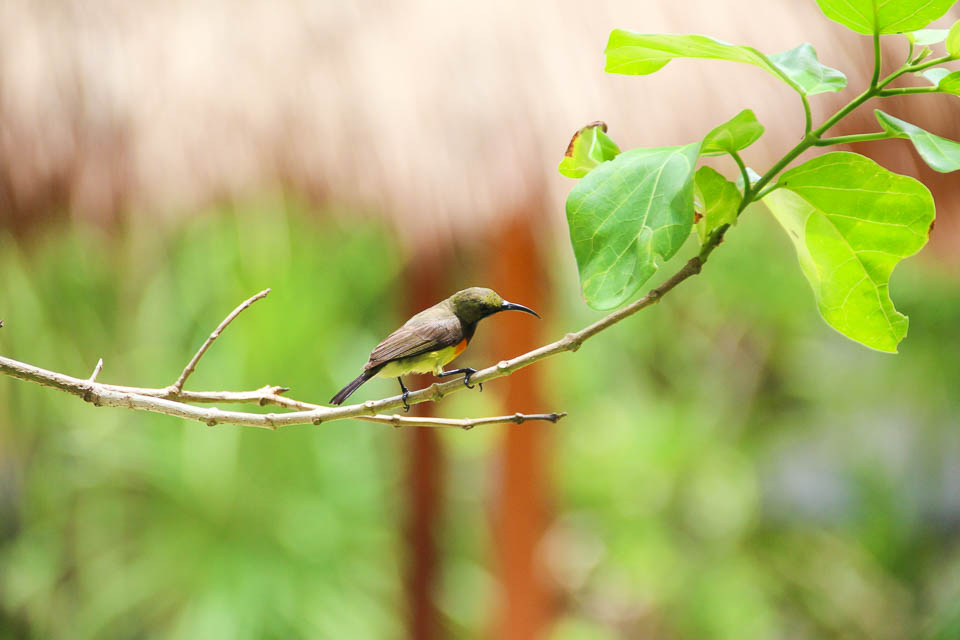 Birdwatching at Kingfisher Park is truly a magical experience because you can admire some of the bird species working together and living in their natural habitat. Over 70 bird species fly around the park including Palawan Hornbill, Palawan Flowerpecker, and Philippine Hawk-owl. You can also spot the beautiful fireflies as you stargaze. You can even sign up for a Starry-Starry night Tour which includes star gazing and a night view of the birds.
13. Hike to Kayangan or Barracuda Lake
Visiting a lake is always fun because you can go snorkeling, swimming, and scuba diving. You can get to Kayangan or Barracuda Lake via boat, through an island hopping tour, or a private tour. However, in order to physically enter either one of these lakes, you are going to need to walk for a bit. A rugged trip up the 100 steps up and 200 steps down will lead you straight to Kayangan Lake. Once you reach the lake you are sure to see friendly faces, families, and the elderly all enjoying a dip in the lake. A popular spot that people enjoy hiking to the lake is at the top of a hill that overlooks the "marina".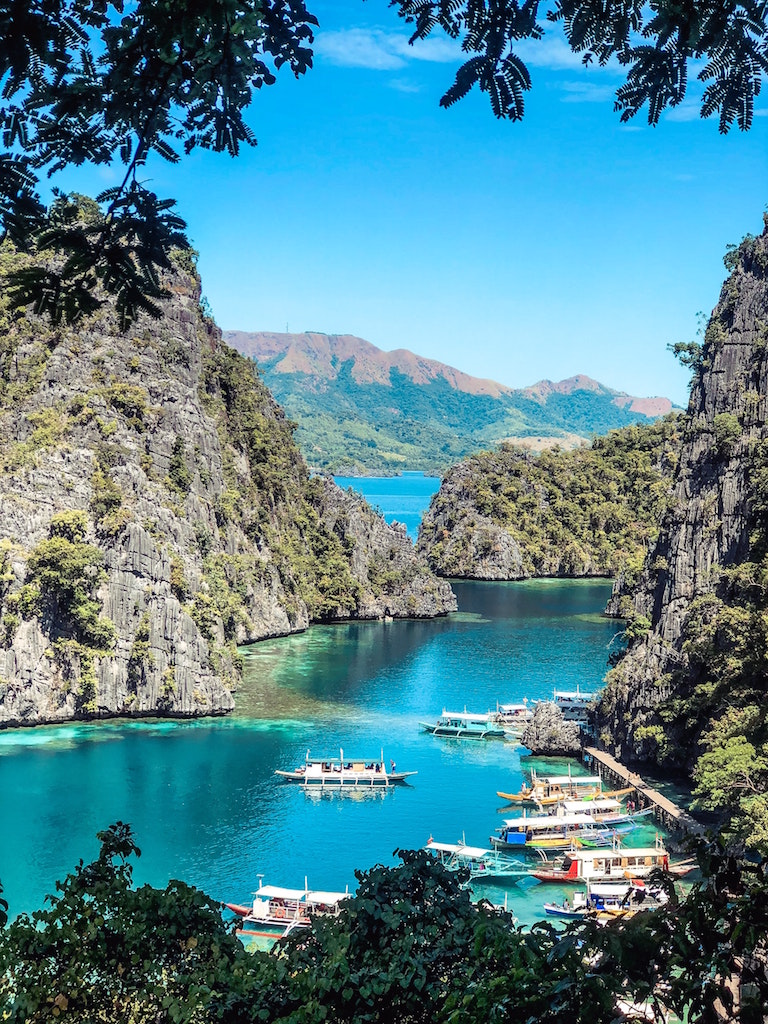 Between the two lakes, Barracuda Lake is the more accessible. Once you arrive by boat, you will need to step on the wooden dock and head down to the lake. Although there is easy access to this lake it is much less crowded than Kayangan Lake. Barracuda Lake has a more tranquil atmosphere and you can literally hear your own thoughts are you swim or dive in the lake.
14. Snorkel Twin Lagoon
Twin Lagoon is the home to two blue lagoons that have a natural backdrop of the Coron Islands' jagged walls. The only way you can get to Twin Lagoon is by boat, either privately or with a tour. I recommend heading to the Twin Lagoon early in the morning to avoid crowds and stake out the best snorkeling spots. One thing you should keep in mind is that there is a lot of jellyfish at this lagoon! If you are not careful you can easily get stung.
As you head on your snorkeling adventure keep in mind to wear a life vest. Swimming and snorkeling along the limestone cliffs at this lagoon are quite memorable experiences. Don't worry if your underwater vision suddenly becomes blurry because it is totally normal. The moment fresh and saltwater meet is when you will notice blurry visibility.
15. Watch out for wildlife
The sea and wildlife are all around Coron Island. We were lucky enough to see Sea Turtles, Giant Clams, Black-tipped Reef Sharks, massive Porcupinefish, and Octopus right offshore. Sometimes you do not need to dive deep underwater to appreciate the beautiful wildlife. Palawan is home to hundreds of bird species, butterflies, terrestrial mammals, and sea creatures. Some of the rare and unique butterflies live in the forests of Palawan. The Palawan Birdwing has a wingspan of almost 8 inches and you might be lucky enough to see it.
The marine wildlife is much easier to spot if you are swimming, diving, or on a boat. The coral reefs of Coron Island are breathtaking and colorful. The coral gardens at the Twin Peak Reef and Siete Pecados are the best spots to check out the coral. The Siete Pecados (which is Spanish for the Seven Deadly Sins) is a great place to watch out for the coral, angelfish, pufferfish, and even sea turtles.
16. Visit the secluded Black Island
Heading towards the northwest part of Busuanga Island is where you will find the Black Island. This island is also known as Malajon Island and is part of the Palawan archipelago. This island is secluded because tourists do not have easy access to it. The only way to get to this island is to buy a private boat service. There are no restaurants, shops, cafés or bars on this island, so bring all the supplies you think you will need.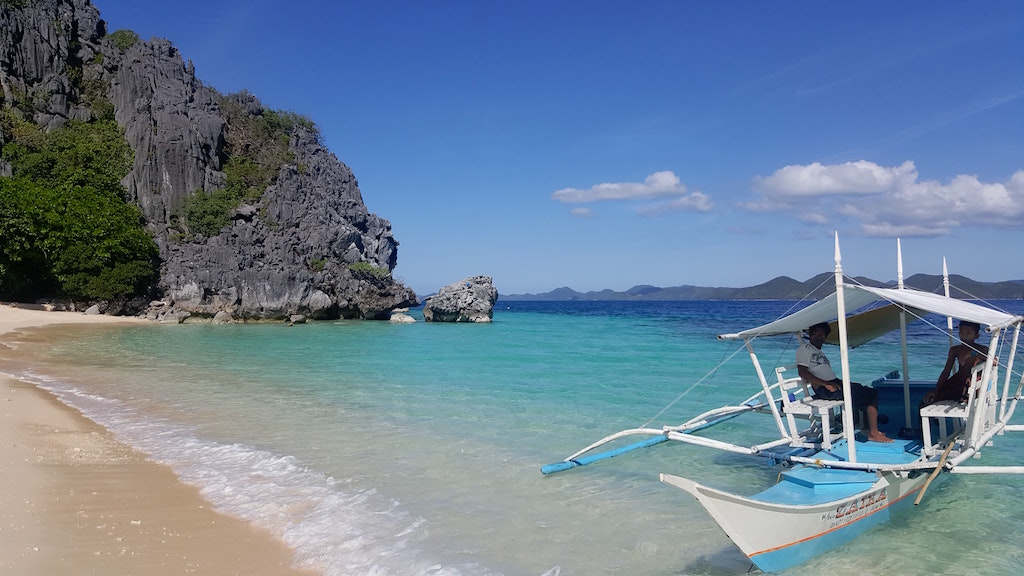 The Black Island has pure white sand, coconut trees, and huts. As you explore the island on foot you will come across hidden caves that have odd rock formations. Camping is permitted on this island which makes for a more exciting visit! Camping equipment is usually available in Coron Town, so you need to prepare yourself before heading to the island since it is quite remote.
17. Get a traditional Hilot Massage
In my opinion, one of the best ways to relax is through a pampering day at the spa. The Glow Spa at Club Paradise is a divine place that offers serenity and peace to its guests. The services at this spa include an organic massage, rejuvenating treatments, and a "Four Hands" massage. I suggest you opt for an outdoor spa treatment so you can listen to the crashing waves and take in the smell of the seawater as you enjoy your day.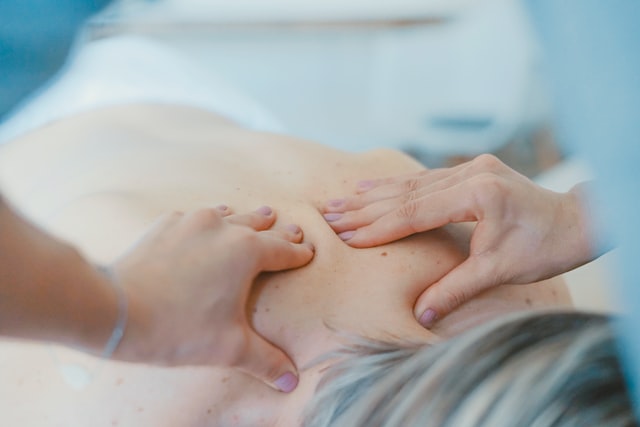 Keeping in line with the spa and massage theme, you must get a traditional Hilot Massage while in Coron. The Filipinos are very much in touch with natural healing methods. The Hilot massage is not like your typical massage because it evokes imbalances in your body. By receiving a Hilot massage, you need to give in to your mind, body, and emotions. This old-age treatment helps restore your energy and heal you from imbalances. Think of a Hilot Massage as a chiropractic way of treating the body, but with herbs and traditional Filipino methods.
As mentioned before, the Glow Spa at Club Paradise is one of the places you can book a traditional Hilot Massage. The Kakiku Massage and Reflexology on Busuanga Island is another place to enjoy a traditional Hilot Massage. Spa Nortia at the Sunz En Coron Resort is another spa that offers body massages including the Hilot. According to their website, a Hilot massage costs 1,000.00 PHP which converted is roughly $21, which to me is super cheap.
What To Bring With You
Most of the items below can be found in Coron town in a pinch, but the quality of stuff you buy in the boutique shops of the resorts is pretty darn good. I still have a fabulous hat I bought at El Nido and wear it quite often.
Snorkeling Gear:
Snorkels and masks can be rented on the boat, but I say, just bring your own stuff. It is simply more economical to have your own gear.
Waterproof Bag:
Essential for keeping your electronics safe on the boat tours. I brought a 30-liter bag and was able to fit my camera, iPhone, Macbook, and a bunch of other stuff inside. Everything stayed dry.
Waterproof Phone Pouch:
The waterproof phone pouch kept my phone dry.
Water Shoes:
Save your feet a lot of grief and wear water shoes! Do not get cuts on your feet while walking to shore from the boats.
Camera:
More than anything else, bring your best camera gear. You are going to need it!
Where to Stay in Coron Palawan
There are many accommodation options in Coron, whether you are looking for budget, value, or luxury resorts. I am breaking down Coron's best regions to stay depending on why you have come to the islands. Many are looking for the luxury side of the islands, but some have come to go diving, relax, or enjoy time with friends. So I will try to help you pick the top accommodation for why you are here.
Here is a breakdown of most of the Coron places to stay:
Coron Town Center in Busuanga: If you want a budget place to stay that is accessible to everything, Coron Town Center is for you. This is where most of the budget people stay.
West Busuanga: If you want hidden and private accommodation, the western part of Busuanga is an ideal place for you.
South Busuanga: If you are here for a honeymoon or a posh getaway, the islands in the south of Busuanga are for you. These are tropical, secluded, deluxe getaway resorts for rest and relaxation.
Patrik & Tezz Guesthouse (Budget in Coron Town Center area)
Patrik & Tezz Guesthouse is a Swedish-managed guesthouse in Coron. They are located a 3 min walk from the Coron Town Center. The guesthouse is built on stilts over the water! They only have 6 rooms in total to make your stay homey and private. All rooms have fans. We have 4 shared baths (male/female) with 2 hot showers.
Paolyn Houseboats Coron Island (Luxury at SEA)
There are two NEW Houseboats that are located in a pristine lagoon in the limestone island of Coron in the National Park Marine Reserve called Paolyn Houseboats Corno Island. They will pick you up at the Busuanga airport (or in Coron Town) and bring you to their houseboat! The ride there is a 30 minutes van ride plus 30 minutes boat ride.
Staying in this UNESCO houseboat with amazing landscape offers superb snorkeling and it is totally quiet except for birds chirping! Here you will find clean and clear waters. It is the only place where you can sleep and eat in all Coron Island that is peaceful and quiet. You will have free use of kayaks, stand-up paddleboards, and snorkeling gear. Get totally off the grid with 24-hour electricity and freshwater!
Club Paradise (Luxury on Dimakya Island)
I would certainly recommend Club Paradise. The Club Paradise Resort is located in the Dimakya Island of Coron. It is one of the most beautiful resorts in Coron and emulates a paradise-like feel throughout the entire resort. Club Paradise caters to events such as weddings, banquets, and, you guess it, boddle fights. They usually prepare a boodle fight on the island's Hidden Beach.
Club Paradise is also a great place to unwind and get away from your busy and hectic life. You can find comfort in many activities at Club Paradise. Some of the activities include things like diving in Coron, lounging in the beach area, using the fitness center, swimming pool, and hiking. The guest services at Club Paradise can help you prepare for a hiking trip to Eagle's Point. This area has the most spectacular views of Coron's landscape, sunset, and Dimakya Island.
Guests can choose to stay in room types such as the Garden Suite, Sunset Villa, and Sunset Villa Deluxe. A one-week stay for 4 adults at the Sunset Villa Deluxe costs roughly $5,000. This villa includes a beach view, balcony, coffee machine, refrigerator, cable TV, toiletries, wake-up service, and Wi-Fi. The facilities and services at this resort include the Firefish Restaurant, car rental, soundproof rooms, picnic area, concierge, outdoor pool, free Wi-Fi, live musical performances, kids' club, fitness center, spa, daily housekeeping, and airport shuttle services. For additional charges, this resort offers diving off-sites, child services, and massages.
Al Faro Cosmio Hotel Palawan (Luxury on West Busuanga)
This hotel is perfect for your romantic getaway! Al Faro Cosmio Hotel Palawan lies on the southwest coast of Busuanga Island, right at the entrance of D'Pearl Bay, a picturesque bay and marina with an exquisite yacht club. It offers Disney-like amenities with a beautiful sunset view over the bay and is well situated for diving into the famous WWII wrecks of Japanese warships. The amazing resort follows an eco-theme and the atmosphere is very relaxed.
Two Seasons Corno Island (Luxury in South Busuanga – Bulalacao Island)
Set right in the middle of the beautiful Bulalacao Island, Two Seasons Coron Island Resort is a 5-star eco-friendly resort with a top-notch experience. This secluded resort is an ideal place for honeymooners. Aside from island tours and dive courses, one of the ecotourism activities that this property offers is the Hydrobob Submersible Scooter. The HydroBOB (Hydrodome Breathing Observation Bubble) is just you and a whole bunch of fun!
---
Places to Stay in El Nido
But if you want to stay a bit further away from Coron, where there is a little more action and nightlife. Then I suggest you may want to stay at the El Nido Resorts. El Nido has 4 resorts and is a great place to stay and/or revisit when you go back to Coron (which is probably inevitable, thanks to its beauty).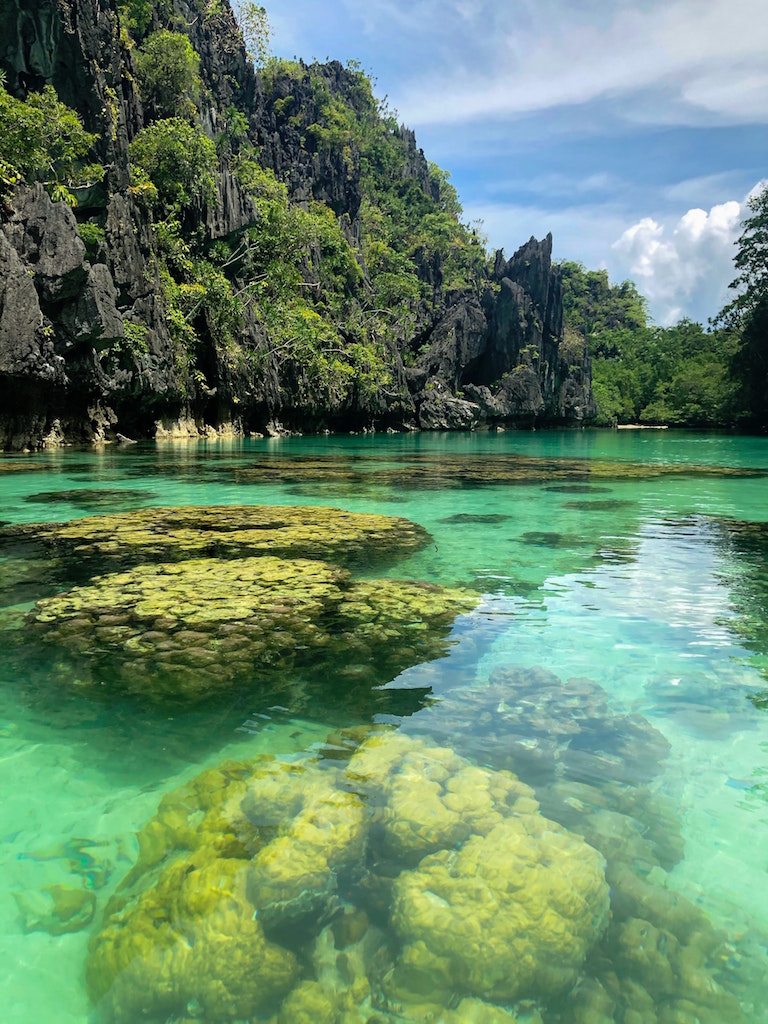 The El Nido Resorts have been known for their unique locations, spectacular views, and great accommodations. Over the years each of the El Nido Resorts has won at least two awards for its luxury, finest hotels, and best place to see. For example, the Pangulasan Island won the 2020 Conde Nast Traveler Readers' Choice Awards: Best Resorts in Asia, the Miniloc Island won the 2015-2012015-2017 Trip Advisor Travelers' Choice Awards, the Apulit Island won the 2020 Luxury Lifestyle Awards: Best Luxury Villa and the Lagen Island won the 2019 Fodor's Finest Hotels: Best Hotel in Asia. Now, let's take a closer look at what each of these resorts has to offer.
Lagen Island
A great night's sleep, sparkling views, and perfect scenery are exactly what you will get at the Lagen Island Resort. Guests have rated this resort at least 9 out of 10 stars! The room types at this resort include a beachside room, garden cottage, and a deluxe double room with a sea view.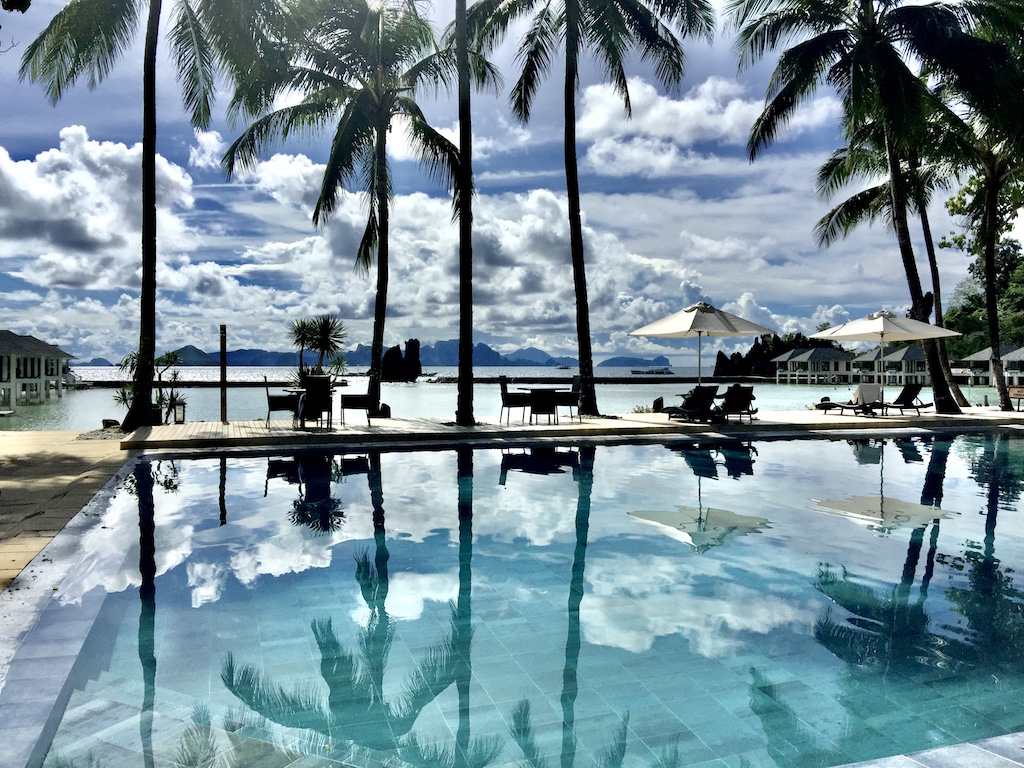 If you want to splurge on your trip to Coron, Palawan then you should definitely book the deluxe double room with a sea view. This room covers an area of 141 feet and includes a balcony, oceanview, bathroom, ceiling fans, two floors, air conditioning, mini-bar, hairdryer, free toiletries, a queen bed, and a guest area. The staff at this resort is bilingual (English and Filipino) and offer services such as shuttle and airport service, tour desk, banquet facilities, front desk, telephone, and free Wi-Fi.
Miniloc Island
The Miniloc Island Resort is a top-notch resort that is nestled in the coastal village of El Nido. Guests can easily get to this resort via a 40-minute boat ride that departs from El Nido Airport. A one-week stay for two in a beachside room will deplete your bank account by roughly $7,000 (but it's worth every penny). A beachside room at this resort includes a minibar, single room, daybed, air conditioning, free toiletries, and a one-of-a-kind view of the white sandy beach. Guests can utilize services such as free Wi-Fi, pool, private beach area, garden, beach chairs, 24-hour front desk, children's playground and it is wheelchair accessible.
Pangulasian Island
Along the Bacuit Bay is where you will find the Pangulasian Island Resort. This resort sits along the white sandy beach of Bacuit Bay and has a background of the tropical forest. The check-in time begins at 3 pm and you have until 12 pm to check out. This resort does not allow pets and there are a strict damage deposit and control policy.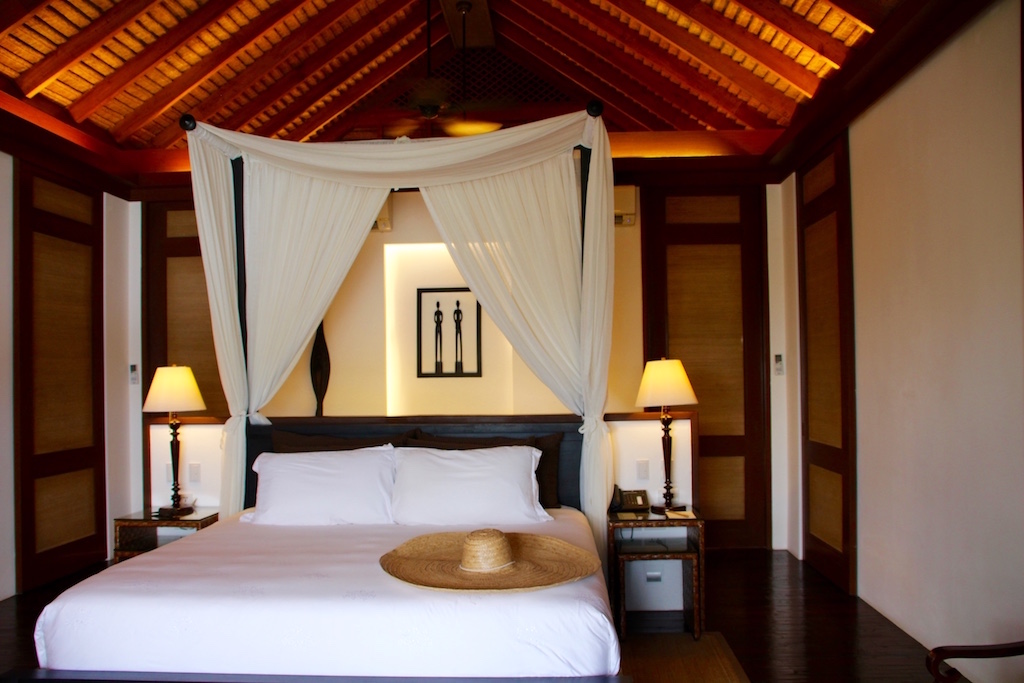 The services and facilities at this resort include beachfront and garden view, snack bar, daily housekeeping, gift shop, room service, fitness center, spa services, airport pick-up, and drop-off services, currency exchange, baggage storage, and free Wi-Fi. The staff at this resort are pleasant, friendly, and speak both Filipino and English. It is a high-quality resort and exclusive resort that offers luxury, cleanliness, comfort, and serenity in paradise!
Apulit Island
The Apulit Island Resort is situated in Taytay and is surrounded by clear waters, a stunning cave, and perfectly lined coconut trees. It is one of the best places to relax and enjoy a family getaway. This wonderful resort has an international restaurant on-site that includes buffet-style meals. Aside from Filipino, the staff also speaks English.
The general services offered at this resort include airport shuttle, on-site shops, tour desk, concierge, spa facilities, and free Wi-Fi. There are plenty of activities to engage in at this resort including swimming, snorkeling, diving, windsurfing, tennis matches, pool table, and ping-pong games in the game room. For an additional charge, families can utilize the babysitting services. The lodging accommodations at this resort include a water cottage and loft water cottage. The cottages include a private bathroom, mini-bar, breathtaking views, a balcony, air conditioning, free toiletries, and a telephone.
Las Cabanas Beach Resort
Located about 1.8 miles south of El Nido town, Las Cabanas Beach Resort is set on a narrow sandbar that projects into the sea. They offer panoramic views of the outlying islands. This hotel chain emphasis a peaceful, beautiful, and clean environment along with superior dining. They offer botanical gardens, a sizable beach with clear waters, and a house reef. Just offshore, there is a small island that can be reached at low tide by foot, so they pretty much have everything you need to make this a special beach vacation.
History of Coron Palawan
In recent years Coron has become a popular tourist destination and named one of the beautiful places in the world. Although it appears that we have just been introduced to Coron, in reality, it has existed for over 50,000 years. Scientists and archeologists have found proof through the Taban Cave that the earliest settlers of Coron take back to 500 AD. The people of Coron have seen rulers come and go such as Indonesian and Majapahit rulers in the 12th and 13th centuries. Over the years Palawan was ruled by the Spanish, Americans, and Japanese.
Where is Coron Located?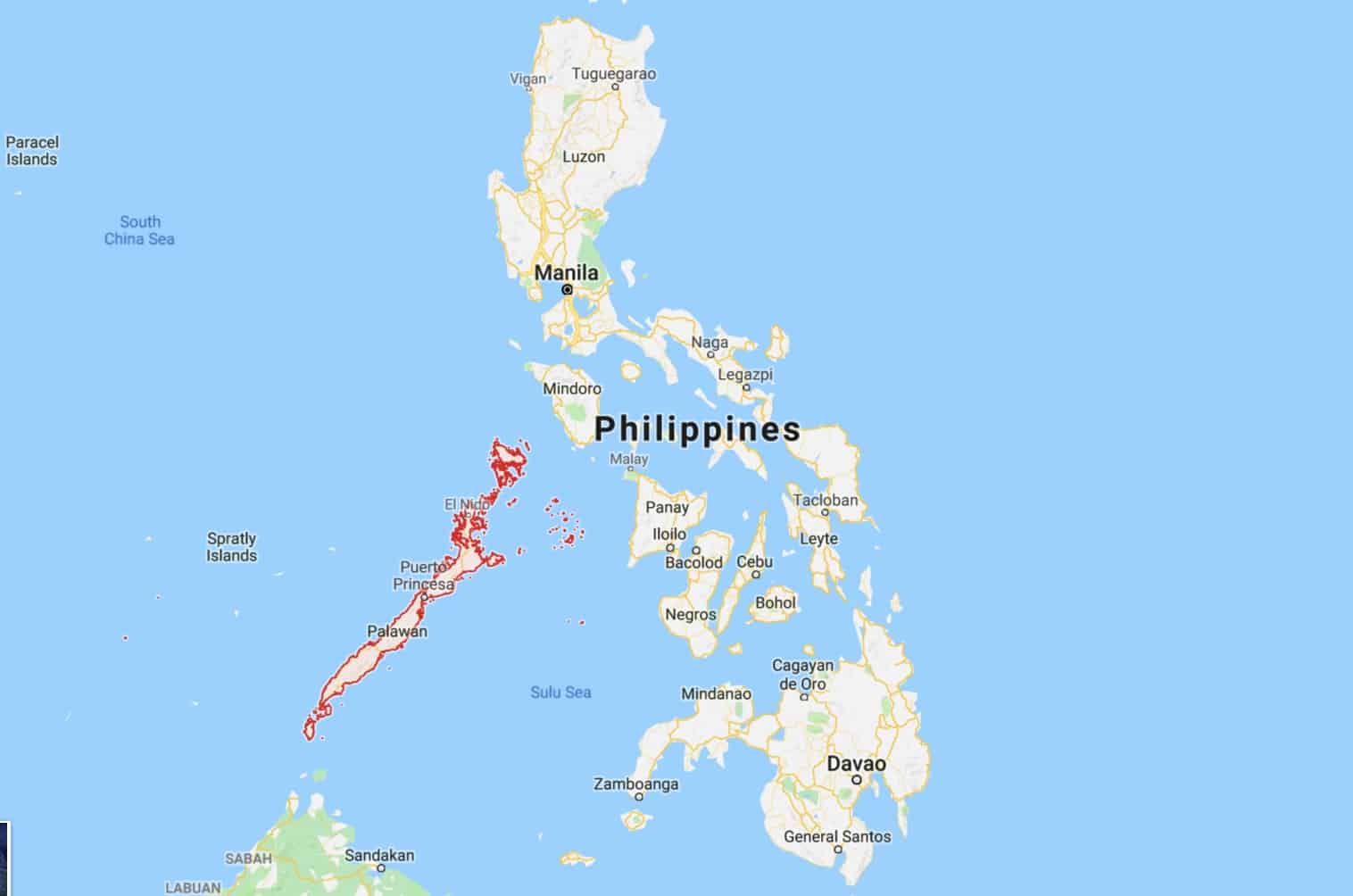 Coron is a city that is located in the province of Palawan. Palawan is one of the many stunning islands in the Philippines. Coron is situated at the northern tip of Palawan. The city of Coron is part of the larger Northern Palawan Islands that form the Calamian Archipelago or the Calamian Islands. Due to the location, Coron experiences a tropical climate and has relatively warm to hot weather all year round.
Original inhabitants
The original inhabitants of Coron, Palawan were the Taganuas people. According to historians, the Taganuas people were directly descended from the earliest settlers of Palawan. When the Taban Cave was discovered, tribal artwork was found on the walls during the inhabitation of the Taganuas. As the population and world began to grow the Calmiananen and Cuyonon tribes moved in the area of Coron and inhabited the city for many years.
European Contact
During a trip around the world, Spanish explorer Ferdinand Magellan became ill and died. After his death, his crew continued sailing until they reached Palawan. "Thanks" to the arrival of the Magellan crew, the Spanish began taking over the island. During the 16-17th centuries, Coron and the surrounding islands were heavily influenced by the Spanish culture and people.
The first city to be completed inhabited by the Spanish was Culion. This city received a "makeover" under Spanish rule. Spanish-style churches and forts were built during the late 16th century, including Fort Santa Isabel and St. Augustin Church. Spanish visitors began to inhabit Palawan and its islands and in 1749, the King of Brunei finally gave into the Spanish demand for rule in Southern Palawan.
First Settlement
As I previously mentioned the Taganuas people were the original inhabitants of Coron. However, the first official settlement in the city was that of Sandoval leader, Don Nicolas Manlavi who settled in the Banuang Daan of the Coron. Manlavi and his people established the Banuang Lague, which is now considered the Old Town.
Turn of the Century
The 19th century Philippine and American war caused Americans to have the power of the Philippines, which radically changed the government. The Japanese invasion in 1944 was brutal for the Coron people due to the Palawan Massacre. Finally, in 1945 the Philippine people were liberated to live their lives and rule on their own terms. The turn of events after WWII and the regaining of their independence led to a spike in tourism. The popularity of influencers and social media have helped boost tourism in Coron during the last few decades.
Population
The population of Coron has been counted since the beginning of the 20th century. Throughout the years Coron has mainly seen a steady increase in population with the biggest increases in 1918, 2000, and 2015. Even with the increase in population Coron has suffered decreases as well including the largest decrease in 1995. Currently, the city of Coron Palawan is home to more than 50,000 people.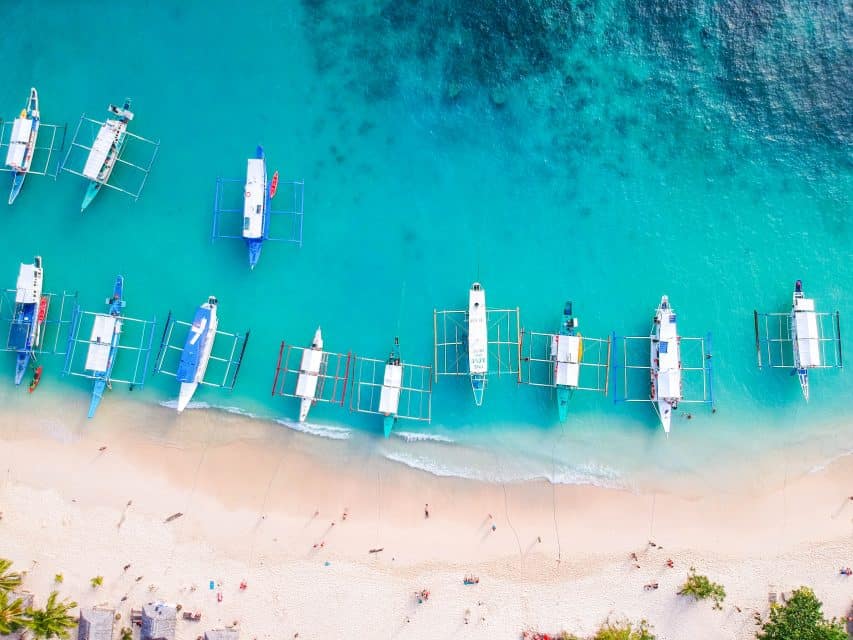 Top Things to do: Coron in Palawan
As you have read through the top things to do in Coron you probably cannot wait to book your favorite resort and jump on a plane. I recommend you hold your horses for a bit since you might run into a snag or two with the current travel restrictions and regulations.
But I wouldn't worry too much, you have plenty of time to organize and plan out your trip. Use this list above to choose the activities you want to do in Coron, Palawan, which is probably all of them! The most important thing to remember is that this is YOUR vacation and YOU deserve to enjoy it to the fullest! Have fun exploring Coron Bay, snorkeling at the Twin Lagoon, and admiring the wildlife. And give my love to the Coron Sea Turtles!
Do you know of other things to do in Coron in Palawan? Is there something I have left out? Please leave it in the comments.
Is Coron Palawan near me?