Jim Thorpe PA is a beautiful small town in Eastern Pennsylvania in the USA. It's a quaint town with museums, shopping, resorts, and plenty of spectacular views of the Poconos mountain range. It's the perfect destination for a Poconos getaway at any time of year and is a great option for weekend getaways in PA. I was lucky enough to visit during fall when the town of Jim Thorpe PA and the surrounding countryside come to life with vibrant fall colors.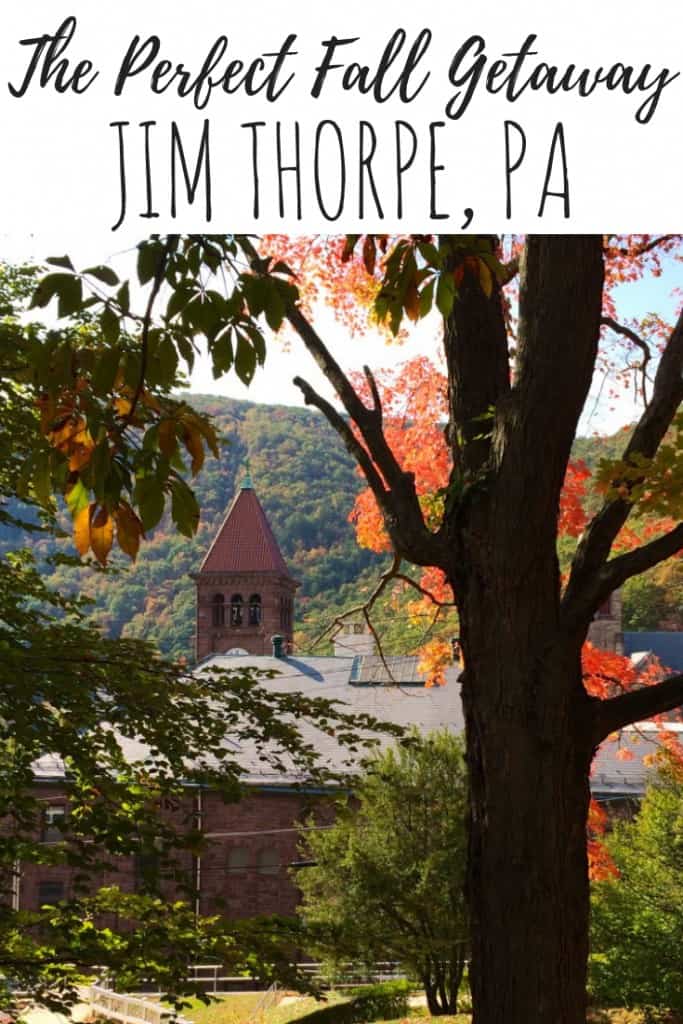 Jim Thorpe PA
Jim Thorpe PA was originally a Victorian coal mining town – but these days is more of a place for tourism and relaxing than anything industrial. The town was originally founded under the name "Mauch Chunk" until it was re-named in 1953 to Jim Thorpe – more on that below. The town is located about one and a half hours from Philadelphia.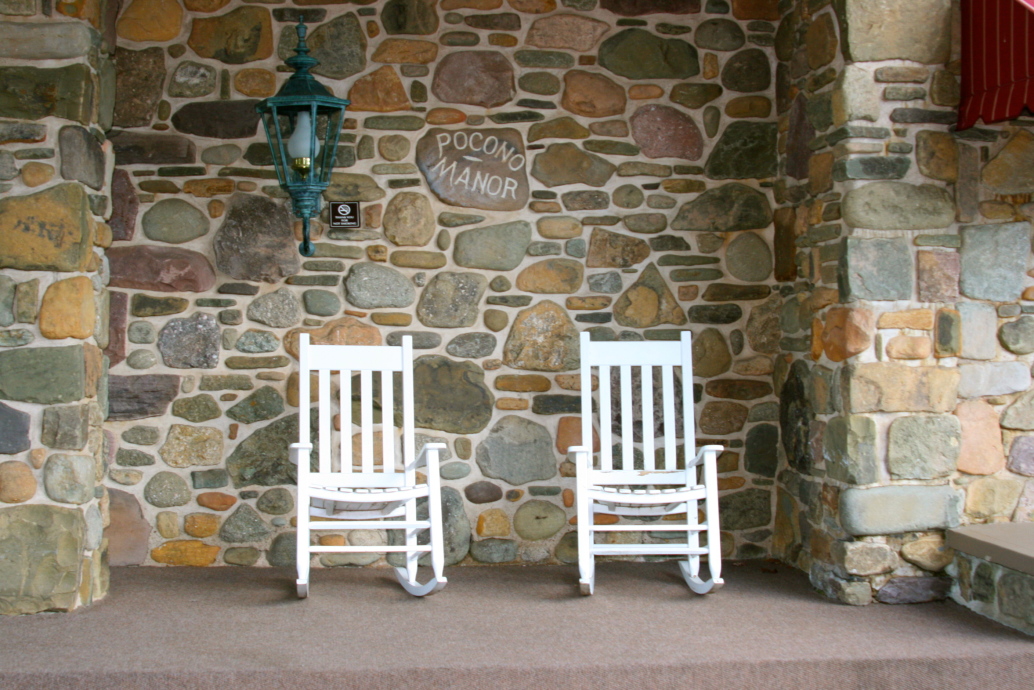 The Perfect Poconos Getaway
Planning your Trip
Now is the time to treat yourself to one of Pennsylvania's amazingly beautiful Poconos resorts. Where each resort has its own flair for relaxation and hospitality. They have everything for the entire family with campfires, hayride, and singalongs, as well as waterparks. But if instead, you need to plan a romantic weekend getaway for two, that have that too with many all-inclusive resorts. You can spend your time at a spa or find yourself horseback riding or fly fishing, as it seems that the Poconos resorts have something for everyone to enjoy
Where to Stay in Jim Thorpe, PA
From the Philadelphia airport, I ventured off to Poconos, PA where I was in for a treat on the lovely grounds of The Inn at Pocono Manor, who treated my travel group to amazing autumn-inspired drinks, hors-d'oeuvres and a sit-down dinner of encrusted almond lamb chops, filet mignon, and lobster. They laid out the red carpet to go with the season colors and it could not have been more pleasant.
My room at the Inn at Pocono Manor was a spacious king-corner room on the upper floor with a wonderful view of the leaf colored mountains. There are plenty of beautiful resorts for your Poconos getaway, ranging from cute inns in the town of Jim Thorpe PA to resorts in the surrounding area.
The next morning on my Poconos weekend getaway, I drove North to Jim Thorpe PA, which I would like to personally name "the prettiest little town in America!" I don't know if they have come up with a town tagline, but this would be my pick. The town has been called the "Switzerland of America" due to the picturesque mountainous location, as well as the "Gateway to the Poconos". The Pocono Mountain range provides a stunning backdrop to the town and you could easily spend a day walking around, learning the history of the area, and taking photos of this quaint, little town.
When to Visit Jim Thorpe PA
I was here during that perfect time of year when green turns to red, yellow, orange, and every color in between! Who knew that this trip would be the one that took me back to my childhood memories of raking leaves into a pile and jumping around in them and throwing them in the air with such glee? Back in Texas where I come from, we had seasons too, but now I am a desert dweller and "fall leaves" are just not a part of my life.
Each time I would hold the camera to my eye, trying to capture the colors of the season, a leaf would float down in a swirl in front of me, putting a grin on my face. I had such a hard time grasping this thing called a "season". As evidenced in front of me, I turned into a kid again, kicking the piles of leaves that were gathered everywhere.
Jim Thorpe PA, Who is He?
"Who is Jim Thorpe?"
Known as the greatest athlete of the 20th century by the Associated Press and the Pro Football Hall of Fame. Jim was considered one of the most versatile athletes of modern sports, he played basketball, baseball, and was also the winner of a 1912 Olympic gold medal for the pentathlon and decathlon.
"Who does all of that?"
"Jim Thorpe does!"
He was an American Indian born in Prague, Oklahoma and as rumor has it, he never did step foot in the town of Jim Thorpe, which was once known as the combined towns of Mauch Chunck and East Mauch Chunck. He was a student at the Carlisle Indian Industrial School only 100 miles from there, but that is as close as he came to this sweet, little town named after him.
This is Jim Thorpe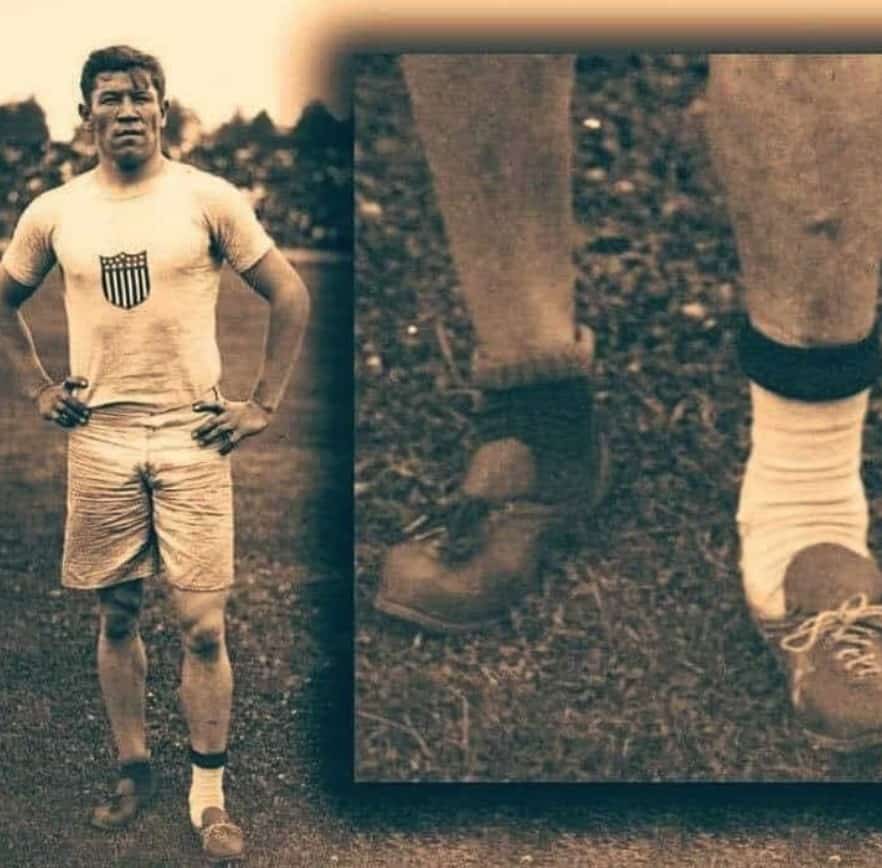 Now look closely at the photo above of Jim Thorpe. You can see that Jim is wearing different socks and shoes. In the 1912 Olympics on the morning of his competitions for running, Jim's shoes were stolen. Luckily, he ended up finding two shoes in a garbage can. One of the shoes was so big, that he had to wear an extra sock. Wearing these shoes, Jim Thorpe won two gold medals that day and is an American hero.
Jim Thorpe PA Memorial
He was buried here in 1953 when his third wife gave his body to Mauch Chunck because the state of OK refused to build a memorial to Mr. Thorpe. She made a deal with civic officials to have the two boroughs merge, and rename the new municipality in Jim Thorpe's honor. The monument site contains his tomb, two statues of him in athletic poses, and historical markers describing his life. The grave rests on mounds of soil from Thorpe's native Oklahoma and from the soil of the stadium in which he won his Olympic gold medals.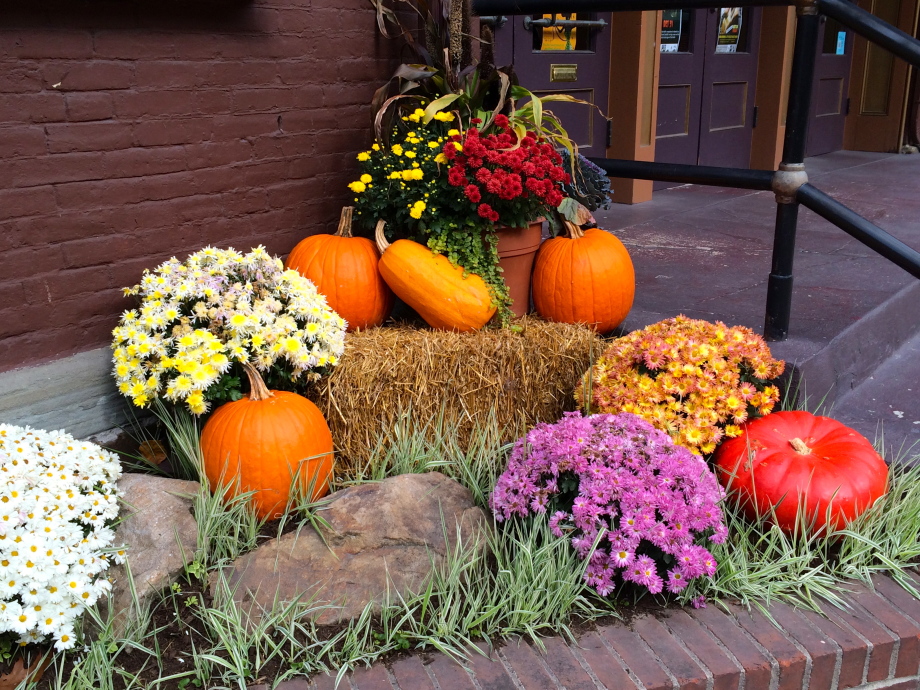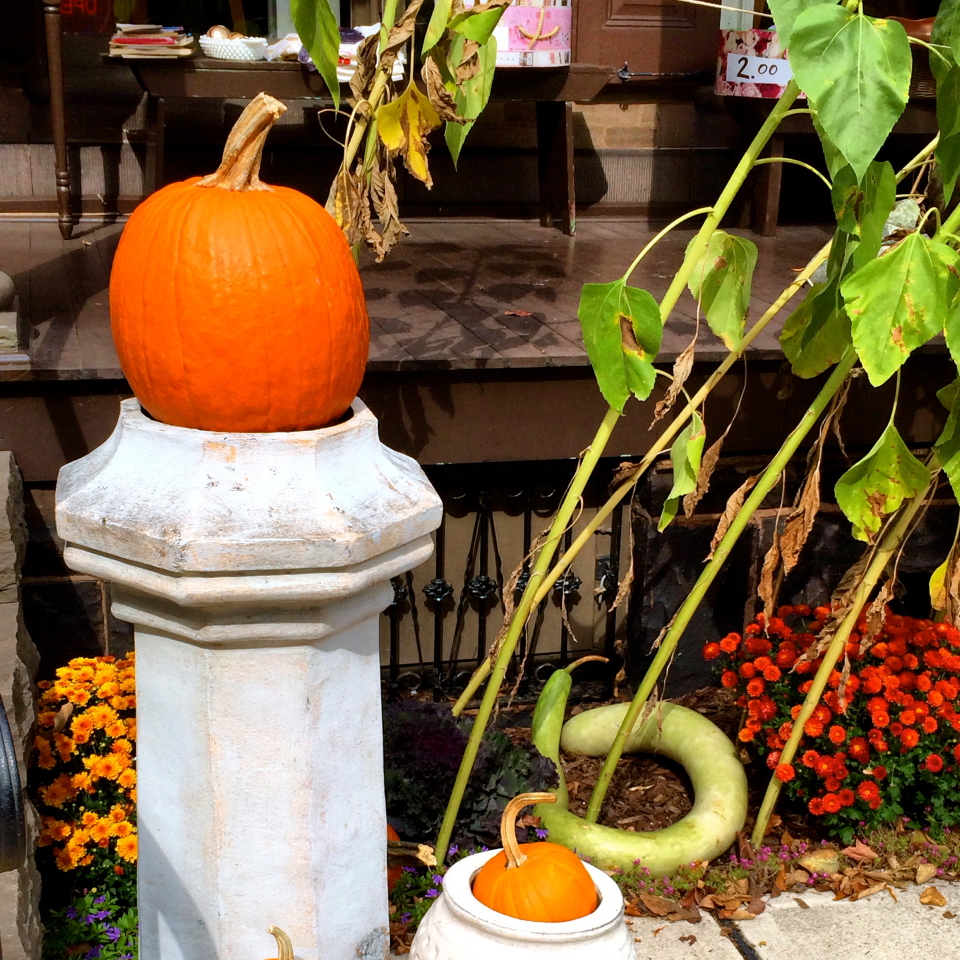 The Perfect Poconos Weekend Getaway for Fall
During my visit to the Poconos, I was also not expecting the pomp and circumstance that goes along with the changing of the season in northeastern Pennsylvania. As a 20-year desert dweller, the seasons are basically only two: hot and hotter, I joke (we also have the wet and wetter: monsoon season).
I realize that Americans celebrate the changes of the seasons with the holidays of Halloween and Thanksgiving, but I had never seen anything quite like this, with the autumn-colored, potted flowers in every window and on every porch, as well as the pumpkins and the gourds, they were everywhere in site, and I loved it!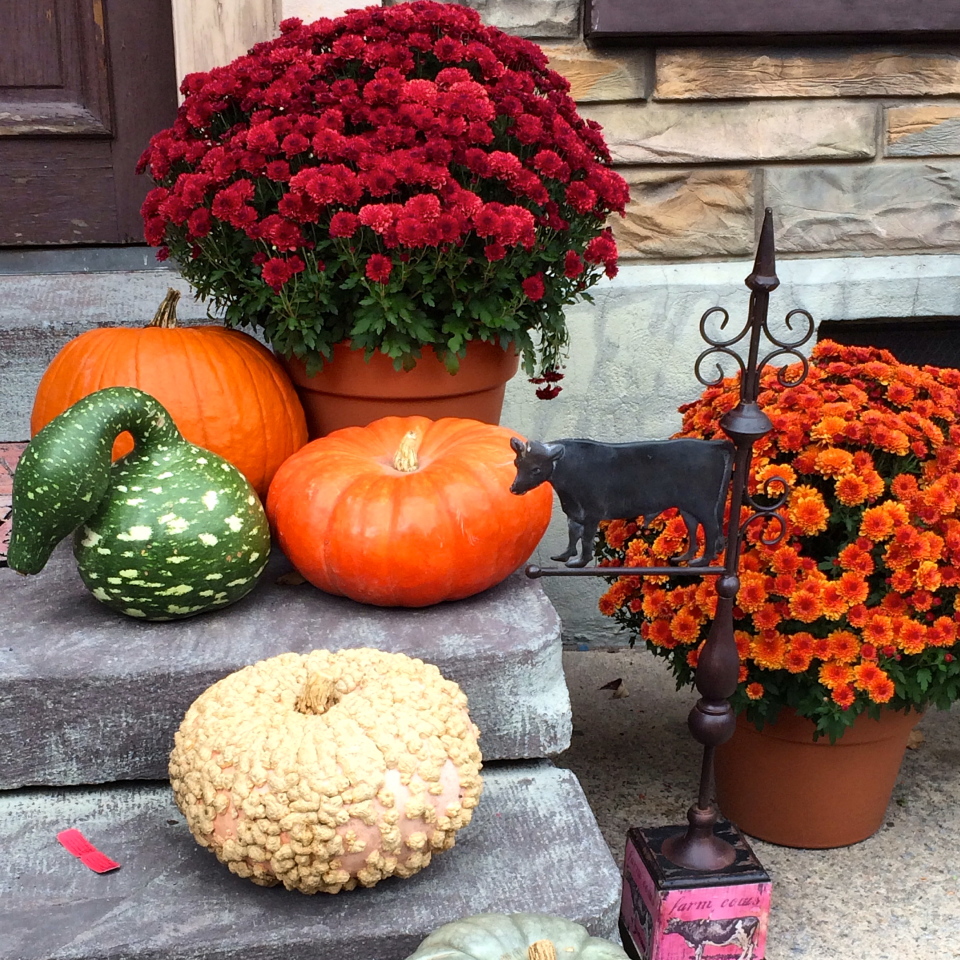 ---
With my door fetish in full bloom, they only added to the beauty of each photo.
---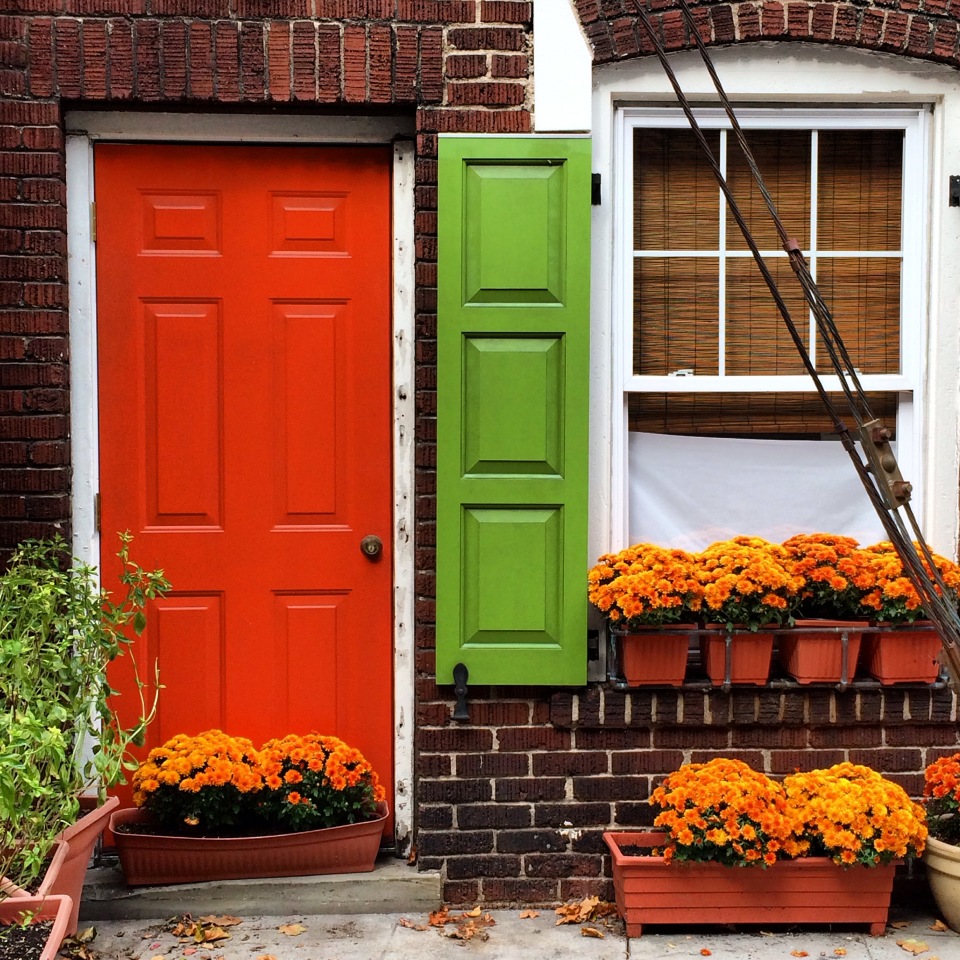 Fall Foliage & Old Time Christmas Festivals
Fall Foliage Festival takes place during October weekends and the Olde Time Christmas Festival takes place during December weekends. These are both great times to visit as that is when everything is open.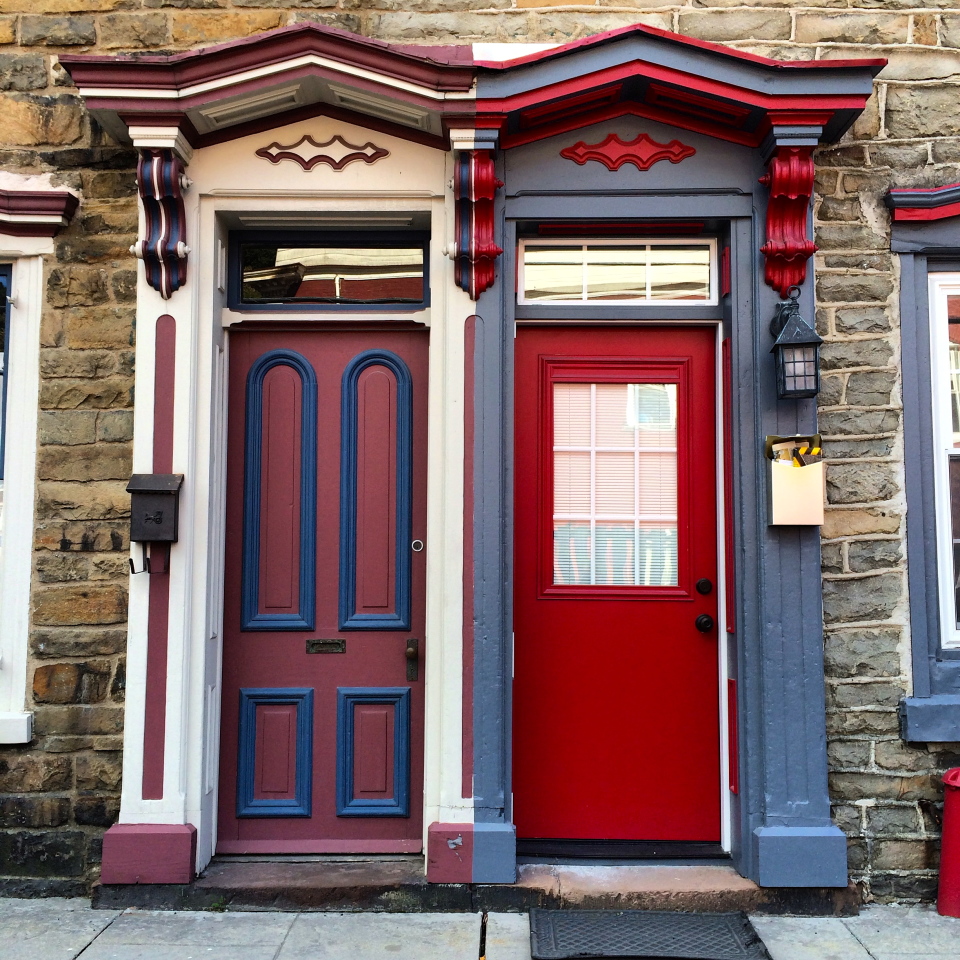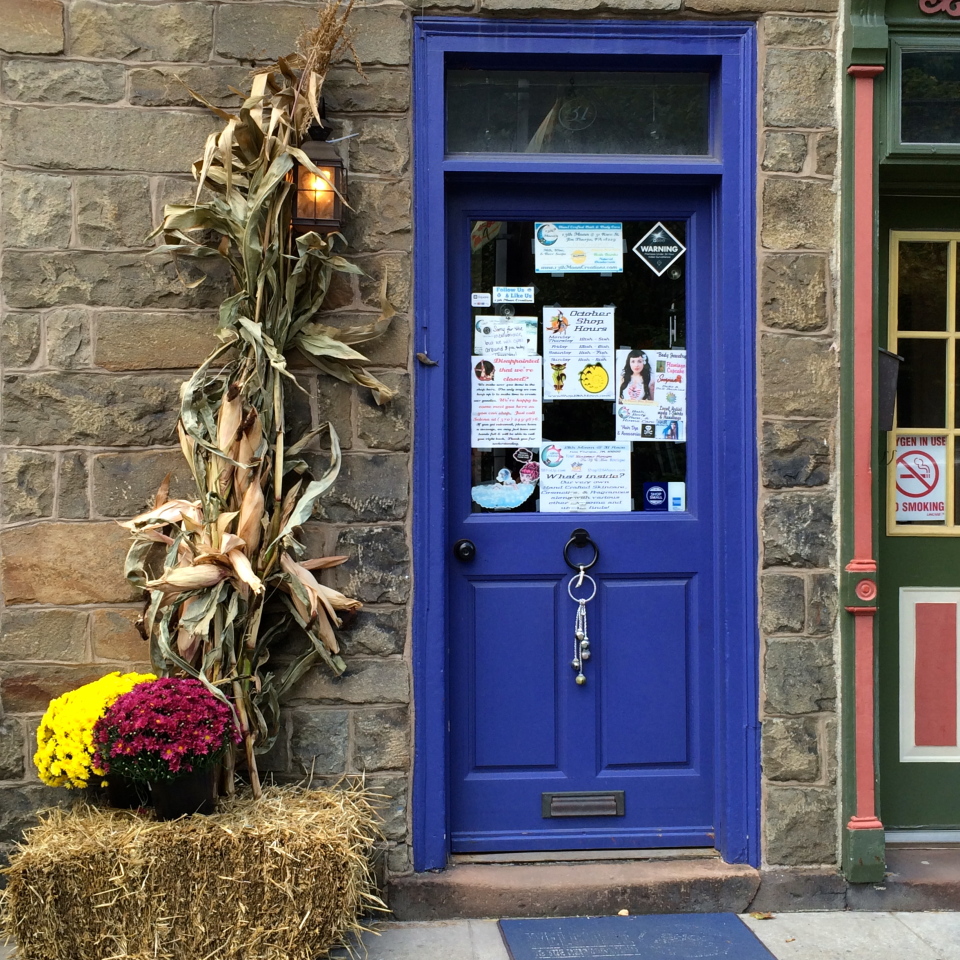 Things to do in Jim Thorpe PA:
Lehigh Gorge Scenic Train
If you are up for an adventure, this town is the point of departure for white-water river rafting. You can also catch the train for the Lehigh Gorge scenic railway. But if you are here to see the changing of the leaves and a piece of Americana, I would suggest this town is the perfect place to start during the first week of October all the way to the end of November, before the ski season begins.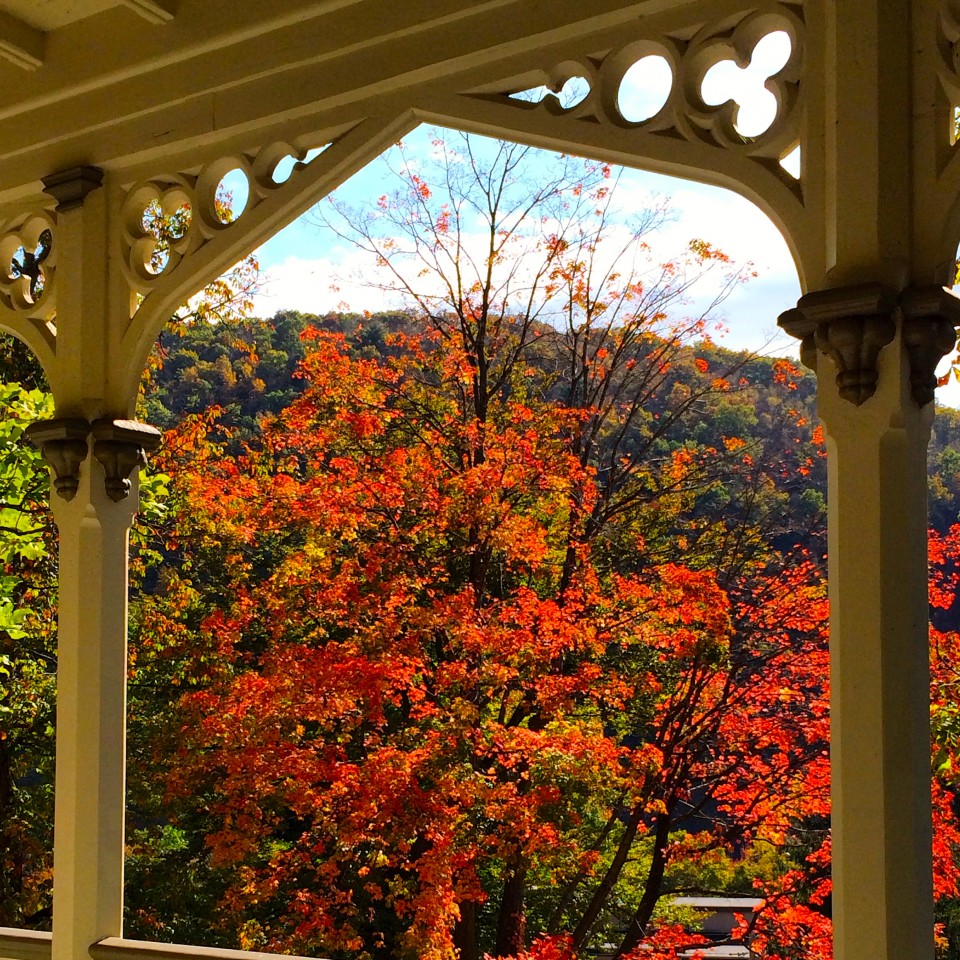 Visit the Opera House
Over on Broadway street, you will find the 130-year-old Opera House that was saved by the Mauch Chunk Historical Society from being torn down. It was reopened in 2003 as a live-music venue. It has become a favorite spot for tribute bands as well as some top-name entertainers.
Stand in the Old Jail
Past the Opera House on Broadway, you'll see a stone building with a tall fence around it that the locals call the "Old Jail". Apparently, the draw of the Old Jail is the handprint, but I don't want to give away the story… so stop by and see what it is all about! Oh, and don't be afraid of ghosts!
Asa Packer Mansion Museum
While in town, you cannot miss the opportunity to visit the well-preserved Asa Packer Mansion Museum, it is a treat for history lovers and turn-of-the-century history buffs. It is a fascinating walk through time and was built in 1861 for $14,000. No photographs were allowed, so, unfortunately, I don't have any to share with you. Located on the same lot is a second mansion (built for Asa Packer's son) which inspired Disney World to model their haunted mansion after it, although I didn't find it scary at all!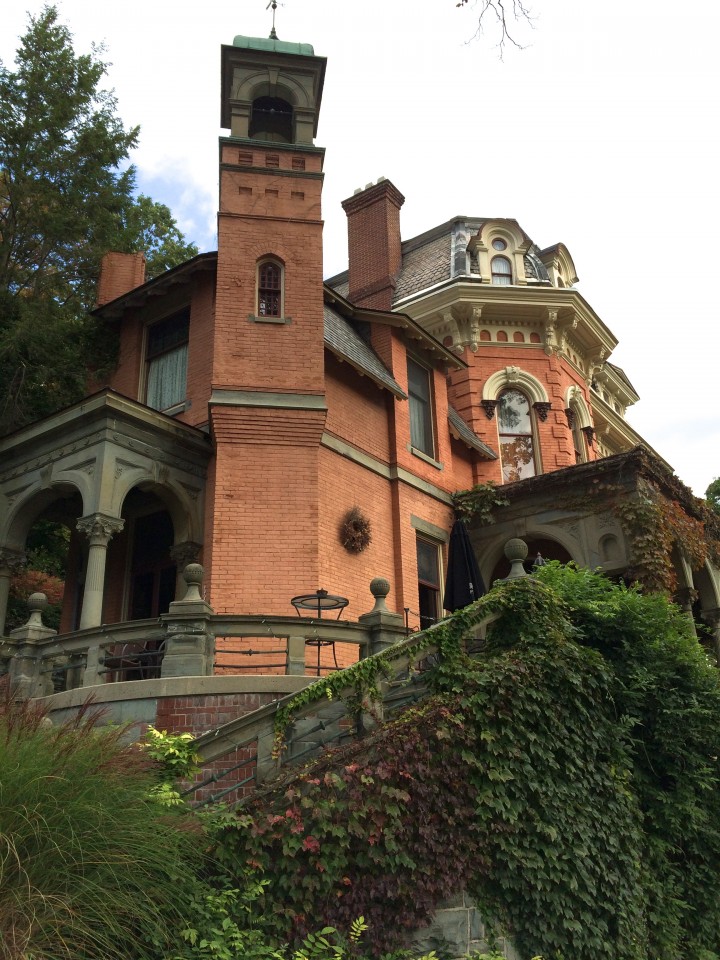 After lunch, I wandered up and down the two main streets of old Jim Thorpe and could not help but fall right back into the old habit I have of photographing doors.
Walk around to see the beautifully decorated doors
Yes, that's right, doors, and windows. I don't exactly know what my fascination is with doors, but it is to the point that it has become an obsession that I now find it difficult to walk past a charming front door or window and not at the very least take a photo of it. I just love how the colors and the shapes and the styles are all so different and yet so personal to each one who creates their own front door.
What is odd to me is that my own front door is not that special. It is not a door that I even remember selecting when I built my house years ago, but it is a very large (9 foot), light-colored wood that is ribbed. It honestly could use some love and attention, unlike the doors I found in this sweet little, 'charm of a town' Jim Thorpe.
Our Favorite Jim Thorpe PA Restaurant
Broadway Grille and Pub
In this region of PA, there is also a great push for the "farm to table" movement, where you will find charming restaurants and local winegrowers. You can have lunch at the Broadway Grille and Pub, where local wine producers paired our lunch menu with the chef. The chef prepared a delicious charcuterie board with an in-house cured bresaola, an in-house chicken sausage, and an anti-pasta that had cinnamon and cranberry mozzarella for an appetizer. My entrée at lunch was a quite rare ostrich steak, which for me was the first time I had ever even tasted this exotic bird.
Fun Facts About Jim Thorpe
Jim Thorpe was named one of the Top 10 Coolest Small Towns in America and in 2012 Jim Thorpe was selected as the fourth most beautiful town in America.
The Mauch Chunk Historical Society saved the town's 130-year-old opera house from ruin and reopened it in 2003!
Almost everyone who lives in Jim Thorpe is somehow connected to the railroad or coal industries.
And there you have it. Just one simple little town. It may have a complicated town name, not 80 miles outside of Philadelphia airport, and 100 miles outside of Newark airport but you can be whisked away to another time and place. Jim Thorpe has great charm, history, and the bliss of the Pocono Mountains of Pennsylvania!
Recommended Reading about a Poconos Area Hotel:
Milford, PA: At the Crossroads for East Coast Vacationers
Disclosure: My trip to the Poconos Mountains was sponsored by the Pocono Mountains Visitors Bureau.