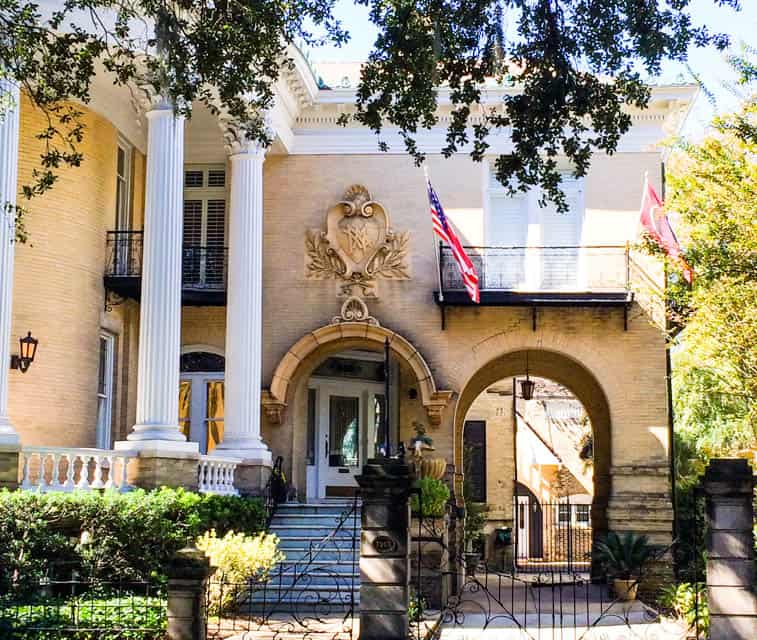 ---
What's in this post:
hide
Savannah's Historic District
---
Located in Chatham County, Savannah is the oldest city in the state of Georgia. This revolutionary city was once a port city that saw its fair share of battles during the American Civil War. However, Savannah is a wonderful place to visit. Thanks to its relationship with art and design, the entire city shines with inspiration! Savannah's downtown area is well known for its cobblestone streets and historical buildings, including an area called Savannah's Historic District. The Savannah Historic District is a large urban US historic district that roughly corresponds to the city limits of Savannah, Georgia, prior to the American Civil War.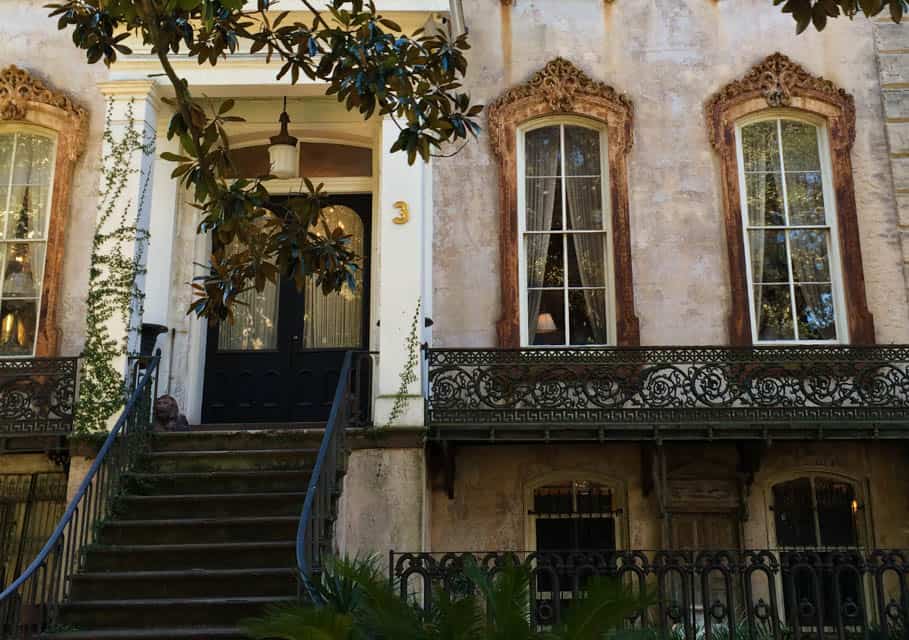 In 1966, Savannah's Historic District has declared a National Historic Landmark District and is one of the largest urban, community-wide historic preservation districts in the United States. Visitors from around the world go to this district to admire many things, among them, the Isaiah Davenport House, the William Scarbrough House, and the gorgeous Forsyth Park.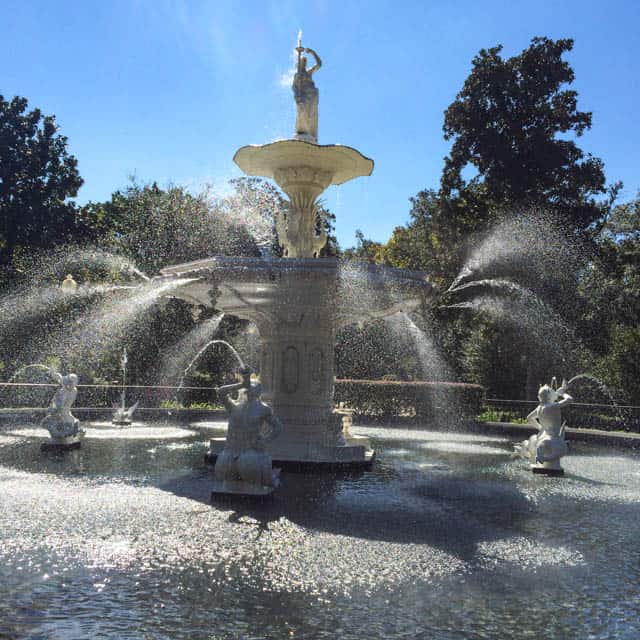 Getting to the Savannah's Historic District is pretty easy. Most people head into the city by train, bus, or taxi. The cheapest way to get into the historic district from the Savannah Station is by the Line 3 bus ($2). A taxi ride from the airport can cost roughly $10 and only takes about 6 minutes. Visitors can also enjoy taking tours in the city by foot, pedicab, boat, carriage, and trolley car.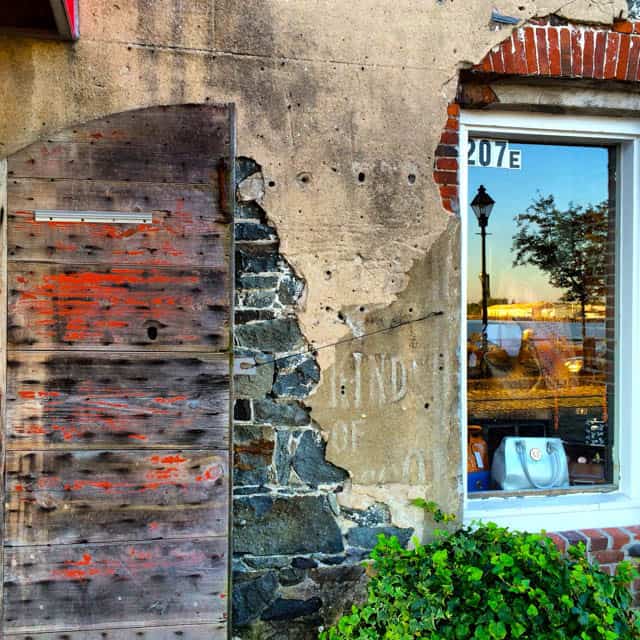 It is fun to explore Savannah on an eBike or regular bicycle, or if you only have a limited time in Savannah's Historic District, try the trolley or even a horse-drawn carriage (these are fun!). I would advise leaving your rental car at your hotel, as this city is meant for walking! Plus with so many one-way streets, it is a hassle to drive.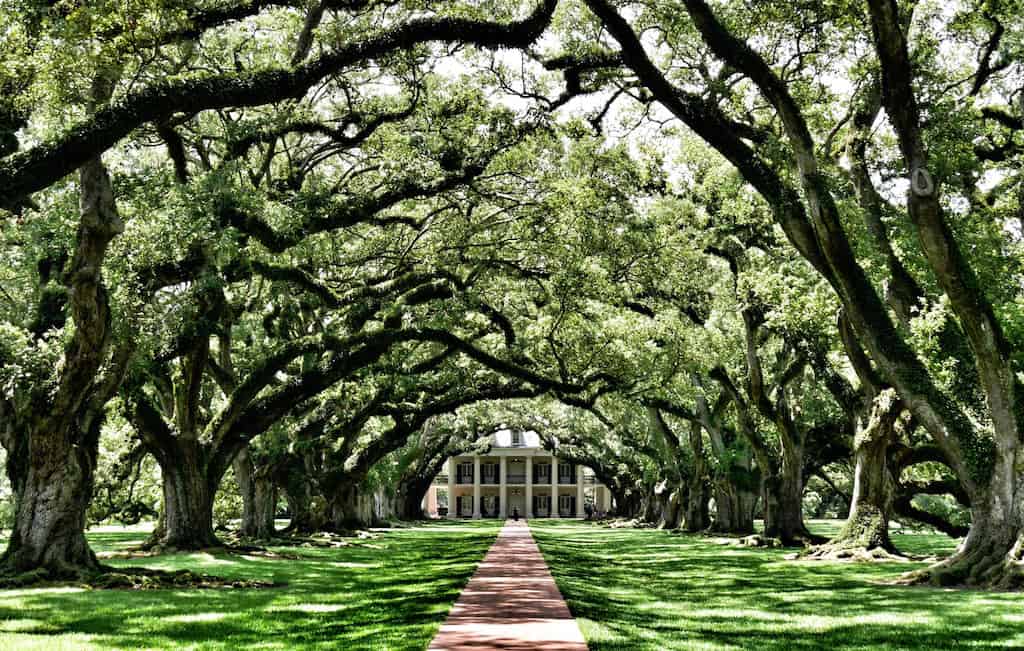 I can also suggest that you can get a map of the Savannah Historic District from your hotel concierge or the Savannah Visitor's Center. It should have everything well marked out on the places that you will want to see. These maps typically have tourist attractions, historical monuments, the 22 squares, churches, parks, museums, and other points of interest very well marked. You can also write on the map and get an itinerary for yourself each day.
Here is one I picked up from the Old Town Trolly Tour that shows the route that the trolly takes.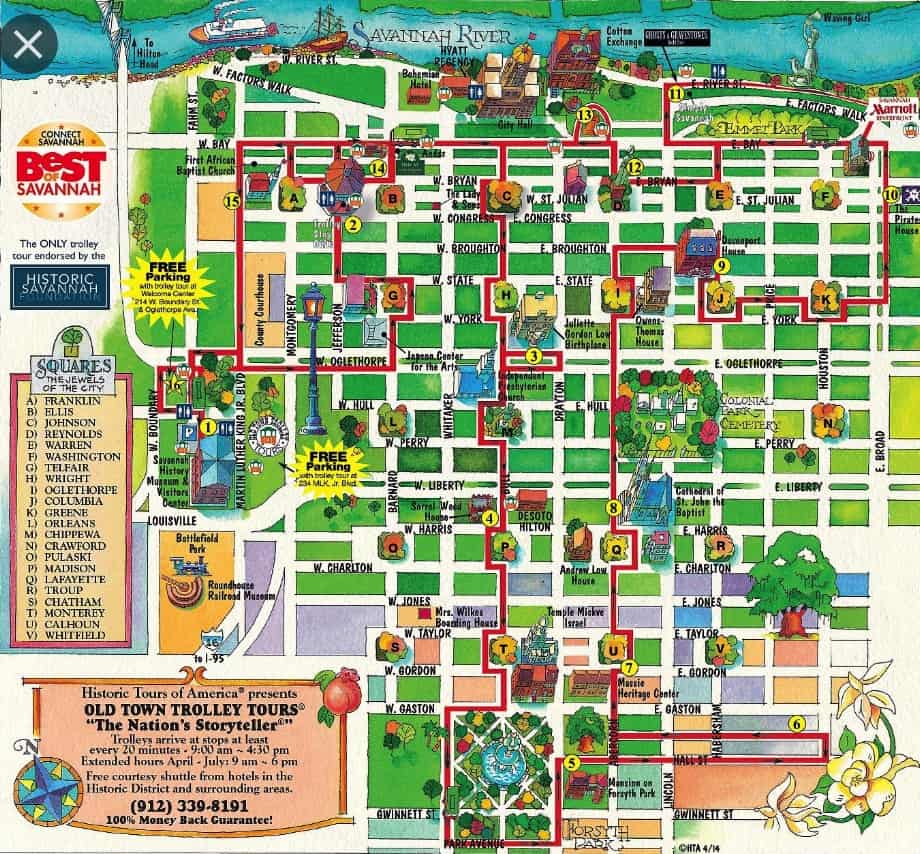 What is in Savannah's Historic District?
#1 Forsythe Park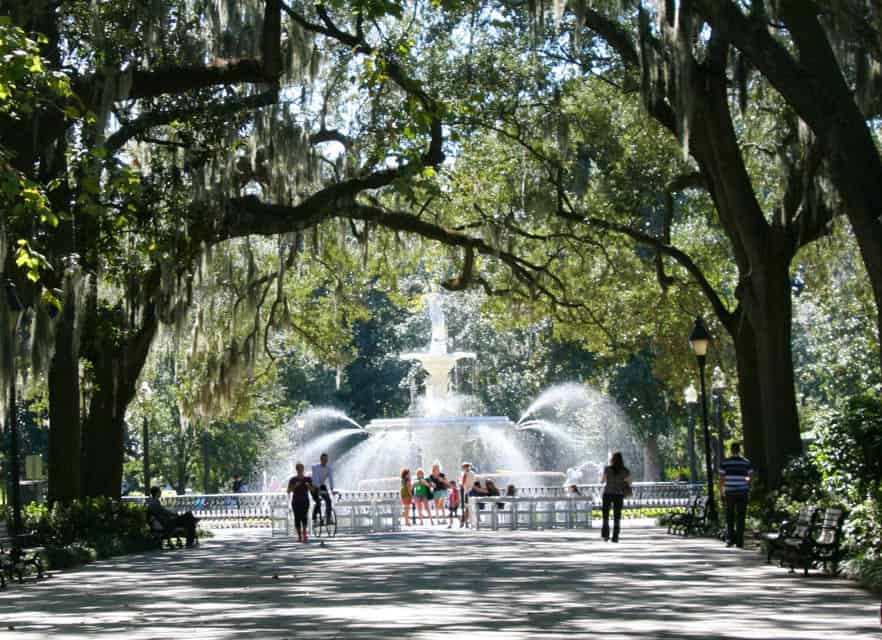 In 1840, the city of Savannah created a year-round park that is the oldest public park in Savannah. One of the most spectacular parts of the park is the romantic fountain. Forsyth Park's fountain was built in 1858 and designed after the public gardens in France. Although this fountain is the highlight of the park, it is not located in the center. Each year on St. Patrick's Day, the color of the water of this fountain is dyed green.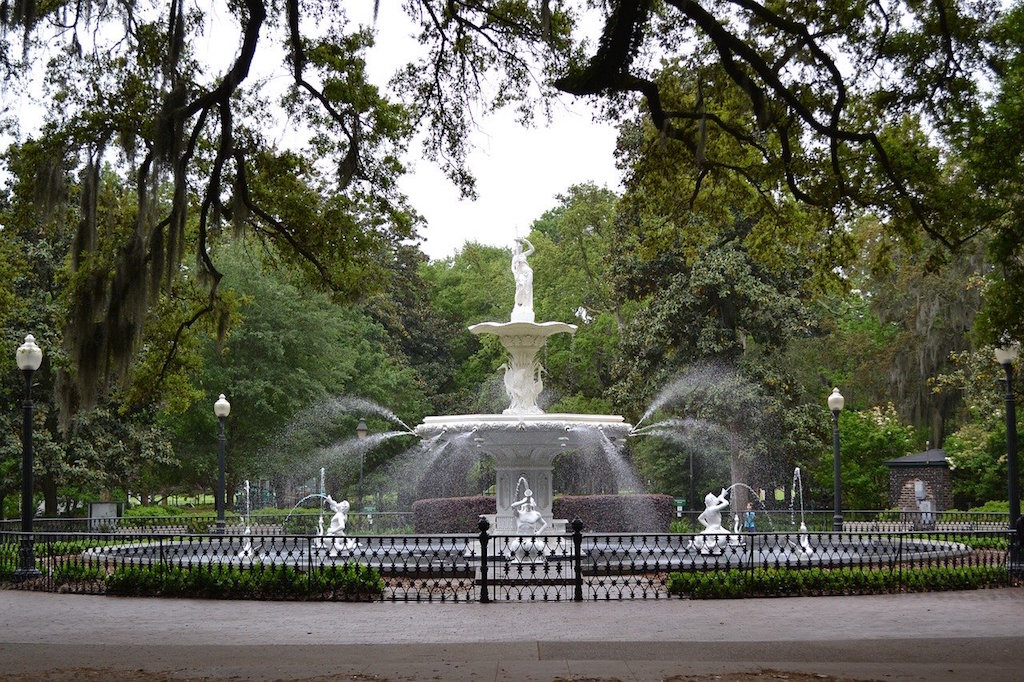 Another inspiring part of this park is the fragrant garden. This garden was created for the blind so they would be able to smell unique scents of azalea bushes and live oaks. Other stunning memorials of this park include the Confederate Memorial and the Memorial to the Spanish-American War.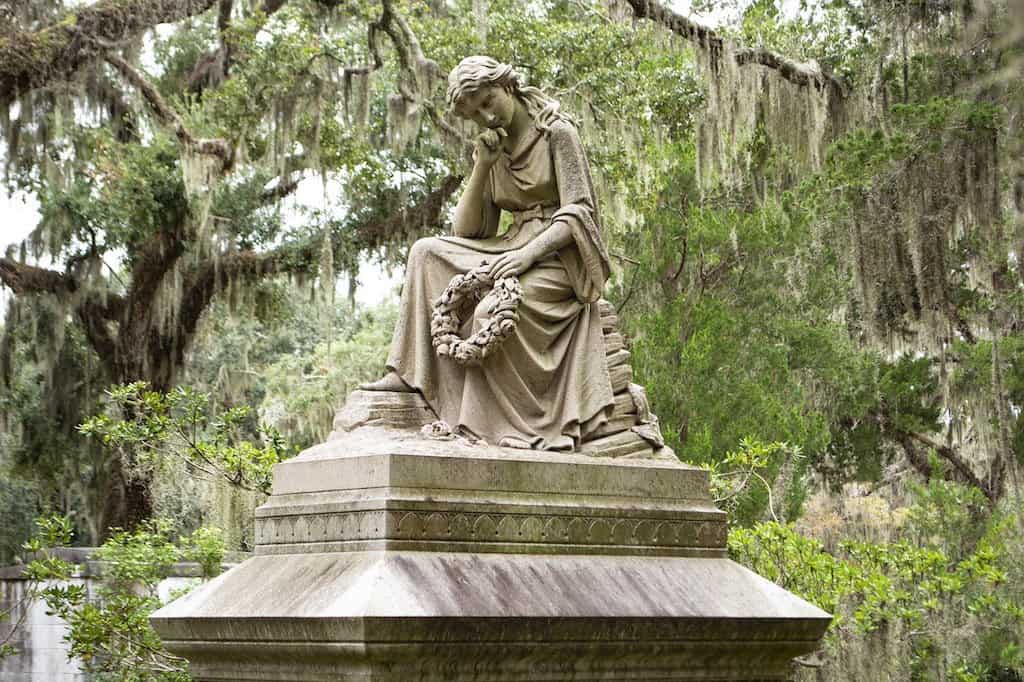 Located east of the Wilmington River lies the 160-acre Bonaventure Cemetery. There is no admission fee to enter this cemetery and it is open daily from 8 am-5 pm. This cemetery became somewhat famous after a sculpture of a young girl from the center became the focal point of the best-selling book, Midnight in the Garden of Good and Evil. This statue is no longer there, as it was removed from the family who owned it.
#3 Jones Street
If you are looking for the picture-perfect street in Savannah, then look no further than Jones Street. This picturesque street is lined with brick construction, Juliet-style balconies, rows of trees, and charming buildings. In fact, this is one of my favorite things about Savannah. I love shopping on this street. Some of the most notable houses on this street include those of Judge Noah B Knapp, philanthropist Alexander Smets, and lawyer Joe Odom. It has been rumored to be one of "the most beautiful streets in America," and I couldn't agree more, as this street is GORGEOUS!
#4 The Waterfront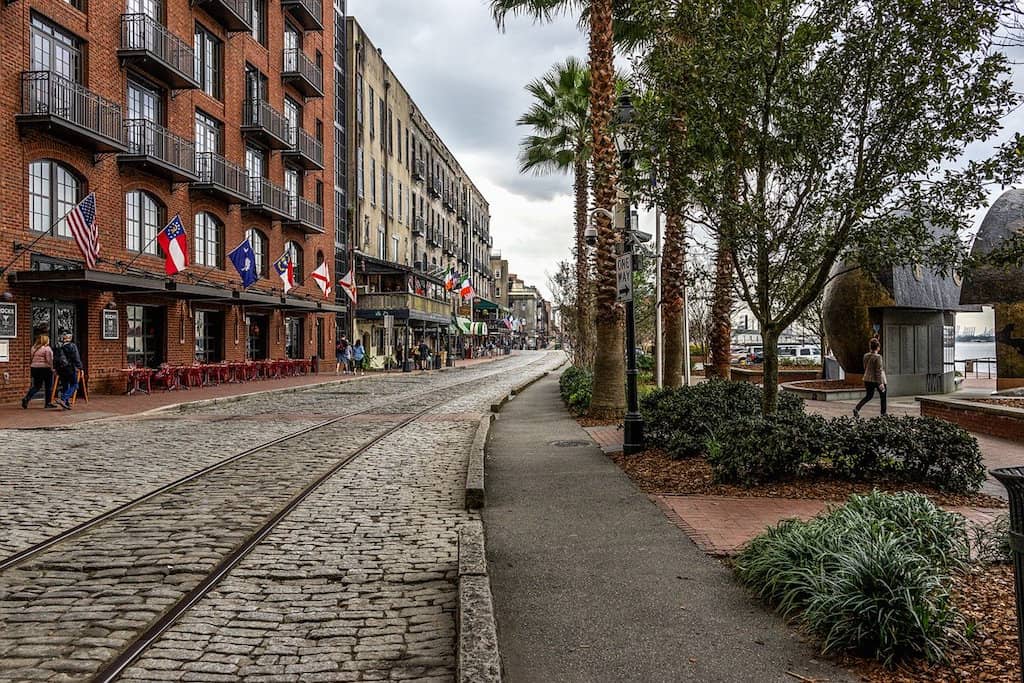 Savannah's waterfront is a breathtaking spot to admire the beauty of the past and present of Savannah. The waterfront view of Savannah allows visitors to capture the entire city in one panoramic and stunning view. The waterfront has many restaurants and shops up and down its streets.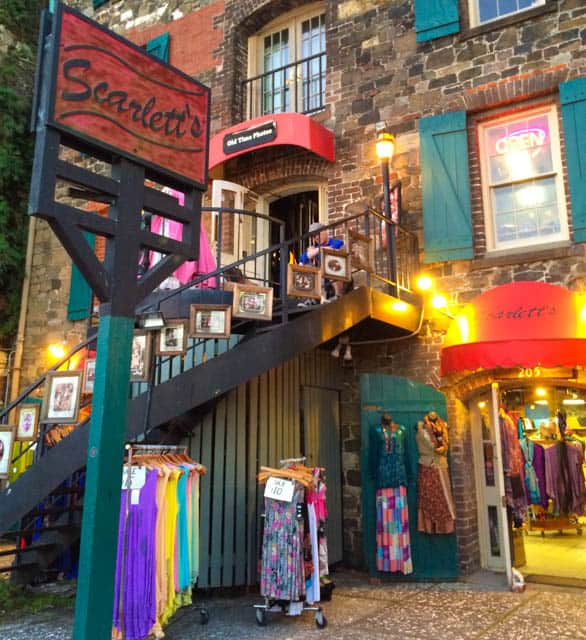 #5 Town Squares
There are 22 historic squares in Savannah's Historic District. The squares are planted among charming inns, museums, and greenery. The most famous square, Calhoun Square, is located in Forsyth Park. Located at the corner of Barnard & Wayne streets is Chatham Square. In the downtown area is the serene Colombia Square. Johnson Square is located at Bull and Saint Julian streets and is the oldest and largest historic square in Savannah. Other squares located near the historic district include Orleans Square, Troup Square, and Wright Square.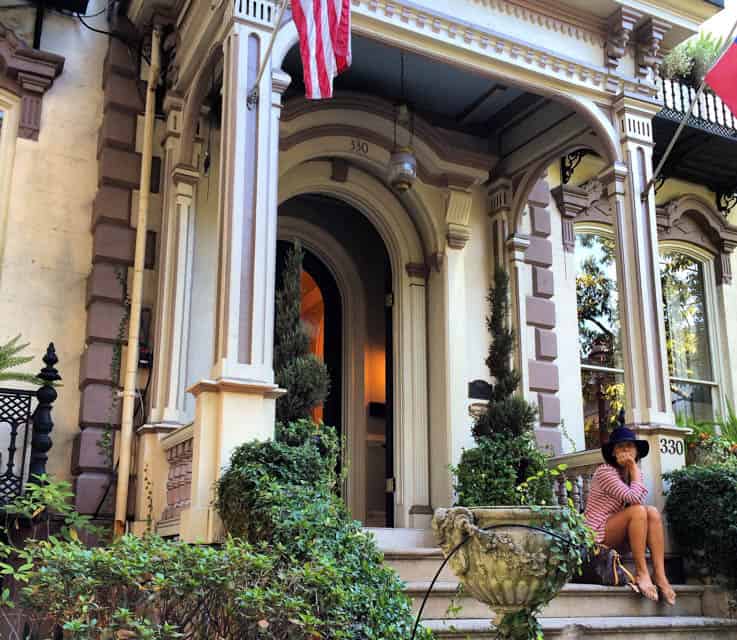 #6 City Market
Nicknamed the "art and soul" of Savannah is the City Market. This market has a combination of various things for visitors to enjoy such as shopping, visiting art galleries, eating, and listening to the best Southern music. Established in the 1700s, it has been the heart of Savannah's downtown Historic District for centuries now. Where people once gathered to buy groceries, they can now shop and eat in popular restaurants, art galleries, and retail shops. City Market is located at the corner of Jefferson and West St. Julian Streets. Visitors often engage in events such as St. Patrick's Day Celebration, Christmas for Kids Celebration, and the City Market New Year's Eve Party.
#7 Historical Architecture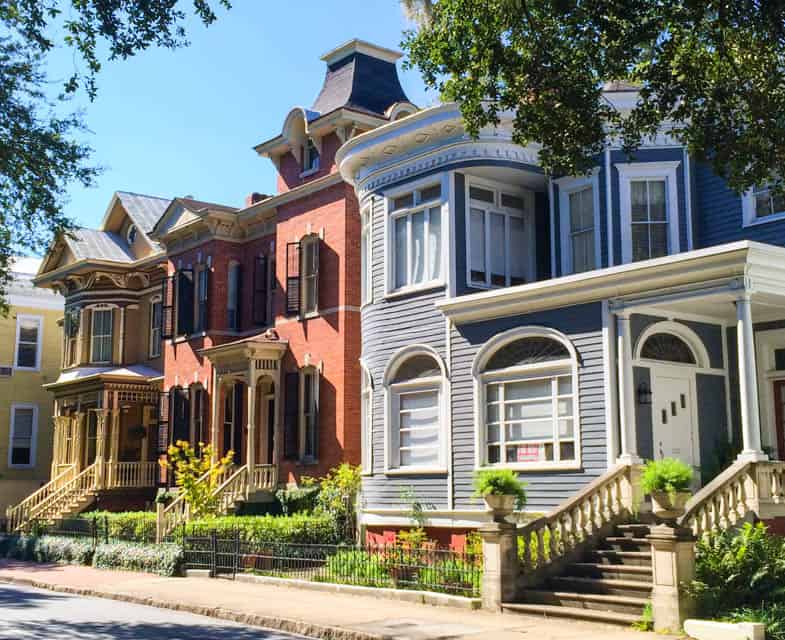 The historic district is filled with stunning architecture and houses that are currently open to the public. Three of the must-see houses in Savannah include Owens-Thomas House & Slave Quarters, The Owens-Thomas House was built in 1819 and represents what the Regency era with stunning architecture and beautiful built gates. Sorrel-Weed House, and the Scarbrough House. The Sorrel-Weed house is known to be the most haunted place in Savannah. The Scarbrough House was once owned by the owners of Savannah. This house is now in the hands of the Ship of the Sea Maritime Museum.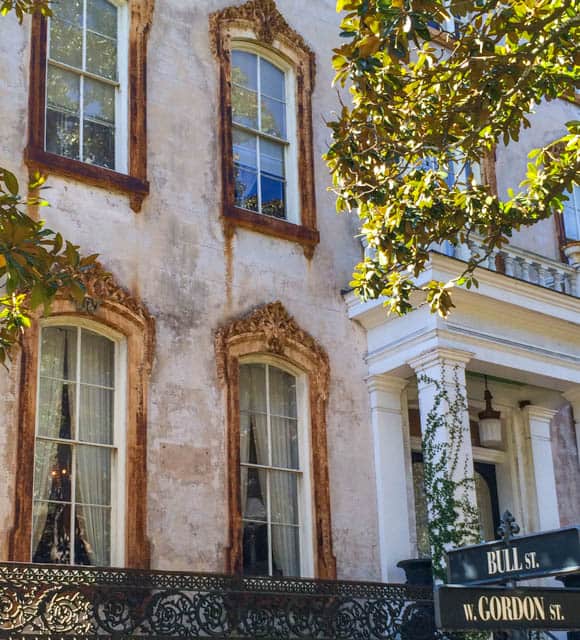 #8 SCAD (Savannah College of Arts and Design)
This private art school was founded in 1978 and operates in two locations in the USA and two internationally. This wonderful art school holds many performances, lectures, and festivals each year such as the Sidewalk Arts and Sand Arts Festival, Jazz Festival, and the Savannah Film Festival.
Here are a few Honorable Mentions!
While walking or riding around Savannah's Historic District: you might want to see
The bench where Tom Hanks (aka Forest Gump) sat in Chippewa Square, which is now located at the Savannah History Museum.
The Georgia Historical Society, which is the oldest continually operating historical society in the entire South!
The First African Baptist Church, which is one of the oldest African-American Baptist churches in the USA!
The birthplace of Juliette Gordon Low, who happened to be the founder of the Girl Scouts of America!
---
Want to read more about Savannah?
9 Interesting Facts about Savannah (Georgia)
Best Savannah Breakfast to Die for!
---
Located Nearby Savannah:
#1 Tybee Island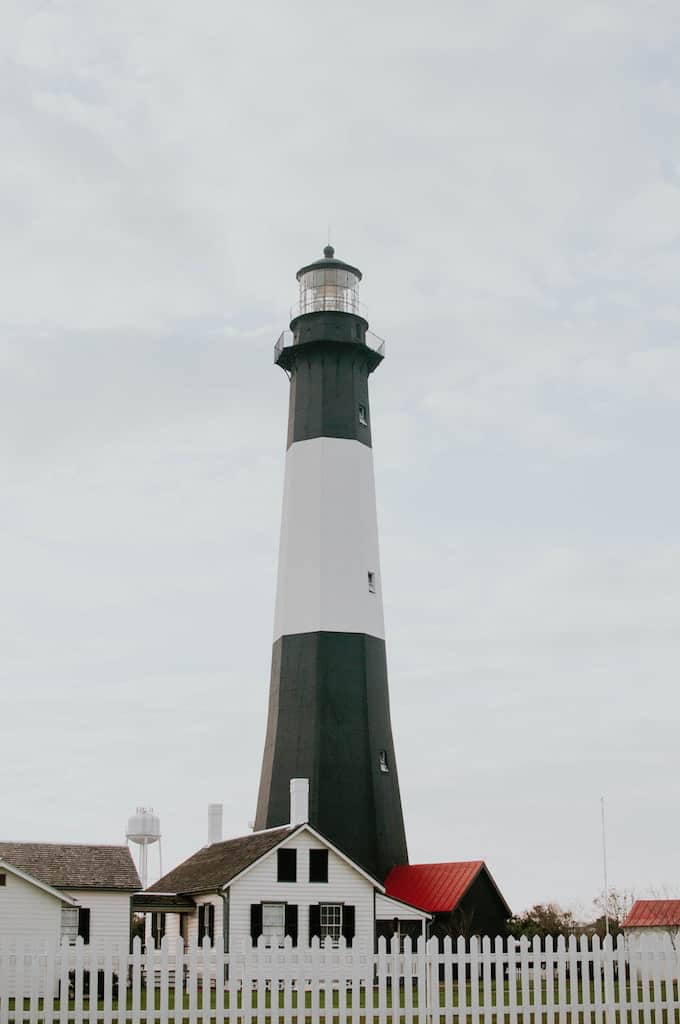 One of Savannah's best-kept secrets is Tybee Island, located just 18 miles from Savannah's Historic District. Guests at this island can enjoy art galleries, performing arts, a day trip to the beach, and dining at wonderful restaurants. Don't skip out on visiting the historic Tybee Lighthouse. Click here for more information about a day trip to this island.
#2 Wormsloe Plantation
The Wormsloe Historic Site, also known as Wormsloe Plantation was built in 1730 for Noble Jones, one of the colonial founders of Georgia. This plantation has evolved to adapt to various services such as a country residence, farm, tourist attraction, military use, and lastly a historic site. Visitors of this plantation can admire the Tabby Ruins (oldest standing structure in Savannah), live oaks, shrubbery, and Spanish moss.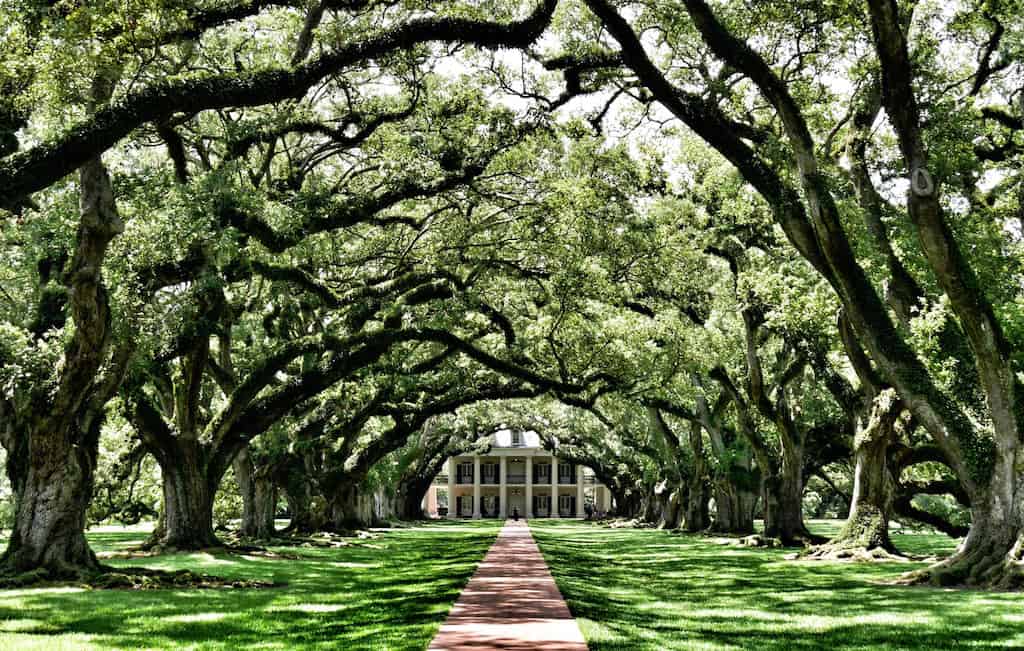 In Savannah's Historic District – Where to Eat?
There are plenty of restaurants in Savannah's Historic District but I am only going to name some of the best. The best burgers and beer come from The Distillery on W. Liberty St. A mix of seafood, sushi, and European dishes are prepared at 39 Rue de Jean on W. Oglethorpe Ave. Mrs. Wilkes Dining Room serves up all American and Southern-style dishes. For a vegetarian-friendly option, I recommend vising Savannah Square Pops. And don't forget Vic's on the River down at the waterfront and The Old Pink House. Another fun place is the Pirate's House.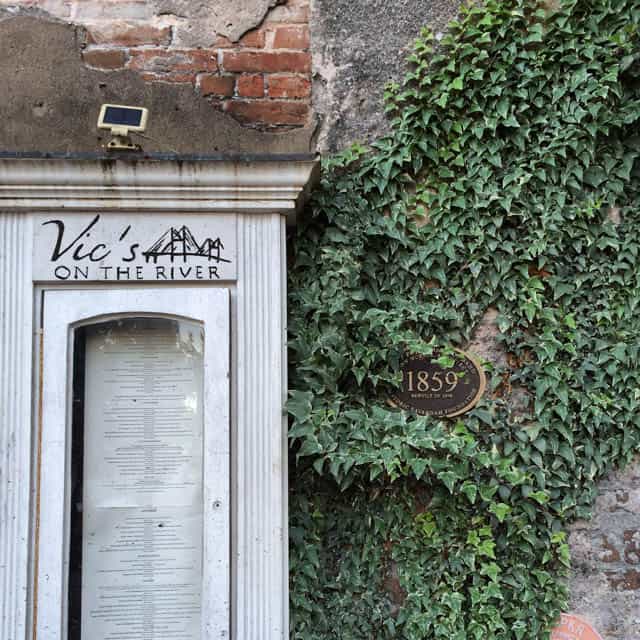 In Savannah's Historic District – What to Order?
OK, so once you arrive at one of Savannah's historic district restaurants you might not know what to order. Not to worry, take a look here in the food section and pick whatever your heart or stomach desires.
Southern food is the first thing you are going to want to order, so let's start with:
Fried Catfish
Shrimp and Grits
Fried Green Tomatoes
Pimento Cheese
Classic Grilled Pork Tenderloin
BLT Sandwiches
Butter Beans are also crowd favorites
Buttermilk Fried Chicken
Chicken Fried Steak
Glazed Country Ham
Cornbread and Biscuits
Dumplings
Collard Greens
Fried Okra
Boiled Peanuts
Beef Stew
Hash Browns
Sweet Tea to drink
Pecan Pie
Peach Cobbler
And Leopold's Ice Cream
I'm sure that when you leave a Savannah restaurant, your stomach will be full and satisfied.
There you have it, an informative and interesting guide to the Savannah Historic District. You can start your weekend getaway to this stunning city by visiting a haunted house, eating grits, or exploring the many town squares. Whatever you decide to do in Savannah, make sure to take this list with you, and have a ball!