Puerto Rico has always been a popular destination for snorkeling. With its pristine reefs and diverse marine life, it's not surprising why tourists flock here. Puerto Rico is part of the US territory. It boasts of one main island and several smaller islands which means that there are plenty of snorkeling spots to choose from. The question now is which of these areas should you go to for your snorkeling adventure?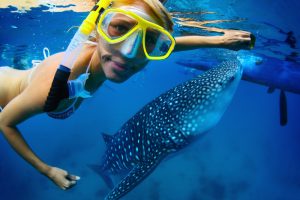 ---
What's in this post:
hide
Best Snorkeling in Puerto Rico
---
---
Puerto Rico boasts turquoise waters, coral reefs, and marine life. Aside from that, there are pristine beaches that you can dive from too. Snorkeling can be enjoyed by the whole family. Even if this is your first time doing it, you will have tons of fun here. Let's take a look at the best places to go snorkeling here.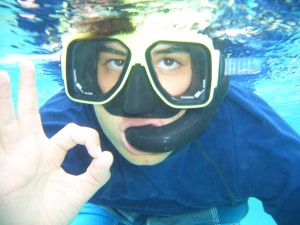 Carlos Rosario Beach
This beach lies on Culebra Island which is east of central Puerto Rico island. It is accessible by ferry or water taxi which will take around 45 minutes. Once you get here, take a short walk to the west of Flamenco Beach. This will take you to Carlos Rosario beach which is less crowded. Aside from that, there is a mile-long coral reef that you can explore. If you want to explore further, try Tamarindo Beach and Melones Beach too.
Island of Culebra
Meanwhile, if Carlos Rosario feels crowded for you, walk a little further. Isla Culebra or Isla Chiquita was the former home of a Naval base. Aside from that, 20% of its water falls under the national wildlife refuge and reserve. Here you will find various sea birds as well as green sea turtles. In addition, there are manta rays to discover too. They are usually found in the reef. Just make sure that you watch their tails and don't startle them. If you are scuba diving with Culebra divers make sure that you pay attention to them.
Escambron Beach
Escambron Beach is actually the most popular spot for snorkeling in old San Juan. Its sandy beach is accessible on foot. For those who are in other parts of the city, you can rent a car or hire a taxi to take you here. In addition, it is near Caribe Hilton Hotel which is a plus. This beach is suitable for families because of its calm waters. Aside from that, its blue waters are teeming with life. Tropical fish and turtles thrive here. You can even swim up to them without scaring them off. This is because they are familiar with scuba divers and snorkelers in the area. If you want to enjoy a classic snorkeling experience, this is where you should be.
La Chiva
Also referred to as Blue Beach, this white sand beach lies on the island of Vieques. This is actually a peaceful spot to go snorkeling. In fact, you will see various marine life up close. Among these are eagle rays, hawksbill turtles, and green turtles to name a few. In addition, the shallow waters make this a great place for families with children. You will find the beach on the Vieques National Wildlife Refuge.
What's great about Vieques is that it is largely underdeveloped. That is why you will find plenty of pristine beaches, a bioluminescent bay, and healthy coral reefs. If you want, you can go on a guided snorkeling tour here.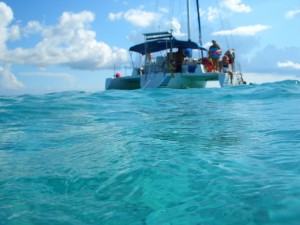 Seven Seas Beach
This picturesque beach in Fajardo is suitable for water sports. Aside from that, the off-shore reefs help protect the crescent-shaped beach from strong waves. Families are sure to enjoy swimming, snorkeling, and paddleboarding here because of the calm waters.
Also, Fajardo is close to the El Yunque rainforest and other small cays. This is why it is one of the best snorkeling beaches in the area. From here, you can go on day trips to San Juan to explore more beaches for snorkeling.
Steps Beach
Meanwhile, this beach lies on the west coast of the island. You can find it within the Tres Palmas Marine Reserve. Thanks to the protected reserve, you'll see hawksbill turtles, spiny lobsters, and other tropical fish. Aside from that, the best time to visit is during the summer months. You'll enjoy snorkeling in its crystal clear waters by then. If you want to explore further, you can go on a boat ride to Mona Island as well as Desecheo Island. They both have vibrant coral reefs to explore. They are also home to moray eels, sea urchins, and others.
La Parguera Nature Reserve
La Paguera is in Lajas on the west coast of Puerto Rico. It is one of the best snorkeling sites here thanks to its calm waters and protected coves. The reserve is home to thriving biodiversity that includes seagrass beds, coral reefs, and salt marshes. During the day, you can go snorkeling along the reefs around the offshore cays. If you want to go scuba diving, check Paradise Scuba & Snorkeling. At night, check out the bioluminescence at La Parguera Bay. Since this is a protected area, it pays to have a knowledgeable snorkeling tour guide with you.
Gilligan's Island
Yes, Gilligan's Island is real and it is just 5 minutes away from Guanica. This small island is mostly mangroves but there are several beautiful beaches here too. Aside from that, there is abundant marine life here. You and your kids can pack your snorkel gear and explore the reefs below. Also, try kayaking if you want to see manatees in their natural habitat.
Icacos Island
This tiny island on the east coast of Puerto Rico is known for its white sand beaches. In addition, its clear waters make it an ideal spot for snorkeling enthusiasts. Aside from the colorful fish making their home in the coral forests, there are manta rays and other sea creatures too. Just make sure that you spare some time to relax on this deserted island. In fact, the best way to reach Icacos is to go on a snorkel tour.
Puerto Rico is home to Beautiful Beaches
Puerto Rico lies between the Atlantic Ocean and the Caribbean Sea and is home to some of the most beautiful reefs. In fact, exploring the underwater world and the local reefs is an experience you will not forget. Aside from that, there are land-based activities that you can do here as well. For example, you can go on an ATV tour with your primary navigation being your tour guide. This will give you ample opportunity to see more of the island and its beaches too.
Puerto Rica: Time to Explore the Beaches
For those who prefer to explore the beaches, a beach tour is in order. In fact, not only can you go on a short swim, but you can go snorkeling here too. You can pack your own snorkel gear or rent one on the island. The good news is that some beaches here have calm waters. This is where you can bring the whole family with you to enjoy the waters.
Fortunately, there is no shortage of snorkeling sites here. In fact, you get to choose what kind of snorkeling adventure you have in mind. If you want to get the most out of your trip here, it would be best if you go on a tour. This way you don't have to bring your snorkeling gear with you.