Summer Travel to Niagara Falls with Radisson
Have you ever dreamed of visiting the famous Niagara Falls that lie on and near the international border of Canada and the United States of America? I had always dreamed of seeing the falls, but was lucky enough to finally visit them in 2012. I believe now is the perfect time to plan your family summer travel. Especially since the modern and creative brand of Radisson is opening its doors on Grand Island. There is nothing quite like a summer getaway to really relax and get refreshed. And to top it all off, I have an e-certificate for you to win a 2-night getaway to any Radisson hotel in the Americas.
Click on this link , leave a blog comment and then enter your email below in order to have a chance to win this 2-night stay.


The new Radisson Hotel on Grand Island will offer 263 guest rooms and features a welcoming atmosphere in order to see the falls. It is situated off of I-190 along side the banks of the Upper Niagara River and is about a 25-minute drive from the Buffalo (BUF) airport. It is also just 12 miles away from the Niagara Falls State Park, one of North America's most famous waterfalls. It has 2 swimming pools (one indoor and one outdoor) and a stunning gazebo on the hotel grounds overlooking the upper Niagara River.
Other features include the fact that it has its own restaurant with Chef Tony Cancilla, it has room service, is a pet-friendly hotel, and also that it offers free wi-fi for all guests. If you book a business class room or suite, you will receive free breakfast and 1000 Club Carlson loyalty points per nights!
Soon enough the majestic waterfalls of Niagara will be at your feet as you make your way to view each one: the Horseshoe Falls, the American Falls, and the Bridal Veil Falls. The views are breathtaking!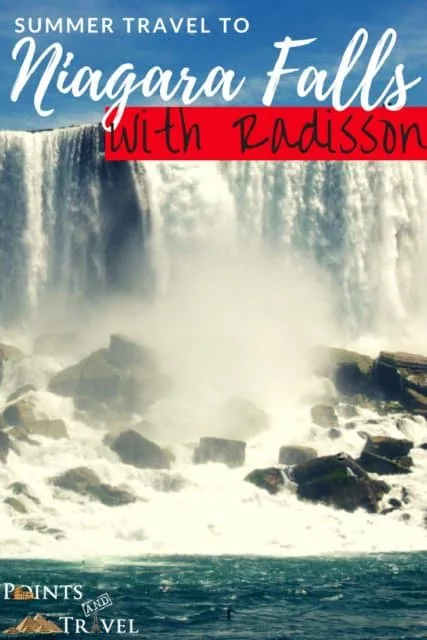 If you have never been, then now is the perfect time to book. But if you have been before, then you know how spectacular these waterfalls truly are. The location will be perfect for you and your family. And since the area could use some new and exciting hotel products, I am excited to know that Radisson has chosen to open its doors in this location. And while you are in the area, be sure and check out the charming town of Niagara-On-The-Lake, as I found it to be Canada's prettiest little town.
Disclosure: The writer believes in full disclosure and wanted to let you know that this is a sponsored post.