Cozumel is a small island located off the eastern coast of Mexico's Yucatan Peninsula. It is one of the most popular destinations for cruise line passengers. It is a beautiful island with crystal-clear waters, white sandy beaches, and amazing coral reefs. Cozumel is also home to many ancient ruins, botanical gardens, and ecological parks. Which makes it a great place for both relaxation and exploration. Here are the Top Things to Do on a Cozumel Mexico Cruise:
Visit Playa del Carmen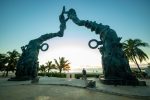 Playa del Carmen, is situated on the mainland. This offers a plethora of attractions and is just a short ferry ride away from Cozumel. The lively town is known for its stunning beaches, high-end boutiques, and delectable dining options. Visitors can bask in the warm sun, and take a swim in the turquoise waters. Or indulge in water sports like kayaking or paddleboarding. Playa del Carmen also offers an opportunity for some retail therapy, with its bustling shopping district featuring a range of shops and boutiques.
Visitors can head to one of the many fantastic restaurants that offer both local and international cuisine. From traditional Mexican dishes like tacos and enchiladas to seafood dishes like ceviche, there is something to suit everyone's taste. Playa del Carmen is also a popular spot for nightlife, with a vibrant party scene.
If you are interested in exploring, Playa del Carmen offers easy access to the archaeological sites of Tulum and Chichen Itza. Visitors can take a guided tour and learn about the history and culture of the Mayan civilization.
Rest in Beach Clubs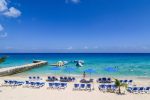 Cozumel boasts some of the most stunning beaches in the Caribbean. The island is home to several beach clubs that provide a variety of amenities and services to visitors. The beach clubs offer a range of services that include sun loungers, beach chairs, umbrellas, and towels, all for a reasonable fee. Many of these beach clubs also offer food and drink service. With an array of options that cater to all tastes, from delicious seafood and traditional Mexican dishes to international cuisine.
Visitors to the beach clubs can also participate in various water sports like snorkeling, jet-skiing, and parasailing. The crystal-clear waters of Cozumel provide an ideal setting for water activities to discover the island's abundant marine life and stunning coral reefs.
The beach clubs also offer facilities like showers and restrooms. They also have swimming pools that provide a refreshing break from the sea. Many of the beach clubs also have beach bars where visitors can relax and enjoy a refreshing drink.
The beach clubs of Cozumel are great for families, couples, and groups of friends who are looking for a day of relaxation and fun in the sun. The beach clubs are open year-round, making them a great option for visitors at any time of the year. With an abundance of options to choose from, visitors can easily find a beach club that meets their needs and preferences.
Explore Mayan Ruins
Cozumel is a treasure trove of ancient Mayan ruins, each with its unique historical significance. The ruins offer a glimpse into the rich history and culture of the Mayan civilization. Thrived in the Yucatan peninsula over a thousand years ago. Among the most popular Mayan ruins in the region is Chichen Itza, located on the mainland.
A visit to Chichen Itza, one of the new seven wonders of the world, is an experience not to be missed. The site is home to several stunning structures. Including the El Castillo pyramid, the Temple of Warriors. The Ball Court, each with a unique architectural style and historical significance. Mayan architects and artisans skillfully adorned the structures with intricate carvings and sculptures.
A guide is recommended to fully appreciate the site's significance and history. A guide can provide in-depth knowledge and insights into the site. As well as offer a richer understanding of the Mayan civilization.
Aside from Chichen Itza, other Mayan ruins on the island of Cozumel include San Gervasio. It is a temple complex dedicated to the Mayan goddess of fertility, and El Cedral, the oldest town on the island. n civilization.
Best Places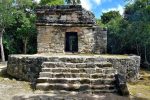 Among the best places to explore are San Gervasio and the Botanical Gardens, which are perfect for nature lovers looking for a break from the hustle and bustle of city life.
San Gervasio is a must-see historical site that offers a fascinating glimpse into the island's rich Mayan history. The site is located in the center of the island and was once the center of Mayan worship. It is home to several small temples and altars. Temple of the Paintings, which is adorned with stunning murals. A visit to San Gervasio provides an excellent opportunity to learn about the Mayan culture and the island's history.
For those looking for a more tranquil and relaxing experience, the Botanical Gardens is the perfect spot to visit. The gardens are home to a wide range of exotic plants, flowers, and trees. Visitors can take a leisurely walk through the gardens. Admiring the beautiful colors and fragrances of the plants, and learning about the different species on display.
Aside from San Gervasio and the Botanical Gardens, there are many other great places to explore on the island of Cozumel. Some of the great places are Paradise Beach, Punta Sur Eco Beach Park, and Playa Chen Rio, which is known for its crystal-clear waters and white sand. These places offer a wide range of activities, from water sports to relaxing on the beaches.
Coral Reefs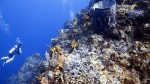 Scuba diving and snorkeling are two of the best ways to experience the beauty of Cozumel's coral reefs. With dozens of dive sites to choose from, explore a variety of different reef formations, from shallow to deep waters. The Palancar Reef, is one of the most famous dive sites in the world. Located just off the west coast of the island.
Visitors can expect to see a wide range of marine life when exploring the coral reefs of Cozumel. Be fascinated with sea turtles, tropical fish, and even nurse sharks. Many dive operators offer guided tours, which can provide valuable insight into the marine life and ecology of the reefs.
For those who prefer to stay on the surface, snorkeling is also an excellent option. Many tour operators offer snorkeling excursions to the best reef sites. Visitors can still expect to see a variety of marine life in the shallow waters. With calm seas and excellent visibility, Cozumel is an ideal location for both scuba diving and snorkeling.
Interact with Sea Turtles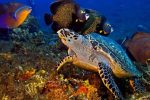 Cozumel is home to several species of sea turtles, including the Green, Loggerhead, and Hawksbill turtles. These turtles can be found in the waters surrounding the island and are a popular attraction for visitors.
There are several places on the island where you can see sea turtles up close. One of the most popular options is the Sea Turtle Farm, located on the eastern coast of the island. This facility is home to many sea turtles, including babies and adults. They offer visitors the opportunity to learn about these amazing creatures
Visitors to the Sea Turtle Farm can take a guided tour of the facility. There is also a touch tank where visitors can interact with the turtles and take photos.
Another option for seeing sea turtles in Cozumel is by taking a snorkeling or scuba diving tour. Many of the coral reefs surrounding the island are home to sea turtles. A guided tour can provide visitors with an up-close encounter with these majestic animals. Tour operators often have trained guides who can point out sea turtles and provide information about their behavior and habitat.
In addition to the Sea Turtle Farm and guided tours, visitors can also see sea turtles on some of Cozumel's beaches. Some beaches, such as Playa Palancar, are known for their sea turtle sightings. However, it's important to remember that sea turtles are a protected species. It's important to avoid disturbing them or their habitats.
Horseback Riding
Horseback riding is a popular activity for visitors to Cozumel. There are several companies that offer horseback riding tours, which typically last between one and two hours. These tours take visitors through the jungle, along the beach, or both, depending on the specific tour.
One popular option is a tour that takes visitors to the eastern coast of Mexico. Where they can ride their horses on the beach and through the shallow waters. This is a particularly popular activity for couples, as it offers a romantic and scenic experience. Tours led by experienced guides provide horse riding instructions and ensure safety.
Visitors can ride through lush island vegetation on a jungle tour, observing flora and fauna. These tours can include stops at archaeological sites, like San Gervasio, where visitors can learn about the island's rich history.
Horseback riding on a beach or jungle tour is a great way to explore Cozumel's natural beauty and escape the crowds. It allows you to feel like a true adventurer with the wind in your hair and sun on your skin.
Visit Botanical Gardens
Cozumel's Botanical Gardens, also known as "Jardín Botánico de Cozumel. Is a peaceful oasis that offers visitors the opportunity to explore the natural beauty of the island. Covering 11 acres, the gardens located in the heart of the jungle are home to a variety of native and exotic plants, as well as animals like iguanas, crocodiles, and birds.
Dr. Alfredo Barrera Marín, a biologist and researcher who dedicated his life to studying and protecting the island's environment, created the gardens in 1981. The Cozumel Ecological Foundation now manages the gardens, which are open to the public year-round.
Visitors to the Botanical Gardens can take a self-guided tour or join a guided tour with a knowledgeable local guide. The gardens are home to over 1,000 species of plants, including orchids, cacti, bromeliads, and palms. There are also several gardens dedicated to specific plants, such as the butterfly garden and the orchid garden.
One of the highlights of the Botanical Gardens is the crocodile exhibit, which houses several species of crocodiles and alligators. Visitors can observe these fascinating creatures from a safe distance and learn about their behavior and habitat.
The gardens also offer a peaceful and serene environment, perfect for a relaxing walk or picnic. There are several shaded areas with benches and tables, as well as a small restaurant that serves snacks and drinks.
Explore Marine Life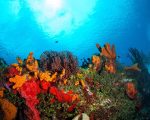 Snorkeling and scuba diving enthusiasts consider Cozumel a top destination due to its renowned crystal-clear waters and abundance of marine life. The Mesoamerican Barrier Reef System, it's home to diverse fish, corals, and other sea creatures.
One of the highlights of exploring the waters around Cozumel is the chance to see sea turtles in their natural habitat. These majestic creatures are a common sight on the island's beaches. Snorkeling or diving with them is an unforgettable experience. Visitors to Cozumel must respect the space of the island's protected sea turtles and keep a safe distance as required.
In addition to sea turtles, Cozumel is home to an incredible array of tropical fish. Visitors can snorkel or dive in shallow waters close to shore to see vibrant schools of fish. More experienced divers can explore the deeper waters and see larger fish, such as barracuda and groupers.
For those who want to get up close and personal with marine life, there are several opportunities to swim with dolphins in Cozumel. Many companies offer guided tours that take visitors to a location where they can swim with these friendly creatures.
No matter how you choose to explore Cozumel's waters, be sure to bring your snorkeling gear or scuba diving equipment. Many beach clubs and dive shops offer rentals, so it is easy to get everything you need.
Engage in Water Sports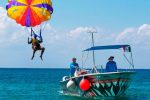 Cozumel is a paradise for water activities lovers. It has crystal-clear waters and colorful reefs, perfect for snorkeling and scuba diving. The island also offers a great range of water sports activities such as parasailing and fishing.
Snorkeling and scuba diving are a must-do for those interested in exploring the underwater world of Cozumel. With many coral reefs surrounding the island, visitors can swim among schools of tropical fish and discover the beauty of the underwater world. Parasailing, on the other hand, offers an adrenaline-packed experience with a bird's eye view of the island's coastline.
Fishing is another popular water activity in Cozumel. The island's waters are home to a variety of fish, including marlin, sailfish, and barracuda. Visitors can take a fishing tour to experience the thrill of catching a big fish and enjoy a fresh seafood meal.
Whether you're looking for a relaxing snorkeling tour or an exciting water sports adventure, Cozumel has something to offer for every water activity enthusiast.
Take a Boat Ride
A highly sought-after experience in Cozumel involves embarking on a Catamaran tour. A tour that provides a leisurely sail around the island, affording picturesque vistas of the coastline and the Caribbean Sea's turquoise waters. The tour offers multiple opportunities to visit several of Cozumel's finest beaches. It allows you to snorkel or swim in crystal-clear waters. It's worth noting that some Catamaran tours include an open bar.
Alternatively, a great option for those looking to explore the reef without diving is a snorkeling excursion. These tours transport you to some of the best snorkeling spots on the island, allowing you to witness the mesmerizing coral reefs and marine life up close. Such excursions offer an excellent way to encounter Cozumel's underwater world.
For those with a passion for fishing, Cozumel provides fishing trips that venture out to some of the Caribbean Sea's prime fishing spots. Enjoy fishing in Cozumel's warm waters, irrespective of your skill level.
Mr. Sanchos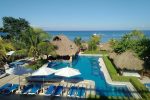 Mr. Sanchos is one of the most popular beach clubs in Cozumel and offers visitors a wide range of amenities and activities to enjoy. Located on the island's western coast, this beach club is known for its beautiful white sand and crystal-clear waters.
The beach bar and restaurant at Mr. Sanchos serve a variety of delicious food and drinks. Visitors can enjoy Mexican specialties like tacos, ceviche, and margaritas, as well as international dishes like burgers and sandwiches. There is also an open bar for those who want to enjoy unlimited drinks during their visit.
In addition to the food and drinks, Mr. Sanchos offers many water sports activities, including kayaking, paddle boarding, and snorkeling. Visitors can rent equipment on-site or book guided tours to explore the nearby coral reefs. For those who prefer to stay on land, there are also beach volleyball courts and hammocks to relax in.
Mr. Sanchos is an excellent option for cruise passengers looking for a day pass or a shore excursion. The beach club is located just a short walk from the cruise ship dock, making it an easily accessible option for visitors. Additionally, taxi drivers are readily available to transport visitors to and from the beach club.
The stunning coral reefs of Cozumel are known as some of the most beautiful in the Caribbean Sea. With crystal-clear waters, diverse marine life, and breathtaking colors, these reefs are a must-see for anyone who loves the underwater world.
Cozumel Cruise Port
The Cozumel cruise port is one of the busiest ports in the Caribbean. Welcoming hundreds of thousands of passengers every year. Many major cruise lines, including Royal Caribbean, dock at the port. Making Cozumel a popular stop on many Caribbean cruise itineraries.
The port is located just a short distance from the downtown area of San Miguel de Cozumel, which is easily accessible by taxi or on foot. From the port, passengers can take part in a variety of activities.
There are also many shops and restaurants near the port. A convenient place to stock up on souvenirs or enjoy a meal. Additionally, there are often local vendors selling handmade crafts and other items in the port area.
There are many excursions available through cruise lines or local tour operators. These excursions can take passengers to some of the island's most popular attractions, including its beautiful beaches, stunning coral reefs, and ancient Mayan ruins.
Best Way to Get Around the Island
Taking an island tour is the best way to explore all that Cozumel has to offer. These tours typically last between three and five hours. The tour will take visitors to all the main attractions on the island, including the best beaches, archaeological sites, and natural wonders.
One of the most popular ways to take an island tour is to rent a Jeep and drive around the island yourself. Many rental companies offer Jeeps equipped with GPS navigation systems. So it's easy to get around and find your way to all the different stops on the tour. You can also hire a tour guide to accompany you on the tour, providing insider information and local knowledge that you wouldn't get otherwise.
Another great way to take an island tour is by booking a Cozumel cruise excursion. Cruise tours typically depart from the Cozumel cruise port and take visitors on a guided tour of the island's main attractions. These tours are a great option for those who are short on time, as they are designed to fit into the limited time that cruise passengers have on the island.
Regardless of how you choose to take your island tour, you're sure to see some of the best things that Cozumel has to offer. From the beautiful beaches to the ancient ruins, there's something for everyone on an island tour of Cozumel.
Best Time to Visit Cozumel: Weather and Seasonal Considerations
Mexico is a perfect place for a tropical getaway and a great destination for cruise passengers looking to experience all the island has to offer. It's no wonder that Cozumel is one of the most popular destinations in the Caribbean.
There are a number of factors to consider when visiting Cozumel, including weather conditions and seasonal events.
The peak tourist season in Cozumel is from December to April when temperatures are warm and the weather is dry. This season is also when many of the island's annual festivals and events take place.
The summer months of May to September can be hot and humid and are generally considered the low season. However, this is also when you can find the best deals on flights and accommodations, making it an ideal time for budget-conscious travelers.
For those who love to dive and snorkel, the best time to visit Cozumel is from June to September. In these times the water is warm and visibility is at its best.
No matter what time of year you choose to visit, you're sure to have an unforgettable experience in Cozumel.
An Unforgettable Trip!
Cozumel, Mexico offers a variety of activities and experiences that cater to different interests and preferences. The island is home to some of the best snorkeling and scuba diving spots in the Caribbean. As well as historical and cultural attractions that showcase the Mayan civilization. Cozumel also boasts stunning natural landscapes. Such as the Botanical Gardens and Punta Sur Eco Beach Park, and opportunities for outdoor activities like horseback riding and fishing. With its warm tropical climate, beautiful beaches, and friendly locals, Cozumel is a must-visit destination for anyone looking for a memorable cruise experience.