The island of Cozumel lies 12 miles opposite the coast of Playa del Carmen in the Yucatan Peninsula. Aside from that, it is also 45 miles from Cancun. Both of these tourist hotspots experience an influx of tourists each year.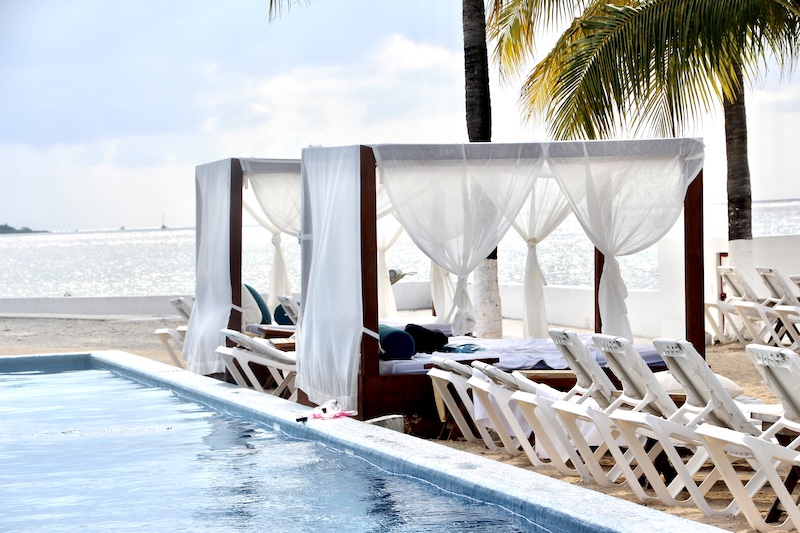 ---
What's in this post:
hide
Cozumel Day Trips From Cancun
---
---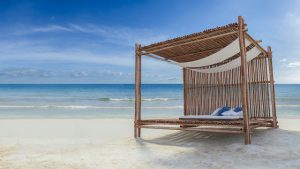 However, if you prefer a more laid-back vibe then Cozumel is your best choice. In fact, taking a ferry from Playa del Carmen to Cozumel is one of the best ideas you'll make.
Best Time to Visit Cozumel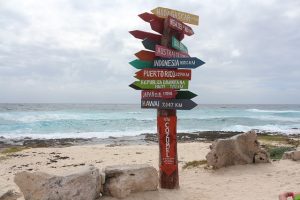 Although you can travel to Mexico any time of the year, visiting Cozumel should be done between March to June. The next season will be the hurricane season where the waters become rough and rain happens daily.
On the other hand, July and August are the hottest months in Cozumel. They coincide with the hurricane season. Meanwhile, December to March is the busiest since it is the winter season.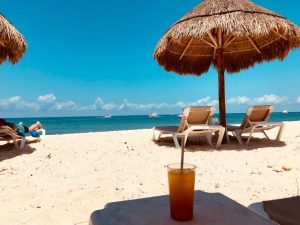 Things to Do on Your Cozumel Day Trip
Visiting Cozumel Island is a great idea if you are in Mexico. After all, it is home to crystal clear waters and coral reefs that are teeming with marine life. It doesn't matter if you are traveling here via a cruise ship, by plane, or by boat. You should have an itinerary in mind. This way, you will not miss out on the fun activities that you can do here.
That said, here are some of the best things that you can do while you are in Cozumel.
Punta Sur Ecological Park
Punta Sur Eco Park is one of the best places that you can visit in Cozumel. This park lies on the south of the island and covers 2,500 acres of land. Aside from that, it is home to exotic birds, sea turtles, and crocodiles. Also, there are beautiful flowers and gorgeous beaches to explore too. In fact, nature lovers will fall in love with this place. There is an entrance fee of $18USD for adults and $11USD for children.
This fee will include a chance to explore the lighthouse on the premises. Aside from that, there is a Mayan ruin in the park as well called El Caracol. This ruin was built to warn the Mayans when there is an approaching hurricane. After all, the way it was constructed generated a humming noise that signaled the Mayans of an impending disaster.
Private Jeep Tour in Cozumel
If you want to make the most out of your trip to Cozumel, then booking a private jeep tour is a great idea. You can customize which tourist hotspots you want to see on the island. For example, you can head to Playa Casitas where important monuments are.
Aside from that, you can also visit Playa de San Martin which is the most beautiful lookout point on the island. Also, you can head to Sabores Cozumel Mexico if you want to go tequila tasting. Or learn how to produce chocolate and honey to name a few.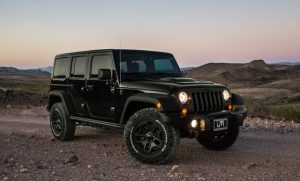 You can also add a trip to San Miguel de Cozumel on your jeep tour. You can take advantage of a guided tour that will take you to the oldest church on the island. Since this is a private tour, you don't have to worry about the crowd along the way.
Playa Mia Grand Beach Park
Beach park, anyone? Playa Mia Grand Beach Park is an ethical adventure park where you can enjoy different types of water sports. In fact, you can use their water slides, paddle boats, and snorkels to name a few. What makes this different from other marine parks is the fact that they do not have any animals in captivity.
Another way to enjoy this beach park is to go on a boat tour. This will take you to the Cozumel Reefs National Marine Park for snorkeling. Also, your tour guide will bring you to Playa Mia Grand Beach Park for food and drinks. This water park is ideal for families too, especially those with kids since there are plenty of activities to do here.
ATV Mud Kicking and Snorkeling by Boat
If you are looking for a great experience in Cozumel, why not join an ATV Tour? Go off-road on an all-terrain vehicle to explore the jungles of Cozumel. Take a dip in the Jade cenote to cool off before continuing. Your next stop will be in one of the local beach clubs where you can lounge for a bit.
After, you will go on a sailing excursion where you can go snorkeling. Lunch and an open bar will be included in the excursion to complete your trip. What's great about this tour is that you get to do multiple water activities in just one day.
Mayan Ruins
Who would have thought that there are Mayan ruins in Cozumel? In fact, if you make your way to the northern portion of the island, you will come across the San Gervasio archaeological site. This was used to be called Tantun Cuzamil during the pre-Hispanic times.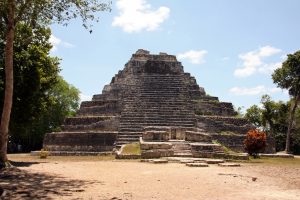 Although this archeological site is not as impressive as that of Chichen Itza, it is still one of the best things to do on this island. The best way to enjoy your exploration of this ancient ruin is to hire a guide. They will take you around the area and give insight into what this ruin was.
El Mirador
If you are looking for the perfect day trip activity in Cozumel, then a trip to El Mirador is in order. Located on the east coast of the island, this hotspot is just half an hour away from downtown. In fact, you can rent a moped, ride a taxi, or drive your rental car here if you like. What makes this one of the top destinations in Cozumel is because of its unique rock formations. In fact, you can climb up it to get great views of the ocean. Aside from that, this is a great spot to be in if you want to avoid the crowd.
Go Scuba Diving
Meanwhile, you should add scuba diving to your Cozumel excursion itinerary. After all, this small island boasts of crystal, blue waters with plenty of marine life to enjoy. Just imagine going diving along the great barrier reef here. Aside from that, advanced divers can head to the Devil's Throat and Cathedral for a more challenging dive.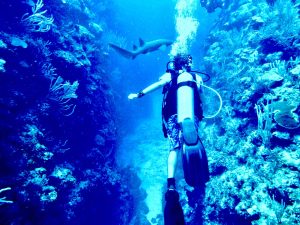 If this is your first time going scuba diving, there are PADI-certified diving schools that you can enroll in. This way, you will have the means to explore the ocean floor and get to meet the tropical fish that call it their home. Keep your eyes peeled for other sea creatures like sea turtles, manta rays, and sharks too.
Cozumel Reef Snorkeling Tour
Aside from going scuba diving, Cozumel is also the perfect place to go snorkeling. You can bring your own snorkel gear with you if you like. Or rent one. One reason why you should spend time in the waters here is because of the thriving coral reefs in the area.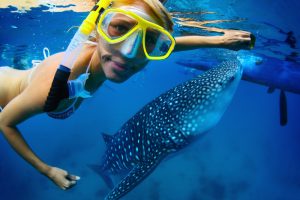 In fact, the easiest way to explore the waters in Cozumel is to climb aboard a speedboat. You will then be taken to different snorkeling spots here. First, there is El Cielo. Which is known for its rich marine flora and fauna. The coral formations here are quite amazing, plus there are different species of fish here as well.
Second, you can visit Palancar Reef. Which is another famous snorkeling spot in Cozumel. Your third stop will be the Columbia Reef where you can go snorkeling for half an hour. Fourth, you will be taken to the Chankanaab Reef which also has a beach club nearby. Lastly, there is the San Miguel de Cozumel which, aside from snorkeling, is a great spot to check souvenir shops.
Cozumel Pearl Farm
Visiting Pearl Farm in Cozumel is a good idea if you want to take a break from the beaches. The Cozumel Pearl Farm is a family-owned business that welcomes guests to its farm. When you book this tour, you will be taken to a secluded beach in an uninhabited part of the island. This is where you will learn how they grow pearls.
Aside from that, you will be taken to the hatchery itself. You can go snorkeling here if you like. Not only will you learn about growing pearls, but you'll also learn about the reef system too. Afterward, you can either laze around by the beach or swim in the azure waters.
Swim at Playa Chen Rio
There is no doubt that Cozumel has some of the most beautiful beaches in Mexico. In fact, a trip to Playa Chen Rio is a must! What makes this a beautiful place to head out to is that it is on the east coast. This means that it is not as crowded as the west coast. Aside from that, it is a protected area with shallow water making it a good spot for families.
After swimming and snorkeling on its clear waters, you can grab your lunch at one of the restaurants nearby. A word of caution though. The waters on the east coast tend to be rough at times plus there are undertows to watch out for too. If you are not sure about the waters, ask the locals for advice.
Explore San Miguel
San Miguel is the capital of Cozumel which lies on the west side of the island. One of the best activities that you can do here is to walk along the sidewalk along the seafront while waiting for the sunset. In the morning, the port of Cozumel tends to be busy with cruise ship passengers.
Afterward, you can walk at your leisure since the cruise ships have already departed. While you are in San Miguel, head to the Zocalo or central park. This is where most people congregate to grab a bite to eat. Or go people-watching. Sundays in the central park tend to be busy as there are events happening here at night.
The main square is the perfect spot to immerse yourself in the local culture. After all, there are street vendors here selling their wares as well as events to see.
Experience a Temazcal
Cozumel Mexico is a great place to experience a temazcal. This is an ancient Mayan ritual where a shaman helps in cleansing your body, mind, and spirit. Guests will enter a brick hut warmed by volcanic rocks.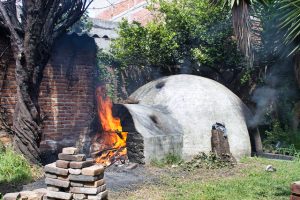 Inside, the shaman will help your body go through a process of cleansing, relaxing, and purification. It ends with a swim in a cenote nearby. This is a unique experience and one that you will not forget anytime soon. In fact, this is a great option to add to your day trip especially if you want to learn more about the locals' way of life.
Eat at a Local Mexican Restaurant
Cozumel tours are not only about the best beaches. In fact, you can go on a food tour to get a taste of Cozumel! You might have tried eating Mexican dishes in your country, but nothing beats eating in Mexico. After all, tasting authentic Mexican cuisine is a culinary experience you don't want to miss.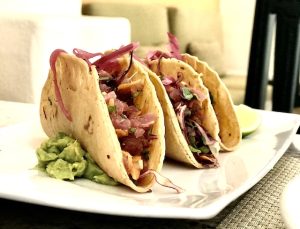 Among the choices here are tacos, burritos, enchiladas, churros, and tortas to name a few. Not only that, but the drinks here are worth sampling too. Aside from tequila, you should also order a mezcal, margarita, or some Mexican beers.
Drinking a bottle of ice-cold Corona while snacking on tacos is a great way to fill your belly up. Don't worry, this is just one of the local cuisines that you can try. There are several Mexican restaurants in Cozumel that you should visit.
Deep-Sea Fishing
The beautiful island of Cozumel offers guests a chance to try deep-sea fishing. In fact, there are several fishing companies on the island that can take you where the big fish are. Even if this is your first time going fishing, this is one experience that you should try here.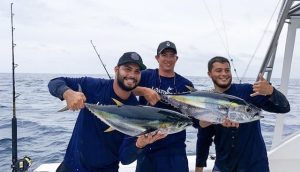 Among the big fish that you will find here are Mahi Mahi, triggerfish, and barracuda. Tuna abound in Cozumel regardless of the time of the year. On the other hand, white and blue marlin, as well as sailfish, appear from March to July.
These fishing companies offer tours to small groups to have more space to reel in your catch of the day. Aside from that, they will help clean the fish that you caught and even cook them for you if you like.
Mr. Sanchos Beach Club All-Inclusive Day Pass
If you want to gain access to the white sand beaches in Cozumel, getting an all-inclusive day pass is a must. This way, you will be able to enjoy the amenities of an inclusive resort even for a day. Guests with a day pass can lounge by the pool or swing in one of the hammocks. Also, the beach bars are accessible too.
Aside from that, you will have your own lockers to put your belongings in so you can just sit back and relax by the beach. Yes, getting a day pass means additional cost to you, but it will be worth it, especially with all the amenities that you can enjoy.
Atlantis Submarine Expedition
Would you like to explore the waters around this Caribbean Island? The best way to do it during your day trip is through a submarine excursion. Yes, you read that right! This state-of-the-art submarine can dive to depths of up to 30 meters.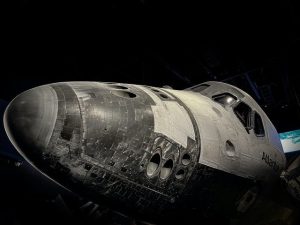 In fact, you will be taken into the heart of the coral reef. Here you will find more marine life as well as coral reefs. Your guide will teach you more about the world under the waters. Booking a tour onboard a submarine is worth the extra cost. After all, you will see more sea creatures up close compared to just snorkeling on the surface.
Hit the Public Beaches
Budget travelers who are visiting Cozumel will be pleased to know that there are several public beaches here to explore. Among these are Playa Palancar, Sunset Beach, and Paradise Beach.
You will need to bring your own beach supplies here though since some amenities may not be available. On a good note, if you don't have any snorkeling gear with you, you can always rent one nearby. Afterward, you can head to nearby restaurants and cafes for a glass of cold soft drinks and local dishes.
Visit the Mayan Cacao Company
Mexico is also known for its chocolates. The best way to learn more about it is to visit the Mayan cacao company. Just 15 minutes away from downtown Cozumel is the Cacao Company. What makes this an interesting option for your Cozumel day trip is that you will learn a lot about how they make chocolate.
From harvesting to fermenting to drying and roasting, everything will be explained on this tour. In fact, you can even try your hand at making ancient Mayan recipes using chocolate too! Of course, you can bring home some with you if you like.
Cozumel Butterfly & Botanical Gardens
Did you know that there are about 1,800 species of butterflies in Mexico alone? In fact, Cozumel is home to 85 butterfly species! This botanical garden is a safe place for these butterflies to grow and thrive.
With a wide array of flora here to admire and butterflies to see, this is one stop in your day trip that you will love for sure.
Visit Isla Mujeres
Why not visit Isla Mujeres from Cozumel on a clear day? Isla Mujeres is almost the same as that of Cozumel with the exception that it has more public beaches to choose from. Aside from that, this little island has a more laid-back vibe to it making it an ideal spot to rest and relax. The good news is that this island is accessible via a ferry.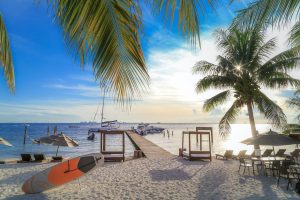 Ferry companies from Cozumel offer daily trips to the island. Check the ferry terminal for their time of departure and know which ferry dock to head to. You can book a return trip if you like or spend a day or two on the island, you choose.
Wrapping Up Cozumel Day Trips
Regardless of whether you are staying in the Riviera Maya or Cancun, going on a day trip to Cozumel is a must. With towering palm trees offering shade to guests lounging by the beach, to crystal clear waters ideal for swimming, this island has much to offer. In fact, the perfect way to get around here is through rental cars. One reason behind this is that you will be able to explore the island at your own pace.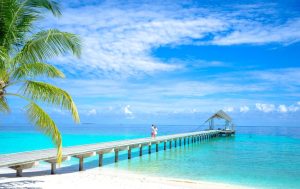 Aside from that, you can stop by any of the beaches on Cozumel to explore the waters. Snorkeling and diving are among the best activities to do here. After all, seeing a host of marine life in their natural habitat is a great experience. Afterward, you can get an all-inclusive day pass to access the snack bar, lounge areas, and more beaches too. The good news is that most resorts here accept credit cards. However, make sure that you do bring cash with you.