Travel with a private/personal photographer
I am crazy excited to tell you about an upcoming adventure I am taking!
I have decided to try something totally different in the travel world and go off-the-beaten-path this month with a private, local photographer. Why?
So that I can put down my camera (well a little bit!) and Factor Fabula's Bernie can document my travel experiences instead of me! I can soak in the sun and actual be present in the bliss of exploring off the beaten path Mexico.
Say what?
That's right, I have been traveling the world, 35 countries in the last two years and honestly, I am excited about not having to edit and process another 1000 photographs! I love an idea that does not involve me taking thousands of photographs per destination! Don't get me wrong, you know it is my passion, but sometimes I am overwhelmed with the volume of work I have when I come home from a trip. And to top it off (like icing on a cake), this trip will be in a country that I absolutely adore in so many ways and is close to my heart.
Mexico!!
But we won't be going to an American-centric beach town in Mexico, instead, we are going to a place I have always dreamed of going to.
Oaxaca City, Mexico!
Oaxaca City (and that is just to start!) Then to Mitla, Hierve el Agua, San José del Pacífico, Zipolite Beach, and Punta Cometa (places I had even never heard of.)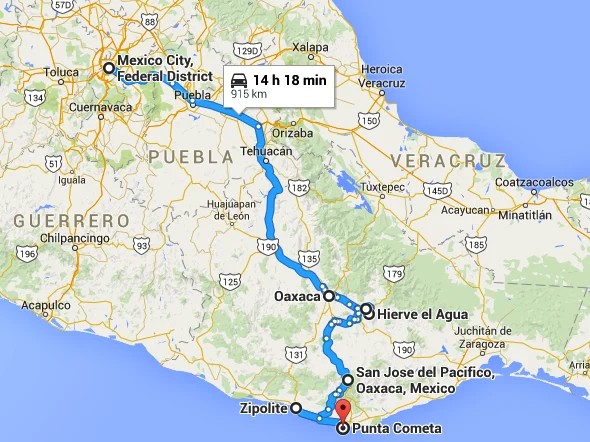 So let me tell you a little bit about this company and how you too can take this same exact trip I am taking. I love the concept behind Cantimplora Travel, which is a part of Factor Fabula and I think you will too!
Travel safe in Mexico by joining a small group
Cantimplora Travel is the brainchild of Bernardo Buendia and his wife Sam, who have designed travel routes based on their own experiences of traveling through Mexico as locals. They take small groups of people (up to 12) on their routes and show you their country. Much of what you will experience as Americans will be in a way that you would have never experienced without the guide of these local professionals. Also, a big part of the concept of Cantimplora Travel is that you will be traveling with your personal photographer so you can relax and enjoy the moment. These guys like to travel and they take you off the beaten path in the beautiful state of Oaxaca. As a team, they are adventurous, but like me, they love a great bed to sleep at the end of the day in at a nice place (I call it "Adventure by day, Luxury at night!). Since Sam is an architect who loves design, she has chosen some the sweetest boutique-style hotels for us to rest our heads!
Give Back to the Community
Another great concept I love about Cantimplora Travel is the fact that they give 10% of their profits to help local entrepreneur families. I love this! I am so excited that I will get to meet Alberto Martinez, who distills Oaxacan mescal. He is among those who are trying to change the concept of this spirit to Americans. While there, I will also be able to witness the original mezcal making techniques made from the maguey plant!
So there you have it, my journey through off the beaten path Mexico, I will keep you updated on my journey!
Disclosure: My trip with Cantimplora Travel will be provided by them. Opinions expressed here are all my own. All photos are courtesy of Cantimplora Travel. Thank you to Allianz Global Assistance for my comprehensive travel insurance for my travel throughout Mexico!