Cancun has established itself as the party destination of Mexico. With its beachfront access to the Caribbean Sea and the Yucatan Peninsula, it is not surprising why many tourists flock here. However, there is more to Cancun than its gorgeous beaches. For example, you can visit the ruins of Chichen Itza in the Mayan jungle. Aside from that, you can also explore the Cancun Hotel Zone which is where you will find hotels and restaurants.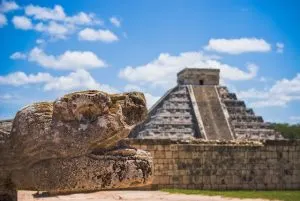 ---
The 10 BEST Cancun Watersports
(with Photos)
---
---
That said, there is no denying that Cancun has some of the best water sports that you can enjoy in the Riviera Maya. In fact, it is one of the best places to immerse yourself in fun activities. The question, however, is which activity to start with.

Best Water Activities to Do in Cancun
Aside from the archaeological sites in Cancun, you might want to pay attention to the various water sports that you can do here. In fact, if this is your first time here, you should consider the activities below.
Parasailing in Cancun Beachside
What better way to see Cancun's tropical coastline than from up above? Wear a safety harness and listen to your guide before you are taken 80 meters above the waters. The boat will ride for 3 miles once you are up in the air. This will give you time to enjoy the amazing views.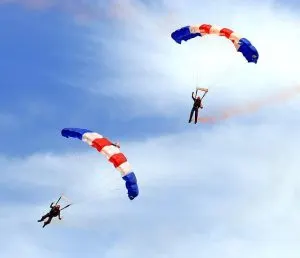 From here, you can see the white sand beach below. Aside from that, enjoy the panoramic view of Isla Mujeres and Nichupte Lagoon too. This is a great way to see the spectacular scenery in Cancun, Puerto Morelos, and the waters below.
ATV Tour, Ziplines, and Cenote Swim
If you are looking forward to having an amazing experience in Cancun, then booking this tour is a must. This is an action-packed Extreme Adventure Park tour in the Mayan jungle. You can either ride your own All-Terrain Vehicle. Or hop on behind your guide.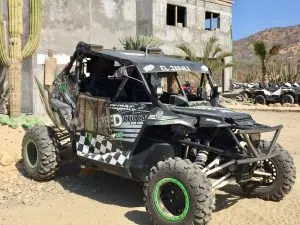 Aside from traversing the rugged dirt road on your ATV ride, you will be heading out to a cenote. This is a sacred place for the Mayans but is now open to the public. You can swim in the freshwater to cool down. Afterward, you will find yourself flying over the canopy of trees through the zip line courses in this adventure tour. If you are looking for a company to book a tour with, try Xplor Fuego.
Reef and Shipwreck Snorkeling in Cancun
Snorkeling is one of the best Cancun water activities that you can do. This tour will bring you to the coral reefs and shipwrecks that you can see from the surface. Aside from that, you will find plenty of tropical fish, sea lions, and sea turtles on your snorkel tour.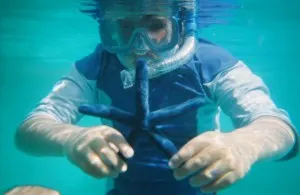 What you'll love about these boat tours is that they only take a small group out to the open sea. This way guests will have a more personalized experience since your guides can keep a close eye on you.
Also, traveling in a small group reduces the chance of damaging the ecosystem. You can snorkel from the shallow waters near the beach or go out into the open waters. Either way, you are sure to have a fun time in the water.
Scuba Diving Adventures
There is no shortage of water adventures in Cancun. In fact, aside from snorkeling, scuba diving is one of the popular water activities here. Since it is close to the Mesoamerican Barrier Reef, there are plenty of diving spots to go to. In fact, this second-largest barrier reef is home to colorful fish, nurse sharks, lobsters, eagle rays, and more.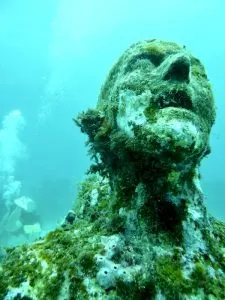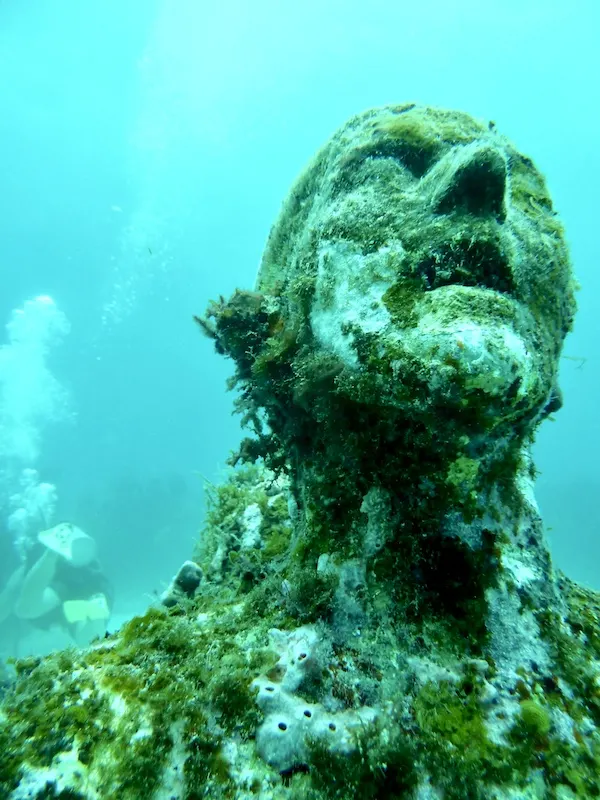 Aside from Isla Mujeres, there is also an underwater museum to explore. In addition, the underground rivers of cenotes are worth diving into as well. The good news is that there are several diving schools here to enroll in. After all, you will need a PADI license before you can explore the world under the sea. This way, you can experience the maximum depth of dives safely.
Whale Shark Tours
Get the chance to snorkel with the Mexican whale sharks off the Yucatan coast of Playa del Carmen. An expert guide will take you close to the world's largest fish safely. Aside from that, you can encounter manta rays, friendly dolphins, and turtles too. The whole family will enjoy this unique experience for sure.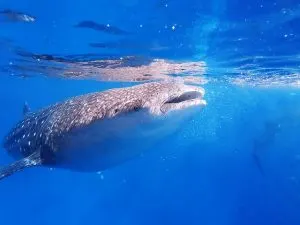 Board a comfortable vessel and set sail out into the open water. Your guide will provide you with information about this amazing creature. Once they spot one, you can go snorkeling beside them for a short time only. This is one of the safety measures imposed on those who will go snorkeling with these gentle giants.
Jungle Tour and Snorkeling in Punta Nizuc Reef
One of the fun activities that you can do in Cancun is to go on a jungle and snorkeling tour in Punta Nizuc. Guide your speed boat along the lush mangrove forests to admire the scenery. Afterward, you will head to Punta Nizuc Reef where you can go snorkeling.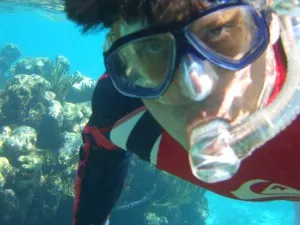 The coral garden here is one of the best in the area. In addition, the underwater museum is accessible too. See the marine life up close thanks to the clear waters. Aside from that, enjoy swimming in the clear Mexican Caribbean waters. Depending on the tour that you booked, you can rent a jet ski too.
Catamaran Sailing Tour
The white sands and blue sea of Isla Mujeres are worth seeing while you are in Cancun. In fact, what better way to experience this than go on a full-day tour here? This popular water activity begins with picking up guests from Cancun hotels.
Afterward, you will be taken on board the catamaran for a cruise to Isla Mujeres. You can indulge in some drinks at the open bar on board the boat. Your first stop will be a protected reef that you can snorkel in. Here you will find a variety of marine species thriving in their natural habitat. Aside from that, you will have your lunch on the island plus the chance to explore it too.
Stand Up Paddle Boarding
Boat rides aside, stand-up paddleboarding is a current trend in Cancun at the moment. This is one of the fun water activities that you can do with confidence. In fact, once you get the hang of balancing on the board, everything will be a breeze.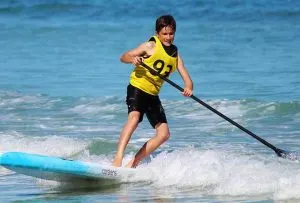 Thanks to the calm waters of Cancun, it is possible to make your way to Isla Mujeres by paddleboarding. You can rent a board from one of the Cancun beaches or join a group if you like. Either way, this is an unforgettable experience especially as you paddle across the clear water.
Sport Fishing
Another example of Canun watersports that you can try on your Cancun vacation is sport fishing. Book a private fishing trip that will take you to the best spots to catch the big game. Captains of these fishing vessels have years of experience on their belts. They can take you to where large fish swim around.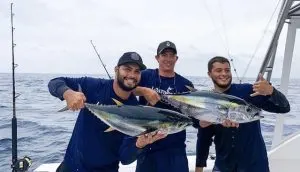 Aside from that, their vessels have high-tech devices that can read strong currents and weather conditions for your safety. Not only that, but you will have access to the best fishing equipment too. This is one of the best activities that Cancun has to offer its guests.
Bull Shark Dive Experience
Aquatic tours promise incredible memories to their guests. In fact, the best way to encounter sea life in Cancun is by scuba diving. One example of this is the bull shark dive in the Mayan Riviera. Don't worry, this is the perfect place to swim with these sharks since it is completely safe.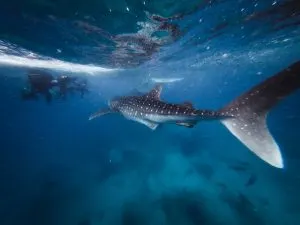 Once you enter the warm waters, let the current guide you to where they are. Normally, these sharks will approach you out of curiosity. Make sure that you are with professional divers who will teach you how to dive with these sharks. Cancun adventures like this one are just too good to pass up during your trip.
More Fun Activities to Try in Cancun
Exploring the beautiful beaches of Cancun also means enjoying the different water activities here. Aside from the ones above, you can also do the following:
Water Skiing
Wave runners offer water skiing activities for the best price in Cancun. You will need to have a good balance to ski across the water while being pulled by a jet ski. Or even a wakeboard.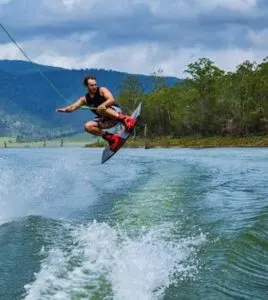 Visit Water Parks
Staying in a resort area in Cancun is a great way to be close to all the action. However, if you want some adrenaline-fueled fun, then visit a water park. For example, Xel Ha Park offers a host of water activities that are sure to give you a good time.
This is a great place to bring your family to if you want to add extra value to your trip. In fact, you can go on a zip line in the middle of the jungle and even dive into the nearby cenotes.
Wrapping it Up!
There is no doubt that Cancun is a favorite place of many. With warm water temperatures, going on a sea trek here is not a bad idea. If you have free time on your hands while in Cancun, you might want to book any of the water tours above. Take note that these tour operators have websites that make use of cookies. Plus you could go with