Mexico has been welcoming tourists all year round. This is not surprising since the country boasts of near-perfect weather with fine beaches to enjoy. Aside from that, you can also explore the beauty of Mexico's cenotes.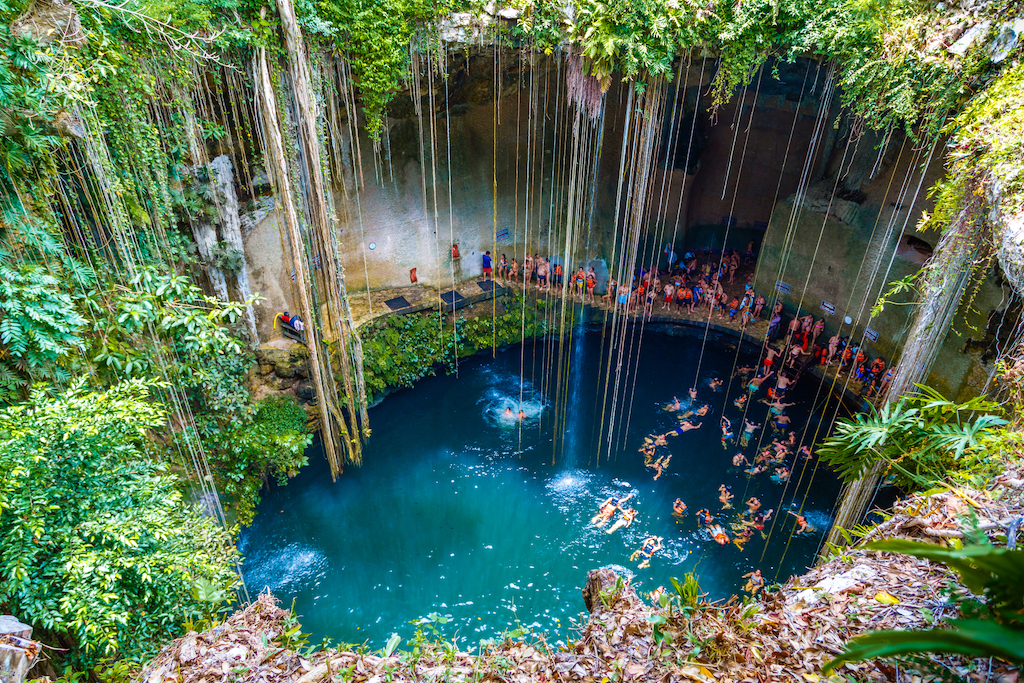 ---
What's in this post:
hide
Cenotes: The Underwater Caves of The Riviera Maya, Mexico
---
---
The Yucatan Peninsula and the Riviera Maya are home to more than 7,000 cenotes. Although not all of them are open to visitors, there are enough for you to explore and enjoy. One thing is for sure, once you have visited these natural wonders in Cancun and Mayan Riviera, you will be eager to see more.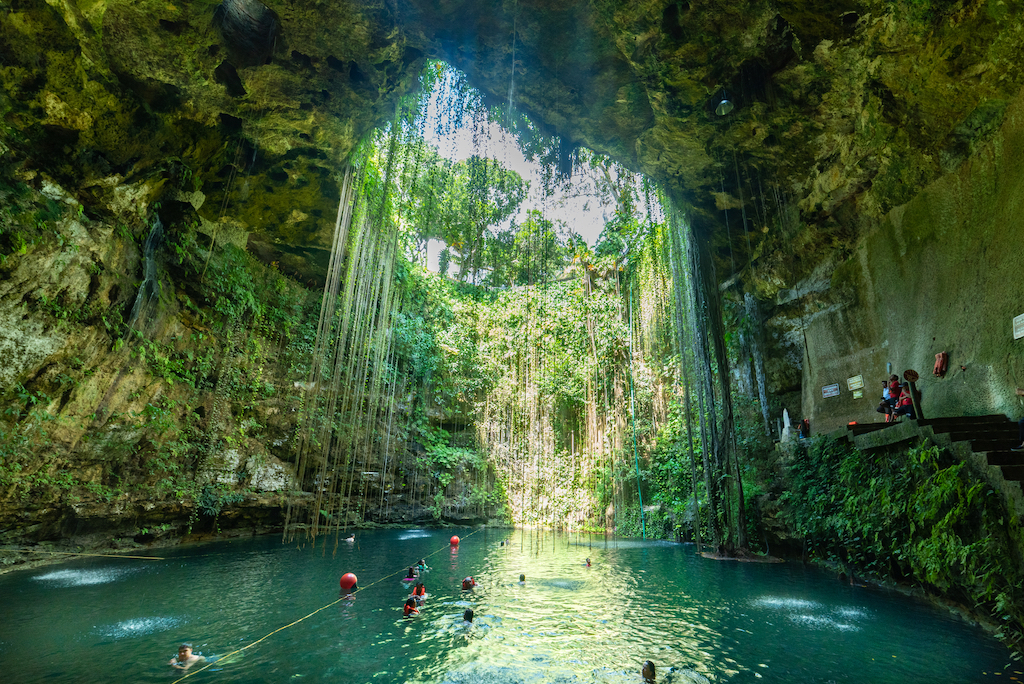 The cenotes are found between Tulum, Cancun, and the Riviera Maya. You'll find the three longest underwater cave systems in Riviera Maya. These are the Sistema Dos Ojos, Sistema Ox Bel Ha, and Sistema Nohoch Nah Chich.
What Do You Mean by Cenotes?
The word Cenote is a Spanish translation for the Mayan word D'zonot. It means "natural sinkholes" that are filled with fresh water coming from an underground river system. For example, Mexico's Yucatan Peninsula started out as a huge coral reef underwater. Several geological formations later, the water receded which exposed the reef.
The limestone bedrock dissolved and deteriorated after its constant exposure to the elements. This created caves and caverns. Water filled these holes when the water levels rose because of melting glaciers. This led to the formation of cenotes as well as underground river ecosystems.
The Ancient Mayans used these cenotes as their source of water. They even considered them as sacred places because they were homes to the Gods. The Mayan people conducted sacrifices and ceremonies to honor the gods and the guardians of these cenotes. For them, these underground rivers are entry points to the Underworld.
Best Cenotes to Visit in Mexico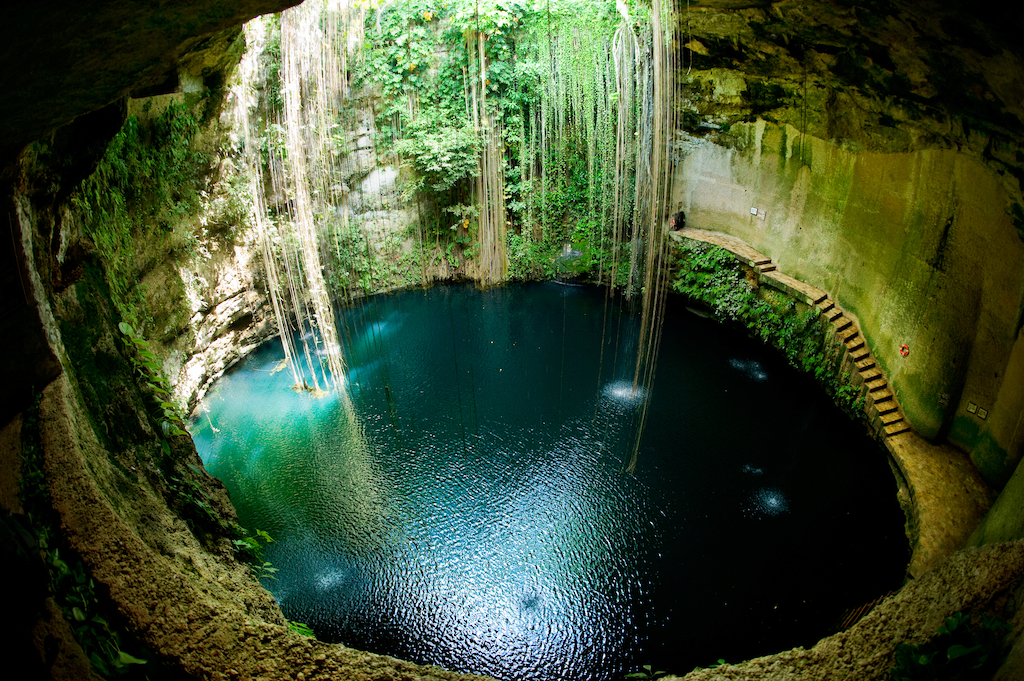 If you are looking for a unique experience in Mexico, visiting their cenotes is a must. They offer more than just impressive rock formations. Their surrounding areas are worth exploring too. You will need to bring your swimwear, sunscreen, and towels here. There is an entrance fee to pay so bring some money with you too. Aside from that, they have changing facilities that you can use. Let's take a look at the best cenotes to visit while you are in Mexico.
#1 Cenote Azul, Playa del Carmen
Another option to consider is Cenote Azul. It's not the biggest cenote that you will find in Mexico. However, because of its small size and peaceful surroundings, many visits here to be away from the crowd.
One of its main draws is its clear turquoise water that is full of various tropical fish. You can go diving or snorkeling here for an enjoyable experience. Additionally, you can take advantage of the mini cliff where you can dive from. There are small pools to discover when you walk around the area.
#2 Cenote Samula, Chichen Itza and Valladolid
Cenote Samula is considered to be the best one in Mexico. It offers a different experience with its artificial lights that emit gentle pulsating lights in the cave. The tree roots are dangling from the ceiling as they trail towards the water. Jump into the crystal clear water and swim with the catfish.
#3 Ik Kil Cenote, Chichén Itzá
Before you head out to the Mayan ruins of Chichen Itza, drop by the Ik Kil Cenote. Since it is near one of Mexico's hotspots, expect to see crowds in this cenote. The maximum depth of the pool is 60ft which is perfect for diving. However, you should be careful when doing extreme diving in this cenote.
Aside from that, there is a gift shop and a restaurant in the area. You can shop for souvenirs and grab a bite to eat after swimming in the cenote. Take note that you cannot swim in the Sacred Cenote or Cenote Sagrada. Named as Cenote of Sacrifice, this is where the Mayans threw their offerings to the gods.
#4 Gran Cenote, Near Tulum
Underground caves like the Gran Cenote are a must-see while you are in the country. This is a popular site because it feels like you are on a tropical beach but underground! It is part of the Sistema Sac Actun. Follow the path going down where you will find the white sandy beach at the shore. You will encounter thick foliage as you head deeper.
This popular cenote is the perfect place for snorkeling. You will be up close to turtles, fish, and even stalagmites while you are in the waters. No doubt this is called the Grand Cenote as the cenotes are interconnected via several boardwalks. There are different water activities to experience here from swimming to snorkeling to diving. The best time to visit here is from the months of November to April.
#5 Cenote Car Wash, Near Tulum
The Car Wash Cenote has an interesting story to it. Its easy access to the road made it a carwash cenote. This is because taxi drivers used to bring their cars here to wash them. It's not as crowded as other cenotes, which is great.
You may not be impressed with your first view of the Car Wash especially if you have been to other cenotes. However, it makes up for it with its underwater garden of lily pads. This is a great place to dive into since there are underwater caves waiting to be explored.
#6 Cenote Akumal, Near Tulum
This is not like the other cenotes in this list. Akumal is a large lagoon with fresh and saltwater mixed together. The combination of water allows more sea life to thrive here which you will encounter when you go snorkeling. You can bring your children here since the water is not that deep. Additionally, there are various rock formations where you can sit and rest after swimming in the clear waters.
#7 Cenote Dos Ojos, Tulum
Dos Ojos means "two eyes" which is appropriate because there are two pools here. The Dos Ojos cenote has one blue water while the other is dark. You can choose which of the two you'll swim in. For cave divers, the darker waters are more inviting because there is no light coming from them. You can borrow diving gear here and torches to explore the waters.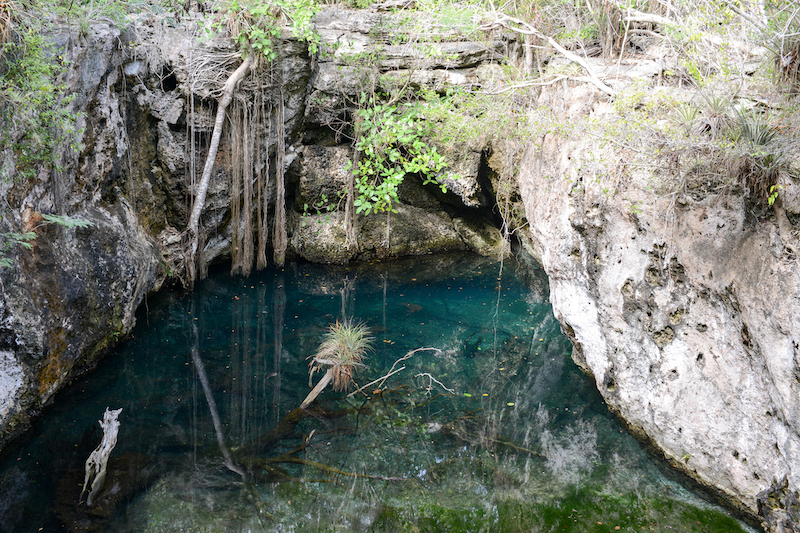 This cave system was first discovered in the '80s. Two exploration teams competed to find the longest-running underwater cave system. The first team started on the first eye which is located in the east. Their travel took them to a clear cavern filled with fresh water before reaching the second eye.
The second dive here was a darker dive. They explored a series of passages and rooms that were underneath a bat cave. The area did not receive as much sunlight as the other route. They determined that Dos Ojos was connected to 25 more cenotes.
#8 Cenote Chac Mool, Playa Del Carmen
The Chac Mool Cenote is located south of Playa del Carmen and across Puerto Aventuras. It boasts of two access points that will lead you to a huge cavern. As you explore the cavern, you will find yourself in the Dome Room. You will find a portion of the cave ceiling has fallen under an air dome. Divers can head out here to view the impressive stalactites and fossils. Novice divers can practice their skills here because the depth of the pool is just 36 feet.
#9 Casa Cenote, Near Tulum
Casa Cenote boasts of several beautiful caves within the jungle. The emerald green waters are worth swimming in. Additionally, the play of natural light and the root forest create a dreamy atmosphere here. Tourists will enjoy snorkeling here where they will find a variety of small fish. Among the little fish that you will find here are mollies and guppies.
#10 Cenote Angelita, Quintana Roo
Professional divers should not pass up the chance to visit Cenote Angelita. This particularly sacred cenote is located near the Mayan ruins. It has a 200-feet deep pool that suddenly appears in the jungle. Aside from the beauty of its natural surroundings, the Angelita Cenote has another main draw. It has an underground river underneath the waters!
This is caused by the water chemistry that creates different densities. The denser water sinks to the bottom which creates the illusion of an underground river. Experienced divers will find this challenging but rewarding once you reach the river under the body of water.
#11 Cenote Calavera. Near Tulum
Cenote Calavera is another option to consider if you are planning on visiting cenotes in Mexico. The term Calavera in Spanish means "skull". This is appropriate since it is made up of two small holes and one big hole which give it an impression of a skull. No wonder it is also called the Temple of Doom.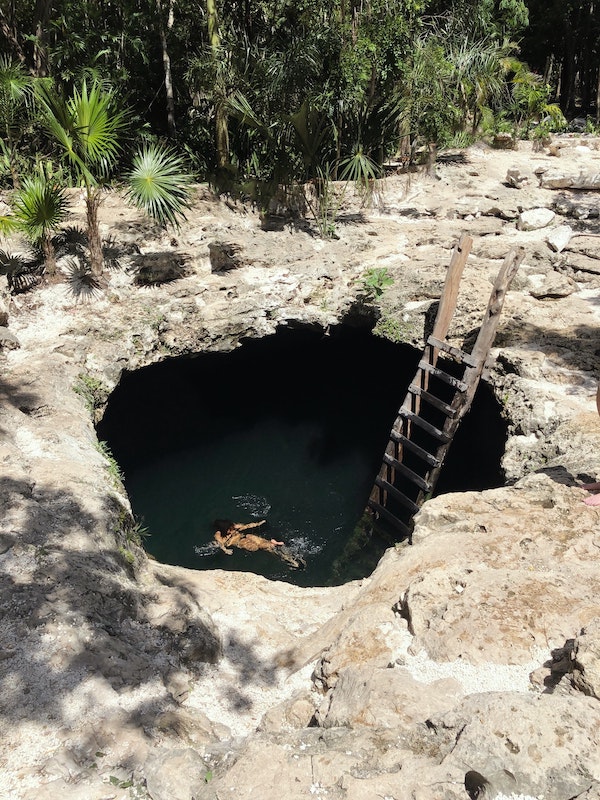 You can go down the small hole if you like, but be careful. There is no room for error because of its cramped space. You can enter the water safely by going down the ladder provided by the locals. Additionally, there is a rope swing where you can rest while you are in the water.
#12 Boca Del Puma, Puerto Morelos
Puerto Morelos has several cenotes that you can visit. One of them is Boca del Puma which has open and closed cenotes. The open cenote is found close to the entrance and has a swimming hole that is surrounded by towering limestone walls. If you are traveling with your family, this is a good spot to head out to. It has a zipline that lets you splash into the water below.
Aside from that, you can also head out to the closed cenote. It's a ten-minute walk into the jungle. The water is cold here but you will be rewarded when you swim towards the opening of the well. There are several activities that you can do here from zipline to ATV rides.
#13 Cenote Garden of Eden, Playa del Carmen
There are several cenotes to discover in Playa del Carmen and one of them is the Garden of Eden. One of the advantages of this cenote is that it is not crowded. You can find a small group of tourists here and that's it.
There are some cenotes here that are found in caves but with open ceilings. This allows natural light to enter and give illumination to the cenote's surroundings. There are rocks in the middle of the cenote that you can swim to and rest. You will find a variety of fish swimming up to you as well.
Divers often visit here because there are caves to explore in the deeper areas of the cenote. You will need a guide to explore these caves since they are not near the usual swimming areas of the cenote.
What to Bring With You in Cenotes
Mexico's cenotes are among the top attractions in the country. Some have a small lake while others have deep pools that are perfect for diving and snorkeling. Exploring the underlying cave systems is a treat especially when you use this ultimate guide to Mexican cenotes.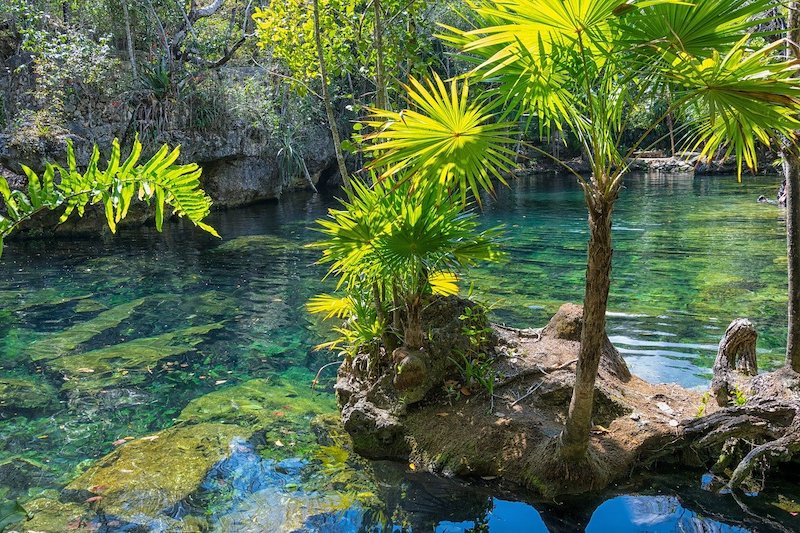 Before you head out to these cenotes, make sure that you have the right gear with you. Bring life jackets for your children for safety. You should only use biodegradable sunscreens and bug sprays to preserve the natural ecosystem of the cenotes.
What are the Different Types of Cenotes?
Each Mexican cenote that you see is unique. There are three types of cenotes that you will find in Mexico.
#1 Fully-Open Cenotes
A mature fully-open Mexico cenote is like a natural pool or pond that is surrounded by flora and fauna. The water is near ground level that allows for easy entry. Most fully-open cenotes have warm water because the sun tends to reach them.
#2 Semi-Open Cenotes
Semi-open cenotes are a combination of fully-open and cave cenotes. They are middle-aged types of cenotes. Their ground-level limestone is partially caved which gives you a glimpse of the sinkhole.
One of the things you'll like about this cenote is that it has that mystic vibe to it. Draping vines and the play of sunlight give it a "dreamy feel" to it.
#3 Cave Cenotes
Cave or cavern cenotes have the coldest waters since natural light doesn't reach them. The combination of stalagmites and stalactites adds to the exotic beauty of the place. According to Mayan history, sacrifices were made here.