St. Martin, also known as St. Maarten, is a unique and popular tourist destination in the Caribbean. For those who have traveled to st martin or sint maarten, there is a distinct difference between the two areas. St Maarten is on the Dutch side of the island and is recognized for its colorful homes and lovely shops. St. Martin is home to the French side of the island and is littered in a positive way with an all-inclusive resort, hotels, and gorgeous beaches.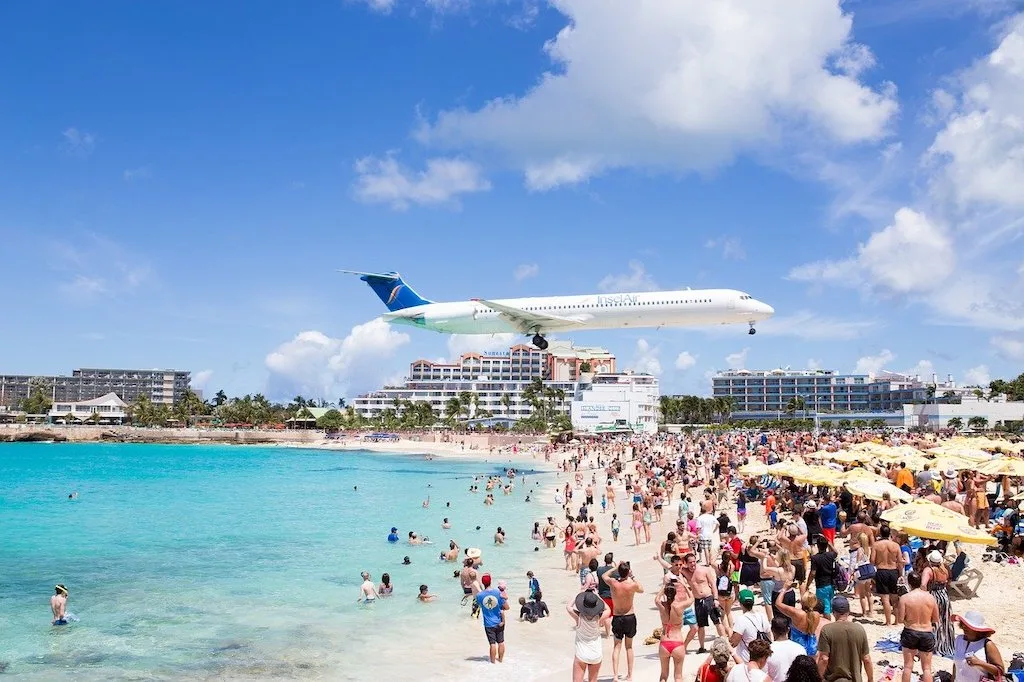 ---
What's in this post:
hide
15 Best Hotels in St. Martin – St. Maarten
---
---
Although Saint Martin is a small island, it has an array of beaches and stunning landscapes. The entire Caribbean Island is known for its impeccable climate, an array of beaches, and stunning landscapes. Before heading to either the French side of St. Martin or the Dutch St. Maarten take a look at this stunning list of 15 best hotels to get an idea of what is in store for your next vacation!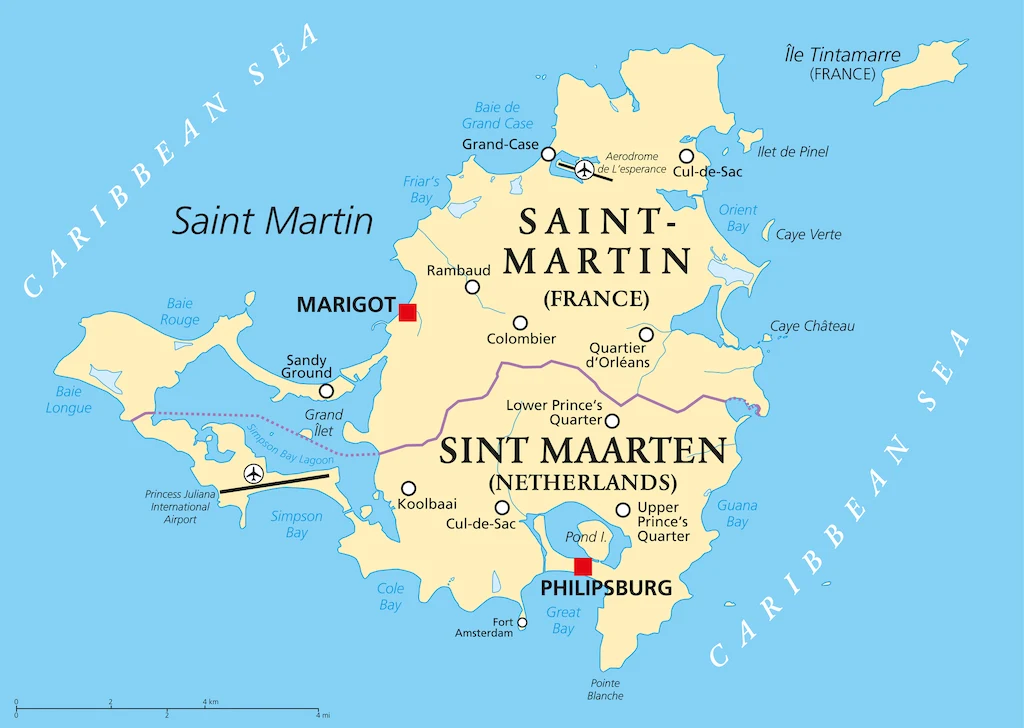 How to Get to Sint Maarten/St. Martin
The easiest way to get to this gorgeous island is by flying to the Princess Juliana International Airport. This airport is one of the most stunning and terrifying airports in the world! Thanks to its close proximity to the sea and beach. Beachgoers at Maho Beach have an up-close view of the Princess Juliana Airport because it is literally right behind the airport, yet a part of the island.
For those of you who are curious to see take-off and landings at this airport then click "Maarten TOP 8 spectacular JET BLAST Challenge ranking" for a crazy video. An alternative to watching a video is to head to St. Martin. You can experience the extraordinary take-off and landings first hand. Don't forget to check out the duty-free shops at this airport so you can bring gifts back to your loved ones and friends.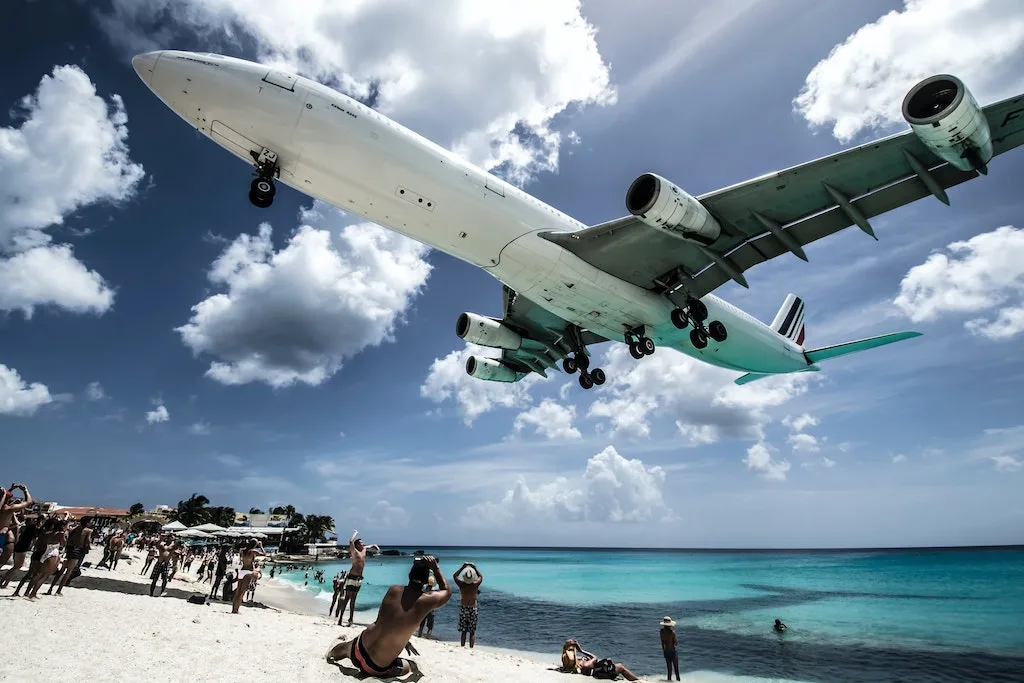 #1 Sonesta Ocean Point Resort
One of the highlights of this Sonesta Ocean Point Resort is that it is an Adults Only resort. Located less than .2 miles from the Caribbean Sea in Maho Reef, this Adults-Only resort is perfect for couples or singles to relax in a stunning resort. This without hearing children whining or babies crying. This resort has plenty of on-site activities such as snorkeling, gambling at the casino, and working out at the fitness center. Plus they have karaoke, aerobics, themed dinners, movie nights, and spa services. With large suites and stylish rooms, you will enjoy your time here.
This resort has one of the island's Dutch side casino royale, which is great fun for guests. Lounge chairs and pool bars line the two phenomenal outdoor swimming pools that are open all year. The staff at this resort speak a total of 5 languages including, English and Spanish.
#2 Le Petit Hotel
On the French side of St. Martin lies the charming Le Petit Hotel (which translates to "The Little Hotel"). Although this hotel is petite in size, it is a boutique hotel with Mediterranean-style décor mixed with Moroccan and Brazilian decor accents. Located in the Grand Case neighborhood of the French side, this hotel is as chic as it gets. Guests love the wonderful private beach access and blackout curtains.
Le Petit Hotel offers spacious rooms in the 10 available suites, with free breakfast, concierge, blackout curtains, private balconies, and private beach access. After staying at this hotel, you will want to go back again and again just to be close to the sea. You will hear the soothing sounds of the waves while sitting on your private terrace. This hotel also offers a swim-up bar so you can swim and drink in luxury. One stay at this hotel will leave you yearning to be back here. It is intoxicating to listen to the soothing sounds of the waves from your private terrace.
#3 Oyster Bay Beach Resort
A short walk from Dawn Beach is where you will find the gorgeous Oyster Bay Beach Resort. This resort is fully equipped with a fitness center, gift shop, free Wi-Fi, airport transportation, an ATM machine, laundry service, an outdoor pool, lounge bar, and spa.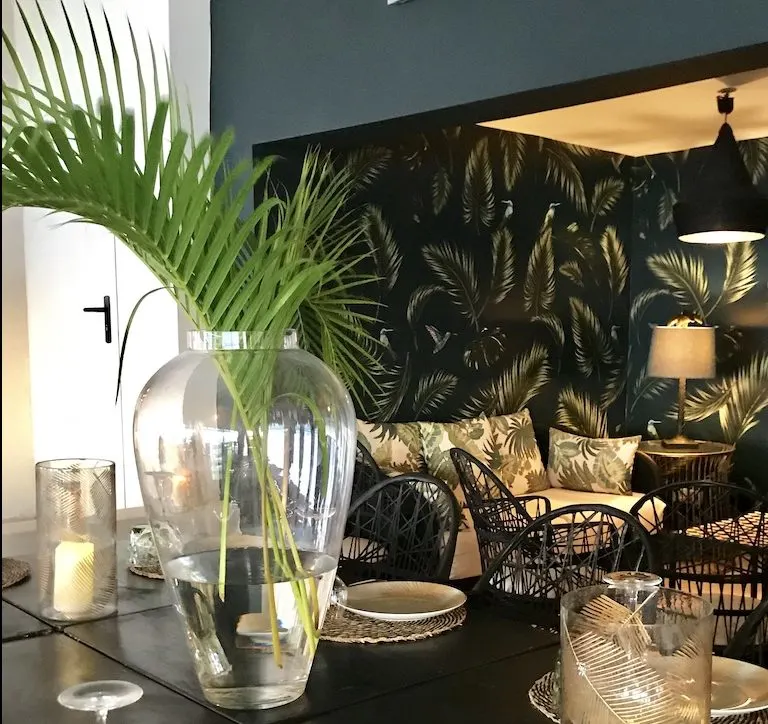 Guests can choose to stay in the various room accommodations such as oceanfront studio suite, premier room with a courtyard, or a deluxe courtyard loft. The turquoise-colored rooms with coastal decorations add warmth to the stunning location.
#4 Simpson Bay Resort
If you are looking for a more secluded resort that sits atop a hillside then look no further than the Simpson Bay Resort. Located on the island's Dutch side is a stunning resort with a private beach. This resort offers a view of breathtaking gardens. Thrilling activities to engage in are boating service and a game of tennis. This resort is where your next kid-friendly family vacation should take place!
Your kiddos will go berserk for the kid-friendly buffet, kids' club, and children's activities such as the kids club, and outdoor pool. Plus at night they might enjoy the free WIFI!
#5 Sonesta Maho Beach Resort
Guests of the Sonesta Maho Beach Resort in Maho Bay enjoy the full-service spa and fitness center. The Spa offers a steam room, sauna, body/facial treatments, and massages (for an additional cost). This resort has direct access to 7 on-site restaurants. This resort has direct access to 7 on-site restaurants. A couple of these great dining sites are Jing's Kitchen and the Ocean Terrace Restaurant. The amenities of this resort are two beautiful pools (with slides), stylish suites, guests rooms, and a 24-hour front desk that is always there to help you!
#6 Divi Little Bay Beach Resort
There are two lovely beaches, Little Bay Beach and Great Bay Beach, within walking distance of the Divi Little Bay Beach Resort. Many amenities available are daily housekeeping, spa facilities, a fitness center, and a kids' club. Guests enjoy hanging out in the game room, tennis courts, and swimming pools. For additional costs, guests can sign up for activities such as water sports, snorkeling, diving, and happy hour. Picture yourself swimming along the edge of the infinity pool with admiring the coastal rock formations.

#7 Hotel L'Esplande
One of the best hotels located in the charming village of Grand Case is the Hotel L'Esplanade in the french west indies. Although this hotel is defined as a boutique hotel, in my option it is one of the best luxury hotels on the Dutch side of the island. With one of the most gorgeous views and a perfect spot at this hotel can be seen from the grand outdoor staircase that overlooks the sea. The center of the marvelous grand staircase has a lovely fountain.
The wonderful services at the Ti Spa and Ti Temple contribute to this luxurious hotel. The TI Spa offers sensational deep tissue and couples' massages. The Rainbow Café is an incredible spot to eat dinner under the stars. Property amenities of this hotel are a large swimming pool, water sports, and sun terrace. A huge perk is that airport transportation is included, (which takes a load off the guests' shoulders.) Property amenities include yoga classes, outdoor dining areas, and easy access to the beach. This hotel has gorgeous views of sunsets at night, so come to enjoy!
#8 Hotel La Plantation
Located in Orient Bay, the Hotel La Plantation is the perfect spot to relax in the French West Indies style of comfort and charm. This hotel is in one of the best areas on the French side thanks to the close proximity to Orient Beach, aka La Playa Orient Bay. Aside from the white walls of the rooms/suites, the walls of this hotel are far from boring! The walls are scattered with hand-painted murals. Guests can choose a soundproof, two-bedroom apartment that is equipped with a private kitchen, garden view, terrace, and attached bathrooms or one-bedroom suites.
I recommend eating lunch at the Wai Plage, which specializes in seafood dishes that are simply delicious!
#9 Esmerald Resort
Another stupendous luxurious resort located on the French side of St. Martin is the Esmeralda Resort. This high-end resort is one of the best places to enjoy a relaxing and satisfying vacation in St, Martin. Aside from the standard rooms, there are 18 villas scattered around the resort. Each villa offers 24-hour room service, stunning guest rooms and each has a private pool. There are over 15 restaurants located less than .03 miles from the resort as well as fine dining restaurants and shopping centers. Nearby fine dining restaurants include Waikiki and Place du Village d'Orient. This high-end resort is a wonderful spot to enjoy a satisfying vacation. I think you will love it!
#10 La Playa Orient Bay
One of the most recently renovated hotels in the Orient Bay area is La Playa Orient Bay. This hotel offers complimentary Wi-Fi, 24-hour security, restaurants, and concierge service. Families are sure to love the free breakfast and kids' meals! Thanks to the attentive staff who speak multi-language you will have no problems with communication. Within a five-minute walk, you can access the Caye Verte and Orient Beach. Sailing and boating services are great on-site activities. Plus they have sun terraces and even a large swimming pool. This hotel will become your next favorite vacation site.
#11 Coral Beach Club
Located on Emerald Merit Road on the Dutch side is the lovely Coral Beach Club. This 5-star hotel is a private luxury resort that offers a splendid view of Oyster Pond and Dawn Beach. Guests of this hotel admire the beachfront living room and villas.
One of the exclusive perks of this resort is becoming part of Coral Beach Club. The Coral Beach Club is decorated with Balinese furniture and has a lovely spa. Guests of this hotel admire the beachfront living room, villas, Balinese furniture, spa, and outdoor pool.
#12 Belmond La Samana
Belmond La Samanna is one of the sparkling gems of St. Martin. A breathtaking spot is the infinity pool that overlooks the Baie Longue. The most popular facilities include one-bedroom ocean-view suites, with easy access to the Baie Longue Beach. Plus 3 restaurants on-site, and family services to boot. Guests go wild for the live music, themed dinners, and beach bars.
I recommend eating breakfast at the Corail, which is a coffee shop-style restaurant. This shop offers American, Caribbean, and French breakfast items. Thanks to La Cave Restaurant at La Samanna, you can experience the extensive wine cellar this resort has to offer.
#13 Grand Case Beach Club
One of the most intimate and breathtaking places to stay in St. Martin's Grand Case Bay is the Grand Case Beach Club. This fabulous beach club is in a top location in St. Martin's French side. It offers guests standard studios, suites, an outdoor swim-out pool, free parking, snack bars, a library, and temporary art galleries. Each room at this beach club is equipped with a private bathroom, free toiletries, clothes rack, air conditioning, and non-smoking rooms.
#14 Orient Beach Hotel
The only hotel on the entire island of St. Martin to be directly located on the beach is the Orient Beach Hotel. This hotel was renovated in 2020 and offers services and amenities such as free breakfast, Wi-Fi, and snorkeling. Other services offered are beach towels, babysitting, interconnected rooms, coffee shop, and baggage storage. , beach towels, babysitting, interconnected rooms, coffee shop, and baggage storage.
This is the perfect place to enjoy the glorious sun sets with a special someone as you both lounge on the beach chairs of the Orient Beach Hotel. Suites are decorated with turquoise walls, comfy beds, and breathtaking views. For an additional cost, guests can rent beach umbrellas and chairs at Orient Beach.
#15 La Vista Beach Resort
Las Vista Beach Resort has one of the stunning views of the Caribbean. It also has easy access to the beach, outdoor dining, and an infinity outdoor swimming pool. This beautiful resort is perfect for people of all ages. Families with children are sure to enjoy the children and family-friendly activities, board games, and puzzles. Other amenities and features of this hotel include horseback riding, fishing, an outdoor pool, lounge bar, canoeing, and karaoke. There are also nearby attractions with less than half a mile including The Red Piano, Kim Sha Beach, and Buccaneer Beach Bar.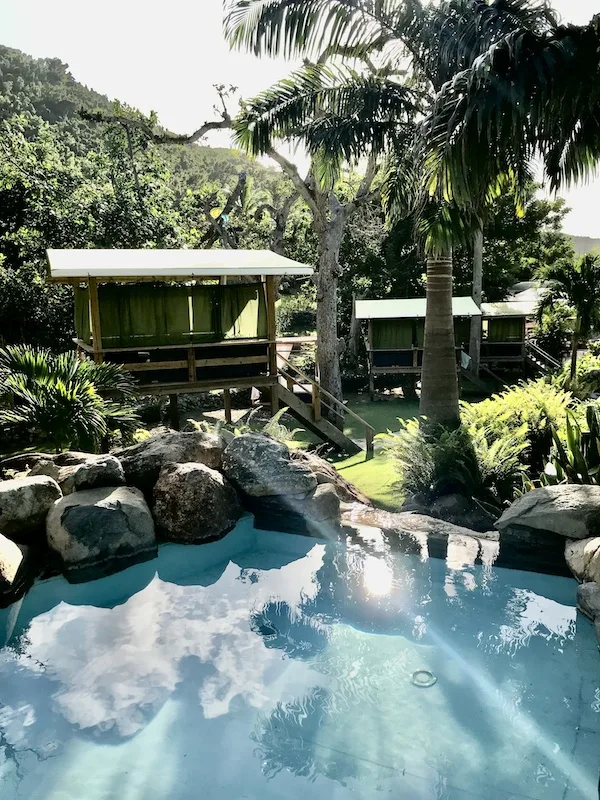 There you have it, the 15 best hotels in St. Martin. Regardless of whether you visit the Dutch or French side of this small island, you will have a wonderful vacation!