Founded in the 16th century, the small magical town of Mineral de Pozos, Guanajuato is unique and charming. It is the perfect place to visit when staying near San Miguel de Allende in Mexico. This interesting town of Mineral de Pozos, or just Pozos as most people call it, is located roughly an hour's drive from San Miguel de Allende. When someone mentioned this place to me, the conversation went something like this:
Me: But I have never heard of it!
My friend: Oh, I have. It's tiny. But worth a visit from San Miguel.
Clean mountain air accompanied my Uber ride. The town sits at the opening of a mountainous ridge. Along the way, we passed old mesquite trees tucked into gently rolling hills. Finally, the sight of ruins draped in green vines, along with long-neglected centuries-old haciendas began to appear.
---
Come visit the Ghost Town of Mineral de Pozos!
---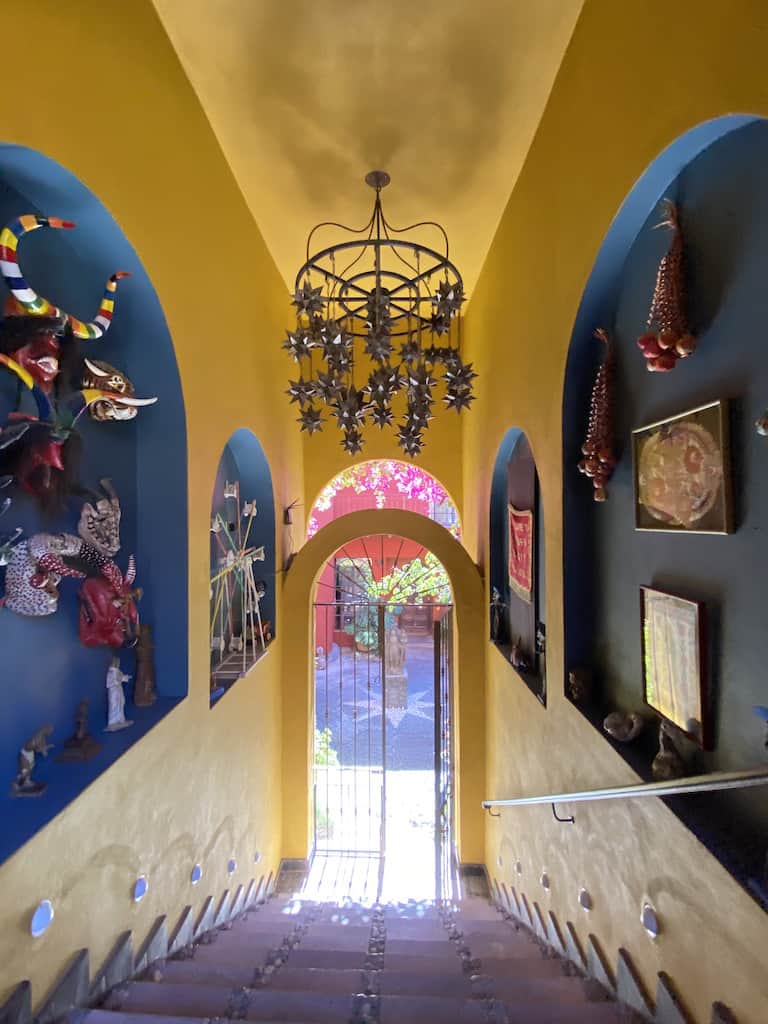 What is Mineral de Pozos?
During the heyday of silver mining in Mexico, Mineral de Pozos located in Guanjuanto was the place where miners would bring their ore. They would melt it down so that it could be shipped back to Europe. It is one of Mexico's "Magical Towns" that surrounds you with its cobbled streets, ruins, traditions, legends, and temazcales (low heat sweat lodges) as well as its pre-Hispanic music, crafts, and jewelry. There seems to be no borders for this town.
Now here I was, paying the Uber driver and waving goodbye. I turned and faced the dusty and lonely town in a scene that felt like a cinematic movie. As I said to myself, "I hope this day goes well!"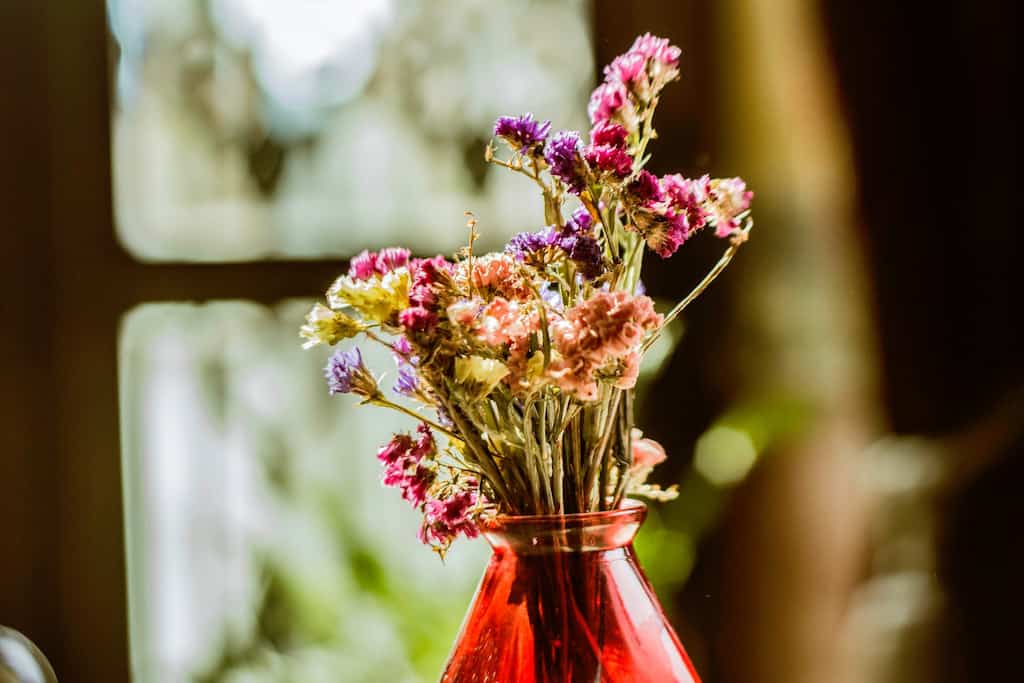 ---
Mineral de Pozos
---
How to get to Mineral de Pozos
As mentioned before, Mineral de Pozos, Mexico is located in the state of Guanajuato. This town is distinguished by its semi-desert landscape and tranquil atmosphere. Getting to Mineral de Pozos from San Miguel de Allende is a piece of cake. Whether you choose to drive or get a ride with friends, it takes a little over an hour to get to Mineral de Pozos. The bustling market town of San Luis de la Paz is only five miles in the distance.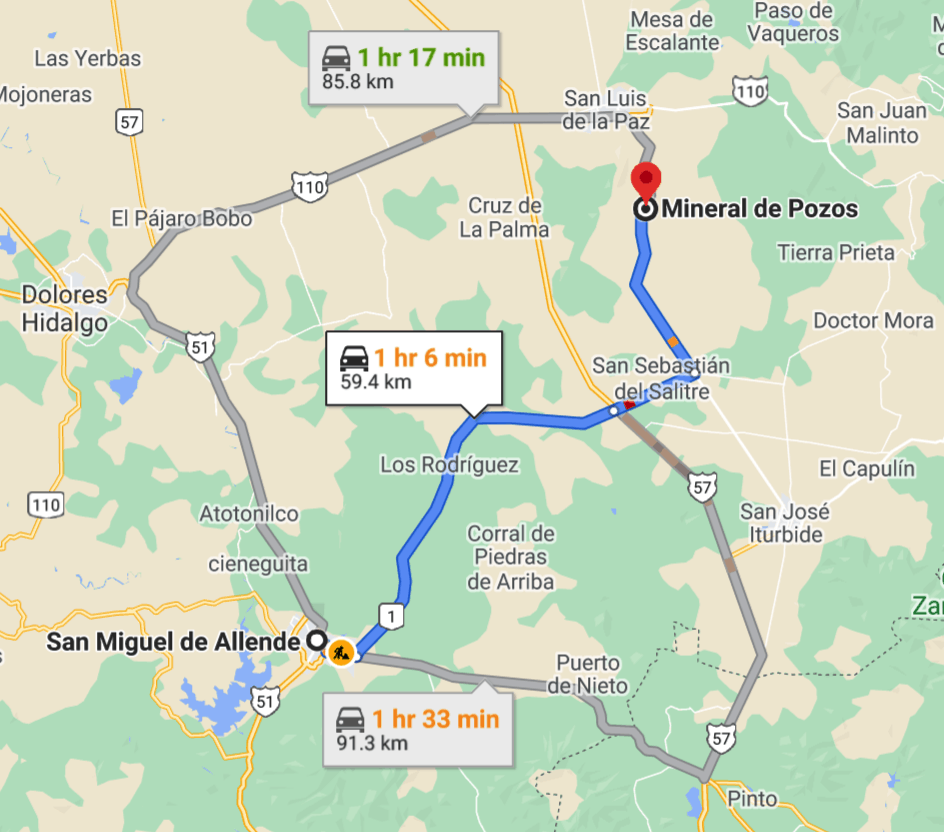 If you are on a budget, driving is the cheapest option because you only have to pay for gas. According to Google Maps, the shortest and quickest way to get to Mineral de Pozos is via Carretera San Miguel de Allende-Dr. Mora/GTO 1. The directions found here appear straight-forward and easy to follow. If you fly into Mexico City, it takes about three hours and 45 minutes to get to Mineral de Pozos as it is 185 miles northeast of Mexico City. From San Miguel, a car and driver cost approximately $40 USD.
Magical Pozos Guanajuato!
The magical town of Mineral de Pozos was home to many indigenous groups throughout the years. Different groups such as the Chichimeca, Copuces, Huachichil, Guaxabanes, and Pames inhabited the lands of Mineral de Pozos area. Then came the Spaniards and their endless efforts to conquer these indigenous groups. Eventually, a fort was built in Pozos to protect the silver of the state of Zacatecas, without anyone even knowing what lied underneath the ground.
During the many years that Mineral de Pozos was inhabited, since the 16th century, no one had discovered the gold, silver, and zinc mines until the Santa Brigida mine was discovered in 1920. The town had been heavily focused on its agricultural activities and they neglected to notice other parts of the land.
In its heyday, Pozos became one of the richest colonial mining towns due to its gold and silver mines underground. It reached its peak in about 1890, but by 1910, the Mexican Revolution and all the fighting caused the mines to close. Eventually, water flooded many of the mines. From a population of 60,000, the town fell into poverty and actually became a "ghost town". By the 1950s there were only 200 or fewer people living in Pozos del Mineral, mostly Americans, Mexicans, artistic ex-pats, and Europeans.
Basically, there are about 500 mines in this area of Mineral de Pozos, and many of them are still opened to tourists.
Nowadays this town has many different activities for visitors to enjoy such as strolling down the streets, going on an ATV tour, and browsing the local art galleries. But to keep the town alive, Pozos lives off the money it makes from local music festivals that come here throughout the year.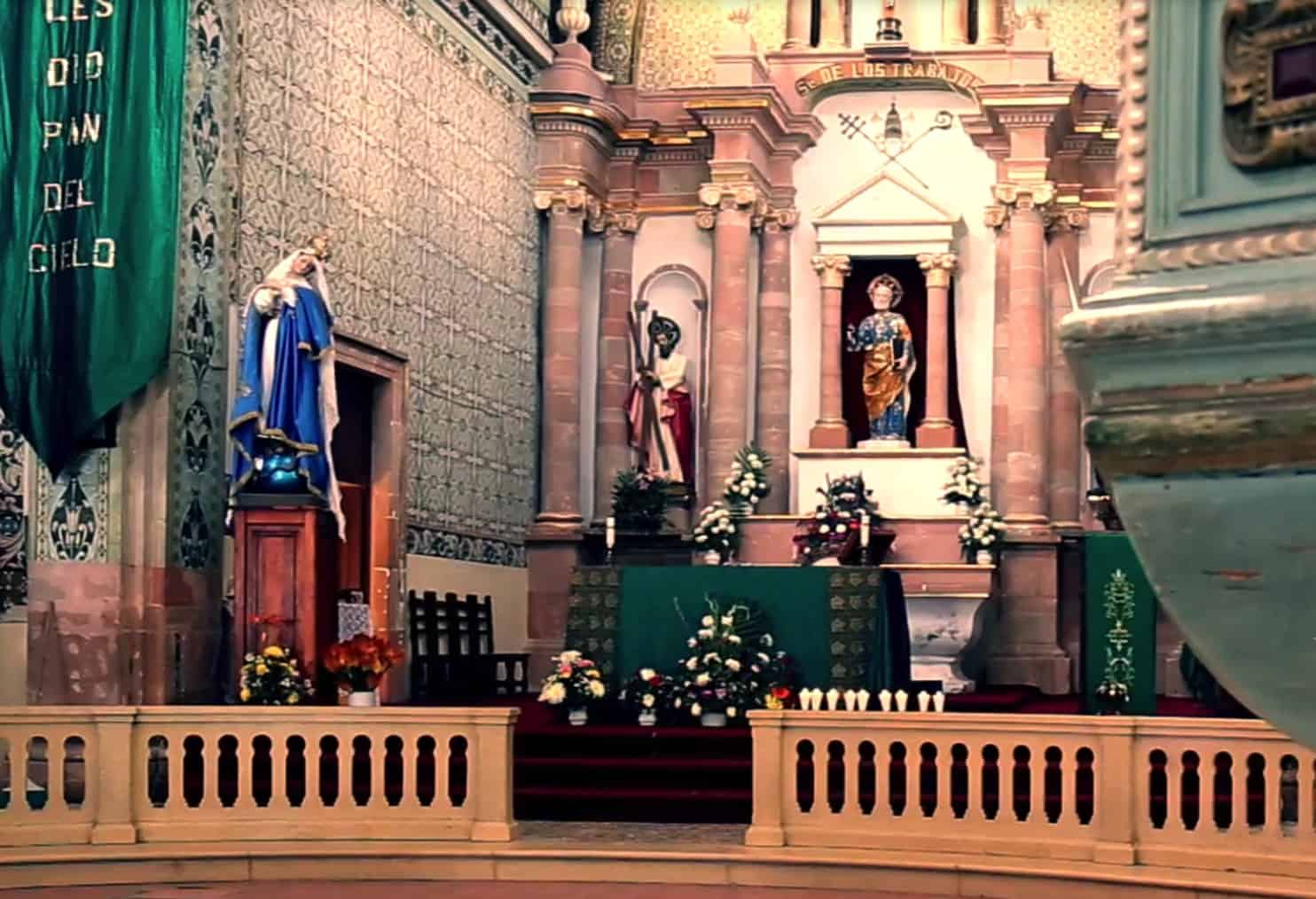 As I arrived, I noticed old sleeping dogs next to bleached out skulls that hung on top of old fences. To my right was an abandoned chapel! I had heard this was a ghost town or "pueblos fantasmas" – and I am sure that this town is certainly a relic from the great Mexican mining boom of the late 19th century. But Pozos de Mineral isn't dead. At least not yet. It is slowly growing. At least by those who love art and pre-Hispanic music.
What´s the Weather like in Mineral de Pozos?
Mineral de Pozos' climate is typical of the high desert: sunny most days, except in rainy season, July to September; nights are cool in summer and cold in mid-winter. Although located south of the Tropic of Cancer and at 7,500 feet above sea level, the climate is temperate due to the altitude. Temperatures are quite pleasant in summer at around 74-82 degrees F and cold in winter at 54-63 degrees F.
Things to do in Mineral de Pozos
Now, let's take a closer look at a lineup of interesting things to do in Mineral de Pozos.
Purchase Musical instruments based on ancient designs
There are several local craftsmen that practice the art of making reproductions of pre-Hispanic musical instruments. Camino de Piedra is just one of three stores devoted to making pre-Columbian musical instruments that make the sounds that the Aztecs must have played. They make high-quality products of mostly drums, flutes, ball-type instruments, and whistles out of stone, bamboo, bone, gourds, shells, stretched hides, and wood. See below one carved out of wood that is based on an ancient Aztec design.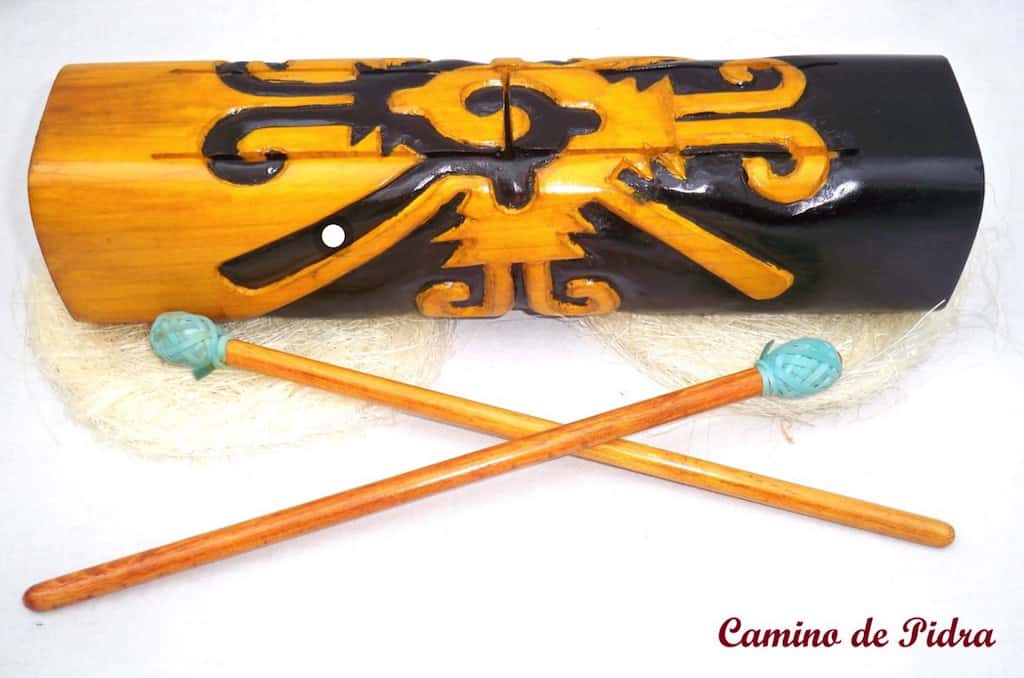 Buy Crafts, Art, Dolls & Stones
Escuela Modelo has recently re-opened its doors to share the experience of teaching, painting, jewelry making, and more. It is a learning center as well as a handcrafts market that sells unique pieces of art from the students.
Also in the Pozos square, you can find handmade dolls with different typical costumes of Mexico. As a souvenir, you can buy crystals, quartz, and semi-precious stones that are mined from the local mines.
Get Lost Among the Ruins of the Ex Haciendas
Although this excursion might not be in the city, it is worth the trip to Museo Ex-Hacienda San Gabriel de Barrera. This Ex-Hacienda displays the stunning gardens and luscious palm and eucalyptus trees. Another odd but interesting Ex-Hacienda is the Hacienda Del Cochero "Galerias de la Inquisicio" in Guanajuato. You can go on a torture tour and see what crazy approaches were used on people during the 16th century. Most of these Ex-hacienda's (or mansions) are fun to visit.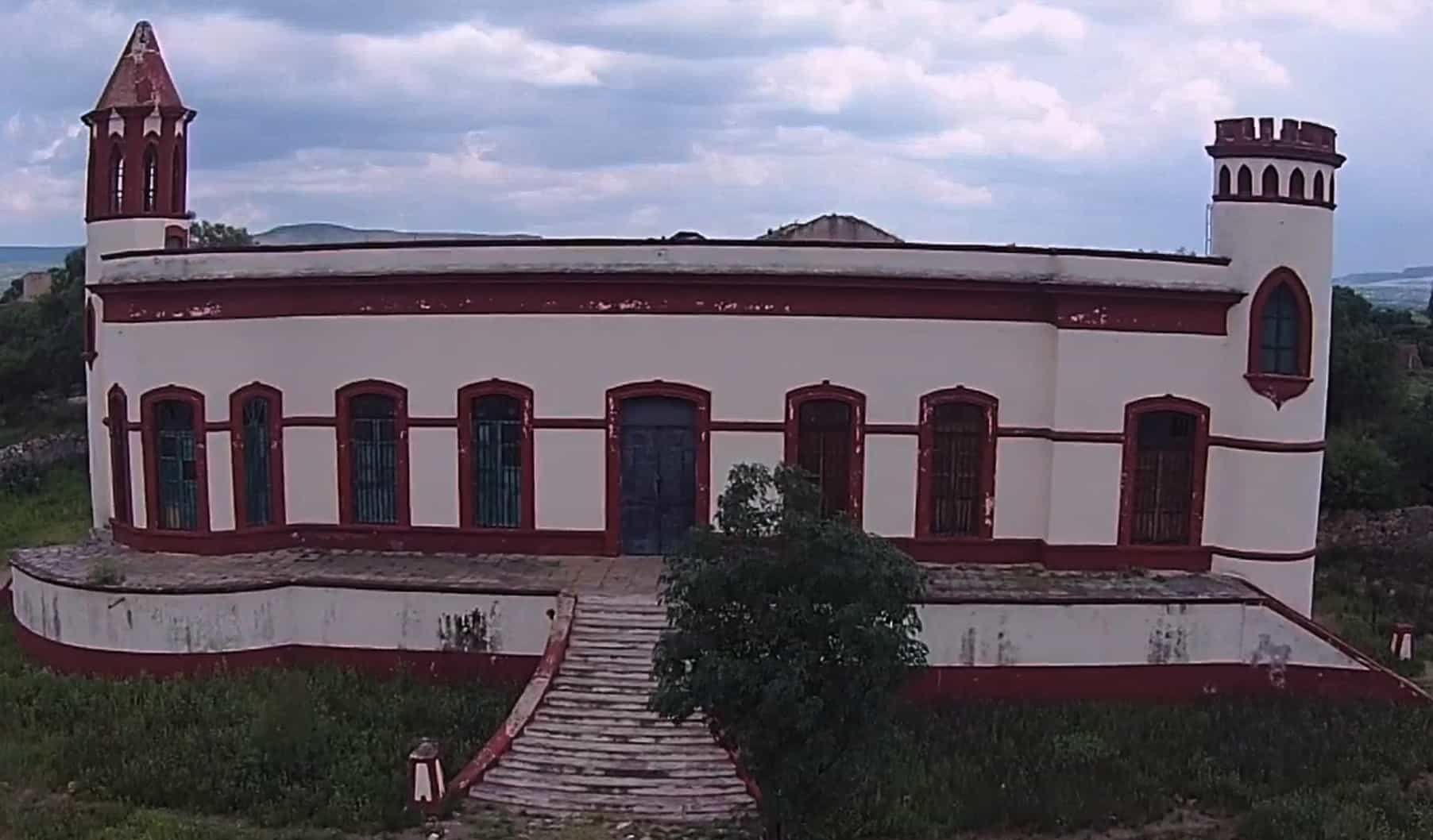 But one I recommend you to visit for sure is the Mina Cinco Señores. Among the different haciendas that were abandoned after the mines closed, Mina Cinco Señores was one of the most popular ones especially since it was the biggest one in town. Many even say that ghosts still haunt this Ex-hacienda. From the deep tunnels in the mine, you will hear rumors, legends, and even stories about this semi-desert land.
Who does Mineral del Pozos Appeal To?
Photography enthusiasts love this area, as you can also take glimpses of other mines like La Nona and San Baldomero. I would say it is a photographer´s dream with many photo opportunities in every direction. History buffs or modern archeology enthusiasts also find the area fascinating and they love the nearby gorgeous church La Santa Cruz. I think anyone who is interested in a place of serene beauty and tranquility will also love to come to Pozos.
Tour on an ATV, Mountain Bike, Horse Riding, Hike
One of the most fun ways to get up close and personal with the town of Mineral de Pozos is by riding an ATV on a tour. Since 2005, De Travesia Tours has been offering its guest adventurous ATV and off-road tours. Most of the tours begin in San Miguel de Allende, but the company can easily assist guests with a tour of Mineral de Pozos once you are there. You might even get a special deal for touring both San Miguel and Pozos!
You can rent a mountain bike or horses to tour the mines, farms, and hike Cerro Pelón. In addition, you can do ecotourism activities such as hiking, rappelling, and botanical excursions. One of the more difficult hiking excursions near Mineral de Pozos is Cerro Pelón. A hike along this mountain roughly lasts 4 hours and reaches an elevation of 8,409 ft. But the best part of Cerro Pelón is in late October or early November when the Monarch butterflies return to make an appearance. They are often seen up on the mountain. Monarchs flutter down from their main roost on Cerro Pelon to nectar and puddle and fly about in the meadow called El Llano de Tres Gobernadores.
Visit the Lavender fields
A trip to the lavender fields should instantly soothe and relax you. It is truly a beautiful and great surprise to find a lavender field in the middle of a desert. You can choose to take a private tour of the fields or go exploring on your own (I prefer the latter). You can buy locally bottled lavender essence at the gift shop nearby.
Eat locally in Mineral Guanajuato
One of the best things about visiting a new place is the local food. It is an absolute must to eat locally when in Mineral del Pozos. The Café D´La Fama is located on the top floor of one of the most prestigious town buildings in Porfiriato. This cafe has a mix of different gourmet coffees such as Chapas and Guerrero, Moroccan coffee desserts, and sandwiches.
You also have to try the drink colonche. It is a fermented fruit of the red prickly pear. Also if it is in season, ask for a watermelon salad, or squash blossom quesadillas. Both are excellent.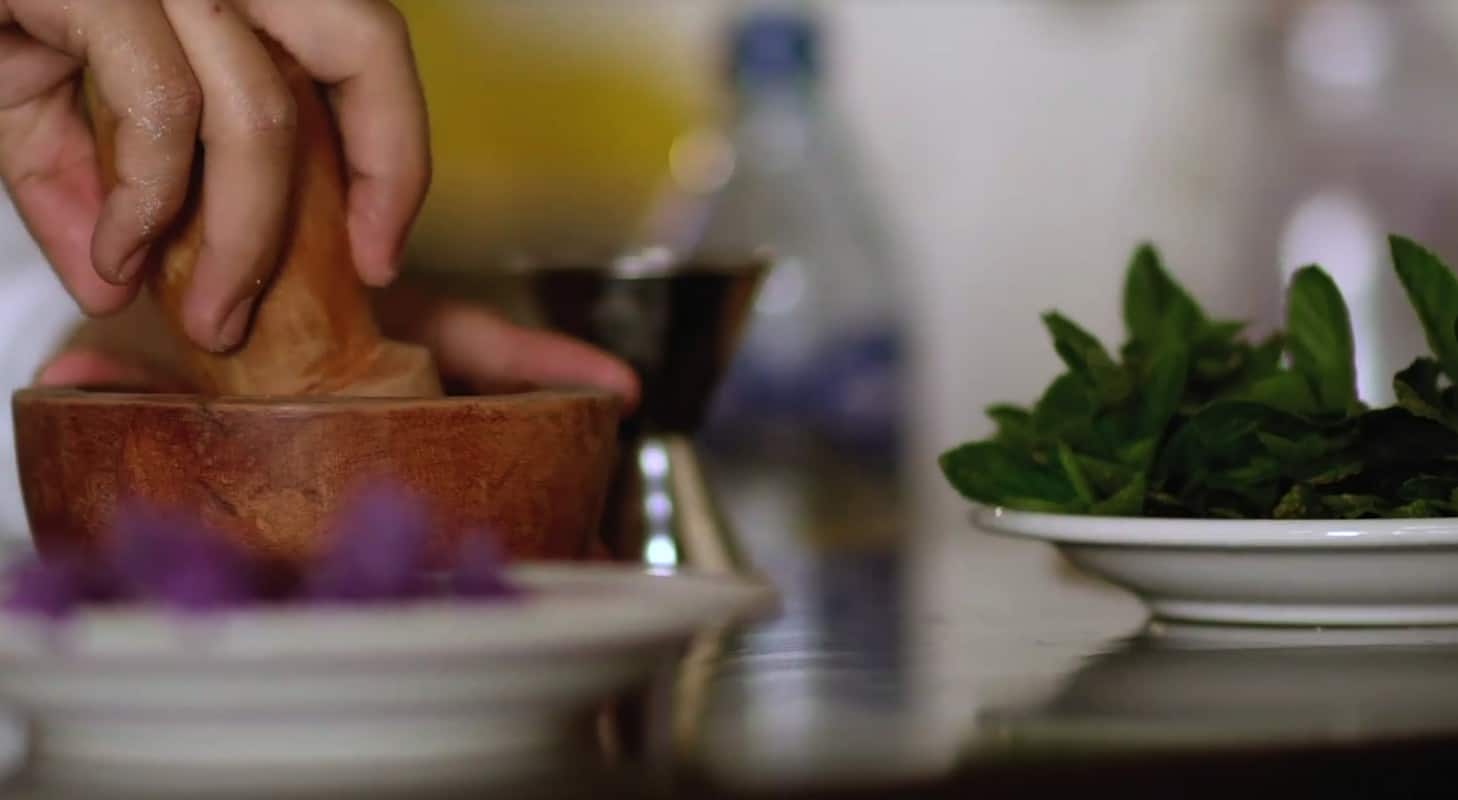 La Pila Seca Restaurant is a charming cafe that sits opposite a garden. This restaurant offers an authentic Mexican meal complete with Chamorros, enchiladas, and margaritas. Other great places to eat locally are the Dry Battery and the Escamoles. The latter is located in the Mina San Rafael Archaeological Center and serves amazing and warm tacos.
Stay in a Boutique Hotel
Mineral de Pozos has at least five hotels, about 8 art galleries, and maybe 50 Americans, many of who are artists that live here at least part-time. I stayed at one of these hotels, and honestly, it wasn't bad at all!
The Casa Diamante Hotel Boutique is a 5-star hotel in Mineral de Pozos. This hotel is family-friendly and offers free parking, free Wi-Fi, free breakfast, a spa, casino, bar, and swimming pool. It is a truly hidden gem in this small village, one that offers impeccable food and great service.
La Casona House Boutique Hotel is a great place to stay in Mineral de Pozos, Guanajuato. This magical hotel surrounds you in a spiritual haven of peace, tranquility, and culture. The hotel has a style all its own and is thematic. The names of each of its rooms are named after the names of the mines that at one time were significant due to their high production.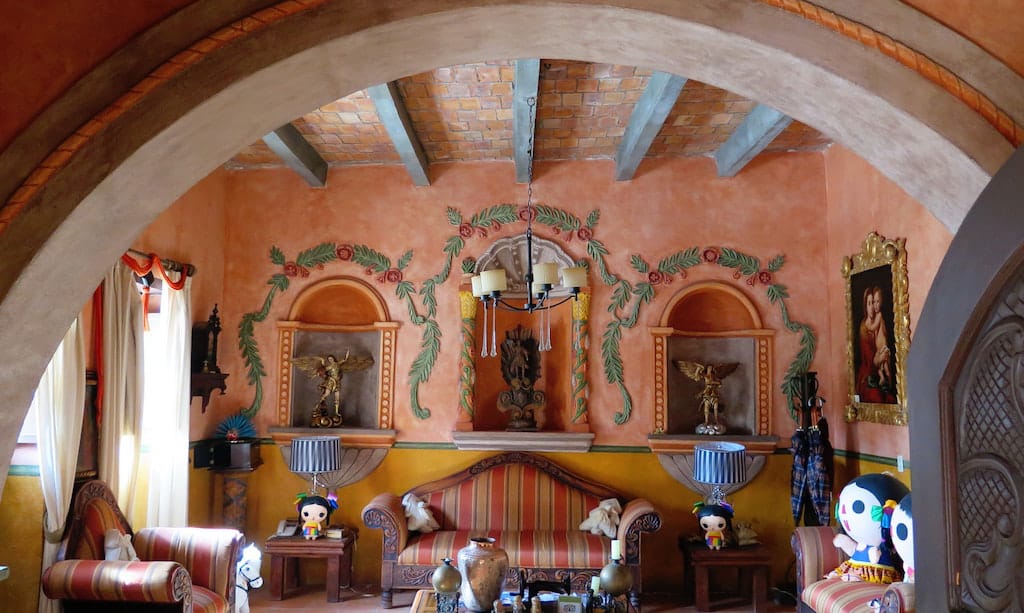 Here are a few others to consider: Posado de los Minas, and Mineral del Cielo.
Explore The Mines: Personal or Private
The only way to see the Santa Brigida Mine is by walking on the dirt road or ride up in a truck. So If you aren't afraid to get a little dirty, then you must visit this mine. The price per admission is worth paying to see the beautiful ruins of the Santa Brigida Mines. The buildings have been dated back to the 16th century and were in use until the 1960s. Going at dawn, driving through the fields of cactus and mesquite to the area's oldest mine is actually a treat. At the entrance to the complex, there are three stone pyramids that rise up out of the ground. These ovens or hornos, were actually built by Jesuit priests in the 16th century. They once smelted the mine's ore.
Viator offers private tours from San Miguel de Allende to Mineral del Pozos, Guanajuato. Their private tour offers a half-day tour of the mine, hotel pick-up and drop-off service in San Miguel, and lunch.
Pozos de Mineral Events
At the end of April, they have a music festival known as Mixcoacalli Festival, every May in Pozos del Mineral there is a mariachi festival; the second half of June is the International Blues Festival, every July, a pre-Hispanic music festival; and in mid-July, the Toltequidad Festival occurs that celebrates the indigenous culture, and every September, a celebration of the nopal and maguey plants. In October, they have an international independent film festival.
Mineral de Pozos Guanajuato is a stunningly tranquil place to visit. The Mexican government declared the town a national historic treasure in 1982.
Here is a list of the main attractions in Pozos:
Arroyo Seco Botanical Garden
Artisans of The Blue Deer
Beer Spa
Chapel of San Antonio de Padua
Church of the Holy Cross
El Peral Ecotourism Park
Gallery 6
Iglesia de San Pedro
Jesuit Ovens
Juarez Garden
Lavanda Ranch
Mine of the Five Lords
Municipal Pantheon
Old School of Mineral de Pozos
San Jose Iturbide
San Pedro Parish
Santa Brígida Mine
Temple of Our Lord of Works
Triangle Mine
Tourist Parador
You can engage in outdoor activities, pamper yourself at the Casa Diamante Hotel Boutique, or explore the intriguing mines. Regardless of the activity, you choose to do, Mineral de Pozos has plenty for you to enjoy. You will become enamored with this charming tiny town and its laid back atmosphere. Or at least I did! When I left Mineral de Pozos the next morning, I knew I wanted to return. The old mining town and ruins left behind make me want to look for a richer life story.
You can get all of this from San Miguel de Allende in Old Mexico!