I have been thinking about my style of travel and thought I needed to think outside the box of the tradition independent travel that I typically do. I have been reading a lot lately about river cruises in Europe. Apparently, there is a new game in town, a company called the Emerald Waterways.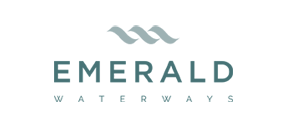 It is a daring new entrant in the river cruise market and they are here to provide a product that adds value to the river cruise industry. What caught my eye right away was the fact that this new company adds value. The concept of more value for less money in the luxury market has been a central theme throughout my travel career and is now the cornerstone of this travel blog. I call it smart luxury. Things like excursions, tips, wifi, bottled water, and food are included.
I learned that on a river cruise, the water is flat, so you can barely feel the ship moving, which makes it so that you won't get seasick! That was a myth I am glad it is not true about river cruising. I also learned that there are no transfer boats called tenders needed, so that you can disembark directly, which cuts down on wasting time. Most of the docks are right in the center of town and so you are disembarking right where you want to be! These are excellent reasons to take a river cruise in Europe.
Other great reasons to do this tour is that unlike those large cruise ships, you won't have to go through airport-like security, which takes longer to disembark and embark on the return, again cutting down on any wasted time.
One of the cruises that interested me the most was their Danube Delights river cruise for 8 days. It cruises the Danube River from Germany to Hungary.
Starting in Nuremberg, it then goes on to Regensburg, one of the best-preserved medieval cities in Germany where you can visit the Regensburg Cathedral and then on to Bavaria to visit the Weltenburg Abbey, the oldest monastery in Bavaria. Once in Passau, they give you a choice as to where you want to go, as it can either be spent in Germany, Austria, or the Czech Republic. And then finally to Austria's wine-growing region in Melk, where you would explore the Melk Abbey and then a visit to Dürnstein, where King Richard the Lionheart was held captive!
Next up is my favorite city in the world, Vienna, a city full of castles, palaces and the famous Stats Opera where I once received an amazing diamond bracelet on my anniversary! Here is a picture of me on that day, so many years ago! Can't you see how happy I am?
Then from there, the ship goes to Slovakia, to the town of Bratislava, where you could visit the Holocaust Memorial, the Museum of Jewish Culture, and the Slavin War Memorial. I am sure that would be the most emotional day of the trip, as these sites are hard to visit, but a must for all world travelers. I have visited holocaust sites before and it is always difficult.
The last and final day is spent in Hungary. While in Budapest, you can visit multiple UNESCO World Heritage Sites, including the Buda Castle Quarter and the Millennium Underground Railway. In fact, Emerald Waterways has an emphasis on UNESCO world heritage sites, which is great!
"I think they might just be able to convince me to take one of these cruises and to be a part of Emerald Waterways' new journey! "
The fact that they have a brand new fleet of custom-built ships with new innovations, like suites with indoor balconies with floor-to-ceiling windows and a heated swimming pool with a retractable roof that turns into a movie theater are just a few great reasons to try it.
Want to Read About Other European River Cruises?