Cancun Mexico has long been considered the best destination for Spring Break with good reason. Its white-sand beaches, turquoise waters, endless resorts, and vibrant nightlife make it a hotspot for college students. Even families are drawn to this beach town in the Yucatan Peninsula as it has plenty to offer its guests regardless of their age.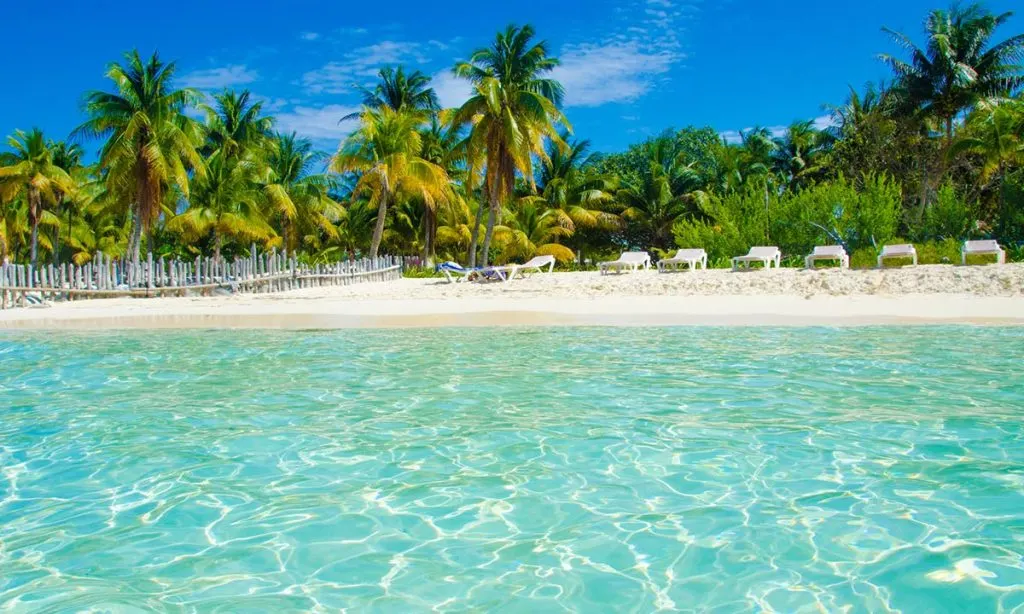 Cancun sits on the Mexican Caribbean and has easy access to many ancient ruins and cenotes. Add to this the fact that it is also accessible from the Cancun Airport and you will have the perfect beach destination for snowbirds. In fact, around 2 million tourists come here annually and most of the time book a stay in one of the luxury hotels at Cancun's Hotel Zone. This 14-mile stretch of land has inclusive resorts, boutique hotels, and hostels to suit all types of travelers. Not only that but there are plenty of restaurants, bars, and nightclubs here to keep you entertained.
Now if you are dreaming of a more authentic Mexican experience, head to downtown Cancun. This is where most of the locals live. It is also here where you will find more shops and eateries that locals frequent. Aside from that, you will have dozens of options when it comes to water sports. After all, Cancun sits between the Nichupte Lagoon and the Caribbean Sea. This means that you can go snorkeling, scuba diving, and others easily.
As mentioned before, Cancun is near ancient Mayan ruins which you can explore through day trips. You can even cenotes to your itinerary which are also located near these ruins. There are water parks and eco parks too that you don't want to miss. All in all, the activities in Cancun are quite diverse which is great!
Best Activities that Await You in Cancun
One of the best things about Cancun is that there is no shortage of activities to do here. It doesn't matter if you have the whole family with you, is flying solo, or are on a romantic vacation, you will be spoiled for choices here. For starters, the party scene is of epic proportions, especially during Spring Break. If you are wondering what popular things you can do in this beach town, I have some suggestions below.
Explore the Hotel Zone
Before you go off exploring the rest of Cancun, why not start in the Hotel Zone? As mentioned before, this is the most popular spot because of its long stretch of beaches. Aside from that, there are attractions nearby that are accessible on foot. For starters, there are plenty of restaurants, bars, and shops here that you can explore. A good place to start is at La Isla shopping village which is an open-air shopping mall. Here you can go shopping and even grab a bite to eat.
Don't worry about staying in an all-inclusive hotel. If you are on a budget, there are budget hotels with cheaper rates downtown. Their rooms are also spacious and comfortable which is a plus. Also, you will be nearer to various shops and restaurants here that you can explore on foot.
Have Fun at Xcaret Park
One of the fun things to do in Cancun is to visit a water park. There are six amusement parks in this beach town and this one is the largest. It's a 250-acre eco-park with more than 40 attractions to choose from. Among these are educational, cultural, and natural attractions. There are also live shows that will keep you on the edge of your seats.
The park also promotes Mayan culture with the main goal of preserving more of Cancun's natural surroundings. Take your pick from their water-based and land-based activities for a whole day of fun and entertainment. Aside from that, you can also try traditional cuisine, join Mayan recreations, and even take a dip in the Caribbean water. The good news is that you can spend a few days here to fully enjoy this park.
Soak Up the Sun at Playa Delfines
As mentioned before, there are plenty of beaches in Cancun that you can visit and one of them is Playa Delfines. This is the perfect spot if you want to get away from the hustle and bustle of the Hotel Zone. Aside from that, it is accessible by bus, car, or even taxi whichever you prefer. Once you get here, you can find a good spot to hang out. You can use the free umbrellas or find some shade under the trees.
Aside from that, there are no restaurants in the area. This gives street vendors a chance to ply their wares. The local food that they offer adds to the authenticity of the place which is a plus. Although the sand here is not white sand, the view is still amazing. Also, the peaceful environment makes it conducive to relaxation.
Party All Night Long at Coco Bongo
Are you looking for the perfect place to dance the night away? Then head to Coco Bongo! This is not your typical nightclub where there is a bar and a dance floor. In fact, this venue offers high-energy entertainment, live music, and flowing drinks.
Coco Bongo is known for its acrobatics, musicians, DJs, and even impersonators. Massive video screens are installed so everyone can see the action here. Join the conga line, dance until your feet ache, and just have a great time here. Although the entrance fee is not exactly cheap, it is worth it once you consider the level of entertainment here, not to mention the food and drinks served.
Catamaran Cruise to Isla Mujeres
Another activity that you can do while in Cancun is to go on a day trip to Isla Mujeres. And what better way to appreciate the beauty of the island than by riding a catamaran? This boat ride will give you a good chance to view the crystal, clear waters of the Caribbean Sea. Among the day-long activities that you can do here is spending time in the open bar. This is a good place to meet new people.
Aside from that, you can also head to Playa Norte. It boasts pristine white sand beaches and stunning blue waters and it is known to be one of the best beaches in Mexico. You should also visit the Garrafon Natural Reef Park as well as the Tortugranja Turtle Conservation Center. The latter is where you will find sea turtles being rehabilitated before being sent out back into the open ocean.
Have a Lobster Dinner Cruise on Board a Spanish Galleon
Are you looking for a unique experience in Cancun? Then go on board a Spanish Galleon and cruise along the coastline of Cancun. Here you can enjoy Cancun's spectacular view while enjoying fine dining. Most cruises will run for two and a half hours and will give you a different perspective of this beach town. In fact, you will fall in love with Cancun all over again on board the galleon.
Not only that, but the fine dining experience here is one for the books. After all, their freshly grilled lobsters are the bomb! In addition, there is live music on board the ship to add to the festive air. And did I mention that you will be on board a Spanish galleon?
Get Up Close to Whale Sharks
Sharks often get a bad rep for being scary beasts of the waters. But whale sharks are another matter. These gentle giants are humongous! In fact, they can stretch out more than the size of a school bus plus they weigh up to 20,000 kilograms. During the whale shark season, you will be able to see them from the window of your hotel room. How cool is that?
And what better way to see them than being able to swim beside them? The best way to go swimming with these giants is to go on a licensed boat tour. You will be able to snorkel with these giants at a safe distance.
Go Scuba Diving
Aside from the beautiful beaches that Cancun is known for, you might want to extend your exploration into its waters. In fact, the coral reefs off Cancun and the Riviera Maya are among the best in the world. In fact, Jacques Costeau stated that this is one of the most beautiful dive spots in the world. Thanks to its growing popularity, it was later declared a national marine park. This has led to the marine life thriving here much to the delight of divers.
If you are looking for the best dive spot in the Yucatan Peninsula, it is Cozumel. The good news is that you can book a trip here even when you are in Cancun. Don't worry if you don't have any experience in scuba diving. There are plenty of diving schools in Cancun that offer PADI certification.
Explore the Tulum Ruins
Meanwhile, if you are looking for an easy excursion, you should definitely visit the Tulum ruins. It lies near Playa del Carmen and 60 miles from Cancun. You can ride a bus, or taxi, or drive here if you want to see the ancient ruins. One of the reasons why this place is a must-see for tourists is its location.
It sits on top of a cliff overlooking the gorgeous waters. You should spend at least 2 to 3 hours exploring the remains of what was once a Mayan civilization. Once you are done, you can make your way down to the beach where you can go swimming in the waters. Just make sure that you pack your beach gear when going on an excursion to the ruins.
Visit Chichén Itzá
One of the great things about Cancun is that there is more to it than its beaches. In fact, if you want to take a break from all the partying you have done in the Hotel Zone, you should try this one out. Chichen Itza is a famous archaeological site that has been well-preserved over the centuries. This UNESCO World Heritage Site is so beautiful that it was named one of the New Seven Wonders of the World.
There are temples, pyramids, and other buildings here that give a glimpse of the Mayan way of life. One of the most famous structures here is the El Castillo which is the Temple of Kulkulkan. Another is El Caracol which is an ancient observatory with a spiral staircase inside.
Take note that the place is huge which means you should spend a few hours getting around the area. The best time to take a trip here is early morning when there are not enough visitors just yet. If you don't have a rental car, you can always join tours to this archeological site. Once you see this stunning attraction, you will agree that this is one of the must-sees while in Cancun.
Enjoy the Beach at Isla Contoy
Another activity that you can do while in Cancun is to go on a day tour of Isla Contoy. This uninhabited island in the Caribbean is just a few hours away from Cancun. A great way to enjoy your trip is to go on a cruise. This way, you will be treated to amazing food and drinks as you head out to this island. Once there, you will find that there are plenty of activities that you can do here.
If you want to book a tour of this island, you will have to pay $100. This may sound like a lot, but this will be an all-inclusive cruise. Among the services that will be included are tour guides, transportation to and from your hotel, food, and drinks, and snorkeling equipment to name a few. Take note that this is a national park which means that the flora and fauna here are protected. Guests will need to adhere to the rules of the island in order to maintain its pristine beauty.
See the El Rey Archaeological Zone
One of the top things that you can do while in Cancun is to explore the Mayan ruins nearby. Aside from Chicken Itza and the Tulum ruins, you should also check the ruins of El Rey. This one is actually within the Cancun Hotel Zone so there is no excuse for you to miss this one. If you have just arrived in the beach town and want to spend time exploring the area, you can add El Rey to your itinerary.
This site is more than a thousand years old. It has around 47 structures that you can explore as well as a pyramid temple. Although it sits in the Hotel Zone it is not easily seen. It's because there is no signage pointing to the ruins. However, if you are keen on visiting this spot, it is near Playa Delfines and the colorful signage of Cancun.
Learn About Mayan Culture at the Museo Mayan de Cancun
You don't have to go far just to learn a thing or two about Mayan culture. In fact, you should visit the Mayan Museum which is closer to the Hotel Zone. This is a great place to learn more about the Mayans during the pre-Columbian era.
I suggest that you visit the museum prior to exploring the ancient Mayan ruins nearby. After all, it will help you understand the ruins better by getting more information about them and their way of life.
Have Fun at the Xel-Ha Park
One of the best places that you can bring the whole family to is Xel-Ha Park. Xel-Ha means "mix of waters" in Mayan and it is also the name of the ancient ruins found nearby. Think of this theme park as a giant natural aquarium where fresh water from the underground rivers combines with the warm waters of the Caribbean Sea.
This aquatic park is a combination of grottos, idyllic lagoons, and mystical cenotes. You will not run out of water activities to do here. Add to this the fact that the whole area is surrounded by a lush jungle, and you will feel like you are in a whole different world here. There are nature paths here for walking and cycling. Not only that but there are beach chairs and hammocks here that you can use as you enjoy the scenic location.
Enjoy High-Octane Fun at Xplor Adventure Park
Adults who are looking for an adrenaline-pumping adventure should check out Xplor Adventure Park. Here you will find dozens of exhilarating activities that you will want to try! For example, you will find the highest ziplines on the Riviera Maya here. In addition, there are plenty of rafting routes that you can try out as well.
Aside from that, you can also ride their amphibious ATVs as you explore the park further. Not only that but you can go jungle hiking here too. The best part? Tour operators will also include pick-up and drop-off at your hotel. What else are you waiting for? If you want to have much fun during your vacation then I suggest that you set aside some time to try this adventure park.
Explore Underground Caves
If you have free time, I suggest that you explore the numerous underground caves near Cancun. These are referred to as cenotes which are natural sinkholes made from limestone and freshwater rivers. One of them is the Rio Secreto Nature Reserve which is just outside of Cancun. This cenote is a popular place among nature enthusiasts because of its underground beauty.
It stands out because of its stunning turquoise waters that mirror the overhanging crystals. This makes for an Instagram-worthy shot for sure. If you are going to book a cenote tour, this will already include your wetsuit, life jacket, and protective gear to name a few. Aside from admiring the stalactites and stalagmites, you can also go on a cenote swim too.
Go on a Day Trip to Isla Holbox
Another island that is worth visiting is Isla Holbox. This small island boasts pristine white sand beaches that are home to flamingos. One of the things that you will notice upon arriving on the island is that there are no cars around. In fact, the best way to get around is by riding a golf cart. Fortunately, this island is small so you can get around easily on foot.
Since there are no cars on the island, this led to the wildlife thriving. The locals are keen on keeping this island in pristine condition so make sure that you follow their rules. While you are here, you can explore the mangroves or go kitesurfing too. Of course, you can go swimming and snorkeling here if you like. You can even go sunbathing here while admiring the view.
Explore the Underwater Museum
If you are looking for a good time in Cancun, why not book a boat tour of the Underwater Museum of Art? Located in Punta Nizuc, this artificial reef consists of 45 fully submerged statues to help the coral reef to thrive.
There are many ways for you to see the Underwater Museum of Art. You can go snorkeling nearer the surface for starters. If you are a licensed diver, then you can swim closer to these statues and see marine life up close. For those who prefer to stay on the boat, there are glass-bottomed boats out there that can take you to this amazing museum. This is a three-hour trip from the Hotel Zone.
Try Deep-Sea Fishing
Fishing enthusiasts should not pass up the chance of going deep-sea fishing while in Cancun. After all, this beach town has the Caribbean Sea, the Gulf of Mexico, as well as the Atlantic Ocean around it. This means that there is plenty of marine life around the waters that you can reel in. In fact, among the big game fish that you will find here are Marlin, Grouper, Barracuda, and Red Snapper to name a few.
There are plenty of companies offering a boat tour out into the open waters. It doesn't matter if you are a newbie or a professional angler, you will find the perfect fishing trip here. The best part is that most of the captains of these fishing companies are veterans of the waters. They know where you will find most of these large fish.
Enjoy Spring Break at Playa Tortugas
College students who are in Cancun for Spring Break will want to visit Playa Tortugas. Known for its party culture, calm waters, flowing drinks, and delicious food, it is a pit stop for those who want to enjoy it during their vacation time. Check out the small huts that dot the beach if you want to do water activities like snorkeling, surfing, and scuba diving.
Daytime on the beach is best suitable for families. Thanks to the calm waters, children can go and swim here too. But once the sun sets, the nightlife begins. Live music, drinks, and party-goers flock here for drinking and dancing.
Swim in Cenote Ik'Kil
Meanwhile, if you are looking for a unique snorkel tour check out cenote Ik'Kil. Located near the famous Chichen Itza, you can actually look down on this cave from above. Here you will find an underground pool of clear, blue water that you can swim in.
Getting here requires descending 26 meters below ground and then jumping into the cool waters. While in the water, you can look up to admire the view of the top with the vines trailing down into the hole. You can even do some snorkeling here to see what sea creatures are living here. I suggest that you combine your trip here with Chichen Itza. It will be hitting two birds with one stone!
Have Fun with Various Water Sports
What's great about Cancun is that there are plenty of beaches to choose from. The good news is that a public beach is usually a stone's throw away from most of the hotels here which means that you can spend time doing water sports without having to pay any extra fees.
Aside from the usual swimming, snorkeling, and scuba diving, you can also rent jet skis for an adrenaline rush. Ride the waves along the open waters or, if you prefer something more laid-back, you can go kayaking or stand-up paddleboarding.
Go on a Taco Tour
No trip to Cancun will be complete without sampling the local food here. In fact, I recommend that you go on a taco tour to find the best taco spots in the town. Sure Mexico City is where the best tacos are, but street vendors in Cancun can easily compete with them. After all, they make their tortillas fresh.
Aside from that, expect the usual fillings of beef, chicken, seafood, and pork. Of course, there are other unusual options such as pigskin, tongue, tripe, and others. If this is your first time eating tacos in Cancun, you should start with their tacos al pastor.
Shop at Mercado 28
Meanwhile, if you want to bring home a bit of Mexican culture, I suggest that you shop for souvenirs at Mercado 28. Browse the lively stalls here that are full of food, drinks, and handcrafted souvenirs.
Do you want to sample tequila? You can find one here. Are you looking for traditional Mexican cuisine? There are food vendors here that still cook traditional dishes. Since this is a flea market, you can actually bargain with the prices. Vendors will be more than happy to lower their prices if you are good at asking the right price from them. Not only that, but you can even book excursions here if you want to explore Cancun and its surroundings some more.
Sample Local Cuisine
There is more to Cancun's local cuisine than tacos. In fact, you should explore the numerous dishes offered here by the restaurants that line the Hotel Zone. Here you will find a wide array of choices from casual to fine dining. Among the restaurants that come highly recommended here is The White Box known for its scrumptious dishes. Another is Captain's Cove which specializes in seafood. There are restaurants that cater to families while others offer romantic dinner for couples.
If you want to learn more about Cancun's local cuisine, you can also book a cooking class at your hotel or on one of the food tours. Here you will learn from the locals how to prepare their famous dishes, including where to buy them in Cancun. I love this part of my trip because I get to share them back home.
Immerse Yourself in Ancient Ruins
One thing that you can say about Mexico is that there are plenty of ancient ruins that dot the land. Chichen Itza, Tulum, and El Rey are just a few of the more popular ones but there are more for you to discover. In fact, I suggest that you go on a full-day tour of these ruins to get a glimpse of Mexico's historic past.
There are tours that will take you to Ek Balam, El Meco, and San Miguelito. Each one of these ancient structures has its own main attraction. Although you can go on a self-guided tour here, I recommend that you get a tour guide to go with you. This way, you will learn more about their history. You can have your hotel arrange the tour for you or book ahead of time. You can even get the best price for these tours, especially when you visit during the low season.
Conclusion
Cancun is indeed a traveler's paradise. It has everything you need for a beach getaway. From gorgeous white-sand beaches to inclusive hotels to numerous tourist attractions, you will be spoiled for choices here. Getting here is not that difficult because there is an airport here already. The Cancun International Airport has several flights going in and out of the beach town which is a plus.
Once you arrive here, you can take your pick on where to stay. Most tourists head to the Hotel Zone, especially during Spring Break. This is because this is where all the action is happening. With rows of bars, restaurants, and nightclubs, this is the most happening part of Mexico.
Aside from the party scene here, Cancun also boasts activities that you can fill your time here with. For starters, you can spend a day exploring the Hotel Zone and downtown Cancun to see the shopping centers here. This is also a good time to get a feel for the place. Once you are done, you can head to the public beaches which are plenty here.
Most of these beaches are pristine white sand beaches overlooking blue waters. Here you can go sunbathing, play water sports, or go swimming or snorkeling among others. Guests of inclusive hotels will have their private beach area where they can unwind away from the crowd. Even if you are not a guest, you can avail yourself of the amenities by buying a beach club pass.
If this is your first time visiting Cancun, know that you will have tons of activities to fill your hours with. It is just a matter of knowing what you want to do while in one of the best beach towns in Mexico.