The Yucatan Peninsula in Mexico is known for its gorgeous coastline and sun-drenched resorts. Aside from getting a tan, another reason why tourists flock here is because of sports fishing. Thanks to its location near the migration route of many pelagic fish. This is the right spot for the best fishing experience. In fact, you will find dozens of Cancun fishing charters ready for you. The Cancun area is the hottest departure point for inshore and offshore angling trips.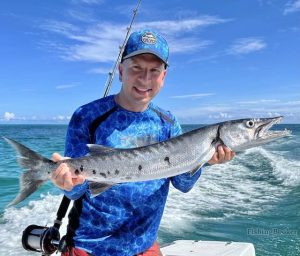 ---
THE 10 BEST Cancun Fishing Charters & Tours (with Photos)
---
---
If you choose inshore fishing, you will be taken to Isla Blanca and Isla Mujeres. These islands are home to Permit, Tarpon, Bonefish, Dolphin Fish, and Snook. Also, you can head out to Nichupte Lagoon where you can do flat fishing for Permits. In addition, locals recommend fly fishing here because of its shallow waters.
However, it is the offshore fishing adventure that draws the crowd. In fact, you can start bottom fishing. Or troll for your target fish from the marina itself. Also, you will be catching a bite just 15 miles out. Among the fish that you can catch here are Mahi Mahi, Marlin, Wahoo, and Sailfish. You can also mix your sport fishing with whale shark tours too.
10 Best Cancun Fishing Charters to Hire
If you are ready to have an enjoyable Cancun fishing experience, you are in the right spot. Here is a list of the best fishing boats that you can charter in Cancun.
#1 Inshore Family Fishing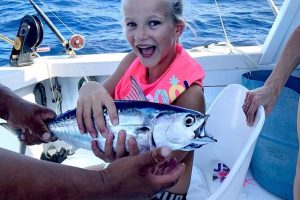 Photo Credit I https://www.viator.com/en-HK/tours/Isla-Mujeres/Isla-Mujeres-Fishing-Experience/d50820-296927P3
If you are ready to fish for blackfin tuna, wahoo, bonito, and other types of fish, this is the charter for you. This charter offers three activities for the price of one. Aside from doing light fishing inshore, you can also go snorkeling too. Also, you will get a chance to lounge on the North Beach of Isla Mujeres. Chac Chi Marina knows how to give their guests a memorable time with them.
#2 Cancun Light Tackle & Fly Fishing Tours
This tour operates around the Nichupte Lagoon. With the captain having more than 16 years of experience, you know that you will have an unforgettable experience. Aside from that, the boat can carry two adults. But they also encourage family fishing. It's because the waters in the lagoon are calm. You will get access to a wide variety of lures and flies to attract a variety of fish. Aside from that, their boats come with a first aid kit, safety gear, and fishing gear.
#3 Fishing Cancun Charters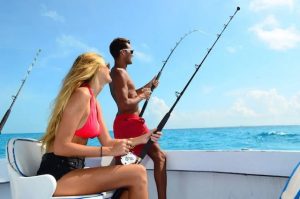 Photo Credit I https://aquaworld.com.mx/en/blog/cancun-fishing-charter-november-excellent-price/
Another fishing charter that you can book in the Mexican Caribbean sea is Fishing Cancun Charters. This charter is near the heart of the Cancun Hotel Zone. You can spend the day catching fish. Things like bigeye tuna, or go on breaks on the beach. Aside from that, this boat has fighting chairs, safety equipment, and a Livewell for fresh bait. Take note that there are dock fees and fishing licenses to pay.
#4 Family Fishing Cancun
Meanwhile, a great experience awaits you with the Family Fishing Cancun charter. This charter is run by experienced local guides that can take you to the best spots to catch fish. In fact, you can expect the best sports fishing time. With this crew, who can guide you every step of the way. Aside from that, you can do Mahi Mahi, Snapper, and Tarpon fishing if you like. Thank Captain Willie and his crew for delivering the best experience in the Caribbean Sea.
#5 La Patrona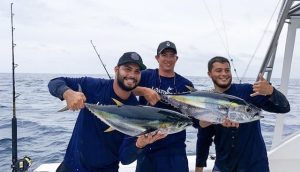 Photo Credit I https://www.lapatronafishingcostarica.com/lapatrona.html
La Patrona operates in the fishing town of Cancun Mexico in Quintana Roo. They often head out to the deep blue water of the Gulf to fish for Blue Marlin, White Marlin, and Tuna. Aside from that, their 46' Post sportfishing boat is built for comfort and style. It also comes with a fish finder, GPS, outriggers, and others. The captain of La Patrona knows the Cancun and Riviera Maya area well. Together with his crew, they guarantee that you will have a great time with them.
#6 Samaki Cancun Charters
Samaki is a premium private fishing charter that lets you enjoy the clear waters and sandy beaches. Also, you can opt for 4 or 8-hour charters with them. Depending on the type of fishing that you want to do. If you go with their 4-hour charter, you can reel in fish like triggerfish, red snapper, and Spanish mackerel. On the other hand, their deep-sea fishing charter gives you a chance to catch Yellowfin Tuna, and Sailfish.
#7 Sportfishing Cancun – Mamacita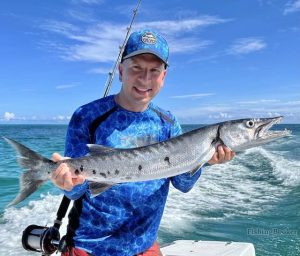 Photo Credit I https://fishingbooker.com/charters/view/6860
Cancun fishing trips with this charter guarantee the best time in the crystal clear waters of Cancun. In fact, their company aims to provide the best customer service there is. Expect the captain to be joined with professional crews who will assist you. Also, you can choose between half-day or full-day trips. Where you will learn how to fish for live bait. After, you will be taken to the best fishing spots to catch the denizens of the deep. Also, their fighting chairs have seat belts to keep you safe.
#8 Chac Chi Marina
Chac Chi Marina offers different types of sports fishing to its guests. If you are willing to splurge on your trip, book their "Heavenly" boat. Aside from that, the captain and the crew promise a good time for their four, eight, or twelve-hour trips. This private boat comes with a VHS radio, GPS, and other safety gear. Aside from that, you have the captain arrange round-trip transportation from the hotel to the marina.
#9 Fishing Boats in Cancun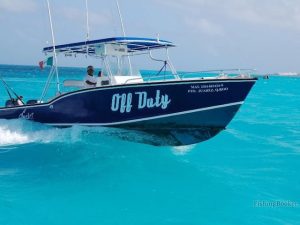 Photo Credit I https://aquaworld.com.mx/en/blog/fishing-charters-in-cancun/
You can book this fishing charter for trolling and deep-sea fishing trips. If you want to catch a big fish, you will need to spend the whole day out in the open waters. Fortunately, you have a comfortable boat to ride on. It can accommodate up to four guests. Aside from that, they also offer a snorkeling tour. You might even spot sea turtles in the water. Also, they can accommodate guests of all skill levels. This private boat will prepare everything for you. From your gear, to tackle, to soft drinks, and box lunch too.
#10 Moon Palace Grand
Look forward to having a great day out in the open waters with a sportfishing trip with Moon Palace. This all-inclusive resort provides its guests with a chance to bring home the catch of the day. In fact, you don't need to have any previous fishing experience. That is because the captain and crew will help. From bottled purified water to boxed lunch, and more, you can expect an awesome day ahead of you.
Wrap Up Sports Fishing!
If you are thinking of having your bachelor party in Cancun, why not try sportfishing with the guys? Even if you are here with your family. Fishing is a fun activity to try. Since Cancun mostly has sunny days. You can charter a boat the next day to take you out in the waters. Of course, if the weather conditions change, the captain can cancel the trip for your safety.
The next time you come and visit Cancun, check the Cancun fishing charter prices. This is your best shot to have a unique experience in this beautiful city. The best part is that you can pay ahead of time using your credit card. Don't worry about your personal information because of the privacy policy that these charters follow.