The beaches in the Mexican Caribbean are famous for their beauty. In fact, tourists flock here because of their pristine white-sand beaches and crystal clear blue water. However, these Caribbean beaches are being threatened by the arrival of the sargassum season.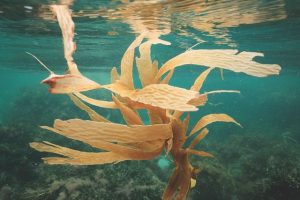 ---
What's in this post:
hide
Experts Fear Early Arrival of
Massive Amounts of Seaweed
---
---
What is Sargassum Seaweed?
Sargassum is a type of brown seaweed that you will find in the open ocean of the Sargasso Sea. You can find it in the Northern Atlantic Ocean. In fact, Christopher Columbus wrote about it in one of his diaries while in the Sargasso sea.
There are different species of sargassum like sargassum natans and sargassum fluitans. This mat of seaweed forms on the surface of the water because of the ocean currents. Aside from that, it becomes the resting and spawning ground of various marine species. Among these are sea turtles and eels. In fact, Chuanmin Hu, a professor of Optical Oceanography at the University of South Florida, said that it was a critical habitat.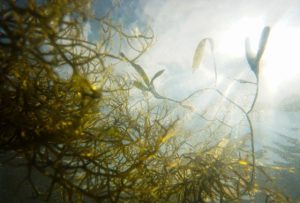 Although this is a natural phenomenon, the amount of sargassum has grown significantly in recent years. In fact, in 2011, they started appearing from South Africa to the Caribbean Sea which is along the coast of Mexico. Also, they are appearing in the Gulf of Mexico and Florida too.
The Mexican Navy has been running reconnaissance flights to see if there are seaweed approaching different beaches in Mexico. Coastal vessels are assisting in the effort of monitoring the arrival of seaweeds. In addition, sargassum boats are handling the clean-up from the waters. Tractors and heavy machinery do the same on land.
Are They Dangerous?
Sargassum seaweed is not dangerous on its own. However, what it harbors is one that poses a health risk. There are plenty of bacteria and microbes that can form in them. They are the ones that can cause skin irritation and other problems.
Also, when large quantities of these seaweed wash ashore and dry up, they release noxious fumes. These fumes are made of hydrogen sulfide that smells like rotten eggs. Inhaling these fumes can cause respiratory issues, eye irritation, and more.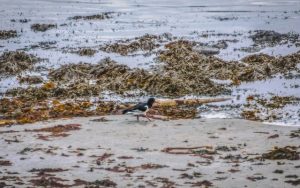 The constant exchange of water coming from the Amazon River to the Atlantic Ocean has caused sargassum to thrive. However, this led to them growing at a massive rate in the tropical Atlantic. Add climate change that causes water temperatures to rise up. Unfortunately, decaying sargassum is having an effect on marine life and the ocean floor.
When is Seaweed Season in Mexico and the Caribbean?
Seaweed season in the Caribbean starts from May to October. However, the worst time for the Dominican Republic, Puerto Rico, Cancun, and the rest of Mexico's Caribbean Coast is during the summer months. Seaweed can appear any time of the year. However, global warming and ocean conditions are causing them to thrive during the warmer months.
Rainy days are also contributing to their arrival on the beaches. However, in some cases, the hurricane season appears to clear the shores from these seaweeds. Experts state that people should not think that this will be the end of their seaweed problem.
Back in 2019, Barbados declared a state of emergency because of tons of seaweed on their beach. The Caribbean beaches were spared at the time. However, the town of Playa del Carmen has been facing two problems. Aside from dealing with beach erosion, they also have a huge amount of seaweed along their coast. Fortunately, the state of Quintana Roo is coming up with strategies on how to deal with these issues.
Why is Sargassum Becoming a Problem?
Seaweed has now become the largest algae bloom in the open sea. However, it is not staying there anymore. In fact, in 2011, tons of sargassum washed up on the Caribbean coastlines. They started in the Lesser Antilles all the way to Mexico's Yucatan Peninsula.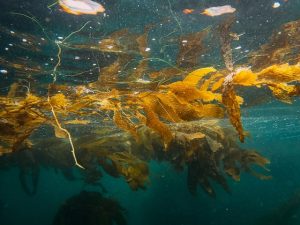 Out in the open sea, massive rafts of this seaweed are preventing the sun from reaching the coral reefs. Also, as they decay, it releases compounds that can harm marine life. Satellite images from 2011 show that the great Atlantic sargassum belt stretches from West Africa all the way to the Gulf of Mexico. The National Aeronautics and Space Administration (NASA) has been providing satellite imagery to researchers. This is to keep an eye on these seaweeds.
Aside from that, mounds of sargassum on sandy beaches have become an eyesore. They also prevented sea turtles from laying their eggs. Ever since the seaweed problem began in the past decade, the amount of seaweed appearing on the shores fluctuates.
The Economic Problem of Sargassum
Cancun International Airport welcomed more than two million passengers last year. In fact, hotels near the Riviera Maya beaches received an influx of guests. However, the threat of sargassum can deter tourists from staying here. The same thing happened back in 2018 when hotel occupancy rates fell up to 2.87 percent because of the surge of sargassum.
The appearance of sargassum in different areas is not just an ecological problem but an economical one too. In fact, Mexico's Quintana Roo state relies heavily on its tourist industry. Dealing with too much sargassum on popular beaches can affect their businesses and their economy.
Aside from that, hotels from Cancun to Puerto Morelos spent at least $200,000 each for their clean-up efforts. Riviera Maya hotels have spent huge sums to hire specialized boats to transport seaweed to proper disposal sites. Even with all that effort, they are no match to Mother Nature. Business owner, Ricardo del Valle, knows that as much as they are selling the idea of pristine beaches, they know the real deal already.
In fact, even with the navy being enlisted by President Andrés Manuel López Obrador to help with the clean-up. The seaweed just keeps on coming. Even Cancun mayor Mara Lezama said that it was hard to clean up sargassum on a daily basis. Tourism chiefs are constantly working in clearing the beaches of Mexico but it is becoming a losing battle.
Cancun Seaweed Forecast
The forecast for the arrival of seaweed ranges from medium intensity to very strong. In fact, the director of Sargasso Monitoring Network stated that efforts to stop the arrival of sargassum have already taken place. A monthly bulletin showed that there was a 100 percent increase in the amount of seaweed.
Seaweed forecasts show that the amount of sargassum will be higher this time of year. Each year, researchers have proposed to put up barriers even before the seaweeds arrive. However, local authorities and hoteliers often wait at the last minute before putting them up.
The beaches of the municipality of Benito Juárez are still free from sargassum. But they know that seaweed season is coming soon. This is why they are working on a daily basis to maintain the beaches of Cancun. This includes sieving the coasts of Cancun in preparation for a beach vacation. In fact, tourists often head to Playa Delfines and El Nino on their vacations.
Hoteliers Get Ready for the Seaweed Season
Although seaweed forecasts are predicting that more sargassum will arrive on the coasts of Cancun, hoteliers remain optimistic. This is because Isla Mujeres in Playa Norte acts as a natural barrier against the rush of seaweed. However, if they come from the south, the navy will be tapped to prevent them from reaching the shores.
Mexico City and its neighboring towns are taking steps to prevent the economic and ecological impact of sargassum on their shores. For the first time, there is a conscious effort into stopping this seaweed from entering the coastlines. Is this a sign that the Hotel Zone will have more guests staying this time around? For sure, they are reaching out to their customers through their email addresses to invite them over.
Sustainable Solutions
The Mexican government is looking for ways to combat sargassum with the hope of curbing its effects on their tourism. One of the best things that researchers have determined is that sargassum can be used for fuel. Aside from that, it can be used as fertilizer, energy generator, and animal feed. So far, locals are recycling this seaweed to create homes which are starting to appear lucrative. In fact, you can see them on different beaches like Tulum, Akumal, Puerto Morelos, and others.
The Sargassum season is fast approaching. With predictions of more seaweed reaching the shores of Mexico, it is important that they take steps to halt them in their tracks.