From charming and colorfully painted fishing villages to beehive huts and stunning handmade pottery, the Dingle Peninsula offers a wide variety of things to do while visiting this portion of the Wild Atlantic Way. Dingle, Ireland has been isolated from the influences of the modern world until recently which has resulted in fun local culture and a dialect that is quite different than the rest of Ireland.
---
What's in this post:
hide
Things to do in Dingle
---
Here, they speak English, Irish, and Gaeilge (Gaelic), a Scottish/Irish language, which gives the area an old-world charm that you will not want to miss! Oh, and just wait until I introduce you to Mary! Keep reading for the best things to do in Dingle and along the Dingle Peninsula.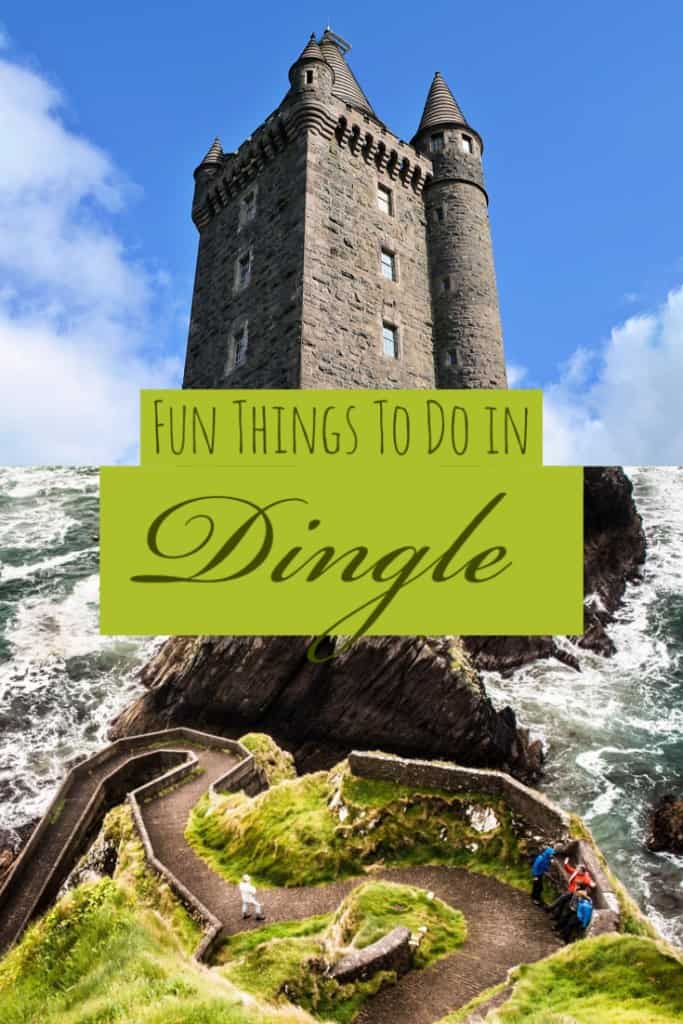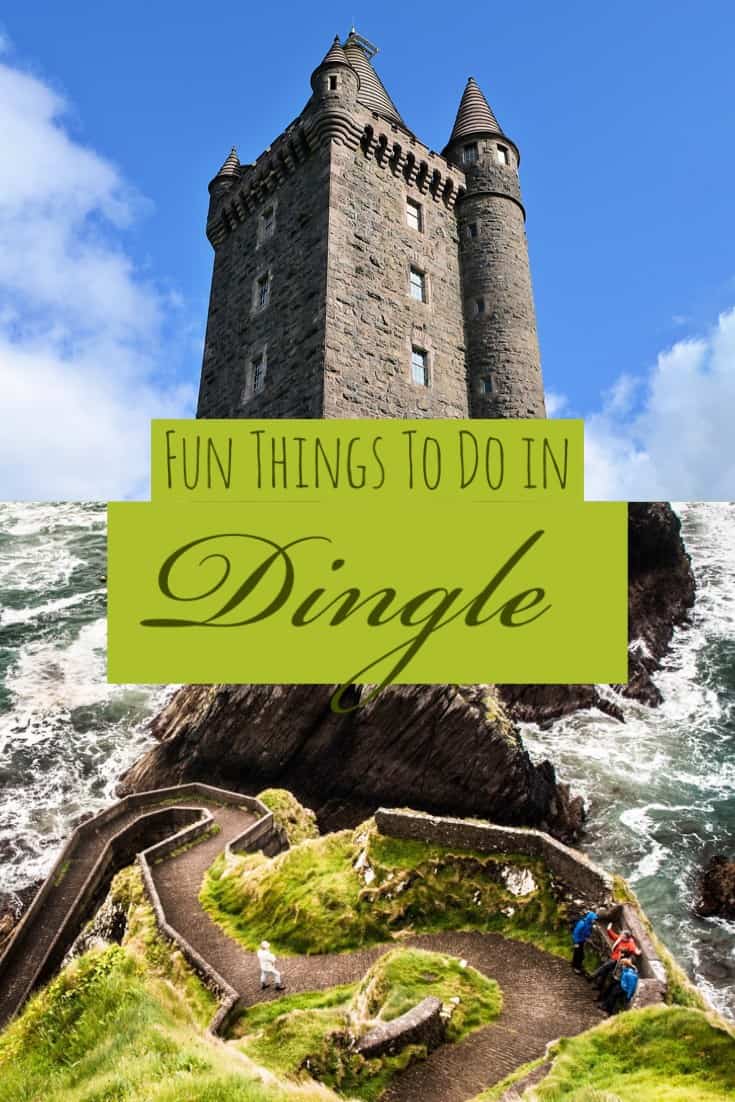 ♫ "Dingle Bells, Dingle Bells, Dingle Peninsula, Ireland" ♫
It was around Christmas time and I couldn't get that "Jingle Bells" song out of my head. Especially when it rhymed with Dingle – which is exactly where I would be going next. I was headed to the Dingle Peninsula in Ireland, which is somewhat remote. Unfortunately, I was headed right into a storm.
I had always heard it was one of the most beautiful places to visit in Ireland, but for me, the weather was doom and gloom. But what to do? This was my vacation and I was going to see the Dingle Peninsula as part of the scenic Wild Atlantic Way one way or another! Although I do advise that it is more of a seasonal destination and should be visited during the Spring or the Summer and not necessarily during the Christmas holidays!
But keep reading for the best things to do in Dingle, Ireland! As it GETS BETTER and I made the BEST of it!
Getting to Dingle, Ireland
We flew into Shannon Airport, which is the easiest airport to get to from international locations. From here, we rented a van and drove the 110 miles it took to reach the town of Dingle. Although there is a closer airport to Dingle, the Kerry Airport in Farranfore, Ireland, but it doesn't serve international destinations, but could work if you were coming from other European destinations. Killarney and Tralee are the closest train stations, so you could come that way as well.
There are two main roads into the Dingle Peninsula: the N86, which runs along the south coast of Tralee, then over the mountains to Dingle, and the R561, which runs from Castlemaine to Kerry Airport, Killarney, and the Ring of Kerry.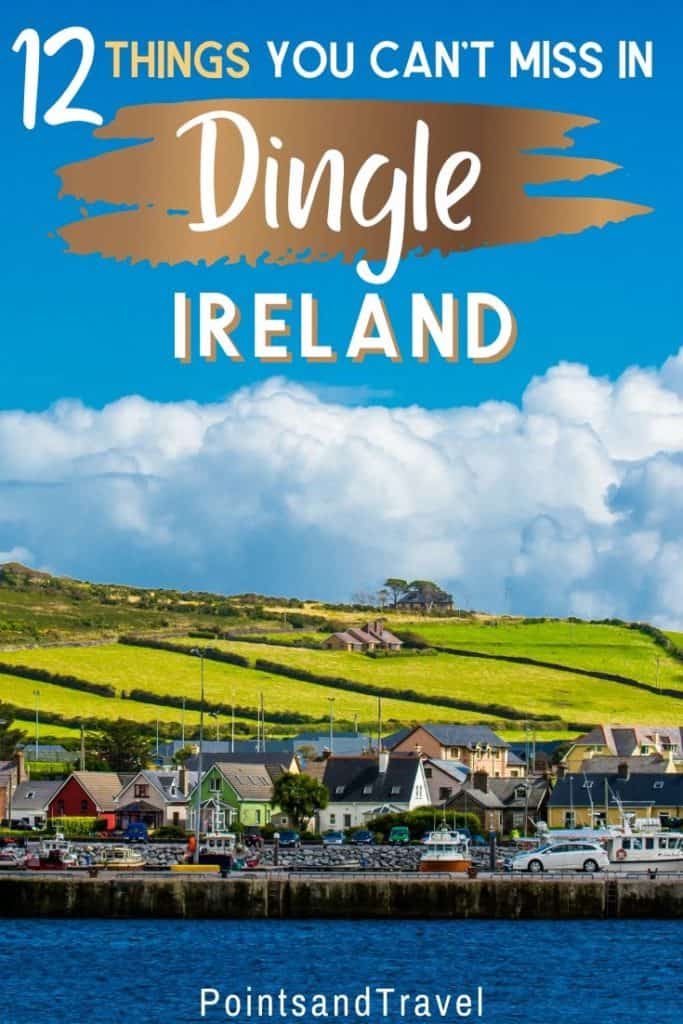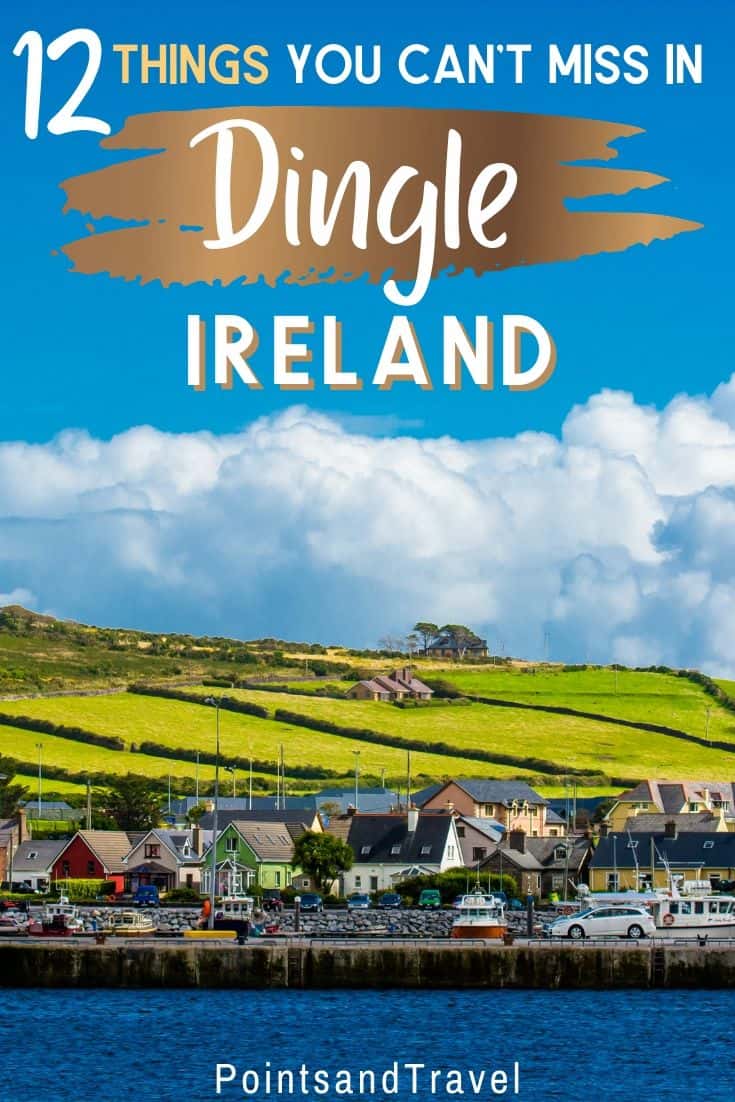 12 Things You Can't Miss in Dingle
Drive Around Slea Head Drive
Slea Head Drive is one of the best things to do in Dingle and around the Dingle Peninsula. Slea Head Drive is only around 30ish miles (46km) long, but there are many stops along the way. Not only is it a beautiful drive, but it's filled with things to do and stops that you will certainly enjoy. It rivals the Ring of Kerry any day of the week! But be cautious, as it is super narrow and very windy at times. With the mist in the early morning, you should take it slow. Also, be on the lookout for the many cyclists as they hug the side of the road. A few highlights from this circular tour include Blasket Islands, Dunmore Head, which is the westernmost point in Europe, the Beehive huts, and the Sleeping Giant.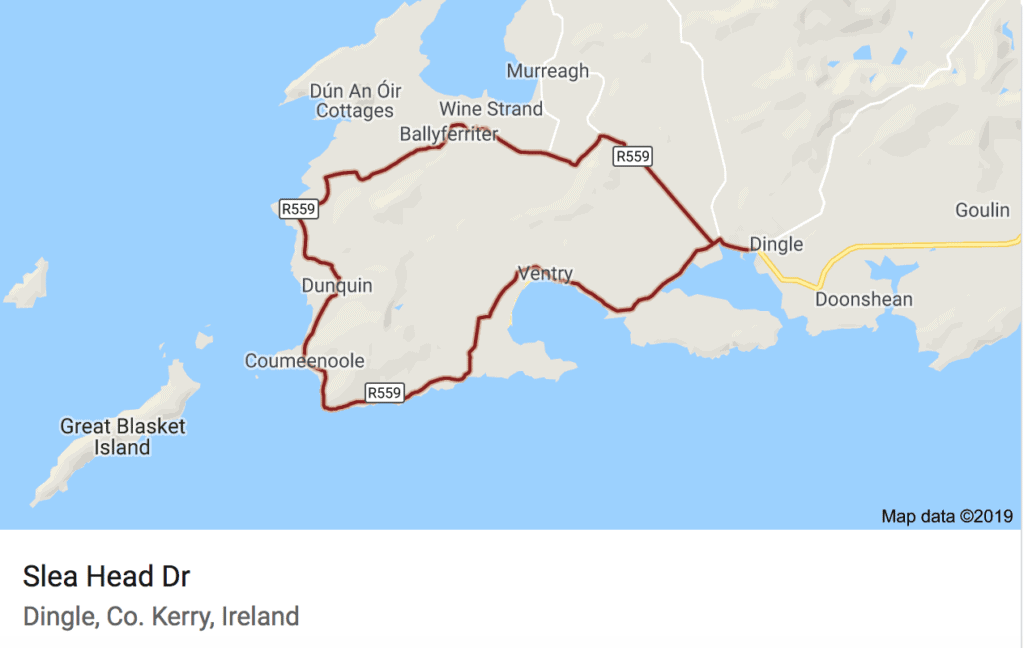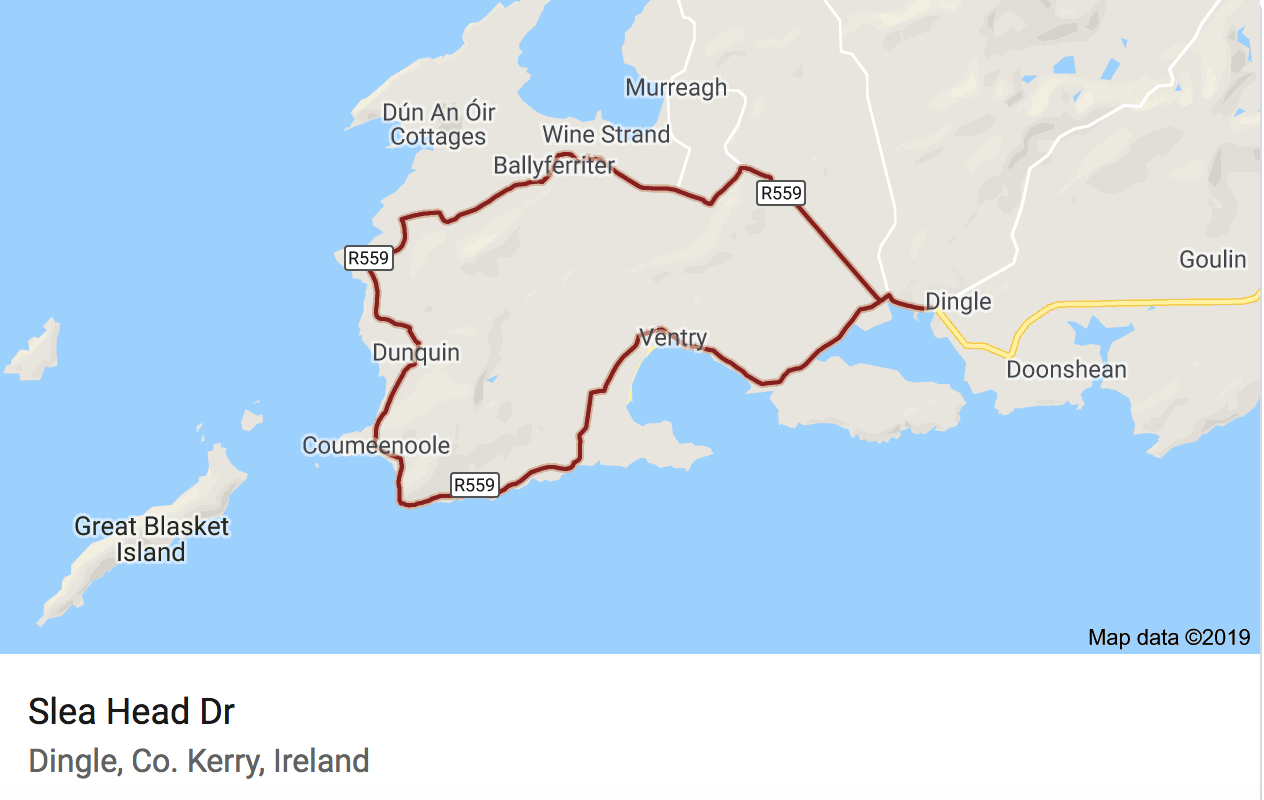 (Try to ) Visit the Great Blasket Islands
Once we arrived, we were up and at 'em bright and early for our Ireland countryside tour since we had a full day planned for the Dingle Peninsula. Dingle is a tiny, quaint town on the tip of the peninsula once described by National Geographic Traveler as the "most beautiful place on earth!" With only 200o inhabitants, I have to say they have done such a wonderful job making this town cute, as it was a stunner!
From Dingel, we planned to visit the abandoned Blasket Islands. I was told that they provide the perfect vantage point from which to view the surrounding countryside and although they remain uninhabited today, visitors can travel there by ferry. So I buttoned up my coat, wrapped my scarf tighter around my neck, and was ready to jump on that ferry boat!
Enjoy the Drive in the Countryside
Driving through the countryside, you get a distinct feeling that life here is simple, yet the people are strong, living a rough life next to the sea. From the shores of the ocean to the lush green landscape, you will wind your way along the road, hugging the edges of the steep cliffs down below in disbelief. Dingle Peninsula's rugged beauty was everywhere. From surf spots to wine festivals, this tiny area packs a punch of things for you to experience on this tiny portion of the world's epic drive known as the Wild Atlantic Way.
---
Recommended Reading for Ireland
Things to do in Dublin with kids
Life As It Once Was – Killarney National Park, Ireland
Ireland – A Country With A Soul
---
Stop at Inch Beach
The Dingle peninsula has quite a few beautiful beaches, but Inch Beach was perfect for us! We made a quick stop here to stretch our legs and take a few photographs. I was intrigued by the lone tractor-trailer with the word "Off-Shore Surf School" sitting on the beach, as I couldn't imagine going out surfing on this cold day! I am sure in the summer it would be perfect! But our day was overcast and cloudy, which made me stay out of the van for only 10 minutes or so before returning to the heat of the van.
Take a Stop at Minard Castle
Well, Minard Castle is more like ruins than it is a castle, but a castle nonetheless. About 20 minutes outside of Dingle is the turn-off for Minard Castle. Some say it is not much to look at, but its' ruins near a beach are cool and I will always stop for that! The ruins are high up on a hill, but the beach is far below. If you are brave enough to go down the single lane, then you will be rewarded in the end!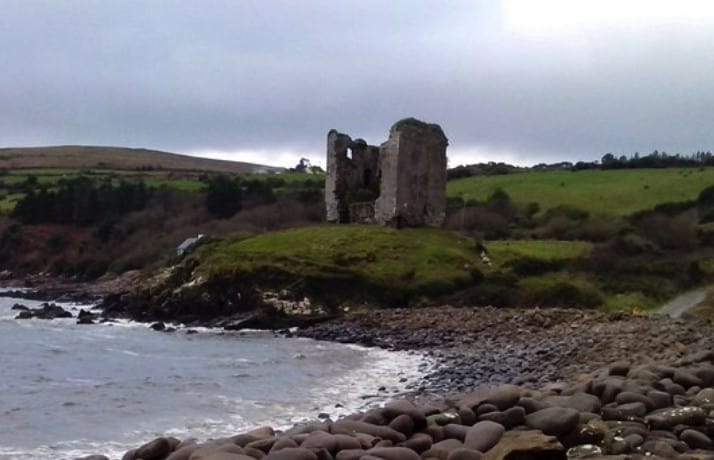 Star Wars Filming Locations
I guess, if you want, you could stop at some Star Wars filming locations. But I am not into that, so I didn't!
Linger At The Beehive Huts (Fosra)
As you continue driving, you will soon come upon Fahan, an area on the Dingle Peninsula noted for a collection of "Beehive Huts", known as Fosra. They lie below Mount Eagle on the southern coast, West of the fishing village of Ventry, and South of the Slea Head cliffs. It is thought that most of the clochan (beehive huts) in this grouping dates to the 12th-century during the time of the Norman invasion and were used as habitation sites.
Who would have thought that a person could actually own these 12th-century national monuments? Well, she doesn't actually own the beehives, just the land they were built on. The caretaker, Mary, inherited the land which is now a national historic site, and lives on the property.
Meet Miss Mary
"Gi day!" "It's quite cold owt ere", spoken in her deeply accented Gaelic English as the local guides gab it up with Miss Mary. She comes out of her house daily to collect the one Euro per person rate as the tourist buses stop in front of her house. The guides tell us this is how she makes a living and that it is a good gig if you can get it! She makes a joke or two about how she is really just giving back to the American economy, as her son now lives on the East Coast of the USA and she collects these coins so that she can visit him during the dead of winter!
Sadly, it has been reported that Mary was gored by a ram and since has passed away in 2015. She left the place to her son. That Mary was a strong woman to be living out here near the beehive huts.
Visit the Blasket Heritage Center
Back to the van, we continue to drive along the winding sea highway with scenic stops. We drove from Inch Beach to the Beehive Huts and then to the Blasket Heritage Center to catch the ferry boat. Unfortunately, our ferry ride out to the deserted islands got canceled due to high wind/waters. So what to do? We instead toured the Blasket Heritage Center, which in and of itself is worth a visit if you enjoy the history of the region.
Visit the Louis Mulcahy Pottery Shop
From there, go right on over to the local sensation Louis Mulcahy Pottery Shop, where you can browse his collection. We also had an excellent lunch and toured his facility. His facility delivers its pottery throughout the world. I was lucky enough and had a chance to meet him and put my hands on one of his potters' wheels! It really was a fun experience.
Or if your day gets canceled as mine did, then this is an awesome experience. Just a few weeks later, my piece arrived, after it was left here to be fired and cleaned up by the staff. It was not quite up to Louis Mulcahy's caliber of expertise, but I had a great time nonetheless! What a great memory piece to have around!
Stop At The Dunquin Pier
Along this route, there is a gorgeous and stunning cliff called Dunquin Pier. Be sure to take a stop and peek down far below! It is on the most westerly tip of the Dingle Peninsula and has a view of the Basket Islands that I didn't get to see because of the weather!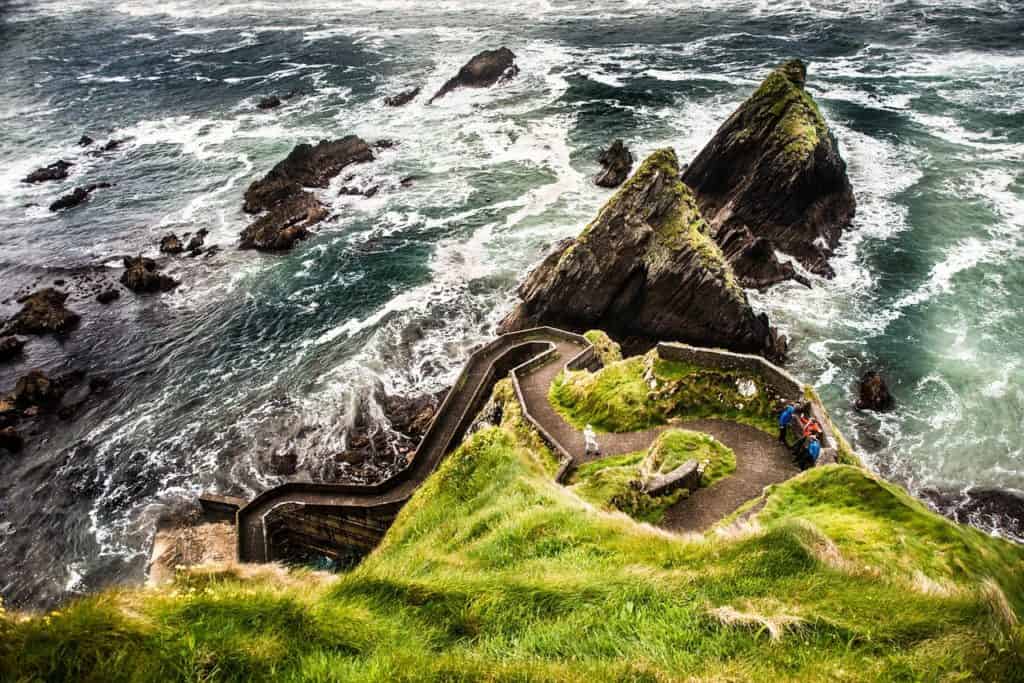 More Fun Things to do in Dingle

Go back to the City of Dingle and Do a Pub Crawl
Most Irish Pubs are a great way to meet people and this town of Dingle is no exception. In this area of Ireland, the people are great fun ( what they call "craic") and will banter with you in jest and good spirits. They love to chat it up, drink their beer, dance, and listen to live music. In fact, it is one of the fun-nest (is that a word?) things to do in Dingle!
When you are in Ireland, you should not only visit the cities, but also visit these small towns to get to know the people, the places, and get a good feel for the history of your surroundings. Here in Dingle, they have over 50 pubs, so there are plenty to choose from. As for me, I completely enjoyed hanging out at The Craic House on Strand Street and the Dingle Pub, but there are many of the other local pubs! It was great "craic" as they say!
Great Craic (crack) was had here!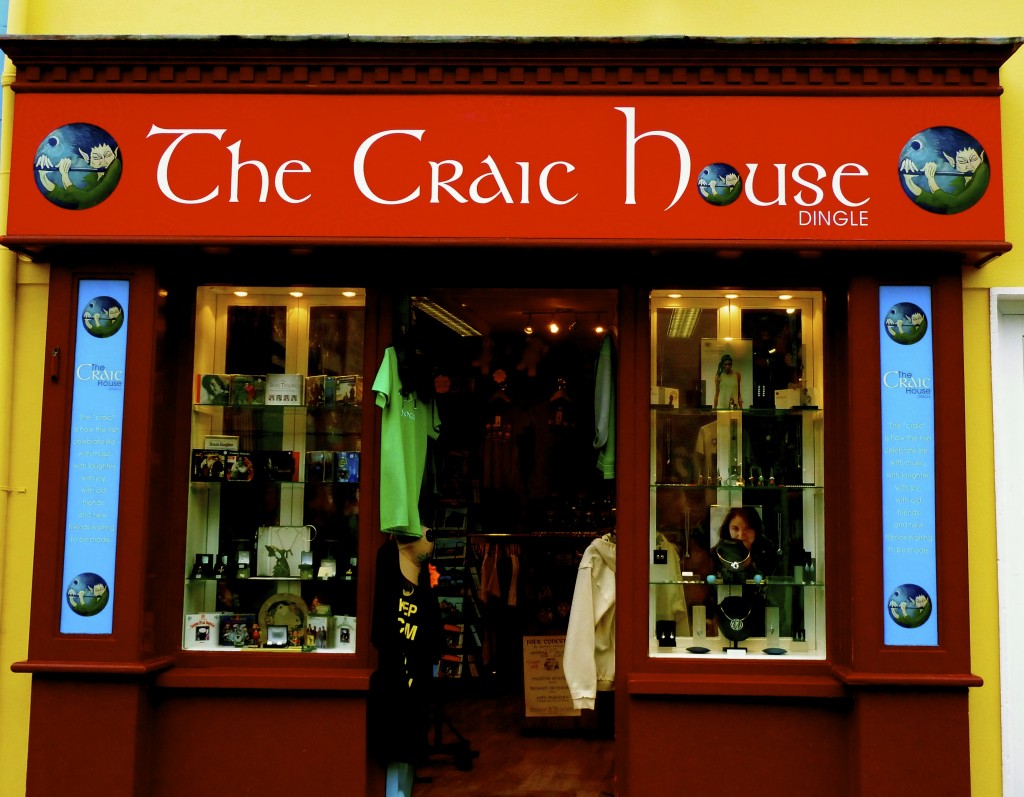 Look for Fungie The Dolphin
And last, but certainly not least…as the story goes, Fungie was released from Dingle's Oceanworld Aquarium in 1983. He comes to Dingle's waterfront port to play with the locals and the tourist alike! He now calls Dingle Bay his home and is now the longest-living solitary dolphin in the world. No one can quite figure out whether he became separated from his group, lost a mate, or became an outcast because of his release. Either way, he has become Dingle's resident dolphin, so look for him in the Bay. I didn't see him, but maybe you will!
Stop at Murphy's Ice Cream Shop
While in town along Strand Street, you would be remiss if you didn't stop by Murphy's Ice Cream shop! Everyone in town stops by when it is hot! The store's blue paint matches its bright blue cups that the ice cream is scooped into. It has become so popular that they have opened up a second location nearby! And just so you know, they use all-natural ingredients like fresh eggs, milk and even use the local Dingle sea salt from their water source! Let me know if it is still there!
Tour the Dingle Distillery
Two hundred years ago, there were more than 100 official distilleries in Ireland. Today, that number had dwindled to just two! Thanks to the Dingle Distillery though, they are still making whiskey. You can get on a tour to learn more about this lovely distillery while sipping samples of their gin, vodka, and whiskey. Or pull up a chair and buy as much as you want!
Hang out at a Hardware Store!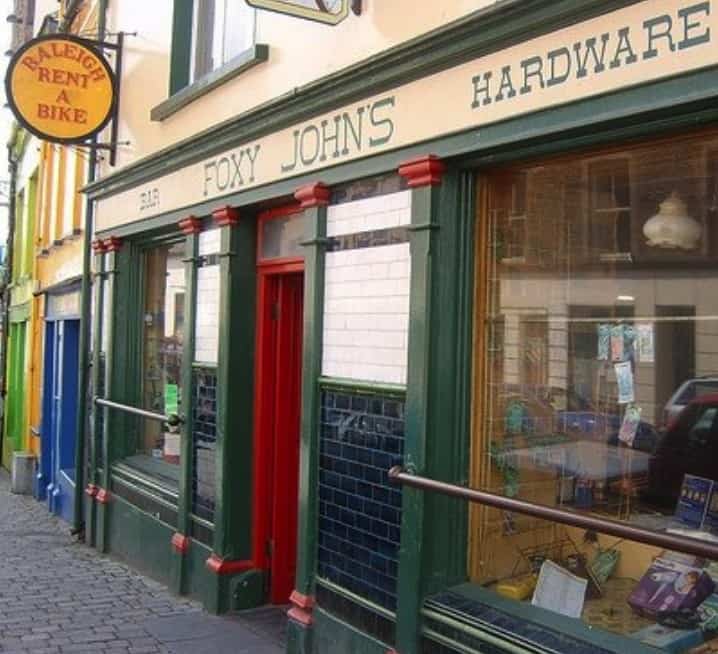 And last but certainly not least, hang out at a hardware store! What? That's right you can pick up a few things you might need and grab a pint all at the same time! Foxy John's is a local hangout in the heart of Dingle. It is half hardware store and half pub! I pretty much call that PERFECT!
Where to Stay in Dingle, Ireland
Dingle is a small town as I mentioned before, but there are a few great places to stay in. I have curated you a list of the best places to stay in Dingle:
Skellig Hotel
Since we stayed here I can tell you that the staff is warm and friendly! And even though our weather was not the best, they had smiles on their faces and went the extra mile to make us feel welcomed and happy! It has an onsite restaurant, a swimming pool, and a fitness center, all of which I had a chance to use!
After our failed ferry ride and pottery excursion, we returned to the Skellig Hotel in Dingle so that we could go back into town later for the Dingle Film and Wine Festival that was going on in town. It was a merry event with local booths of foods, wine, and sweets. But you know what I loved? I loved the colorfully painted buildings in Dingle, as well as the DOORS and windows, I am a sucker for that in any town! I have always been a fan and this was no exception.
Emlagh House
Located in Dingle, the luxurious country house Emlagh House is located in a walkable area of the charming town of Dingle. It has gorgeous views of Dingle Bay. The ambiance at Emlagh Country House makes for a memorable experience while visiting the area. Staying at Emlagh House can be perfect for your Slea Head Drive.
Disclosure: As is common in the travel industry, Dr. Maloney was provided with accommodations, meals, and other compensation for the purposes of review by Failte Ireland, the Tourism Board of Ireland. While it has not influenced her review, PointsandTravel.com believes in full disclosure of all potential conflicts of interest. There may be affiliate links in this article.