The fertile land of Jamaica cultivates foods such as mangoes, bananas, corn, yam, and sugar cane. Most people are unaware that the delicious Blue Mountain Coffee is produced in Jamaica. The first coconut tree in Jamaica was planted in 1869 and the first mango plants were planted in 1782. Thanks to a blend of different ethnicities, cultures, and religions, Jamaican food has flourished over the years. The culinary arts of Jamaican food are tantalizing for the palette and super yummy.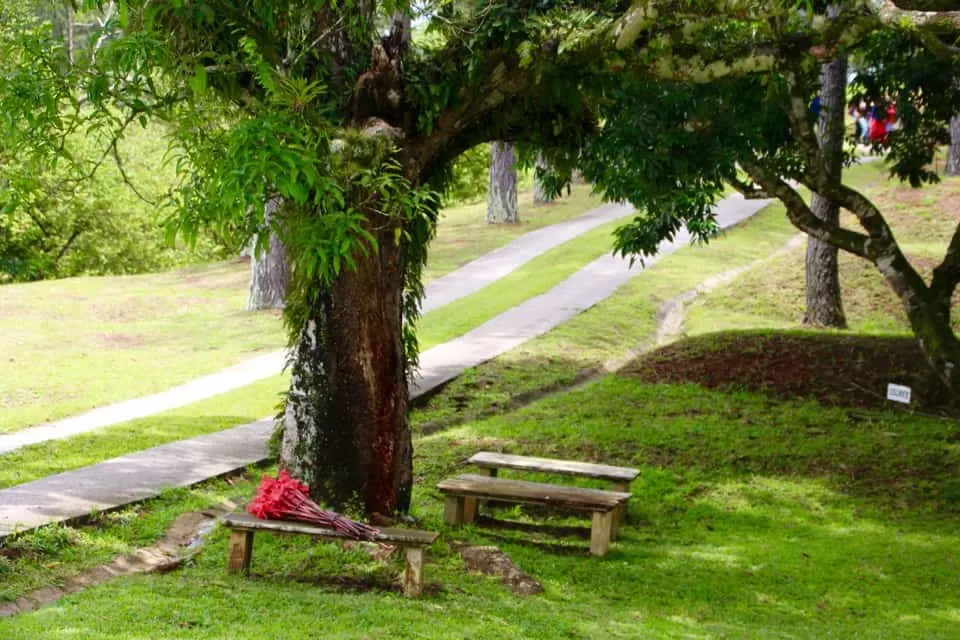 The tropical country of Jamaica has been gifting the world countless wonderful things such as coffee, reggae music, and scrumptious Jamaican cuisine. If you don't know where Jamaica is, the island of Jamaica is located in the Caribbean Sea. It is considered the third largest island among the Greater Antilles. Jamaica is a country that is rich with its' own history, culture, and very fruitful land. So come along with me as we take a look at some of the best Jamaican food dishes, desserts, and drinks! A few of them may surprise you!
Best Jamaican Foods:
#1 Ackee and Saltfish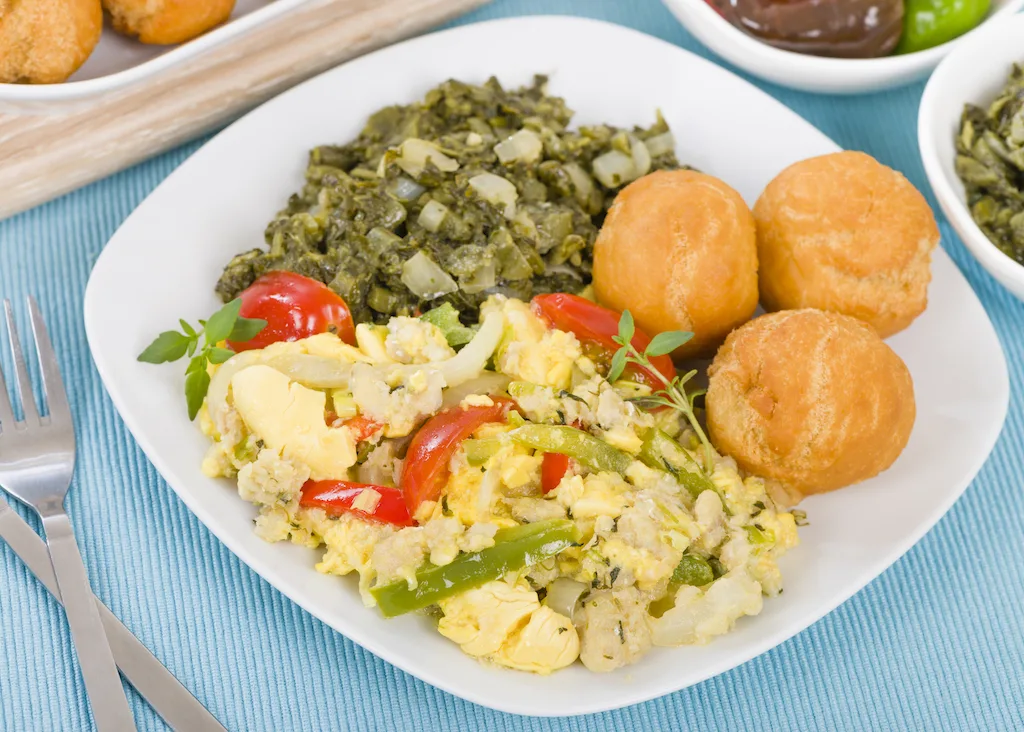 The most celebrated and national dish of Jamaica is Ackee and Saltfish. Ackee is a typical Jamaican fruit and saltfish is, as you have guessed, a type of fish. This dish encompasses the strength of the Jamaican people as well as their history and culture. This staple dish is cooked most for a Jamaican breakfast to allow for a nutritious and scrumptious way to start your day. The ackee fruit comes from West Africa and was introduced to Jamaicans in the 18th century. The ackee is bright red and once upon has a yellow tint and toxic dark seeds. In order to avoid toxicity, the seeds need to be removed before cooking this fruit. If you want to try your hand at cooking this Jamaican dish, then click here.
#2 Bammy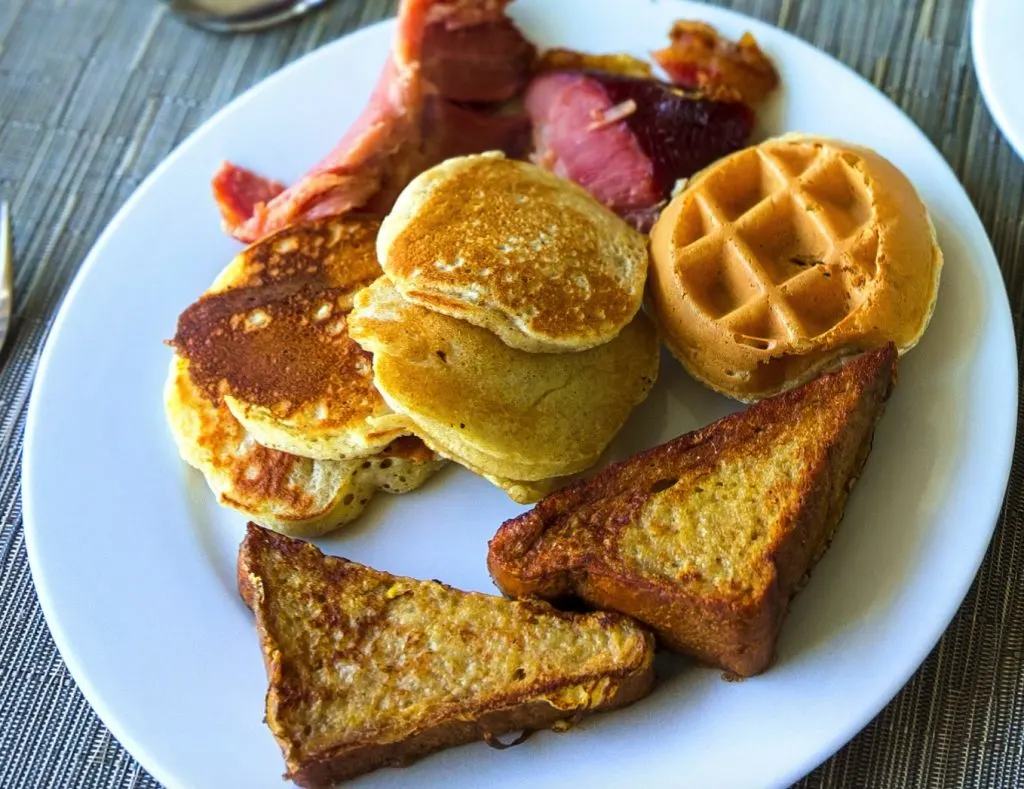 If you want to eat like a Jamaican then you must not forget Bammy! Bammy is similar to a mix of French toast and flatbread. Bammy is made with cassava flour (similar to yuca flour) and has quite a bitter taste. This round flatbread is often soaked in coconut milk before being fried or cooked. Most people prefer to buy ready-to-use bammies at the store and then go home to cook them or serve them with their preferred toppings (like meat, fish, or veggies). This makes for a delicious Jamaican Breakfast.
#3 Beef Patty or Jamaican Patty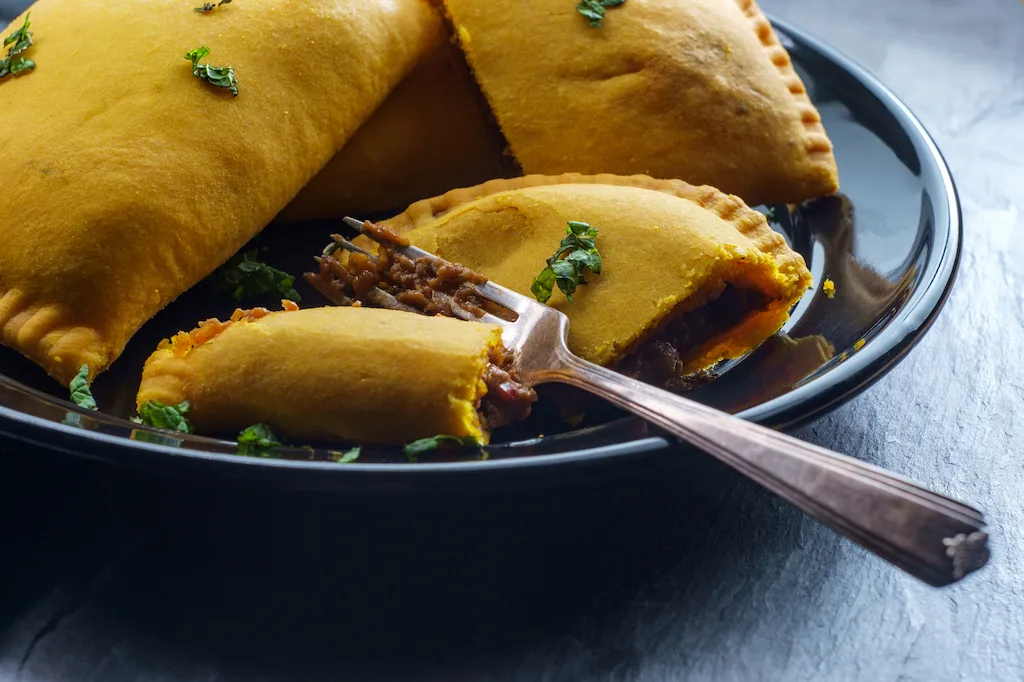 The beef patty sometimes referred to as a Jamaican patty, has been a local favorite since the mid-1960s. Think of this patty like a mini calzone that is savory and stuffed with beef, cumin, curry, and/or cayenne pepper. You can follow this recipe to make your own beef patty at home for a super delicious Jamaican dish for lunch! Although the traditional Jamaican Patty is made with beef, many Jamaicans have stuffed this patty with chicken, fish, pork, and vegetables.
#4 Breadfruit Rundown (Rondón)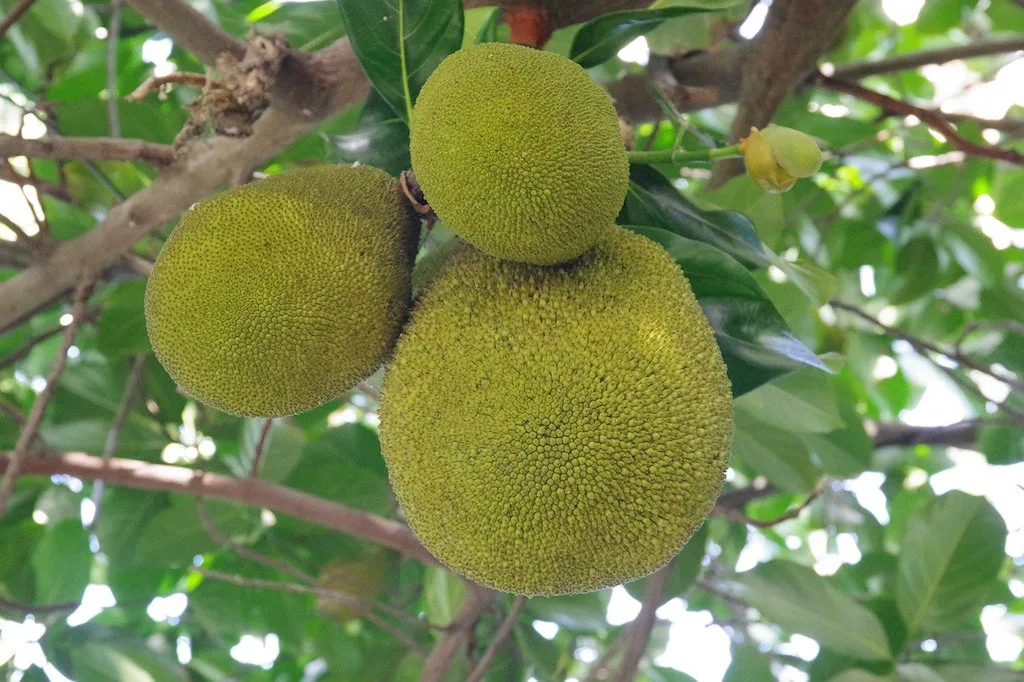 One of the most unique and delicious Jamaican dishes is the breadfruit rundown. Breadfruit is a type of fruit that looks like a cantaloupe. Once the breadfruit is peeled and cut into white chunks then it needs to be boiled until the breadfruit is tender. But the most important ingredient is Coconut milk. Once this dish is complete each bite will include a spicy and tender kick along with the freshness of thyme and peppers in coconut milk. Check out this site to get full instructions on how to cook an authentic breadfruit rundown (Rondón), especially for a great Jamaican Breakfast. They say it is called run down because the fish is cooked until it "runs down" or is so it falls completely apart. This is the dish most Jamaican's miss the most!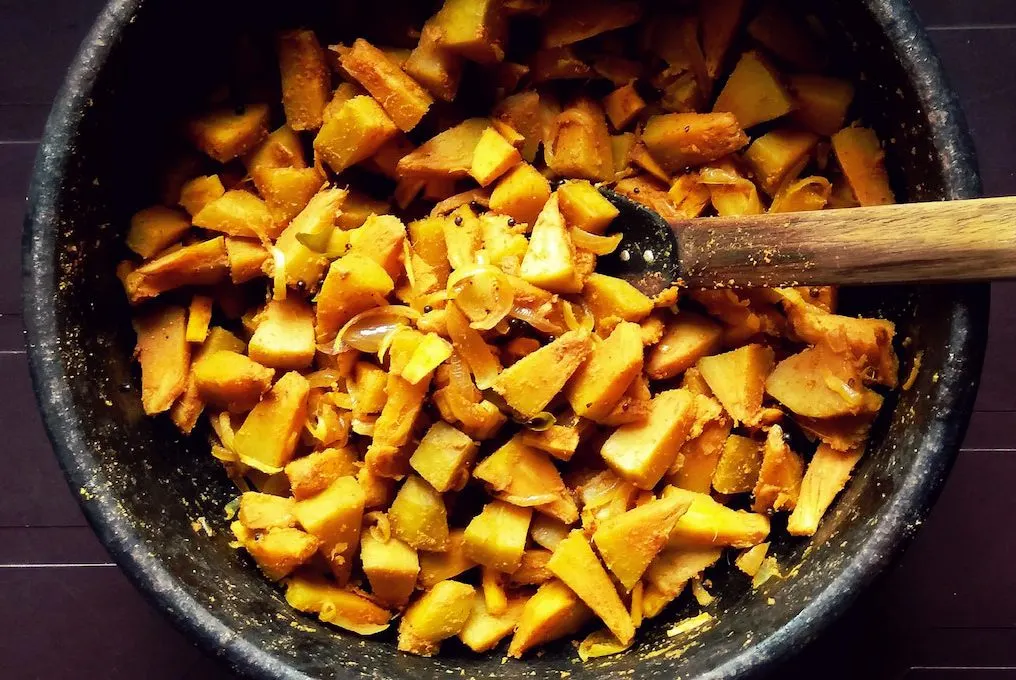 Breadfruit Rundown (Rondón) originated in Jamaica and was brought to Jamaica in the early 19th century by Afro-Jamaican immigrant workers. They came here to Jamaica to build the Costa Rican railroads and the Panama Canal. The dish is unique to the island since these people left their homes in Africa, Europe, and Asia and had to survive by using fish and coconut milk that was readily available all over the island. This Jamaican dish is not eaten on the African mainland, so it is quite unique to Latin American, African, Caribbean, and Asian grocery stores as well, where many people purchase it.
#5 Jamaican Chicken Curry
#6 Chicken Foot Soup
One of the truly unique Jamaican dishes that I so bravely tasted is the Chicken Foot Soup. This hearty meal is often served for lunch to ensure this scrumptious lunchtime meal keeps you full until dinner. This soup is made with carrots, yam, pumpkin, turnips, and the star ingredient: chicken feet. If you are making this dish at home then you want to make sure to chop off the nails of the chicken feet and soak the feet in the water. In fact, although chicken feet are often deep-fried, using them for a bone broth is a healthier preparation method. Put the chicken feet into a large stockpot and cover with boiling water. Boil for 5 minutes. Thanks to the craftiness of the Jamaicans, almost all parts of the chicken are used to make fantastic Jamaican cuisine.
#7 Dip an' Fall Back or Mackerel Rundown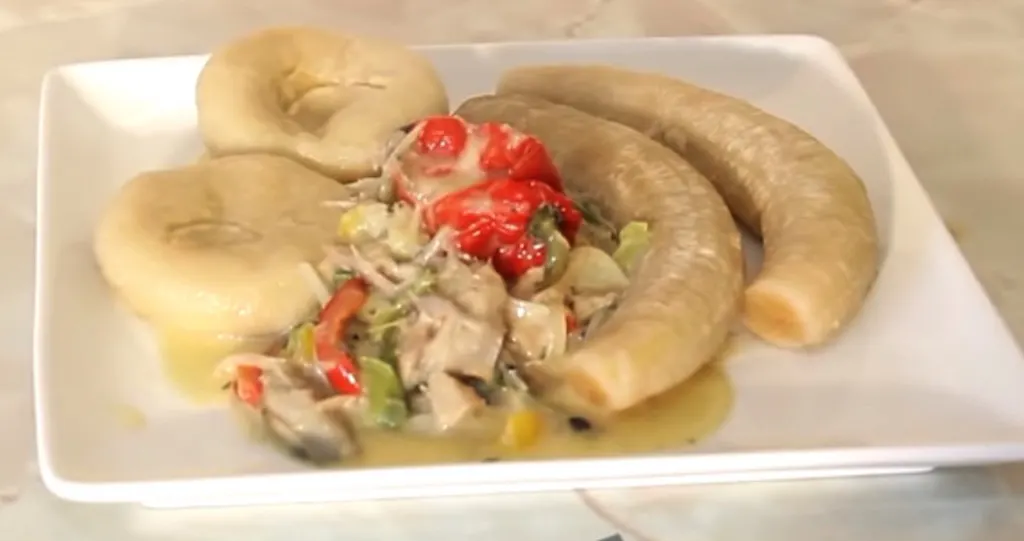 Another traditional Jamaican dish is the "Dip and Fall Back", also known as "Mackerel Rundown. This dip an' fall back was created in the 19th century and the name corresponds with the runny nature of the sauce. Rundown, also refers to as rundown, run dun, rondón, fling-me-far, and fling mi for. This dish is served for a Jamaican breakfast, typically on a Sunday morning, and often accompanied by breadfruit. To make this dish pop, the mackerel is picked and cooked with coconut milk, custard, apple cider vinegar, tomato, hot pepper, and onions. I know you will love it for breakfast.
#8 Escovitch Fish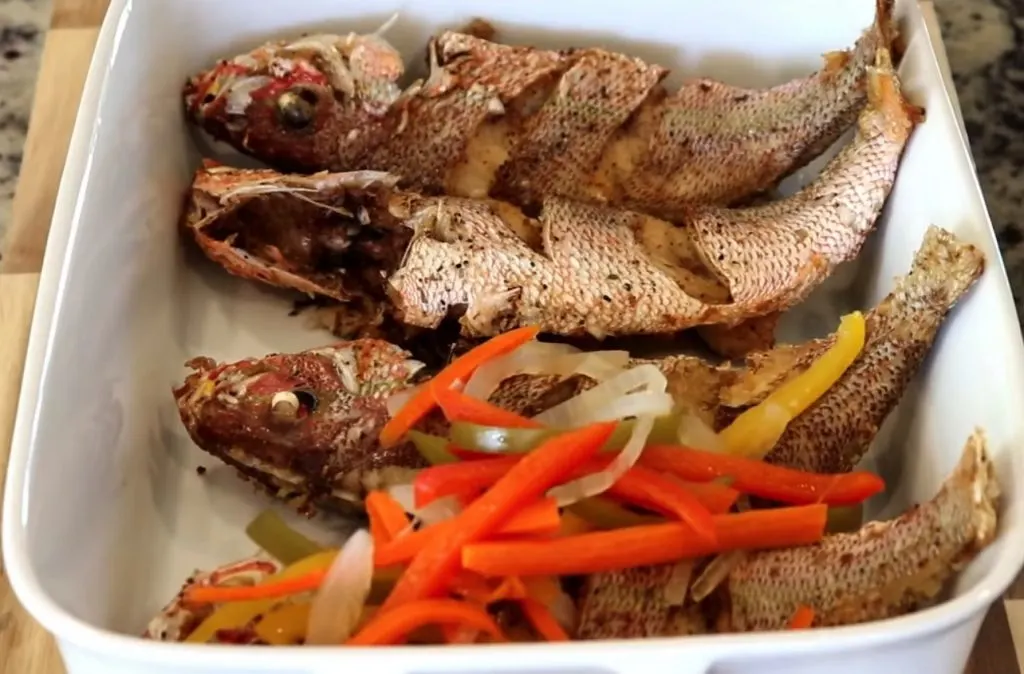 A savory seafood dish that Jamaicans love to cook, especially during Easter time is the Escovitch Fish. This dish is made with either whole or fillet fish, onions, garlic, pimento seeds, lime, Scotch Bonnet peppers, salt, and olive oil. Some recipes, like this one, require you to marinate the fish overnight to ensure it is savory and satisfyingly good. I love this recipe, especially around Easter time, as the flavors come out of each Jamaican dish.
#9 Fried Plantain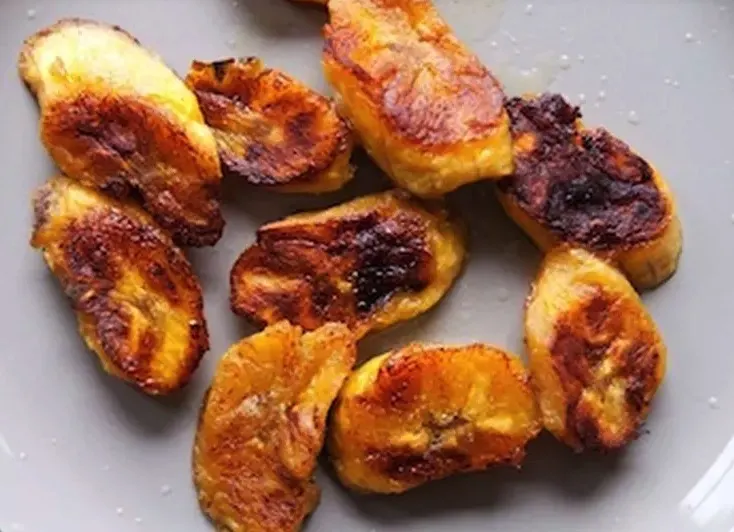 One of the best Jamaican side dishes is the fried plantains. Who among you doesn't love fried plantains? Plantains are similar to bananas and if you enjoy eating plantain chips then you will love them fried. This Jamaican dish is perfect with Ackee and Saltfish, Jerk Chicken, and Rice and Peas. All you need to make this dish are 2 green plantains, salt, water for soaking, and oil for frying. If you want to make this dish at home then you will need to follow this simple recipe. You can make this Jamaican cuisine in a snap!
#10 Coco Bread
Coco bread is flour, salt, butter, and yeast bread made with coconut milk. Sometimes the cook adds a little sugar. You can adjust the sugar to as much or as little as you would like. Typically they bake it until it becomes puffy and golden brown. I think it tastes like sweet Hawaiian Rolls, but they are a little bit denser. The cook cuts the Coco bread into squares and folds them over. I have had everything from fried beef patties stuffed into the fold. Sometimes they are made like a dinner roll with nothing inside. Basically, it is like a Jamaican version of sweet white bread that you will love for your Jamaican Breakfast.
#11 Gungo Peas Soup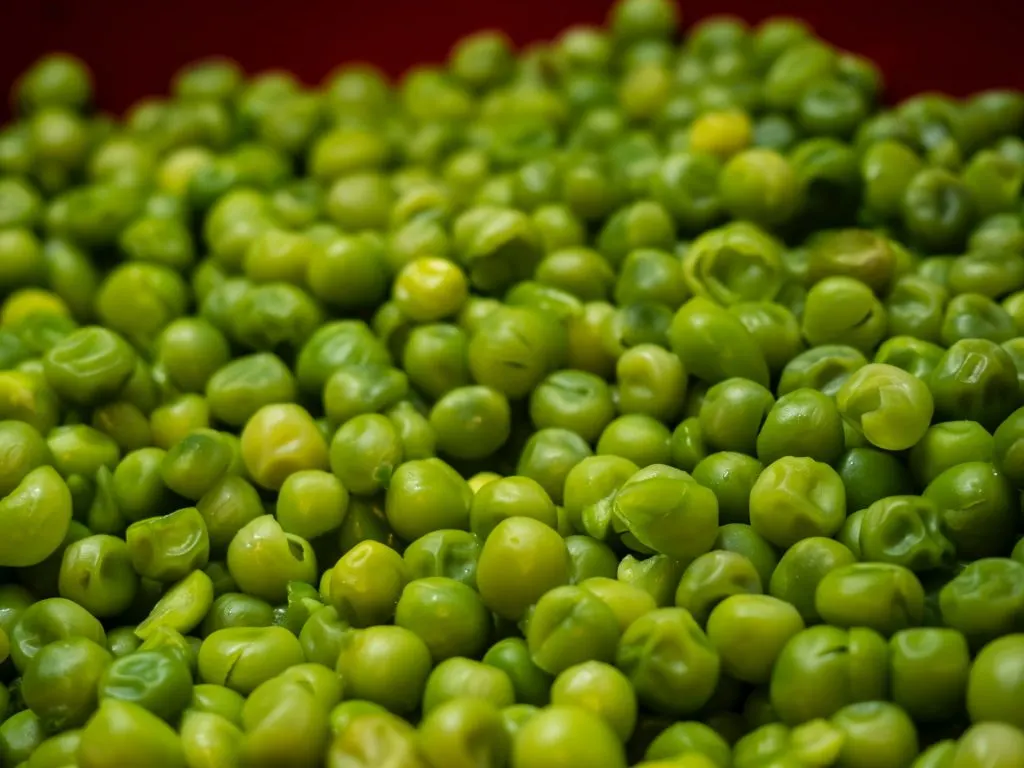 Jamaicans love their soup and one of the favorites among the locals and tourists alike is the Gungo Peas Soup. This soup is often nicknamed the "Saturday soup" because people will soak the water peas and salted pigtail the night before and prepare the soup the next day for a relaxing Saturday lunch. Gungo peas are rich in dietary fiber and healthy for cramping, bloating, and diarrhea. The pigeon pea (Cajanus cajan), also known as arhar, tur, red gram, or gungo peas in Jamaica. All are healthy legumes and perfectly made for a Jamaican dish.
#12 Jamaican Corn Soup
Corn has been growing on Jamaican land for hundreds of years and it has been an important ingredient in many dishes. Combining the hot Scotch bonnet chili, coconut milk and sweet corn allow for the most well-balanced Jamaican soup. This rich and creamy soup is great for a Jamaican lunch or dinner and can even be stored in the freezer for later. I do this sometimes at home and then get portions out of when I want to have it for dinner.
#13 Janga Soup or Crayfish Soup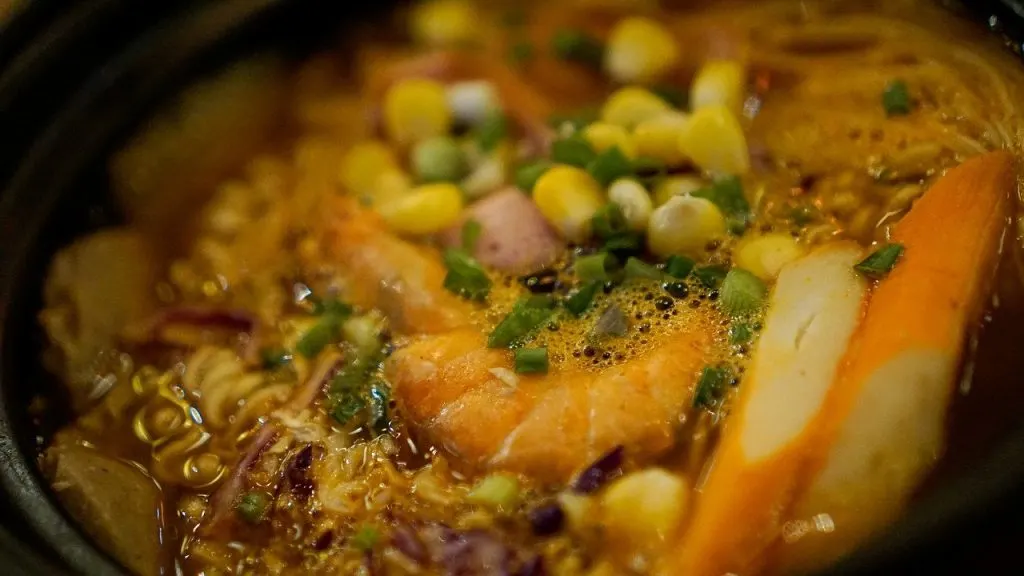 We are at it again with the tasty soups and this time I want to talk about the Janga Soup also known as Crayfish Soup. Freshwater crayfish are known as "Janga" in Jamaica. Thanks to the shrimp-like crayfish, this soup is considered an aphrodisiac. This Jamaican soup is made with pimento grains, scallion, bonnet peppers, yams, potatoes, flour, and crayfish. If you are in the mood to get your partner in a great mood then try your hand at making this mouthwatering Janga soup. My family loves having this one on a cold and rainy night and I think it makes the perfect Jamaican food so we can celebrate with what we have.
#14 Jerk Chicken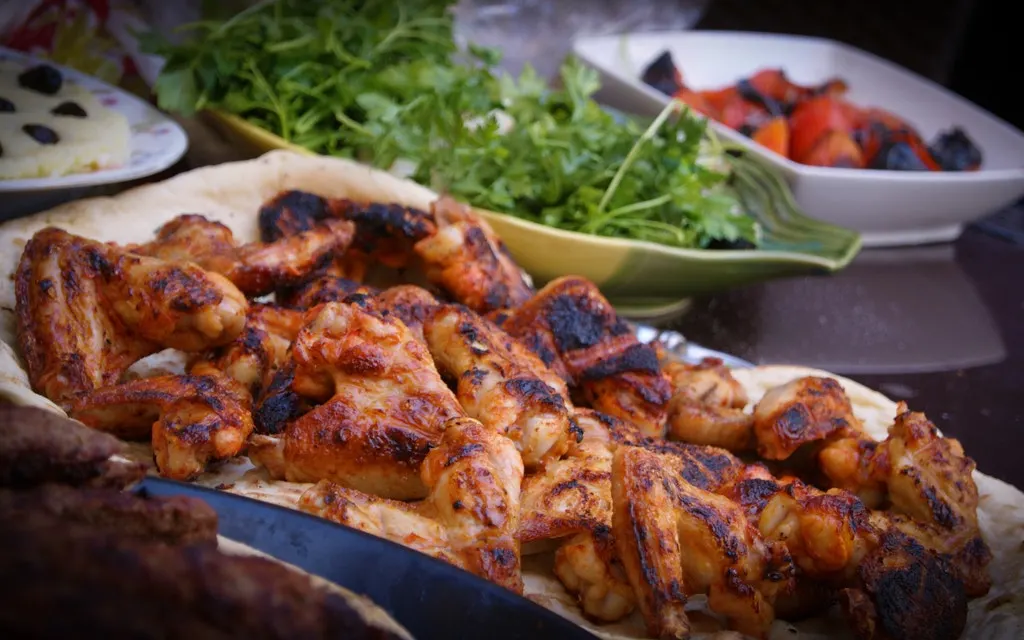 We have finally reached the point where we can discuss one of the most famous Jamaican dishes, Jerk Chicken. No matter what part of the world you visit, one dish that is always associated with Jamaica is jerk chicken. In 2020, even the fast-food chain, McDonald's launched a jerk chicken sandwich.
This dish dates back to the 15th century the word "jerk" was used to describe the mixing of the Taino and African cultures. Jerk chicken can either be smoked or grilled and seasoned with peppers, pimento, and packed with other flavors. Take a minute to look at this recipe to make your own jerk chicken. Or if you are in Jamaica, stop on by Scotchies, one of the best jerk chicken recipes out there! They cook Jerky chicken here on a rack and burn pimento wood for the flavor. Jerk Chicken is such a great Jamaican Cuisine!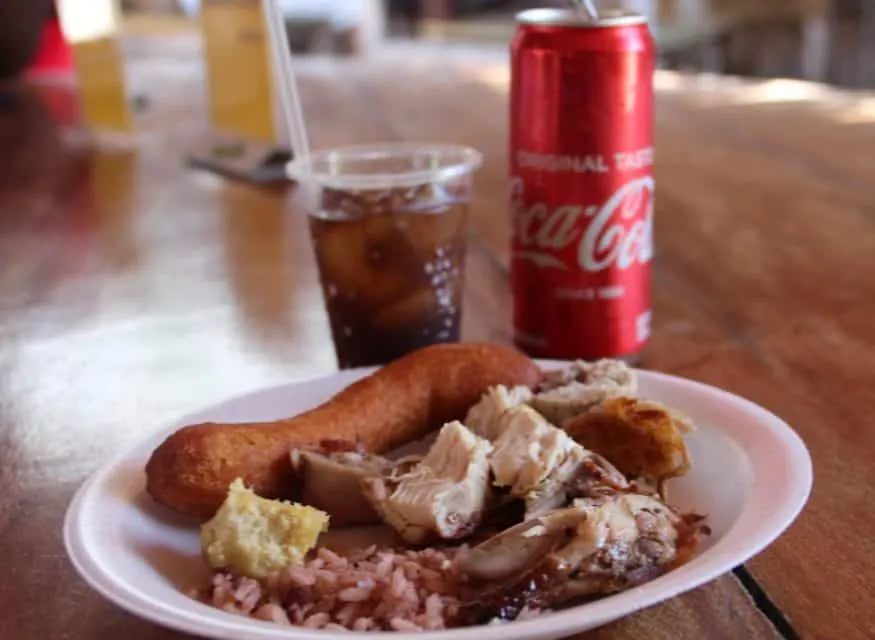 #15 Jamaican Mac and Cheese
Now I am sure you have never heard of Jamaican Mac and Cheese, but this version I sometimes call "Caribbean Macaroni Pie". And although some have not heard of it, it is a comfort food staple in the West Indies, and Jamaican's love it. This cheesy baked pasta dish is delicious with stewed or barbecued chicken, you can get a great recipe here.
#16 Jamaican Oxtail
Another staple dish among Jamaican cuisine is the oxtail. For those who do not know what oxtail is it is the skinned tail of a cow. The best way to cook this meat is by making a stew or soup. The Jamaican way to cook oxtail is to make a one-pot stew that includes sweet, spicy, and tangy ingredients such as garlic, beans, garlic, peppers, sugar, Worcestershire sauce, and ginger.
#17 Pepper Pot Soup
One of the creamiest Jamaican soups is the Pepper pot soup. Now, I had never heard of this dish until I got to Jamaica, but it is very popular. This soup is made with beef, pigs' tail, callaloo (similar to spinach), okra, scotch bonnet peppers, onions, yams, scallion, and thyme. The true reason that this dish is so creamy and thick is thanks to coconut milk. This hearty dish is often made with beef tripe or shrimp, but a vegetarian version is easy to make too.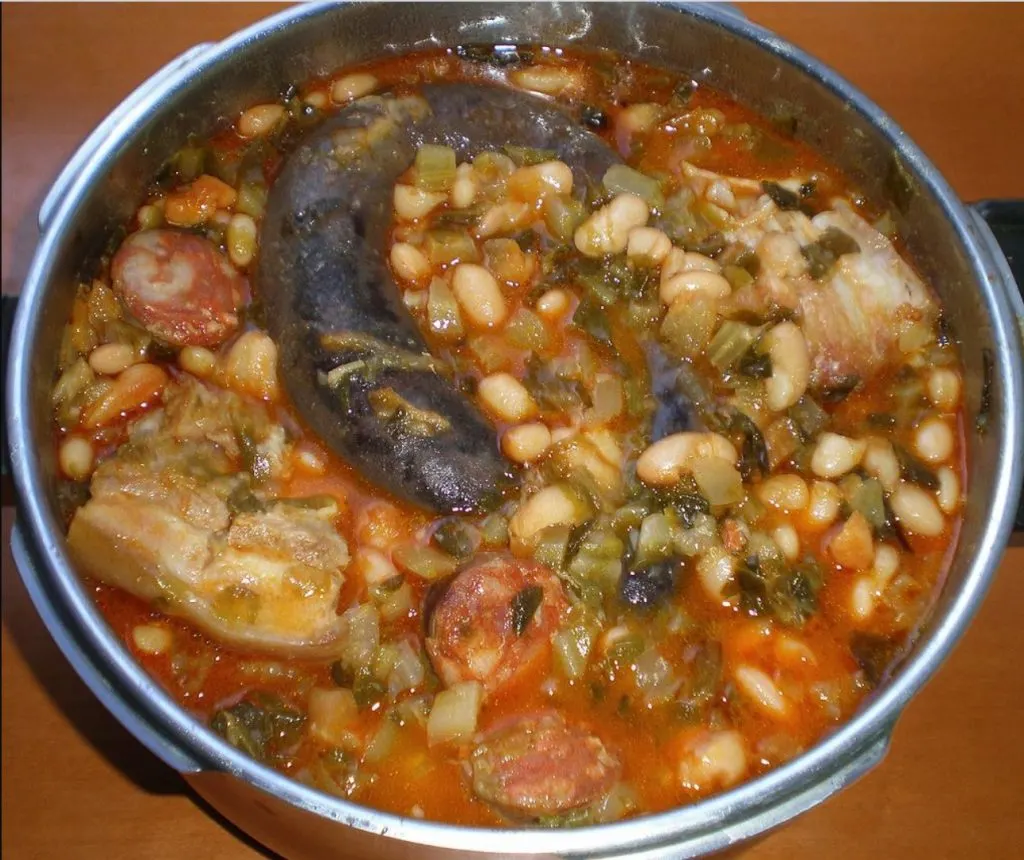 This Jamaican cuisine is as "rich and spicy as the pepper-pot soup that originated with the Taino Indians". Before Christopher Columbus arrived, the island of Jamaica was inhabited by natives of a West Indian tribe known as the Tainos. Columbus used the word 'Taino' to mean 'good' or 'noble' people.
#18 Rice and Peas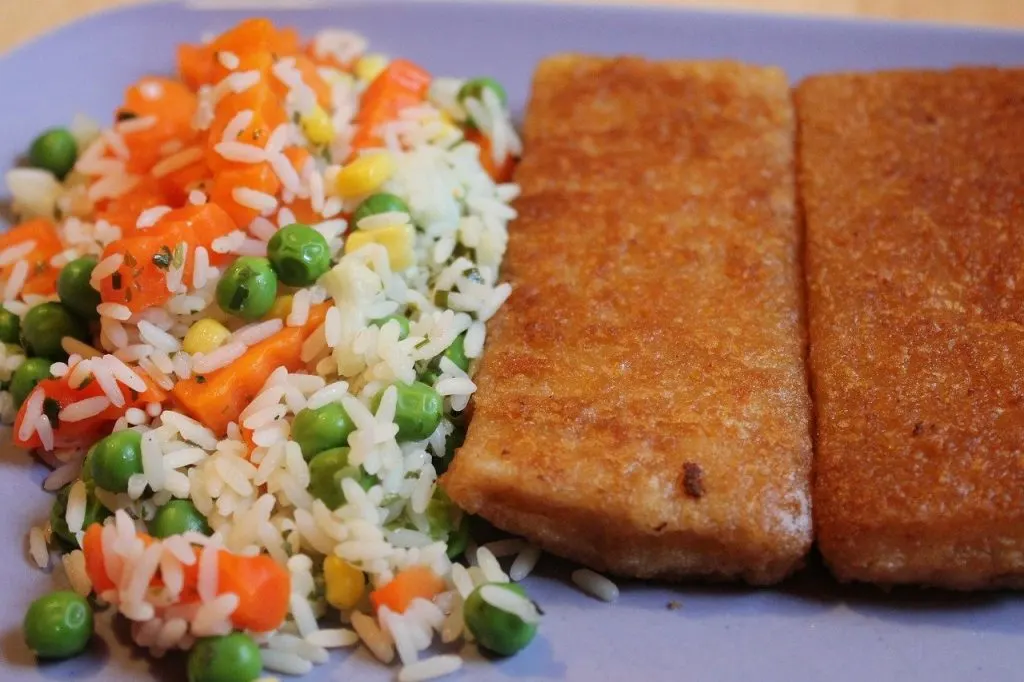 One of the most simple and staple Jamaican dishes is rice and peas. This dish hails from the Ivory Coast and Ghana in West Africa. In the 1930s this dish was nicknamed "the Coat of Arms" because of how A. Bain Alves described a race meeting in Kingston. This dish is a staple dish that is served at Sunday dinners, festivals, events, and weddings. Typically it is served with fried fish.
#19 Solomon Gundy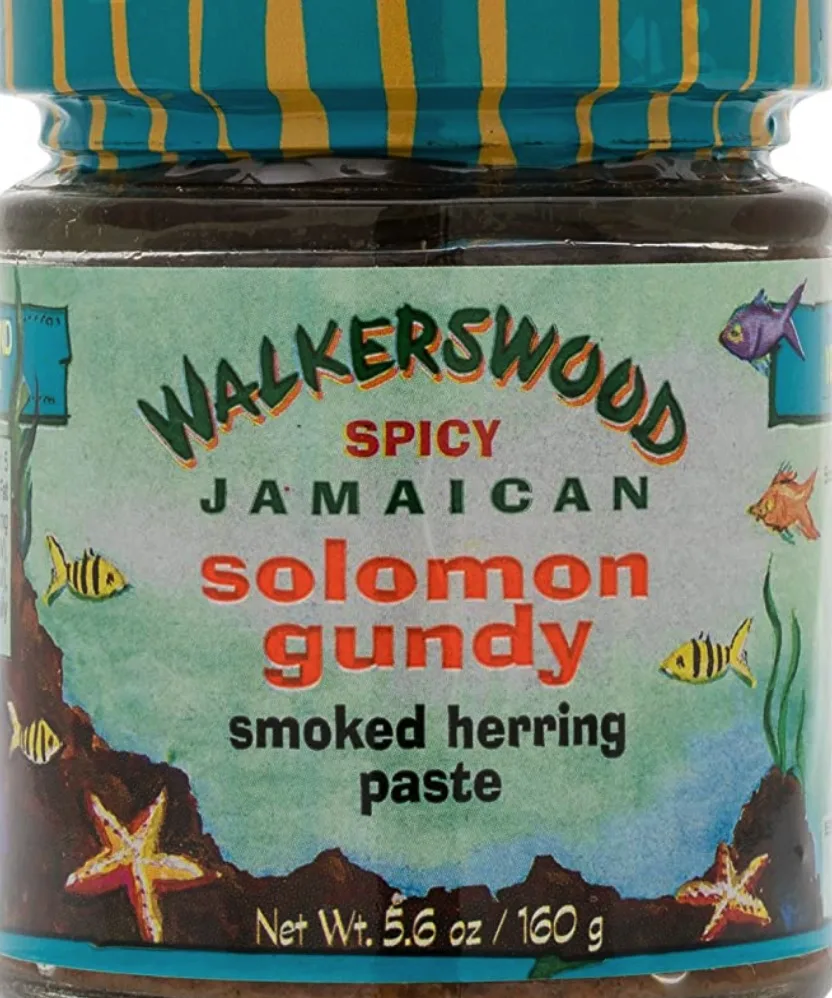 If you have ever heard the Jamaican poem Solomon-a-Gundy, then you might know it is based on the dish Solomon Gundy. The unique name of this dish comes from the French word "salmigondis", which means salad with several ingredients. This dish is made with smoked red herring, scallion, thyme, onions, pimentos, and bonnet peppers. This salty and picked Jamaican food is made to resemble a pate and served on crackers.
#20 Stamp and Go (Jamaican Saltfish Fritters)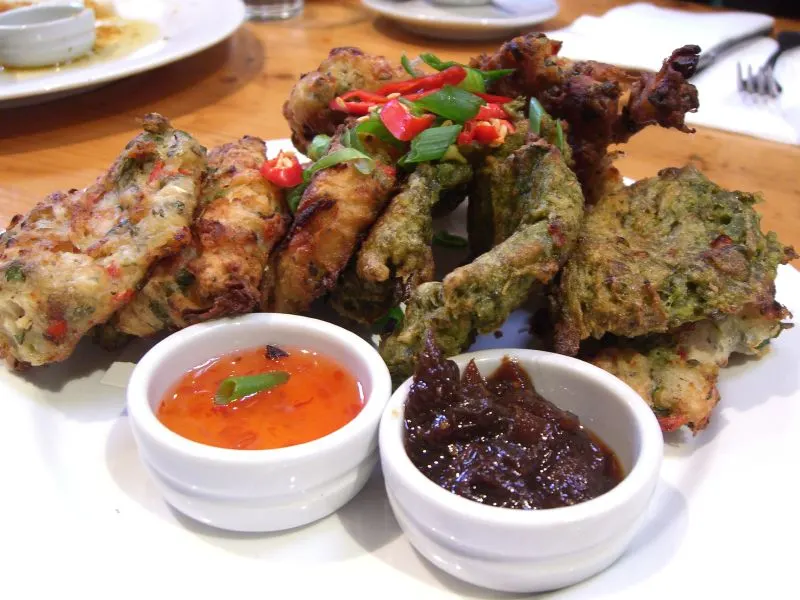 One of the traditional street foods or breakfast foods of Jamaica is the Stamp and Go, otherwise known as "Jamaican Saltfish Fritters". This delectable bite-size Jamaica food has been a fast-food favorite since the 18th century. Most Jamaicans prefer to eat this fried snack for breakfast or as an appetizer. This fried delicacy is made with codfish, onions, scallions, garlic, peppers, and flour. So, if you are looking for something quick and tasty to eat then head to a local street vendor for some fried goodness. The photo above has the Stamp and Go on the left and Callaloo fritters on the right.
#21 Callaloo
You guys sure know how I love my greens! Callaloo is a dark green leafy plant that grows in Jamaica. Callaloo is one of Jamaica's staple vegetables. It almost resembles spinach, but it doesn't taste like spinach. It has a slightly bitter flavor with a nutty undertone. This traditional Jamaican food is often eaten for breakfast along with boiled green bananas.
Jamaican Drinks:
Bob Marley Cocktail
One of the great ways to pay tribute to the Reggae singer, Bob Marley, is through Rasta-inspired frozen cocktail. This cocktail is made with light rum, sweet and sour mix, orange and blue curacao liquor, and strawberry daiquiri mix. Don't forget to add in fresh mangoes, lime juice, and ice! Your cocktail should be red on the bottom, yellow in the middle, and green on the top! Bottoms up and enjoy your drink!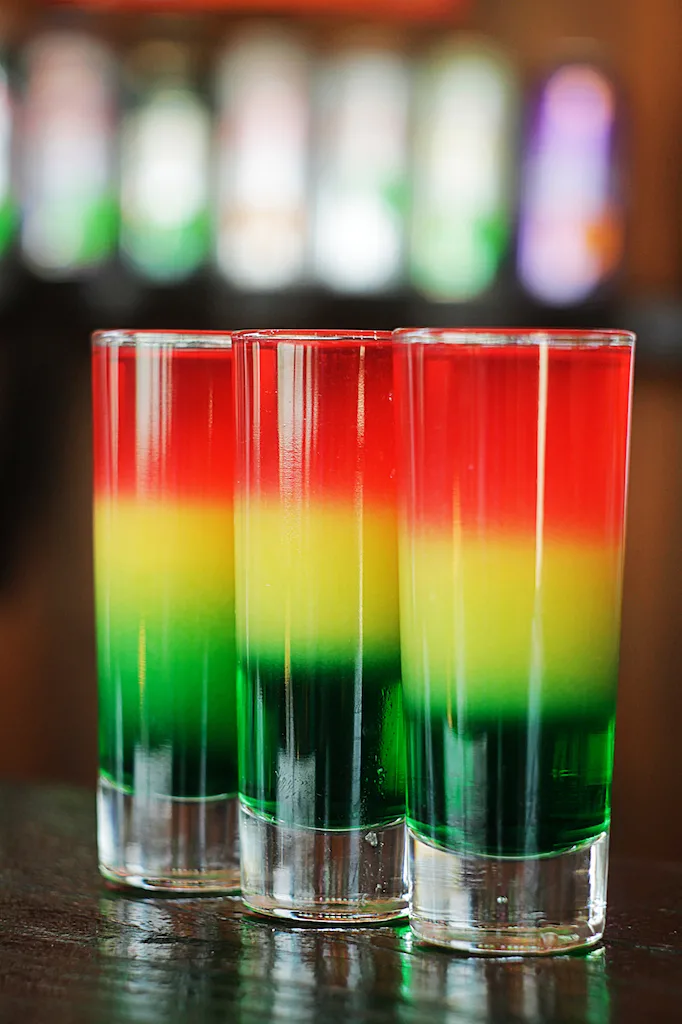 Jamaican Rum
Thanks to the sugarcane produced in Jamaica, rum has been the favorite liquor drink of the Caribbean. What makes Jamaican Rum stand out from other kinds of rum is the fermented molasses and the aging. The best types of Jamaican Rum to sip on are Hampden Estate, Worthy Park Sherry Cask, and Appleton Estate.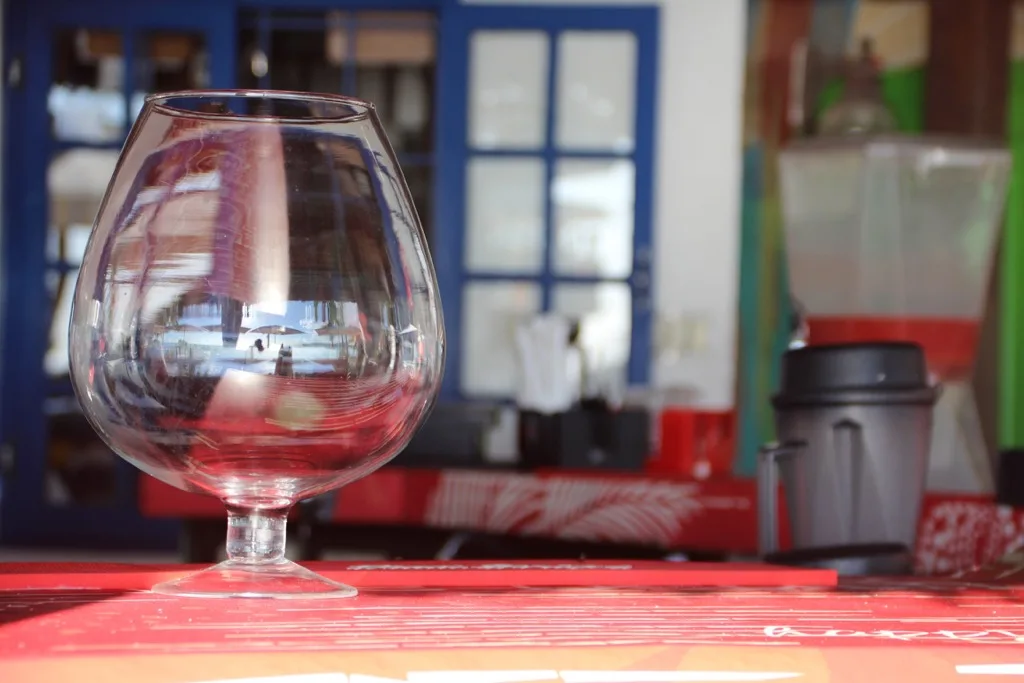 Jamaican Desserts:
Now, this country has been inviting guests from around the world to try its flavors, as well as its Jamaican desserts, all while enjoying a tropical adventure in the sun. And since a country's culture is heavily based on its cuisine, you can guarantee there will be something sweet lying around. As it is home to some of the sweetest things on earth! Keep reading here about a few desserts, then visit my Jamaican Desserts – The Perfect Treat for Your Sweet Tooth article, you won't be sorry! I have listed the most popular desserts in Jamaican cuisine.
Gizzada or Pinch Me Round
A Gizzada is also known as a "pinch-me-round". It is a pastry that reminds me of a pecan pie, only in a miniature size or proportion. It is about the size of a lady's palm. It is popular in Jamaican cuisine for a snack or after-dinner treat. The tart is contained in a small, crispy pastry shell that has had the crust pinched along the sides and is filled with a sweet and spicy coconut filling. A Gizzada is made from a combination of brown sugar, coconut, ginger, and spices. Then that is poured into a small miniature-sized pastry and then baked. This delicious Jamaican dessert was brought to Jamaica by the Portuguese Jews fleeing persecution in the 1500s and has been here ever since!
Duckanoo aka Blue Drawers
Your first impression of the Duckanoo will make you think you ordered dumplings! This sweet dish is made with brown sugar, coconut, sweet potato and then cooked and tied in a banana leaf. Some recipes of duckanoo include cornmeal or plantain flour. View this recipe to try your hand at making your own blue drawers.
Jamaican Rum Cake
A Jamaican Christmas would not be completed with the sweet Jamaican Rum Cake aka fruit cake. This cake is a staple dessert that almost all Jamaicans consume throughout the holiday season. This fruit cake is made with raisins, prunes, currants and spiced with nutmeg and cinnamon powder. In order to get the yummy taste of this cake, the fruit must be placed in a bowl and covered with wine and rum for at least 1 day. Although this cake takes quite a bit of energy, the end result will leave you 100% satisfied. If you want a more in-depth recipe to make your own rum cake, then visit this site.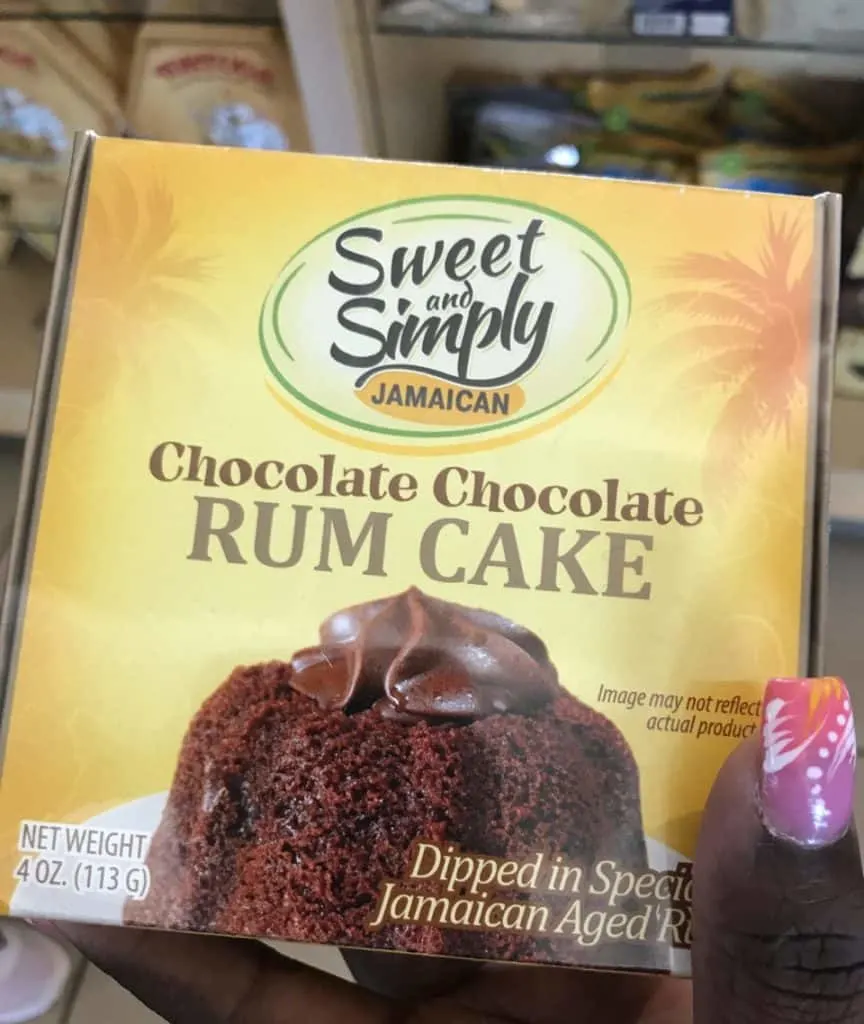 Well, even after I have finished writing this article, I can hear my stomach making rumbling noises thanks to my hunger. After reading all the flavorsome dishes on this list, why not plan a Jamaican day to make all your favorite meals. All the Jamaican dishes listed above have recipes for every meal, including a luscious dessert. You should definitely invite family and friends over to enjoy Stamp and Go, Solomon Gundy on crackers, and a refreshing Bob Marley cocktail. Make sure to serve enough food because all these meals will be gratifying for every guest.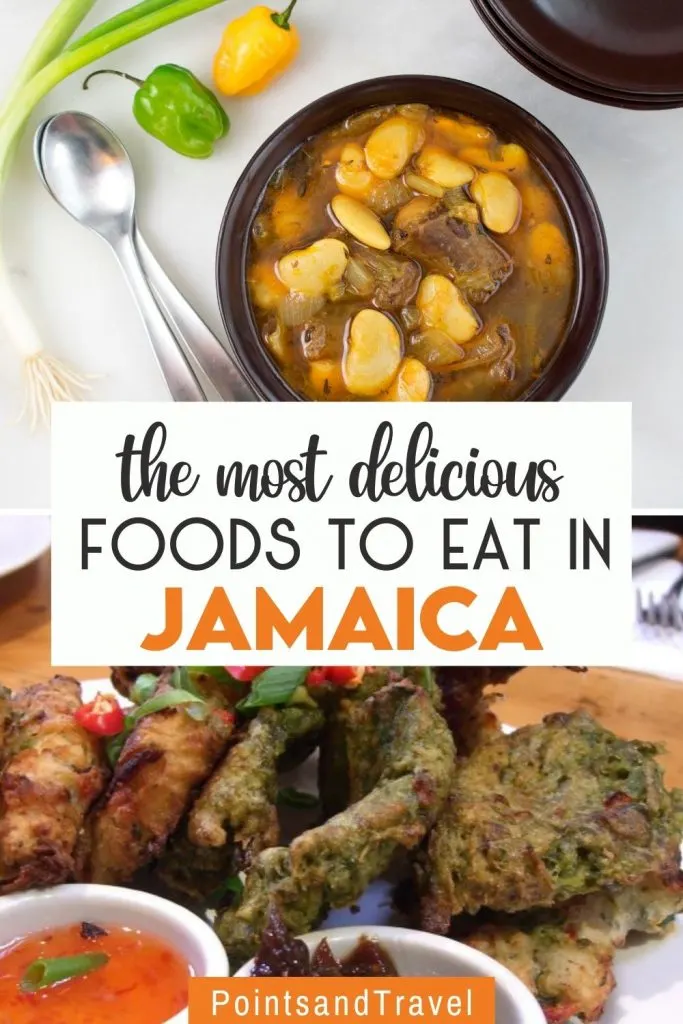 ---
Do you know if there is any Jamaican Food Near me? If you find some, be sure and mention it in the comments below. What about a Jamaican Restaurant near me? Be sure and let me know!