The Caribbean boasts some of the world's most beautiful waterfalls and lagoons, and I should know, as I have visited Kaieteur Falls in Guayana, Iguazu Falls in Argentina, Niagara Falls in Canada, a 100-foot waterfall in Costa Rica, Havasu Falls in Arizona, USA and even a petrified waterfall in Mexico called Hierve el Agua. I know a great waterfall when I see them! Many of these Caribbean waterfalls are just a hop, skip, and a jump away, while others are a bit little trickier to find. But, even the difficult ones are worth the journey. These are the most Instagrammable destinations that are sure to upgrade your feed. So get your cameras out, and let's explore some of my top picks.
---
What's in this post:
hide
Caribbean Waterfalls!
---
#1 Emerald Pool Falls in Dominica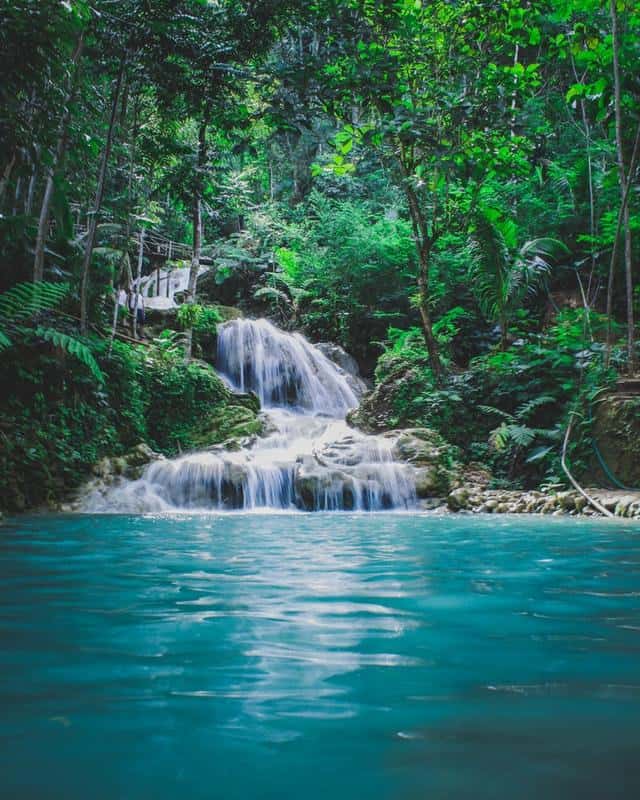 If you find yourself vacationing in Dominica, you must visit Emerald Pool Falls. This fall is over 50 feet long and ends in a natural swimming pool. It is amazing. The beautiful, sparkling green color of the water is what gave it its name. It is located in the Morne Trois National Park, which is a treat in itself. If you visit on a weekday, you may be able to avoid the crowds and take advantage of all the park has to offer.
#2 La Mina Falls in Puerto Rico
To visit La Mina Falls in Puerto Rico, you will need to prepare to hike for a while. On average, the hike out takes around half an hour to an hour, depending on your pace. The warm waters of the lagoon make for a perfect swimming hole, though, so once you get there you can dive in. Because the rocks are moss-covered, you will feel like you are secluded in the jungle.
#3 Dunns River Waterfall in Jamaica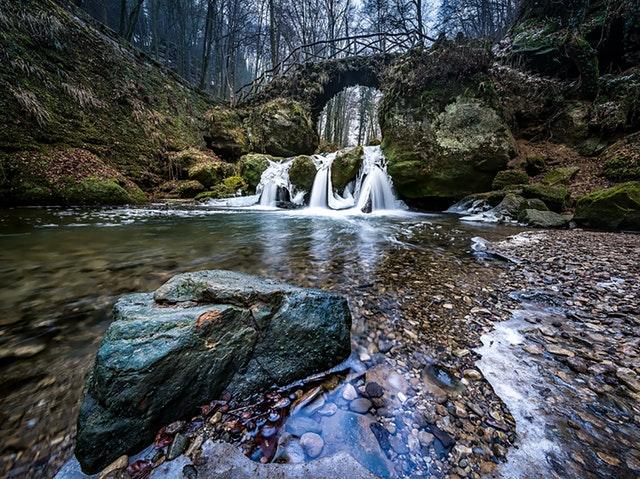 One of the most famous destinations on our list is Dunns River Falls. The views are stunning, but the journey is strenuous. Be prepared for a full day trip with your gear. This hike requires good shoes and some strength. Spend some time enjoying the fantastic power of the falls and the scenery along the way. Quick note, this hike is typically pretty crowded at all times as it is one of the most well-known waterfalls that we recommend visiting.
#4 Reach Falls in Jamaica
Jamaica has no shortage of amazing waterfalls and lagoons. Reach Falls is one that should make your list should you find yourself planning a Jamaican adventure. This area is so beautiful that several movies have scenes shot here. Make sure to spend plenty of time there and take a lot of photos, so you don't forget its beauty. It is definitely worth the trip.
#5 Diamond Falls in Saint Lucia
Saint Lucia offers up a strong contender for one of the best falls in the Caribbean, Diamond Falls. Hike deep into the Botanical Gardens, and you will be treated to an awe-inspiring view. Red, jagged rocks cut over the years of the running water provides a fantastic contrast to the blue waters. The falls formed from hot, sulfur springs which give the best soaking water in all of Saint Lucia, and possibly the Caribbean. Spend some time enjoying the falls and make sure to explore the surrounding pools for a private soak in the warm bathtub water.
#6 27 Charcos in the Dominican Republic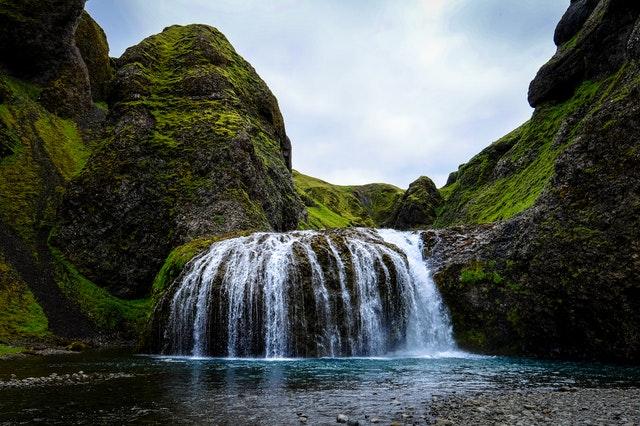 Our list wouldn't be complete without including 27 Charcos located in the Dominican Republic. This is the perfect trip for the thrill-seeking vacationer. These falls provide a natural waterslide that will drop you right into the crystal-clear waters below. You will need a guide to make it to this set of falls, however. Be prepared to hike over sketchy terrain, and you will need to wear a helmet and life vest to enjoy the slides. It is a must-do for any adrenaline junky. And it makes for a refreshing vacation story!
#7 Maracas Falls in Trinidad and Tobago
If you find Trinidad and Tobago on your vacation destination list, you must visit Maracas Falls. This is the highest waterfall in all of Trinidad and Tobago coming in at 300 feet tall. Enjoy the beautiful green waters of the lagoon, and even take a dip in the refreshing water while enjoying the spray and rainbow colors glistening from the sun. There are also great hiking trails around the falls for you to explore the dense forest.
Enjoy Your Stay in the Caribbean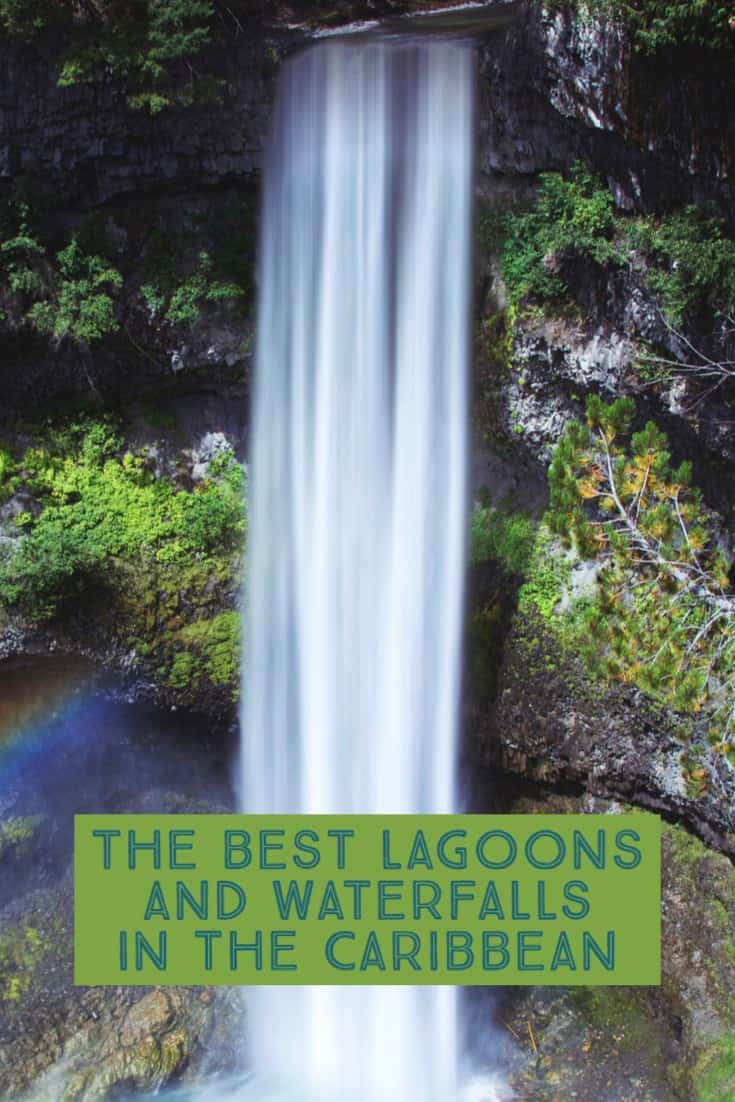 The Caribbean offers up some of the world's most amazing waterfalls and lagoons. There is no shortage for you to explore, and each island offers up its unique destinations.
One island, Turks and Caicos, has some fantastic resorts and some beautiful lagoons and hidden swimming holes that you can explore. Many of these are off the beaten path and are the perfect romantic destination if you would like to escape the tourist crowds of some of the other islands and destinations on this list. Whichever island you pick, make sure you cross a few of these gems off your travel bucket list. You won't regret any of these as they are picture perfect and it's no surprise that Hollywood scouts have chosen several of these locations to feature in their films. Happy travels!