Traveling to the most beautiful places in the world is a luxury that I believe most of my readers can afford. You may have seen places like Budapest and Vienna on television and thought, "How will I ever be able to visit these gorgeous cities?" But to be honest, once you are able to book a plane ticket, the rest of your trip can be affordable and in a relaxed luxury setting with Avalon Waterways.
---
What's in this post:
hide
Europe River – The Danube
---
I was fortunate enough to take one of their Europe River – the Danube River cruise recently. Avalon Waterways is a Swiss family-owned cruise company that has affordable prices on river cruises throughout the world, such as Europe, South America, and Asia. I would like to introduce you to a whole different way of traveling aboard one of their ships. So sit back, relax, and get ready for the next level of river cruising! Here is my river cruise Europe review.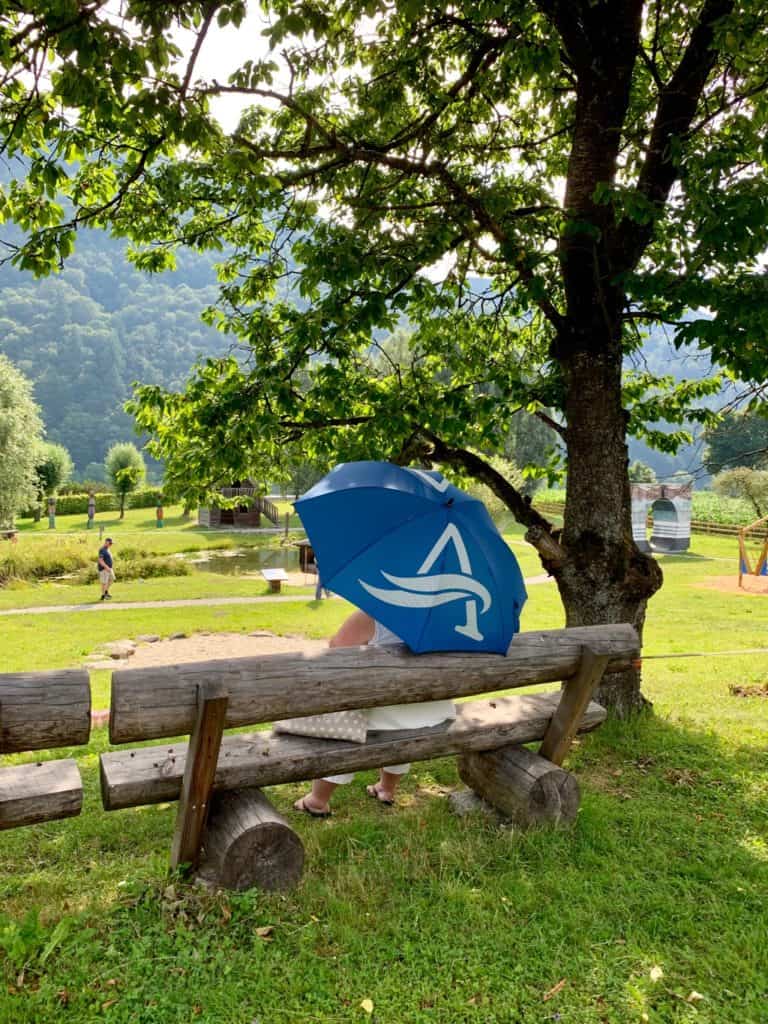 River Cruise Similarities and Differences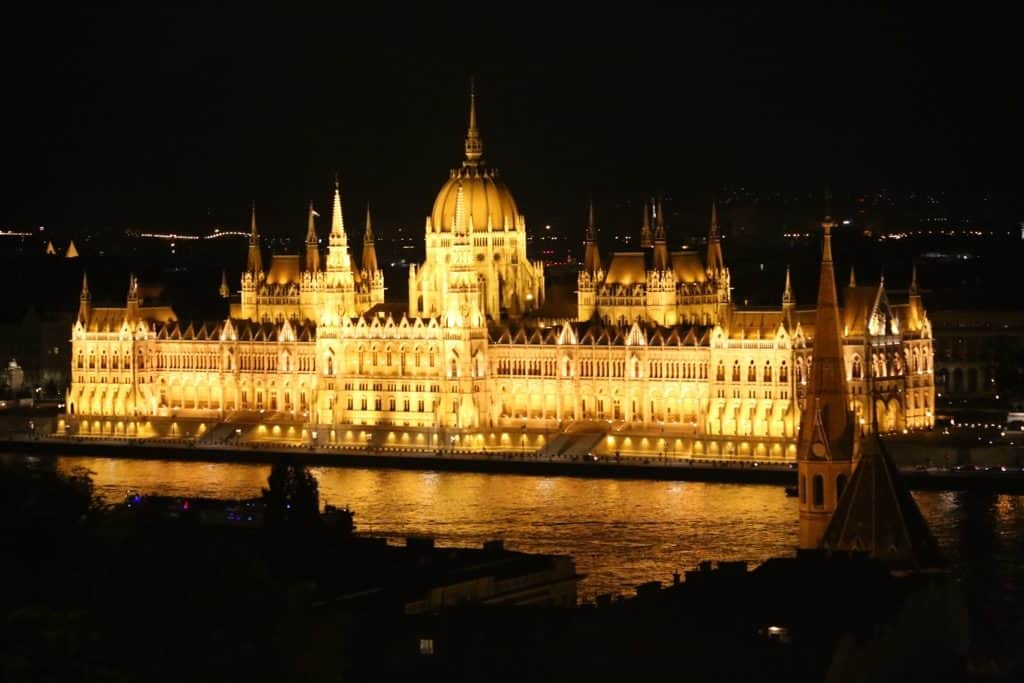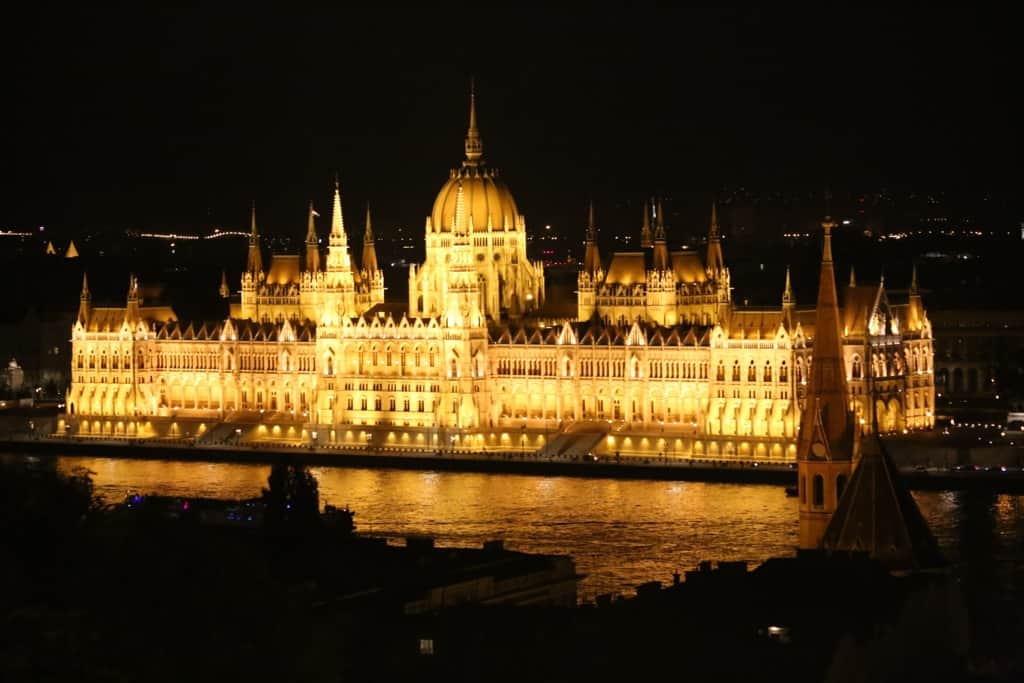 I consistently get asked about the differences between European river cruises since I have been fortunate enough to have been on many river cruises and worked with many different brands. I thought I would try to outline some of the similarities and differences I see on these European river cruise ships I have been on. For this guide, I will mention three different companies: Viking River Cruises, Avalon Waterways, and Crystal Cruises.
Of course, there are other brands, but these three are the main three I think of as an American sailing on European waterways. I will review Avalon Waterways since I have already reviewed the other two mentioned. Honestly, after being on all three brands of European River cruises, I do see many similarities and differences. Some might think they are subtle, but there are major differences. So let's take a look.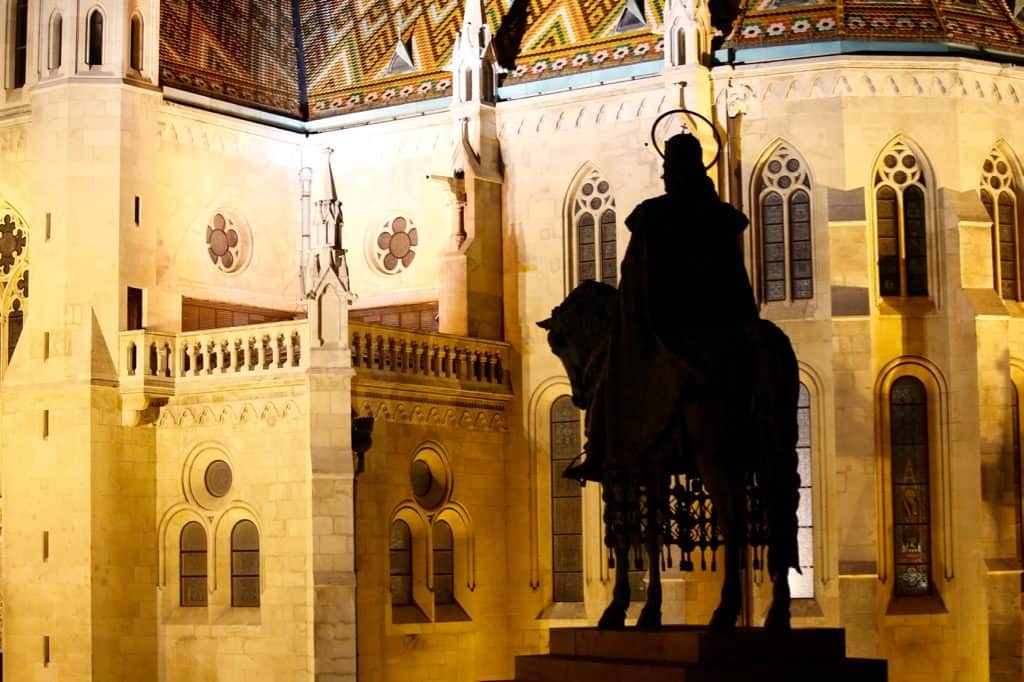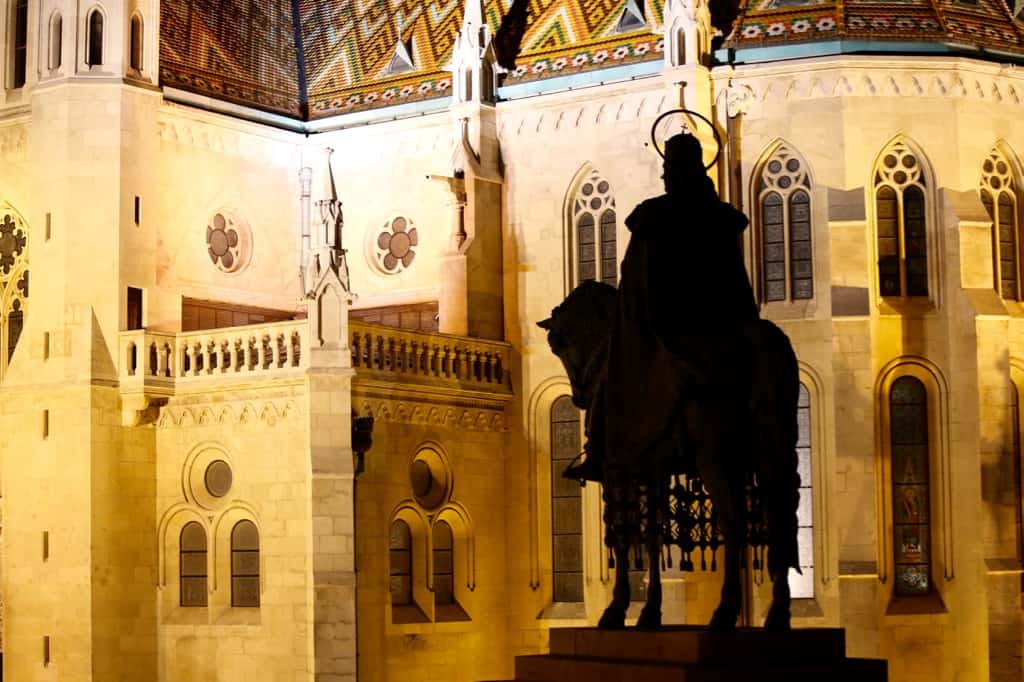 River Cruise Europe Review
Styles of Three European River Cruises
First of all, all European river cruise companies want you to enjoy your trip, but each company's "style of cruising" and focus is different. I have honestly enjoyed them all, but have found many similarities and differences between them.
Viking River Cruises
I would classify Viking River Cruises as more of a "comradery-style", "USA-focused", and "older crowd" at affordable luxury pricing. They encourage their guests to meet each other and sit together for dinners and interact during excursions. I believe they hope that eventually these cruisers will make friends amongst themselves and return together on a Viking River Cruise in the future.
They have luxury staterooms that are smaller than the other two river cruise brands mentioned, as they have balconies that take up that additional space. Their beds face a mirrored wall and their view is from the balcony. They do not have ensuite dining and I believe they should update their procedures for entering and exiting the ship, so you don't have to wait in line to get on or off their ships when taking excursions. Overall, it is a great experience and is more for those who are social and over 60+.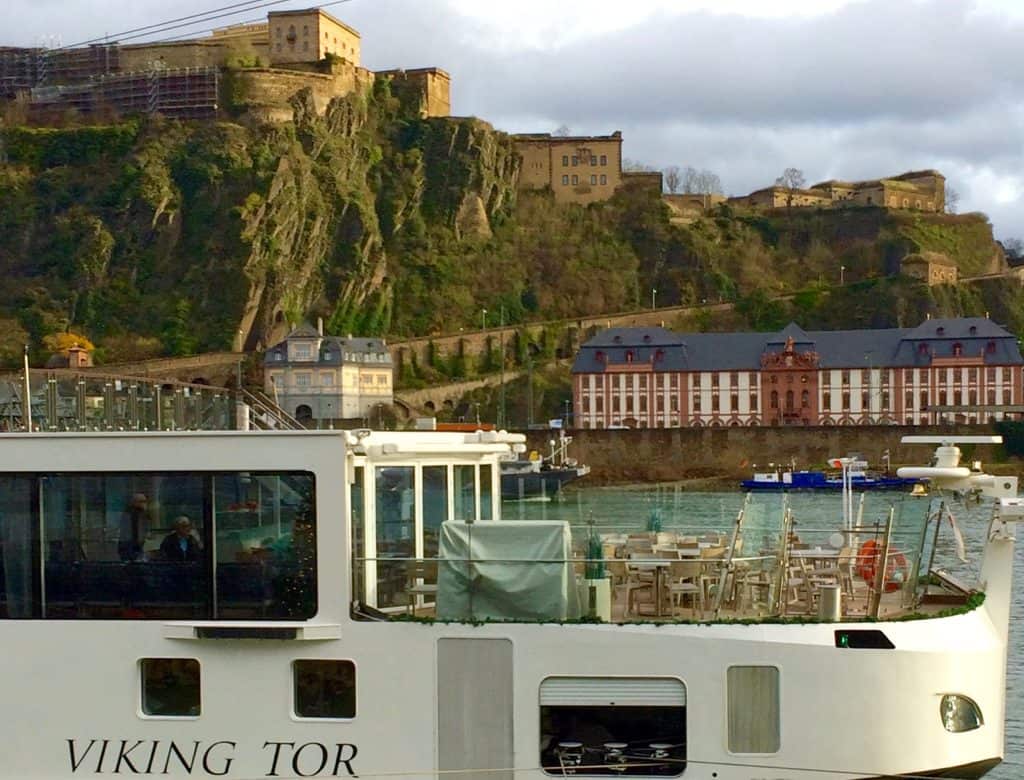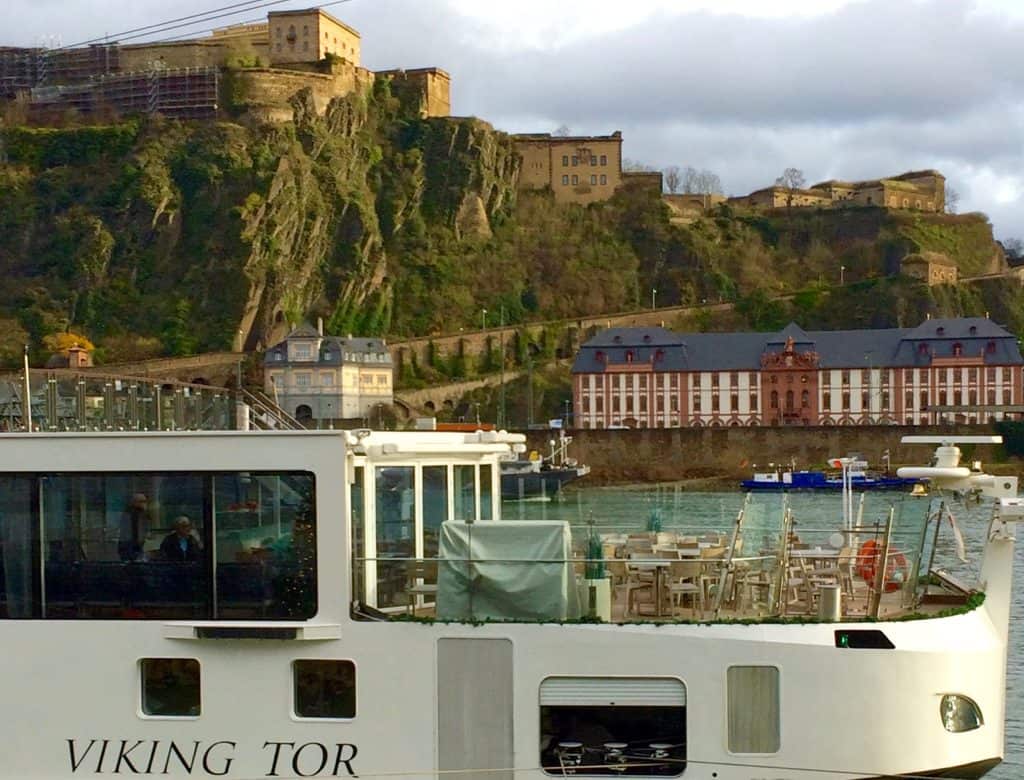 Avalon Waterways
I would classify Avalon Waterways as a smart luxury choice with a mixture of cruisers from the USA and other countries with a younger demographic who are interested in a different style of excursions than the typical classic walking tour. They are perfect for multi-generational trips. These cruisers have typically been to Europe before and want to discover new things. Or if they haven't been to Europe, they want to experience the cities they are visiting without the massive crowds of tourists. These cruisers want choices, are adventurous and curious. They tend to prefer luxury accommodations with a view.
Also, these guests are self-sufficient, so they don't want to wait in line! Avalon Waterways uses the latest in technology to get them on and off the ship quickly. Avalon even has an app that doesn't need the internet for maps for when the cruisers are on their own in the city. These cruisers are typically more likely to explore a bit more off-the-beaten-path.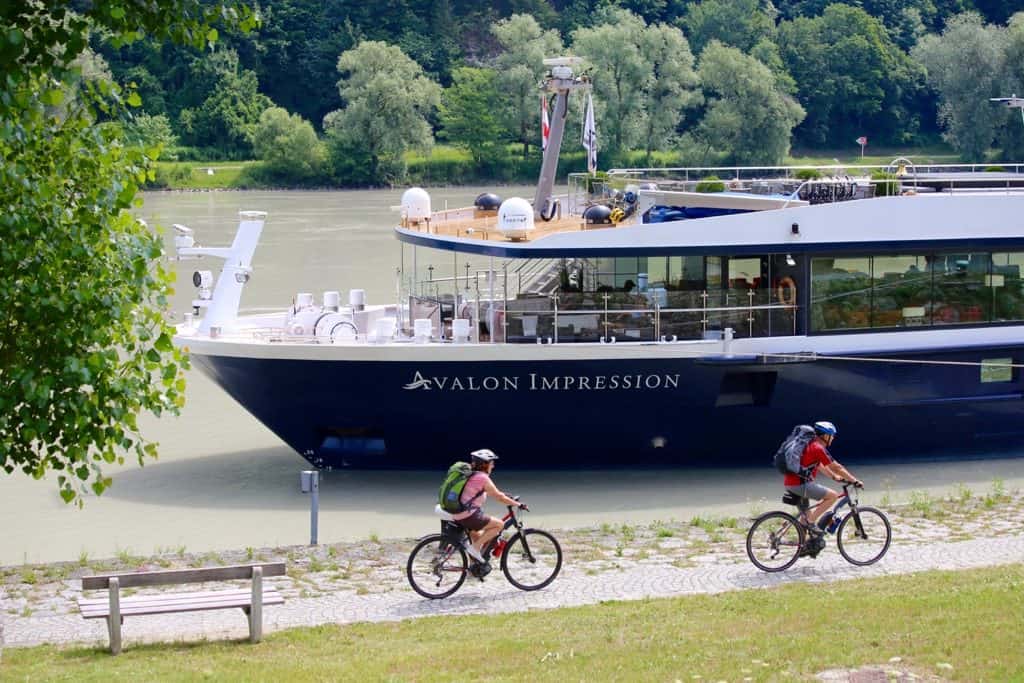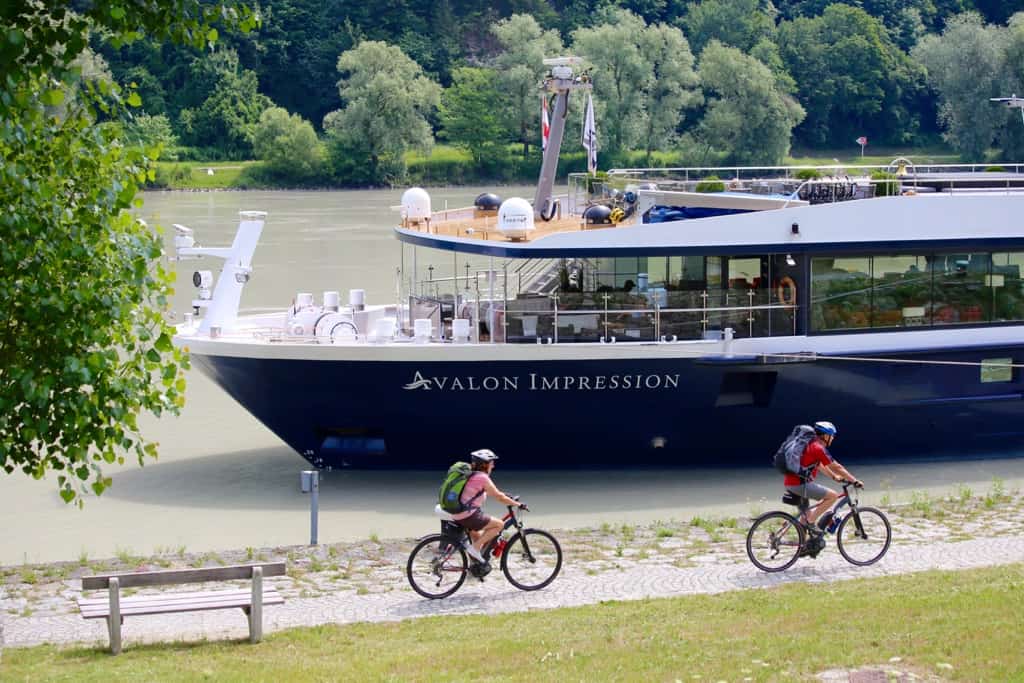 Crystal Cruises
I would classify Crystal Cruises as a high-end, full-service European cruise with personal butlers, fewer cruisers (low ratio of cruisers to staff) with private dinner settings. These river cruise clients prefer privacy with solitude and don't mingle as much with other passengers (or it takes a bit of time for them to mingle). They prefer a quieter ship in an intimate setting. They feel exclusive and are willing to pay the price for it.
Crystal Cruises has four brand pillars: service, space, quality, and choices. They also cater to slower-moving clients and have the ability to give the individualized service that one would need. They offer ensuite dining, 24-hour butler service, and have a fitness center, swimming pool, and spa services available on the ship. They are higher in cost than the other two brands mentioned above, however, tips are included in the price.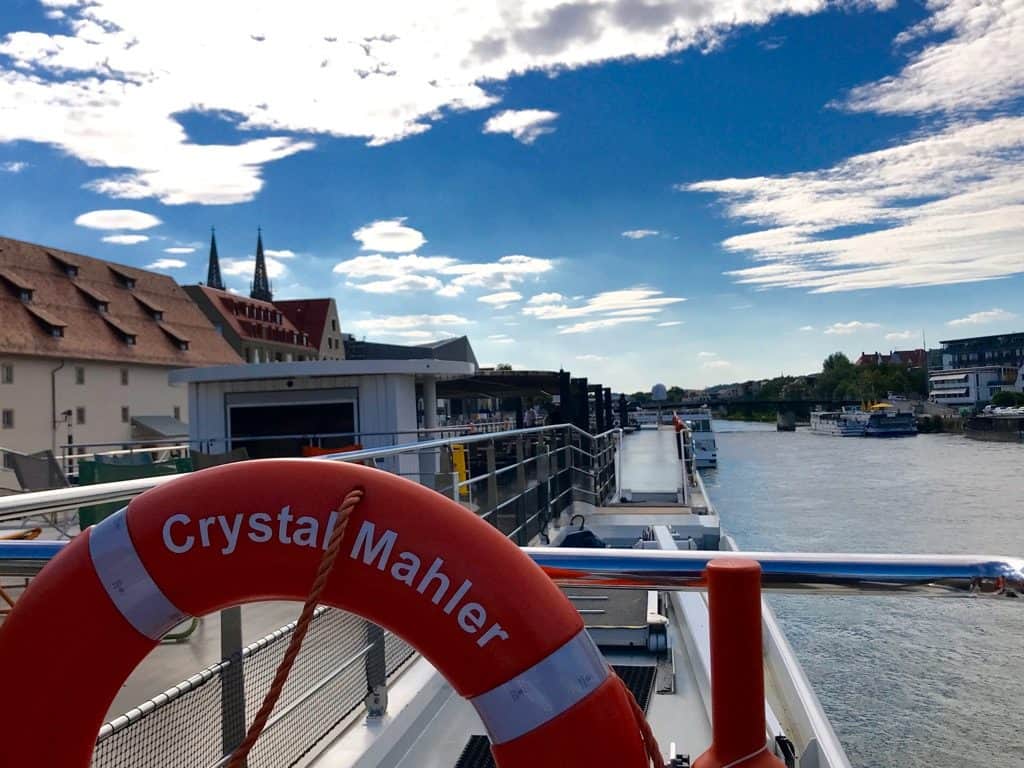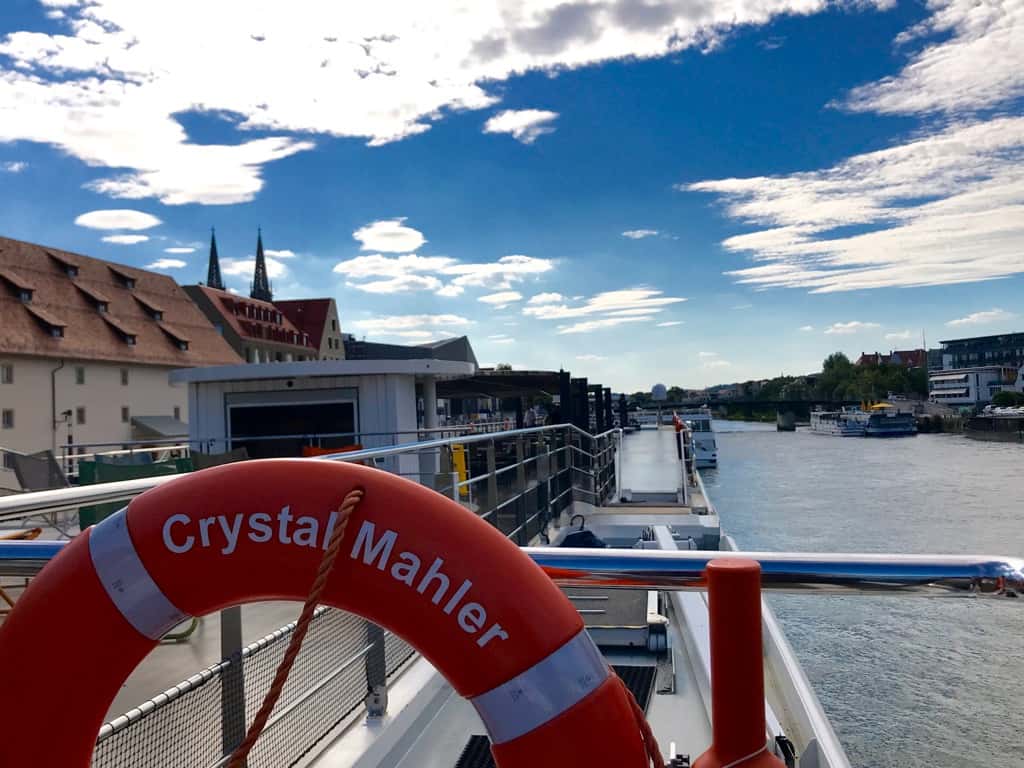 What Is the Avalon Waterways Difference?
Let's Start with THE VIEW – Widest Opening Window in ALL River Cruising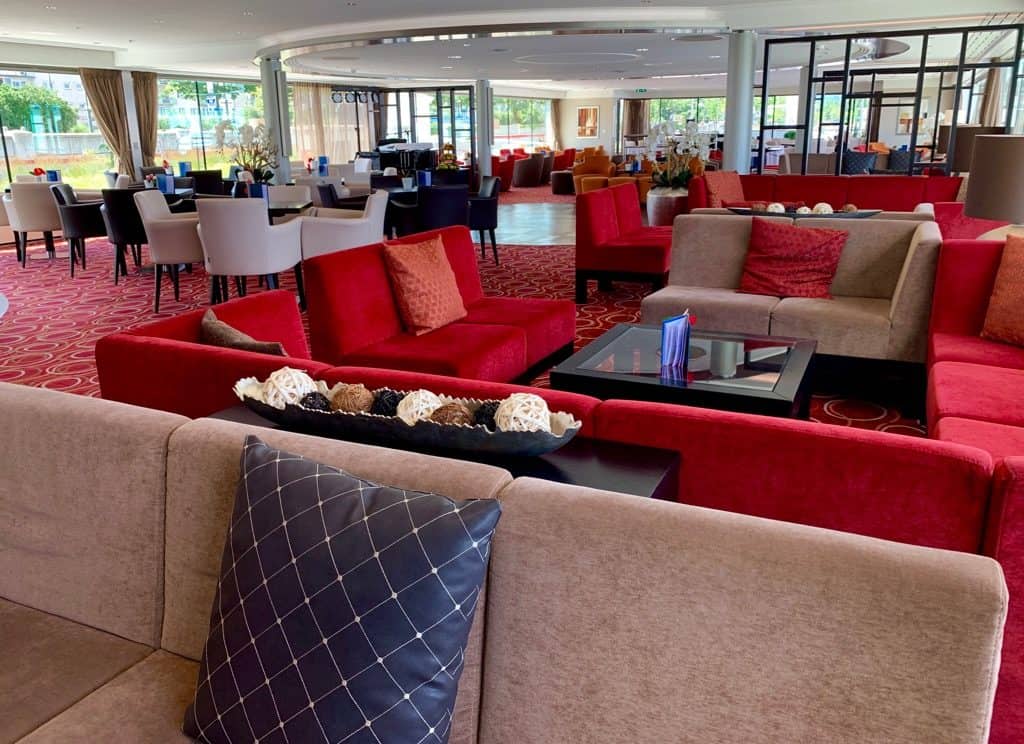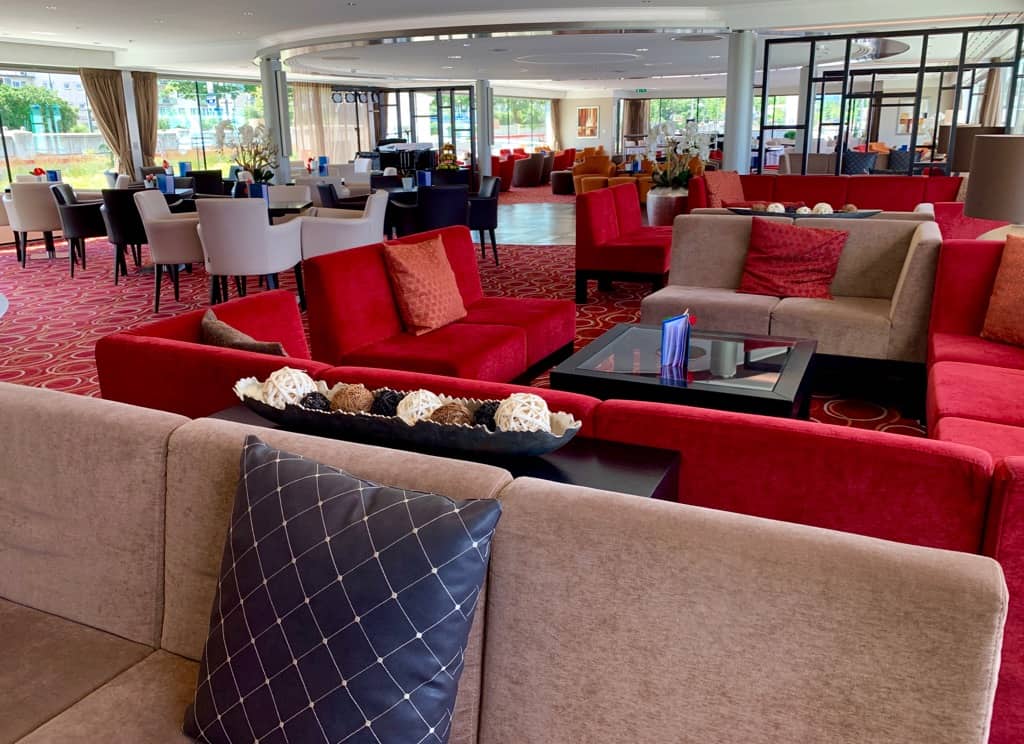 That is what Avalon Waterways starts with every time they build a ship – THE VIEW. They considered what the cruisers were looking for, as they read every comment a cruiser leaves for them! Avalon Waterways decided river cruisers on their ships like to focus not only on the destination but also on THE VIEW. So that is what they give you! Views! A view from the lounge, where there is no center or middle wall blocking your view from one side of the ship to the other. You will get the same in the dining room, no glaring wall in the middle of the ship to block your view.
And while cruising and resting in your room, you will experience the ultimate in a view with their floor to ceiling 11-foot wide windows that can be fully opened. This blurs the line between the outdoors and the inside of your suite! There is no wasted space for that balcony, as you can just pull back the curtain, open the window and you now feel like you are one with nature in the great outdoors! And when you are ready to go to bed or want air conditioning, just close the window and you are now snug in your suite!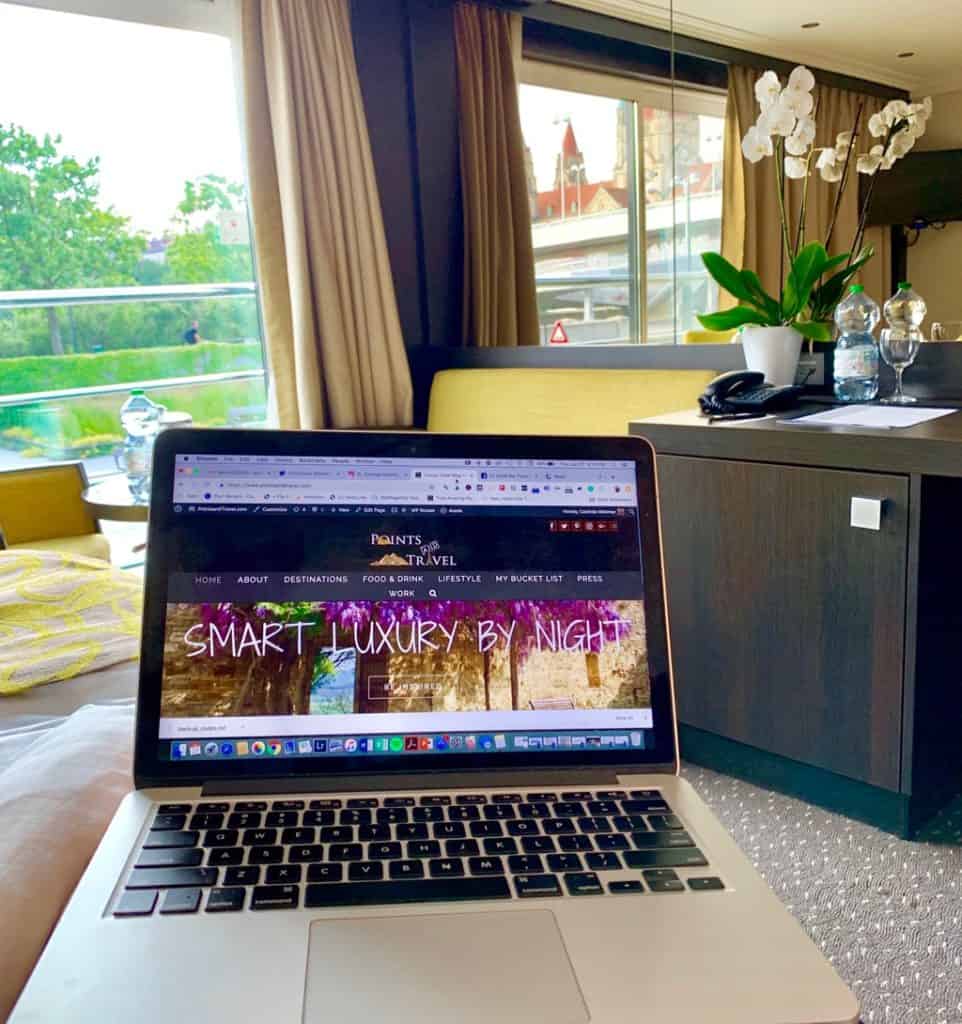 Your angled bed will be on the angled wall that faces the most gorgeous view available along the banks of the river. It is a simple, but brilliant idea that gives you more usable space in your suite. These suites are designed around the view and are called the "Panorama View Suites". And since all of their European ships have this view, it is a great selling point for this brand!
However, they do have three versions of rooms available on their ships: State Rooms, Panorama Suites, and Royal Suites. The State Room is basically the same room as the Panorama Suite, but without the floor to ceiling windows and instead has porthole style windows. So keep in mind that they cater to all price points.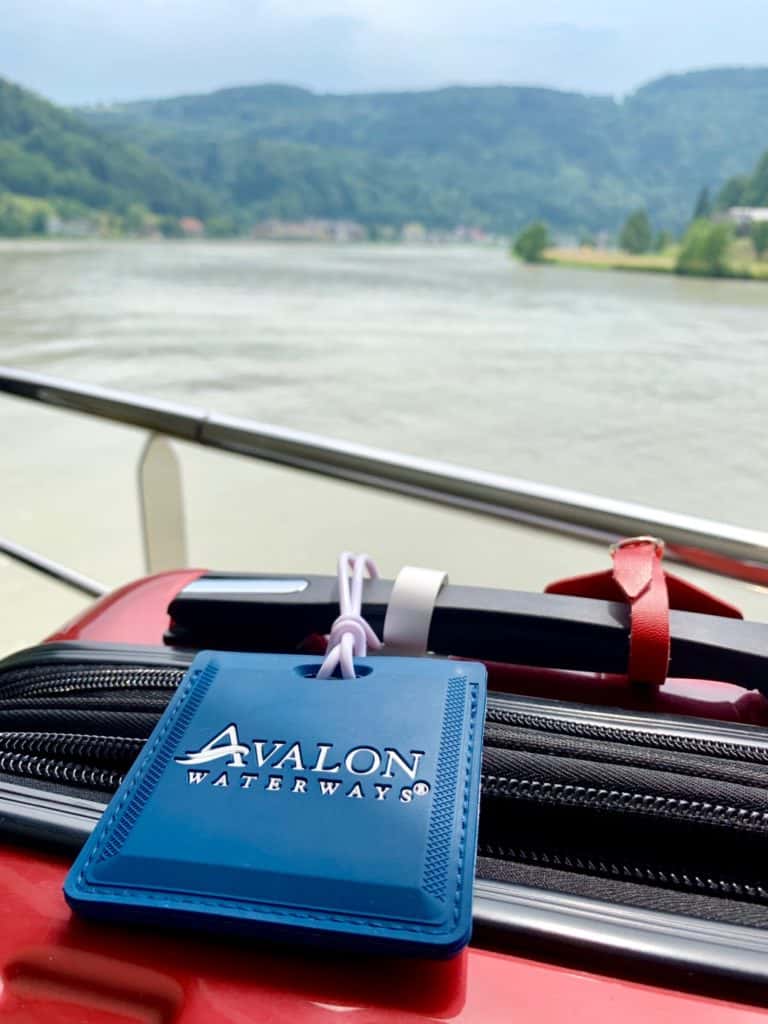 Other points to mention is that since they have this view, the bathroom is quite a bit larger than on standard river cruise ships. There is plenty of room around the toilet. There are also his and her styled colored towels, which makes a huge difference in determining whose towel is whose when sharing a suite! They have become very innovative about using the space in their suites! They also have a cool adjustable-height round table near the sized-down sofa and chair, so that you can work on from this table or even have your breakfast looking out your window. And they do have an actual desk in case you are like me and have to work while on the cruise.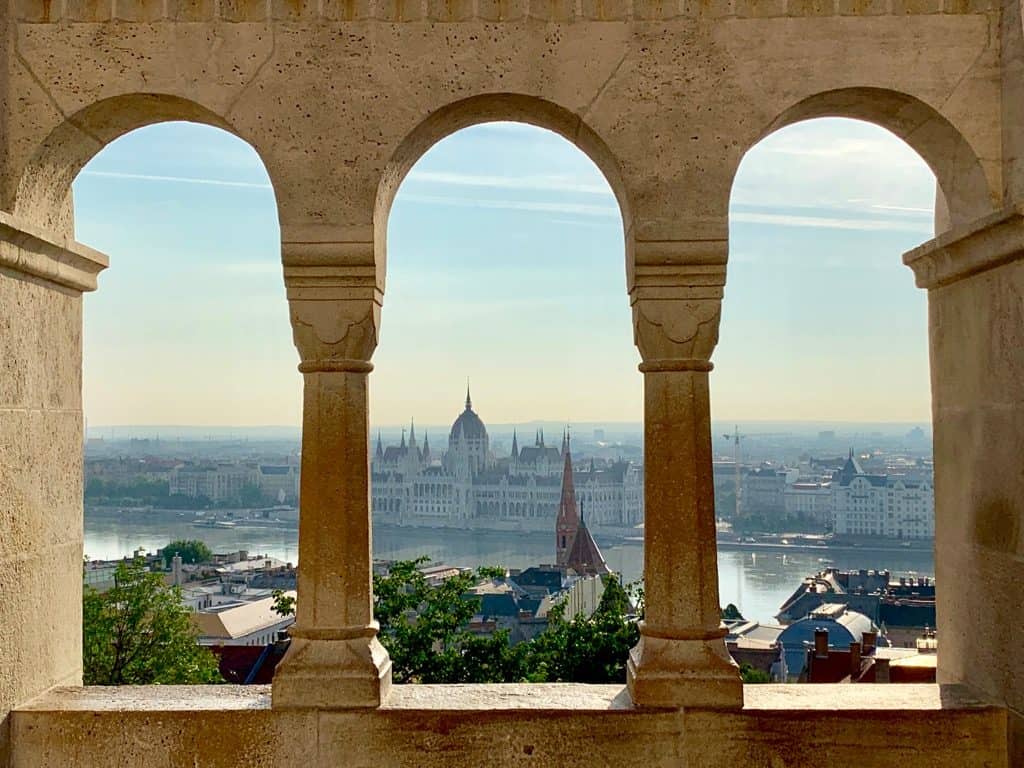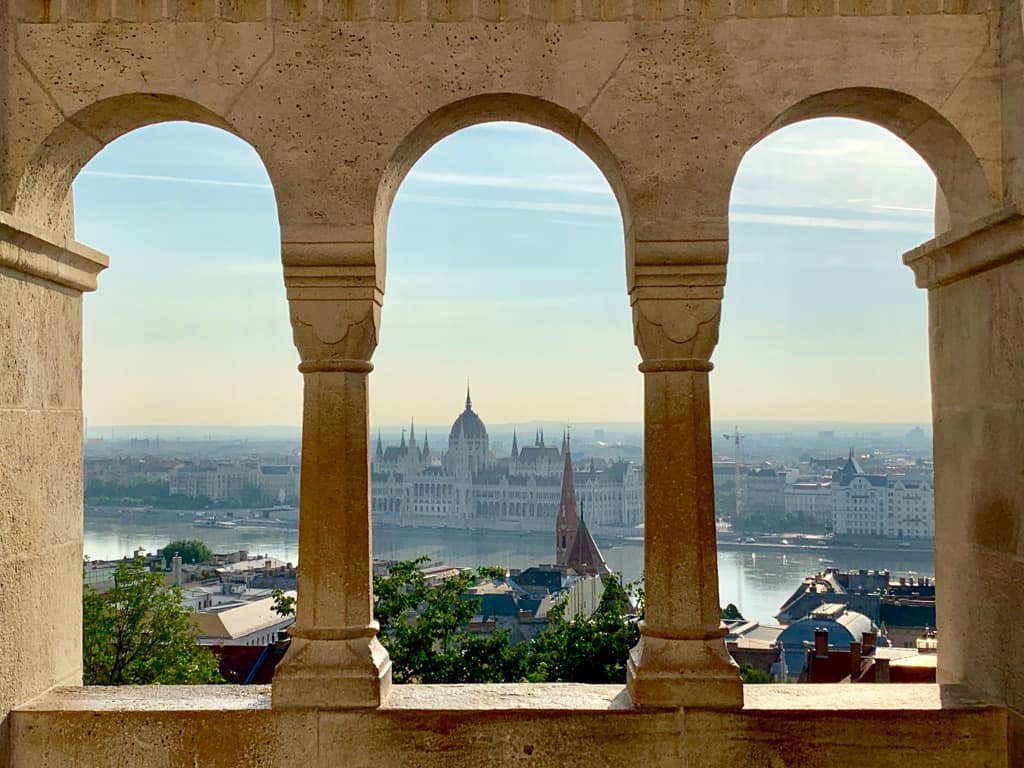 Visit Smaller Village You Most Likely Would Not Discover On Your Own
As mentioned before, my trip started in Budapest, Hungary and ended in Linz, Austria, all while traveling along the Danube River. They also offer river cruises along the Rhone and the Rhine Rivers. Avalon Waterways introduces you to the smaller villages that are less crowded, yet unique little gems along the river. These are most likely villages that you would have never discovered on your own.
Great Hotel Partners in Fantastic Locations
Avalon Waterways has a fabulous hotel that they work with, in Budapest, which is where you will stay on your first night after your arrival. It is like a central command station where they will service any of your needs and help you to acclimate to your new city. Its' location was spectacular and for me, and I was surprised at how perfect the location was. This enables you to be close to a very special area of Budapest with the ability to see if up close and personal early in the morning or late at night while most of the other tourists have left.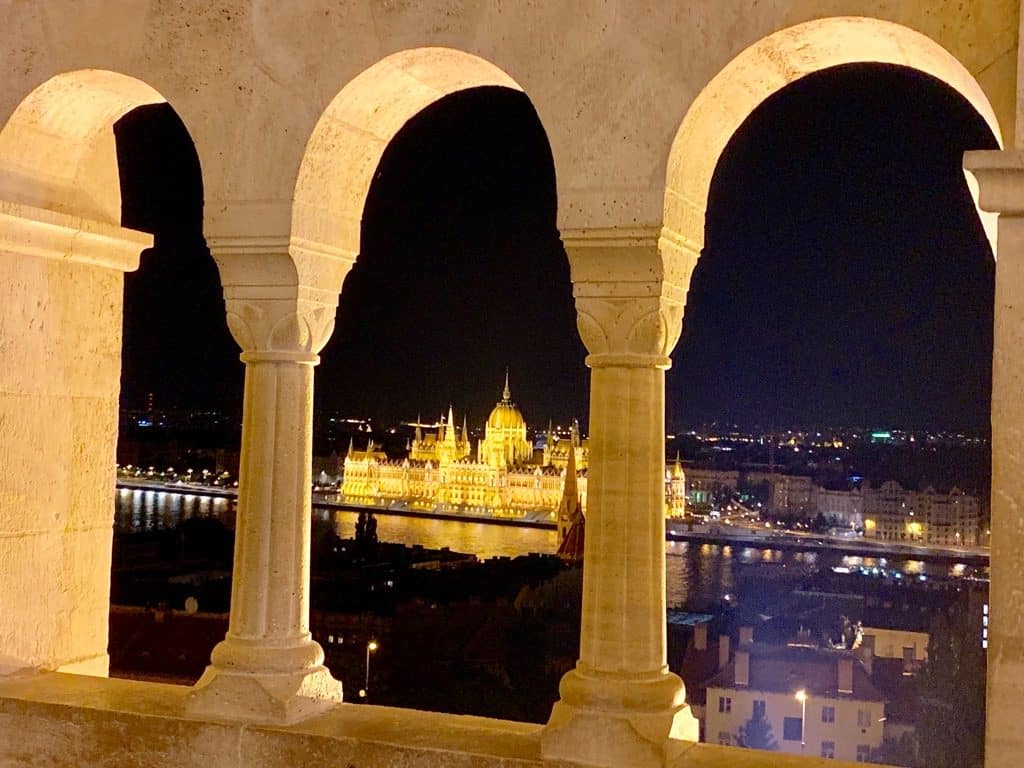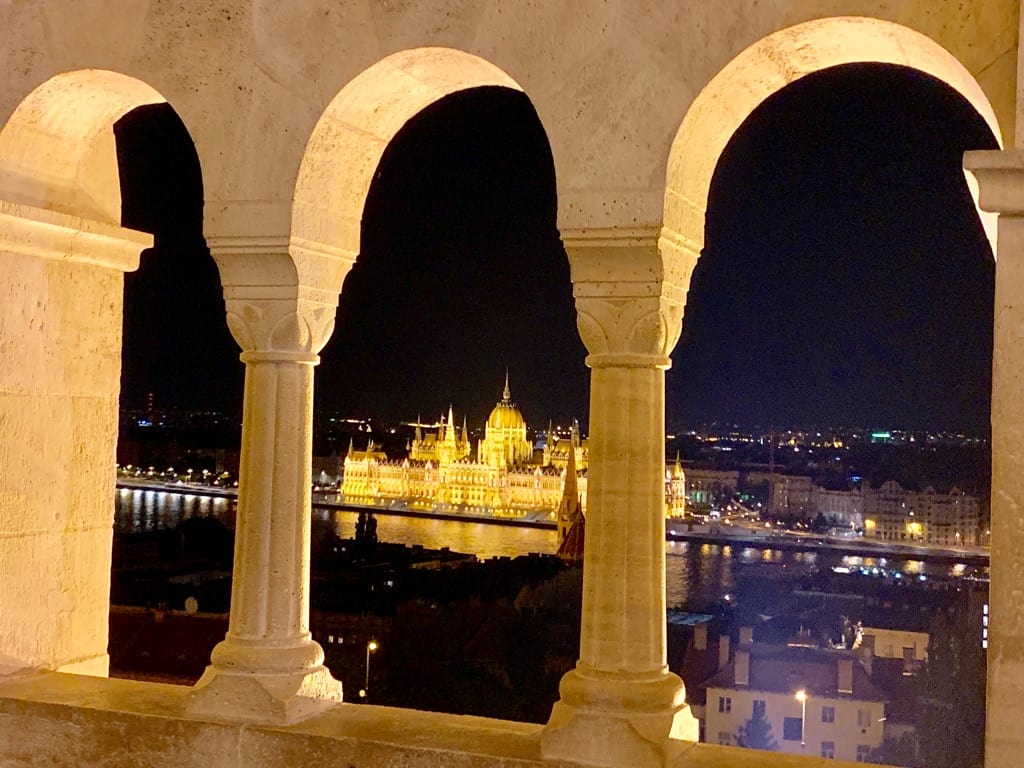 Convenient and Internet Free Maps with AvalonGO Mobile App
I previously downloaded their AvalonGO app on my smartphone that allows usage of maps of each place that I was going to visit along the route without the need for the internet. Once onboard, you sign in and it also gives you your daily schedule with the excursions that you signed up for before the trip. I thought the app was very useful for me to keep track of my daily itinerary.
Sustainable Tourism Efforts
Avalon Waterways is also working hard towards many sustainable tourism goals and I must commend them for their efforts. As we know, these things take time and they have put forth the effort to make these things happen in stages. They have committed to reducing paper usage (yay!) with electronic signage and eliminating all plastic usage by the end of 2020. They also buy local bakery products and fruit and work with the locals along the route.
Avalon's Club Lounge
Unlike other river cruise ships I have been on, Avalon chose the back of the ship to be an area where all the cruisers can come to the lounge. It is called the Club Lounge, where daily there are daily pastries, cookies, and drinks available. They have a 24-hour coffee bar, hot chocolate, water, tea, and a daily juices. They also have an ice machine for you to fill your ice bucket with. Here there are also places to sit, read, play games – of which many are on the ship for groups to play. There is always someone in the lounge, as it seems to be a gathering place for the passengers!
Get in GEAR – Avalon's Gear, plus an Adventure Host
Avalon Waterways also offers their own gear for your excursions. Let's say you want to go out to see the city for the day instead of taking their planned excursions – you can do that! You can check out bicycles that they have on board for your use. They also have things like fit bits for your personal use. And don't even think that you can get out of doing exercise on your vacation! If you want, you can join the daily exercise or yoga classes that they offer. Each ship is different, but they will provide you with an Adventure Host, who specializes in some sort of exercise – so be it Zumba, yoga, or stretches – they have classes if you want to work out on the ship!
Avalon Waterways Food!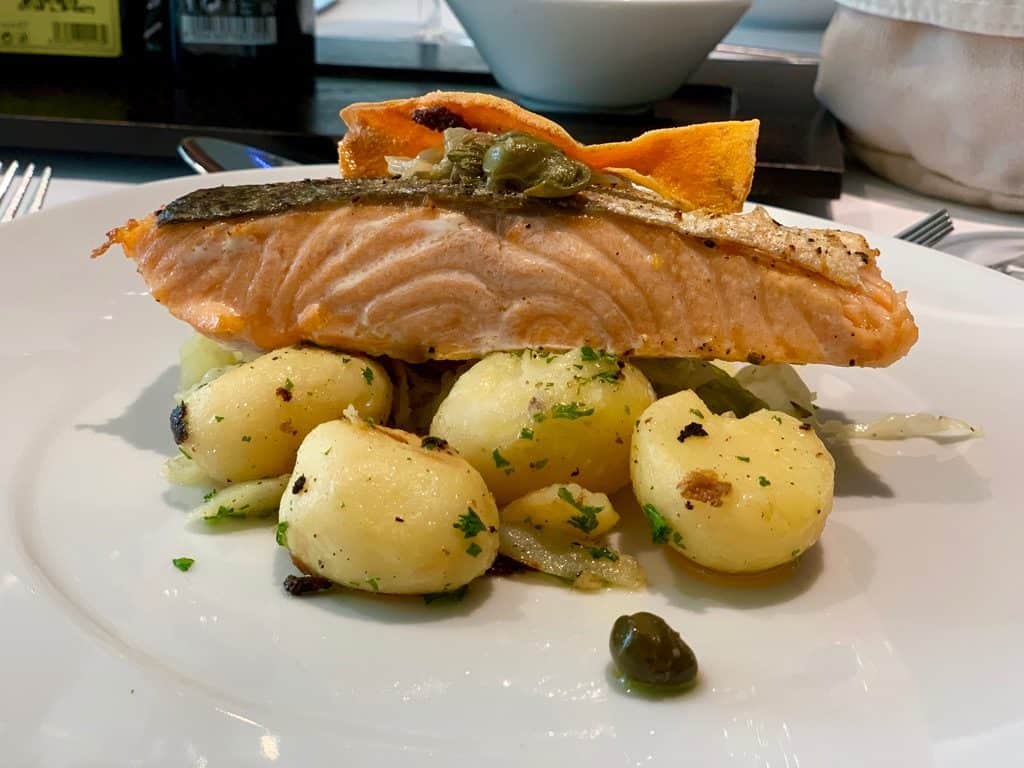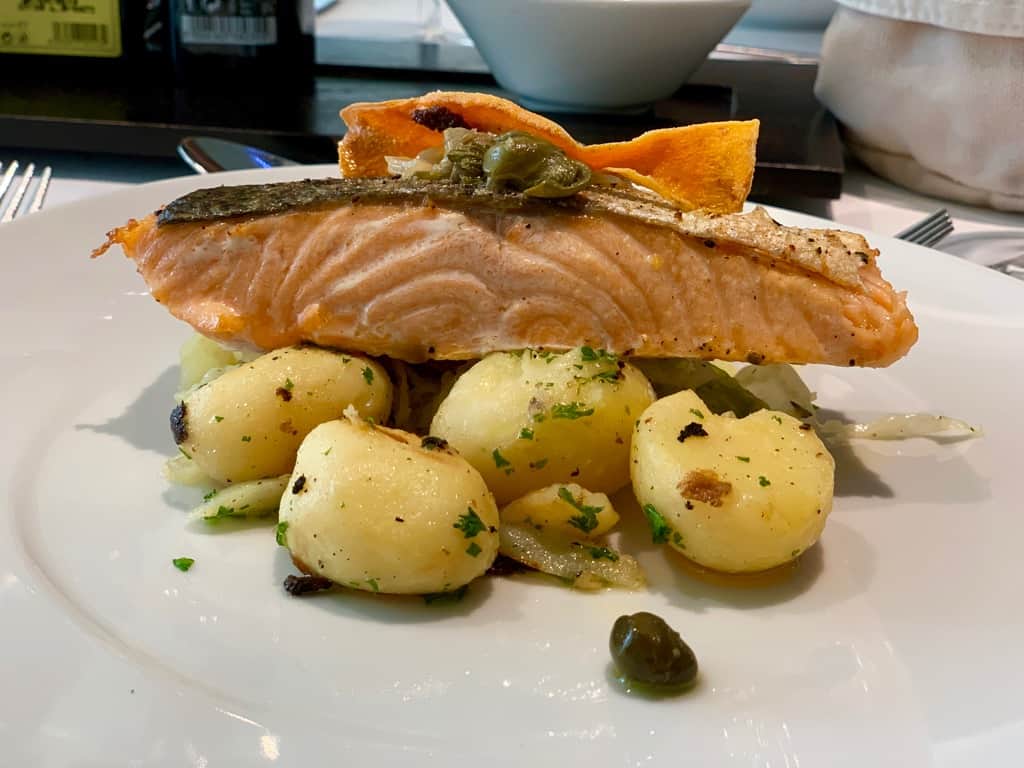 Don't even get me started with the amazing meals you will have each night! Honestly, some of the best food was available night after night with a major emphasis on the food of the cities you would be visiting. The soups were outstanding and each night I couldn't wait to try the next one!
They also provide an open window from 7 to 8:30 pm to have dinner so that dinner time is not fixed, but flexible. Remember choices!
A full buffet, plus salads are available every day at lunch, as well as you can order menu items. They use fresh ingredients as they go out to buy fresh breads and fruit from the local farmers along the river.
Amazing Staff – The Heart of the Operation
I would be remiss if I didn't mention how amazing the staff is. Especially the Cruise Director, whom I had many interactions with. However, she was just one of the many hard-working, smiling, and happy workers I encountered during this trip.
Many Additional Amenities
The Avalon Impression ship that I was on is one of the larger river cruise ships with amenities such as a sky deck with lounge chairs and covered patio seating, a life-sized chess game on the sky deck, a Jacuzzi, and even a fitness center. In addition, they also supply an excellent brand of toiletries for your use. I am sure there are many things they do that I haven't discovered yet!
My first day on the ship allowed for me to settle in and enjoy my panorama stateroom before starting the tours the following day. I had time to unpack, get organized with my things, and enjoy some personal time for a nap and to answer emails (free internet)! This allowed me to ease into my trip since I was coming from far away the night before.
---
The second day though was when the real fun begins!
---
Avalon Waterways Introduces "Active" and "Discovery" Tours
Before we head into the juicy details of the many excursions that Avalon Waterways ships have to offer, let's take a look at each of the types of cruise excursions. As now guests on Avalon Waterways' European River Cruises have even more choices to choose from.
Classic Shore Excursions
The first is the "Classic" shore excursion. This type of experience includes a local guide who is an expert in the city you are visiting. You will be able to indulge in local history, historical sites, and see famous architectural sites throughout the city.
Discovery Tour Excursions
The second and recently launched excursion is their "Discovery" tours. This type of excursion allows guests to soak up all that the city has to offer that might be trending, new, or not visited as much as its other major sites. This allows for a deeper immersion into the destination. This can be in the form of a cooking class, wine tastings, painting workshops, or another type of activity that allows for cultural immersion. For instance, on this trip, they offered early access to the Hapsburg Collection in Vienna, Austria.
Active Tour Excursions
Last, but not least, is the other recently launched excursion type called, "Active". This is perfect for those who like outdoor adventures such as hiking, kayaking, running, and biking. They even offered an early morning walk into the city for coffee and a pastry. Seeing the city when it is mostly asleep!
Now, without further adieu…let's take a look at a few of the shore excursions available from different cities on this Danube River cruise trip. Please note that there are other options available from Avalon Waterways for other destinations and that there were other optional tours available as well* some at additional costs. I have not outlined all the choices available! So you can see there will be plenty for you to do on your Avalon Waterways European water cruise!
Budapest, Hungary Excursions
Active Tour Excursion Budapest –Budapest on Two Wheels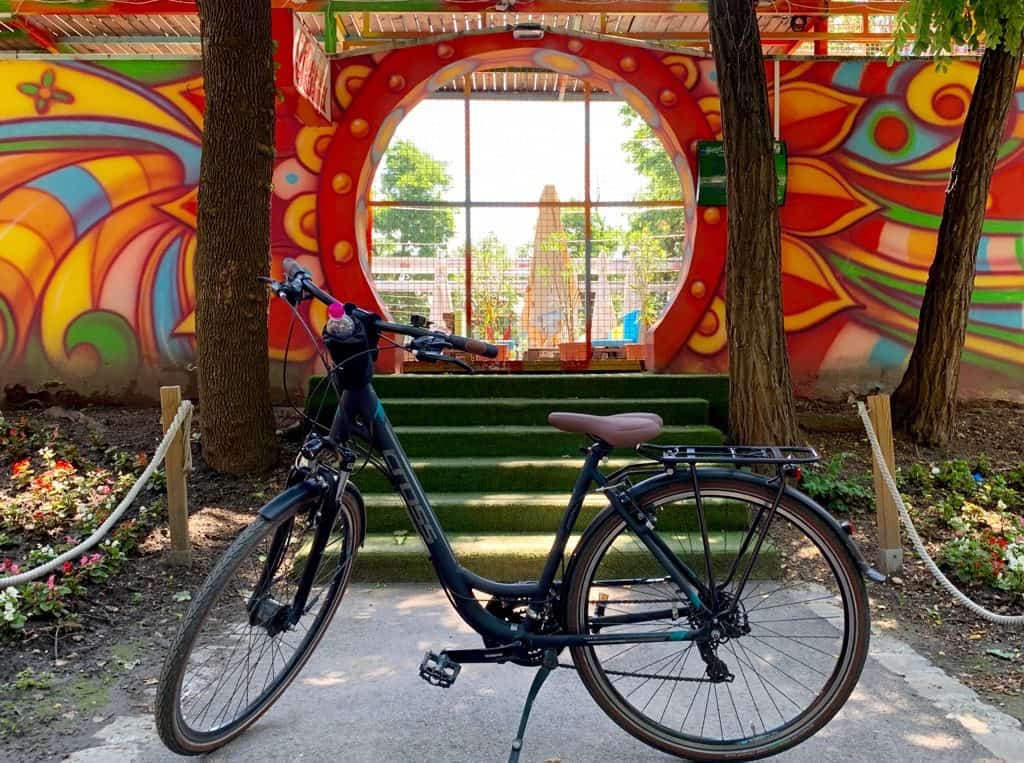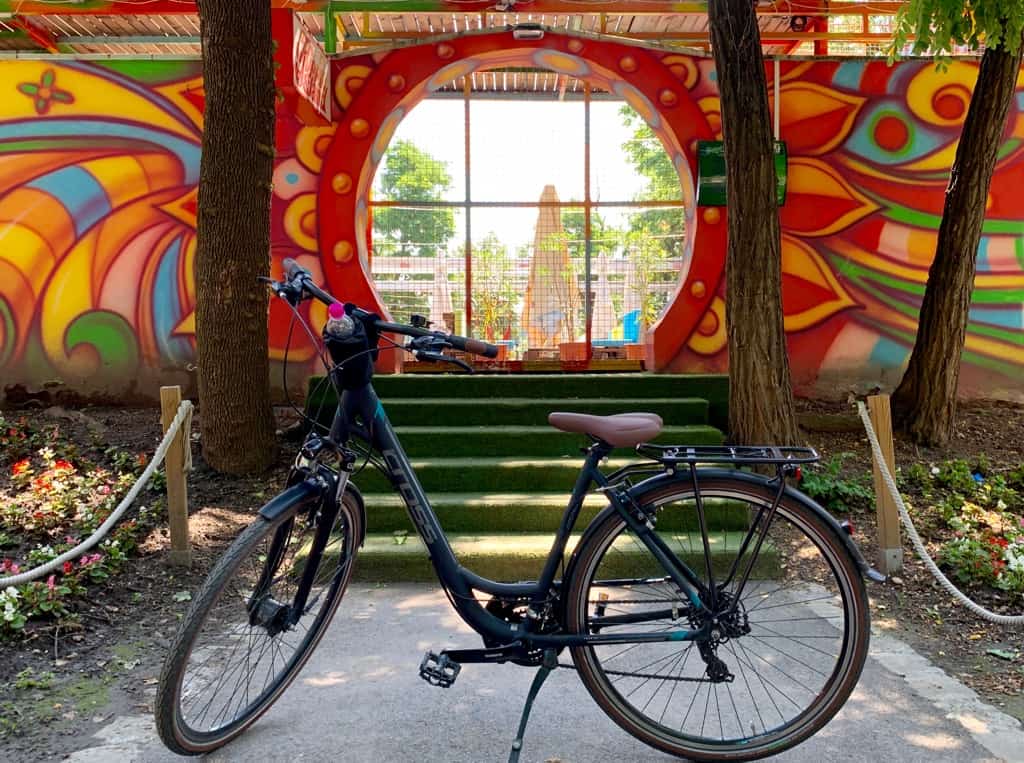 One of the "Active" excursion in Budapest calls for a bike trip called Budapest on Two Wheels. I was able to ride my bicycle throughout the city and saw many cultural aspects of the city while visiting cathedrals and monuments in Budapest. I even got a good look at St. Steven's Basilica and rode around Margaret Island, which is a family-style park island where you can ride bikes or other modes of fun transportation, play in the waterworks area, or even hang out at cool restaurants, pubs, and bars.
Discovery Shore Excursions Budapest – Retro Tour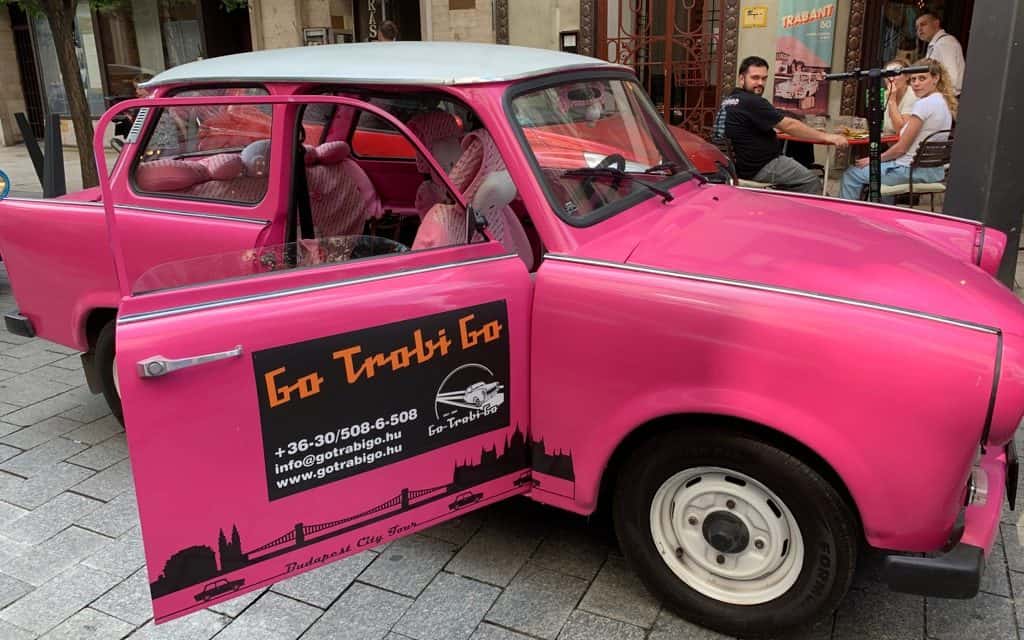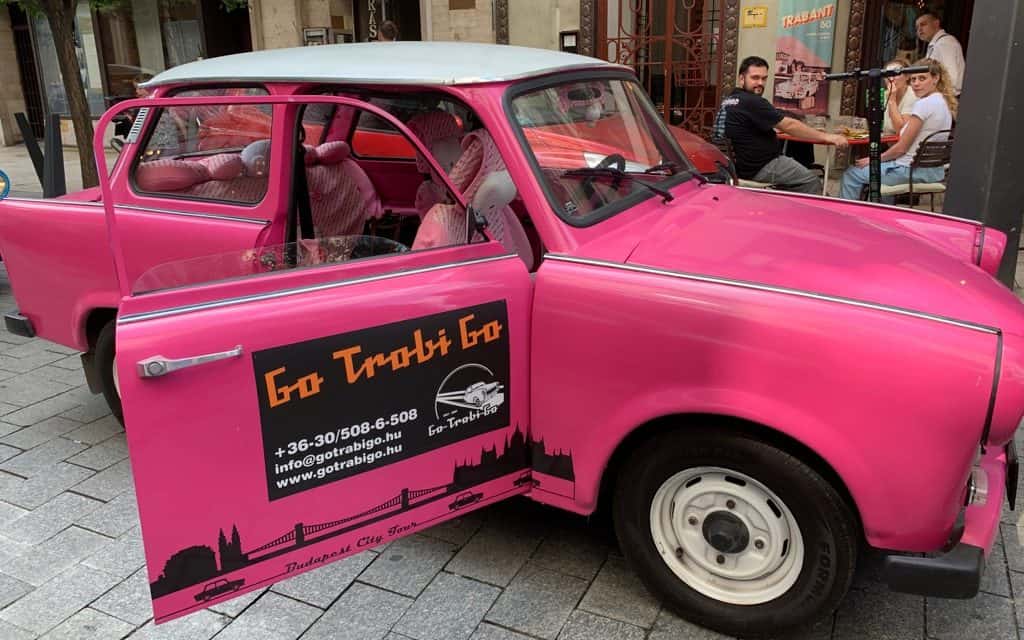 My afternoon tour of "Discovery" came in the form of a Retro Tour in Budapest. It may have been my one of my favorite tours while on the ship. This "Discovery" activity allows you to go back in time to visit a simple Hungarian time, the time of communism. You will get picked up in a slew of East German cars in every color known as the Trabant. This style of car was all the rage in the "Goulash Communism Era". I enjoyed riding in these crazy old cars and loved seeing all the people in the streets taking photos of us while we zoomed pass them in a caravan-style row.
After riding around in the Trabants, we got out in front of the Trabant Retro Lounge & Bar for a relaxing stop. It is a quirky downtown bar that is decorated with old bottles, retro-style tables, old-style luggage circling around the ceiling on a dry-cleaning rack, and even a Trabant lodged in the corner ceiling. Here the guide reminisced about his childhood days growing up in Budapest. He mentioned how this place reminded him of those days while we sat and ordered wine spritzers or sour-cherry sodas in this downtown retro bar. After 45 minutes or so, we were off again, as the Trabants were there to pick us up and we were ready to go to the next pit stop.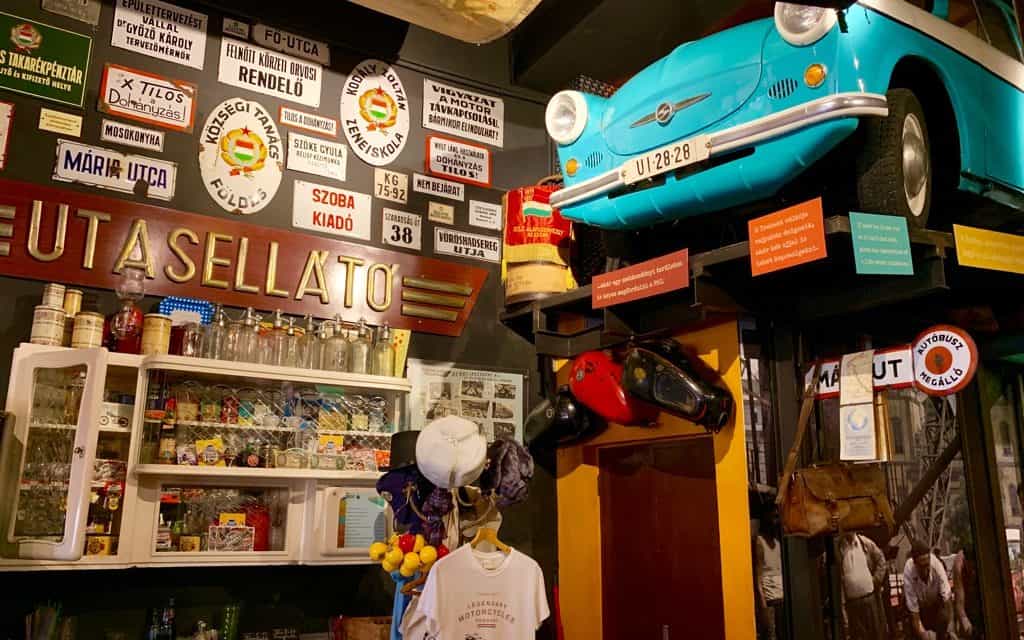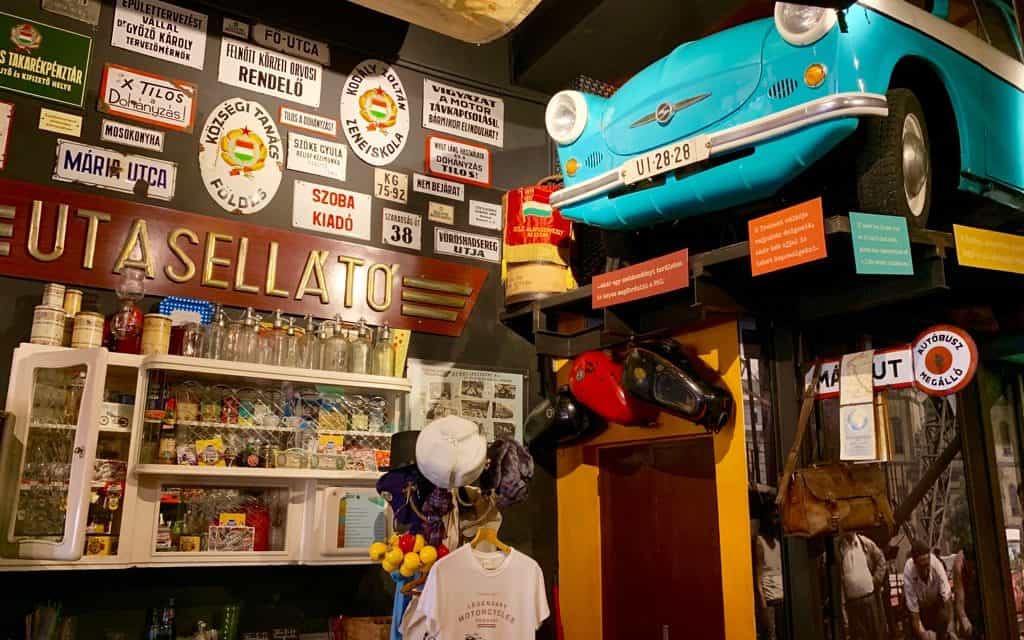 We eventually left the Trabants and walked through urban architecture in the Jewish Getto neighborhood for a trip to a ruin bar and a retro pub called Szimpla Kert. Basically, a ruin bar is a 'pop-up' style bar that is a blast from the past. Anything that is old and can be thrown away is the decor of this bar filled with graffiti! They even have a Trabant car here with the top cut off to sit in as a booth to enjoy your craft beer with friends! See more about what a ruin bar is in my guide to a Budapest pub crawl.
Lastly, we rode the Trabants out to Memento Park. It is considered an open-air museum that houses statues, sculptures, and monuments from the bygone era of the Russian rulers. All though it is a good 15 minutes outside of the main area of Budapest, I felt it was fitting that we ended our "blast of the past" here, where communism monuments go to die. The place was empty and we had the outdoor museum all to ourselves!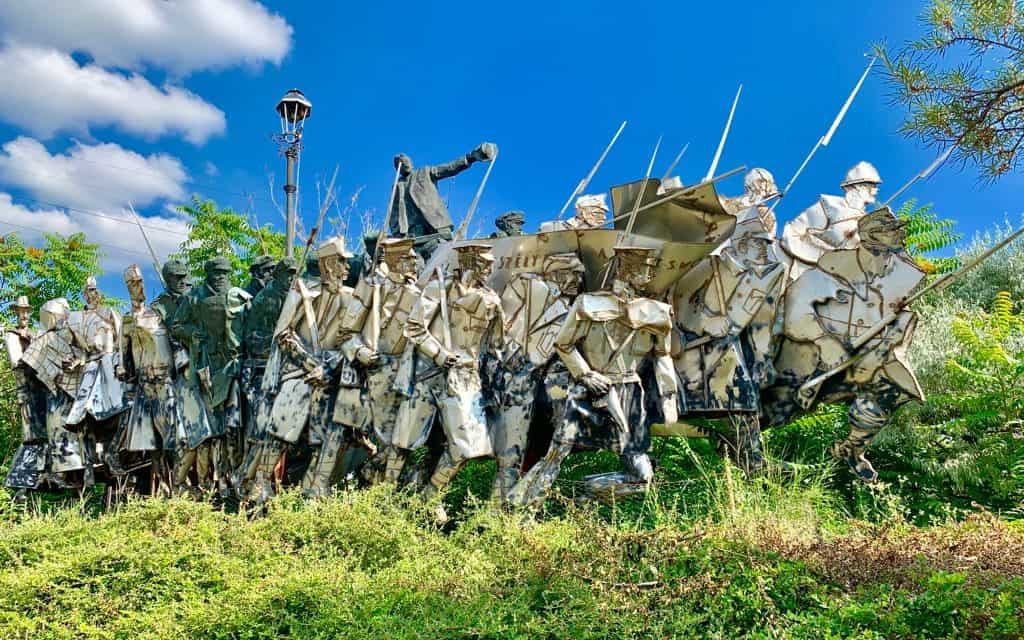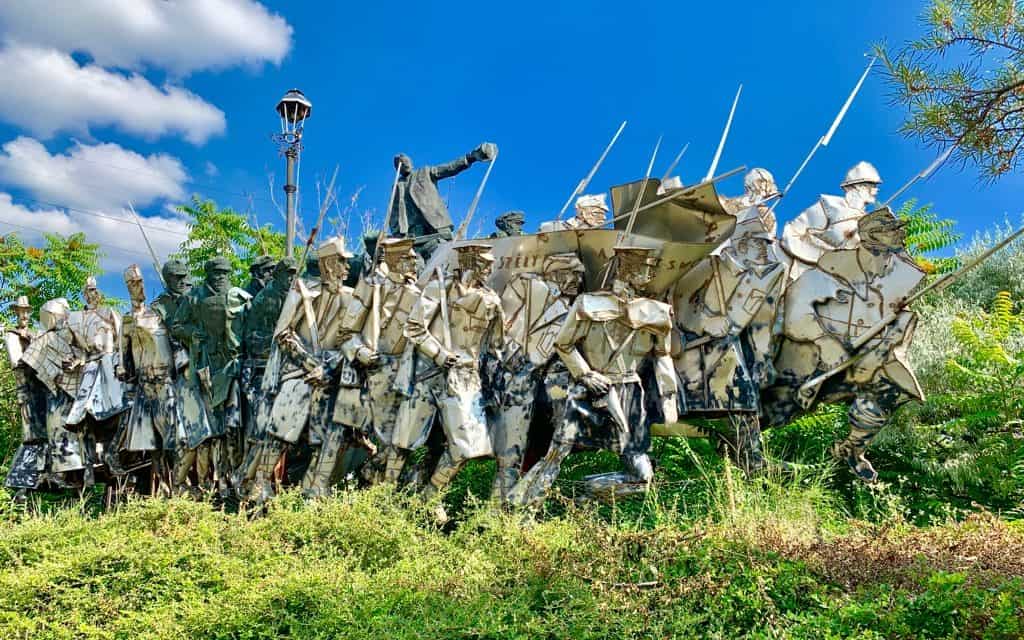 Visegrad, Austria Excursions
Discovery Tour Excursions in Visegrad – Medieval Knights Tournament
Along the Danube Bend is the stunningly beautiful city of Visegrad. Although the current population is less than 2,000 people, you will enjoy this charming city. A "Discovery" shore excursion of Visegrad included a trip to the Medieval Knights Tournament at the Lower Castle. If you thought that a "time-traveling" retro excursion of Budapest was awesome, then you will be ecstatic with this tournament.
During the tournament, the actors come out to greet guests in full-on costumes. There are trumpeters and drummers. You are sure to get a real welcome from the Visegrad community. As the tournament continues, you will witness men in shining armor who will exhibit their awesome archery skills and use of weapons.
Vienna, Austria Excursions
If I am being completely honest, it is really difficult to choose only one type of excursion for the city of Vienna, Austria. There are so many places and things to do in this city that you might want to do as many excursions as possible here to enjoy all Vienna has to offer. I chose three tours for this musical city!
Active Tour Excursion in Vienna – Vienna on Two Wheels
One of the most exciting "Active" excursions for me was Vienna on Two Wheels. Once you choose your favorite bike, you will be able to head out to breeze past Heroes' Square, the Stats Opera House, St. Michael's Square, St. Stephen's Cathedral, and even the Johann Strauss and Mozart Monuments. Our local tour guide took us on a three-hour odyssey of this stunning city. He stopped many places along the way to rest and for us to take photographs. So don't think that you can't get "that" shot, as I certainly was able to.
Discovery Tour Excursion of Vienna – City of Music and Musicians Tour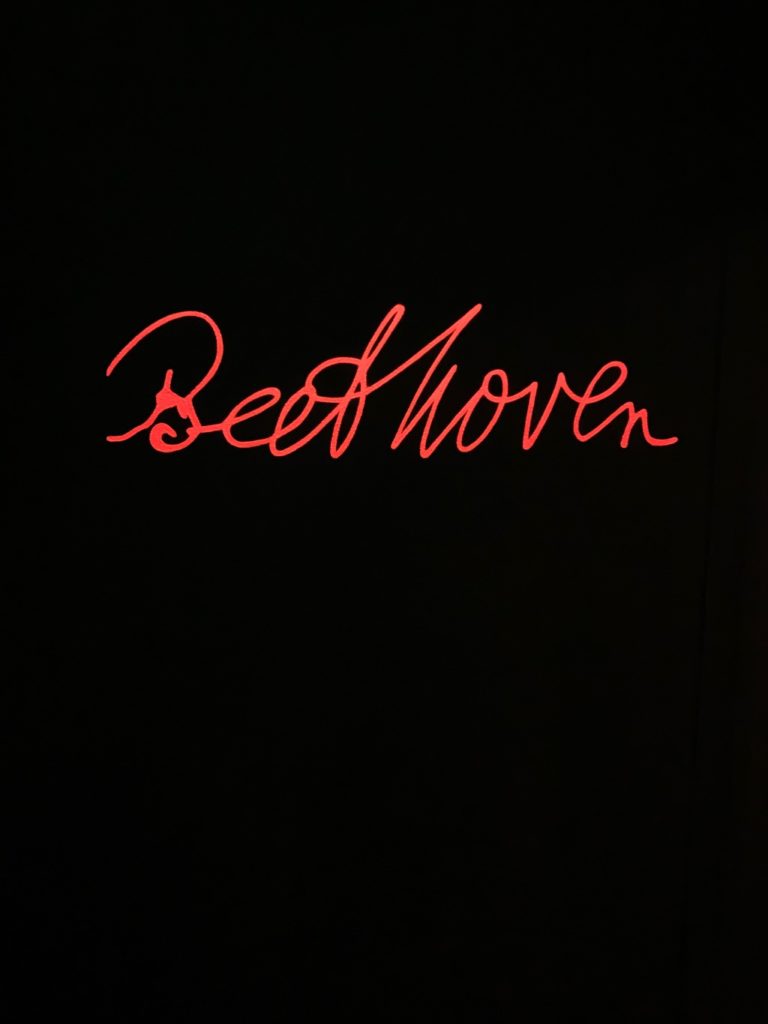 Another fantastic tour of this city is the City of Music and Musicians Tour. If you have ever wondered where the famous composers and musicians lived and worked, then this tour is perfect for you. You will be shown where these musical geniuses started their careers, which includes a trip to the House of Music (Haus der Musik). Each famous Viennese composer/musician has a room dedicated to them, from Hayden to Beethoven to Mozart to Schubert to Strauss to Mahler. They were all here with the history of their lives in full view! They even have musical stairs for you to play on!
Discovery Tour Excursion of Vienna – Classical Musical Concert
My nighttime "Discovery" excursion was a classical music concert. As you know, Vienna is the home of many famous musicians and is known as the city of music, so of course, I had to attend. Vienna is the perfect place to attend a concert filled with music from Beethoven, Mozart, Strauss, and many other amazing talents. The concert was performed by the talented Vienna Supreme Concerts and performed in the Palais Niederösterreich in Parliament Hall. This concert hall was stunning and took my breath away when I saw it! The sounds of the singers and classical music were outstanding and I enjoyed every minute of it!
Krems, Austria Excursions
Active Tour Excursion – Upper Austria on Two Wheels
My "Active" excursion was called Upper Austria on Two Wheels. Similar to the other bike tours on this trip, you will get a full workout as you ride along Krems Road. Then out into the countryside past quaint villages and wineries to visit the beautiful Wachau Valley. The unique factor of this bike tour is that you will be able to visit the agricultural side of Austria. There were frequent stops on this trip, so don't worry about wearing yourself out! Half of this tour is out in the countryside, so it made for a wonderful and breezy ride.
Discovery Tour Excursion in Krems – Meet the Count at Clam Castle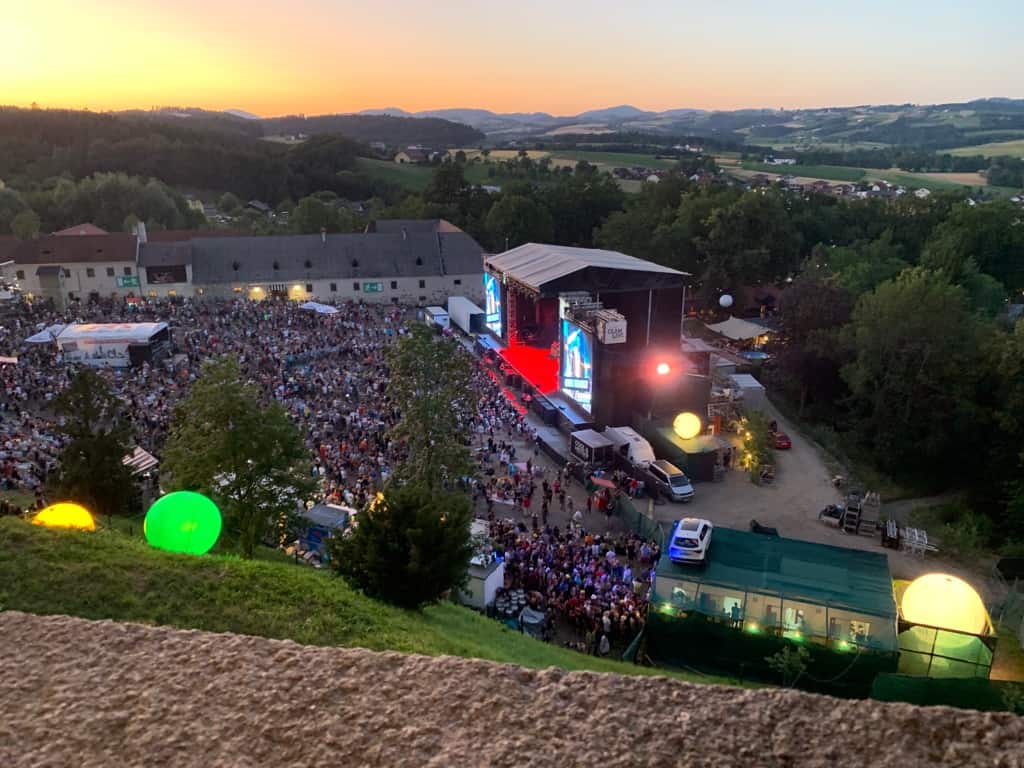 This was another of my favorite tours of the entire cruise. It is still hard to choose which one was my very favorite as they were all so good. But this one was extra special! We took a trip to Clam Castle where we were to meet the Count at his castle, which we did. He had a private party for us there, offering us wine. BUT, who knew that Clam LIVE was going on in his entire front lawn known as Clam LIVE?
Clam Live was a LIVE concert of Foreigner and ZZ Top performing their hits from my era, the 1980s!! Bryan Adams had been there the week before and Rod Stewart and Sting were coming in a week. We had a bird's eye view of the entire concert! It was fabulous! I couldn't help but rock out to my favorite 80's songs!
Grein, Austria Excursion
Classic Tour Excursion in Grein – Classic Walking Guided Tour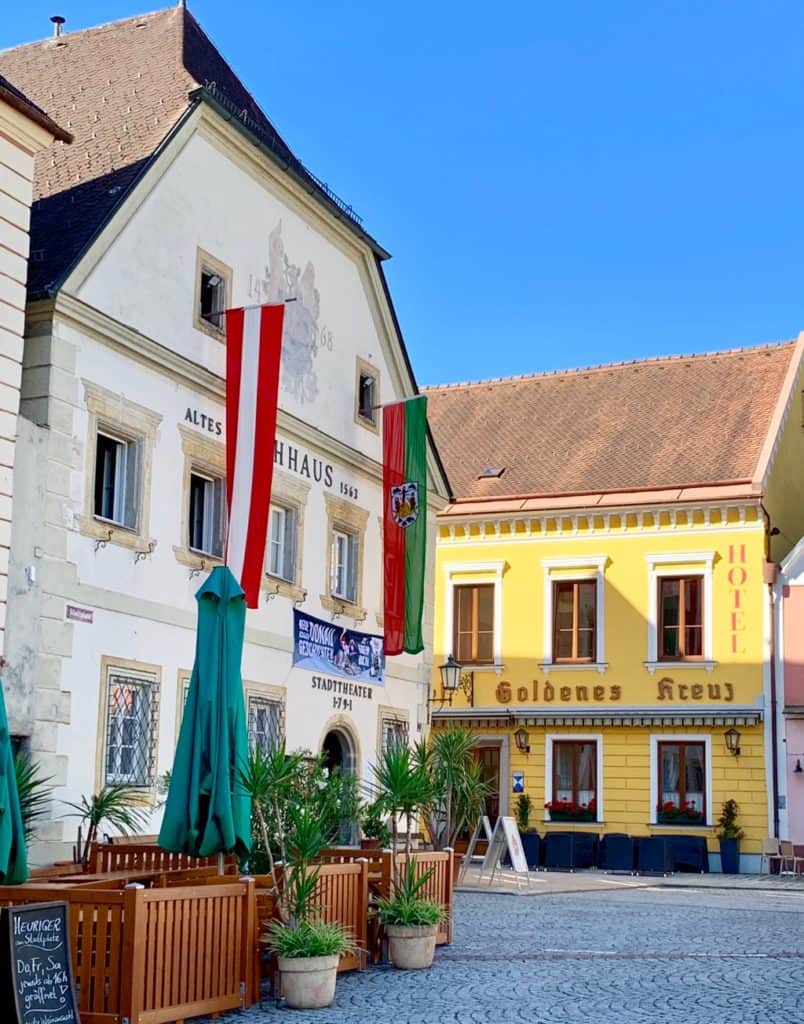 A classic excursion was offered in the city of Grein. But do not fret because the excursion includes a glorious tour through the Pearl of Strudengau. This is the classic walking guided tour that you have secretly been hoping for. It includes a walk through the charming town square, the country's oldest theater, and the Town Hall. We even saw a marching band walking in the town's square playing for a special occasion going on at the church. This small village is a gem.
Mauthausen, Austria Excursion
Classic Tour Excursion in Mauthausen – St Florian Monastery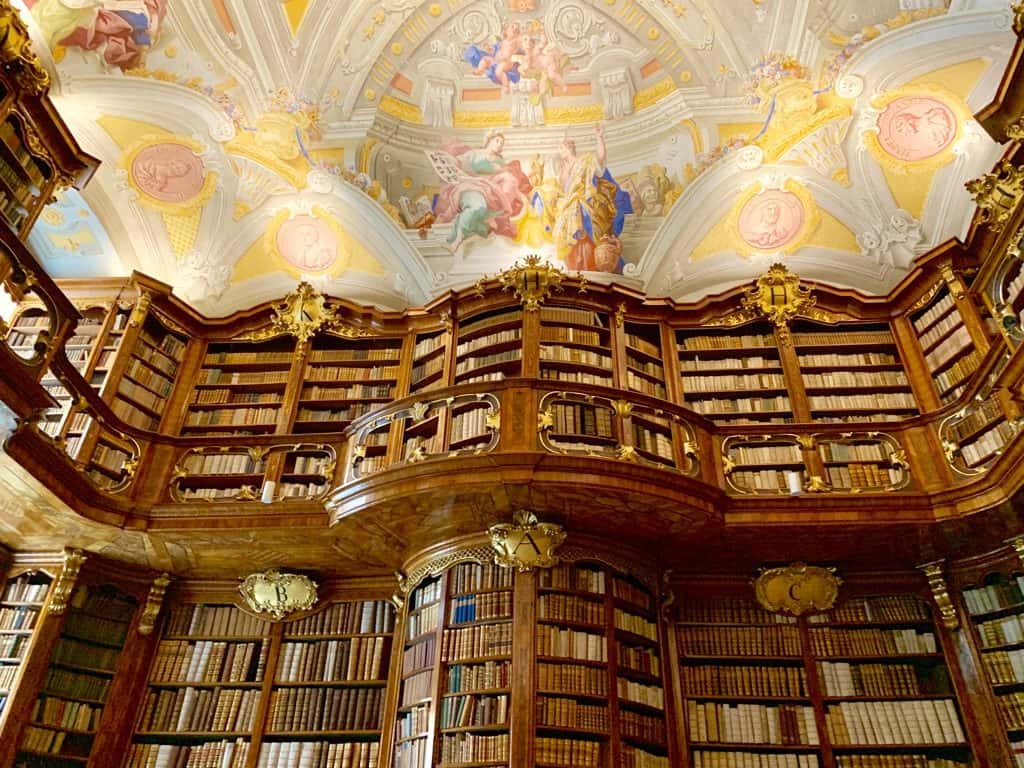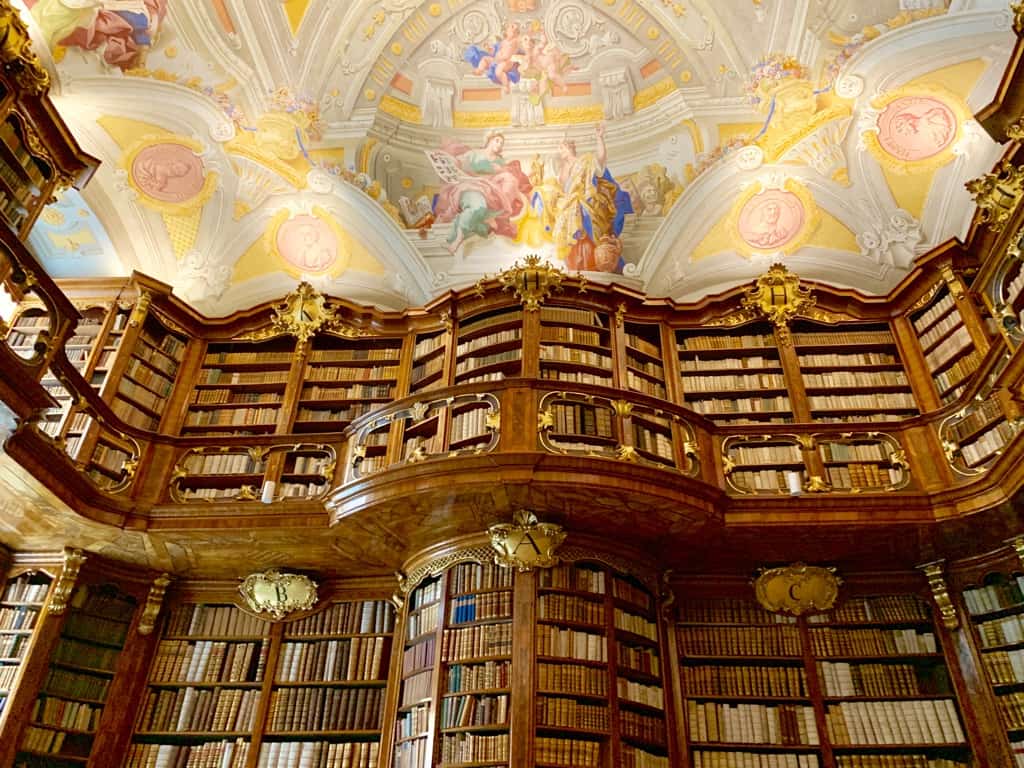 One of the classic tours you shouldn't miss out on near Mauthausen is a visit to the St. Florian Monastery. This monastery is the oldest operating monastery in the entire world! The gravesite of St. Florian is buried beneath the monastery; which was buried here in the 4th century! Forget about gazing at the frescos of Rome's Sistine Chapel, this monastery has stunning frescos, beautiful marble halls, and a 150,000-book library that is to die for. Why go to Melk Abbey where all the crowds are? Avalon Waterways knows where to take you! There were only a few other guests there!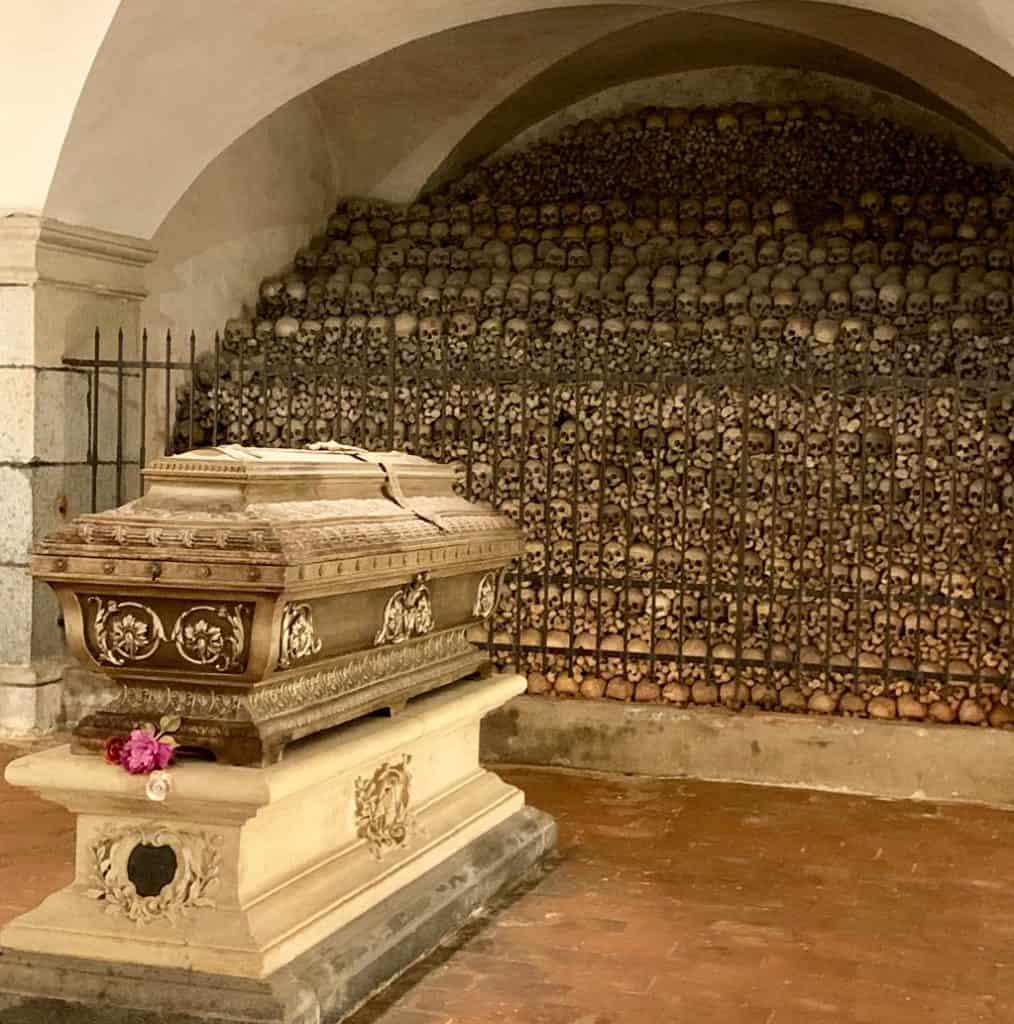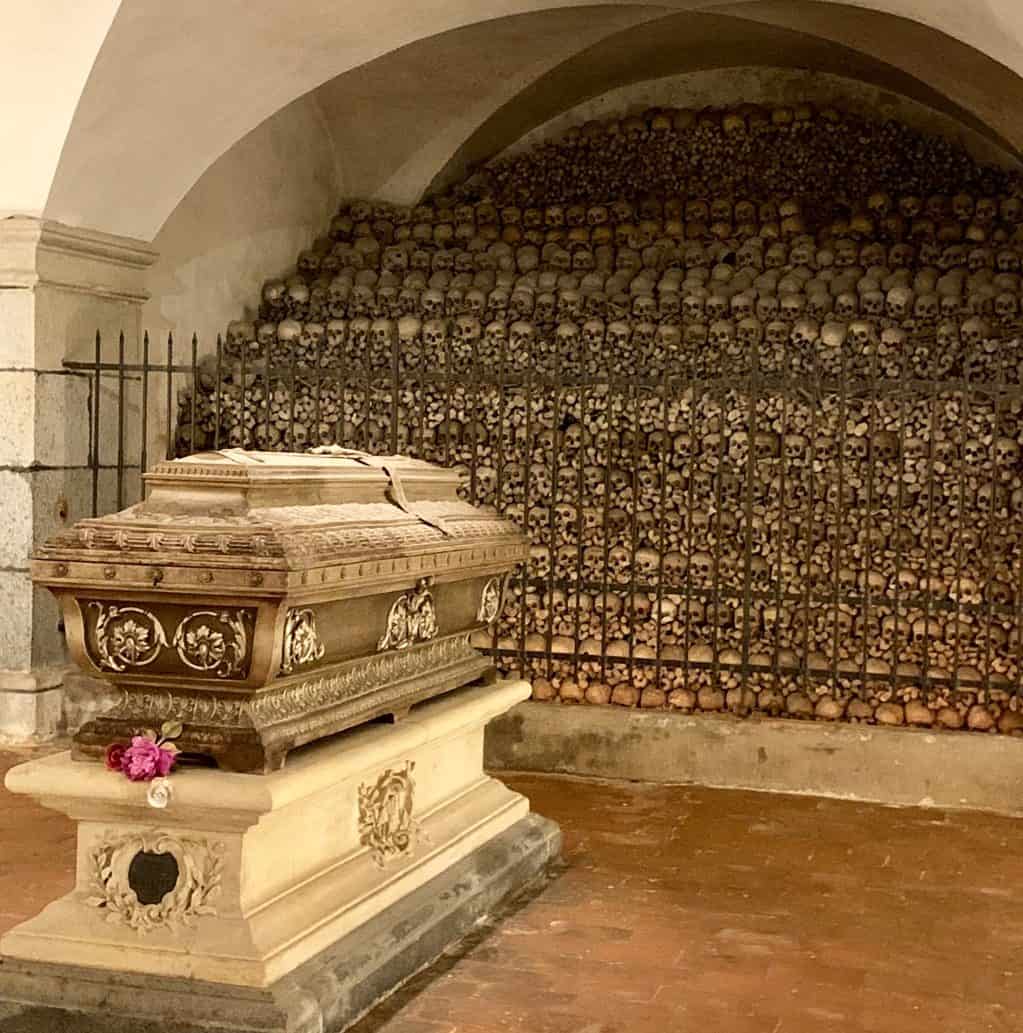 Linz, Austria Excursion
Discovery Tour Excursion in Linz – People and Pubs of Linz Tour
A "Discover" excursion of this river cruise was an eventful evening known as the People and Pubs of Linz Tour. This tour was designed to intertwine the lives of the locals with those of the tourists. You can go on a pub tour of the city where there are plenty of pubs, bars, and beer gardens to quench your thirst. You will be able to drink and dance your way through Linz, so join in!
Engelhartszell Excursions
Active Tour Excursion in Engelhartszell – Scenic Hiking Tour
The last leg of this Budapest to Linz river cruise is through the "Active" excursions of Engelhartszell-Schlogen Oxbow. Guests can go on a scenic hike, complete with a guided tour along the Danube River. Aside from this amazing hike, you will be in for a surprise at the guided tour that goes by the "House by the stream". You are sure to make many friends and memories during this adventure with the other guests.
Classic Tour Excursion Engelhartszell – Engelszell Abbey with Trappist Monks and Beer Tasting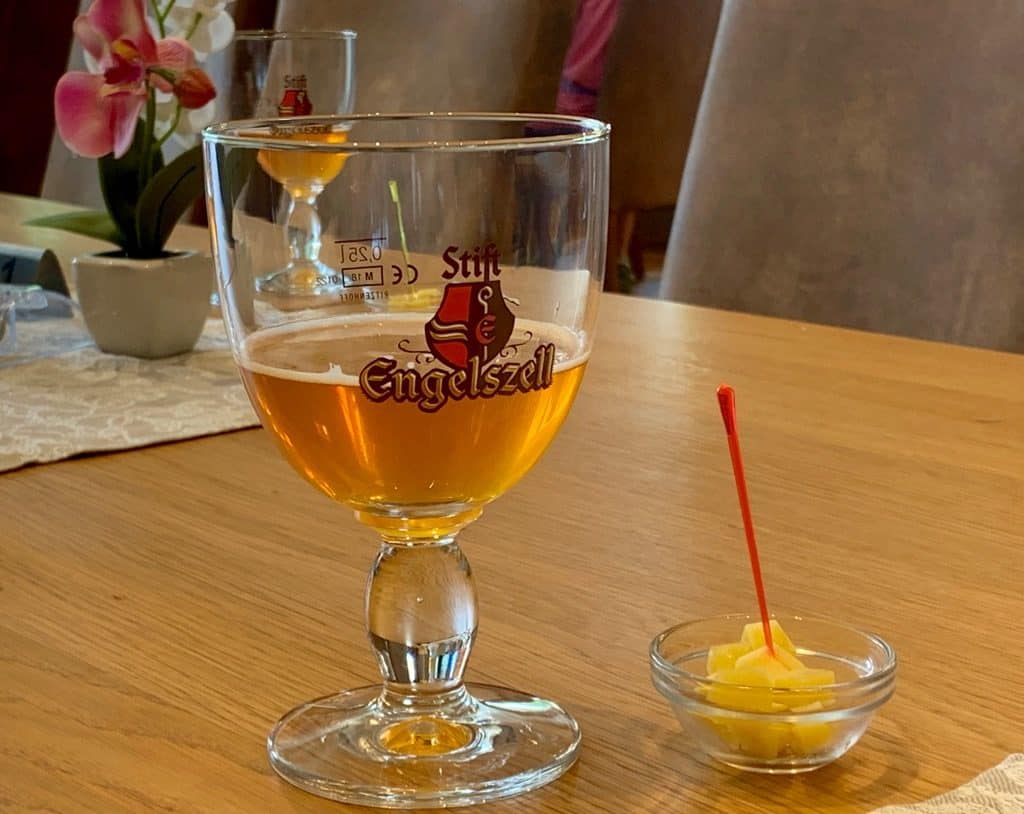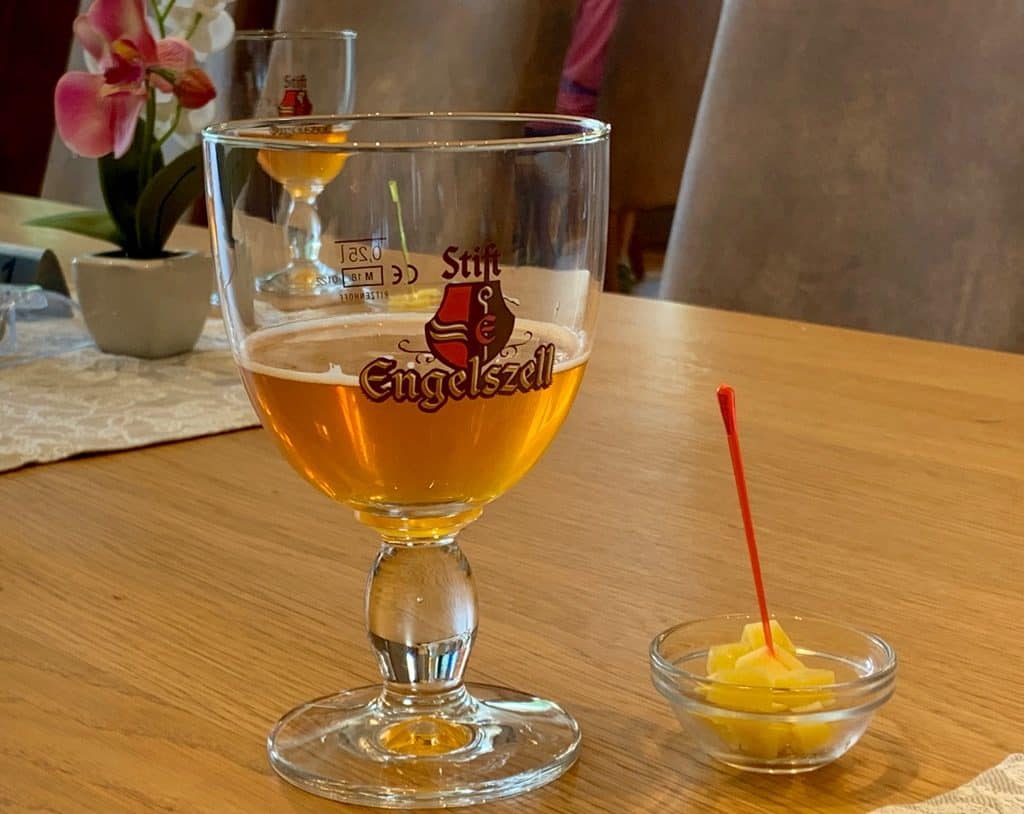 Last, but certainly not least, we were on our tour of the Engleszell Abbey where the Trappists Monks brew beer and make cheese within the walls of their Trappist monastery. All this under the supervision of Cistercian monks. They are among the only 11 Trappist breweries that exist in the world. And there are only 4 monks! Actually, they just got a new guy from America to join the group, but he still has a way to go before he becomes official!
This excursion takes place in Austria's 13th-century city of Engelszell, which is surrounded by wooded hills and led by a local expert guide. We also toured the Rococo church and learned some history of the Trappist Monks
The Avalon Waterway's Difference is in the Details
How lovely would it be to be able to visit ALL OF THESE PLACES at an affordable price in relaxed luxury? With Avalon Waterways you can. They have many wonderful "Active" and "Discovery" excursions at your disposal. With mixtures of history lessons, cooking class, bike tours, canoe adventures, castle visits, and more, you will always have something to do on this European river cruise with Avalon Waterways. Avalon Waterway's difference is in the details.
Like it? PIN it!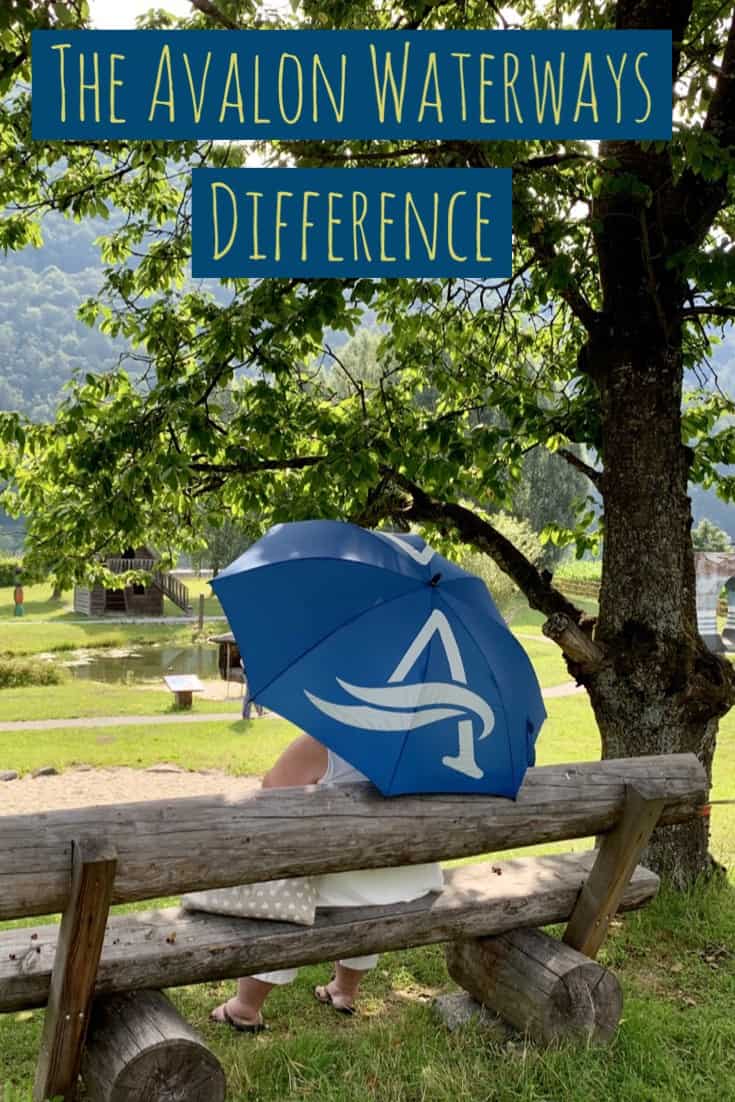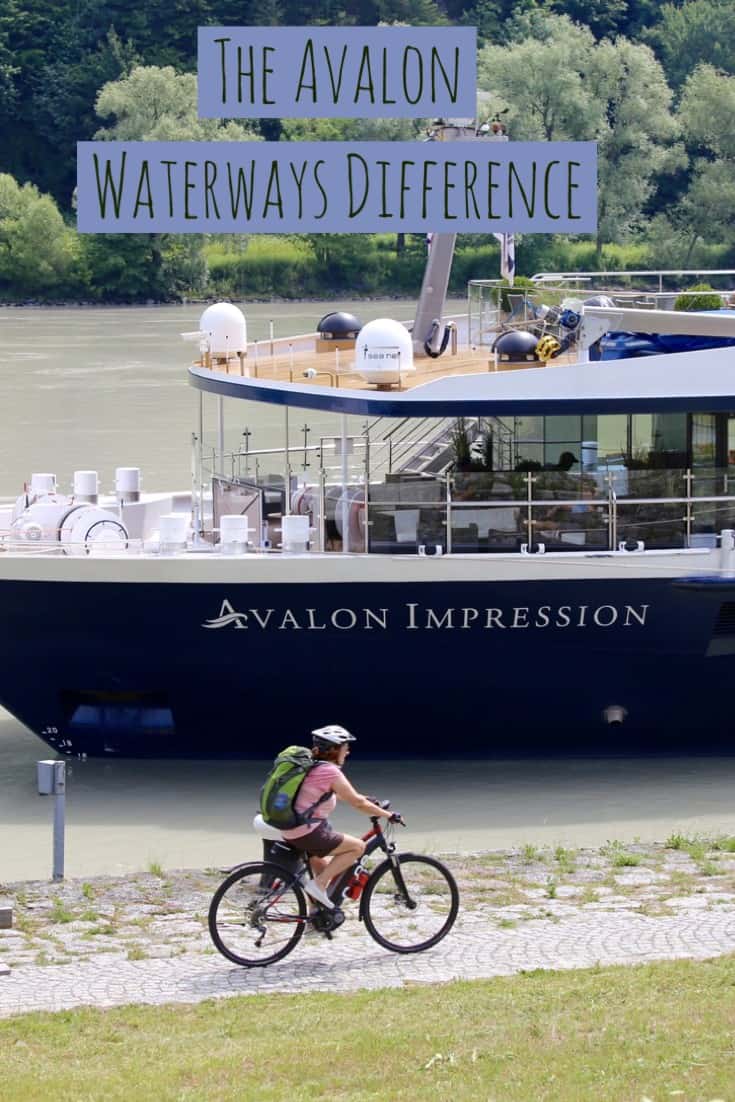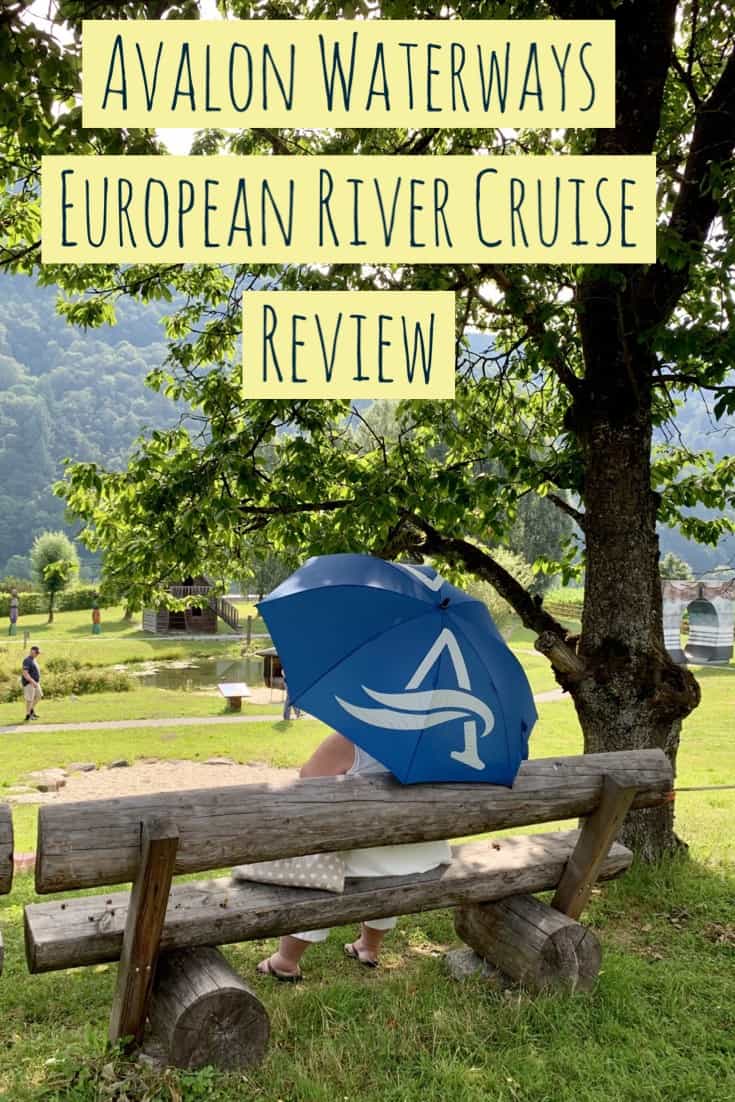 iambassador in partnership with Avalon Waterways. While it has not influenced her review, PointsandTravel.com believes in full disclosure of all potential conflicts of interest. All Photos are taken by the author. There may be affiliate links in this article.