Are you planning a trip to Puerto Escondido and looking for the best beaches to visit? Look no further than this beginner's guide to the top beaches in this small town on Mexico's Pacific coast. From tranquil waters to world-renowned surf breaks, Puerto Escondido has something for everyone.
Exploring the Main Beaches
When it comes to the best beaches in Puerto Escondido, there are four main areas that you won't want to miss: Playa Zicatela, Playa Carrizalillo, Playa Bacocho, and Playa Manzanillo. Each of these beaches offers something unique and different, making them all worth exploring during your visit to Puerto Escondido.
Playa Zicatela: Surfing, Big Waves, and Beach Bars
Playa Zicatela is known as one of the best surf spots in the world and attracts surfers from all over the globe. It's home to the infamous Mexican Pipeline, which is a surf break that produces some of the largest waves in the world. If you're not an experienced surfer, it's best to admire the waves from a safe distance.
Aside from surfing, Playa Zicatela is also home to a lively beach scene with plenty of beach bars and restaurants. It's a great place to grab a drink and watch the sunset over the Pacific Ocean. Just be aware that the waves at Playa Zicatela can be dangerous, so it's important to exercise caution when swimming.
Playa Carrizalillo: Calm Waters, Snorkeling, and Lounge Chairs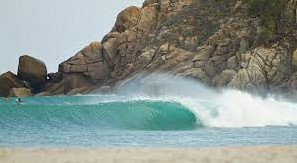 If you're looking for a more tranquil beach experience, Playa Carrizalillo is the place to be. This beach is known for its calm, clear waters, making it a great spot for swimming, snorkeling, and paddleboarding. There are plenty of lounge chairs and umbrellas available for rent, so it's easy to spend a lazy day at the beach.
To get to Playa Carrizalillo, you'll need to walk down a steep set of stairs, but the view from the top is well worth the effort. There are also a few local restaurants near the beach, offering fresh seafood and Mexican cuisine.
Playa Bacocho: Long Walks, Fishing Boats, and Humpback Whales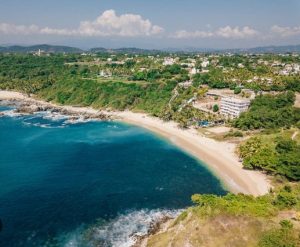 Playa Bacocho is a long, sandy beach that stretches for miles along the coast of Oaxaca. It's a great place to take a long walk and admire the view, with fishing boats and palm trees dotting the shoreline.
If you're visiting Puerto Escondido during the winter months, keep an eye out for humpback whales, which can often be spotted from Playa Bacocho. There are also a few local restaurants near the beach, offering fresh seafood and Mexican cuisine.
Playa Manzanillo: Sea Turtles, Snorkeling, and Beach Clubs
Playa Manzanillo is a beautiful beach that's known for its clear waters and abundant sea life. It's a great spot for snorkeling, with plenty of fish and coral to discover. And if you're lucky, you might even spot some sea turtles making their way to the ocean.
There are also a few beach clubs near Playa Manzanillo, offering amenities like swimming pools, lounge chairs, and umbrellas. It's the perfect way to spend a lazy day at the beach without having to worry about bringing your own supplies.
Beyond the Main Beaches
While Puerto Escondido's main beaches are stunning, there are plenty of hidden gems that are worth exploring. Here are a few beaches that you shouldn't miss:
Playa Coral
If you're looking for a secluded spot, Playa Coral is an excellent choice. It's a small, rocky beach that's perfect for swimming and snorkeling. There aren't many facilities here, so bring your own drinks and snacks. The best time to visit is during low tide when the water is calm and clear.
Playa Principal
As the name suggests, Playa Principal is the main beach in Puerto Escondido. It's a popular spot for locals and tourists alike, and it's always buzzing with activity. You'll find plenty of beach bars, restaurants, and shops here, as well as a few surf schools. If you're looking for a lively atmosphere, this is the place to be.
Playa Puerto Angelito
Located just a short walk from Playa Principal, Playa Puerto Angelito is a charming little cove that's popular with families. The water here is calm and clear, and there are plenty of facilities, including showers, restrooms, and beach chairs. There are also several seafood restaurants that serve fresh fish and shrimp caught by local fishermen.
All three of these beaches are within walking distance of each other. So you can easily explore them all in one day. They're also relatively easy to access, as they're located near the city center. If you're staying in a hotel or Airbnb, your host may be able to provide you with more information about these hidden gems.
Where to Eat: Best Restaurants and Beach Clubs in Puerto Escondido
One of the best things about visiting Puerto Escondido is the incredible food. From fresh seafood to traditional Mexican dishes, there's something for everyone. Here are some of the best restaurants and beach clubs in the area:
La Palapa de Carrasco
This beachfront restaurant is a must-visit for anyone looking for delicious seafood. Try the octopus or shrimp tacos, and don't miss the stunning sunset views.
Almoraduz Cocina Mexicana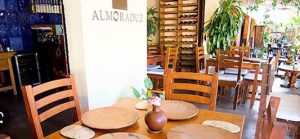 For a taste of traditional Mexican cuisine, head to Almoraduz Cocina Mexicana. The menu changes daily based on what's fresh and in season, but the mole and the ceviche are always good choice.
El Cafecito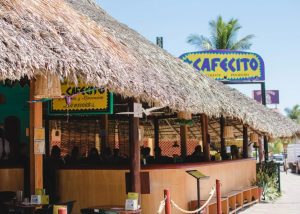 If you're in the mood for coffee and pastries, head to El Cafecito. The coffee is roasted in-house, and the pastries are freshly baked every day.
Hotel Santa Fe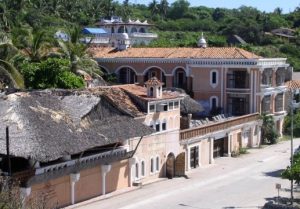 This beach club is a great spot to relax and soak up the sun. There's a large pool, plenty of lounge chairs, and a restaurant that serves delicious seafood and drinks.
La Punta Beach Club
This beach club is located on La Punta Beach and is a great spot to catch some waves and enjoy a meal. The fish tacos and ceviche are particularly delicious.
Oasis Surf & Sports
If you're looking for a beach club that also offers surf lessons and rentals, head to Oasis Surf & Sports. The restaurant serves fresh seafood and has a great selection of cocktails.
La Escondida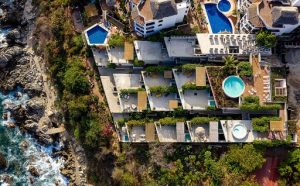 If you're looking for a romantic evening out, head to La Escondida. The restaurant is located in a lush garden and serves gourmet Mexican cuisine.
These are just a few of the many great restaurants and beach clubs in Puerto Escondido. Don't be afraid to explore the city and try new things. You never know what delicious meal you might discover.
Other Things to Do
There's no shortage of things to do in Puerto Escondido beyond the beaches. Here are some other activities you might want to check out:
El Adoquín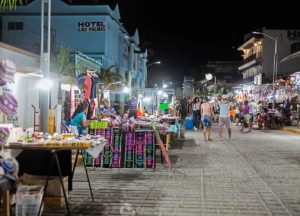 This is the main street in Puerto Escondido's city center. It's a great place to shop for souvenirs and local crafts. There are also plenty of restaurants and bars in the area.
Punta Zicatela
This rocky outcrop is located at the northern end of Zicatela Beach. And is a popular spot for watching surfers ride the waves. It's also a great place to take a walk and enjoy the view.
Laguna de Manialtepec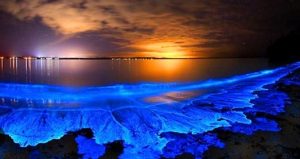 This lagoon is located about 20 minutes outside of Puerto Escondido and is a popular spot for kayaking and bird-watching. At night, you can take a boat tour to see the bioluminescence in the water.
Sea Turtle Releases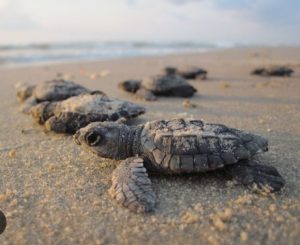 Puerto Escondido is home to several sea turtle conservation projects. And you may be able to witness a sea turtle release if you're in town at the right time. The releases typically happen at night and are a truly magical experience.
These are just a few of the many things to do in Puerto Escondido. Whether you're interested in nature, culture, or just relaxing, you're sure to find something that interests you. Be sure to talk to locals and ask for recommendations – they'll be more than happy to share their favorite spots with you.
Surfing in Puerto Escondido: Lessons, Surf Breaks, and the Mexican Pipeline
If you're a surfer, you've probably already heard of Puerto Escondido – this small town on Mexico's Pacific coast is known for its world-class waves and attracts surfers from around the globe. Here's what you need to know about surfing in Puerto Escondido:
Surf Lessons
If you're a beginner, there are plenty of surf schools in town that can help you get started. They'll provide you with a board, and give you some basic instructions. And take you to a beach with smaller waves so you can practice.
Surf Breaks
Puerto Escondido is home to several surf breaks, each with its own unique characteristics. The most famous of these is the Mexican Pipeline, a massive wave that can reach up to 20 feet high. This is a wave for experienced surfers only – if you're a beginner, stick to the smaller waves at beaches like Zicatela or Carrizalillo.
The Mexican Pipeline
The Mexican Pipeline is one of the most famous surf spots in the world, and it's not for the faint of heart. The wave is created by a shallow reef that causes the water to rise up dramatically, creating a barrel that surfers can ride through. If you're an experienced surfer and you're up for the challenge, this is definitely a wave you'll want to try.
Surf Competitions
Puerto Escondido hosts several surf competitions throughout the year, including the annual Puerto Escondido Cup. This event attracts some of the world's best surfers and is a great opportunity to watch them in action.
Surfing in Puerto Escondido is definitely not for everyone, but if you're a surfer looking for a challenge, it's a great place to visit. Just remember to respect the locals and the environment – Puerto Escondido is a small town with a tight-knit community, and they take their surfing and their beaches very seriously.
Planning Your Trip: Best Time to Visit, Getting There, and Accommodation Options
Planning a trip to Puerto Escondido can be exciting, but it's important to do some research before you go. Here are some things to keep in mind when planning your trip:
Best Time to Visit
The best time to visit Puerto Escondido is between November and April when the weather is dry and sunny. May through October is the rainy season, so if you're looking for clear skies and calm waters, you'll want to avoid visiting during these months.
Getting There
Puerto Escondido has its own airport (Puerto Escondido International Airport), which is serviced by several airlines that offer direct flights from Mexico City and other major cities in Mexico. If you're coming from outside of Mexico, you'll likely need to fly into Mexico City and then take a domestic flight to Puerto Escondido.
Accommodation Options
There are plenty of accommodation options in Puerto Escondido, from budget-friendly hostels to luxury resorts. If you're looking for something more authentic, consider staying in a small guesthouse or a traditional palapa (thatched-roof hut) on the beach. The main area to stay in Puerto Escondido is Zicatela. Where the surfing scene is centered, and the more upscale area of Rinconada.
Transportation
Getting around Puerto Escondido is relatively easy, as it's a small town that can be easily explored on foot. Taxis and colectivos (shared vans) are also available for longer journeys or if you want to explore further afield.
Activities
There are plenty of things to do in Puerto Escondido. From surfing and swimming to exploring the local culture and wildlife. Be sure to check out the sea turtle releases. Take a boat trip to Laguna de Manialtepec to see bioluminescent plankton, or hike to the top of Punta Zicatela for stunning views of the Pacific Ocean.
Safety
Puerto Escondido is generally a safe place to visit. But as with any destination, it's important to take precautions to ensure your safety. Keep an eye on your belongings, be aware of your surroundings, and avoid walking alone at night.
By keeping these things in mind when planning your trip, you'll be well on your way to enjoying all that Puerto Escondido has to offer.
Exploring Oaxaca: Day Trips and Local Culture
Puerto Escondido is located in the state of Oaxaca, a region known for its rich culture, history, and natural beauty. While there's plenty to see and do within Puerto Escondido, it's also worth taking a day trip or two to explore the surrounding area and immerse yourself in the local culture. Here are some ideas for day trips and cultural experiences in Oaxaca:
Oaxaca City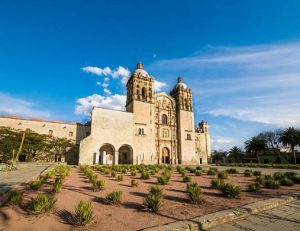 Just a few hours drive from Puerto Escondido, Oaxaca City is a UNESCO World Heritage Site. Known for its colonial architecture, vibrant markets, and delicious cuisine. Take a walking tour of the city to learn about its history and culture. Visit the Museum of Oaxacan Cultures to see traditional crafts and artifacts, and sample local specialties like mole and mezcal.
Lagunas de Chacahua National Park
Located about an hour from Puerto Escondido, this national park is a great place to go birdwatching, kayaking, or hiking. The park is home to several lagoons, mangrove forests, and beaches, and you can also visit the nearby fishing village of Chacahua to learn about local culture and try fresh seafood.
Hierve el Agua
This natural wonder is located about two hours from Puerto Escondido and features natural mineral springs that have formed petrified waterfalls over thousands of years. Take a dip in the pools, hike the surrounding trails, and visit the nearby village of Mitla to see ancient Zapotec ruins.
Local Markets
Oaxaca is famous for its colorful markets, where you can find everything from fresh produce to handicrafts. Some of the best markets in the area include Mercado Benito Juárez in Oaxaca City, Mercado de Artesanías in Puerto Escondido, and Mercado de Tlacolula, located about an hour from the city.
Indigenous Villages
Oaxaca is home to several indigenous communities that have preserved their traditional way of life and handicrafts. Take a guided tour to visit villages like Teotitlán del Valle. Known for its woven rugs, and San Bartolo Coyotepec, famous for its black pottery.
Day of the Dead Celebrations
If you're visiting Oaxaca in late October or early November, you'll have the chance to experience one of Mexico's most colorful and festive holidays. The Day of the Dead, or Día de los Muertos, is a time when families gather to honor their loved ones who have passed away. In Oaxaca, the celebrations include parades, altars, and offerings of food and drink.
Whether you're interested in history, nature, or culture, there's plenty to explore in Oaxaca. Make sure to take some time to venture beyond Puerto Escondido and discover all that this beautiful region has to offer.
Family-Friendly Activities: Playa Marinero and Baby Turtles
Puerto Escondido is not only a great destination for surfers and beach lovers, but it is also a wonderful place for families with children. Two of the best places to visit with kids are Playa Marinero and the Turtle Conservation Camp.
Playa Marinero
Playa Marinero is a small, calm beach that is perfect for families with young children. The water is calm and shallow, and there are usually not many waves. The beach is located near the town center, so it is easy to get to and there are plenty of facilities nearby. You can rent lounge chairs and umbrellas, and there are several small restaurants where you can grab a bite to eat.
Turtle Conservation Camp
Another great family-friendly activity in Puerto Escondido is visiting the Turtle Conservation Camp. The camp is located on the beach in the town of Mazunte. It is about an hour and a half drive from Puerto Escondido. At the camp, you can learn about the different species of sea turtles that inhabit the area and the conservation efforts being made to protect them.
The sea turtle release program is an unforgettable experience that your children will never forget. The program usually takes place in the late afternoon. You will get to see the baby turtles hatch and make their way to the ocean. The best time to participate in the sea turtle release program is during the nesting season, which runs from August to December.
In addition to Playa Marinero and the Turtle Conservation Camp, there are several other family-friendly activities in Puerto Escondido. You can take a boat tour to explore the coastline, and visit the local market to sample traditional Oaxacan cuisine. Or take a walk along the long beach and watch the fishing boats come in.
Beach Lovers' paradise
Puerto Escondido is a paradise for beach lovers, offering a wide variety of beaches to explore and activities to enjoy. From surfing to lounging on the beach, there's something for everyone. The local culture and day trips add to the charm and make it a unique destination worth visiting. Whether you're looking for adventure or relaxation, Puerto Escondido has got you covered. So pack your bags and get ready for an unforgettable vacation in this tropical paradise.