The United States has several National Parks, forests, and monuments to visit including two of the most visited National Parks in Montana, which are Glacier National Park and Yellowstone National Park. I have been to both and they are both quite spectacular with a backdrop of small mountain ranges that are a part of the Rocky Mountains. Montana prides itself on being the perfect place for nature lovers to enjoy and I couldn't agree more. So let's take a closer look at the Montana Nationals Parks, Forests, and monuments that make up the forestry department that Montana maintains on a daily basis.
What's in this post:
hide
Montana National Parks:
1. Glacier National Park
Glacier National Park in Montana was established as a park, way back in 1910, and has since been known as the "crown jewel" out of all the USA parks. This park sits at the northwest border of Montana and also shares a border with the Waterton Lakes National Park in Canada. One of the stunning phenomena of this park is the fact that it has over 200 lakes, with Lake McDonald being the largest of them all.
It also has a triple divide water flow at Triple Divide Peak. At this peak, water from the Pacific Ocean, Atlantic Ocean, and Hudson Bay all come together in perfect harmony. The mesmerizing Mount Grinnell is also a peak that is beautifully situated in the very center of the park. This Montana National Park has well over 1,000,000 acres! It is a very popular destination for millions of tourists every year who love the great outdoors.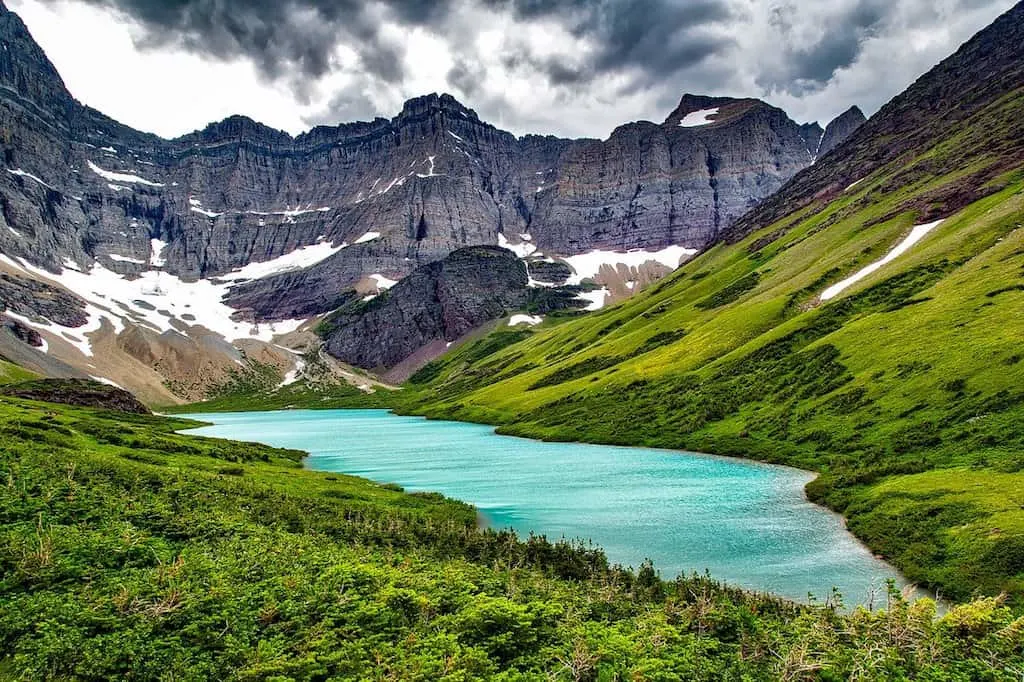 Best time to visit:
The very best time to visit Glacier National Park is in July and August. This is the peak season for visitors, with daytime temperatures averaging in the 70s and cool nights that can drop into the 40s. Throughout the year is good, but if you are going fishing, go during July and for river-rafting, go early (to the mid part) of July.
How to Get to Glacier National Park:
Airport plus Car Rental
In order to visit this magnificent park, you really have to drive quite a ways because it is really far from practically everything! The closest airport to the park is in Kalispell, Montana at Glacier Park International Airport (FCA), which is roughly 30 minutes from the west entrance of Glacier.
You can also fly to Missoula International Airport (MSO), which is roughly a 2-and-a-half-hour drive to Glacier. If you can imagine, it is easier to drive here from Calgary, Canada (8-hour drive) than it is from Seattle, Washington (11-hour drive)! See what I mean?
Train Travel
Train travel is also an option and an easy way to get to this park through the Amtrak trains and Red Jammers (operated by Ford Motor Company).
What is the best way to see the Park?
I think the best way is by driving a vehicle and by stopping and hiking in certain areas of the park. It is easy to find the hiking trails and it sure is easier if you have your own vehicle versus the shuttle service. So be sure and wear hiking shoes and bring lots of water to drink.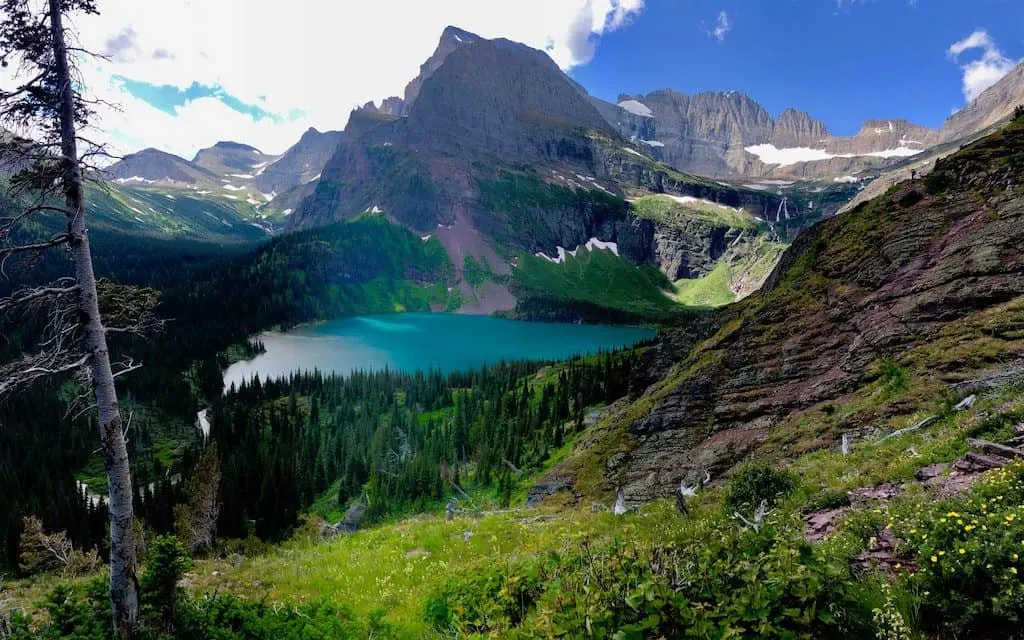 Things to do in Glacier National Park:
There are many outdoor activities to do in Glacier National Park Tow of my favorite are
But there is also:
hiking
backpacking
camping
photography
horseback riding
boating
fly-fishing
cross-country skiing
If you prefer to be surrounded by Mother Nature's beauty then you are sure to find it at this park, which includes views of the Flathead and the Blackfeet Reservations. This park has 175 mountains and more than 700 lakes (although only 131 lakes have official names).
The largest lake is Lake McDonald, which is 9.4 miles long and 1.5 miles wide and located near the western entrance. Following behind in a close second is the stunning Saint Mary Lake, which is close to the eastern entrance of the park. Also, the Going to the Sun Road is the main way that the east and west entrances are connected to each other, so you will find lots of amenities here.
Must-See Spots in Glacier National Park:
Proficient hikers are going to love the Ptarmigan Tunnel, which is 250-feet long and allows hikers to avoid the strenuous climb over the steep terrain between Many Glacier and Belly River Valley. You should also try to make it to the top of Logan Pass. Then enjoy the trails at Hidden Lake Overlook for its 2.7-mile hike. Plus a road trip to the "Going-to-the-Sun Road, which is only open during the summer months! So plan your trip accordingly with this road closure website.
---
TIP: Always carry Bear Spray with you while visiting Glacier National Park!
---
Where to Stay:
You can rent nearby cabins or condos in Whitefish, MT for lodging to enjoy this picturesque place. It is a pleasure to stay at least a few nights near Glacier National Park. But be sure and book your lodging early in the Summer months, as it can get crowded. Also, be prepared for really cold or really hot weather in the Summer, as you just never know what the weather will be like, so do bring a jacket.
2. Yellowstone National Park
Yellowstone National Park is a beloved park that lies in the southern part of Montana and northern Wyoming. It is the world's first national park, which was established in 1872. Most of the park lies in Wyoming, while only 3% lies in Montana. The most famous part of this park is "Old Faithful", the world-famous geyser, which erupts almost every hour and a half. Aside from this one, there are 300 other active geysers throughout the park.
This park covers a total area of 3,468 square miles, so don't let the drive time fool you. It takes quite a while to cover. At over 136 square miles long, Yellowstone Lake is the largest lake in this park. If you only have one day in Yellowstone National Park, then visit Old Faithful and the Grand Prismatic Spring, the Upper Geyser Basin, and do at least a part of the scenic loop road.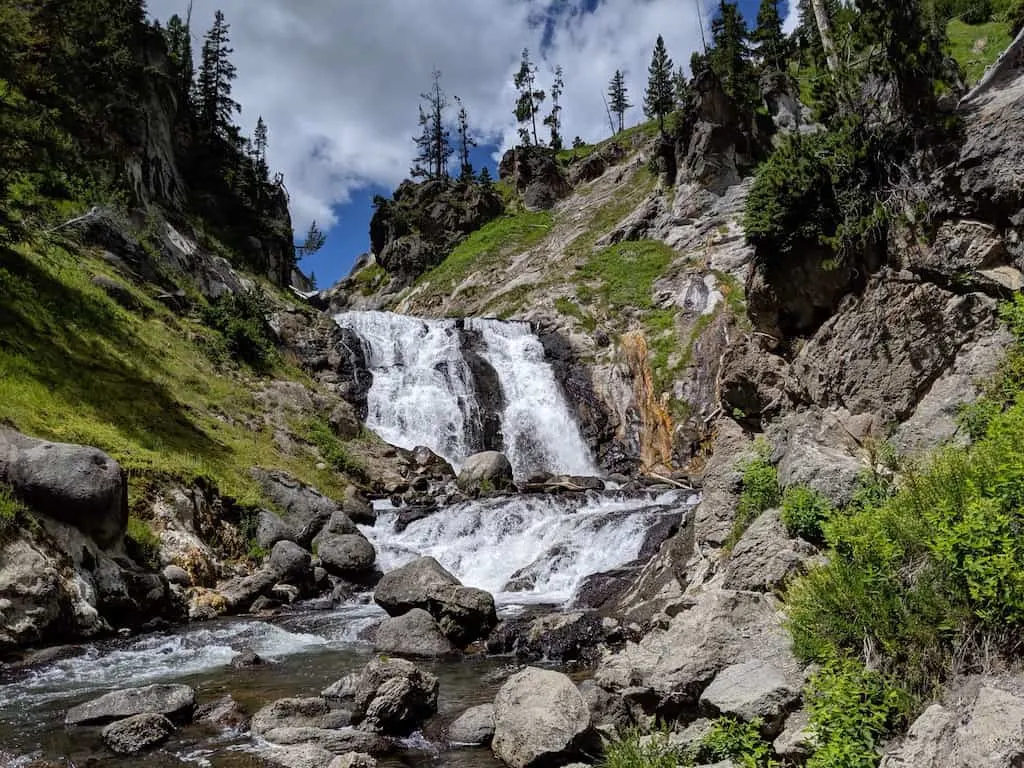 Best Time to Visit:
Between April and May and September to November. These months offer milder weather and the National Park is less crowded. Between the months of May and September, you can fly and drive to this park from Salt Lake City or Jackson Hole.
How to Get to Yellowstone National Park:
You can fly into Salt Lake City (SLC) Utah, if you prefer a scenic view, then renting a car from there will give you 300 miles of stunning views. However, the closest airport that is open year-round is the Jackson Hole Airport (JAC) Wyoming, which is roughly 56 miles away. Many people choose to drive or take a bus to Yellowstone, which offers inexpensive services.
From Montana, you can fly into Bozeman International Airport (BZN) and rent a car and be there in an hour and a half (88 miles). Bozeman sits right between two entrances to Yellowstone National Park, the north entrance, at Gardiner, MT, and the west entrance in West Yellowstone, MT, making it the perfect area to set up home base.
Things to do in Yellowstone National Park:
Recreational activities are not to be forgotten at Montana's National Park as you can engage in several activities such as
Hiking
Biking
Backpacking
Camping
Fishing
Horseback riding
Bird Watching
Boating, fishing, and rafting
Skiing
Snow Shoeing
Swimming
And even photography – Don't forget to bring a camera because you are sure to spot wildlife such as wolves, bears, antelope, red fox, and bison, especially near the Lamar Valley.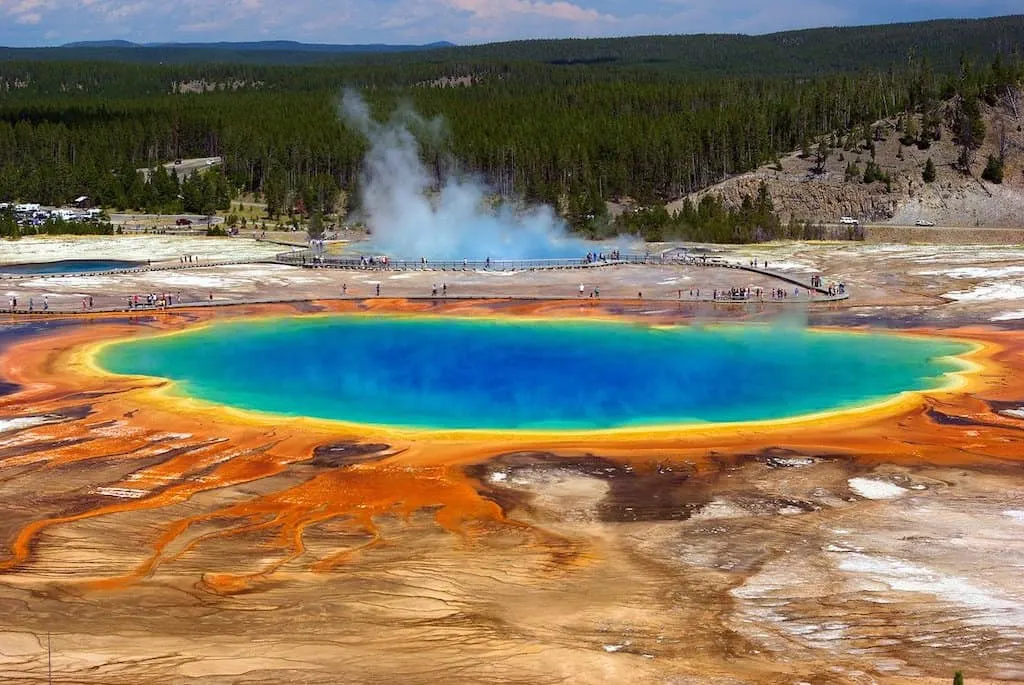 Must-See Spots in Yellowstone National Park:
While at this park, there are certain must-see spots such as the Grand Canyon of Yellowstone and Old Faithful. One of the most beautiful and breathtaking parts of this park is the Grand Prismatic Spring. This spring thrives on rich minerals to make the water appear in rainbow colors.
Other great spots to visit in this park are the Hayden Valley, Norris Geyser Basin, Lamar Valley, and Mammoth Hot Springs. From visiting the lowest point at Reese Creek to hiking the highest peak of Eagle Peak at 11,358 feet, visitors of this park are sure to have a great time.
Where to Stay:
There are plenty of nearby lodging areas to stay in such as the Old Faithful Lodge Cabins and Old Faithful Inn. I also recommend stopping by Big Sky, Montana which offers good eats and places to stay and is a mere 50 miles away from the west entrance of Yellowstone. Chico Hot Springs Lodge was awesome in Montana near the North Entrance of Yellowstone Park.
The Nez Perce National Historic Park, also known as "Nee-Me-Poo" or "Nimíipuu," was established in 1965 and it is strewn throughout four states: Idaho, Oregon, Washington, and Montana. This historical site commemorates the Nez Perce War of 1877 and his historical freedom fight and courage to stand up against all odds.
There are several sites to see at this park including Battle of Bear Paw in Blaine County, Montana, and Big Hole National Battlefield in Beaverhead County, Montana. This trail starts from Wallowa Lake of Oregon and enters Montana bisecting the Yellowstone National Park. The route is covered with cactus during Spring and is absolutely gorgeous!
How to Get Here:
As I previously mentioned, the Big Hole National Battlefield lies in the Nez Perce preserve in Montana and is a National Historic Site. It is situated on 1,010 acres of land and was established in 1883. Big Hole National Battlefield was fought in 1877 against the 7th Infantry Regiment and is a memorial to those who died here. The 7th Infantry Regiment was enforcing a national policy of placing American Indians on reservations that were a fraction of the size of their traditional homelands.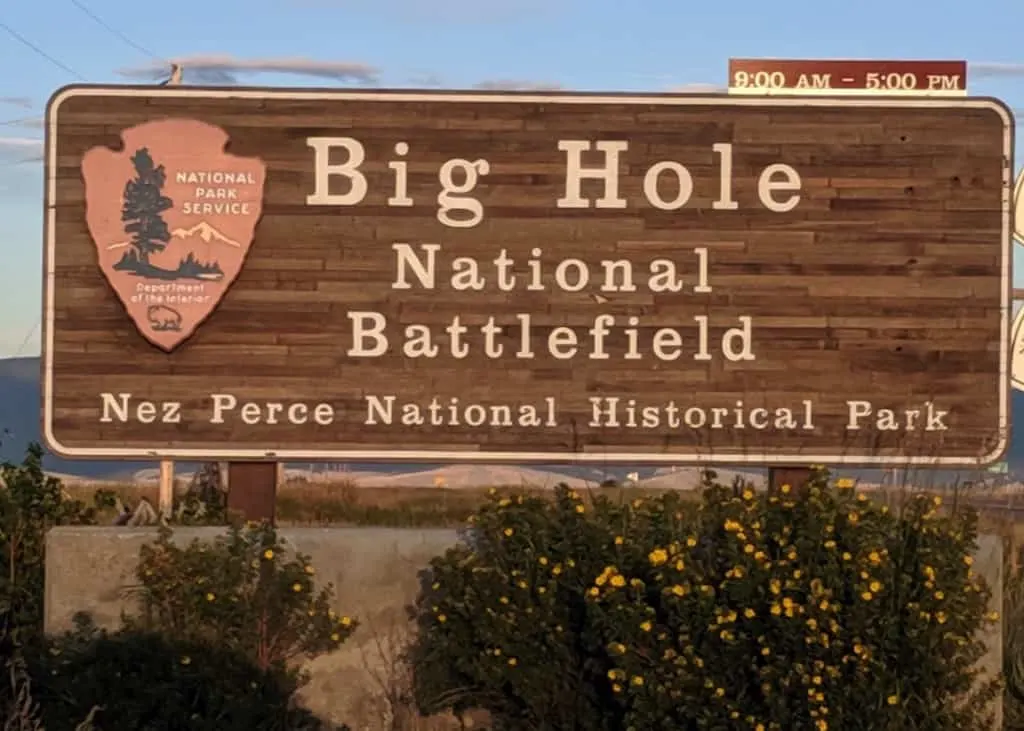 Stop at the Visitor's Center and watch the 26-minute video and tour the museum of photographs and personal belongings of the battle fighters. There are trails that take you to points of interest on the Battlefield as well. The walks take about an hour and many times rangers conduct presentations. It was designated a National Monument in 1910.
How to Get Here:
---
Want to read more about American Attractions to Visit on a Southwest USA Roadtrip?
---
Located in Powell Country, this ranch was originally established in 1862 along the banks of the Clark Fork River. Once the headquarters of a 10 million acre cattle empire, Grant-Kohrs Ranch National Historic Site commemorates the role of cattlemen in American history. Guided tours are available through the Ranch House and throughout the wide and open areas of this ranch. You can also see more than 80 historic buildings and structures. In my opinion, the best way to visit this site is through the expert hands of the park rangers.
How to Get Here:
One of the most famous expeditions in the US is the Lewis and Clark Expedition of 1804 to 1806. This historical trail extends over 3,700 miles to commemorate the journey of these brave men. Along this trail, visitors can enjoy activities such as horseback riding and hiking, even though this is not officially a hiking trail. Here you can retrace the path of Lew and Clark on a five-day look around Montana's northeastern badland and plains and parallel two mighty rivers – Missouri and the Yellowstone.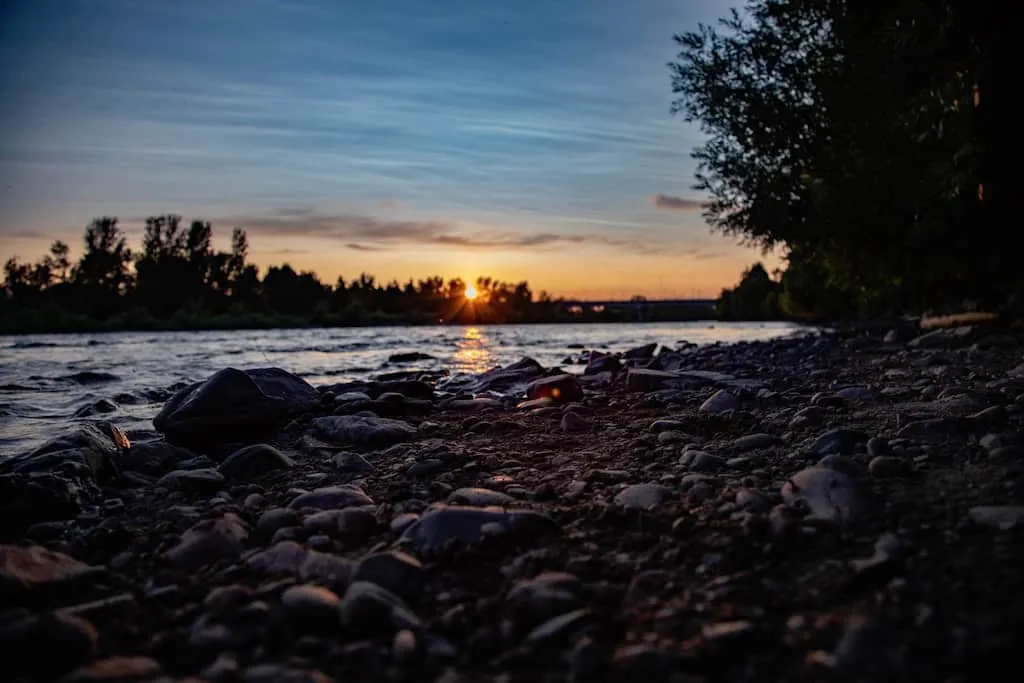 How to Get Here:
Between 1829 and 1867, this National Historic Site was a fur trading post on the upper Missouri River, which was capitalized by John Jacob Astor's Fur Company. It was the most important fur trading post in Montana and traded with many Montanan Indian tribes peacefully. They not only traded furs, but things like blankets, cookware, guns, and knives. Guests can go on a self-guided tour to explore the museum, bookstore, and reconstructed trade house.
How to Get Here:
The site is located near the mouth of the Yellowstone and Missouri river, on the Montana-North Dakota Border.
The Battle of the Little Bighorn, which occurred in 1876, is commemorating the contribution of soldiers who lost their lives here. It is also known as Custer's Last Stand. This National Monument was established in 1879 and located near Billings, Montana. This monument is considered a U.S. National Cemetery because many US troops were buried here, including General George Armstrong Custer.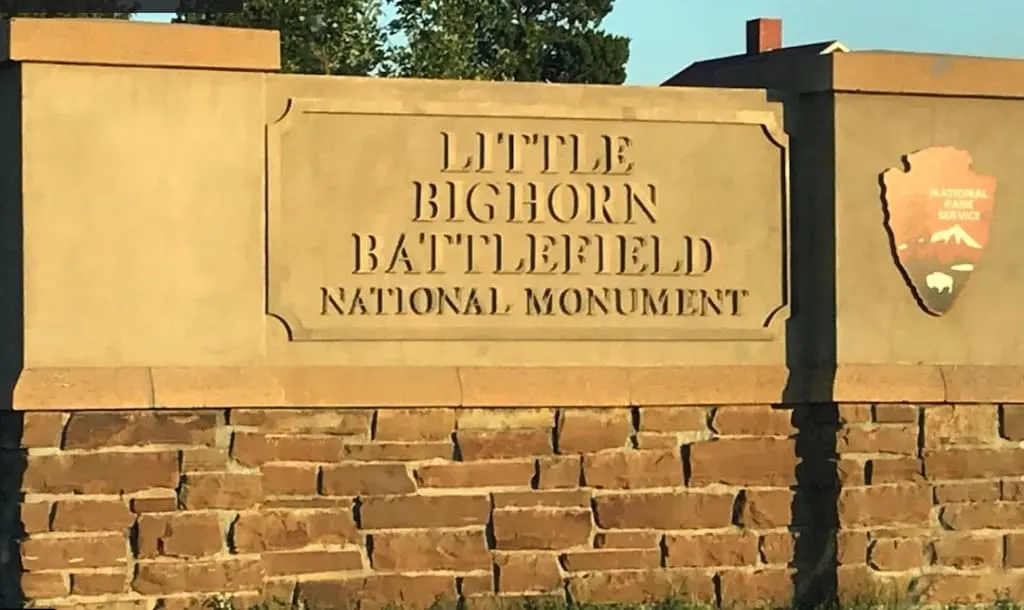 This site presents the history of the past through the Native American tribal forces of the Arapaho and Lakota-Nothern Cheyenne and the 7th cavalry of General Custer. Visitors to this site can visit the Indian Memorial, Custer National Cemetery, marker stone of the battlefield, and the US casualty marker. The Little Bighorn's Museum has archival collections of photos from this event.
How to Get Here:
Located in Billings, Montana, the Bighorn Canyon National Recreation Area offers more than 120,000 acres of land to enjoy the ecosystem, wildlife, and outdoor activities. Guests can also visit the four historical ranches: L Slash Heart Ranch, Mason-Lovell Ranch, Cedarvale Ranch, and Ewing-Snell Ranch. Visitors can choose from one of the 17 miles of hiking trails that offer stunning views, including the Bad Pass Trail. Boating and camping are favorite activities among guests.
How to Get Here:
10. Helena National Forest (Near Helena, Montana)
The Big Belt Mountains on the eastern side and the Elkhorn Mountains on the southern side have fostered this beautiful national park from time immemorial. The 1000 miles of trails entice hikers with rock-strewn roads, spruces, Douglas firs, and lakes. If you have an adventurous soul, then embark on a journey to explore the Crow Creek Falls Trail, Trout Creek Canyon, and Mount Helena National Recreation Trail. You may also see various birds of prey if you are lucky.
How To Get Here:
11. Lolo National Forest (Near Missoula, Montana)
Featuring the famous Rattlesnake Wilderness and the Welcome Creek Wilderness, this national park has the Lolo National Historic Trail, which is steeped in history as this was used for the Lewis and Clark expedition and by Nez Perce tribe. Animals like mountain goats, black bears, grizzly bears, and timber wolves are commonly seen here by travelers. Hiking trails, lakes, and rivers like the Flathead River are also exciting for them.
How to Get Here:
It is no wonder that Montana is nicknamed the 'Treasure State' because it is rich with history and Mother Nature's true beauty. A trip to the Yellowstone National Park or the Glacier National Park is sure to include the true beauty of this marvelous state. I have been several times and always long to go back! So, listen to your heart and let it take you to the most amazing national sites of Montana. I can guarantee that you will be smitten by colorful landscapes and native animals, representing the essence of life to its fullest.
Have a nice vacation!