Ecuador is a natural wonder that boasts some of the best beach towns along the coast of Ecuador. They have pristine beaches that will make you fall in love. With its Galapagos Islands and Amazon Rainforest, you are sure to enjoy Ecuador. But the real Ecuadorian coast has a variety of beach towns to choose from. For example, you can go to a small fishing village or pick a resort with all the conveniences you will need. Or, you can choose based on the beach vibe that you are after.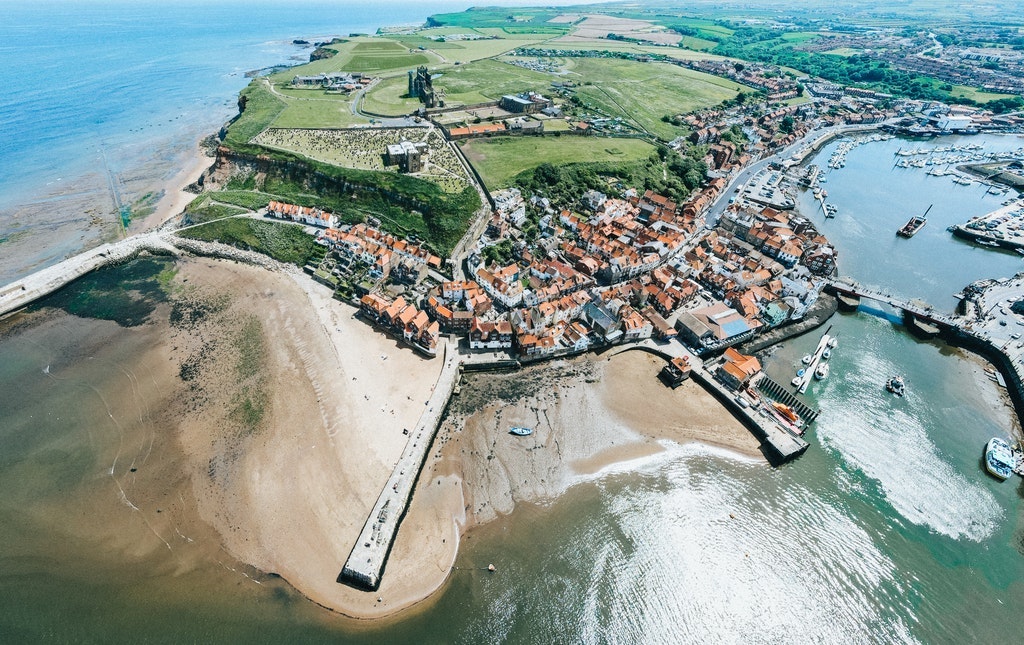 ---
What's in this post:
hide
Best Beach Towns in Ecuador:
Which one is for You?
---
In fact, the coast of Ecuador is speckled with beaches that make even the most well-traveled visitor swoon with excitement. Visitors to this compact yet energetic South American country will enjoy the climate, the surf, and the white sandy beaches.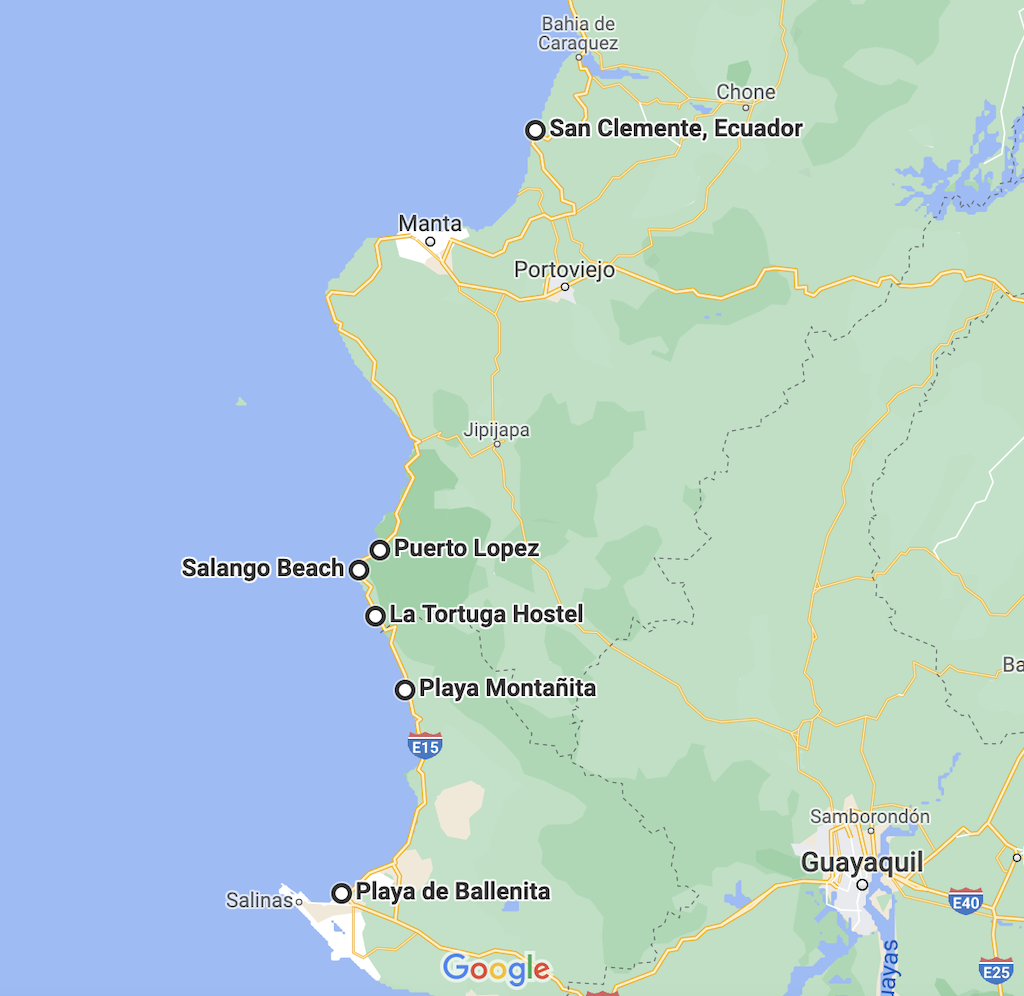 Famous Beach in Manabi – Puerto Cayo Beach
The warm waters of the Cayo beach is great for snorkeling and scuba diving. Additionally, you can catch a good wave here if you are fond of surfing. On the other hand, there are hiking trails around the area if you want to take a break from the beach. You will find local waterfalls at the end of the trails that you can enjoy.
Aside from that, you can climb up to the observation deck in Cayo Beach to see humpback whales out in the open waters. This beach is not as crowded as the others. You can enjoy a stroll on the beach anytime. On the other hand, the locals are developing infrastructure recently to accommodate tourists. This means that there will be more travelers heading out here in the future.
Most Beautiful Beach – Los Frailes Beach
One of the best beaches in the country is Los Frailes. Los Frailes is found in the Machalilla National Park which is a protected park. This is the only coastal national park in the country. Its' remote location has helped the locals maintain its pristine waters. And because of it, the golden sands and sparkling waters are its best features. There are a few vendors in the area to buy your needs from, however, beach rentals are not available.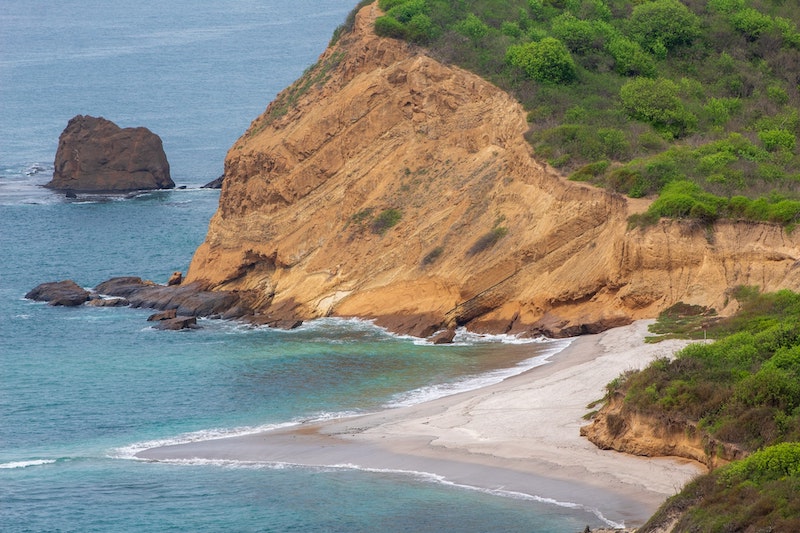 Aside from that, there are other sights to see and activities to do here as well. For example, there are hiking trails at your disposal. The national park has a large hot spring that you can dip in. You can reach it by hiring a guide who can point out the best views on the trail.
Beach for Expats – Ballenita Beach
Apart from San Clemente beach, Ballenita beach is a growing popular spot for ex-pats in recent years. It boasts of affordable real estate properties that foreigners are taking advantage. You can find it in the Santa Elena peninsula. The Santa Elena province is a great place to find amazing beaches besides Ballenita beach. Plus, there is a good advantage point to see the whales out in the open.
Best for Swimming – Puerto Lopez
Another beach to visit is Puerto Lopez. La Playa Puerto lopéz is a small village found in the Manabi province. It is one of the best Ecuador beaches. Because the hills block most of the wind around the sea, you can swim in its calm waters. There are two ways to enjoy this beach. Firstly, you can head out to the Isla de la Plata to see the frigate birds and other wildlife. The sea turtles are visible in the area which you can get up close as you snorkel. Secondly, the humpback whales are worth seeing. The best time to see them is during the months of June to September.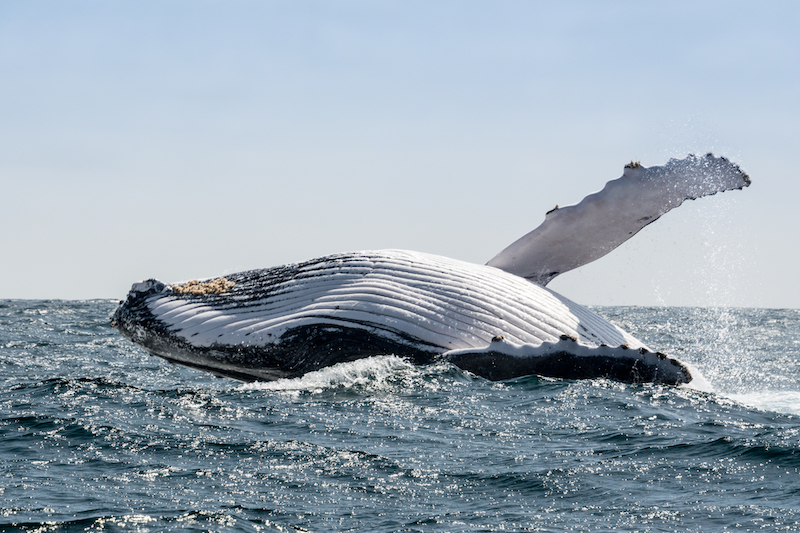 Aside from that, Puerto Lopez's nightlife is quite active. You can take a break from the beach and head out to the clubs nearby. We saw plenty of drinking and dancing going on here.
Protected Beach – Bahia de Caraquez
Another option to visit is Bahia de Caraquez which is one of the beautiful beaches in Ecuador. This coastal city is perfect for surfing and swimming. Plus it is known for protecting the environment and promoting recycling to the locals. You can find it between the Pacific Ocean and the Chone River. This is why you have different water activities to choose from.
Aside from that, you can view the coastal areas from the boardwalk. From here, there are nearby reserves that you can visit if you are a nature lover. Take advantage of their guided tours to see more of its attractions.
Small Town Beach – Salango Beach
The Ecuador coast has plenty of hidden jewels to explore like Salango Island. The small town is a short distance from the bustling Puerto Lopez. Also, this tiny island has plenty of wildlife to see and enjoy but the amenities are lacking. So, make sure that you pack your beach essentials when you visit so you will not spoil your trip here.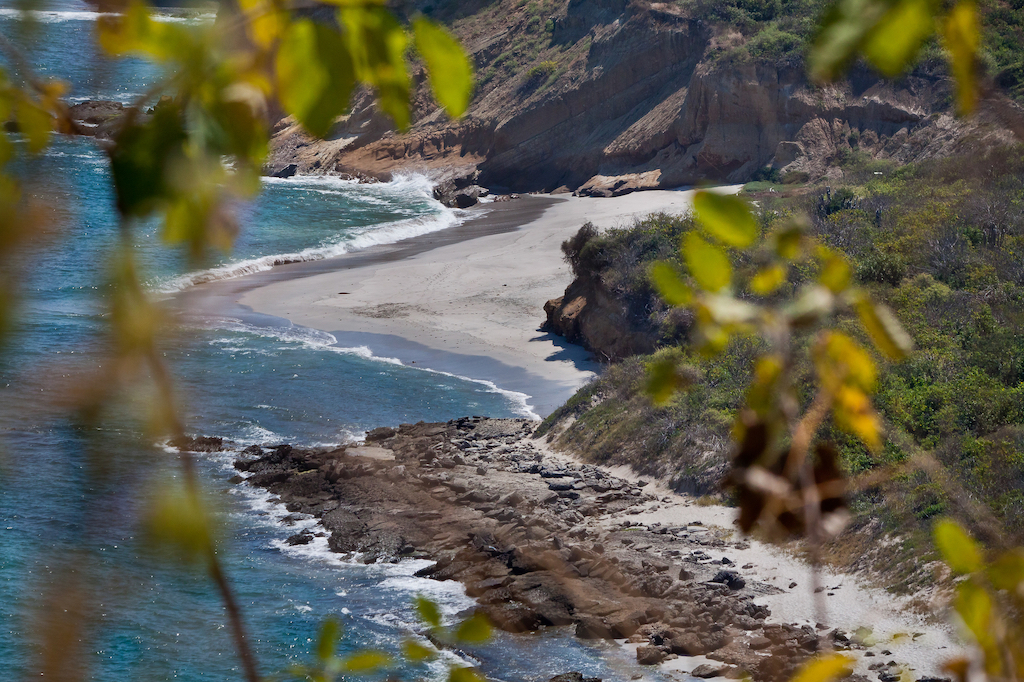 Later on, you can visit the small museum to get a glimpse of the local culture. This little village in Ecuador's Pacific Coast is perfect if you want a laid-back beach trip.
Beach to Chill In – Playa de San Clemente
Another example of a beach to visit is in San Clemente. Playa de San Clemente is a great beach if you want to avoid the crowd. This fishing village has a long stretch of beach that you can stroll along on. Although it will take an hour to walk from end to end, you will find several restaurants that serve fresh seafood that is worth sampling. Aside from that, you can shop for souvenirs from shops along the main street to bring back a bit of Ecuador with you.
Best Surfing Beach – Montanita Beach
In addition to Canoa, Montanita is one of the best beaches in the country for serious party-goers. The party atmosphere here draws plenty of tourists and locals alike. You don't have to worry if you are not into the nightlife because there are other activities to enjoy here too. There are plenty of surfers who flock to this beach to catch its impressive waves. Accordingly, the main beach is a great place to stroll during low tide.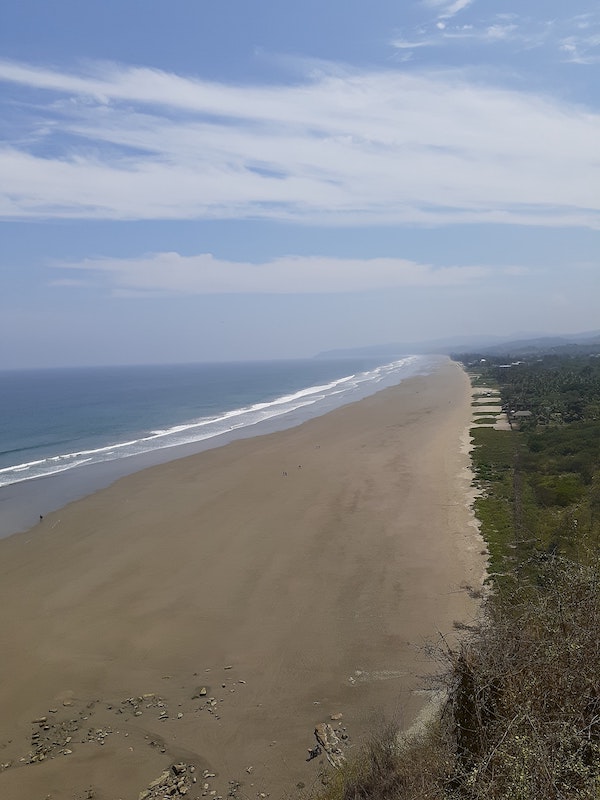 Locals and tourists alike flock here for some nighttime adventure. For example, there are plenty of bars and restaurants to enjoy yourself. But remember, expect that this beach-town to get rowdy at night.
Popular Spot – La Tortuga
A great option to visit is La Tortuga. The white sands of Tortuga bay complement the sparkling blue waters. This place is a great alternative for a quiet, laidback stay with solid surfing. The location is beachfront, and in early April the beaches were empty and peaceful. Plus, the waves were consistent. Parking is free and secure, and WiFi was reliable. They're also pet-friendly, which we love.
Tourists spend a lot of time taking photos of the wildlife. You'll be engrossed watching the birds and iguanas in the surrounding area. Aside from that, there are different water sports to try here like kayaking, which costs around $20USD for an hour of use. You can also spot sharks on the small inlets.
Less Crowded Beach – Olon Beach
Ecuador's peak season brings the crowd to its beaches and its vibrant nightlife. But the good news is that there are a few spots where you can get away from people. For example, Olon Beach is one of them. This is the best place to relax and unwind after partying at Montanita Beach. The climate varies based on the time of the year. The summer season is from December to May which is the best time to book a flight to the west coast of South America.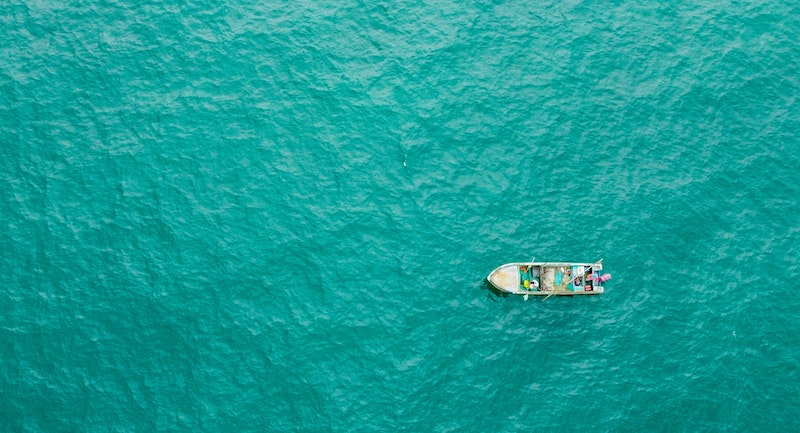 There are lots of great restaurants that will satisfy your hunger. Also, you can eat in a restaurant or bring your plate with you to your tent. Aside from that, you should visit the Blanca Estrella del Mar which is found on top of a hill. The church's design is similar to a sailboat. You can hear mass with the locals on some days.
Largest Beach Cities – General Villamil Beach
This resort area offers plenty of beaches for tourists and locals. This is a great beach for surfers of all levels. Additionally, there are several amenities and accommodations that you can enjoy on your trip. It is the closest beach to Guayaquil which is an example of the largest city in the country. This beach resort is expanding which means that it will offer more to its guests in the future.
That said, Villamil Beach is ideal for families with little children. The gentle slope of the beach makes the waters suitable for children and those who are not great swimmers. Not only that but there are snack shops to grab a bite from. You should spend some time strolling the sandy beach to see what else it has to offer.
Popular Beach Resort – Salinas Beach
Similarly, San Lorenzo beach is another hot spot in Ecuador, and for good reason. Imagine the tall buildings in Miami and you'll picture this beach already. This is an ideal place for those who want to splurge on their beach holiday. There are palm trees lining the white sands. In addition, this is the perfect place for beach activities like water skiing and hang gliding. Not only that but ex-pats can join a yacht club in Salinas to enjoy additional perks in the town.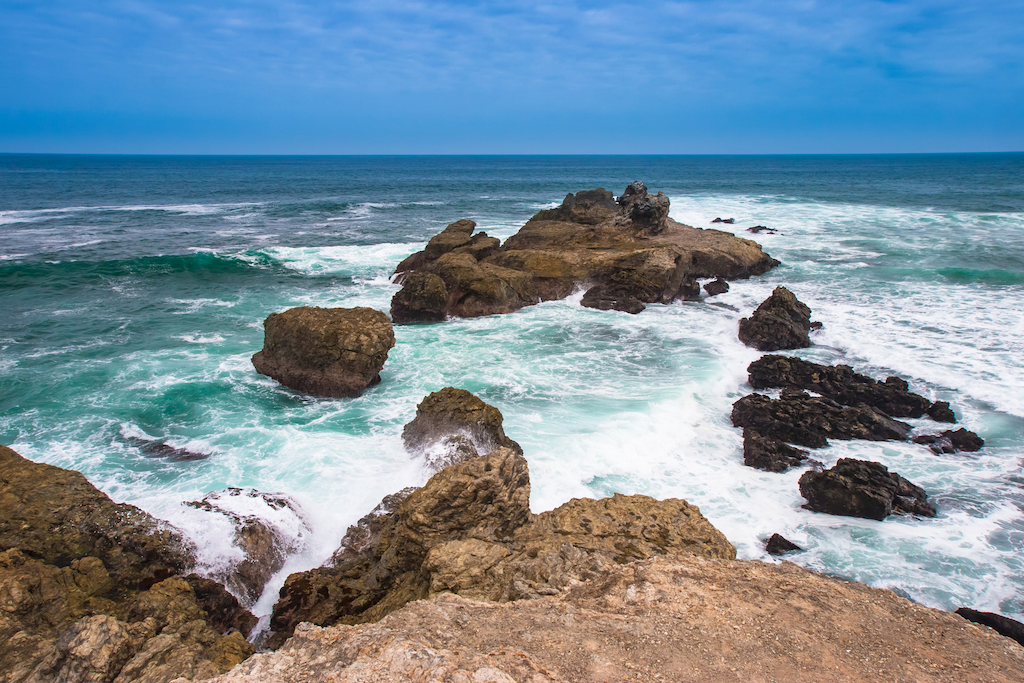 Aside from the beach, Salinas has other attractions to offer. For example, it has a good vantage point for whale watching. Plus, there are thermal baths to check out nearby. The locals can point you in the right direction.
Best Beach for Seafood – Ayangue Beach
Another place to head out to is Ayangue Beach. Ayangue is one of the popular beaches in the country that you can visit. This picturesque town is just an hour away from Salinas. This is the biggest city in the area. However, there are not a lot of people on this beach. This means that you can relax and enjoy the beach with your family. Also, you can enjoy the cool waters or sunbathe to get a tan.
Additionally, this beach is a prime location for fresh seafood which the restaurants offer. Take the time to try the dishes served here. You might be surprised at how fresh their food is. For sure, you will be coming back for more.
Longest Beach – Canoa Beach
Another example of a great beach in the country is the long beach of Canoa beach. It stretches up to 10.8 miles, which makes it the longest beach in Ecuador. This coastal town is off the beaten track which suits laidback travelers just fine. The difference between Canoa and other Ecuador's beaches is that it is underdeveloped. However, this doesn't mean that there is not much to do on its pristine waters. It is a bit tame during weekdays but not on weekends when it becomes a party town.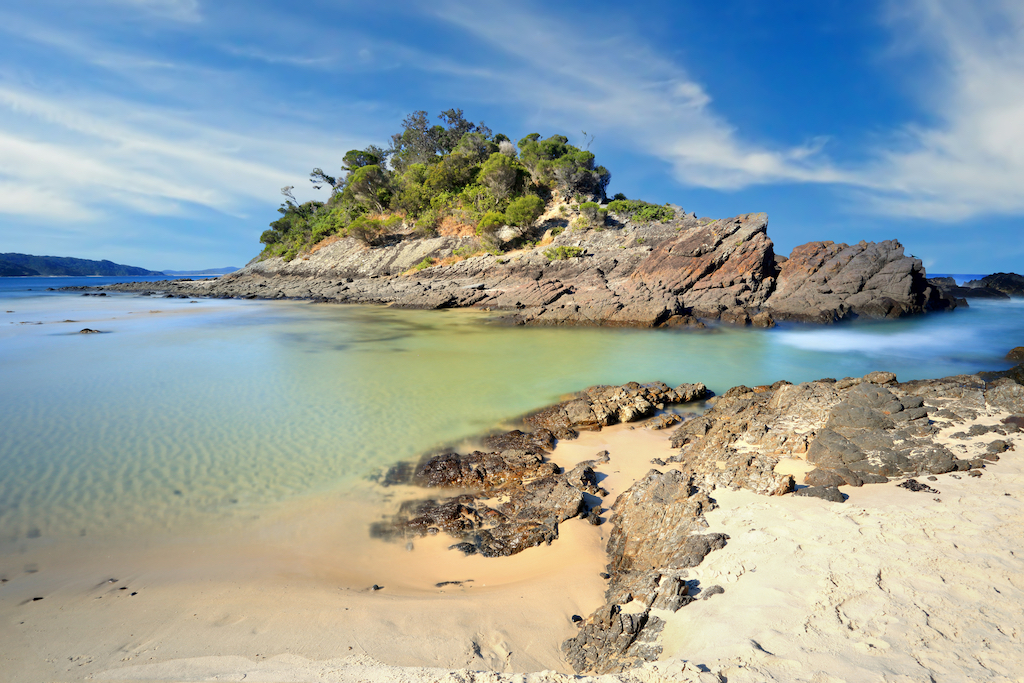 Additionally, there is an organic farm in Canoa that is open all year round. Go on a day tour to see how the locals transformed this area into a paradise for plants and animals. You can even stay in one of their houses to immerse yourself in nature. In addition, it is a great idea to visit the farm during the high season. This way you can head out to the beach afterward.
Red Sand Beach – Rabida Island
Aside from the white sands of Ecuador, there is Rabida Island that boasts of its red sand beach. This island is known for its wildlife and amazing scenery. Avid hikers will love the stunning views on the island. Tourists come here for a day trip to check the sea lions and blue-footed boobies. You can capture the gorgeous red sand beach for your selfie.
The Best Time to Travel to Ecuador
Ecuador is considered to be a year-round destination. The dry season starts from May to December. It is usually cool at night, with a warm summer. However, the north coast tends to be muggy during these times, so it is best to stay away from the beaches at this time. In fact, the cold temperature may spoil your fun on the water. But the rest of the year can be taken advantage of for snowbirds.
Tourists flock here from June to September because this coincides with school holidays. Therefore, you should plan ahead if you are going in these months. This is because hotel accommodations are booked fast in these months. But the good news is that you can find quaint houses to stay in their small fishing villages. They are near the coast if you want to have easy access to the beach.
Is There a Particular Order to Visiting Ecuador's Beaches?
The western coast of Ecuador offers stunning beaches for travelers. This means that there is no specific order for you to follow to see them. You can choose based on your preferences. The resorts here are diverse. Additionally, there are popular beaches to choose from if you want to immerse yourself in the crowd. For example, you can go to small fishing villages if you prefer some peace and quiet.
Firstly, Salinas beach is the go-to beach for tourists during the peak season, so expect a large crowd as it is a popular destination. Secondly, Salago beach is perfect for those who want to explore under the water. Scuba diving and snorkeling are popular on this beach. Make sure that you bring your gear with you. Lastly, Caraquez is the last dry tropical forest in Ecuador and is a great place if you want to go on treks and hikes and be closer to nature.
Ecuador is a great place to relax and unwind. With Quito as the capital and Cuenca as a great place to visit, how can you go wrong? Plus, the beaches are amazing with water activities to enjoy. It is hard to choose where to start!