Everybody needs a little time away from their busy and stressful lives. Sometimes trips that can get you into vacation mode fast are needed, but rarely booked. So I have a quick trip recommendation ready for you. Booking a trip to Cancun, Mexico is easy from many places on the East and West Coast, as well as Arizona and Texas and that allows you to get into vacation mode fast. Typically, you can find a direct nonstop flight to Cancun, so that turn around time at the airport is under 5-6 hours. Now, I will admit, Cancun and the Hotel Zona strip are not exactly my favorite destinations in Mexico, but if you want a quick getaway, where you can get into an all-inclusive and gorgeous hotel with a beach view so that you can chill, then I do have a recommendation for you: read my Hyatt's Hotel Zilara review and then visit its brand spanking new ZEN SPA!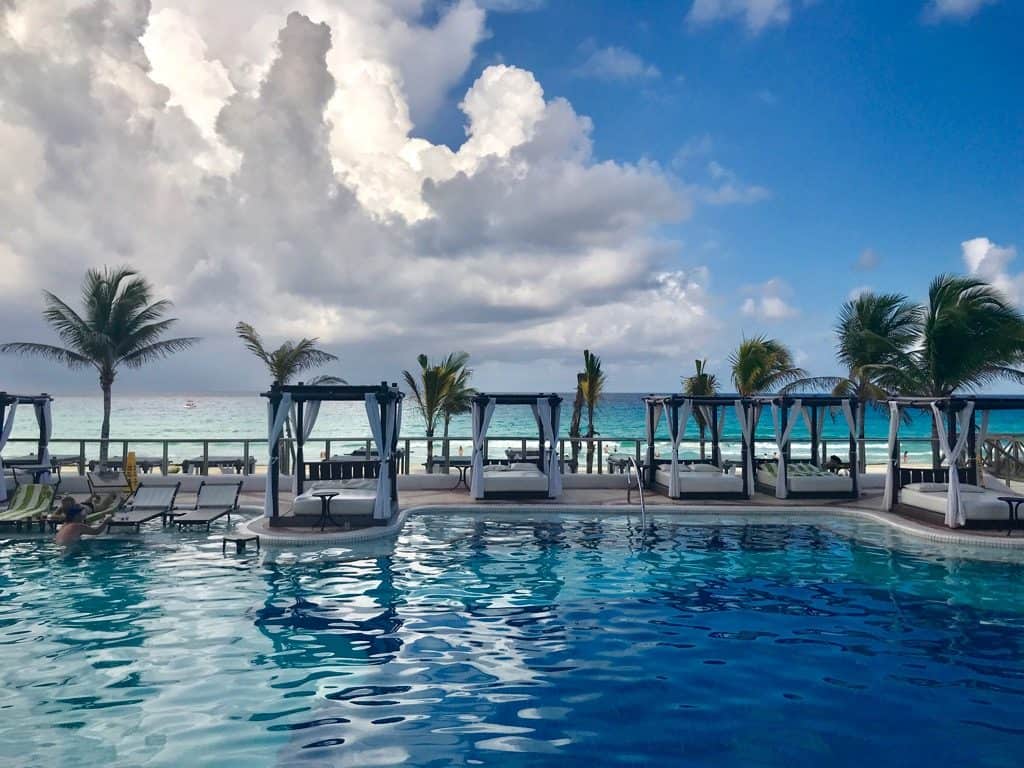 Hyatt Zilara Cancun Review
The Hyatt Zilara in Cancun is an all-inclusive, adult-only resort with luxurious oceanfront views. I have stayed at many hotels in Cancun along the "Hotel Zona" and many of them barely have a sandy beach to stand on! In fact, because of erosion, some of them only have small strips of beach available. This is NOT the case with Hotel Zilara. It, in fact, has a lot of sandy beach for your enjoyment with gorgeous cabanas to relax in.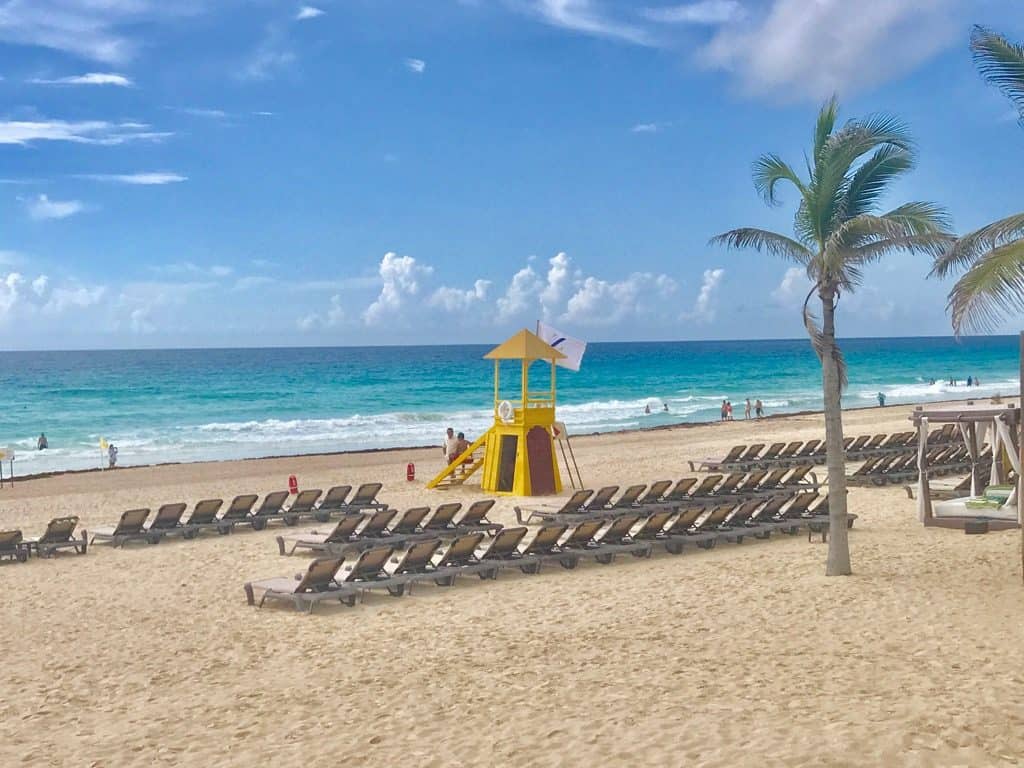 And with the compelling swim up bar and infinity pool, you will be asking yourself, "Can I stay here forever?" In addition to the amazing pool and swim up bar, the Hyatt Zilara Cancun also offers amazing suites, nightly entertainment, and all you can eat and drink at no additional charge!
Where is Hyatt Zilara Cancun?
Cancun is situated in the state of Quintana Roo, located in the southeastern part of Mexico on the Yucatan Penninsula. The city's flag represents the sea, the sand, and the sun using the colors blue, yellow and red. What's more amazing than visiting a place where the city flag represents Mother Nature? Cancun is practically a tourist zone lined with hotels, but it also has a city center, a massive mall, and many colorful buildings (but I say, skip those!). However, I can recommend for you to just go straight from the airport to the hotel and find your place at the Hyatt Zilara Cancun to relax. No sense in going outside the hotel on this vacation, as that is why you would choose to come here: to relax.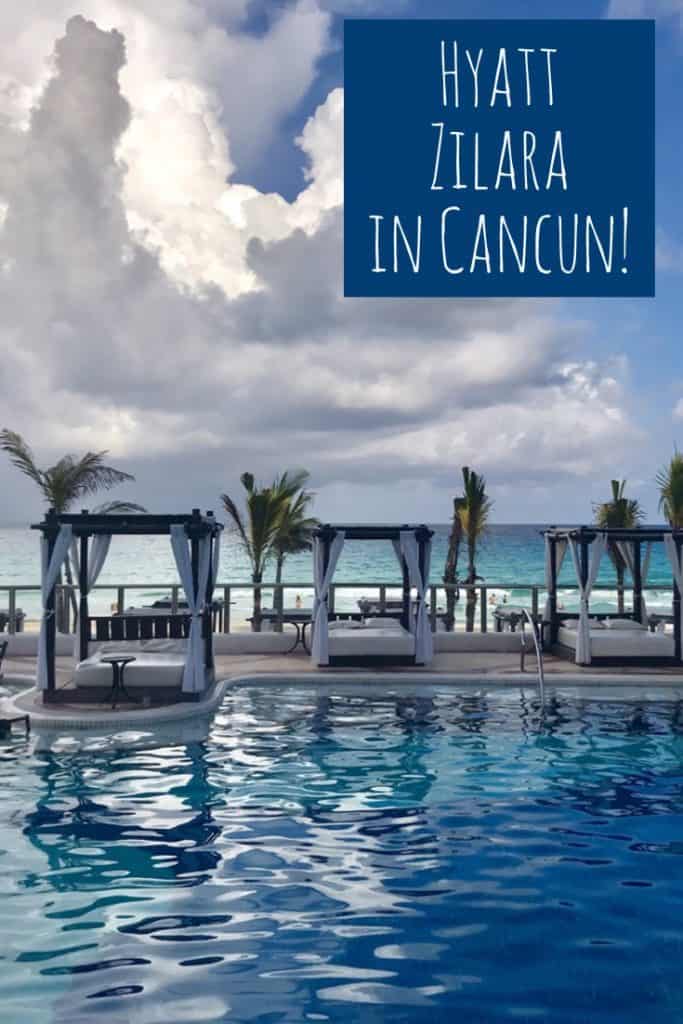 How do I get there and When Do I Come?
The obvious way to travel to Cancun is by airplane and the city of Cancun is served by the Cancun International Airport. The trip from the airport to the Hyatt Zilara Cancun is about 30 minutes. The best time of year to visit Cancun is during the months of December to April. The months of May to September are known to be the hottest and are during the hurricane season. Visiting during the December to April months offers guests moderate temperatures, but with a light and cool breeze during the night.
---
Travel Tip: Visiting Hyatt Zilara Cancun during the low season or shoulder seasons allows guests to pay lower rates on flights and hotels and to avoid the crowds. So this is my recommended time to go to Hyatt Zilara Cancun.
---
Hyatt Zilara Cancun Review: Introduction
Upon arriving at the Hyatt Zilara Cancun, your eyes will immediately gaze at the massive ceiling and center lobby. The ornate light fixtures and hardwood floors are statement pieces that guests are sure to remember. The hotel has over 300 stunning suites available at the Zilara Cancun and each has a special feature and design. Even though this resort is oceanfront, there are no tacky beachy elements in the hotel or room designs.
The Hyatt Zilara Cancun features include free WiFi, free parking, a multilingual staff, airport transportation, and concierge services such as dry cleaning, laundry, and outside local bookings for activities. The Zilara Cancun has made access to most of their hotel for wheelchair-bound persons as well. Before being known as the Hyatt Zilara, this hotel was known as The Royal Hotel. Since taking over the identity of this place, it is no wonder with all the updated rooms and services that the Hyatt Zilara won the TripAdvisors' 2018 Traveler's Choice award!
Hyatt Zilara Cancun: Ensuite Amenities
Rooms at the Hyatt Zilara Cancun are spacious and even walking through the hallways of the Zilara, guests can admire the ornate design and Mexican feel of the hotel. Guests can choose from the junior suites, ocean view junior suite, oceanfront junior suite, oceanfront luxury, ocean view swim-up suite and the presidential suite. There is no surprise that the higher the room costs, the more the suite has to offer. For example, the presidential suite includes designer toiletries, a telescope for stargazing, living and dining rooms, a reserved beach cabana, and a double whirlpool tub.
Most of the suites offer the essential perks such as LED TV, coffeemaker, bathroom, toiletries, air conditioner, mini bar, and a safety deposit box. Though if one wants to splurge on their all-inclusive adults-only vacation, then staying at the ocean view swim up suite king might be the best way to do it, since you can actually walk out of your balcony into an oceanfront semi-private pool. This stunning suite is almost 80-square-meters.
This premium suite offers guests "his and hers" bathrobes and slippers, a "Magic Box" for discreet room service, balcony with a hammock, semi-private pool and exclusive access to the hotel's gourmet restaurant, Chef's Plate. Regardless of the type of room one chooses to stay in, the layout of each suite is open, spacious and sleek. My room was one of the ocean view junior suites and it had an in-suite Jacuzzi, as well as a hammock on the balcony.
Zilara Cancun and the newly renovated Zen Spa: Perfection!
One of the perfect ways to relax your mind, body, and soul at the Zilara Cancun is by visiting the 22,800 square foot Zen Spa. This newly remodeled spa drew inspiration from the ancient Mayan traditions and culture – the four cardinal directions – East, West, North, and South – they are key elements of Mayan cosmology. The spa is open to guests from 8 am to 8 pm and offers eleven different treatment rooms with countless spa packages to choose from.
The spa's sleek and modern design features stone walls, vaulted teak wood ceilings and a hydrotherapy circuit that includes sauna, steam room, ice bath, plunge pool, and rest areas. As well as indoor and outdoor relaxation areas, completing the luxurious spa dedicated to pampering you. One of the unique massages offered at the Zen Spa is the Mayan massage with includes a combination of hot stones, deep tissue, and aromatherapy oils. The spa also offers facials and other body treatments.
Massages can last for 50 minutes or 80 minutes and include options such as ancient hot stone massage, lymphatic stimulating massage, traditional Mexican herbs, or a sports massage. In my experience, the massage helps stimulate the bodies tissues and relaxes your muscles while you enjoy the tranquil environment. Coupes can also ask for a romantic escape treatment that includes a body treatment massage with chocolate in a private room together.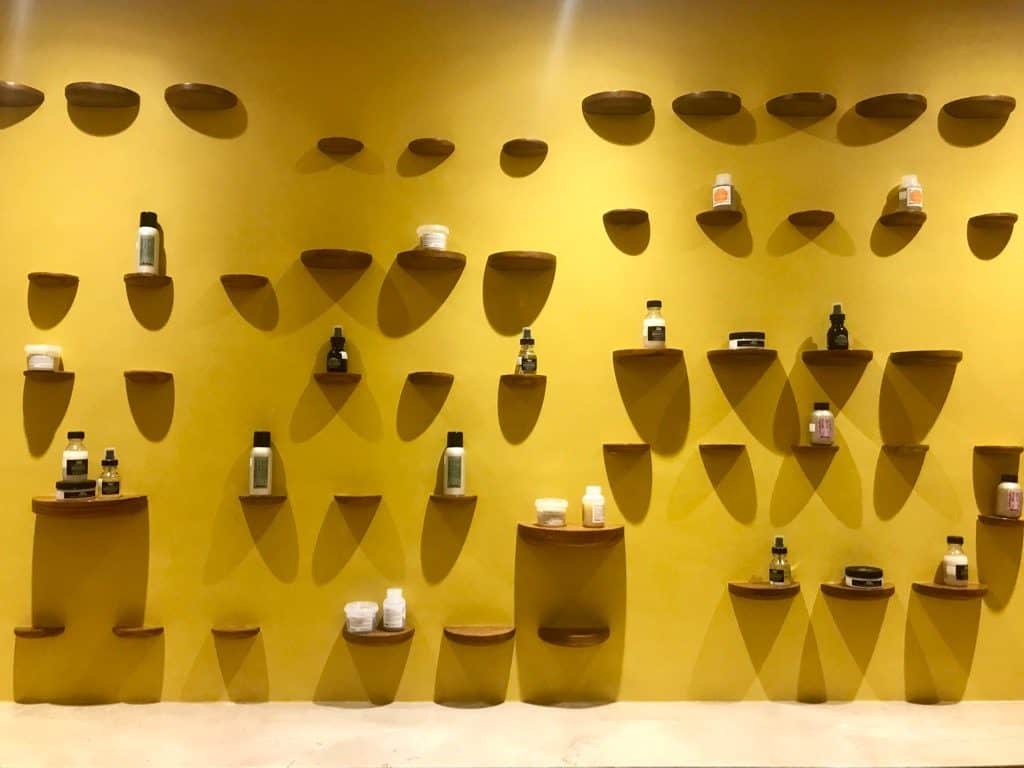 Zen Spa Treatments: Facials and Body Treatments and More!
A 50-minute blueberry antioxidant facial is one of the unique facials offered at the spa. This organic treatment leaves your face feeling as smooth as butter. Other facials that are offered at the Zen Spa include age corrective facial, before and after sun facial, organic eye and lip treatments. Aside from the facials, body wraps and treatments are also a big hit among guests at the spa. Body wraps such as detox cellulite herbal mud wrap and pear and green apple sugar scrub wrap are 50-minutes of heavenly body bliss.
The longer body treatments include the Mayan ritual and Aromazen ritual. The Mayan ritual includes treatment of the body with a combination of acupuncture and old Mayan treatments. The Aromazen ritual lasts three hours and helps clear the body of dead skin using oils. The talented hands of the masseuses and cosmetologists of the Zen Spa always leave you satisfied. Aside from the body massages and treatments, the spa doesn't exclude any part of the body. Manicures, pedicures, haircuts and hairstyle, and waxing services are all available at the Zen Spa salon.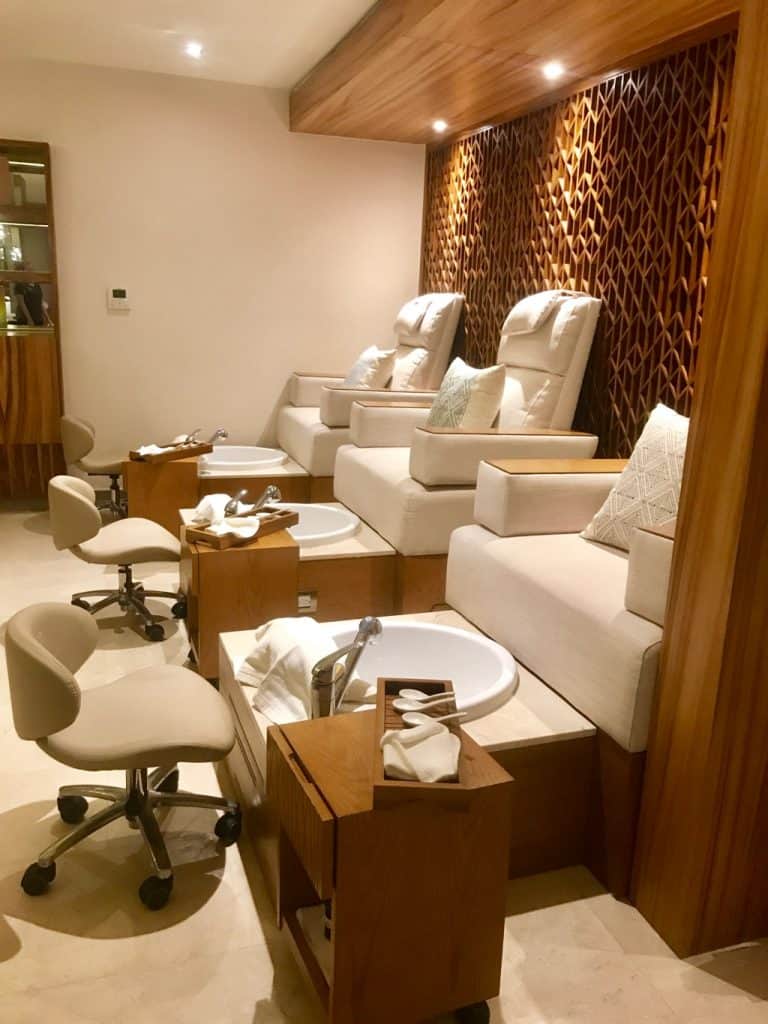 Zen Spa: Alchemy Workshop
One of the more interesting experiences offered at the hotel is in the Zen Spa. The spa offers an Alchemy workshop to learn how to make your own personal oils and exfoliation cream for your skin. The workshop can teach you how to mix your own skin mask and body exfoliant. You can create personalized balms and moisturizers made with all-natural ingredients like coffee, honey, milk, oatmeal, and lime. The experts teach you about mental notes and hard notes of herbs and spices.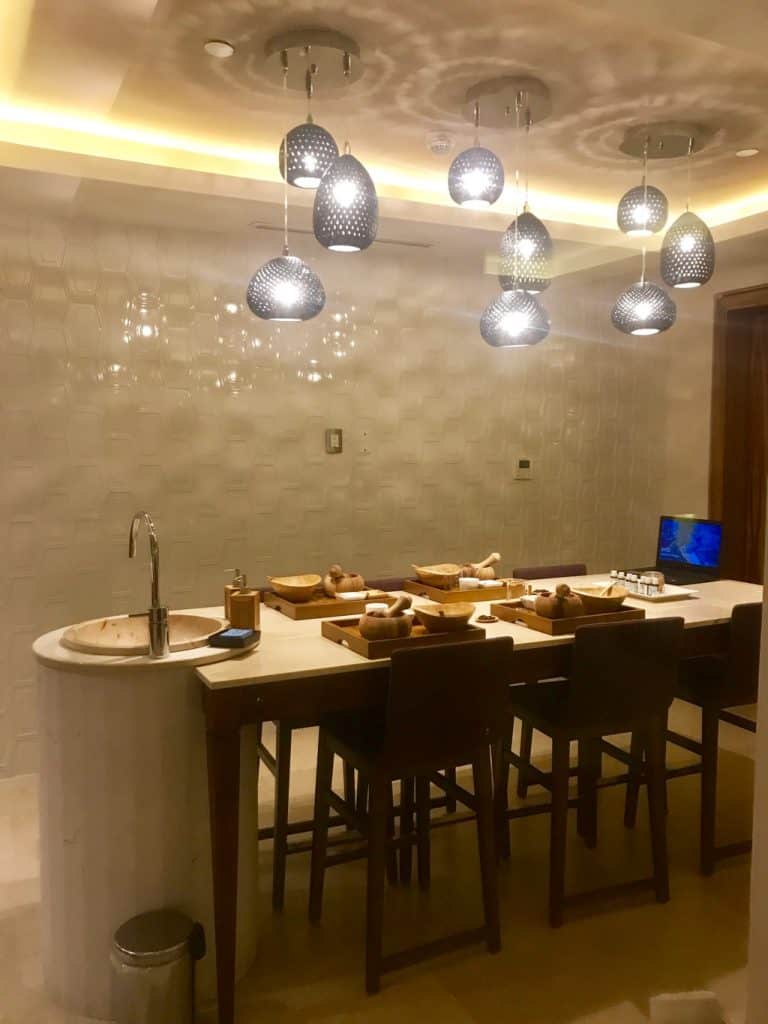 Hyatt Zilara: Workout facility
The Zen Spa would not be complete without a massive gym that overlooks the ocean with stunning views. The Sky gym is open 24 hours a day and offers plenty of services. Classes available at this gym include Pilates, sunrise yoga, partner yoga, and Zumba. And when I say Pilates, I don't mean floor exercises only, I actually mean Reformer classes every morning at 9 am! You can request a personal training session, as well, for an additional charge per hour, as they have trainers on staff.
Hyatt Zilara Restaurants
There is a total of six amazing restaurants (and one food taco cart!) at the Hyatt Zilara Cancan. I was impressed by the quality, selection, and creativity of the food that was offered. Most of the restaurants have an on-staff sommelier and wine tastings available paired with food.
Asiana
One of the most raved amount restaurants is the Asiana. No surprise that Asian food is served at this restaurant and the food is impeccable. The bisuteki-style way of cooking at the Asiana draws attention from restaurant goers. It is an oriental cuisine, sushi, and teppanyaki grill.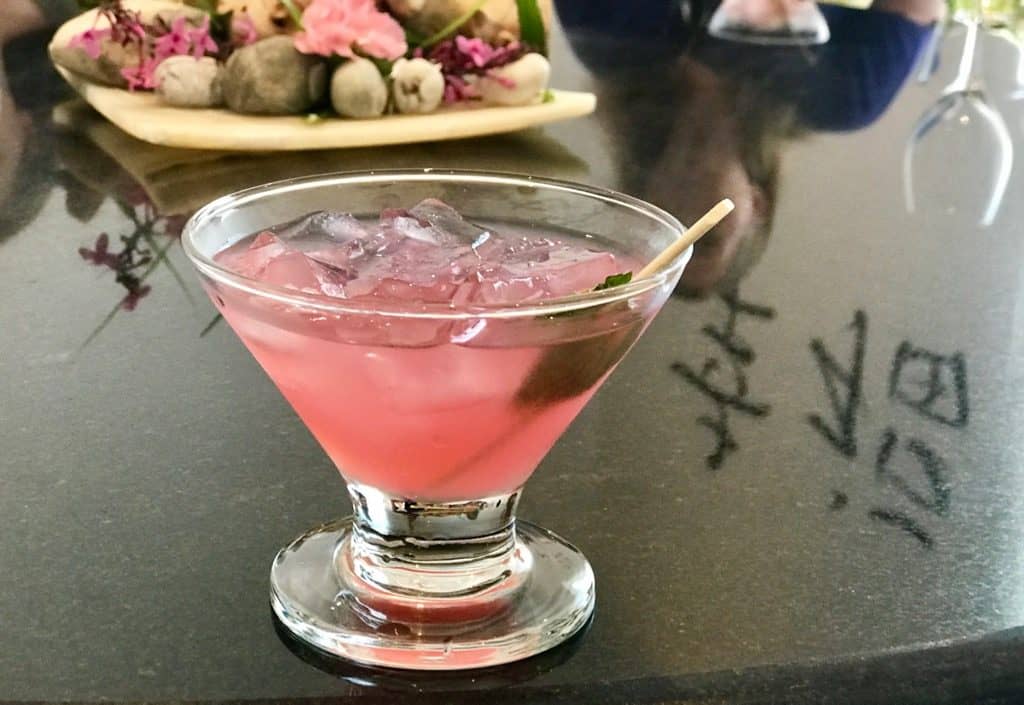 Spice
Another guest favorite at the Zilara is the buffet-style restaurant of Spice. Spice is a great spot to eat a hearty breakfast before engaging in the day's activities. It is a huge buffet area, where they practically have everything you can imagine to eat and drink. They also will cook to order. It is open for breakfast, lunch, and dinner with no reservations required.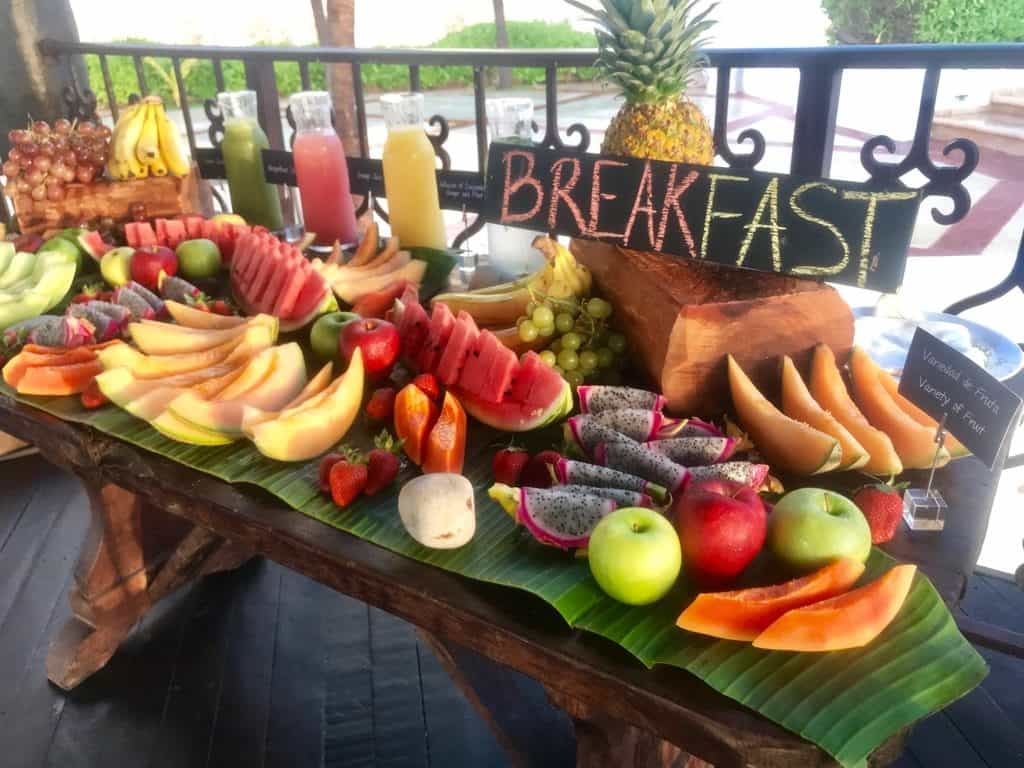 Chef's Plate
There is only one way to dine at the Chef's Plate and that is through a private experience. This is a very special experience, that I hope you try at least once!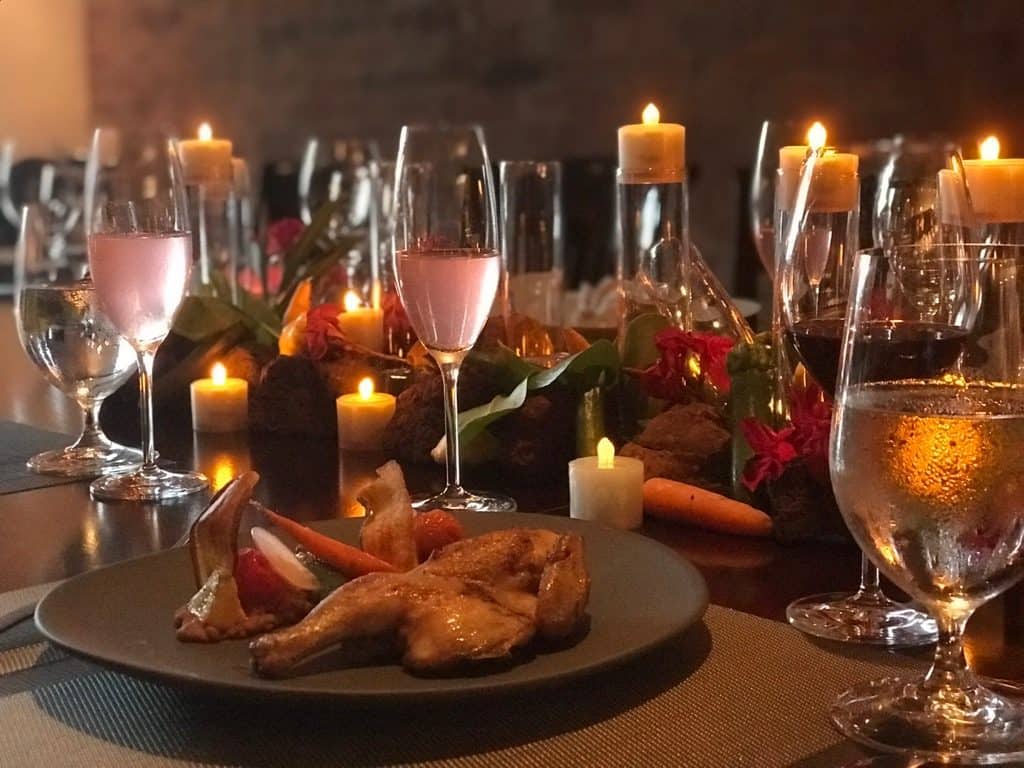 La Adelita and Maria Marie
La Adelita is a very delightful Traditional Mexican restaurant and cantina that is headed by chef Miguel Herrera. Fresh seafood and locally made tequila are great choices to pick while dining at this restaurant. I also had the signature drink of the hotel – Los Rosa. This amazing drink is made of tequila, lime juice, pineapple juice, agave, with a tajin covered rim. The other more casual side to La Adelita is the Mexican-American style restaurant at the resort is Maria Marie. This Mexican gourmet restaurant is dimly lit, yet has a romantic Mexican feel to it.
Casa del Café
There is a cute coffee shop, Casa del Café, that offers pastries, ice cream, sorbets, coffee, and deli sandwiches. It is nice to an afternoon pick me up.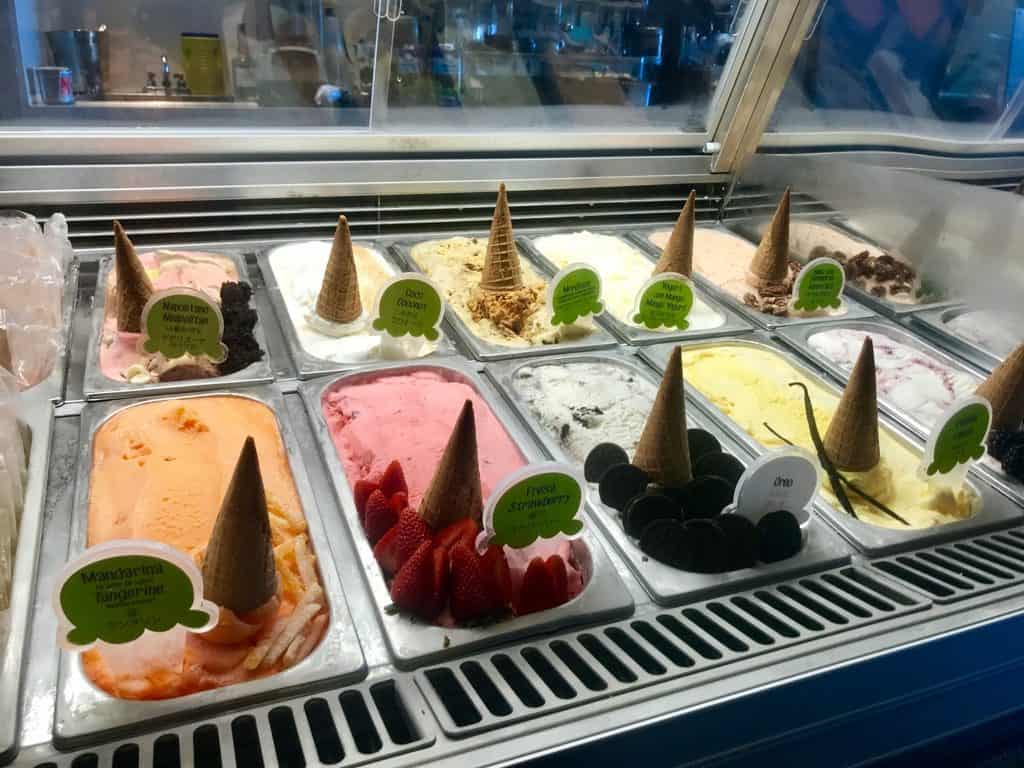 Pellicano's
By the pool area, there is an open-air restaurant called Pellicano's that serves pool variety type food and Caribbean cuisine. The most appetizing food at this open restaurant is the grilled items in my opinion, as I had the grilled shrimp and it was fantastic. The poolside restaurant is good for people looking to grab a quick bite while soaking up the Caribbean sun and enjoying the outdoor views.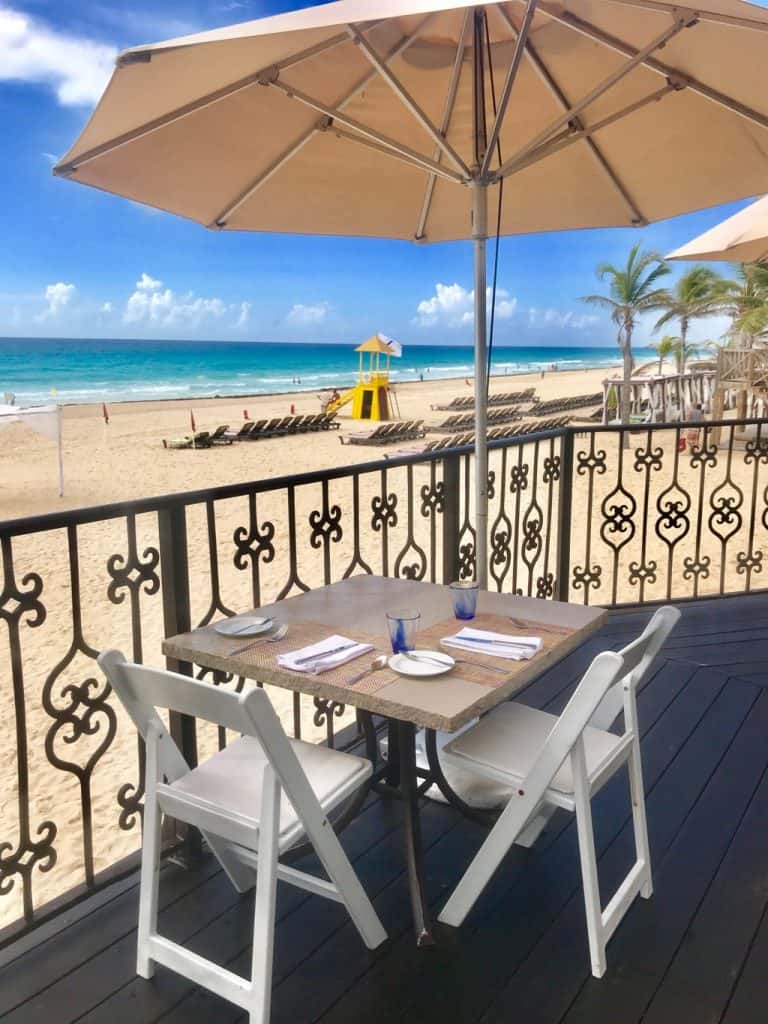 Food Taco Cart at the Pool
The Hyatt Zilara Cancun also offers tacos from a food cart by the massive outdoor infinity pool! This was one of the pool goers favorites!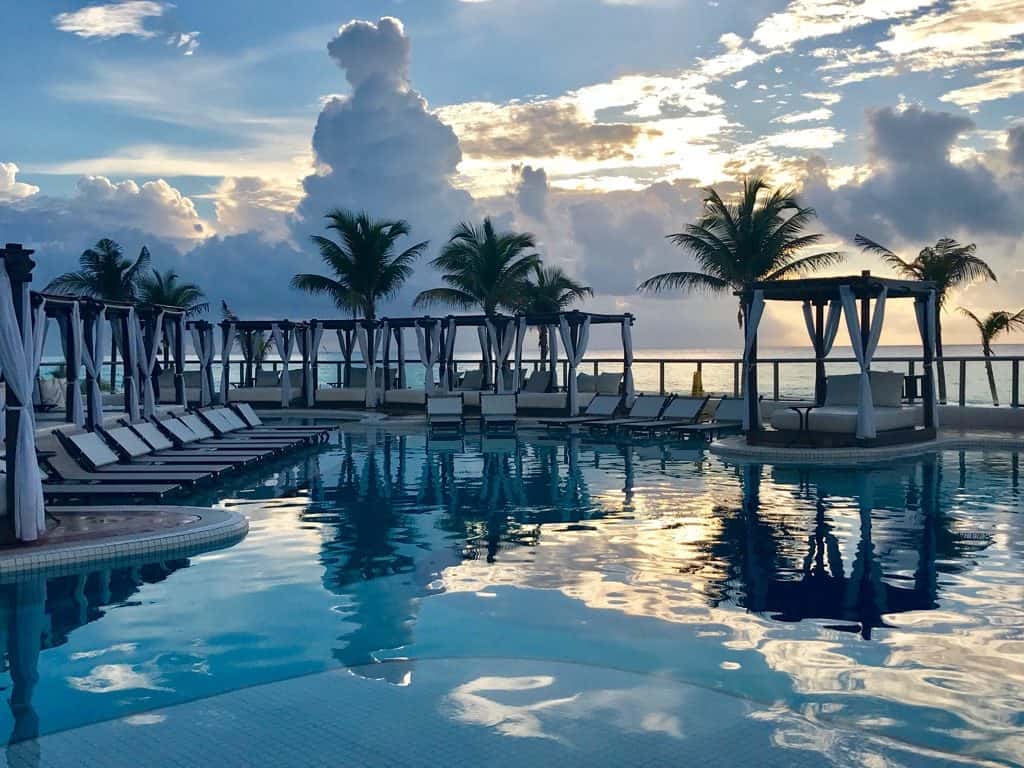 Hyatt Zilara Cancun Bars
A superb way of starting off happy hour is with the signature drink – Los Rosa. This tasty drink is made of tequila, lime juice, pineapple juice, agave, and a tajin rim. It is served at the Pelicano's Beach bar, Trade Winds swim up bar, Tequileria beach bar, and the 24-hour lounge bar. Besides the signature drink, other cocktails and drinks are served at the lobby bar of the Zilara Cancun. The immense horse statues at the four corners of the bar add to the exquisite beauty of the hotel lobby.
Hyatt Zilara Cancun Pools and Beach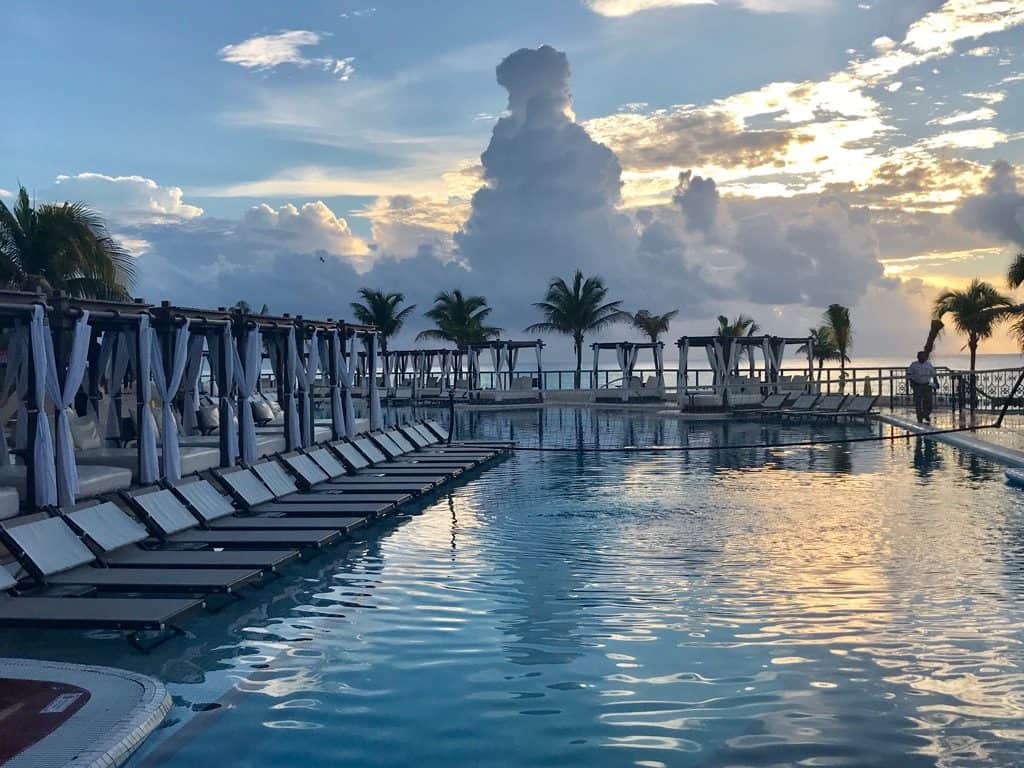 The Hyatt Zilara offers two large pools attached to each other and an infinity pool that goes on for miles. However, if you are visiting Cancun for the first or millionth time, then the beach is where you might want to spend your mornings or afternoons. The beach is composed of soft sand made up of crushed coral. The sand is extremely silky and it feels like powdery gold. There are plenty of beach cabanas, and they are available with a first come first serve basis. When I was there in September, there were plenty of spots available most times of the day. The turquoise color of the Caribbean Sea sparkles against the smoothness of the sand and you will be mesmerized by the gorgeous views.
Snorkeling, windsurfing, and scuba diving are great water sports for guests to engage in. Ask the hotel staff to help set up excursions and water activities.
Hyatt Zilara: Nightly Entertainment
Nightly entertainment is available at the Hyatt Zilara, so there is no need to go out. The lobby of the Hyatt Zilara hosts a themed-style party that has guests from the surrounding resorts jealous of all the Zilara fun. Some of these nightly shows include a Venetian carnival show and a club night. One of the biggest hits of the nightly shows is the Mayan warrior show, complete with dramatic sacrifices and plenty of excitement.
Hyatt Zilara Review: Additional Services
For guests who are traveling in late May, it is possible to observe a sea turtle migration. Weddings are a huge business and the Hyatt Zilara has the best wedding deals and packages in the area. The Playa Gazebo Villas is the perfect place to say those special "I Do's". The hotel manages everything from the venue, menu, cake design, and catering. Just choose your special package and the kinks will be worked out by the wedding specialists of the Cancun Zilara.
Hyatt Zilara Cancun: Fun and Free Classes
The Zilara Cancun offers classes to their guests, that are free of charge. Don't worry, just because they offer classes doesn't mean it will feel like you are back at school. They offer everything from exotic pole dancing lessons, and culinary lessons, to an arts and crafts class.
For guests who prefer to stay in the pool area, don't miss the chance to hit up the "swing" area of the bar. Legitimate swings are set in place of bar stools at the poolside bar. Most guests will enjoy the poolside aqua aerobics in the Olympic sized pool to prelude their drinks at the swim up bar. For guests who choose to keep their memories in photo form, the Hyatt Zilara offers on-site beach/pool photographers.
Hyatt Zilara Cancun Review – My Final Thoughts
A Hyatt Zilara review would most certainly include 5 stars for its tranquility, closeness to the sparkling beach, amazing staff, and impeccably large room options. The location, service and adults only option is a great way to draw in visitors from around the world and it certainly does that. Each day and experience at the Hyatt Zilara Cancun will be more memorable as your vacation lingers on. There is no way you leave this hotel resort without telling a friend or two or maybe post on social media about what a great experience you had. Annual trips back to this adults-only all-inclusive resort should be penciled into your calendar on your smartphone so that you remember my motto: Vacation every 6 weeks of your life! You deserve it! Rest assured that the Hyatt Zilara Cancun is ready for you.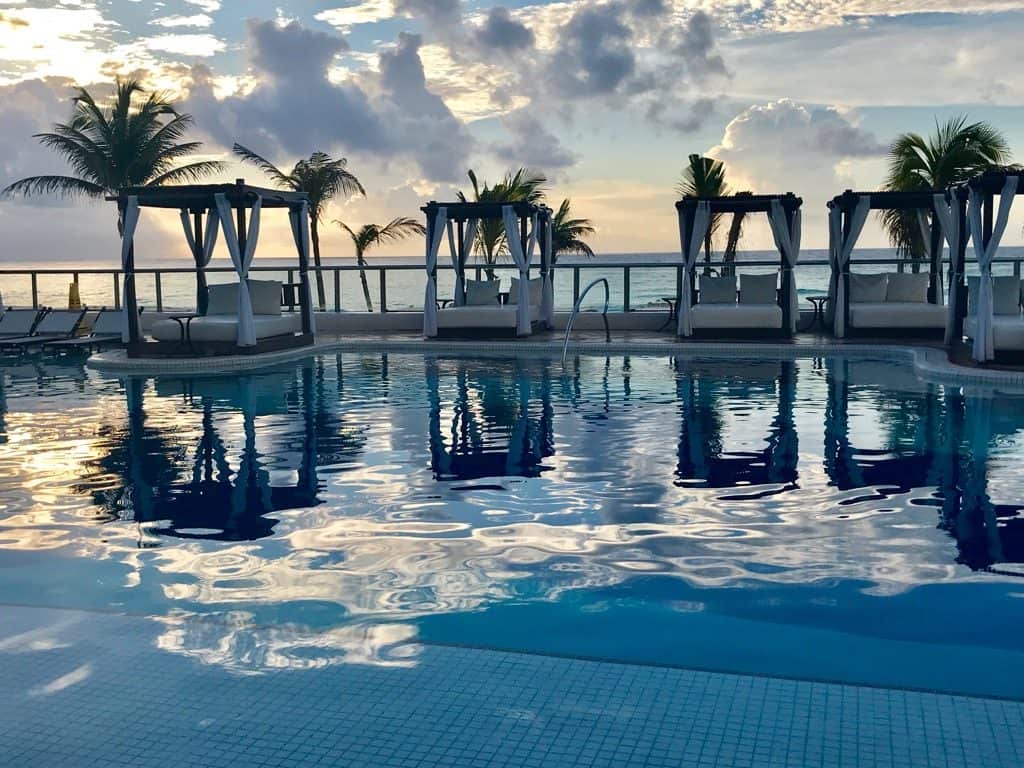 Recommended Reading:
Foodie Heaven: Benazuza, Cancun, Mexico
Xcaret, Mexico: The Adventure Park You Will Enjoy the Most!
Gliding Thru Hidden Worlds: Riviera Maya, Mexico
Amazing Adventure Park in Mexico's Riviera Maya: Xel Ha
Disclosure: As is common in the travel industry, Dr. Maloney was provided with accommodations, meals, and other compensation for the purposes of review by Hyatt Zilara Cancun. While it has not influenced her review, PointsandTravel.com believes in full disclosure of all potential conflicts of interest. All Photos by the author. There may be affiliate links in this article.