If you're planning a trip to Mexico, there are a few things you need to keep in mind when packing. Mexico is a beautiful country with a diverse landscape, rich culture, and warm weather. This makes it a popular destination for travelers all around the world.
In this article, we'll cover the ultimate Mexico packing list, things people often forget when packing for their trip to Mexico in 2022.
Clothing: What to Wear in Mexico for Every Season
Mexico has a warm climate year-round, but temperatures can vary depending on the time of year and location.
Summer: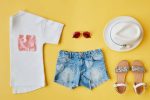 Light and airy clothing such as tank tops, shorts, and sundresses are ideal for the hot and humid climate in Mexico.
Linen fabrics or Lightweight cotton are best to keep you cool and comfortable.
Bring a wide-brimmed hat to protect your face and head from the sun.
Don't forget to pack comfortable walking shoes and sandals to explore the beaches and towns.
Fall: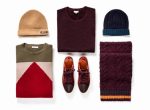 Layering is key in the fall season in Mexico as the mornings and evenings can be cooler while the afternoons are still warm.
You should bring a light sweater, cardigan, or denim jacket to wear over a t-shirt or tank top.
Long pants or jeans are a good option, especially for evenings.
Closed-toe shoes such as sneakers or loafers are recommended for outdoor activities.
Winter: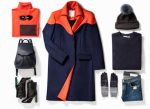 Winter in Mexico can vary from region to region, but it gets chilly during the evenings and early mornings.
Pack warm layers such as a coat, scarf, and gloves.
You can still wear jeans and long pants but bring a couple of thicker sweaters to keep you warm.
Closed-toe shoes such as boots or sneakers are recommended.
Spring: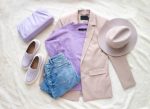 This season in Mexico is warm and breezy, so bring lightweight clothing that is easy to layer.
Pack a light jacket or cardigan to wear over your t-shirt or tank top in the evenings.
Long pants, jeans, or skirts with tights are good options.
Comfortable walking shoes and sandals are ideal for exploring the beautiful scenery and attractions in Mexico.
Footwear: From Flip Flops to Sneakers – Best Shoes for Mexico
When it comes to footwear in Mexico, it's all about versatility.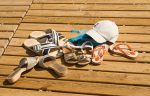 Sandals: Flip-flops or strappy sandals are perfect for hot weather and beach trips. Choose comfortable, durable options that are easy to slip on and off.
Walking Shoes: If you plan to do a lot of walking or hiking, comfortable sneakers or walking shoes are a must. Look for breathable, lightweight materials and good arch support.
Water Shoes: If you plan to spend time at the beach or in the water, water shoes can protect your feet from sharp rocks or shells. They're also useful for activities like kayaking or snorkeling.
Dress Shoes: For formal or dressy occasions, pack a pair of closed-toe shoes. Loafers or dressy sandals are a good choice for women, while men can opt for dress shoes or loafers.
Boots: If you plan to visit Mexico during the rainy season or do any hiking in the mountains, waterproof boots can keep your feet dry. It also provides extra traction on slippery surfaces. Look for boots with good ankle support and durable soles.
Electronics: Gadgets You Can't Afford to Forget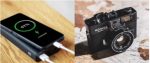 In today's digital age, it's important to bring along your electronics when traveling to Mexico.
Smartphone: Bring your smartphone and charger. Make sure you have an international plan or a local SIM card if you plan to use data or make calls.
Camera: Capture your trip memories with a camera, and don't forget to pack its charger and extra memory cards.
Power bank: Keep your devices charged on the go with a power bank.
Universal adapter: Mexico uses Type A and Type B electrical outlets. So bring a universal adapter if you're from a country with different outlets.
E-reader or tablet: Keep yourself entertained during downtime or long flights with an e-reader or tablet.
Headphones: Whether you're listening to music, watching a movie, or taking a call, headphones are a must-have for any electronic device.
Portable speaker: If you plan on spending time at the beach or having outdoor picnics, a portable speaker is a great addition to music or entertainment.
Toiletries: Don't Leave Home Without These!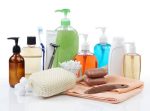 When it comes to toiletries, it's always better to be over-prepared than underprepared.
Toothbrush and toothpaste: Essential for maintaining dental hygiene
Deodorant: Helps to keep you smelling fresh in the hot climate
Sunscreen: Protects your skin from the sun's harmful rays
Insect repellent: Necessary to prevent mosquito bites and reduce the risk of diseases such as dengue fever and Zika virus
Shampoo and conditioner: Helps to keep your hair clean and manageable
Body wash or soap: For daily hygiene routine
Moisturizer: Helps to keep your skin hydrated in the dry climate
Feminine hygiene products: Important for female travelers to pack
Razor and shaving cream: Necessary for personal grooming
Contact lenses and solution or glasses: If you wear contacts, don't forget to pack them along with a suitable solution. If you wear glasses, make sure to bring a spare pair.
Prescription medications: If you require any prescription medications, make sure to bring them along with a copy of the prescription from your doctor.
Travel Documents: What You Need to Bring to Mexico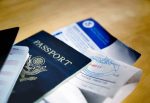 No matter where you're traveling, it's always essential to bring the right documents with you.
Passport: A valid passport is required for entry into Mexico. Make sure your passport is not expired and has at least six months of validity remaining.
Visa: Depending on your nationality, you may need a visa to enter Mexico. Check the Mexican embassy or consulate website to determine if you need a visa and how to obtain it.
Airline ticket: Bring a copy of your airline ticket or e-ticket confirmation for both inbound and outbound flights.
Hotel reservations: Have a printed copy or electronic confirmation of your hotel or accommodation reservations.
Travel insurance: While travel insurance is not mandatory, it is advisable to have coverage for medical emergencies and trip cancellations. And other unforeseen circumstances.
Driver's license: If you plan to rent a car in Mexico, bring your driver's license and a printed copy of your rental car reservation.
Credit card: It's always a good idea to have a credit card on hand for emergencies or unexpected expenses.
Emergency contacts: Keep a list of emergency contacts, including your family members, your doctor's contact information, and your country's embassy or consulate in Mexico.
Money Matters: Credit Cards, Debit Cards, and Cash in Mexico
When it comes to money matters in Mexico, it's important to have a mix of cash and cards.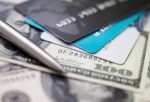 Credit Cards: Major credit cards such as Visa, Mastercard, and American Express are widely accepted in Mexico. Check with your bank to ensure that your card is accepted in Mexico. Notify them of your travel plans so that they don't freeze your account for suspicious activity. Credit cards can be used for purchases at most businesses and restaurants. But may not be accepted at smaller, local establishments. Keep in mind that some credit cards charge foreign transaction fees.
Debit Cards: ATM machines are widely available in Mexico, and you can withdraw cash using your debit card. Make sure to check with your bank to ensure that your card can be used internationally. And to find out if there are any fees associated with using your card in Mexico. Some banks have partnerships with international banks that allow for fee-free ATM withdrawals.
Cash: It's always a good idea to carry some cash with you in Mexico. Especially in smaller towns or rural areas where credit cards may not be accepted. U.S. dollars are accepted in some places, but it's best to have Mexican pesos on hand. You can exchange currency at banks or exchange offices, but be aware that exchange rates and fees may vary. It's also a good idea to keep some smaller bills on hand for tipping and other small purchases.
Beach Vacation: Packing List for Mexico's Stunning Beach Towns
Mexico's stunning beach towns are a top destination for many travelers.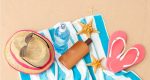 Swimsuits: Mexico's beaches are one of the main reasons tourists flock to the country. P
Sunscreen: The sun in Mexico can be intense, especially during the summer months. Bring a high-SPF sunscreen to protect your skin from harmful UV rays.
Hat: A wide-brimmed hat is essential to protect your face, neck, and ears from the sun.
Sunglasses: Protect your eyes from the sun's glare with a good pair of sunglasses.
Beach cover-up: A lightweight and comfortable beach cover-up can protect your skin from the sun. And give you some privacy while changing on the beach.
More Things:
Sandals: A comfortable pair of sandals or flip-flops will keep your feet cool and sand-free.
Beach bag: A beach bag is essential to carry your beach essentials.
Snorkeling gear: Bring your own gear, including a snorkel, mask, and fins, to avoid rental fees.
Waterproof phone case: Invest in a waterproof phone case to protect it from sand and water damage.
Insect repellent: Mosquitoes and other bugs can be a nuisance, especially during the rainy season.
Beach towel: While many hotels and resorts provide beach towels, it's always a good idea to bring your own in case they run out.
Health and Safety: Staying Healthy and Safe During Your Mexico Vacation
Staying healthy and safe during your Mexico vacation is crucial for an enjoyable trip. Here are some tips to ensure your well-being while traveling:
Research the destination beforehand and check if there are any health advisories or safety concerns in the area.
Pack any necessary medications and bring copies of your prescriptions in case you need a refill or emergency treatment.
Protect yourself from the sun by wearing sunscreen with at least SPF 30, a wide-brimmed hat, and sunglasses.
Stay hydrated by drinking plenty of water, especially if you're traveling to a hot and humid area.
Be cautious when consuming food and drinks, especially street food. Stick to restaurants and food vendors that have good reviews and are popular among locals.
Even more Things:
Wash your hands frequently, especially before eating or touching your face, to prevent the spread of germs and illnesses.
Be aware of your surroundings and avoid areas that are known for high crime rates, especially at night. Use transportation services that are reputable and licensed.
Consider purchasing travel insurance to cover any medical emergencies, trip cancellations, or lost/stolen items.
In case of an emergency, know the location of the nearest hospital or medical center and have a plan in place to contact your embassy or consulate.
Packing Hacks: Tips and Tricks for Packing Light and Efficiently.
Make a packing list: Write down everything you need to bring with you, and cross off items as you pack them.
Choose the right luggage: Select a lightweight, durable, and versatile bag that fits your needs.
Roll your clothes: Rolling your clothes instead of folding them can save space and prevent wrinkles.
Pack by outfit: Plan out your outfits ahead of time, and pack complete outfits together to avoid overpacking.
Wear bulky items on the plane: If you're bringing bulky items like jackets or hiking boots, wear them on the plane to save space in your luggage.
Use packing cubes:
Use packing cubes: Packing cubes can help keep your clothes organized and make it easy to find what you need.
Pack travel-sized toiletries: Bring travel-sized toiletries to save space and avoid having to check your luggage.
Consider laundry options: If you're going on a longer trip, consider bringing a small amount of detergent and doing laundry on the go.
Use compression bags: Compression bags can help you squeeze more items into your luggage by reducing the amount of air in your clothes.
Don't overpack: Remember, you can always buy things you need once you arrive at your destination, so resist the urge to overpack.
Discovering Mexico: A Tour of Top Tourist Destinations
Mexico is a country full of rich culture, beautiful landscapes, and fascinating history. From the pristine beaches of Cancun and Cozumel to the colorful colonial city of San Miguel de Allende, Mexico has something to offer every traveler. Here are some of the top tourist destinations:
Tulum
Tulum is situated on the Caribbean coast of Mexico. It is a popular tourist destination known for its picturesque beaches, crystal-clear waters, and ancient Mayan ruins.
A visit to Tulum is incomplete without exploring the Tulum Archaeological Site, which features well-preserved ruins of a Mayan-walled city.
Tulum Beach is another must-visit attraction. Where visitors can relax and soak up the sun while enjoying the stunning views of the Caribbean Sea.
The Gran Cenote, a natural swimming hole with crystal clear waters, is a popular spot for snorkeling and swimming. Tulum's unique blend of history, culture and natural beauty makes it a top destination in Mexico.
Puerto Vallarta
Puerto Vallarta is a resort town located on the Pacific Coast. Offers visitors a range of activities, from beach lounging to exciting nightlife and outdoor adventures.
The Malecon boardwalk, Los Muertos Beach, and the Vallarta Botanical Gardens are among the must-visit attractions in the area.
Cancun
Cancun is located on the Yucatan Peninsula. Renowned for its pristine white sandy beaches, crystal-clear waters, and vibrant nightlife.
There are several must-visit attractions in Cancun. Including the Mayan ruins of Chichen Itza, the Cancun Underwater Museum, and the nearby Isla Mujeres. Visitors to Cancun can enjoy a range of activities. From swimming, snorkeling, and scuba diving to exploring the vibrant nightlife of the city.
Cozumel
Located off the eastern coast of the Yucatan Peninsula. Cozumel offers breathtaking underwater views of marine life, making it a highly sought-after Caribbean island for world-class diving and snorkeling.
Besides diving, Cozumel also offers stunning beaches and unique cultural experiences. Among the must-visit attractions is the Chankanaab National Park. It is home to a diverse range of marine life and activities such as swimming with dolphins and sea lions. The San Gervasio Mayan ruins offer a glimpse into the island's ancient history.
San Miguel de Allende
Situated in central Mexico, San Miguel de Allende is a UNESCO World Heritage site. That is renowned for its colonial architecture, cultural festivals, and flourishing arts scene. Must-visit attractions include the Parroquia de San Miguel Arcangel and El Jardin central plaza.
Mexico is a Great Place to Visit
Mexico is a great place to visit, with many great options for a beach vacation or exploring historical sites. Whether you're visiting Cancun, Puerto Vallarta, Playa del Carmen, or San Miguel de Allende, packing the most important things is essential for a good time.
From comfortable walking shoes to a rain jacket, this ultimate Mexico packing list includes all the essential items you need for your trip. Remember to pack light, stay hydrated, and take precautions for petty crime. With these travel tips and the complete Mexico packing list, you're sure to have a great time in Mexico.