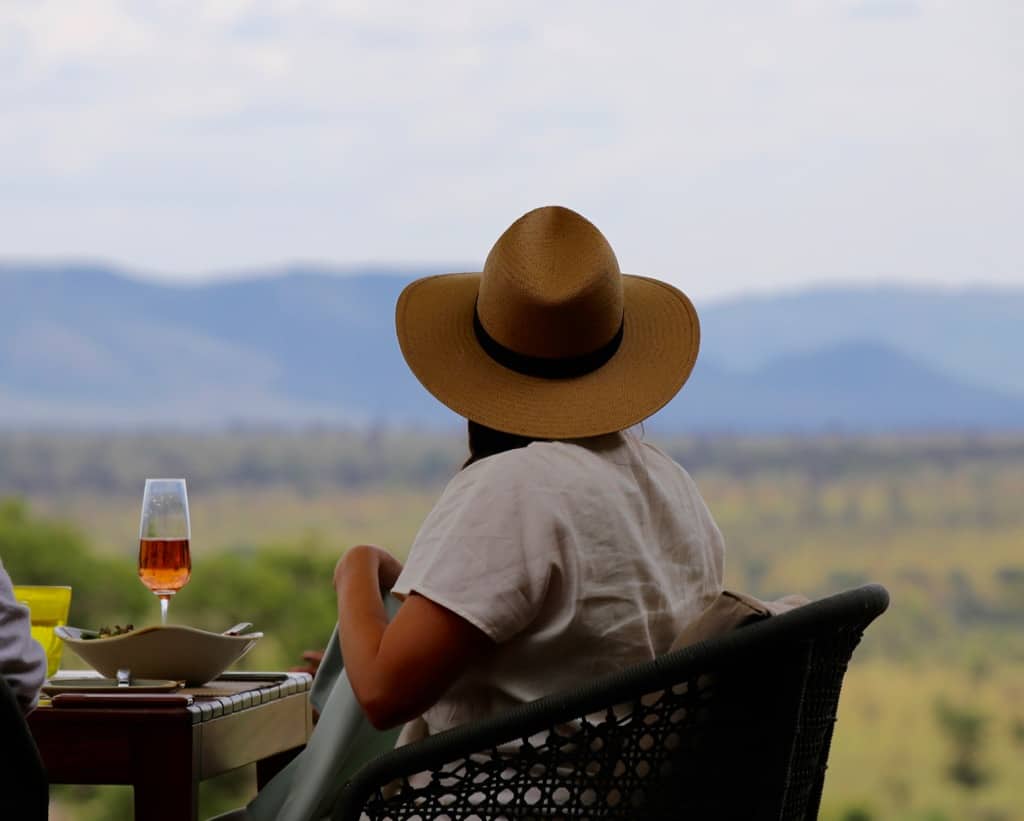 A Safari Outfit to Pack
Once I knew I was going on an African safari trip with a Tanzania itinerary, I started to evaluate my wardrobe and decided I really didn't have the proper attire for such an adventurous trip. I did have clothes that I bought for my trip to Guyana down the Amazon River Basin, but still, I knew I need to add additional clothing for the perfect safari outfit.
For one thing, I wanted to be stylish, yet I wanted to be prepared for the type of weather and conditions I would be experiencing while in Tanzania. I heard it was dusty in Tanzania, so I needed to be prepared for that as well. I also know that one of the keys to enjoying travel is not to overpack, because who wants to schlep their extra stuff around when there is no one there to take your luggage?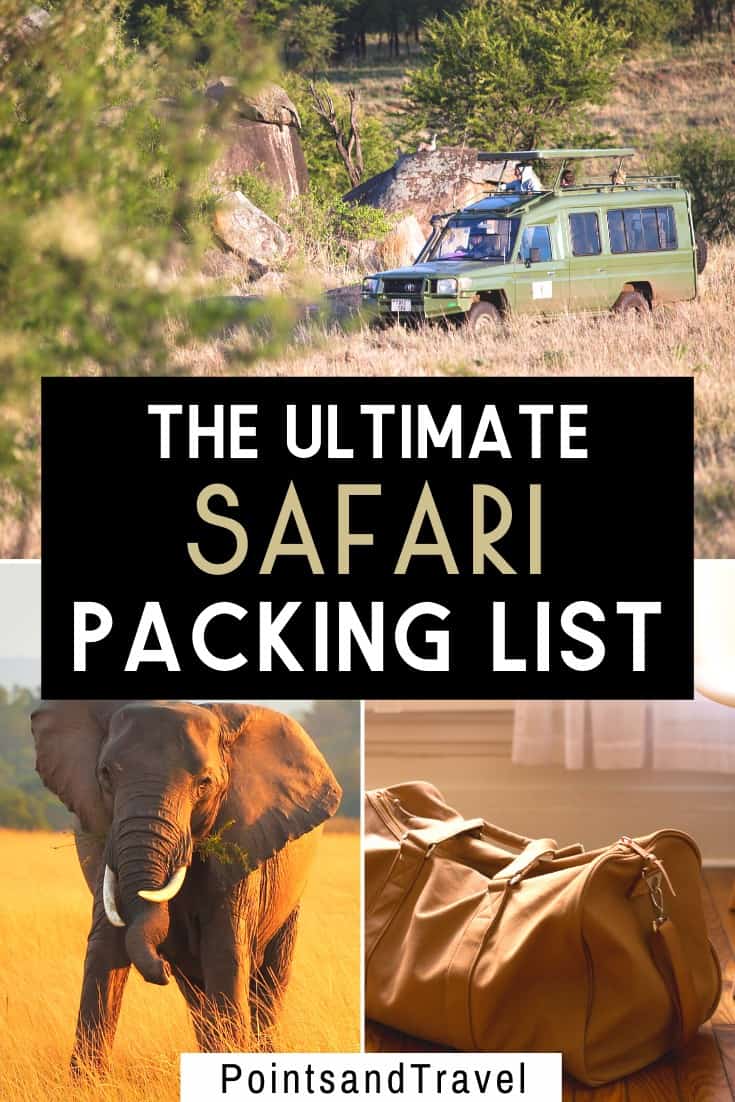 Plus, between the small prop planes and the safari-style vehicles, I would be riding in, space is limited. So I decided to create a list of what to bring on an Africa Safari for the perfect safari outfit so that I would bring the necessities and leave the rest at home.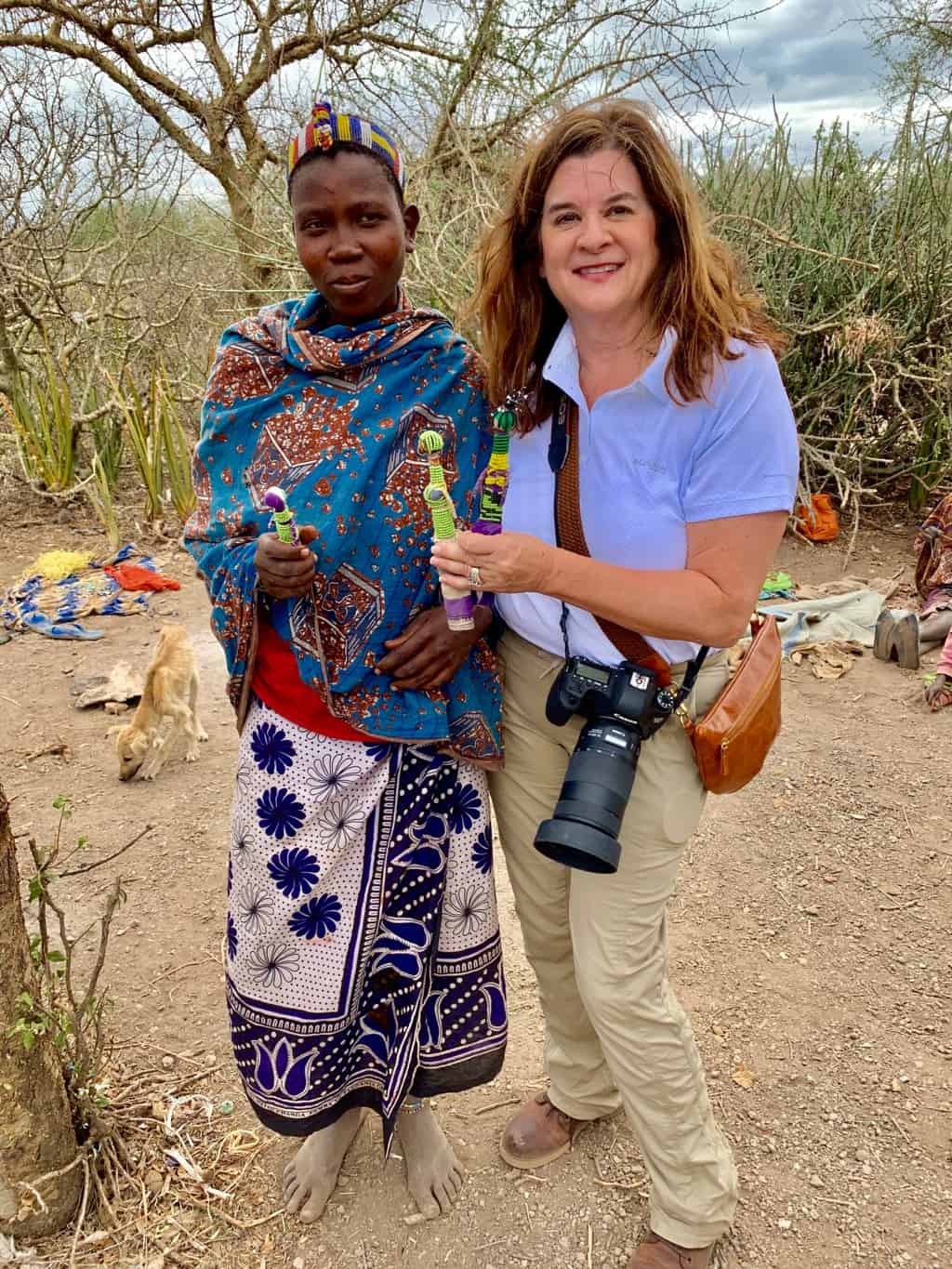 Shadows of Africa and Four Seasons Serengeti
Having recently returned from a luxurious African Safari where I worked with Shadows of Africa, an excellent tour company based in Arusha, Tanzania, and Four Seasons Serengeti. I cannot say enough about how awesome that 10-day trip was. I am hooked on going to Africa now! I totally recommend both brands for your African safari adventure needs.
Shadows of Africa will cater to what it is you want in a tour company – let's say you only want to visit certain African parks? Or you want to only stay a certain number of days? They can help you figure out an itinerary that will work for you! And Four Seasons Serengeti – they did a great job welcoming me and my guest for my birthday week! Their services were top notch and I felt very relaxed during my stay inside the Serengeti National Park in their luxurious terrace suite.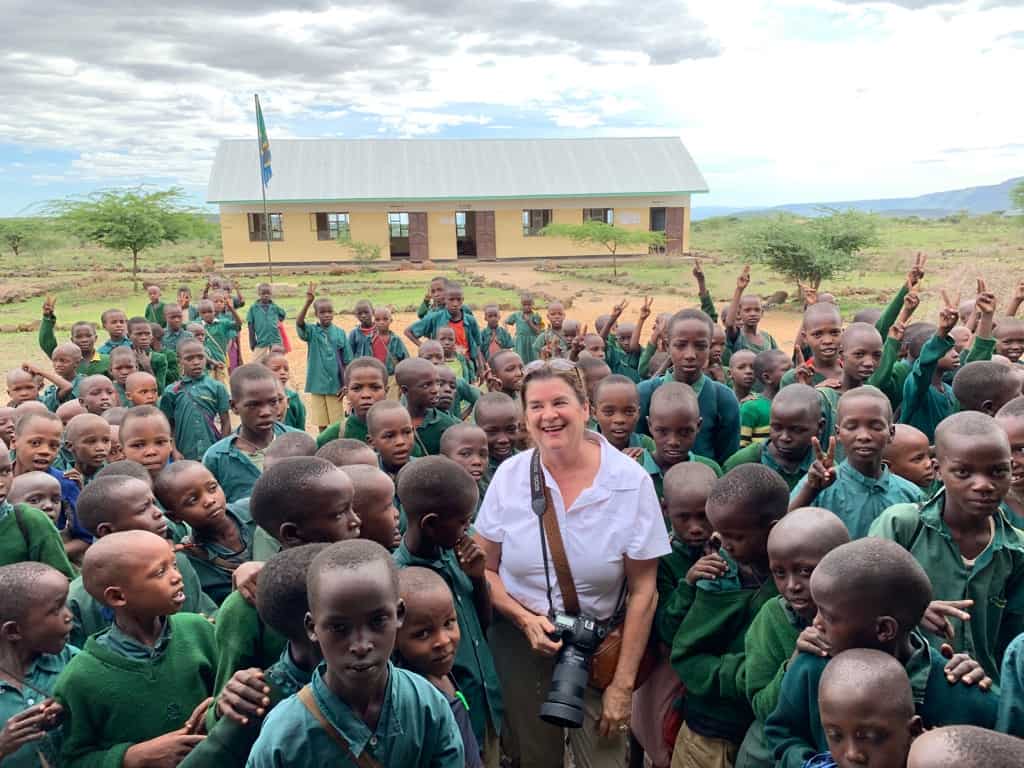 So without further adieu…
Best Safari Outfits to Pack for an African Safari:
Hat
I already had the traditional-style khaki African Safari hat but found that during most of my trip, I didn't end up wearing it. Maybe it was because of the timing of our trip, but there was notTHAT much sun to keep off my face and forehead. I would still bring it if I go on another African safari, just in case though.
I did bring a great dark green felt hat with a leather strap around it similar to this one, but ended up leaving it at the Ang' ara Tented Camp sadly on the back of the chair at breakfast!
Sunglasses
The traditional classic Ray-Ban Aviator sunglasses work here quite easily and they are not over the top and don't stand out too much, so they were perfect to bring.
Scarf
I bought this scarf and this one from Amazon. I know, not that glamorous, but since most of the clothes that I was going to wear were in the brown, khaki and green tones, I wanted to add some flare to my wardrobe by having a scarf for either around my neck (to keep the off dust) or during the evening when we went to dinner.
Shirts
These safari outfits definitely can vary, but there is a basic look that most safari-goers have. Most wear the traditional brands that you can buy at REI or on Amazon like Columbia or North Face. I chose several long sleeve shirts that had the buttons on the side that can be folded to become a short-sleeve shirt. Most of them were made from breathable and odor-resistant fabric and had tiny holes in them with grommets to let the air circulate. I bought the white and tan color.
I was told that "the color black can attract the Tse Tse Fly", so I left all of my long and short-sleeved BLACK and DARK BLUE shirts at home. So keep that in mind when choosing your color. Light blue is fine.
I found that many of the men on my African safari also had the same safari-style outfits and type of shirt. These shirts provide sun protection with UPF 30 fabric that helps to block UVA and UVA rays to prevent sunburns and skin damage during your long hours in the sun.
I had the same style shirts that were short-sleeved, so brought them with me as well in white.
I also bought basic t-shirts in light brown, tan, and khaki to wear mix and match with the pants and/or to wear underneath the more breathable fabric and branded shirts. I bought mine from Zara.com.
Since we were staying at some really high-end places, I even brought along some fancy shirts to wear at night for dinner. So don't overlook the fact that many of the places you may be staying in are a bit more dress up at during the dinner hour.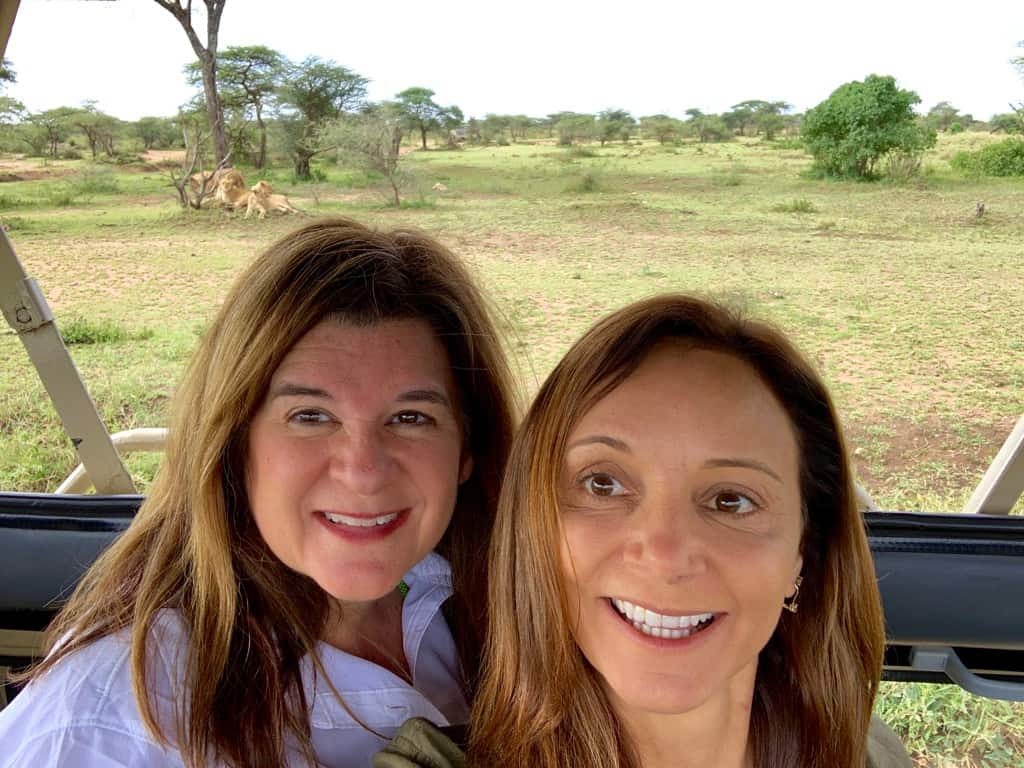 Pants/Shorts
Again, the same thing goes with the pants. Most safari-goers wore the traditional colors of tan, brown, khaki or green in their safari outfits. I think traditionally this is because you are harder to spot in the African bush and savannas. Most guides also wore this color as well. I already had a few pairs of pants from my Guyana's deep jungle and Kaieteur Falls trip, so I didn't need to get but one or two pairs. I bought these PrAna pants
and these North Face Aphrodite pants from Amazon. (I'm an Amazon shopper, can you tell?).
I prefer the tighter "skinny" pant versus a wider leg at the bottom. Amazon also has the style where the pants can zip off into shorts, which is another good option if it is hot. I also brought a pair of jeans.
I actually bought two pairs of shorts and ended up not wearing either one of them, as I noticed no one from my group wore them. I can still use them, as I live in sunny and warm Arizona. I bought these and these. But I imagine more women will wear them as the sun gets hotter. I did notice other men on safari wore shorts, just not in my group.
Socks
I bought hiking socks that had good foot pads at the ball of the foot and around the heel. They actually seemed to work just fine. I again bought them in green and khaki tones.
Brown Safari Boots
Now even though I had a pair of black all-purpose boots, I decided to go along with the color scheme and I bought a pair of heavy-duty leather brown lace-up boots. Honestly, I loved them and they ended up being perfect for this trip. The style was like this.
Here are Extra Things to Bring for Your Safari Outfit:
Purse:
I ended up buying a small cross-body leather tan bag similar to this one so that I could keep my valuables close to me when we would leave the safari truck. I bought mine from Abercrombie & Fitch, which came with two straps. Honestly, I used it every day and it helped keep me organized. As I had my backpack with me too, but it had my computer and other cords and plugs, so the small cross-body bag was perfect when we would get out of the jeep to go to the bathroom or go into a shop.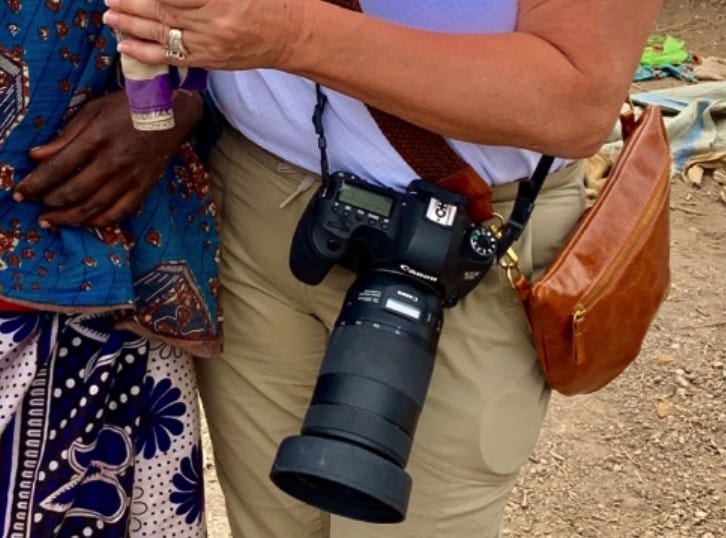 Lightweight Day Pack:
If you are anything like me, you will want to have access to your computer and all your photography gear while in the safari-style truck. So it is essential to bring along with you a lightweight day pack that can hold all your gear. This Tumi lightweight day pack is nice, as it can be folded: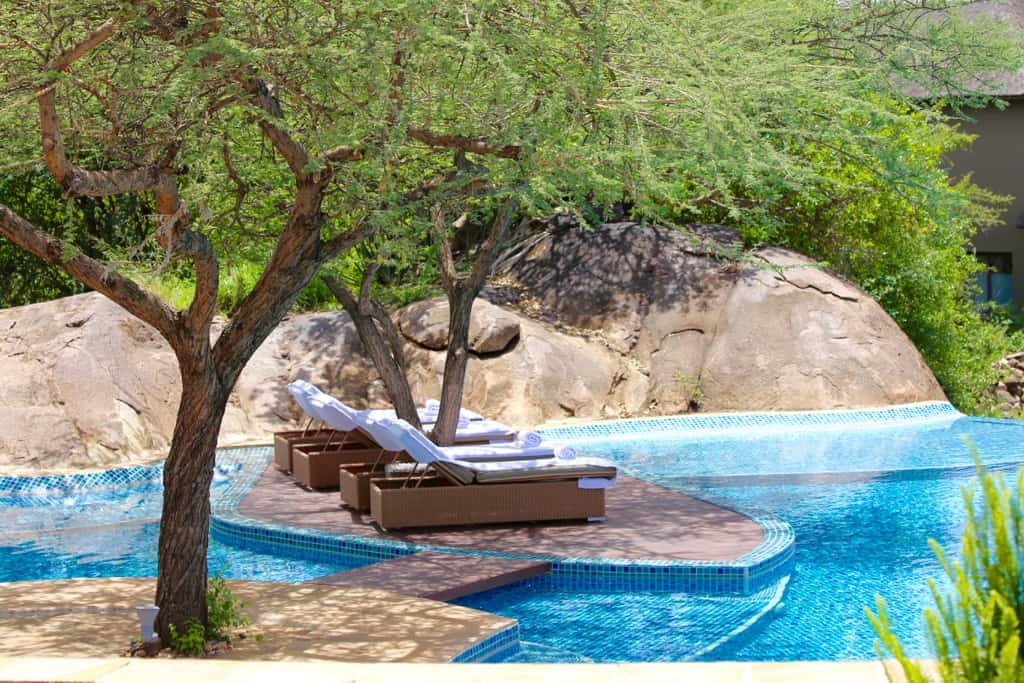 Bathing Suit and Flip Flops:
Be sure and bring a bathing suit, as most of the hotels I stayed in had some form of water for you to get in, ie a swimming pool, a Jacuzzi, or a private pool. As you can see, we hung out at the negative-edged swimming pool at the Four Seasons Serengeti, as well as at our own private pool in our Terrace Suite there as well!
Also, the Lake Manyara Kilimamoja Lodge had a gorgeous pool, as did the Olerai and the Sawaini Lodge. So most places where you go, there will be a body of water to get into!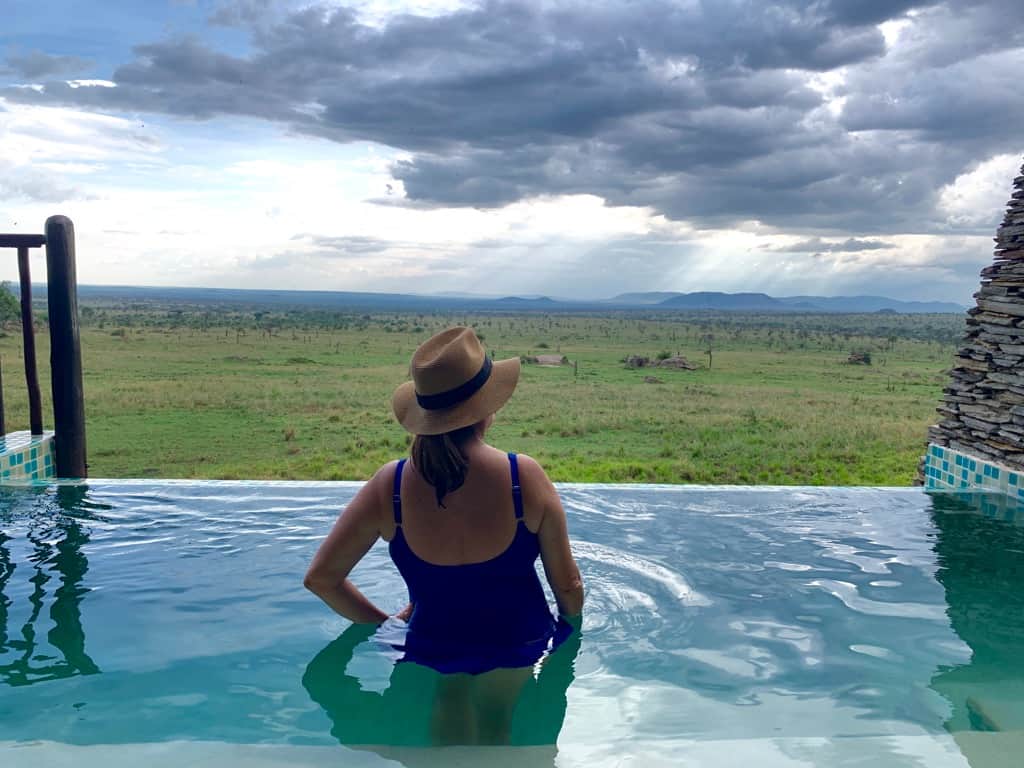 Don't Forget Mosquito Repellent (just in case!)
Honestly, I was a little afraid to go to Africa because of the mosquitos, but I guess it does depend on where you go and when you go (the season), as I didn't have any problems with them in most of the places I stayed. Honestly, I don't think I even saw a bug on the entire trip while I was with Shadows of Africa. But once I flew to the Serengeti and was inside the Serengeti National Park, that was where I saw my first mosquitos! The Repel 100 Insect Repellent pump-spray, 4 fluid oz. did good!
Sunscreen
Of course, you will need sunscreen, you just never know how much sun you will be exposed to. I like the continuous spray kind with an SPF of 30 or higher
Headlamp
I actually found bringing a headlamp was useful when we stayed at an overnight glamping tented lodge, where they don't exactly have the brightest light and use of electricity! I wore mine while in the tent to read and to see when the lights were not that bright on the inside of the tent.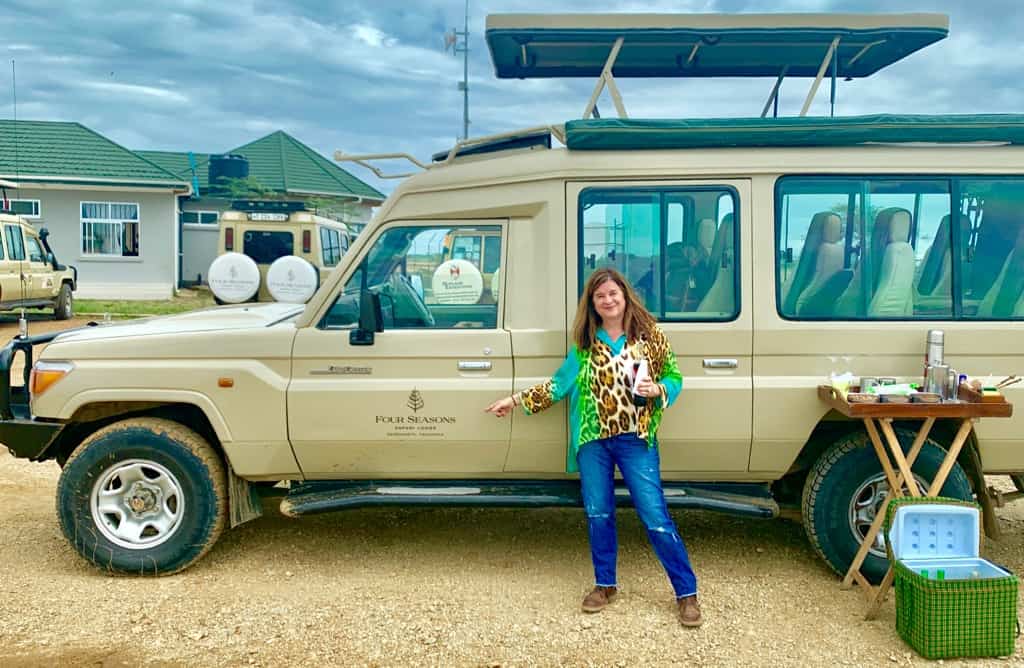 Packing Cubes
I don't know about you, but once I found packing cubes, I never looked back! They are a great way to organize all your safari clothes and gear. That way, all the t-shirts are in the same packing cube and all the pants are in their packing cube. Honestly, I love it and it kept me organized on my African safari because we were moving hotels every night. Here are the ones I have:
Toiletries:
Traditional Toiletries – such as toothbrush, toothpaste, deodorant, brush, glasses, etc.
First Aid Kit – for emergencies
Medicines – any you may need or are taking currently
Gear:
International Plug Converter –

THIS is a necessity when traveling pretty much anywhere!

Portable Power Bank with cords –

To me THIS is a necessity.

Camera and lenses – I always bring mine!
Back-up hard-drive – Needed in order to download all photos each night.
Necessities:
Passport
Cash
Credit Card
Airline Reservations Record Locator
A Wheeled Duffel Bag, preferably 22″
Now, put all that stuff above in this 2 wheeled duffel bag! As you may have heard, once you land in Tanzania or other places in Africa and you need to get to other areas of the country, you will be taking small prop-style planes. These are limited to the amount of weight and size you can bring. Otherwise, it may cost you a fortune.
So keep this in mind when packing and instead of bringing a hard carry-on case, instead opt for a soft duffel bag with wheels. That way it can be smooshed down if it needs to be while getting from point A to point B.
Here is the one I bought by Samsonite and it was perfect. It was a two-wheeled 22 in. duffle bag.
My Safari Packing List
(Copy/Paste Version)
Hat
Sunglasses
Scarf
Long-sleeved Shirts
Short-sleeved Shirts
T-shirts
Fancy Shirts
Pants
Shorts
Hiking Socks
Boots
Crossbody Purse
Backpack
Bathing Suit
Flip Flops
Mosquito Repellent
Sunscreen
Headlamp
Packing Cubes
Toiletries – First Aid Kit, Medicines
International plug converter
Portable Power Bank
Camera and Lenses
Back-up hard-drive
International plug converter
Passport
Cash
Credit Cards
Disclosure: As is common in the travel industry, I was provided with accommodations, meals and other compensation for the purposes of review by Shadows of Africa and Four Seasons Serengeti. While it has not influenced my review, PointsandTravel.com believes in full disclosure of all potential conflicts of interest. All photos were either taken by the author/or were given permission from the photographer. Affiliate links may be located in this article.