Christmas Holidays for Our Family
It is just about that time of year that I start to look for vacation spots for my family for our annual Christmas ski vacation. My husband has an affinity for mountains and snow during the Christmas holiday season, he is a ski fanatic. Last year was Telluride, CO, so typically I choose a "winter" destination. Once I chose a beach, but that did not go over so well!
Destination: Dolomites, Italy
Where are the Dolomites?
This year I decided to think out of the box of the typical USA Ski vacations spots and came upon an intriguing choice: Dolomites, Italy. It is only a two hour, 20-minute drive from Innsbrook, Austria and close to Milan, and Venice, so we have multiple options to fly into Europe.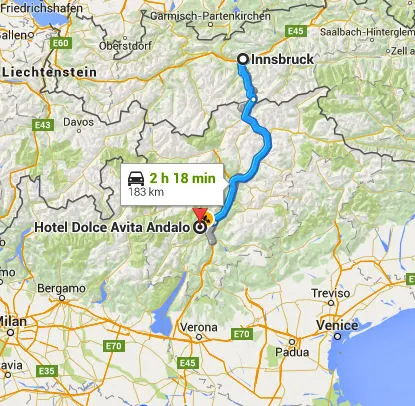 It has only been in recent years with all my extra traveling that I have even found out about the Dolomites. After searching the internet I found out that during the winter seasons, the Dolomites in Italy are the perfect destination for skiers and mountain lovers who want to spend their holiday vacations surrounded by nature, active sports, and Italian skiing.
The Dolomites are a UNESCO World Heritage Site
The Dolomites are a mountain range located in northeastern Italy. The Dolomites are nearly equally shared between the provinces of Belluno, South Tyrol, and Trentino In 2009, the Dolomite Mountains have been declared a UNESCO World Heritage Site and I always love to see those.
Where to stay?
Hotel Dolce Avita Italy
The Hotel Dolce Avita is located at the foot of the Paganella Mountain in the Dolomites near Trentino, Italy. The ski resort has new ski lifts that provide direct access to the slopes from Andalo in the Paganella ski area. They have beginner slopes with ski camps for kiddos to black diamond difficulty zones for my avid skier husband, with the ability to also make artificial snow if it comes to that (this way, no matter what, there will at the very least, be snow during our visit).
Nordic Ski Area in Andalo, Italy
They also have a Nordic ski area in the center of Andalo, where there are two rings of cross country skiing, The smallest track goes around the Lake of Andalo and is accessible at night, whereas the longer one goes out into the woods! My youngest son has taken up cross country skiing this last year, so I think he will enjoy this more than the other two in my family.
Hotel Dolce Avita's Spa Le Coccole
As for me, they have ice-skating in the woods, which sounds fun. But what I am really looking forward to is that they have a spa at the Dolce Avita Hotel! And you know how I love spas! Like the time I visited this spa in Monaco, or this spa in Italy, or this spa in California! Did I mention that I love spas!
Hotel Dolce Avita is a four-star family hotel in Andalo, which is the heart of the Dolomites. I look forward to being pampered in Spa Le Coccole and to the services that they offer. They have everything from Finnish Saunas to Mediterranean baths and massages, as well as body treatments of all types.
This is one of my many pursuits, finding a suitable Christmas vacation spot for the Maloney Family… I will get back with you to let you know what our final choice was. I also heard through the grapevine that the only 10 days in Italy itinerary you need is on my colleague's website, so go there to find her recommendations!
How about you and your family? Do you travel during the holidays?