Recently, I was invited to be a part of the Nordic Blogger Experience and as a result, was invited to go to Finland. I wrote about my amazing Finnish Sauna Experience and the Scandinavian Design Houses that I visited, but there is this one thing I haven't mentioned yet: I took a day trip to Tallinn, Estonia!!
---
One Day Itinerary in Tallinn, Estonia
---
You must do this if you visit Helsinki. Visit Tallinn, Estonia too!
Tallinn, Estonia is a well-preserved medieval Northern European trading city along the coast of the Baltic Sea. The upper town, high up on the limestone hill with its sea of church spires, make it a "do not miss" while in this region of the world!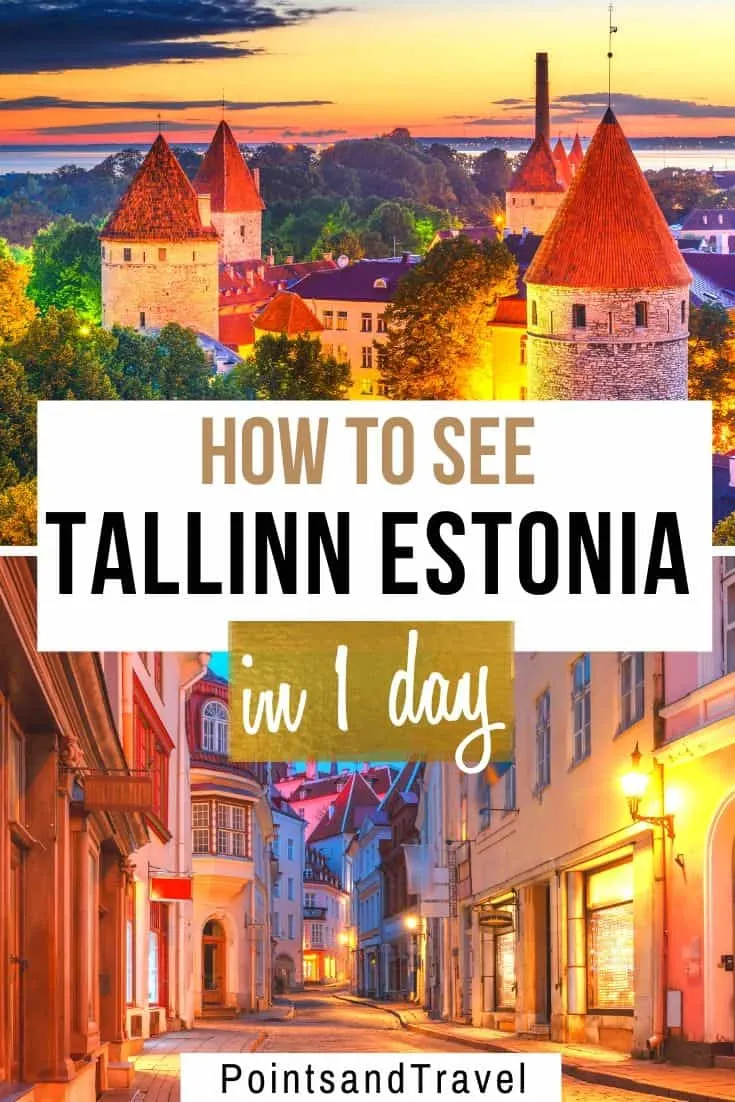 For me, it was a last-minute decision to go, but I loved every minute of it and never realized that it would be so easy to visit the two countries in such a short period of time and that it would be hassle-free. I cannot recommend it enough. I enjoyed Helsinki, but this day trip to Tallinn was awesome to see a whole different culture so close by.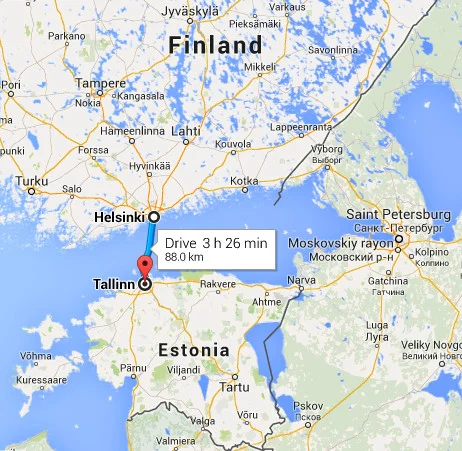 The trip allows you to have a 'value luxury' experience by visiting TWO cities in ONE vacation! In fact, Tallinn, Estonia is worth a trip all on its own, but combining it into a two-city vacation adds value to your vacation dollar so that you can get more bang for your buck.
So here is what you do:
You buy a ticket on the Finnish owned ECKERO line. The prices can vary depending on the level of comfort needed during the trip. There is the barest ticket, which is a ticket onto the ferryboat, or you can purchase a ticket that includes a bedroom with a bathroom, so that you can store your things and take a nap sometime during the cruise, as well. It is completely up to you.
The ferry makes the crossing twice per day, once at 8:30 AM and once at 3:30 pm and it takes you from Helsinki to Tallinn and back. If you had a car, you could bring your car onboard as well. The same currencies are used and although I brought my passport, I didn't even have anyone ask me for it. Oh, and it is a lot cheaper than Helsinki, so the sticker shock is less! Once onboard, there is plenty of entertainment from dancing, karaoke to casinos and booze. This ticket can be purchased in advance on their website or you can wait until the last minute and purchase it right before the ferry takes off, so no need to plan so far in advance.
We started the day out bright and early and were sitting down to a full buffet breakfast when, suddenly, I looked out the window and saw an amazing sunrise, so I grabbed my DSLR camera and ran out the door to the freezing deck to capture it. Even I have to admit that -16 to -18 degrees C was pretty crazy to be going out on the deck without my coat, but a travel photographer has to do what a travel photographer has got to do to get the shot!
Once we arrived, we headed on over to the Leenusadam Seaplane Harbour Museum. This is a MUST! I am a crazy airplane geek and this was the place for me.
It was massive and very cool, so don't miss it!
At the time, I was in LUCK because they were hosting an exhibit of the TITANIC and it was honestly spectacular!
We wandered around most of the early morning, then we headed over to Baar Bistro Kukeke, which was located in an old railway depot house from the 1800s, for lunch. The restaurant was very eclectic and honestly, I didn't have much in the way of expectation, but I can assure you, I should have. This is the single most memorable food that I had on my entire trip to Finland and Estonia!
OMG! The flavors were amazing. They served this SALAD with grilled goat cheese that had carrot hummus, marinated beetroot, oven-roasted tomatoes, walnut, and olive oil dressing with fresh herbs. All for 7,20 Euros! It was out of this world, crazy good! The chef, Anni Arro was out of the country, otherwise, I would have kissed her, it was so good!
The website says, "Our menu is also inspired by this environment-it is simple, unpretentious and everything but snobbish. Our ingredients are fresh and seasonal and mainly local. " I believe her! Apparently, Tallinn is on the cutting edge of the latest in culinary ideas! Who knew? Unfortunately, this restaurant is now permanently closed, which makes me so sad!
From here, we took a ride around town a bit until we reached the old town square. This area is fabulous for walking around and so beautiful, you will not want to miss it. I had been introduced to so much "new" design while being in the Scandic countries lately, but here, you know you are back in the "old world" and that is the world that I love best!
Tallinn is a UNESCO world heritage site and practically the entire city walls are still intact, including the guard towers.
It dates back to the 13th century when a castle was built there by the crusading knights of the Teutonic Order! Its wealth is obvious from its opulent public buildings and architecture of the merchant houses that have survived the ravages of war and fire for centuries.
I loved the city center with its cobblestoned streets and just walking around as tiny snowflakes would slowly drop to the ground was magical! Even though it was mid-January when I was there, they still had all the Christmas decorations out in full force, since they continue to have visitors from Russia, which was the reason I heard why.
I truly enjoyed the viewing platform from the east corner of Toompea Hill as well.
Of course, visiting a city for only a day does not give me a chance to recommend more things to see and do, but for a day trip, this was on a wonderful day that I didn't want to end. Goodnight Tallinn, Goodnight.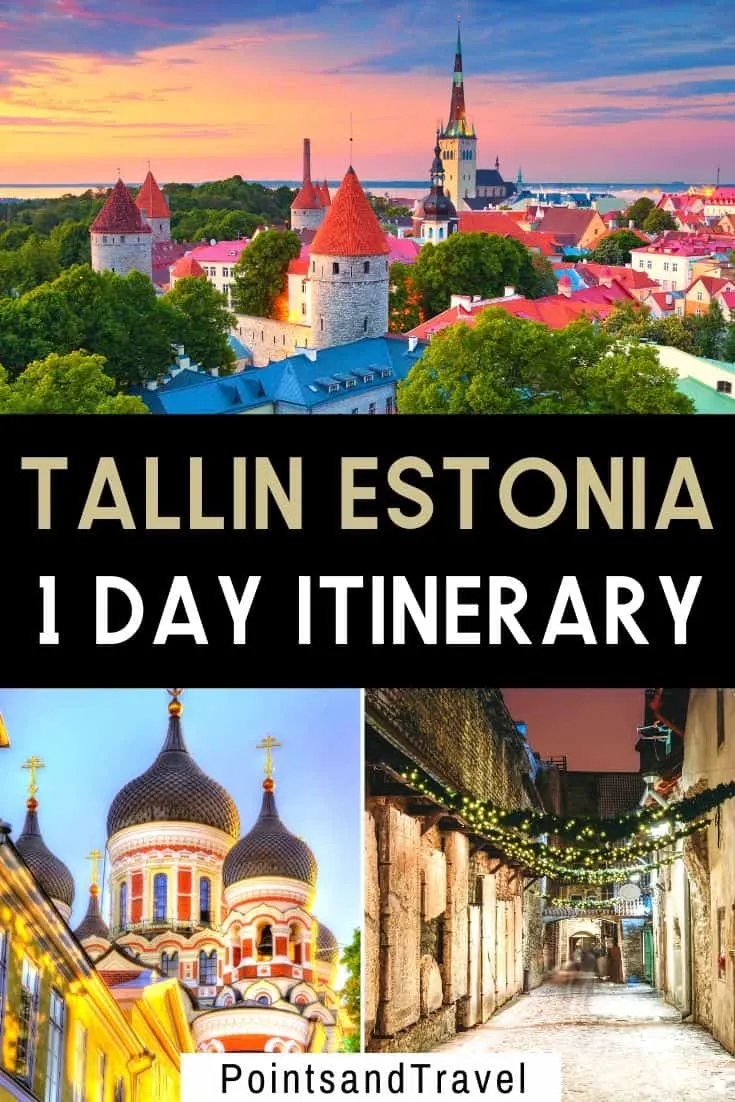 Recommended Reading About Estonia:
TALLINN, ESTONIA – VIBRANT CAPITAL ON THE SHORES OF THE BALTIC SEA
A MEDIEVAL GEM: SCHLOSSLE HOTEL – TALLINN, ESTONIA
Recommended Reading about the Baltics:
CHRISTIAN PILGRIMAGE: LITHUANIA HILL OF CROSSES
THE BREMEN TOWN MUSICIANS – RIGA, LATVIA
BAPTIZED BY EARTH, FIRE, AND WINE NEAR TRAKAI CASTLE IN LITHUANIA
TOP 7 THINGS TO DO IN RIGA, LATVIA
TEAR DOWN THAT WALL – FREEDOM FOR THE BALTICS
Disclosure: This trip was taken in conjunction with the Nordic Blogger Experience, VisitFinland, VisitEstonia, as well as TravelZoo.com/UK.