Whether you call her the Big Easy like I do, Crescent City, NOLA, or New Orleans, once you visit you may never want to leave. That is what happened to me. I was with my girlfriend over on Royal Street in the French Quarter at a diamond store. She's from New Orleans, so when I told her I was coming for a visit to her Cresent City town of New Orleans, she was super excited! I told her I was looking for the best things to do in New Orleans and wanted to stay at a few luxury hotels.
She immediately went to work and came up with a fantastic list of top things to do in New Orleans (and of course, luxury places to stay just for me!). So keep reading to hear about all the good stuff in New Orleans!
---
What's in this post:
hide
The Ultimate Best Things to Do in New Orleans! (2023 Guide)
---
---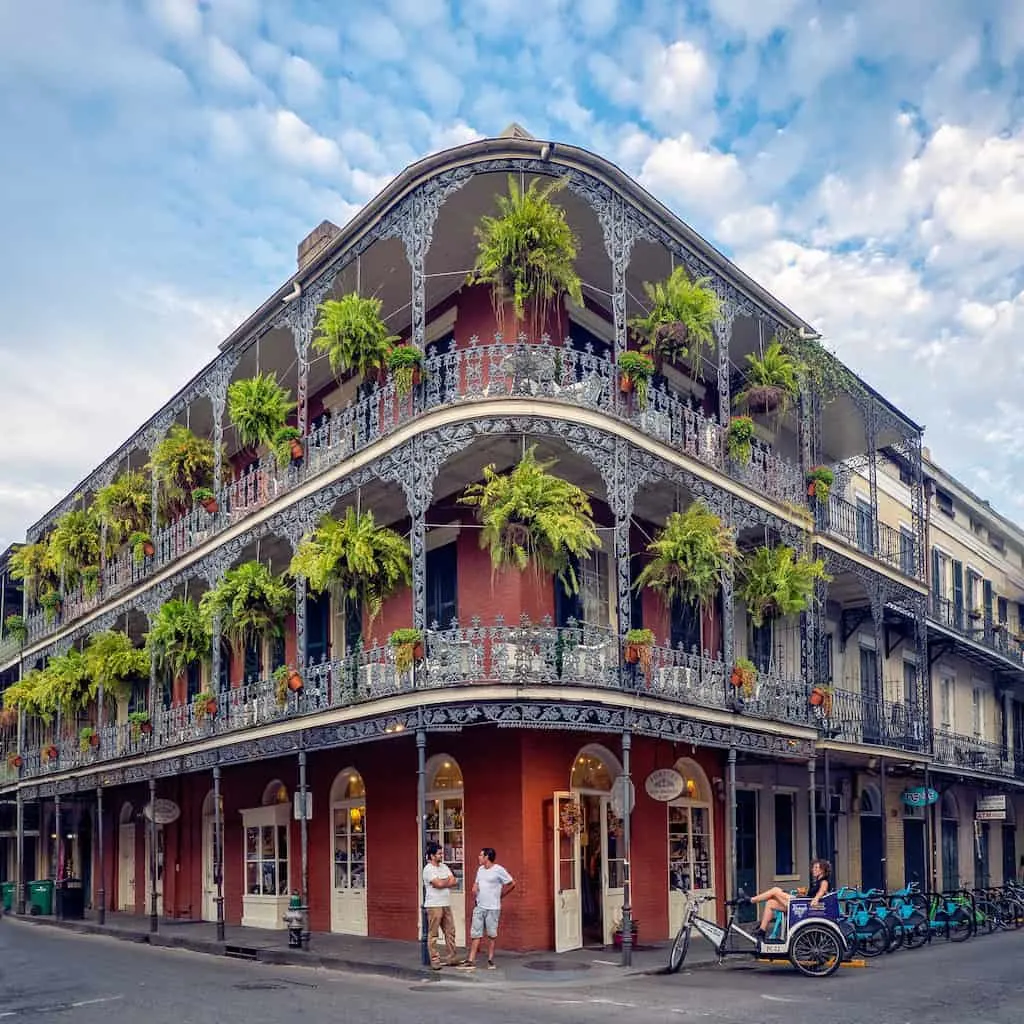 You see, my friend grew up in NOLA and has had a chance to visit pretty much every place in the New Orleans area as a kid. And now that she is an adult, she and her friends spend their time dining on cuisine in old-school eateries. Places like Please-U Restaurant, which has been around since 1946, or Tujague's, which has been around since 1856 – you can go here to experience the flavors of old New Orleans.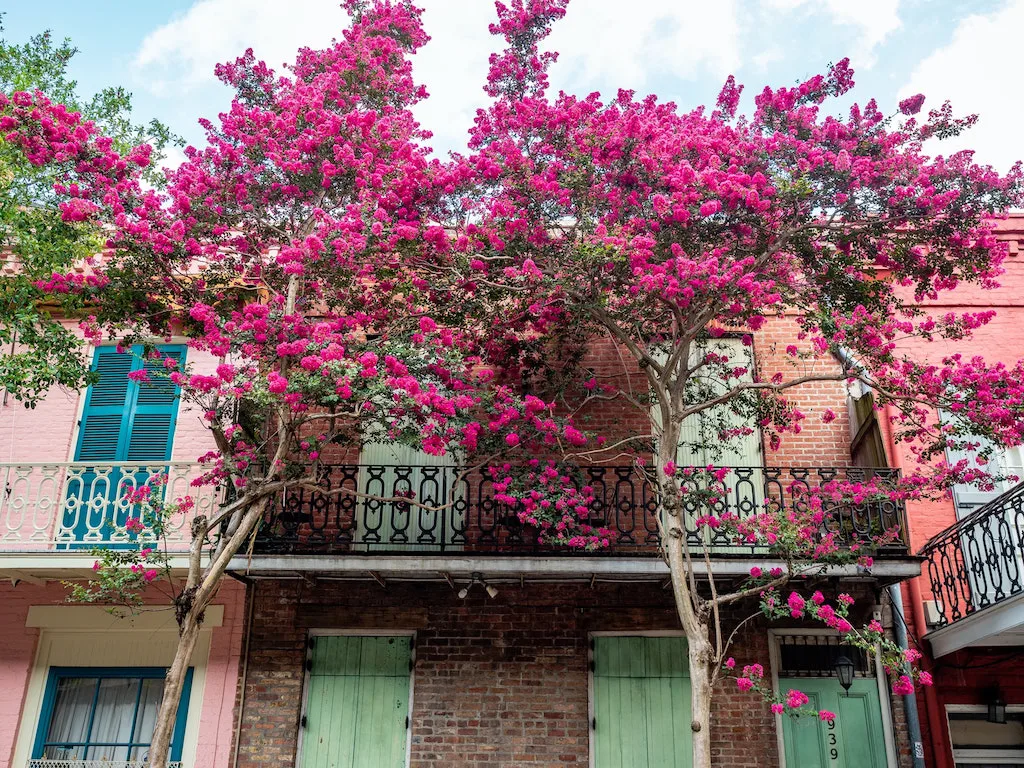 But sometimes, they find themselves sipping on Sazeracs (a variation of a cognac or whiskey cocktail) in upscale hotel bars – like Hotel Monteleone that just happens to have a rotating merry-go-round bar, or sometimes they go and listen to blues and jazz in tiny music hole-in-the-walls that you might walk right past if you didn't know which door to knock on. Thanks to her, she helped me compile a list of all my favorite things to do while visiting NOLA. Most range from tourist activities to the best secret hidden gems to help you plan your trip to the Big Easy.
So keep reading to learn about my favorite places to visit, and where to find the best food and drinks in town, plus have a little fun in New Orleans! Oh yes, at the end of the article I have found some pretty fantastic places to stay as well!
---

#1 Binge on Beignets for Breakfast at Cafe Du Monde
This is an absolute must-stop at the Cafe Du Monde for a plate of their famous beignets and a cup of chicory coffee. So what is a beignet? They are deep-fried, warm doughnuts that are covered in a thick layer of powdered sugar. Notice that when you visit, most of the time there is a line for to-go orders and the bathroom, but the entire restaurant has open seating.
So if you see a table, grab it, because most of the time this place is busy. A waiter will stop by to take your order soon enough. Cafe Du Monde is open 24-hours a day, 7 days a week so there is really no wrong time to eat a beignet. Plus, you can purchase a box of Cafe Du Monde beignets from their store, so if I was you, I would buy 2 or 3 boxes to take home with you, because they are delicious!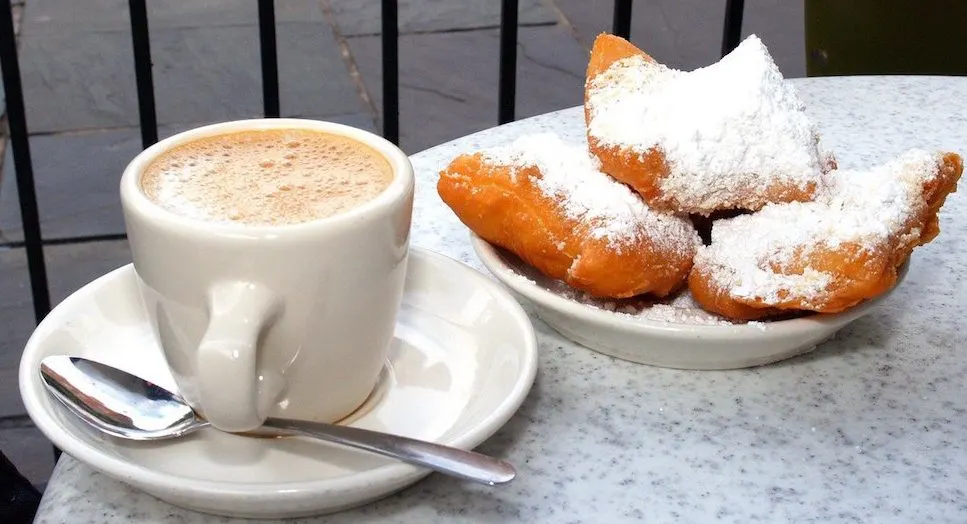 #2 Enjoy the Street Performers at Jackson Square
Jackson Square is literally the heart and soul of the French Quarter. It is a historic park that was declared a National Historic Landmark way back in 1960 for its role in the city's history. This park was the site where in 1803, it was a part of the Louisiana Purchase. Here you will find street performers and artists looking to entertain you. You can buy unique art, have your palms read, or listen to a brass band, all close to the historic St. Louis Cathedral. It doesn't get much better than that.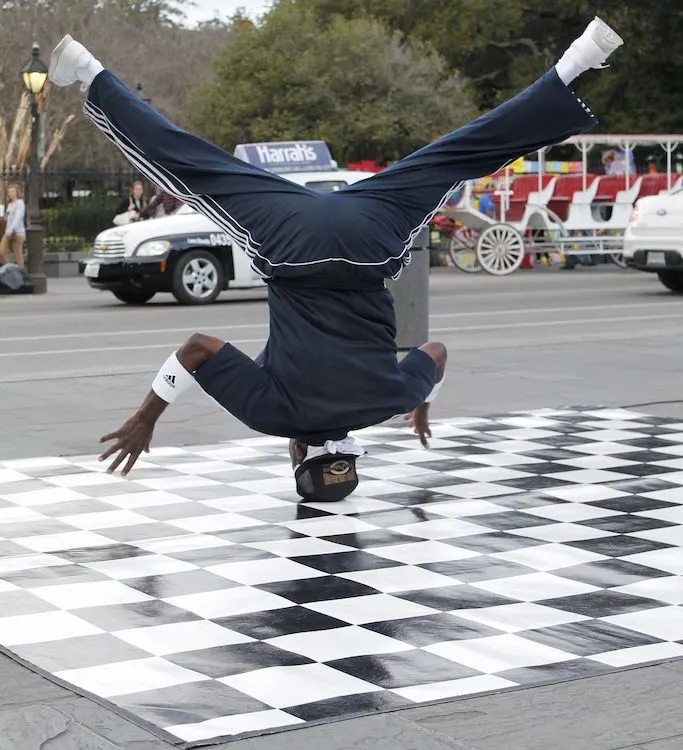 #3 Take the Canal Street Ferry
Take the free Canal Street Ferry from the River to Algiers and back to get a view of the city from afar. It is a beautiful way to see the city and while we did this, we grabbed a drink and took it with us.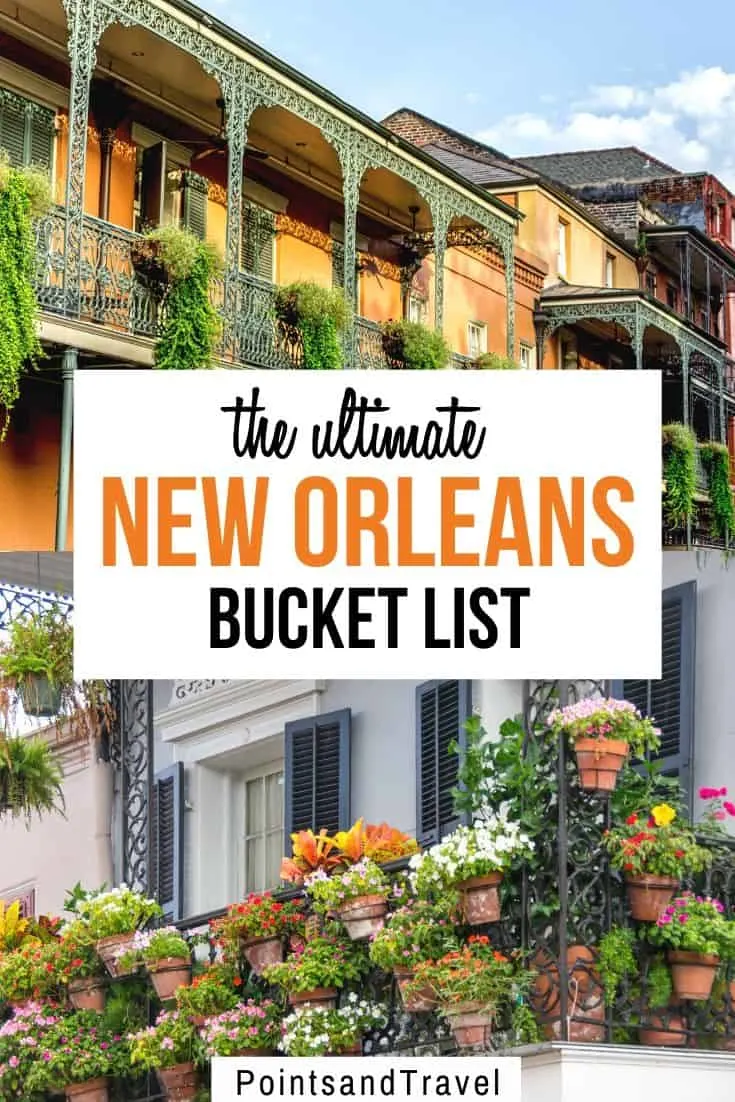 #4 Ride the Streetcar Along St. Charles Avenue
While in NOLA, this is one of the New Orleans highlights you simply can NOT miss. So grab a New Orleans streetcar along St. Charles Avenue through the Garden District, and take it to Uptown. For me, there is something hypnotic about watching the people pass by while listening to the methodical clicky-clack of the streetcar. Oh, and don't call it a trolly – here they are called streetcars! A single ride costs $1.25, so be sure and bring the exact change.

#5 Lunch at Antoine's Restaurant
Tour and eat at the 180-year-old Antoine's Restaurant. It has been here since 1840 and is the country's oldest family-run restaurant! In fact, they have an 1840 Room, which is a replica of a fashionable private dining room. It is practically a museum of kitchen treasures including a cookbook published in Paris in 1659. We made a reservation, ate dinner here, and enjoyed every minute of it! You will too.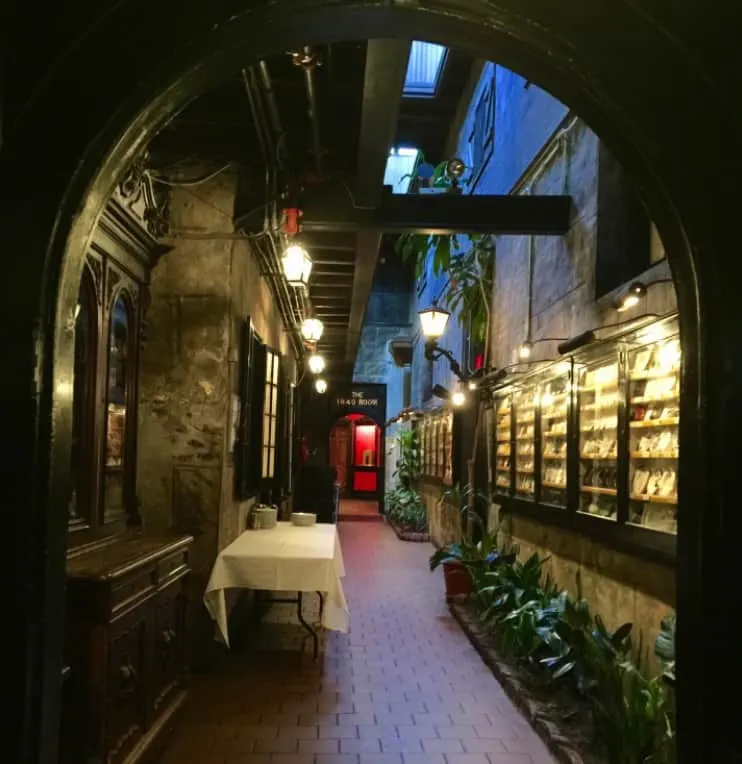 #6 Head on over to Three Muses
Afterward, we headed over to Three Muses on Frenchman Street for an afternoon of tapas, music, and a drink. They typically have a live music lineup playing in the afternoon. With a delicious selection of spirits and appetizers, how can you go wrong? I am steering you in the right direction!
---
"If there was no New Orleans, America would just be a bunch of free people dying of boredom."
– Chris Rose
---
#7 Stop by St. James Cheese Company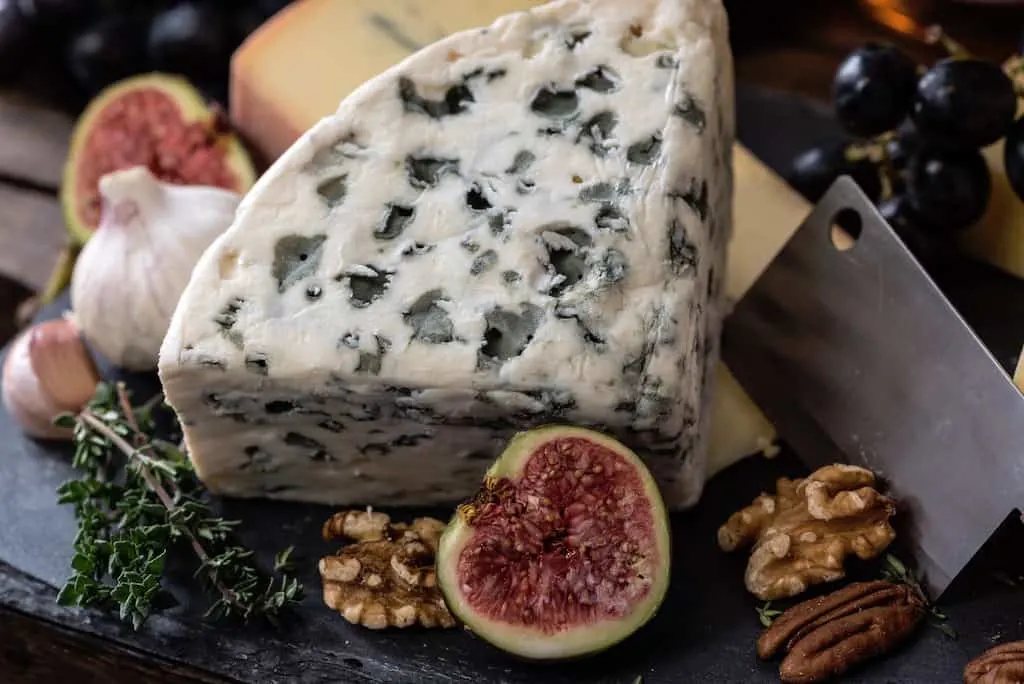 And another great stop is the St. James Cheese Company for an afternoon charcuterie and wine if you prefer. With everything from pecorino-aged cheese with walnut leaves to Bellame Blue and Blue Bay cheeses, they have hundreds of choices of delicious cheese for you. Grab a glass and settle in.
#8 Attend A Cooking Demonstration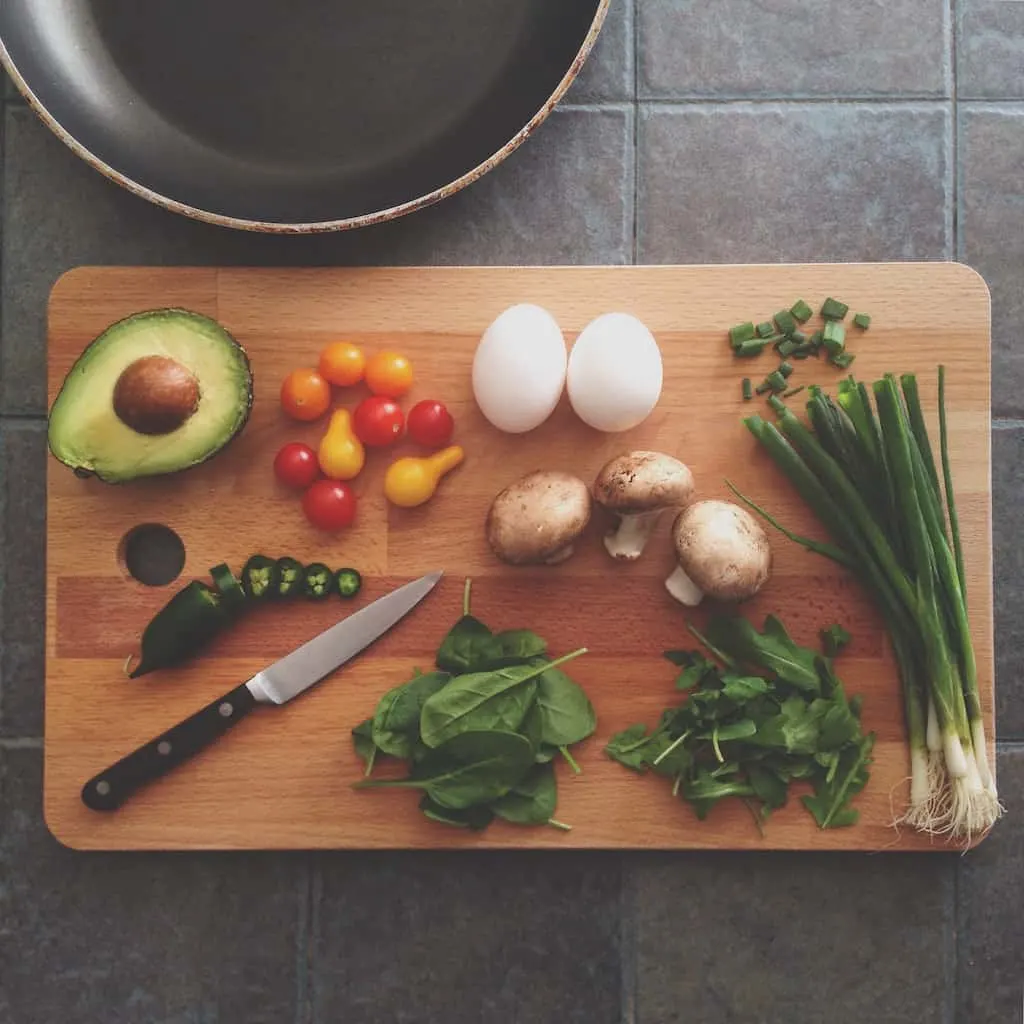 My friend told me about a cooking demonstration at Louisiana School of Cooking — we will need to sign up online for $32-50 to $37.50 per person and tomorrow's demo is Gumbo, chicken creole, and pralines! She says it is fun, but I prefer to drink!
#9 Freak Yourself Out on a Cemetery, Ghost, or Voodoo Tour!
First off, as you know, New Orleans has its fair share of craziness, especially since it was founded some 300 years ago. It does not matter if it was mysterious vampires, kidnapped sailors, or even an unsolved murder mystery, simply put, New Orleans has a long and wretched history. One where you will learn a lot by going on a cemetery, spooky ghost, or voodoo tour! And you guys know how much I love cemeteries ever since I was a little kid!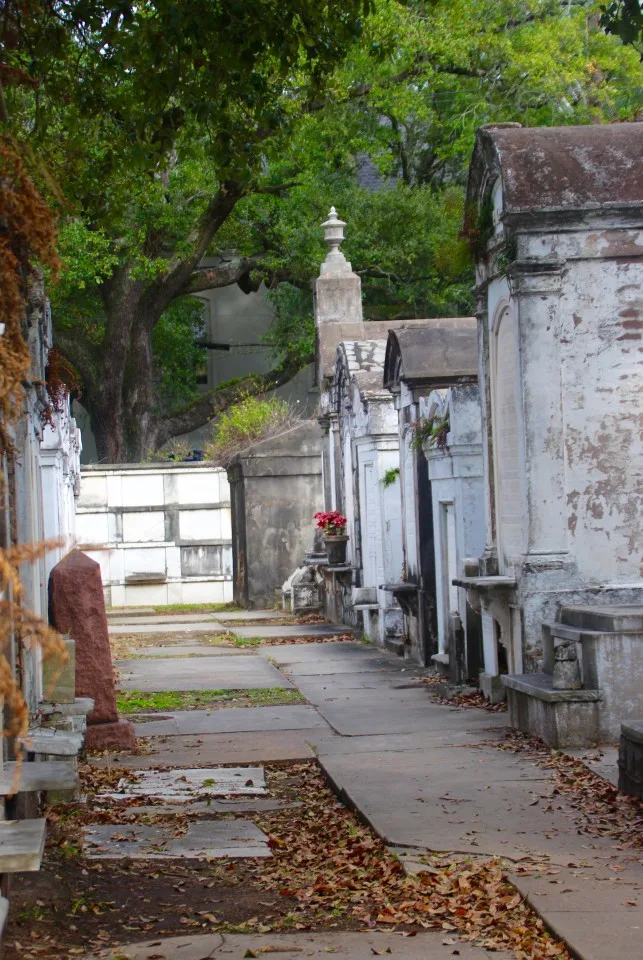 We went on a super cool and somewhat spooky cemetery tour, but another thing that interests me was the voodoo tour. They actually have a free walking voodoo tour you can join in on. Voodoo appears to be a mix of African, Catholic, and Haitian beliefs that were practiced by slave populations in New Orleans during the 18th century.
Voodoo is more a way of life is what I was told. They say is a "supernatural ancestral connection" which is passed from generation to generation by word of mouth, rituals, and spiritual practices. Voodoo has long been an integral part of the religious complexity of the New Orleans slave population and the true reason for the blues (Haitian and otherwise). New Orleans even has places where you can buy voodoo dolls! But don't be scared!
#10 Walk Around the French Quarter's Royal Street
After listening to the blues and swaying in the wind, we walked around aimlessly on Royal Street looking at art, antiques, and jewelry shops. This was one of our favorite things to do! Can you believe I actually picked Shopping on Royal Street as one of my favorite New Orleans attractions? With all of these fantastic options? I know, I know… many of the choices were already on my list for the rest of the week and sometimes a travel photog girl just wants to walk around, shop, and take photos of interesting things!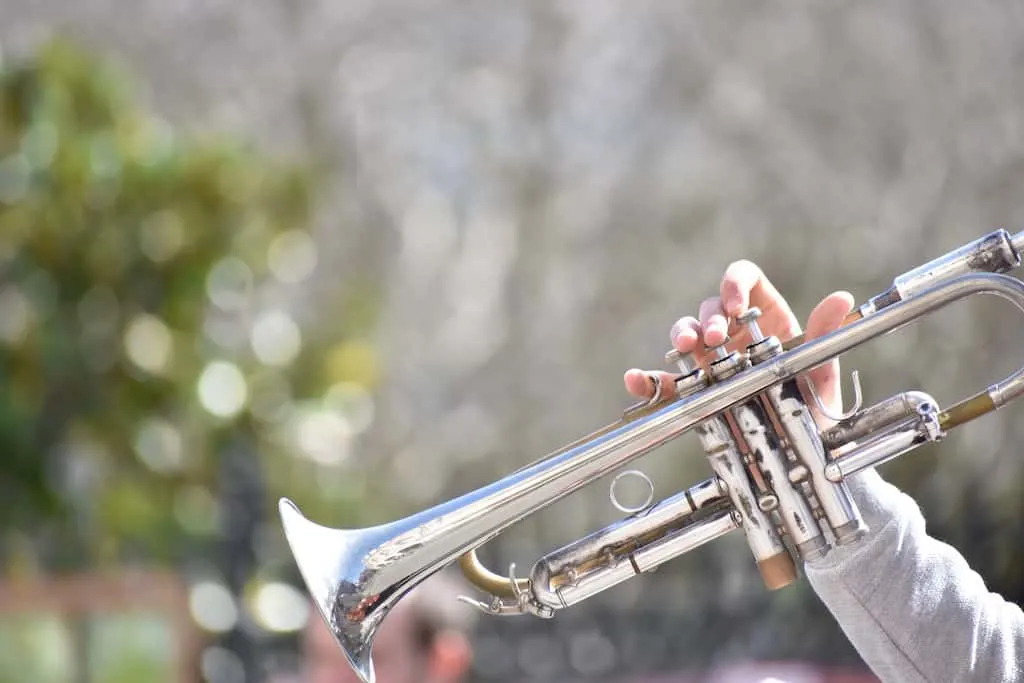 One block over from Bourbon Street is the French Quarter's more refined and "less of a party" street than its' famous sister, Rue Royal. What Bourbon Street lacks, Royal Street tries to make up. We found a mix of antique shops, boutique eclectic gift shops, old-school fine jewelry stores, art galleries, and even an old-fashioned hat shop!
Did you notice I said old-school fine jewelry stores? Because we were looking for diamonds in the French Quarter! One of us, and I won't mention who, was hoping someone would "put a ring on it" and we were in full swing to find the one we had seen in a magazine! And we found it! And she "said yes!"
Over on Magazine Street, there are lots of boutique shops and it is a great place to shop for your home. This area of New Orleans is super neat and I do recommend a quick stop!
#11 Catch a Second Line Parade on the streets of New Orleans
And if you happen to catch a Second Line Parade, you are so damn lucky! So just what is a Second Line Parade? Just one of the most popular traditions happening during a New Orleans wedding. It is when the wedding party leaves the church and heads out onto the streets of New Orleans to finish off the party, with the band in tow! This helps to signify the start of new beginnings for the bride and groom. A brass band leads the bridal party and the guests from the ceremony to the reception venue.
A Second Line Parade has two parts. The first line is a brass band and the newlyweds. The newly married couple leads the second line holding decorated umbrellas or parasols. All of the guests who want to join in the celebration make up the Second Line. The guests form a line behind the band and the newly married couple dance to lively music with handkerchiefs or cocktail napkins in hand!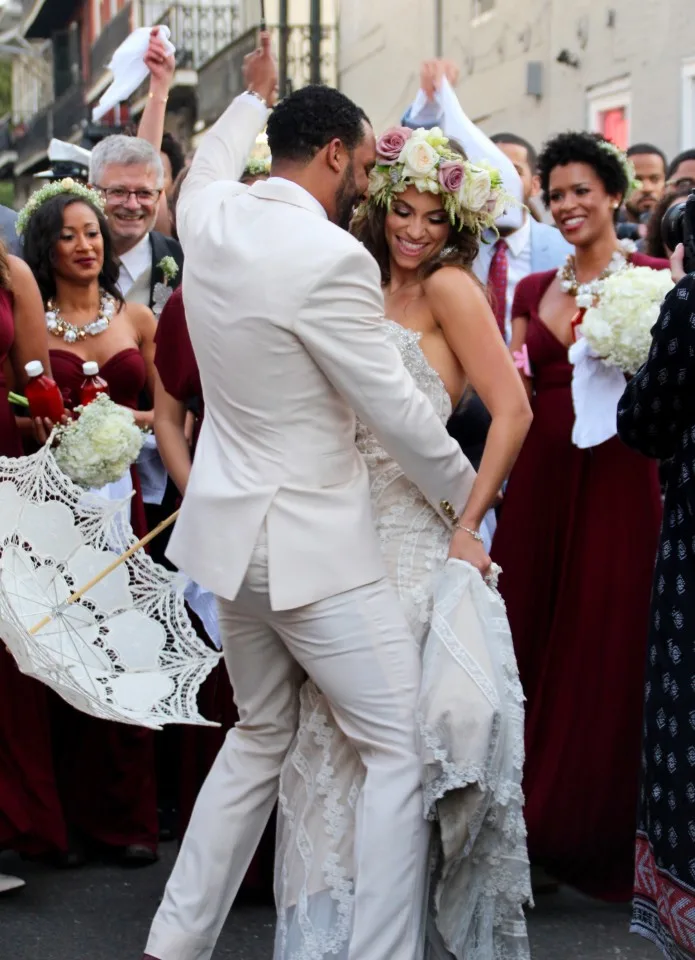 #12 Browse through the French Market
And since you are so close – go ahead and browse through the French Market.

#13 Go to the National WWII Museum
Another top thing to do while in New Orleans is to go to the huge WWII museum. My friend absolutely loves going in and looking at this fascinating piece of history. The National WWII Museum features multimedia experiences, immersive exhibits, and a huge collection of artifacts for you to browse. They have first-person oral histories that take you inside the story of the war that changed the world. Oddly enough, this National WW2 museum is not located in Washington DC but instead is right here in New Orleans. And it just so happens to be the #1 attraction, so don't miss it!
#14 Visit Mardi Gras World
Catch a glimpse of the magic of Mardi Gras at Blaine Kern's Mardi Gras World. This is a massive warehouse where artists work year-round to create and assemble the giant-themed parade floats and costumes for their crews.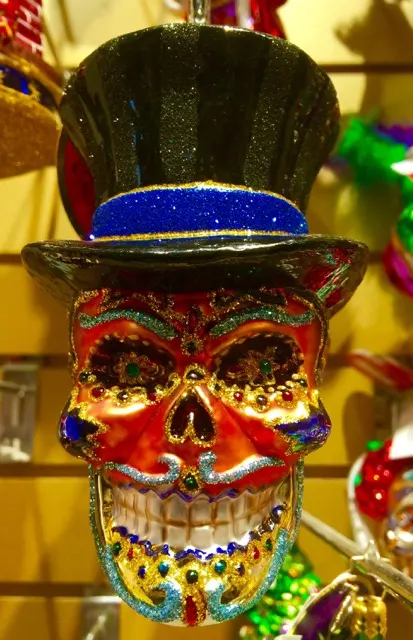 #15 Go to see the Audubon Aquarium of the Americas
Go to the Audubon Aquarium of the Americas, which is pretty neat, to meet the 10,000 animals! It is located on the Mississippi River adjacent to the edge of the French Quarter. Audubon Aquarium of the Americas is consistently voted as one of the top five in the country in the USA Today "10Best" reader polls.
You can be transported to an underwater world from the Caribbean to the Amazon Rainforest, to the Mississippi River, and the Gulf of Mexico! With more than 10,000 animals from more than 250 species, they have it all. Plus you can visit with African penguins and may even spot an albino alligator! This will be an experience you won't soon forget! Plus, the highlight is a walk through a 30-foot long underwater tunnel. You will see anacondas, piranhas, sea turtles, and, sharks.
#16 Take in the local events during your Visit
Many people come to New Orleans at different times of the year. For me, I wouldn't be caught dead during Mardi Gras, as that time has passed for me. But there are typically many festivals and events going on in this city pretty much nonstop. One you might have a bit of fun at might be the running of the bulls New Orleans style! So check it out!
#17 Take a Steamboat Cruise on the Mississippi
Another best thing to do in New Orleans is to take a steamboat cruise down the Mississippi! This will remind you of gentler times riding the Mississippi River when the Old South was still alive and well. Steamboat Natchez is still making its way down this river and just so you know, they make daily departures! I once went on a daytime cruise and heard the stories about the history of New Orleans, or you can book a nighttime cruise, where they feature live jazz performances! The choice is yours.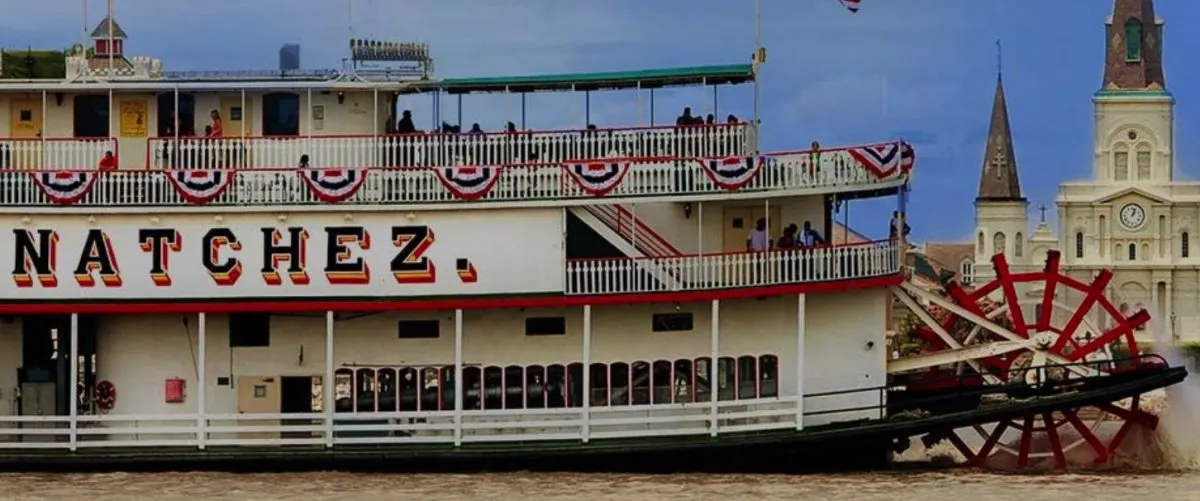 #18 Take a visit to Oak Alley Plantation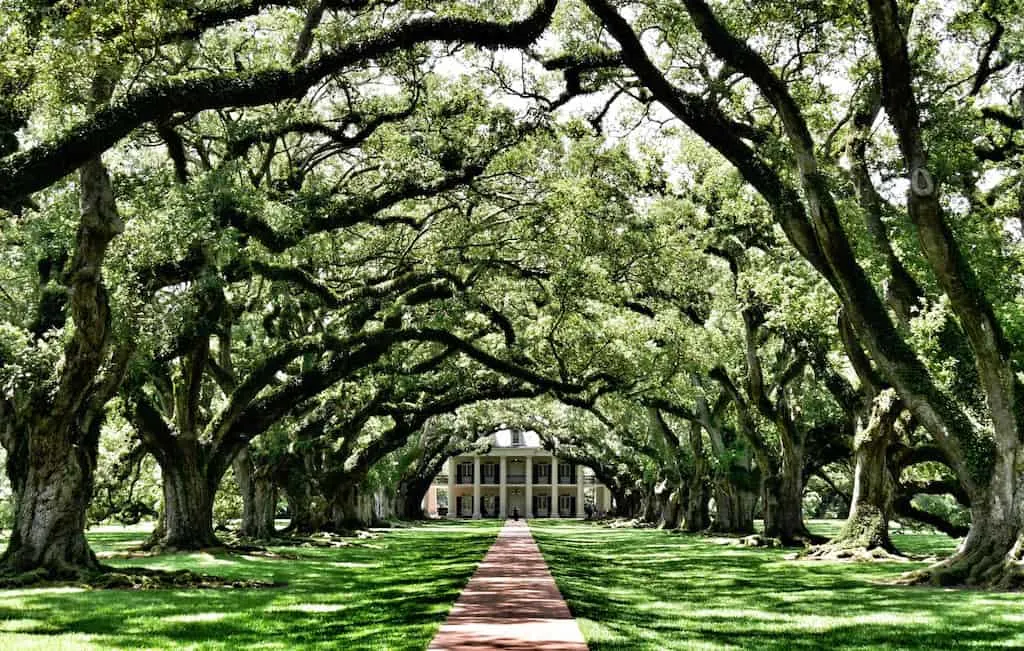 One thing my friend definitely recommended (if only we had more time) was to get out of the city of New Orleans and go to Oak Alley Plantation. This is about a 30-minute drive away. The place is stunningly gorgeous with its old oak trees and plantation house. Admission is $25/person with many different types of discounts offered.
#19 Stay at a Boutique Hotel in New Orleans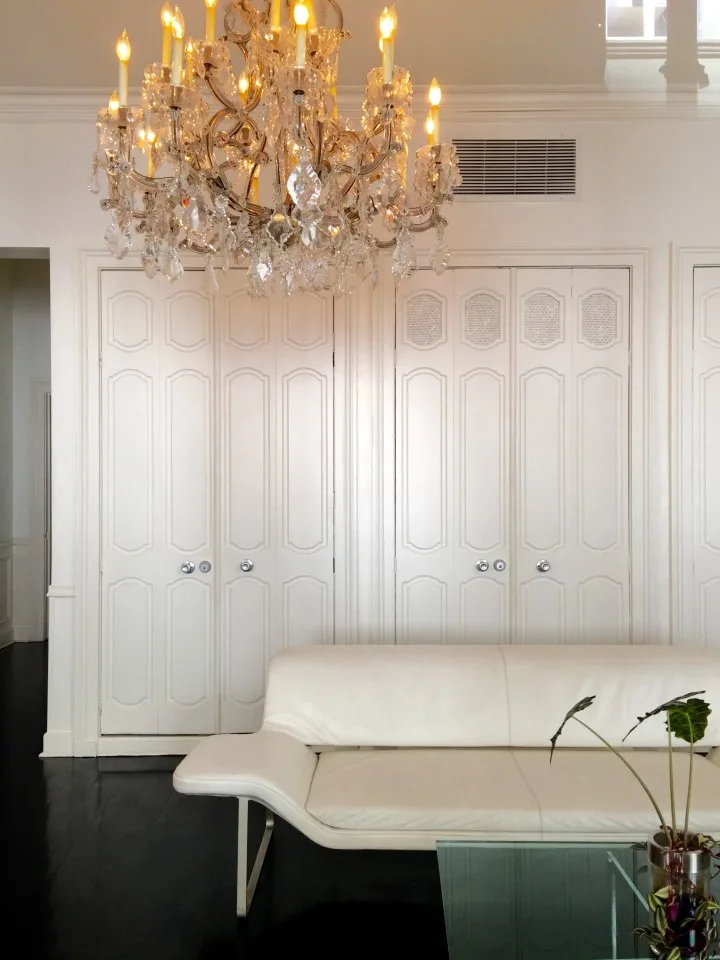 Boutique Hotels in the French Quarter
Sometimes choosing a hotel is like shopping for a diamond, the process can be tedious and time-consuming. But you don't have to worry, because I have done all the research on diamond quality hotels in the French Quarter for you! Trying out amazing boutique hotels in New Orleans is basically my job! Hotel Bourbon and Hotel Mazarin were high on my list, but did they stand up to what I was looking for?
New Orleans Hotel Collection
Lucky for me, a few of my stays were with the New Orleans Hotel Collection (they own both the Hotel Bourbon and Hotel Mazarin!). A few of the boutique hotels in New Orleans that I had a chance to stay in recently made the Conde Nast Traveler Magazine's Top Ten List for New Orleans! With their posh and trendy textures inside and classic architecture on the outside, I was certainly in my element as I stayed in America's proper European city.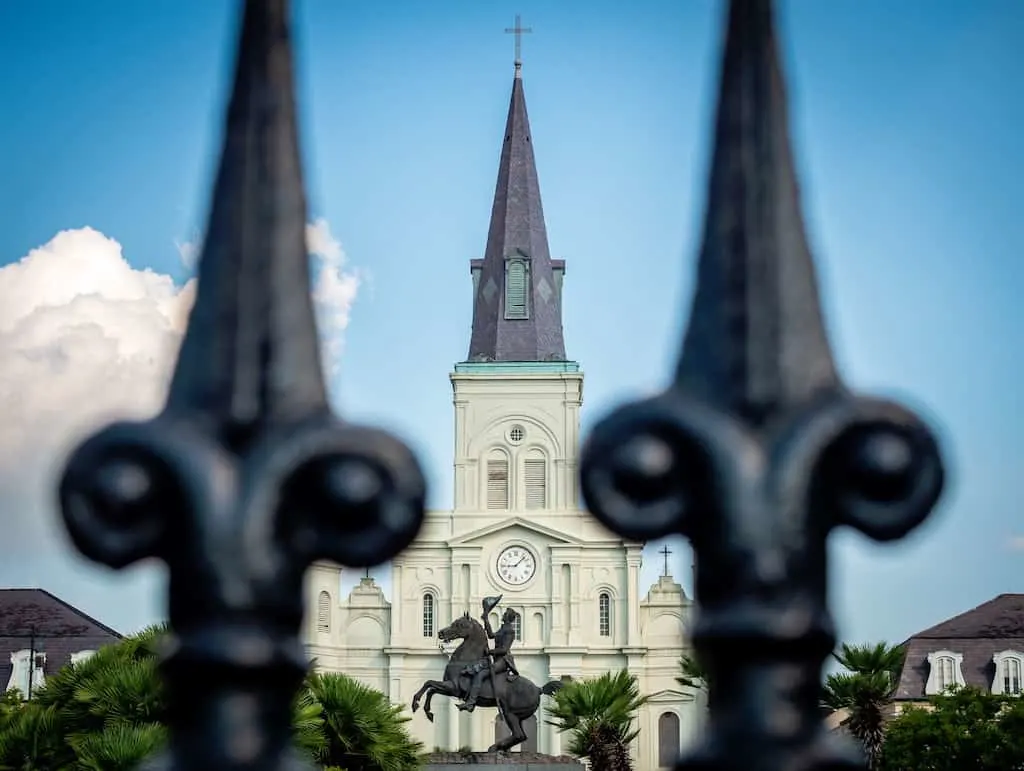 With its deep history of the Spanish and the French, New Orleans Hotel Collection has the look and feel of a European luxury hotel with a prestigious history, yet has Southern hospitality from industry professionals that are second and third-generation New Orleanians with experience. The New Orleans Hotel Collection is the perfect fusion of European and Creole style and flawless for my visit to New Orleans mindset!
And like a perfectly made cocktail in your hand, the New Orleans Hotel Collection hotels are a luxury experience that you won't forget. I know I still reminisce about them!
Four hotels that I stayed at in New Orleans:
#1 Hotel Bourbon
Hotel Bourbon – This amazing hotel is located directly behind the Saint Louis Cathedral between Rue Royal and Rue Bourbon. It was here I was able to experience the wrought-iron balconies of New Orleans, an experience I had always imagined! This is the perfect location with a gorgeous 19th-century lobby that once a ballroom connected to a theater.
#2 Hotel Le Marais
Hotel Le Marais – An upscale boutique hotel in New Orleans. It is where the trendsetters, influencers and smart luxury travelers go to stay in the heart of it all. The location is great off of Conti and Royal Streets in the French Quarter. It is an upscale sanctuary with a gorgeous outdoor pool and courtyard. The rooms are filled with French-inspired furnishings, calming décor, and historical brickwork.
#3 Hotel Mazarin
Hotel Mazarin – Known as the "Diamond of the French Quarter" (ha!), this hotel is also greatly situated in the French Quarter and has an authentic old-world charm with modern luxury. One night that I stayed there they had a gorgeous wedding in the courtyard, yet my room was practically soundproof from the event and felt like a sanctuary.
This hotel, by far, had the most luxurious rooms of the three hotels that I stayed in and is across the street from my favorite place to get chargrilled oysters with parmesan cheese, creole seasonings, and garlic butter: Desire Oyster Bar on Bourbon Street!
The New Orleans Hotel Collection hotels offer fast and free internet, in-room bottled water, and points in the Stash Hotel Rewards!! They are a group of seven fine hotels in New Orleans that includes the Bourbon Orleans, Dauphine Orleans, Hotel Mazarin, Audubon Cottages, Crowne Plaza New Orleans Airport, Hotel Le Marais, and the Whitney Hotel.
But remember, I said I stayed in four hotels while in NOLA. This last hotel is not a member of the Hotel Collection of New Orleans. But I loved it anyway!
#4 Maison Dupuy Hotel
Maison Dupuy Hotel – With its lush, outdoor heated pool and serene courtyard, this hotel was the furthest out from the main areas of Royal and Bourbon Street. It did have a unique aspect about it in that it had inside "balconies" facing this pool sanctuary courtyard, for nice people watching and after-dinner drink relaxing. It could, however, use some updating in the rooms themselves.
So, there you have it, four grand choices for diamonds (hotels) in the French Quarter, it doesn't get much better than that!
More Gorgeous Hotels to Stay:
#5 Hotel Monteleone
This family-owned and luxury Hotel Monteleone is an icon of the city of New Orleans since the 1880s. Hotel Monteleone has its roots in the Italian word for a "mountain lion". In a city surrounded by African, Caribbean, French, and Spanish influences, it is nice to have a bit of Italian heritage to add to the diversity of New Orleans.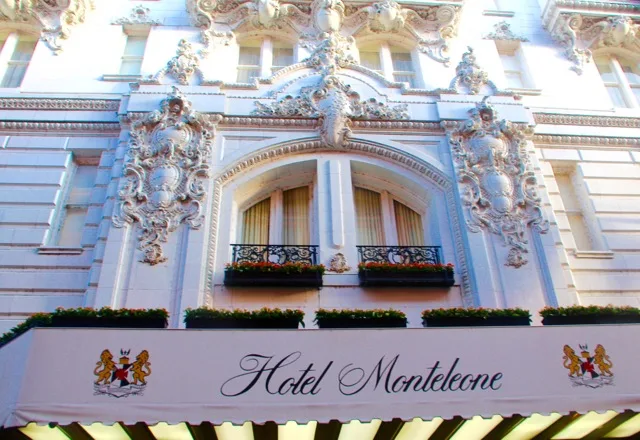 Hotel Monteleone has hosted everyone from Ernest Hemingway to Truman Capote among hundreds of other notable guests. You can escape from the tourist crowds at the Carousel Bar to their beautiful rooftop pool to beat the heat in the Big Easy.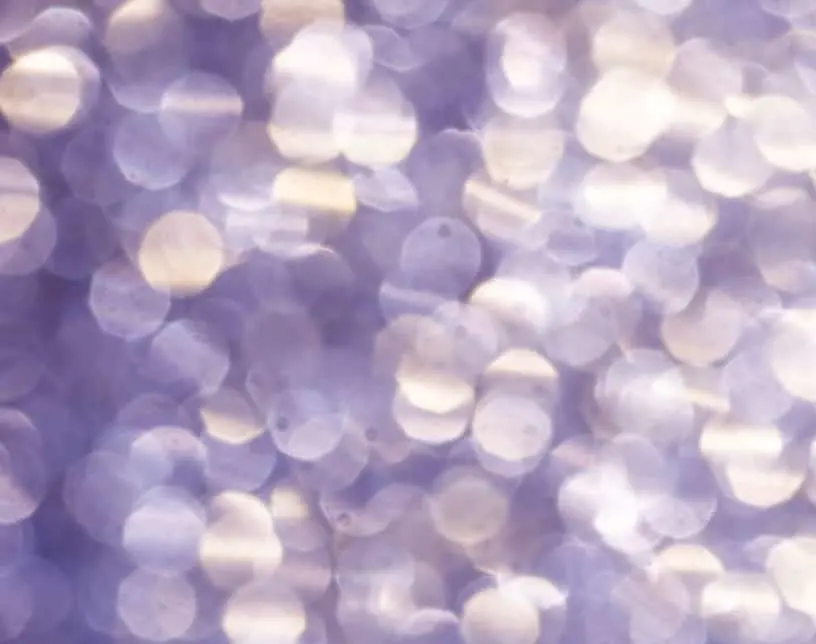 ---
Recommended Reading:
King Cakes: Their Origin and Recipes
Chicken on the Run near Lake Charles, Louisiana
Louisiana Cuisine: You Can't-Miss These Dishes!
---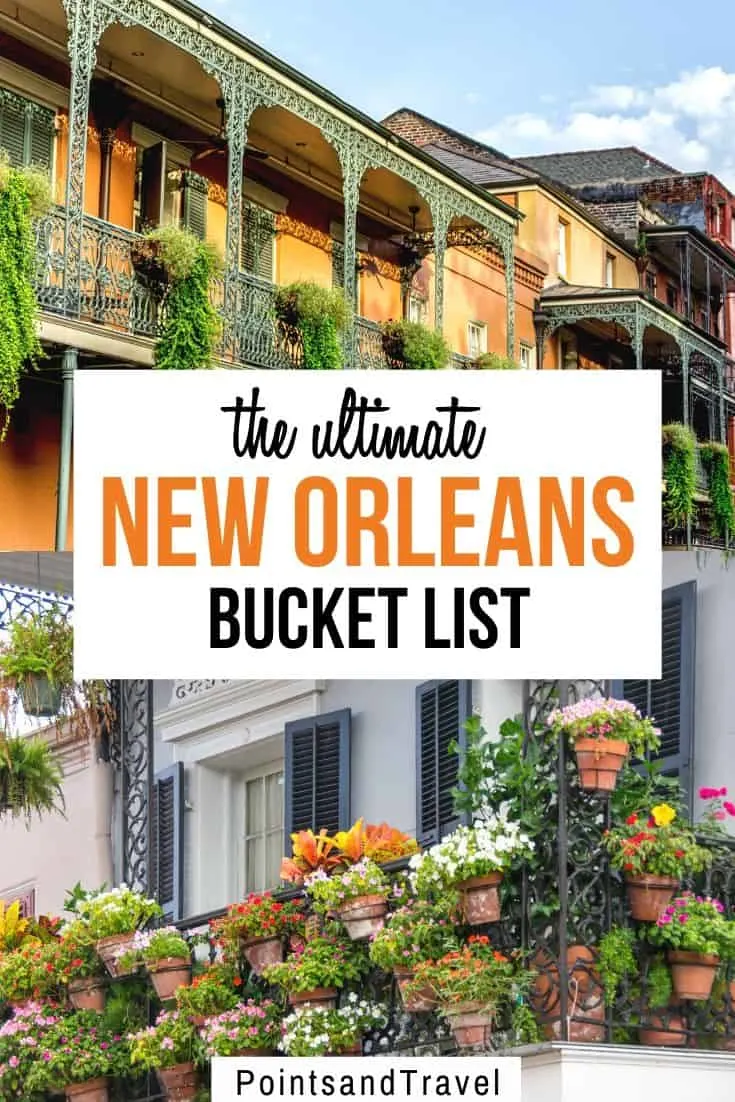 Disclosure: The writer believes in full disclosure and wanted to let you know that this trip was provided by the Hotel Collection of New Orleans and the New Orleans Convention and Visitors Bureau. As is common in the travel industry, the writer was provided with accommodations, meals, and other compensation.