Hell Grand Cayman is a massive limestone formation located in the West Bay on the island of Grand Cayman in the Cayman Islands. It is a group of black jagged and spiky rocks almost the length of a soccer field with a viewing platform to see it and get an idea of how big it is. Apparently, there are 5 towns on Earth called Hell:  Hell, Norway, Hell, Michigan, Hell, California, Hell, Slovenia and of course Hell, Grand Cayman. Who knew?
Hell Grand Cayman: Where is Hell located?
---
Take Hell Road and drive about 100 yards past the Hell Gas Station. Then look for the Post Office sign and enter the Gates of HELL on the left from Hell Road.
---
How the Hell Did It Get Its Name?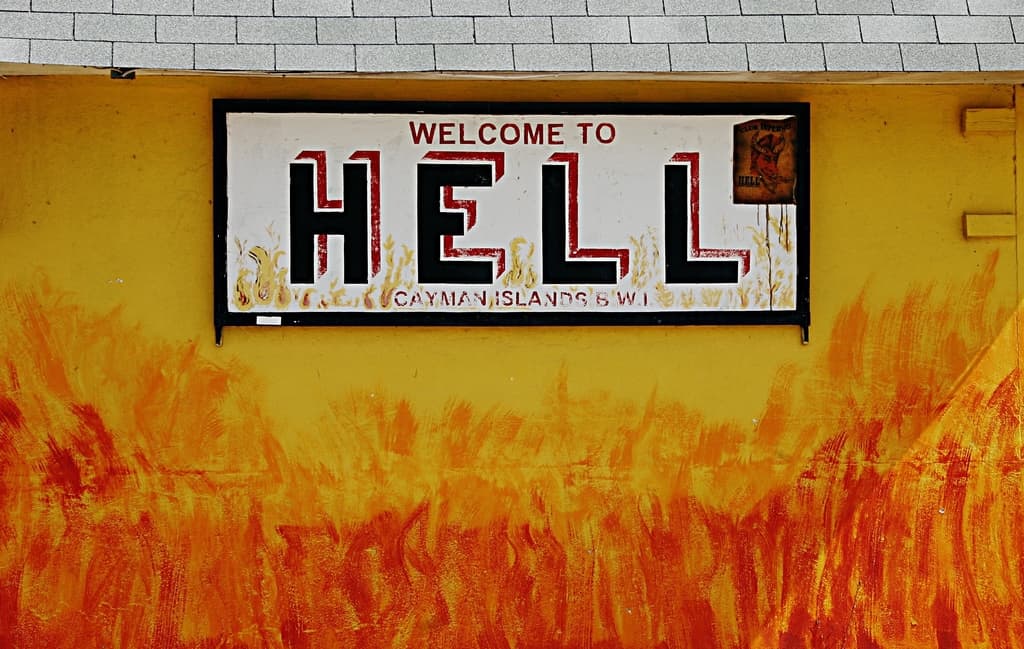 I am not sure if it got its name because of how ugly, hot, and black it is or from the owner who set up a souvenir shop close by which has become a tourist attraction called Hell Grand Cayman. I did receive an interesting note from a reader who claims to have a "mostly true, somewhat accurate, second-hand" knowledge of how Hell, Grand Cayman got its name" by a gal named Kelli!  But I couldn't verify it.  You can read it here:
"I've been to Hell and back again. I talked to the Devil while I was there, and there was a very interesting story about how Hell came to be…
The township of Hell began as a bird hunting trip gone badly… A wealthy businessman struck a deal with a local to purchase the tract of land at said location. Being both an avid hunter and entrepreneur, he was determined that he would develop the land and create a unique and exotic gaming locale.
It seemed to be the perfect location, and after telling said local of his plans for the property that he purchased SIGHT UNSEEN, he was met with a deep belly laugh. The seller explained that it was not, in fact, an ideal location for hunting. That no one ever killed anything there. That it was, in fact, impossible. But the businessman would not be deterred.
If anyone could hunt there, it was him! He'd been to the Cayman Islands several times, and their overabundance of winged creatures made this venture perfect. People would travel the world over to hunt his birds, and he would be rich beyond his wildest dreams because he was the first to think of it AND had the perfect place for it.
The birds had other ideas though.
On his first expedition to this exotic location, he found the terrain to be quite different than expected. The jagged limestone formations made stalking his prey next to impossible. After landing himself in the hospital after a nasty fall, he decided that not even the devil himself would dare to hunt in that Hell, and thus the name stuck.
After a while, people began to come just to see "Hell" while they were on vacation, and the owner saw a new business prospect…..He applied for a township for his little slice of paradise and named it "Hell"—and declared himself the Devil, mayor of Hell. He can be found most days wandering around his Lil ole post office, all decked out in his Devil's costume complete with a pitchfork. Thus you have the mostly true, somewhat accurate second-hand version of the "History of Hell" – reader KELLI
Welcome to Hell, a Grand Cayman Excursion
No visit to Grand Cayman is complete without a visit to Hell! The shop itself is red and yellow fire-themed building with the words "Hell Grand Cayman" painted on the side. It is also the only Hell post office. The owner, Ivan Farrington greets people with phrases like "Welcome to Hell Grand Cayman", How the Hell are you?" and "Where the Hell are you from?" Everything is said in jest and my kids got a crack out of listening to the guy speak! They knew it wasn't OK to speak like that around Mom and Dad and so I would constantly hear them snickering! lol
What the Hell Kind of Rock is That?
Actually, the rock formation is known as "ironshore". It is an elevated fossil coral reef dating back more than a million years! This limestone composition is more commonly known as karst. According to a scuba diver and geologist from Chevron:
"The ironshore karst is a special type, both in terms of its texture and origin. First, texture – it is a black, random sponge work of pits, jagged ridges and pointed pinnacles. It is developed in a narrow strip just above the tide line on ancient limestone rocks. If you break off a piece, you will see that the black color is present near the surface and it grades to gray inside. Second, origin – it is being dissolved largely by algae, bacteria, and fungi so it is often called "biokarst." These tiny (microscopic) organisms bore into the rock and dissolve the calcite crystals. They are most dense within a centimeter or so at the surface, causing the black color."
"So, when you travel around the Carribean, look at the rocky shoreline, if it is limestone, biokarst may be well developed. The most famous occurrence is at a place called Hell, Grand Cayman."
Kids think Hell is Funny!
So when you have two teenage boys and are traveling to Hell Grand Cayman, they just might think this is funny! We landed, grabbed our British style car and headed out to the hotel, staying at the Westin Grand Cayman.  I was trying to get us unpacked and situated and eventually I had noticed that they had disappeared. It didn't take them long before they decided to take off on their own to explore the island on the local bus and go to the very end stop. They had asked the front desk lady where Hell Grand Cayman was (snicker, snicker) and she whipped out a map and showed the local bus line.
Where the Hell are we?
To two teenage boys, this seemed like the perfect plan, even though they didn't inform their parents where they were going. When they returned, they couldn't wait to tell me and their Dad that they went to Hell Grand Cayman and they knew exactly where hell Cayman Islands is located if we wanted to go see it!
Where the Hell did you go?
"Where did you go?" I said.
"We went to Hell." (snicker, snicker!) they replied.
"No really, we went to Hell, Mom!"  "And we want you to go there with us!" Tsk Tsk!
And so their Father and I packed them into the rental car and took off for Hell, Grand Cayman.  Thank God the boys didn't decide to walk all over Hell while they were unsupervised, as it looks like a jagged rocky wasteland from the viewing platform. LOL! Honestly, I was surprised they went on their own without telling me and of course, was furious as Hell when I found out, but hey, we are on vacation and now they are safe, so I let it go.
They went to Hell!
When we arrived, one of the first things I saw was the fire-engine red and yellow hell-themed post office from which you can send postcards. They also sell the typical "Postcards from Hell".  There is also a souvenir and gift shop with phrases like 'How the Hell are you?  and "Where the Hell are you from?" plastered on the walls and painted on the sides of the building.  My son couldn't resist getting himself a t-shirt with "Devil's Hangout" and a collared shirt "HELL, Grand Cayman" on it.
Reminds me of when I was a kid and got the t-shirt from the AC/DC concert HIGHWAY TO HELL, only my Father wouldn't let me wear the shirt to school the next morning like all the other kids and he made me donate the shirt to charity!  My how times have changed.
I told him I would prefer if he got a shirt that said "University of Hell"!
The kids are still laughing and they think it is SO funny to get to use the word "Hell" this one time and that the parents can't do anything about it! Welcome to teenage kid humor.
Where the Hell Do We Stay?
There are so many options I cannot even begin to tell you about all of them, but I will let you know that we stayed at the Westin Grand Cayman on 7 Mile Beach on our first visit to Grand Cayman and on that same trip, decided to go to the other end of the island and stayed at the Turtle Nest Inn.
What the Hell do I recommend to read before going to Hell, Grand Cayman?
7 Fathoms Under the Sea: Cayman Islands
Distortions Under the Sea: Snorkel/Scuba Cayman Islands