The country of Indonesia, officially known as the Republic of Indonesia, is located in Southeast Asia. Nestled in between the Pacific and Indian Oceans, this country is dispersed into thousands of small islands. One of its famous islands is Komodo Island where it is home to the most famous lizards in the world, the Komodo Dragon. In fact, this country is famous for not only komodo drags, but for being a top producer of goods such as palm oil, nutmeg, coffee beans, and bananas! Indonesia is one of the most diverse countries in the world and these diversities can be seen in the culture, language, religion, and truly in its cuisine. Throughout this article, I will discuss the vast variety of Indonesia Desserts.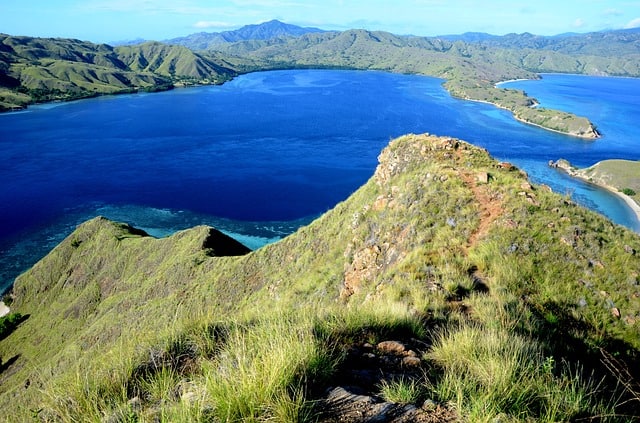 ---
What's in this post:
hide
Indonesian Desserts
---
Having visited Indonesia, I was super surprised at the number of desert-style dishes that the country makes – and especially so many different kinds of sweets! From the famous Es Teller made of young shredded coconut, avocado, and slices of jack fruit with ice on top to Sop Buah made from "fruit soup". It is a dessert made from tropical fruits in a bowl of condensed milk. Literally, Sop Buah is sold on almost every street corner of Indonesia, especially in big, warmer cities.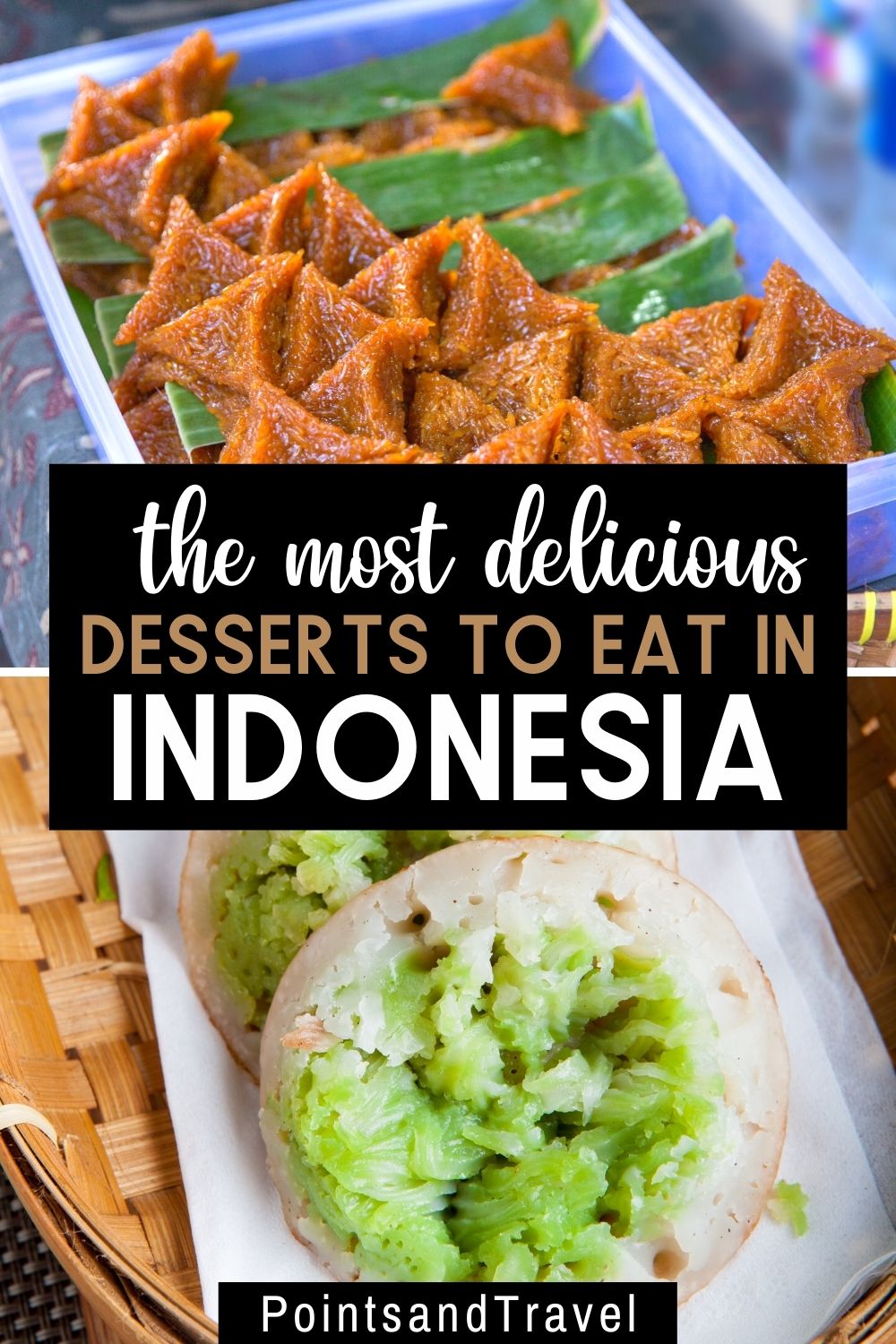 One thing that struck me was that Indonesian Cuisine takes many cues from other nearby cultures depending on what part of Indonesia you are traveling in. We traveled all over the entire country from Bali to Raja Ampat to Jogjakarta to Bandung to Lombok. Therefore, I got to see many different variations of Indonesian desserts. Most Indonesian desserts are associated with Chinese food, but if you are in Eastern Indonesia, you will find a mix of Indonesian cuisine mixed with Polynesian food!
So many of the desserts featured coconut in many different forms. The meat of the Indonesian coconut is softer and easier to scoop out of the shell. This meat gives desserts a different type of soft texture. Another focus of Indonesian desserts was popular fruits: breadfruit and jack fruit.
So keep reading to find out which Indonesian dessert is my favorite!
Bingka Telur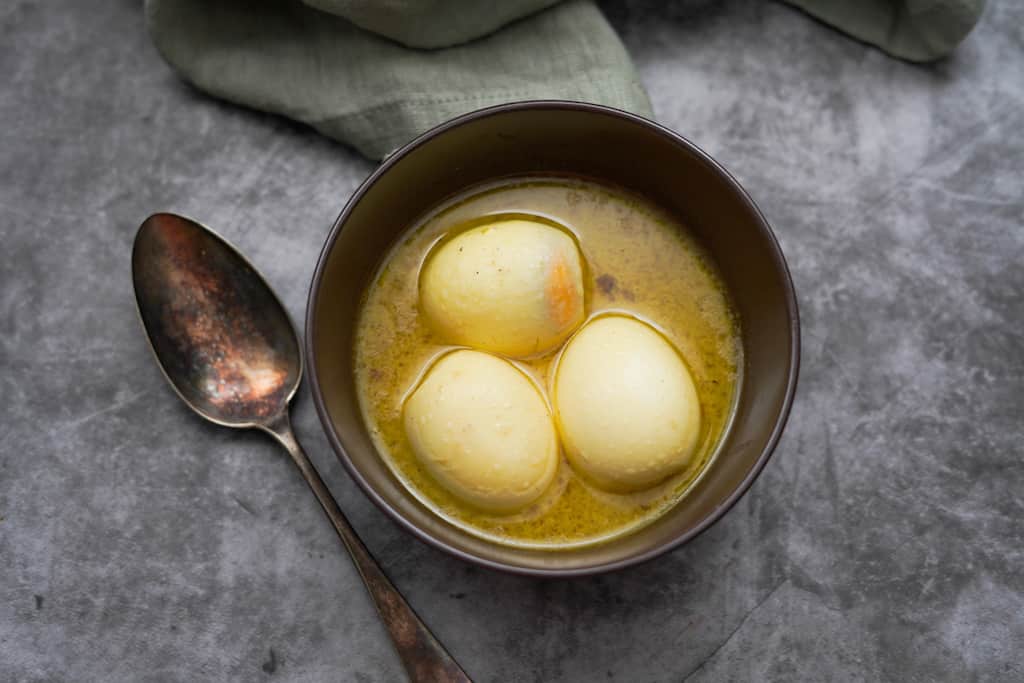 Eggs and coconut work together to create this scrumptious easy Indonesian dessert. The Bingka Telur dessert is made with eggs, sugar, coconut milk, vanilla, salt, and flour. In Indonesian tradition, this dessert is baked in a flower pan, which gives the dessert a beautiful look. If you are in the mood to make your own Indonesian cake then check out this Indonesian food recipe.
Bubur Pulut Hitam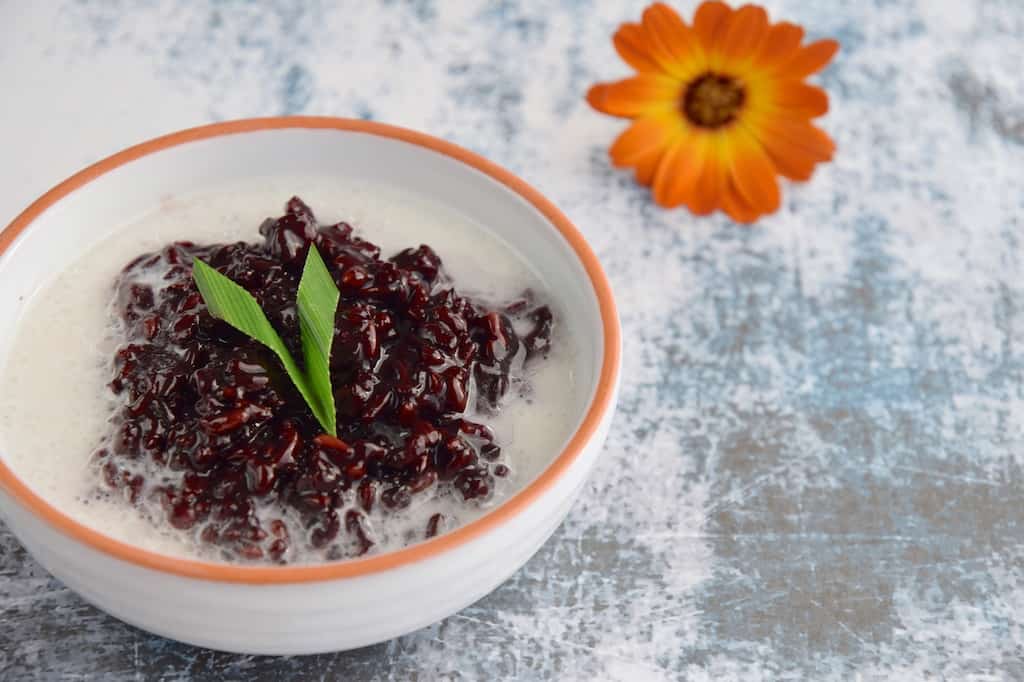 Coconut milk is another star ingredient in this Indonesian treat. This sweet snack, also known as Bubur Pulut Hitam, is made using black rice porridge, sugar, and pandan leaves. This black rice dessert is made with slight variations depending on the region of Indonesia you are visiting. For example, in Bali this dessert is called "bubuh injin" and tapai (fermented rice) is used in the dessert. Other parts of Indonesia use mung beans and bread to complete this Indonesian food recipe.
Cantik Manis
The translation of this dessert means "pretty sweet", which is exactly what you will get on the inside and outside of this food recipe. Cantik Manis is one of those no-bake desserts that are easy to make and is very appetizing to look at. This dessert is commonly eaten during Ramadan when people can officially break their fast. This Indonesian food recipe calls for tapioca pearls, mung bean flour, water, coconut milk, sugar, pandan leaf, and banana leaves. Click here for the complete recipe with instructions.\
Carabikang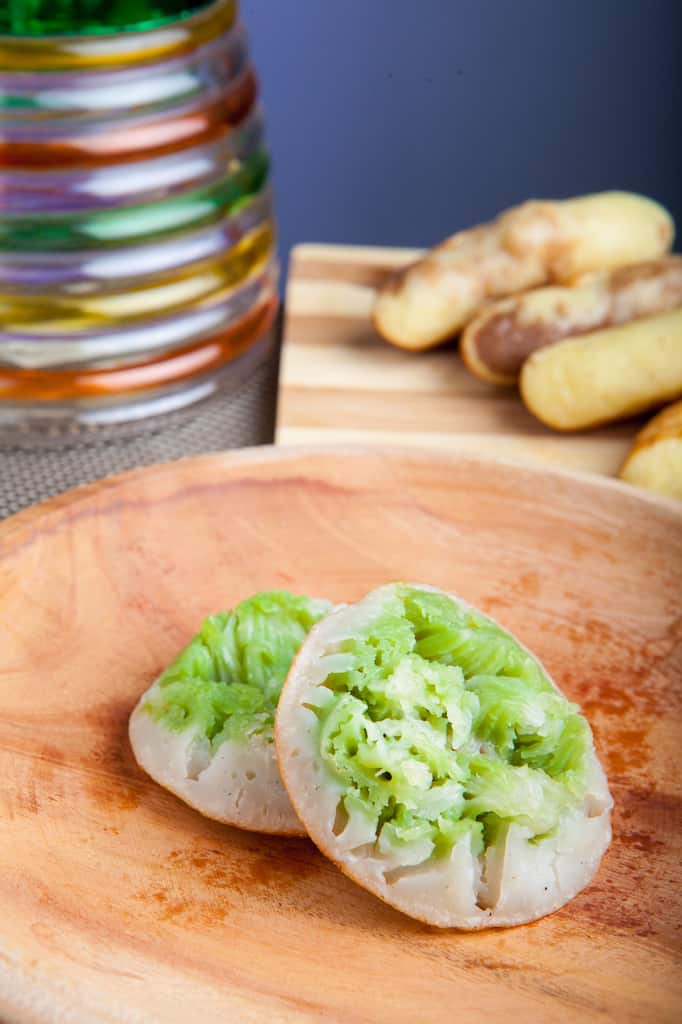 This eye-catching Indonesian dessert called Carabikang looks like sponge flowers. The unique texture of this dessert makes it appealing and appetizing to look at and eat. Like most of the desserts on this list, this dessert calls for coconut milk, rice flour, cake flour, and sugar. Don't forget to add in the pink coloring and green dye to add the flower-like color to these mini cakes. Check out this Indonesian food recipe for the full list of ingredients for making your own carabikang.
Colenak
One of the most scrumptious desserts used during tea time is this cassava and butter cake called Colenak. For those of you who are not familiar with cassava, it is a starchy root vegetable that cooks similar to potatoes and is found all over Guyana. This dessert originated from the West Java area and is loved by all of Indonesia. Dessert fermented cassava and sweet coconut combine together to create this yummy snack.
Dadar Gulung
The Dadar Gulung dessert translates into the pancake roll, which is famous in the Java region. This delectable dessert is made with pandan leaves (which is a tropical green plant). This pancake roll is filled with sugar, grated coconut, and cinnamon to add unique and delicious flavors. If you are lucky to find pandan leaves in the USA, then I recommend following this Indonesian food recipe to make dadar gulung.
Es Campur
Another delightful Indonesian dessert is the Es Campur. This no-bake dessert is popular street food and is the perfect treat for a hot day. This fruit cocktail is made with shaved ice, condensed milk, coconut, and tapioca pearls. This cold-mix treat is also best eaten after breaking the fast during Ramadan.
Es Teller
Es Teller is a dessert that represents the authentic flavor of Indonesia through its ingredients. The recipe consists of avocado, jackfruit, and coconut dipped condensed milk, and fruit syrup. Apparently, it was created in 1957 in Sukoharjo, Central Java.
Getuk
Another Indonesian dessert that comes from the Java region (more specifically, the central area) is the Getuk. This snack is made with banana and cassava, commonly found in Guyana. If you are looking for a substitute ingredient for cassava, you can use sweet potatoes to make this treat. The additional texture and taste of this treat are achieved when switching cane sugar with brown palm sugar.
Klepon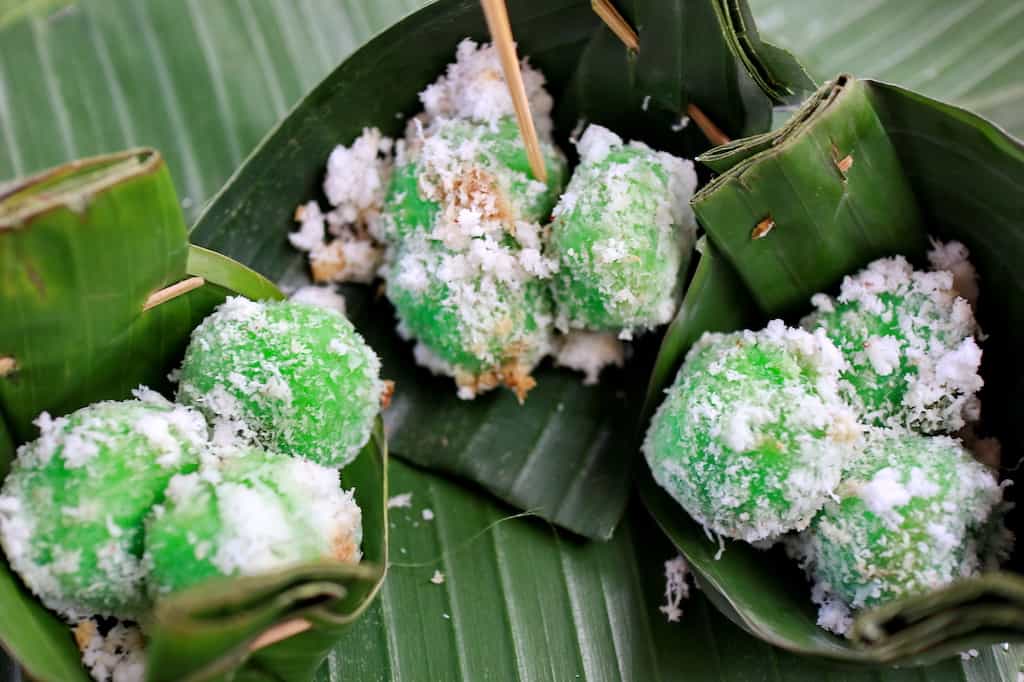 If you are in the mood for a sweet rice cake, then look no further than the Klepon. The origin of this sweet treat is unclear because there are similar snacks called "Onde Onde" that hail from Singapore and Malaysia. This addictive Indonesian dessert is combined with only 6 ingredients and is made in 20 minutes! Check out this Indonesian food recipe to learn how to make these coconut balls.
Kue Bugis
Hailing from the regions of South Sulawesi and Makassar is one of the best rice flour cakes known as Kue Bugis. Pandan leaves and coconut are the star elements in this treat. The word "kue" is translated as a "bite-sized " piece or snack, which is exactly what the kue bugis is. Along with other bit sized desserts such as kue lapis and kue nagasari. The kue bugis is made with grated coconut, mashed potatoes, palm sugar, pandan, and then wrapped in a banana leaf. Delicious!
Kue Lumpur
If you want the Indonesian version of a mud cake then you must try the Kue Lumpur. Don't let the name fool you, this Indonesian dessert tastes nothing like mud! In fact, the sliced coconuts and coconut milk are prominent in this treat, which adds to the gooey texture of the dessert. I recommend checking out this Indonesian food recipe to make your own Indonesian mud cake.
Lapis Legit or Spekkoek
In Indonesia, the dessert Lapis Legit is also known as "Spekkoek". This dessert was originally created in the Netherlands and brought to Indonesia when the Dutch control parts of Indonesia This unique dessert is a layered-cake with dark and light layers, which are baked in different ways. If you are feeling ambitious, then you should review this food recipe to make your own Lapis Legit.
Nagasari
Another traditional Indonesian dessert is Nagasari. This dessert is simple to make and includes the following ingredients: bananas, coconut milk, rice flour, cornflour, sugar, salt, and banana leaves. The hardest part of this dessert is waiting for the bananas to cook on a slow fire. I propose that you have lots of patience when cooking this snack, especially because the end result is scrumptious.
Mochi Ice Cream
It seems like the mochi flavor is found everywhere in Southeast Asia. Indonesia was not left out of the mochi craze and has contributed to it with its Mochi Ice Cream. By using this homemade Indonesian food recipe, you will find that making mochi ice cream is easy and the final product will taste heavenly. You can add any color of food coloring that you like!
Ongol Ongol
One of the most popular street snacks in Jakarta is Ongol Ongol. This unique and scrumptious snack is made from mung bean flour, rice flour, and cassava. These chewy snack balls are covered in fresh coconut to balance the soft center of this snack. This is sometimes referred to as Mung Bean Cake. It is similar to Jello with a richer taste. This tastes great with a warm cup of tea!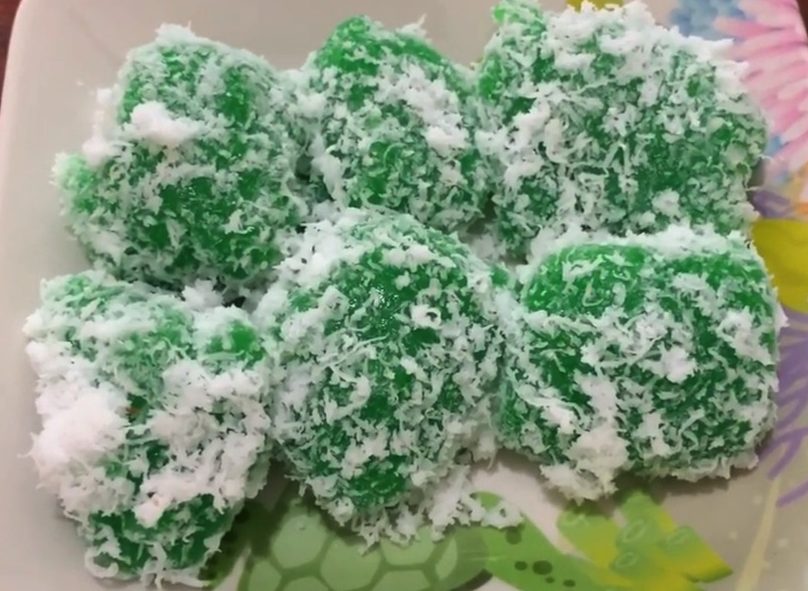 Pai Susu Bali
The name of this snack should give a hint as to where it originated, Pai Susu Bali. Street vendors in Bali are known to sell many different varieties of this yummy treat. The most common pai susu is made with Balinese milk custard and topped with flavors such as strawberries, chocolate, and raisins.
Pisang Goreng (Banana Fritters)
Bananas are one of the freshest and healthiest ingredients found in many Indonesian desserts. The Pisang Goreng desserts (also known as banana fritters) combine this healthy fruit with a deep-fryer to get a unique but tasty snack. You will need ripe bananas and rice flour to make this dessert. Check out this recipe for instructions on how to perfect this easy snack.
Serabi Solo
The closest you will get to an American-style pancake is the Serabi Solo. This dessert is mainly found in the city of Solo. Made with rice flour, this yummy snack can be topped with almost anything to make it unique for everyone. The most common toppings include bananas, cheese, and chocolate.
Sop Buah
Found on almost every street corner in the big cities of Indonesia, Sop Buah is made from "fruit soup" and is a dessert made from local tropical fruits in a bowl of condensed milk. Sop Buah is traditionally eaten to break the morning fast during Ramadan. But you can make it easier because the ingredients are easily available.
Surabaya Layer Cake
One of the old-fashioned cakes found in Indonesia is the Surabaya Layer Cake. This classic cake is made from layers of chocolate and vanilla sponge cake. Milk and cocoa powder along with instant espresso is what gives this cake a unique and delicious taste. If I were you, I would you this recipe to make my own Surabaya layer cake.
Wajik
One of the Indonesian desserts that can be traced back to the Majapahit era of the 1500s is the Wajik. This diamond-shaped dessert is made with coconut milk, sticky rice, and palm sugar. View this recipe to find an authentic way to make this Wajik cake.
All right, there you have it; 22 of the best Indonesian desserts! I personally was able to make some of these desserts and guess which one is my favorite? I truly suggest that you pick out your favorite Indonesian dessert and try your hand at making it. The results will probably be yummy and out of this world!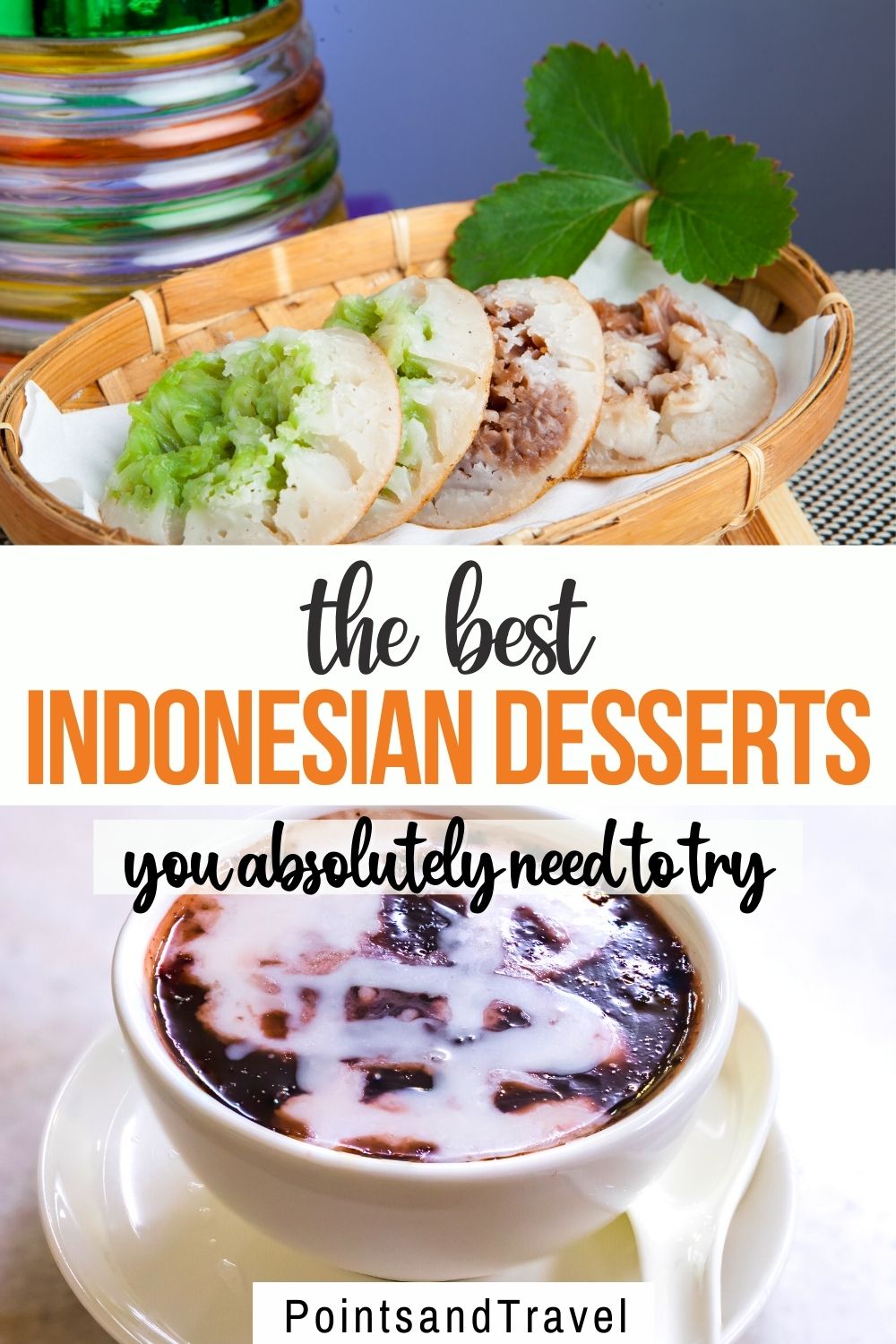 Want to learn more about Indonesia? Check out my experiences in Bandung where we went off-roading in deep mud crevices and I had the time of my life!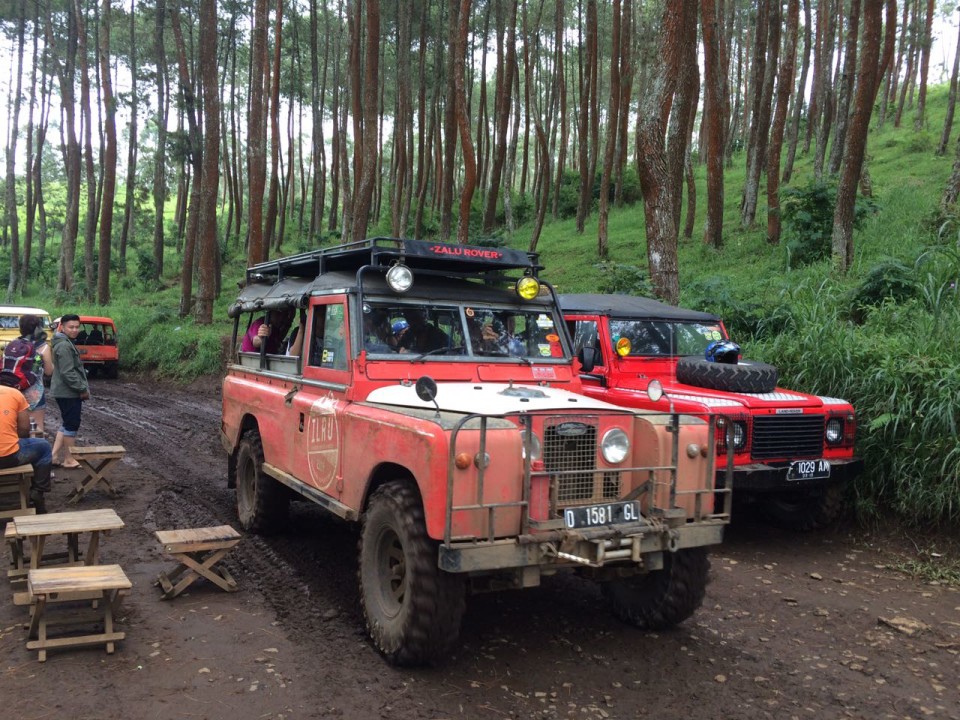 Want to learn more about Indonesia?
Four Secret Places to add to Your Indonesian Bucket List
Travel to Indonesia to learn the Art of Batik