When you think of Arizona, the first things that may come to mind are cacti, saguaro cactuses, and cowboys. But Scottsdale is so much more than a desert landscape. It's an oasis in the middle of the Sonoran Desert with plenty to see and do for both visitors and residents alike. From golfing at one of our world-famous courses to hiking Camelback Mountain, there's something for everyone here in Scottsdale! This article is your ultimate guide to all things to do in Scottsdale that you can't miss out on while visiting this awesome city!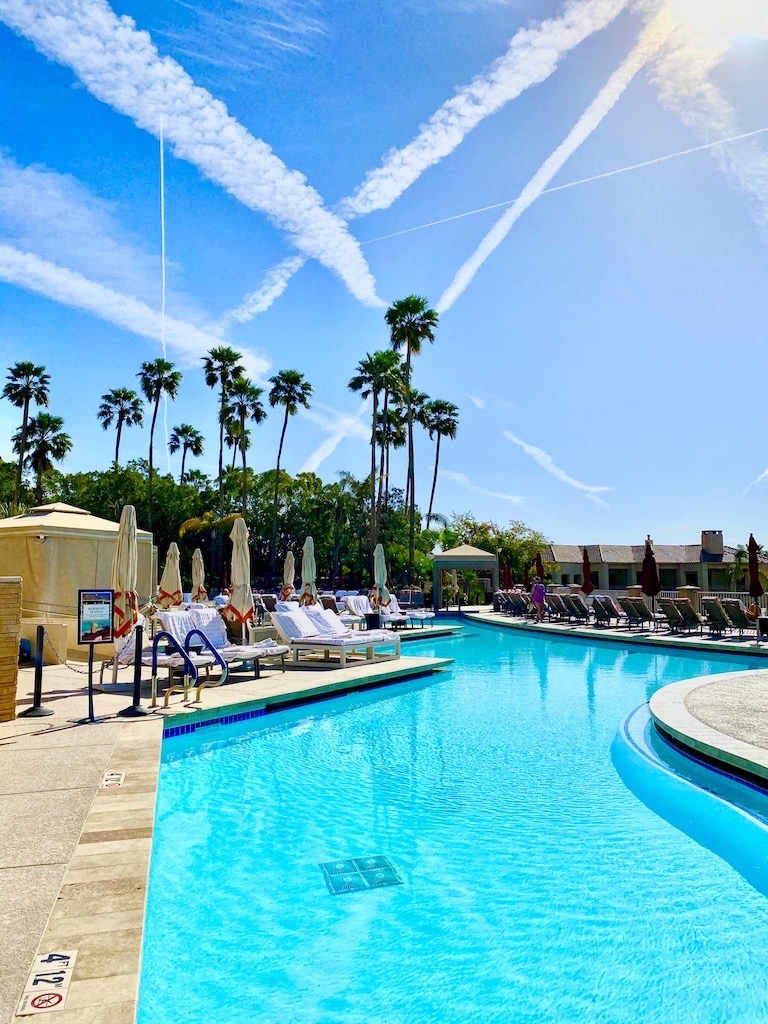 The city of Scottsdale, Arizona, really does have it all. Scottsdale AZ is known for having dozens of golf courses, miles of trails, bike paths, and baseball fans swarm to spring training games. Of course, I know many visitors who come here just to relax at the Phoenician and spend their days poolside lathered up in sunscreen as they stare up at the gorgeous mountain panorama that surrounds them. With towering palm trees and the famous saguaro cacti around, the rugged beauty of the Sonoran landscape is a wonder to their eyes. Honestly, it looks pretty darn good from a chaise lounge chair or from a long hike through the McDowell Mountain Preserve.
---
What's in this post:
hide
Things to do in Scottsdale
---
Oh, and if you haven't heard, the Phoenician has upgraded its spa, and let me tell you something, it is super fabulous! I spent a day there this year and loved every minute I was there.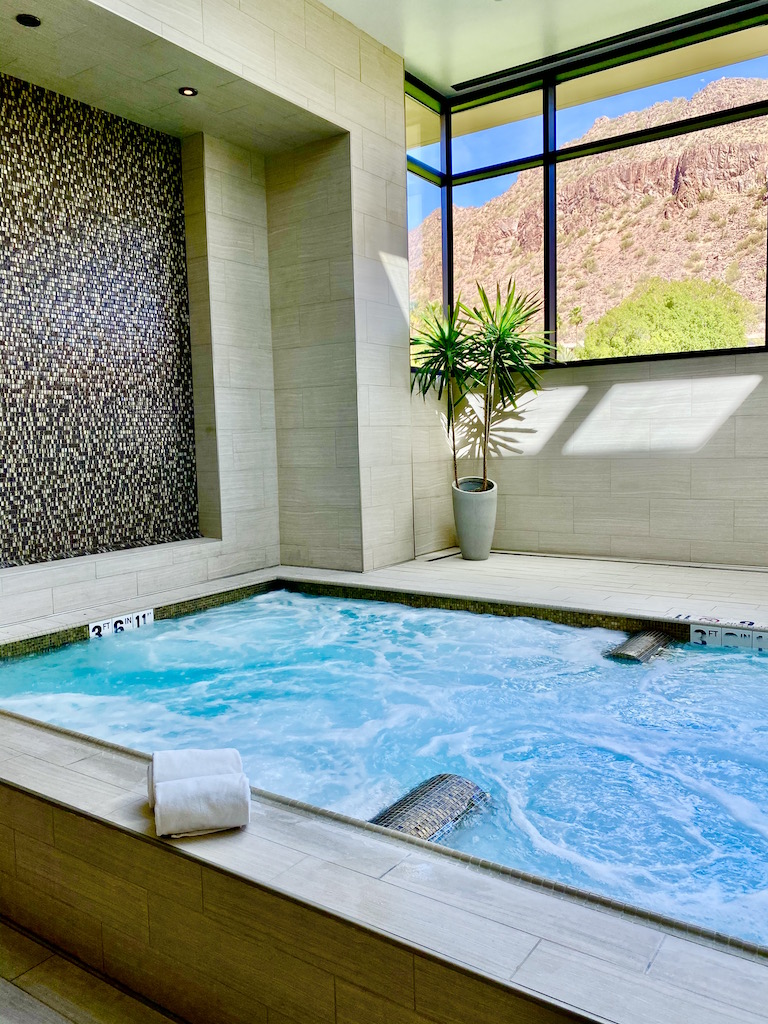 Scottsdale AZ is also a center of culture, with many world-class gardens, museums, and plenty of collections to be seen in galleries. It is like an oasis of exploration from Taliesin West to Soleri's Cosanti, to wild rides on horses or even offers up the Desert Botanical Gardens and the Phoenix Zoo. And when the Springtime suddenly appears in March, you can guarantee there is plenty of athletic Spring Seasons for guests to attend. There is also plenty of arts and crafts about cowboys and Native American life and a world-class collection at the Scottsdale Museum of Contemporary Art. Be sure to also explore the city's landmark architecture.
The city of Scottsdale is home to more than 200,000 residents and covers an area of about 170 square miles. There are many attractions in the city that will keep you busy for a weekend or more. From your lodging accommodations to great restaurants serving cuisine from around the world, this guide has it all! It includes everything you need to know before visiting: what's there to do- activities by day and night; where to eat; how best to get around town—with map info included too! Below is the outline of Scottsdale in RED.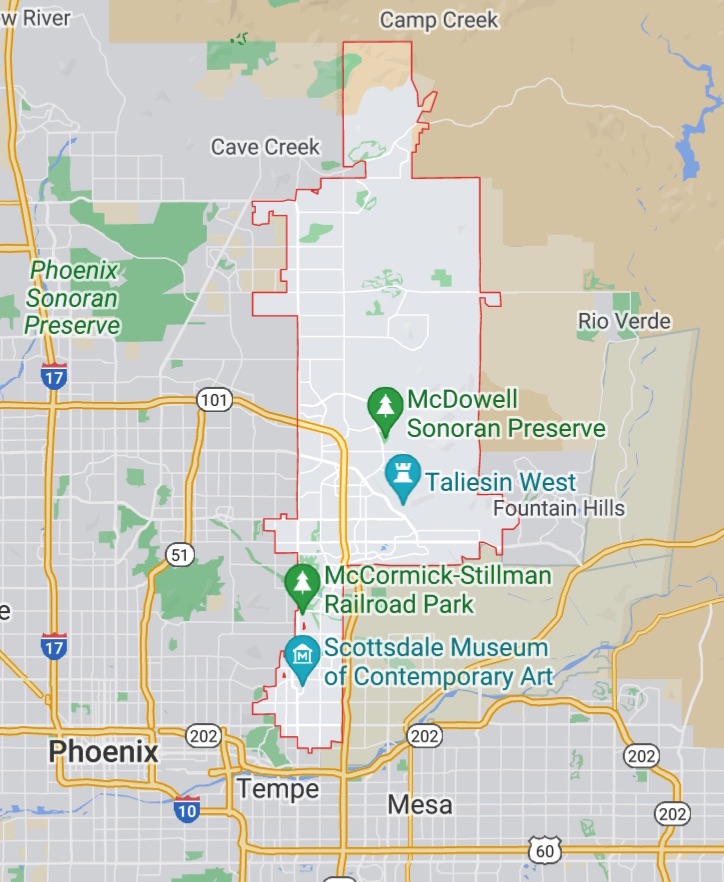 ---
Things to do in Scottsdale, AZ
---
Honestly, when it comes to long weekend getaway destinations, the city of Scottsdale, AZ, really is the full package in every aspect. It is easy to fly into, has a great food scene, is close to nature for many outdoor activities, and is so much more cultured than most people even realize. Plus the weather is pretty much outstanding from October through April. Basically, I have come up with some fun things for you to do in Scottsdale AZ when you visit this lovely town. It's a good idea to make sure you have plenty of time on your hands when heading down to Scottsdale for the day. Here are some things you shouldn't miss out on!
1. Old Town Scottsdale
One of the great ways to spend an afternoon in Scottsdale is by heading to the Old Town of Scottsdale AZ. This area has restaurants, stores, clubs, parks, and all kinds of shops within walking distance of each other. The vibrant atmosphere of Old Town Scottsdale has something for everyone to enjoy from the historical museum to relaxing spas.
I highly recommend ordering an original ice cream sundae at the Sugar Bowl Ice Cream Parlor & Restaurant. This family-owned ice cream parlor has been selling scoops of joy since 1958. Even today, as you stop on by to the authentic 1950's soda fountain shop, you will be mesmerized at the fact their menu and decor have been left unchanged since the day it was built. The Sugar Bowl is honored to be a designated Founding Business of Scottsdale member and was placed on Scottsdale's Historic Preservation Register. So come join the fun, order a hot fudge Sunday with all the trimmings, and enjoy what nostalgia is left at the Sugar Bowl.
The Scottsdale Waterfront has something for everyone with shops like Tiffany & Co., Louis Vuitton, Tory Burch, Kate Spade New York, and much more in addition to having amazing restaurants such as Culinary Dropout that serve up some of the best southern-style cuisines around.
2. Eat at a Romantic Restaurant in Scottsdale
Try out Cafe Monarch Restaurant! Their motto is Fine Dining, Redefined…, and honestly! I believe it is! You will be welcomed into a world of culinary elegance and sophistication you will not find anywhere else in Arizona. As it was named by Trip Advisor as a Top Three Fine Dining Restaurant in the Nation, this family-owned and operated gem is in the heart of historic Old Town Scottsdale has earned an illustrious reputation for its first-rate service, elegant ambiance, and five-star cuisine.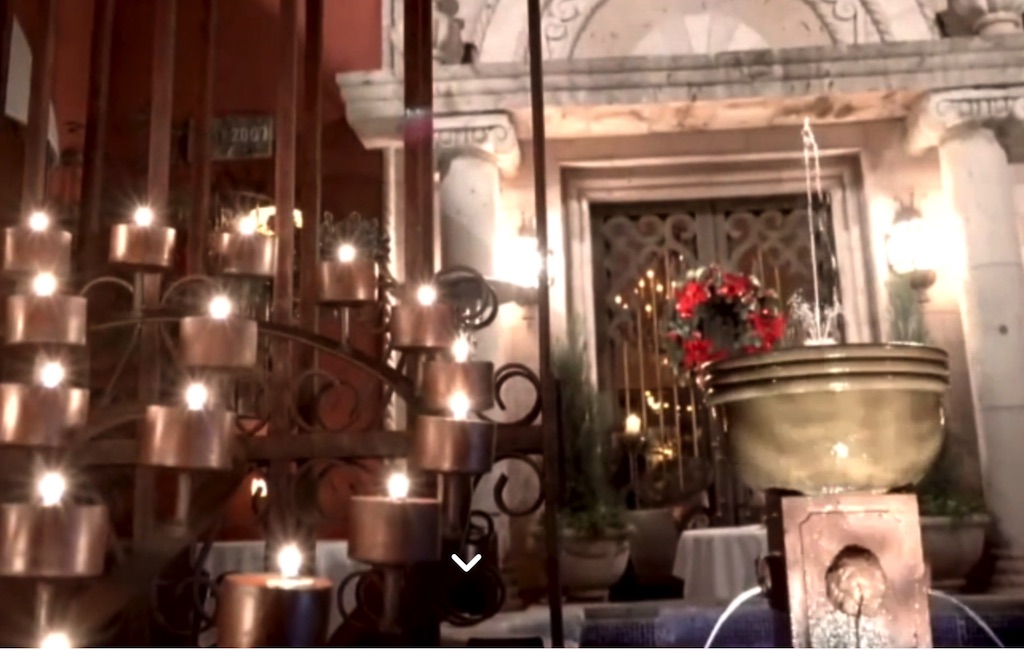 Nicks at the Hacienda is a high-end restaurant in Scottsdale Arizona with excellent food, atmosphere, and service. The menu here changes seasonally, but it always has some of the most popular dishes on offer like Nicks' famous hanger steak or their signature crab legs for two. It's best to make reservations days ahead as they are often booked up weeks in advance. Prices range from moderate – expensive depending on what you order, so if money isn't an issue then head over to Nicks!
3. Scottsdale Fashion Square
The one thing you can't miss out on is visiting our famous shopping district called "The Scottsdale Fashion Square." Their parking lot has more than 4000 spaces so finding a place to park won't be hard at all! For those of you who love trending styles, sass, and shopping, then you must check it out: Scottsdale Fashion Square.
This shopping plaza is home to high-end stores such as Armani Exchange, Apple Store, Burberry, Coach, Dior, Gucci, and Louis Vuitton. There are also plenty of budget-friendly shops such as H &M, Lev's, and Macy's. The best way to end a shopping excursion is by eating at Johnny Rockets for a bit of nostalgia followed up with dessert at Mary's Mountain Cookies.
4. Eat at an Award-Winning Restaurant
Enjoying one of our many award-winning restaurants and making reservations in advance is always recommended so that there isn't any disappointment later. The Firebirds Wood Fired Grill, known for its "outstanding" cuisine by Zagat Survey has been recognized as being among the best steak houses in Phoenix since the 1990s while offering an extensive wine list along with their signature margaritas made from fresh lime juice and top-shelf tequila will not disappoint!
5. McCormick-Stillman Railroad Park
Another great place to visit in Scottsdale is the McCormick-Stillman Railroad Park. This Park has over 100 acres of land that was generously donated by Fowler McCormicks in 1967. However, it wasn't until the 1970's that Guy Stillman installed a narrow-gauge railroad in the park, hence the name of the park. At this park guests enjoy going on the 1950 Charro Carousel, admiring the Paradise & Pacific Railroad, visiting the Railroad Museum, checking out the Gave Brooks Machine Shop, and take pictures with the Antique Railroad Bell. According to their website, "Little Trains = Big Fun!" and that is exactly what you'll get at this park.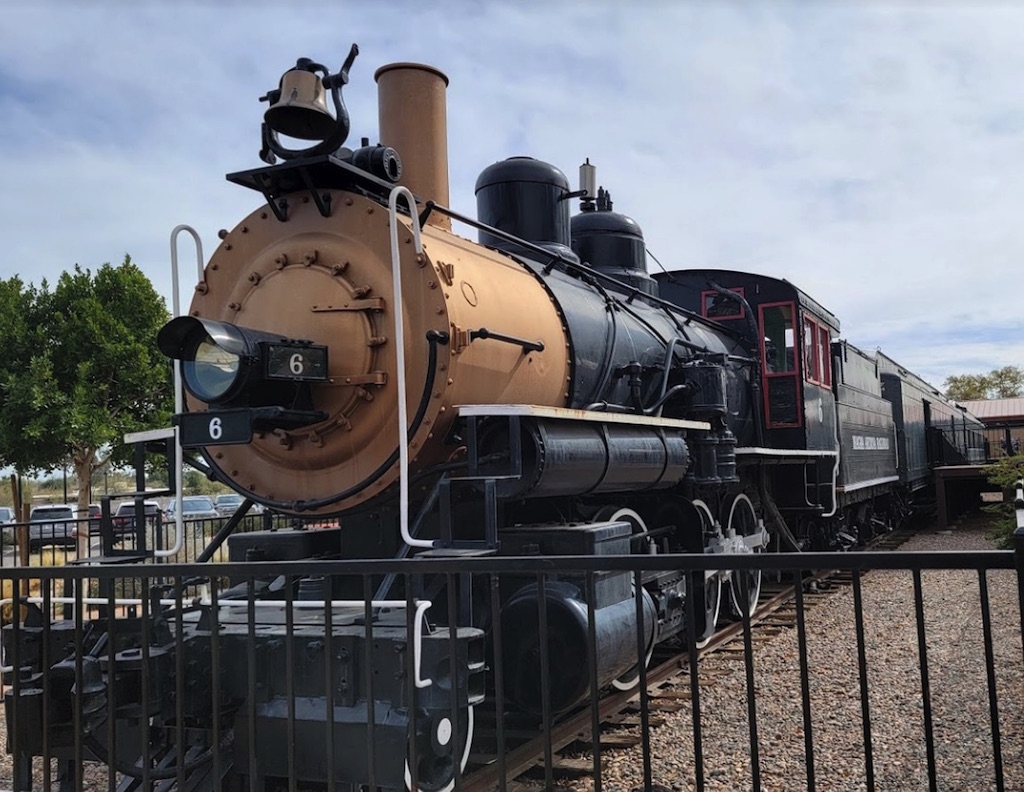 ---
Word of Advice: Take care during midday summer hours when temperatures soar into triple digits but head up there anyway, and remember that Scottsdale, as well as Phoenix, is HOT in the summer. The average temperature in the summer months is 105 degrees Fahrenheit and it's not uncommon for temperatures to reach as high as 110 degrees. So bring your sunscreen, as you are going to need it!
---
6. MacDonald's Ranch
The online site, TripAdvisor, named the Scottsdale MacDonald's Ranch a "Traveler's Choice 2020". A trip to this ranch combines fun horse rides, peacefulness, and a stunning scenic view of the Sonoran Desert. Trained cowboys teach you how to get on a horse and you can actually ride on it around the ranch for about an hour. Children love petting ponies and visiting the Petting Zoo. This ranch offers birthday party packages, bookings for private events, stagecoach rides, and seasonal Cowboy Cookouts.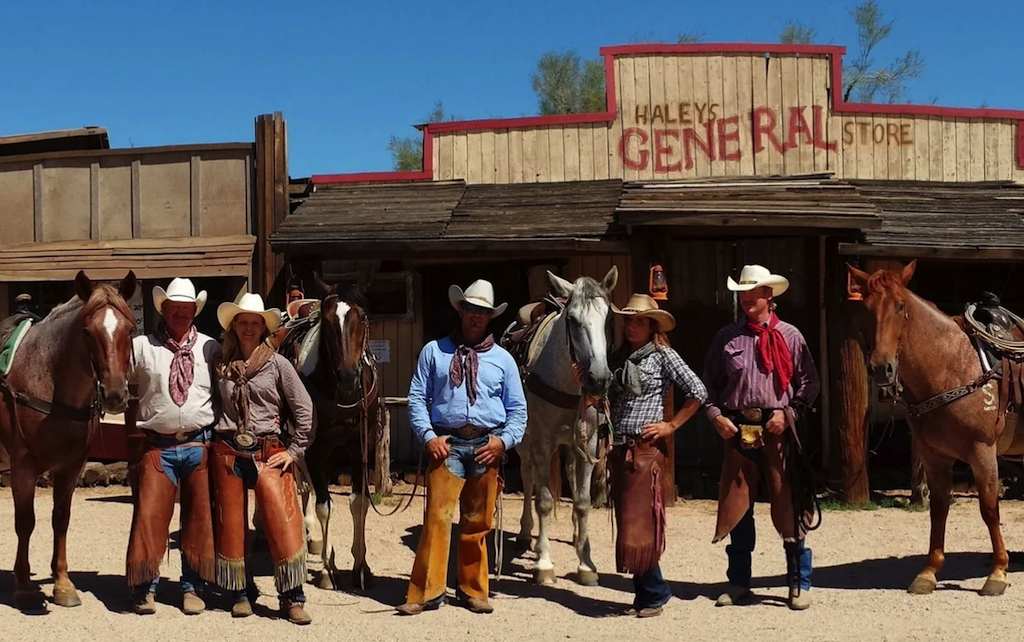 7. Is Camelback Mountain fun to hike?
One of the most well-known hikes in Scottsdale is Camelback Mountain, which offers a beautiful view from its summit. And while it's not recommended for people who are afraid of heights or don't have much experience with hiking, it can be an enjoyable and memorable hike if you do everything right and follow safety precautions!
8. Singh Farms
Visitors of Singh Farms are in for a treat because it offers a weekend market of fresh fruits, vegetables, and eggs! This is not just a farm, but a place to get together with friends and family to have a great quality meal made with local and fresh ingredients. What sounds better than eating a yummy vegetable omelet, in which both the eggs and veggies were plucked from the farm you are visiting?! Take the time to walk around 20+ acres of land that is covered with trees and flowers.
---
Recommended Reading for Amazing Places to Visit in Arizona
Things to do in Jerome, Arizona
The Ultimate Guide to Horseshoe Bend
Upper Antelope Canyon – The Ultimate Guide
---
9. Visit Wonderspaces Arizona
Wonderspaces Arizona is a unique art show that is fun for people of all ages to visit. This art gallery is located at Scottsdale Fashion Square (next to the food court and escalators). Shows featured at this art gallery change periodically to allow for new artists and their work to viewed by the public. The current art shows include: 'Plume' by Ian Brill, 'Our Top 100' by Jody Servon, 'Light Leaks' by Kyle McDonald and Jonas Jongejan, and 'A Mind Sang' by Vier Nev. Show tickets are available online and cost $24 for adults. There are reduced tickets and free tickets are available for members and children under 3.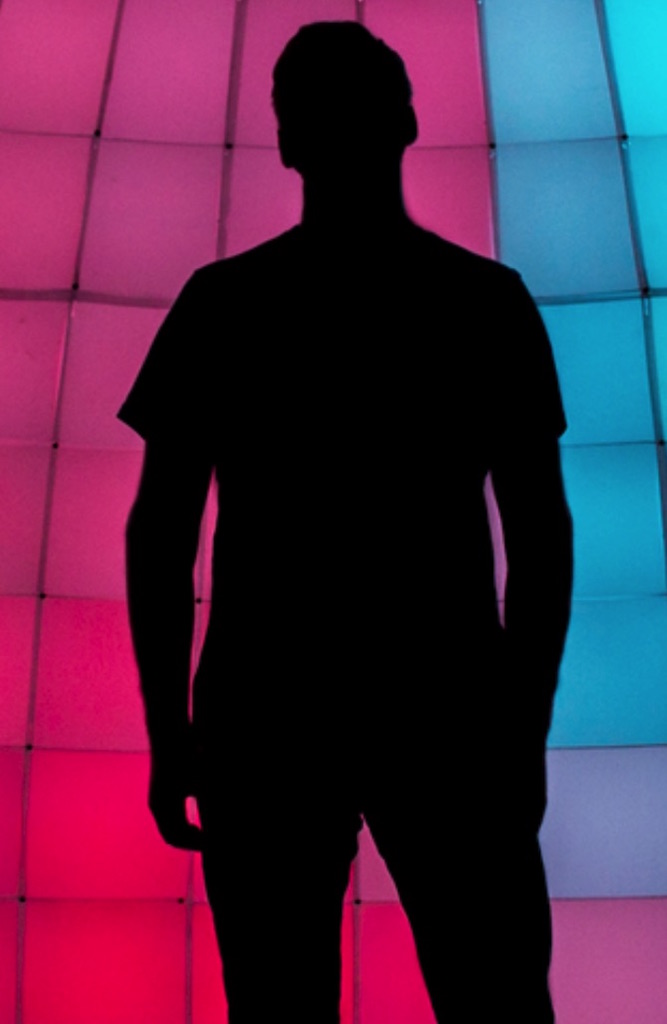 10. Visit the Oldest House in Scottsdale
The original owner of the Titus House was Frank Titus and was built in a Victorian style in 1892. Frank Titus was once a simple man whose love for trains and railroads made him a successful and wealthy man. He bought 160-acres of land, which included a ranch and citrus farm. Although this house is now a private residence, you can still drive by and visit the house at 1310 N. Hayden Road in Scottsdale. It is a treasure trove of some of the wonderful things that Frank brought to the City of Scottsdale AZ.
11. McDowell Sonoran Conservancy
One of the interesting things to do in Scottsdale, AZ is to visit the McDowell Sonoran Conservancy. This conservancy is also known as a preserve and it was created to protect the desert, its animals, and Habitat. Depending on your preferred direction (north or south), there are several hiking trails at this preserve.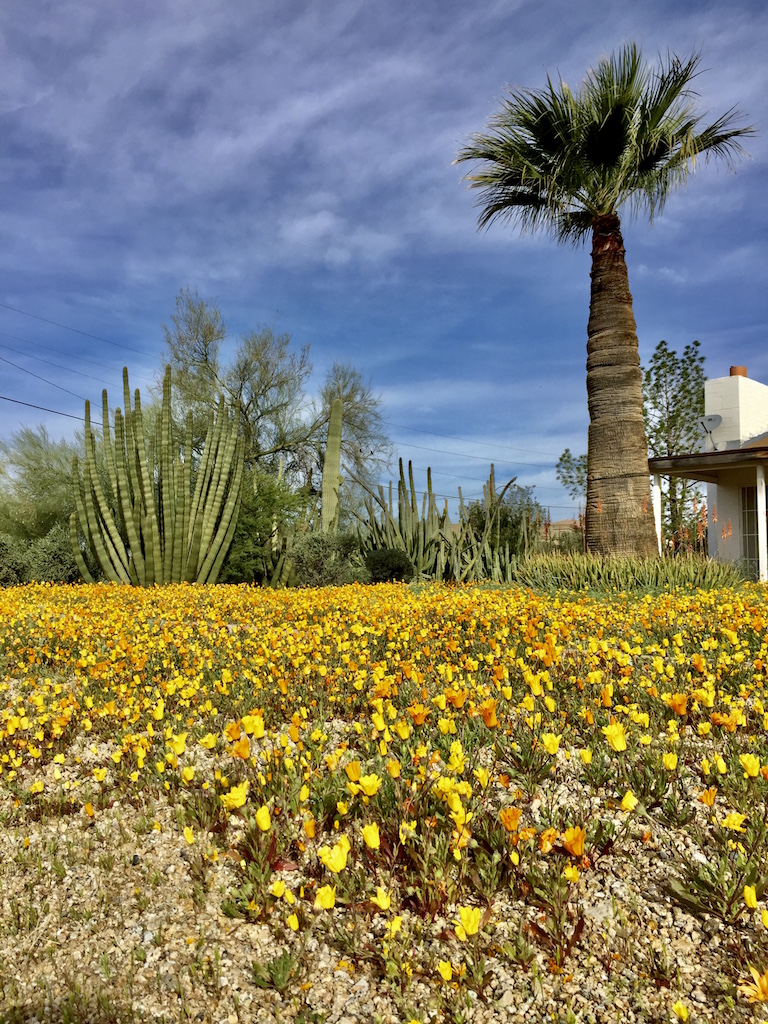 For those who want to hike north, they will head to the Pima Dynamite, Granite Mountain, and Tom's Thumb Trailheads. South hikers will encounter the Ringtail Trailheads, Lost Dog Wash, and Gateway. Guests can visit this preserve every day and free of charge. My only tip is to stay away from the rattlesnakes and if you see one just back away slowly and it won't chase you.
12. Pangaea: Land of Dinosaurs
To continue on the animal-themed spots in Scottsdale, visitors love checking out Pangaea: Land of Dinosaurs. Jurassic Park lovers are sure to have a blast browsing through the dinosaur exhibits to admire the dinosaurs such as Dilophosaurus, Stegosaurus, Triceratops, Velociraptor, Tyrannosaurus Rex, and Spinosaurus. Kids enjoy making their own dinosaur park using the magnet wall and building their own dinosaur at the Dino Building Station.
13. Scottsdale's Museum of the West
The Smithsonian has its hands on the Western Spirit: Scottsdale Museum of the West, so, you know it'll be a good place to visit. This museum is open Tuesday to Saturday from 9:30 am-5 pm and Sunday from 11 am-5 pm. Adult admission tickets sell for $20 each and a child's ticket is $9. Check their website for more details on reduced or free admission. This museum has stunning exhibits and a sculpture courtyard. The current exhibitions include: "Beaded Gauntlets" William P. Healey Collection, "Maynard Dixon's American West", "Courage & Crossroads: A Visual Journey through the American West", and John Coleman: "Past/Present/Future".
14. Southwest Wildlife Conservation Center
Saving and rehabilitating wildlife is the main goal of the people at Southwest Wildlife Conservation Center. By visiting this center, you get the rare chance to see how this sanctuary provides animals with the help and affection they need before they go back into their wild habitat. As of October 2020, the newest mountain lion at this center is Nocona. At this center, you will spot animals such as bobcats, black bears, owls, skunks, coyotes, foxes, deer, and tortoises. Guests can book tours such as the Southwest Wildlife Family Day and Friday Night Twilight Tours.
15. OdySea Aquarium
One of the fun things to do in Scottsdale that everyone will love is a trip to the OdySea Aquarium. This lovely aquarium is open every day from 9 am-7 pm and you can buy tickets from their website. There are two levels of fun-filled activities and things to see at this aquarium. Upon entering the lobby on the first level you will be greeted by exhibits such as the Shark Waters, Great Barrier Reef Tunnel, Giant Pacific Octopus, and the Deep Ocean Theater.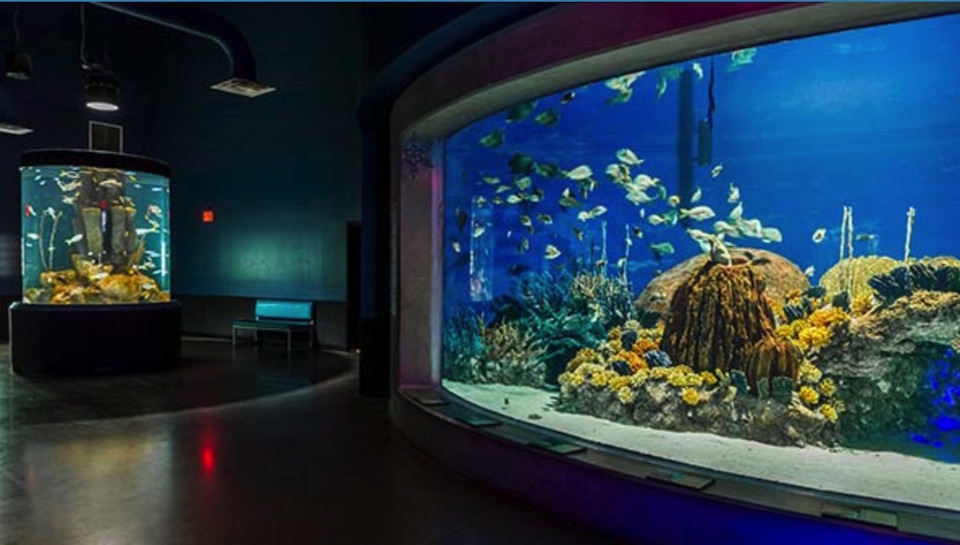 The second level of the aquarium has a trout stream, otter banks, two-toed sloth, tropical birds, a stingray touch pool, and a sturgeon cove. If necessary, this aquarium has wheelchairs and is a completely wheelchair-accessible place. Families can bring in strollers and there is a nursing area.
---
Recommended Reading for Amazing Hotels in Phoneix and Scottsdale:
Staycation AZ – At The Hotel Valley Ho
The Hermosa Inn, Paradise Valley, Arizona
Native American Wisdom, Sheraton Wild Horse Pass
---
16. Swim with the dolphins at Dolphinaris Arizona
If you thought you could only swim with the dolphins in tropical settings when then you have never been to Dolphinaris Arizona. The OdySea Aquarium has a Dolphin Land Experience that allows you to touch, kiss, and meet the dolphins. A Dolphinaris experience allows you to swim with the dolphins (along with a trainer) and you can see how the dolphins show off their skills in 1 of the 5 lagoons.
17. Public Art Walking Tour
The city of Scottsdale is filled with stunning public artworks that you should miss out on viewing. A relaxing walking tour around the city will lead you to spots such as the Scottsdale Waterfront, 5th Ave Shopping District, Historic Old Town, and Art District. The Public Art Walking Tour includes several stops including: "Jack Knife" by Ed Mell at the intersection of Main Street & Marshall Way, "Knight Rise" by James Turrell at the Scottsdale Museum of Contemporary Art, and "Passing the Legacy" by Herb Mignery at Scottsdale Waterfront.
18. Scottsdale Wine Trail
In Scottsdale Arizona, there are plenty of things to do and one of those is the Scottsdale Wine Trail. In the heart of Downtown Scottsdale is where you can start your wine tasting. Five Arizona wineries, Aridus Wine Company, Carlson Creek, Salvatore Vineyards, Merkin Vineyards, and LDV Winery, have collaborated to create a unique wine tasting. This unique tasting tour allows you to enjoy wine from these wineries in 5 different tasting rooms, all located with walking distance.
---
And Things to do in Scottsdale and Phoenix Arizona
Phoenix, Arizona in The Spring: Perfection
Chihuly: The Maestro in the Valley of the Sun, Phoenix, AZ
---
19. Chocolate Tour of Scottsdale
The crazy chocolate lover that I am could not pass up the opportunity to take a Chocolate Tour of Scottsdale. To be honest, what better way to express your love for chocolate than with a tour that showcases all the yummy treats that are coated, dipped, and made with chocolate. The Chocolate Tour of Scottsdale begins inside the Steven Paul's Salon, where you will be greeted with chocolate lovers at Gloria's Café. This tour includes 7 different shops including Caketini, Godiva Chocolatier, and two trips to Chocolade van Brugge. The two trips to the Chocolade van Brugge are necessary because you will want to savor the flavor of the Belgian chocolate, chocolate bars, and cookies and then buy plenty of sweets for your trip home!
20. Medieval Times Dinner and Tournament
A Medieval adventure awaits you at Scottsdale Castle. A unique and fun way to spend your evening in Scottsdale is at a Medieval Times Dinner and Tournament. You can expect there to be plenty of knights dueling with each other and fighting to their "death". You can purchase tickets to dine with the royal court, which includes Queen Maria Isabella. Chow down on the roasted chicken, buttered corn, potatoes and wash your food down with a cold Medieval beer.
21. Play Golf at Topgolf Scottsdale
Golf is a top priority spot in Arizona and people can't seem to get enough of this sport. Golf lovers must take the chance to play around at Topgolf in Scottsdale. This facility offers games for beginners, intermediate and advanced players. Advanced players can play virtual games that take them to Spanish Bay and St. Andrews. Beginners and intermediate players can play games such as Angry Birds, Topgolf, Top Shot, and Jewel Jam. This golf facility hosts birthday parties and private events. Check out their website for more information on what games to play and promos.
22. Scottsdale Civic Center
The Scottsdale Civic Center is a place where you will find tons of things to do in Scottsdale. Located on 3939 N. Drinkwater Blvd., this civic center is home to the Scottsdale City Hall, museums, shops, Civic Center Library, Scottsdale Center for the Performing Arts, a park, fountains, and a LOVE Sculpture. The LOVE Sculpture is almost identical to the famous one found in Philadelphia. This sculpture sits near the library and City Hall and you can take as many selfies as your heart desires.
---
Things to do in Sedona, Tucson, or even Rocky Point Mexico!
Going Off-Road thru Sedona, AZ with Pink Jeep Tours
Puerto Penasco – Arizona's Beach
And Things to do in Scottsdale, Phoenix, and Sedona, Arizona
Phoenix, Arizona in The Spring: Perfection
Chihuly: The Maestro in the Valley of the Sun, Phoenix, AZ
---
Why should you go?
Although most people think of the desert when they hear Scottsdale, Arizona, that is not all that this city is known for. Scottsdale is home to miles of trails, a wonderful desert climate, shopping centers, museums, and a wildlife preserve. I highly suggest you visit Scottsdale because it has plenty of fun and exciting things for people of all ages to do.
What is there to do?
You will not do yourself or the city any justice by taking on a one-day trip to Scottsdale. This city is chockful of interesting places to visit such as art exhibits, historical places, and a huge civic center. The Old Town Scottsdale was developed in 1894, which led to the construction of many now historical buildings such as the General Store, the first Catholic Church, and the "Little Red Schoolhouse". A visit to Scottsdale must include a trip to the museums, a visit to the local ranch, and a swim with the dolphins.
Monarch Butterfly Over the Skies
She flies over long distances in a precise migratory pattern and is known as 'the wanderer' in Australia. But here in the United States, we call her the Monarch butterfly. Flying overhead in search of nectar plants and basking in the sun, this week I felt like a butterfly as I explored the City of Scottsdale, AZ calling it the Scottsdale Invasion!
---
Things to do in Scottsdale!
---
Invasion of the butterfly
I am much like her, wandering the earth, finding my paradise, and this time it was in my own backyard. Flying down Lincoln Blvd, which is one of the loveliest streets in all of Phoenix, Paradise Valley, and Scottsdale combined, I race towards the mid-century modern Hotel Valley Ho to start my week in Old Town Scottsdale. The vibe here chic, cool and retro. As I check into my fabulous room, it will be a few days of relaxation, as I have come to bask in the sun, enjoy the spa and relax from my harried international travels.
---
The butterfly counts not months, but moments, and has time enough. ~Rabindranath Tagore
---
Places to Stay in Scottsdale AZ
Valley Ho Hotel: Located in the historic district, known as Old Town. This urban resort is one of the best-preserved examples of mid-century modern architecture you will ever find. It is fabulous and you will not be disappointed.
Café-ZuZu: This is their signature restaurant, half indoors and half out, it is a non-pretentious, laid-back kitchen with seasonal American food that is fresh and uses local ingredients.
VH SPA: Needing a bit of relaxation, I opted to get a deep bodywork massage for my first day at the Ho. You can choose from an entire menu of services.
Other Fun Excursions
Once revitalized, I was up at the crack of dawn to experience something I have not done in a very long time. I took a trip on an aircraft that I often do not fly on ✈. As I attached myself to the wicker basket, I could feel myself rising and knew it would be a glorious day amongst the mountains and the desert landscape. Rising high, I breezed thru the air on my hot air balloon experience courtesy of the Captain and his crew of Hot Air Expeditions.
Taliesin West by Frank Lloyd Wright
Now grounded, I was up for a visit to the famed Taliesin West, which was the personal winter home of Frank Lloyd Wright. And oh! what a mansion he built, out in the middle of nowhere (in the Sonoran desert at the foothills of the McDowell Mountains) in the late 1930s to the 1950s. A man before his time, known as the Father of Organic Architecture, where he designed structures in harmony with the environment and humanity. A visit to Scottsdale is not complete without a stop here.
Taliesen West is a must-see Arizona attraction. It showcases FLW's architectural style as well as the city's diverse desert landscape with lush landscapes. It features design from both world wars in addition to modernist architecture and abstract arts that showcase the Scottsdale art scene which has been thriving for decades due to the proximity of many artists who moved here after studying at ASU or the University of Phoenix!
When you visit Taliesen West don't forget to take pictures of your favorite pieces because they are sure not be there when you return!!!
Don't forget Cosanti!
I combined this with a visit to one of his students (and sort of a rebellious one at that) Italian-American Paolo Soleri of Cosanti. This was my first visit here ever and truly worth a quick stop, as you can see he was a man way before his time, who only recently died this year.
Desert Botanical Gardens is Always Open
From there I soared thru the sky over to the Desert Botanical Gardens to view the Chihuly Exhibit. The Sonoran desert is a perfect backdrop to this famous glassmaker's works of art. I cannot recommend it enough. Also in March 2014, they will have none other than the Spring Butterfly Exhibit! These gardens are well preserved and a wonderful place to stop by for music in the park as well.
The migration will continue on to other resorts, restaurants, and activities, but I will leave you with my favorite butterfly song in Spanish by Mana: La Mariposa
What are the five must-do activities in Scottsdale?
Staying at one of our luxury resorts and soaking up the sun by day, then head downtown to enjoy a show or some live music after dark; going for an early morning hike while enjoying views from Pinnacle Peak all the way down in Phoenix; catching a game with your favorite team at Chase Field where you can eat hot dogs on top of big-league peanuts – it's just like being back home except better; shopping along Fashion Square Mall before having lunch at Elizabeth Arden Red Door Spa Café (or maybe even getting a spa treatment); taking advantage of Scottsdale's proximity to Sedona and Flagstaff.
Recommended Reading for Amazing Places to stay in Scottsdale Hotels:
The Hermosa Inn, Paradise Valley, Arizona
Pour Me Some Whiskey and Lies- Jade Bar – Sanctuary's Camelback Mountain Resort and Spa
Four Seasons Scottsdale – Deep in the Heart
Wine me, Dine me and Spa: Hyatt Scottsdale, AZ
Jade Bar – Sanctuary's Camelback Mountain
W SCOTTSDALE – WOW! The 2 Bedroom WOW Suite Review
Are there free things to do in Scottsdale Arizona?
Yes! One of the most popular free things to do in Scottsdale Arizona is a scenic drive along Loop 101. The best time for this activity is at sunset, but during any season you'll be treated to some incredible views of what makes our desert so beautiful. You can also enjoy free concerts and events year-round thanks to various organizations like the City of Scottsdale Arts Commission, Downtown Scottsdale Inc., and more that organize these public art projects just for locals and visitors alike.
What is so great about Living in Scottsdale?
The city of Scottsdale has been ranked near the top of most lists as one of the best places to live in America due to its high-quality schools, excellent job opportunities with companies like Fender (the world-famous guitar manufacturer), low cost of living relative to housing prices, mild climate without extremes in temperature, a strong sense of community among residents and plenty more! We've got it pretty good here!
As you may have noticed there are so many wonderful things to do in Scottsdale AZ. It may appear that the places to see and activities to engage in are endless and you might be right. A quick trip to this desert city will not be sufficient enough for you to see all that Scottsdale has to offer. I recommend choosing your top picks for things to do and see and have a blast! The city and people of Scottsdale await your arrival, so have a lively and enjoyable trip like the Monarch Butterfly!
Disclosure: My trip to Scottsdale was in conjunction with the #ScottsdaleInvasion, as I was a travel writer/blogger for Experience Scottsdale, the Scottsdale Convention, and Visitors Bureau. This in no way influenced my fabulous time spent at three different resorts, seven restaurants, and hours of activities that I was able to experience