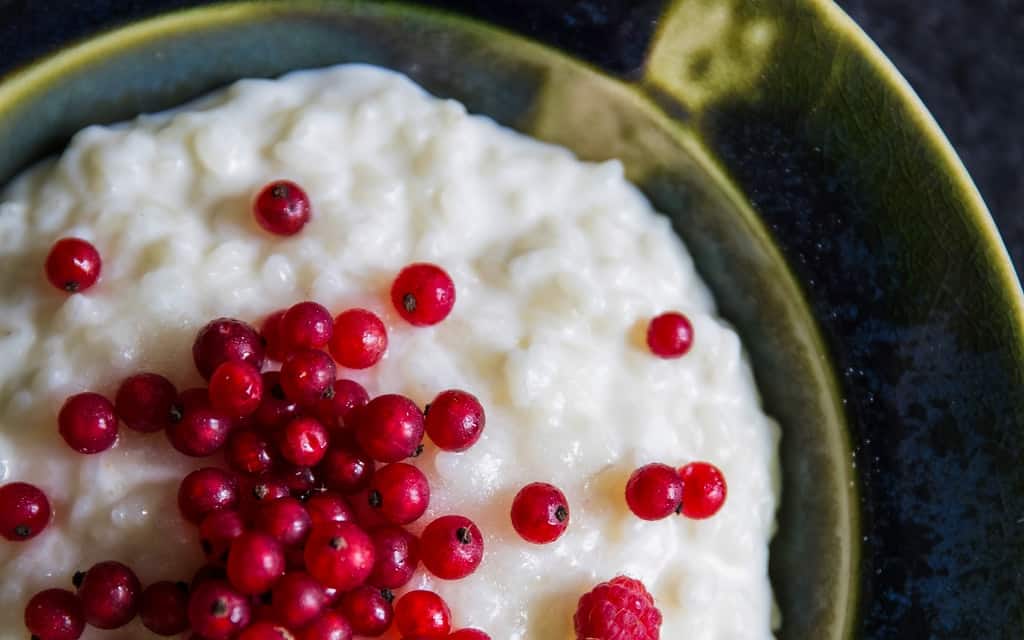 Vietnam is an interesting country that is located in the Southeastern part of Asia. It is home to more than 95.5 million people and hosts thousands of tourists each year. Tourists and locals alike try to avoid the busy traffic of the larger cities by traveling around by motorbike. In fact, I heard from my food tour guide that in Ho Chi Minh City they have over 8 million motorbikes roaming the streets. So beware when trying to cross the street!
---
What's in this post:
hide
Vietnamese Dessert You Must Try!
---
The guide told me, "Just start walking and don't look them in the eye! If you do, they will hit you because they think you are scared!" But I do have to agree that this method of transportation also makes it easier to visit my favorite Vietnamese dessert shops, restaurants, and street food vendors while making my way around the city.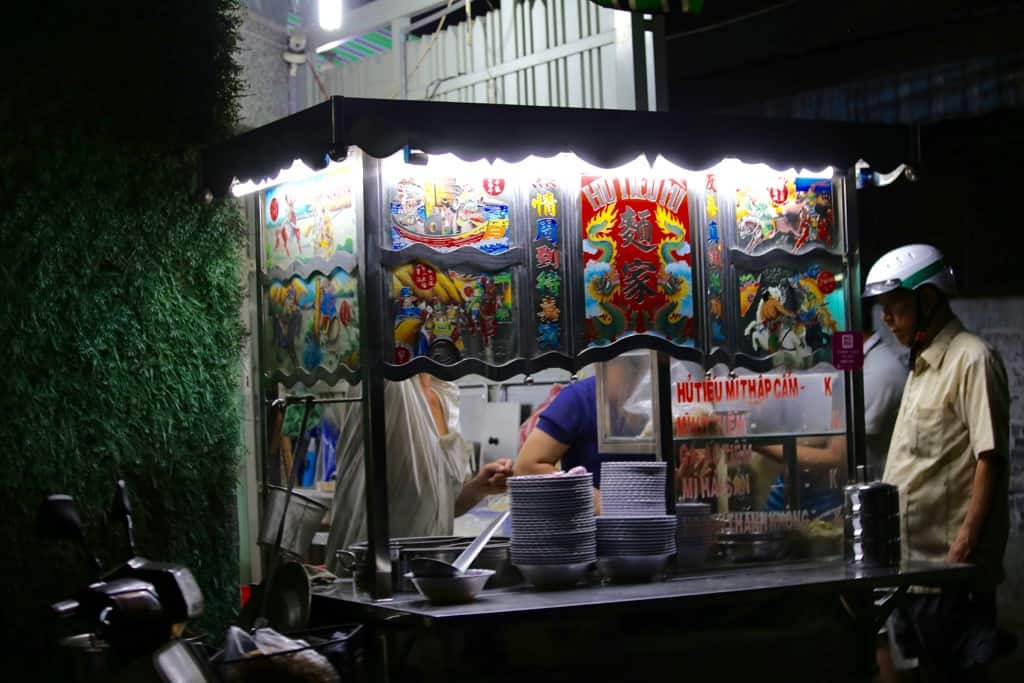 Vietnam has some of the Best Street Food
They say that Vietnam has some of the best street food as well as pastries, desserts, and restaurants, so I was here to find out if that is true! Fortunately for tourists, I think visitors come to Vietnam primarily for the food – as it really is delicious! Each region of Vietnam has a specific cuisine or specialty that is typically only found in their region. And Ho Chi Minh City is no different. The North, Central, and Southern regions are where the most differences among Vietnamese foods can be found and you will find out why in the next paragraph.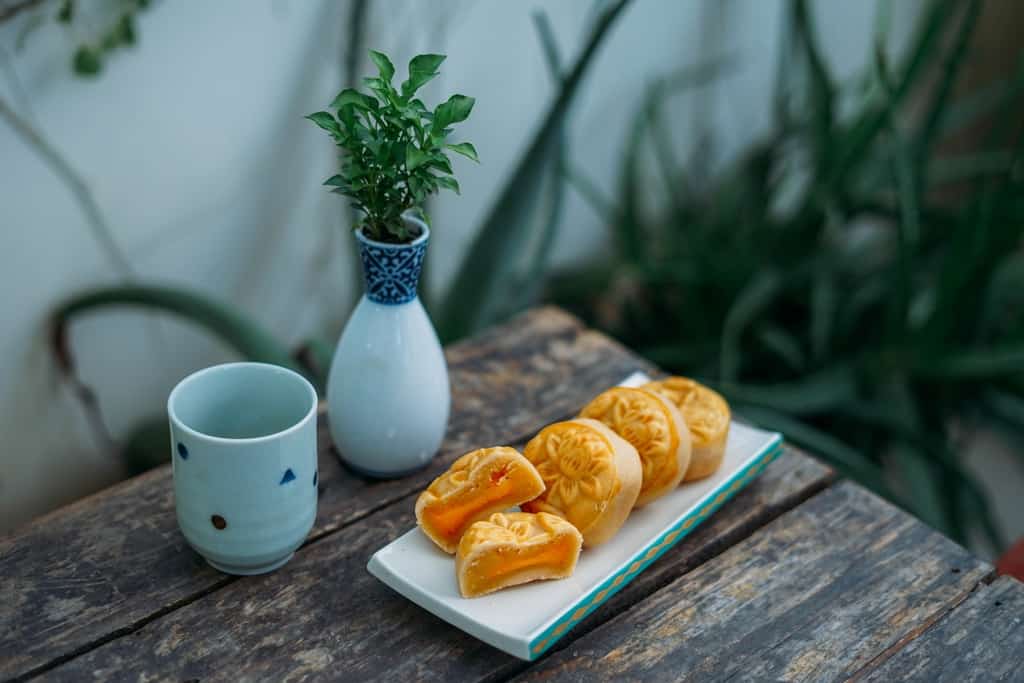 French Colonization of Vietnam
Vietnamese people are not typically dessert lovers as they don't tend to have a sweet tooth, but since the invasion of the French during Vietnam's Colonial Period, many changes evolved through Vietnam. Since most Vietnam desserts became popular when the French took over the region during this period, it is only fitting we have a quick history lesson.
French Colonialism started in the late 1880s and lasted for more than sixty years. The French thought it was a good idea to "divide and rule" the country, so they split it into three regions (North, South, Central). Each region was responsible for contributing a profit to drive the French colonization. One of the things that the French did during their time in Vietnam was insisting on eating their desserts after dinner. The Vietnamese obliged to this "sweet" request and adapted this habit even after the French were gone.
Vietnam Desserts and Sweets
There are many different types of Vietnam desserts. The word "chè" is what the Vietnamese call anything that is sweet, typically in the form of a drink or puddings. As you move further along in this article, I will go into more detail about some other types of Vietnamese desserts. Fresh fruits, vegetables, beans (sweet mung beans are popular), rice, and tapioca powder are very common ingredients in many Vietnamese desserts and Vietnam snacks. In the USA, beans are about the last thing I would think of to put into a dessert!
But depending on your mood, the Vietnamese offer cold and hot desserts. The most popular Vietnamese desserts, though, are made from the freshest ingredients that are native to the region of Vietnam that you are in. So keep reading to find out more about the origin of different Vietnam desserts or sweets, their textures, and a few recipes on how to create your own at home.
Vietnam Cakes
Bánh Trung Thu (Mooncakes)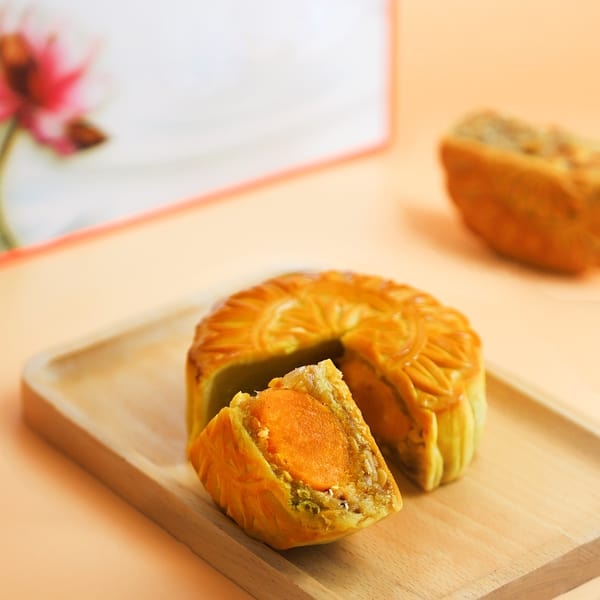 To celebrate the Tet Trung Thu, aka the Mid-Autumn Moon Festival, street vendors and shops bake hundreds of mooncakes as part of the celebration. These tasty Vietnam treats are made to resemble the moon. This super sweet dessert is made from ground beans, orange peels, lotus seeds, with an egg yolk in the middle. Doesn't that sound crazy? But I can tell you, the Vietnamese people love this dessert!
Vietnamese Snack: Bánh bo (simple cake)
One of the most simple, but flavorful cakes in Vietnam is the Bánh bo. This Vietnamese snack is typically found in the Southern part of Vietnam. I saw it quite frequently offered in Ho Chi Minh City while I was there. Coconut is the main ingredient in this scrumptious and light-and-airy snack. Although these desserts look similar to the USA-style of mini muffins, they are totally different and taste more like steamed buns. Many Vietnamese moms would put food coloring in their simple cakes to make them colorful and entice the kids to try them!
Yogurts
Sữa Chua Mít (Iced Jackfruit Yogurt)
Sữa Chua Nếp Cẩm (Sweet Sticky Rice & Yogurt)
Hat Oc Cho (Walnut Yogurt)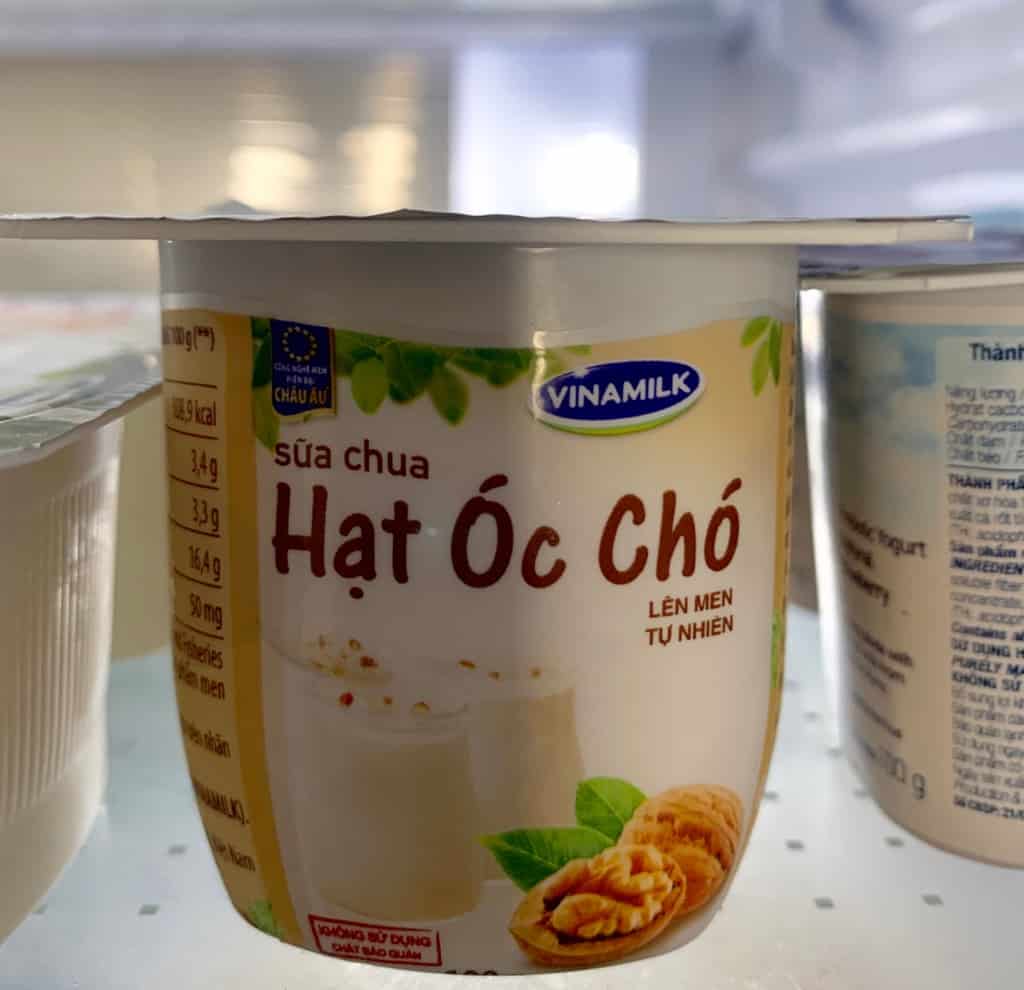 If you are looking for a sweet, but tarty flavored dessert, then you must try the sữa chua nếp cẩm or the sữa chua mít. Both of these Vietnamese desserts are served in the summer as a chilled Vietnamese snack. The main ingredients in these are black sticky rice and yogurt. You can try these Vietnamese desserts and many more at the wonderful dessert shop in Hanoi called, Xôi chè Bà Thìn. There are also many flavors available, as I found this one at the grocery store that is a walnut flavor: hat oc cho.
Another favorite dessert in Vietnam: Flan
Bánh Flan (Crème Caramel)
It appears that many cuisines around the world have their own version of flan. Although the Vietnamese version of the crème flan originates from Europe, it has become a popular sweet among this Asian country. The ingredients are simple: eggs, milk, sugar, vanilla, and lime juice. They say that the trick is not what ingredients you buy, but how you combine them together.
The most common places to buy this custard dessert is at a milk/tea shop or from a sweet-food street vendor in Vietnam. A good recipe for this dessert can be found here. This site gives you step-by-step instructions on how to make a delicious caramel flan, Vietnamese-style!
Vietnamese Sweets: Pies
Bánh Lop Nhan Mut Xoai (Mon Mango Pie)

Bánh Lop Nhan Mut Viet Quat (Mon Blueberry Pie)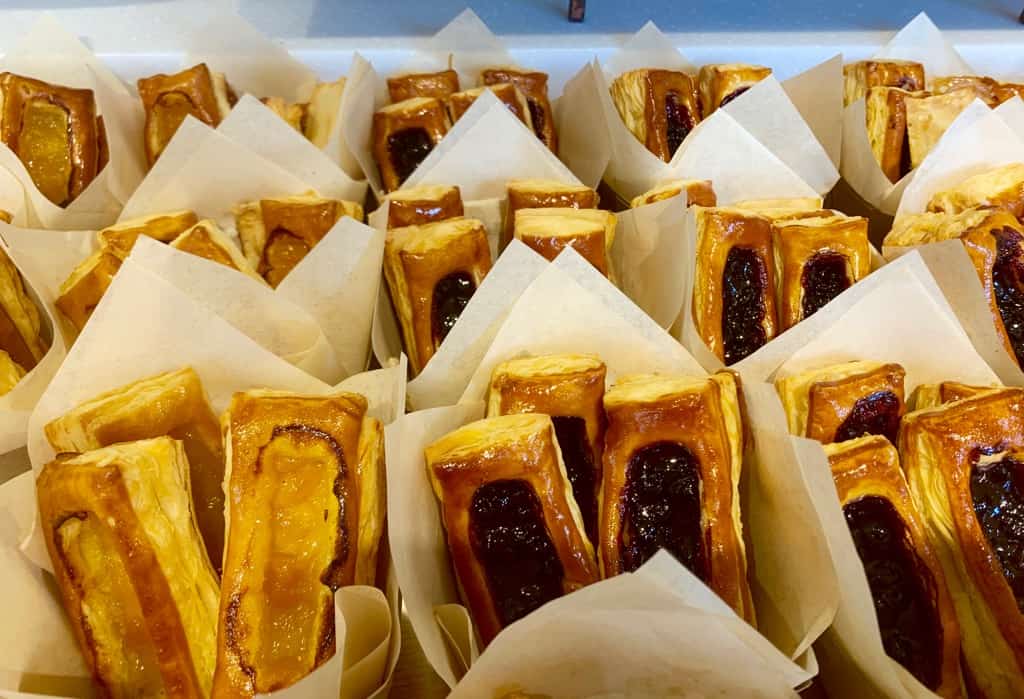 Mangos and blueberry are among the freshest ingredients you will find in Vietnam. Mango is a typical fruit that is grown in the southern part of Vietnam such as in the Can Tho and Tien Giang areas, which are both near the Mekong Delta. However, these Vietnamese sweets are delicious to eat any time of year.
More Vietnamese Sweets: Puddings
Chè Chuối (Banana in Coconut Tapioca Pudding)
Most Vietnam desserts or sweets involve some kind of liquid or pudding texture. You will sure to be pleased by the traditional Vietnamese pudding of chè chuối. This dessert is best served and eaten at a warm temperature so you can taste the sweet bananas, mangoes, tapioca, and coconut cream in the pudding.
Chè Bắp (Sweet Corn Pudding) (or Sweet Corn Soup)
At first glance, the chè bắp might look a little too exotic for your taste buds. But don't hold back on your Vietnamese desserts journey now, this dessert is creamy and juicy. This dessert is made from coconut milk, tapioca pearls, and sweet kernels of corn that all combine to make a chewy and satisfying treat. To give this dessert an added kick, you can add pandan (a local tropical green plant) leaves. It is called chè bắp in the South and chè ngô in the North of Vietnam. Interested in making your own sweet corn pudding? Then click here for an authentic recipe.
More Vietnamese Desserts: Bread
Bánh Happy Bread (Sweet Bread)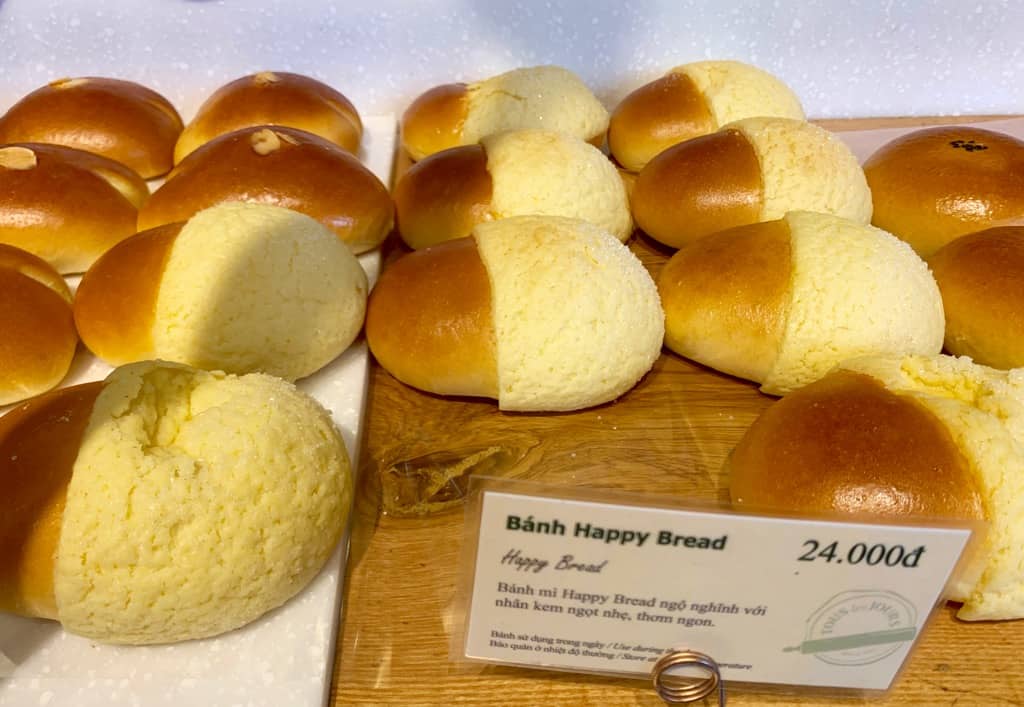 If a Vietnamese food or sweet has the word "bánh" in it, then you are eating something with wheat flour. The most common sweetbreads of Vietnam include bánh bo (made from rice flour), bánh da lo (made from tapioca starch, water, rice flour, and coconut milk), and bánh duc (a rice or corn cake). This sweet bread can be found in many pastry shops in Ho Chi Minh City, believe me, as I have tried them all!
Bánh Bong Lan Muffin Xoan (Mango Banana Muffin)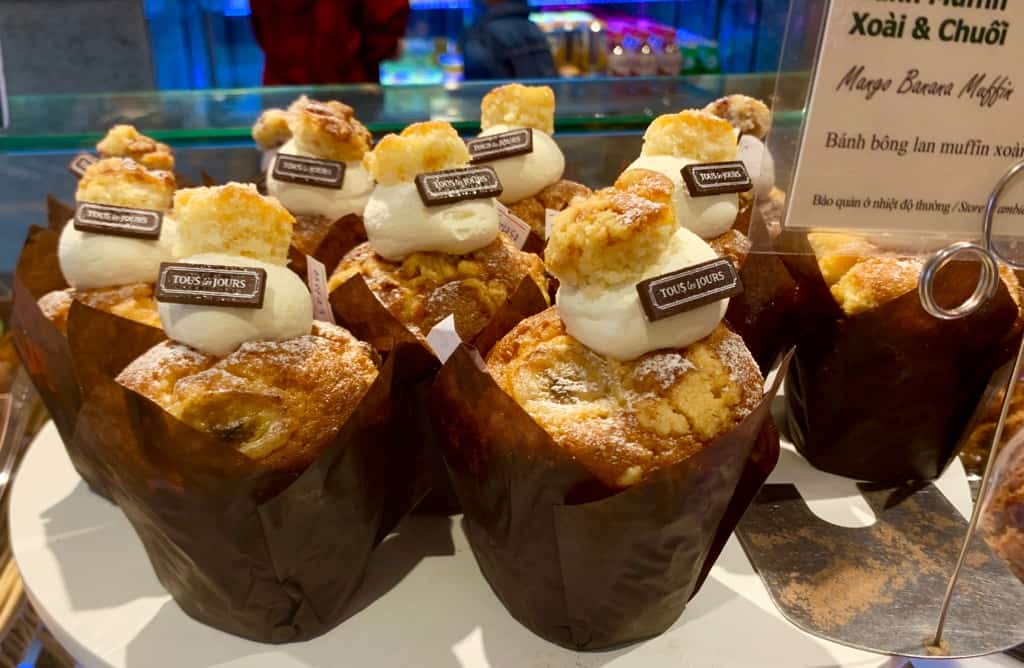 These mango banana muffins are not too sweet. They are the perfect way to use over-ripe mangos and bananas. Some Vietnamese dessert or pastry shops throw in some chocolate chips and whipped buttercream for different textures and flavors.
Other Vietnam Desserts
Chè Ba Màu (a 3-color dessert)
If you are looking to cool your palate during a hot summer's day, then you must try the chè ba màu. This traditional and tasty treat is made from a layer of yellow mung bean paste, red beans, and green pandan (a tropical green plant) jelly, and then all topped with coconut milk. You can find this dessert almost anywhere in Vietnam. If you want to test your baking skills, then make this tasty recipe at home by following these instructions.
One of the most popular street foods in Vietnam is the ban chuoi nuong. This tasty dessert is made with banana, coconut milk, sugar, bread, butter, and condensed milk. The combination of all these ingredients mixes perfectly together to give your taste buds a sweet and crispy dessert.
Bánh Cam (Sesame Balls)

Chè Bà Ba (Sweet potato, Taro, and Cassava Dessert)
This southern Vietnamese dessert called chè bà ba is made from taro (a starchy Asian tropical plant), cassava (a root tropical tube plant), and a sweet potato that has been cooked in coconut milk and then tapioca pearls are added to the top. It has a creamy flavor and often times is topped with roasted sesame seeds or minced peanuts.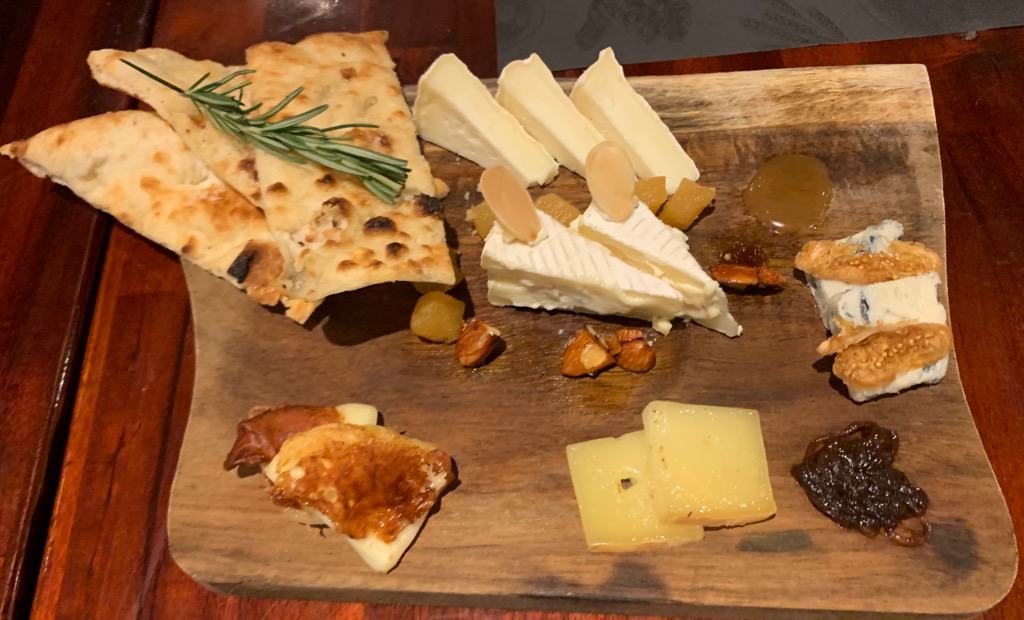 Bánh Dau Xanh – (Mung bean pastry)
One thing you will find out if you visit Vietnam is that they use mung beans in almost all of their Vietnamese desserts and pastries. Mung beans are definitely a specialty of Vietnam. These bánh dau xanh's are made from mung beans, sugar, and oil/fat. The texture of the beans is odd to me, but taking a bite of a mung bean pastry while sipping a cup of green tea, you might just get hooked! These pastries are not too sweet, so go ahead and give them a try.
Chè Chuối – Banana with Sago Pearls & Coconut Milk Soup
Chè chuối is a sweet dessert made from a banana called chuối xiêm, that is extremely flavorful. It is cooked in coconut milk with sago pearls. Sago is a palm tree stem starch found in Asia. Raw sago is a white color and when cooked sago becomes a transparent color. Once cooked, it becomes a sweet and creamy flavor with a banana scent. The texture is pudding-like. They then put roasted peanuts on top.
---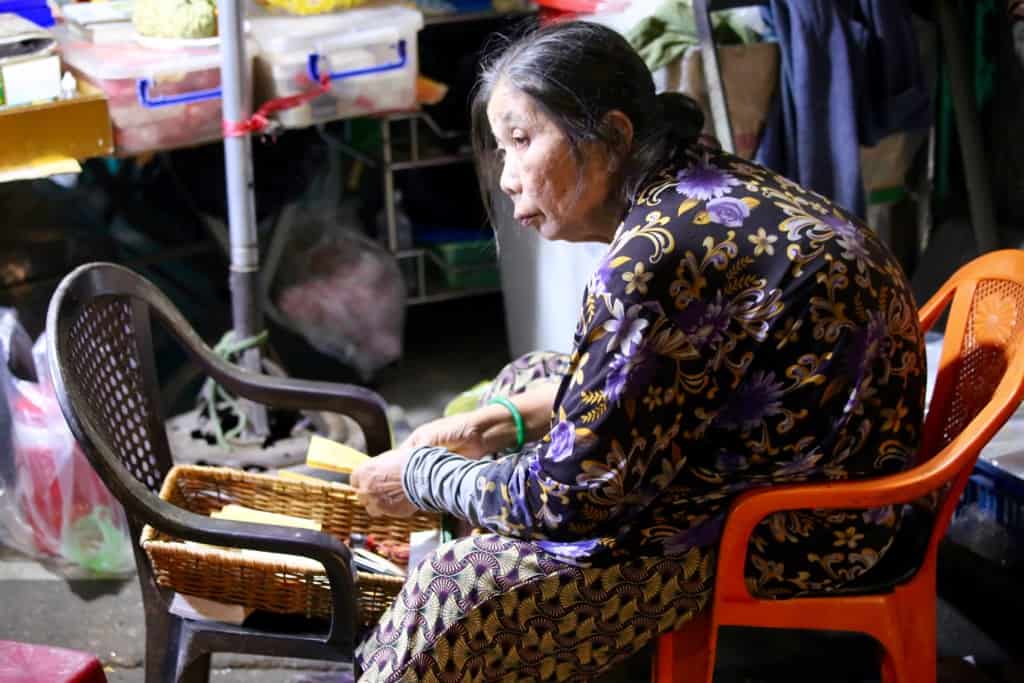 Interesting Tips about Vietnamese Desserts:
Most Asians are not big on sweets. Vietnamese cooks make bean desserts and jellos from agar agar (a jelly-like substance made from seaweed) for their families to eat. The flavors are most often coffee, pandan (a tropical green fruit used for flavoring), and coconut. Vietnamese families usually eat rice every day from tiny bowls and always use chopsticks! For the kid's lunches, they make sandwiches, known as bánh mì mentioned above.
---
Vietnam Ice Creams
We couldn't finish this list without adding Vietnamese ice cream to the list.
Kem (Ice Cream)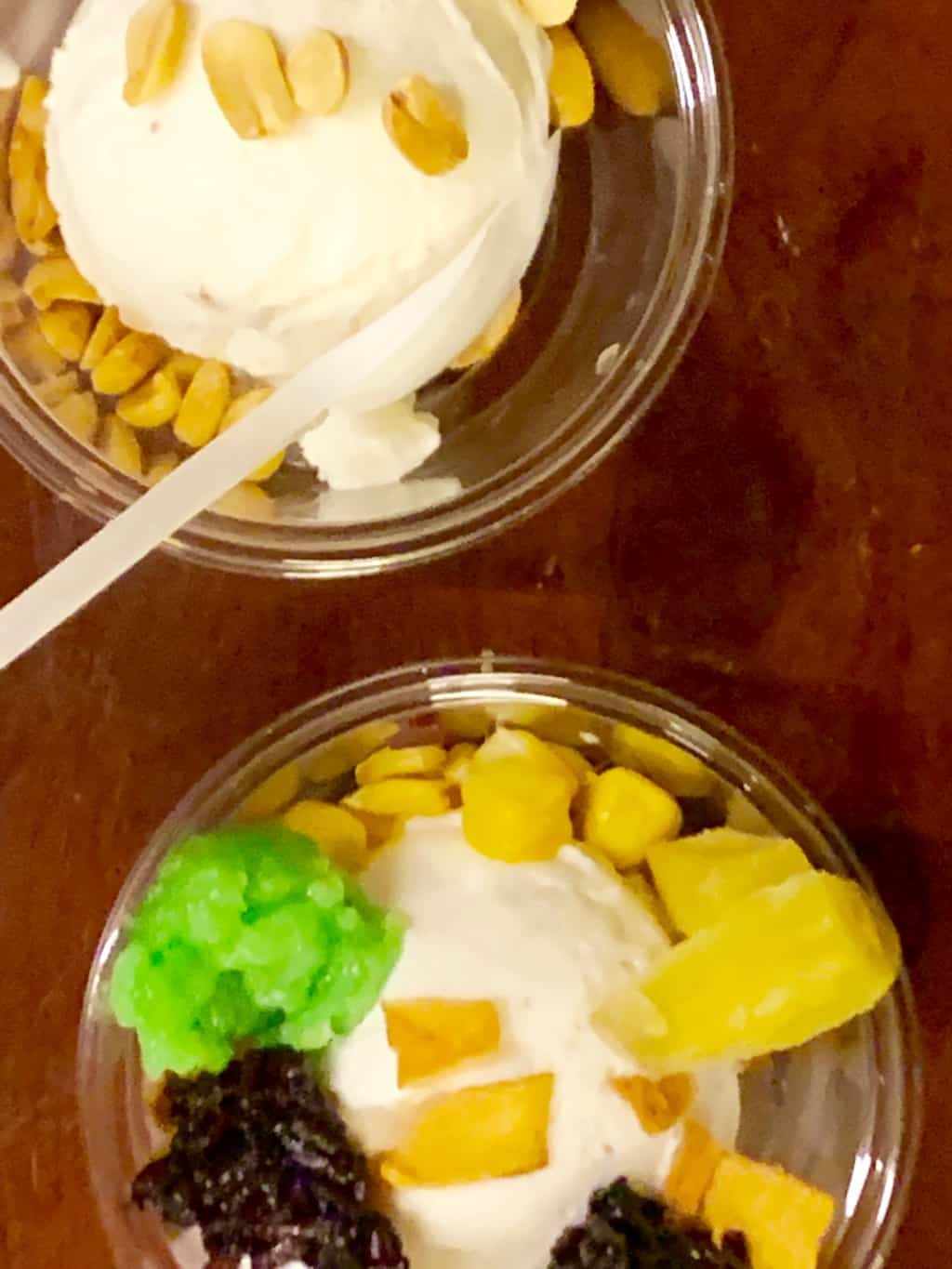 Ice cream is sometimes served at Vietnamese restaurants or at the hawker stands (Vietnamese street food) with a variety of different flavors, things like avocado, apple, banana, cacao, coconut, green rice, mung beans, soy custard, taro, durian (an Asian fruit), or longan (another Asian tropical fruit). Toppings might include corn kernels, green rice, black sticky rice, fried thinly-sliced coconut crisps, or even peanuts. No toppings are fine too!
My favorite ice cream while visiting Ho Chi Minh City (Saigon) was at Bo Kho Ganh Sai Gon (Restaurant), where they served kem nhan (longan fruit) ice cream! Longan ice cream is made from the Asian fruit longan, which is similar to a lychee. It is selected carefully to be the perfect amount of freshness.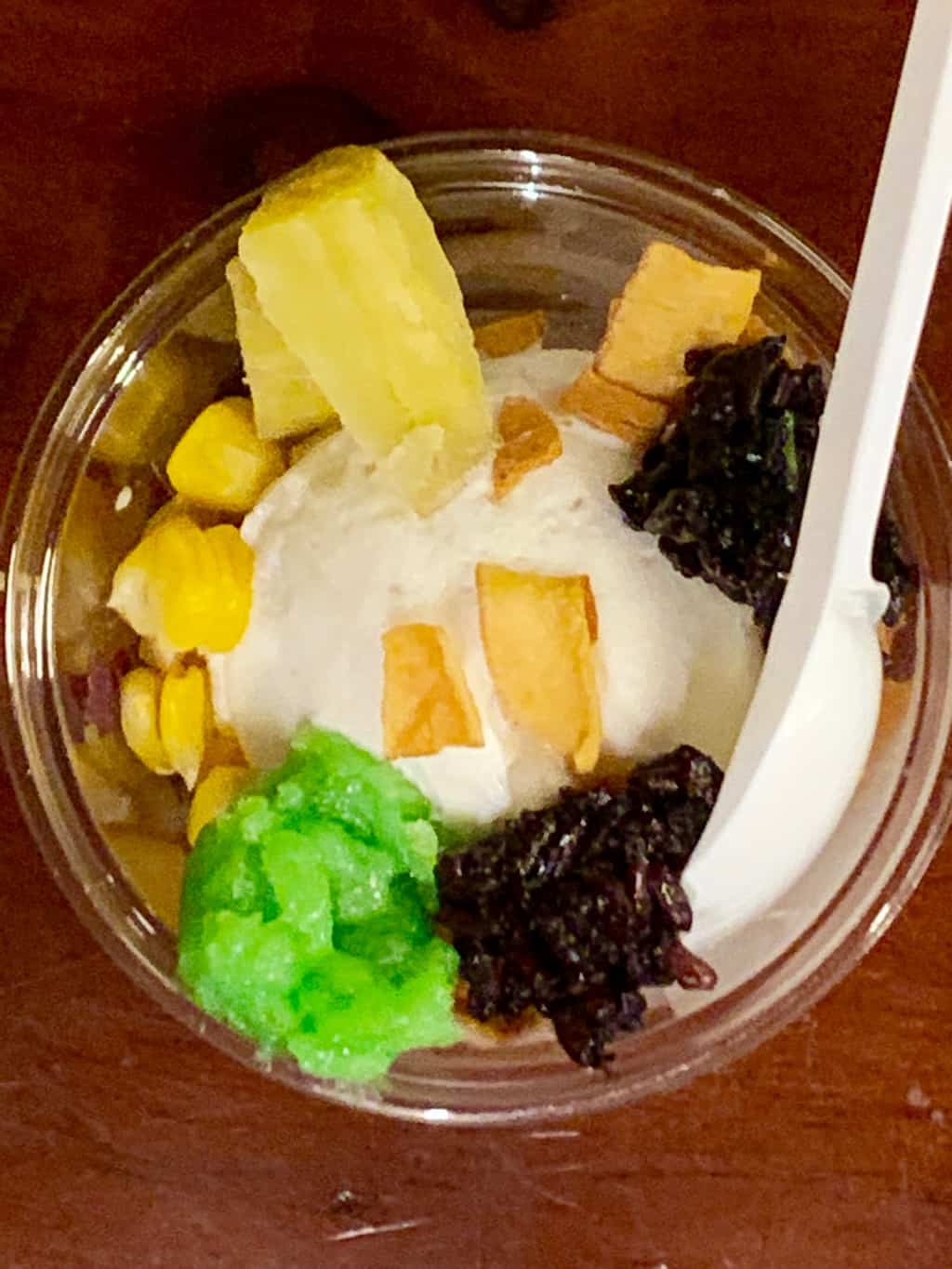 It is then blended with whipped cream and other flavors. They then serve the dish with peanuts, com xanh, black sticky rice, corn kernels, coconut jelly, and fried thinly-sliced coconut crips. Com xanh is green rice that is immature rice kernels that have been roasted over very low heat they are green! They have been serving Kem Nhan here since 1975!
They also served Kem Dua ice cream served with peanuts on top. Scrumptious!
Kem Chuoi – This frozen treat combines bananas, coconut milk, and roasted peanuts to give you a crunchy and sweet kick in your mouth.
Kem Bo is an avocado ice cream that is really sweet with an added crunch from the coconut crisps. The creamy avocado is blended smoothly with condensed milk, then added to coconut cream or vanilla cream on the top.
There are other flavors such as Kem Che Sen and Kem Bac Siu.
Vietnam even has fried ice cream that you can purchase from the street vendors!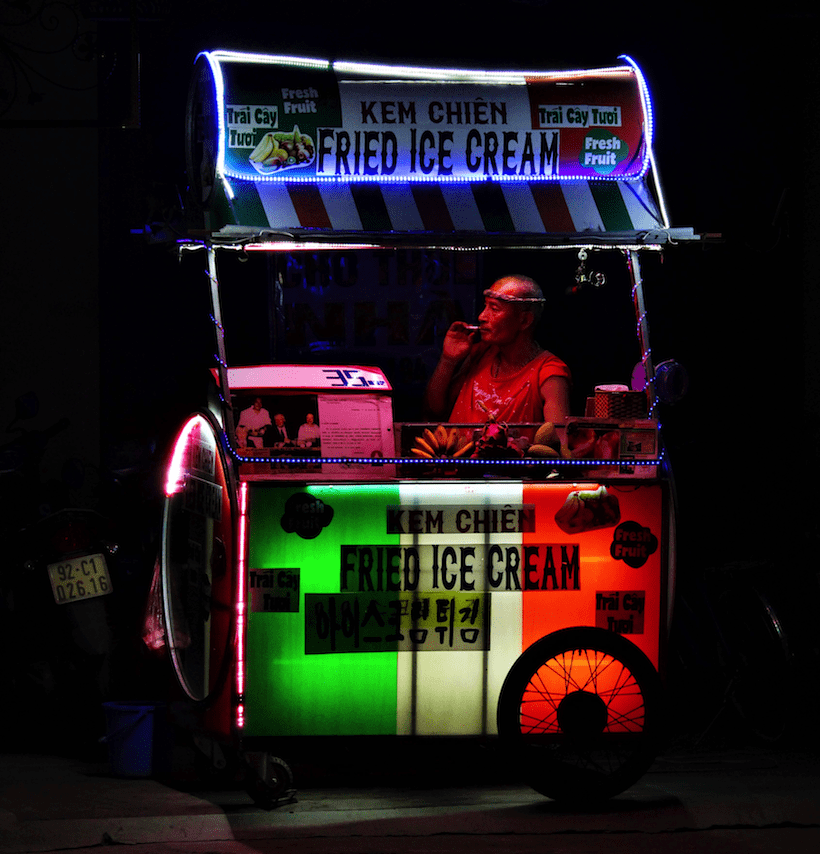 Vietnamese Chocolate
Maison Marou's brand is the only name that came up when speaking about Vietnamese chocolate. This from two French guys who go to the source (the farmers) and hand-pick the best cocoa for roasting.
Vietnamese Drinks
Sinh Tố (Fruit Smoothies)
The types of fruit (and vegetables) available in Vietnam are vast and no matter which ones you choose they always use the same recipe. Smoothies, known as sinh to have lots of fruit and/or vegetables, ice, and sweet condensed milk in them.
Cà Phê Trứng (Egg Coffee)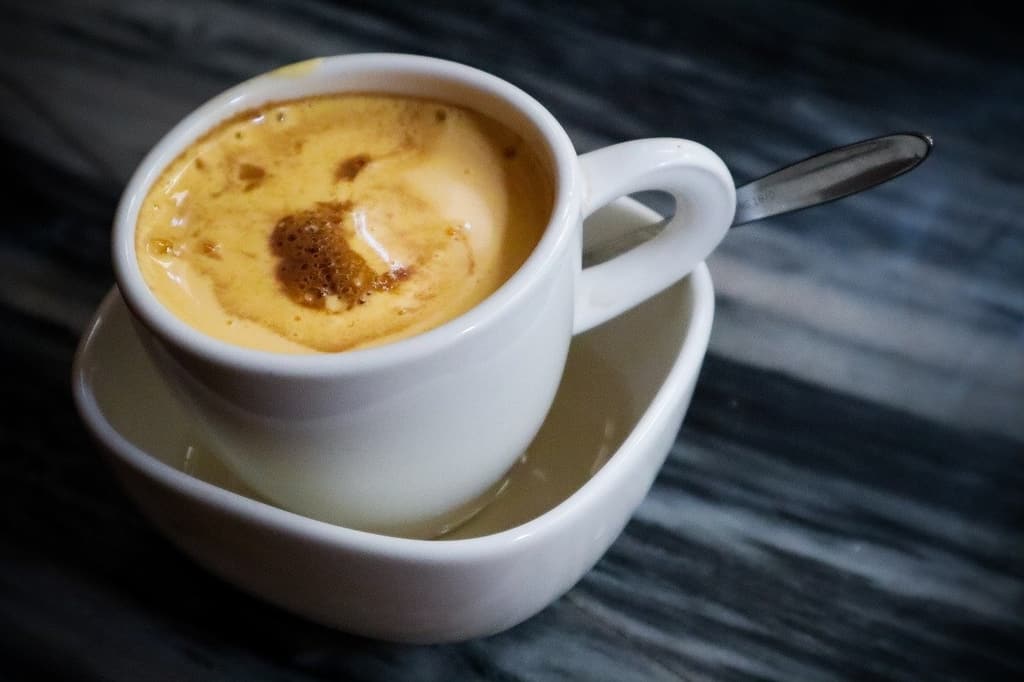 Vietnam is famous for its love of strong and bitter coffee. So tourists beware when you order an egg coffee, as you can guarantee it will be both! It is simply made from egg yolks, hot black coffee, and either sugar or whipped into condensed milk and is very robust! The coffee cup is sometimes placed in a cup of hot water to keep its temperature warm. This coffee is creamy and tastes more like a dessert than coffee!
Ca Phe Coconut (Coconut Coffee)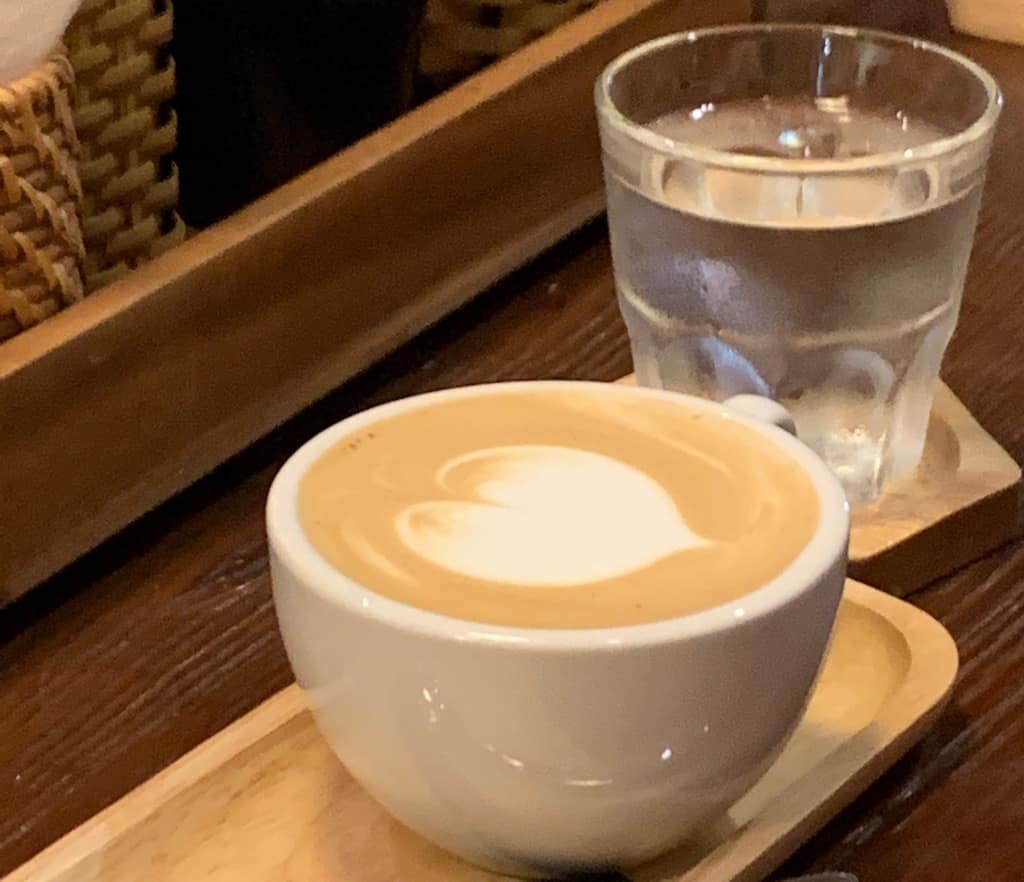 You can also order Coconut coffee in most of the coffeehouses in Ho Chi Minh City. Basically, they just add coconut crème (2 tablespoons) into the cup before they add the coffee and let it melt the coconut cream. This would be a warm coconut coffee. When Vietnamese espresso is poured over iced coconut cream, it mixes into an iced coconut latte. This sweet and cold coffee is a great treat on a humid day in Vietnam.
Iced Coffee
Surely you have heard of iced coffee? I actually don't typically drink iced coffee but found it to be delicious in Vietnam. Who would have thought it would be fun to drink iced coffee out of a bag? Known as a "Cafe Da" to the locals, it is a beverage I found in Ho Chi Minh City. They have them at this huge indoor market in the center of town. Once I ordered them, I was buzzing around for hours!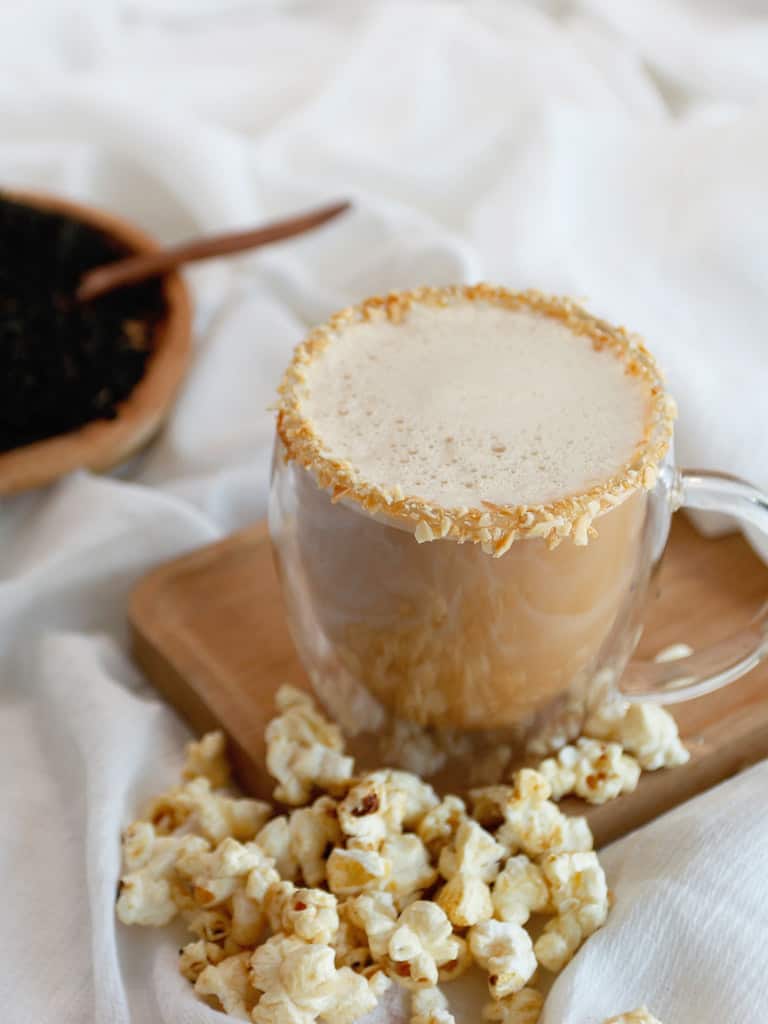 Dừa Nước (or traditional Coconut water/juice/milk)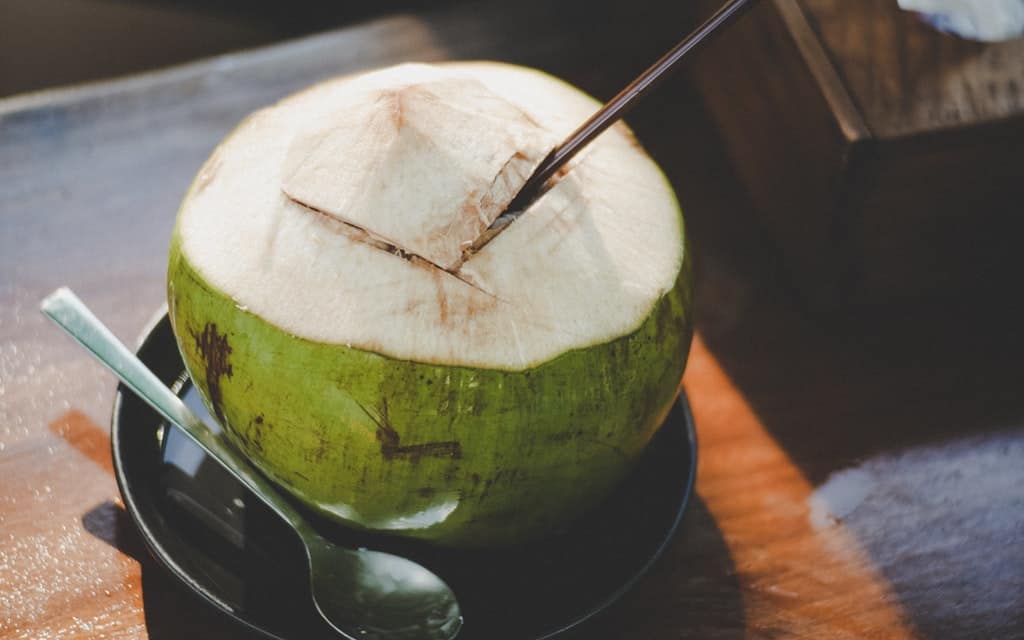 This traditional Vietnamese drink is seen all over Ho Chi Minh City (Saigon) is a very popular street refreshment sold on virtually every block, especially in the Tourist district 1. It is called Dừa nước which translates as "water coconut". This clear Vietnamese juice is similar in taste to the coconuts that I have seen sold in Mexico on the beaches or on the streets of Jamaica, but the coconuts "look" very different in terms of the way it is shaped. It is also smaller, sweeter, and has a grassy taste.
On the streets of Saigon, many times they are served literally with just a straw in them. Others serve them in plastic cups over ice with a white-jelly wedge. This refreshing drink is welcomed by the locals and tourists because of the heat!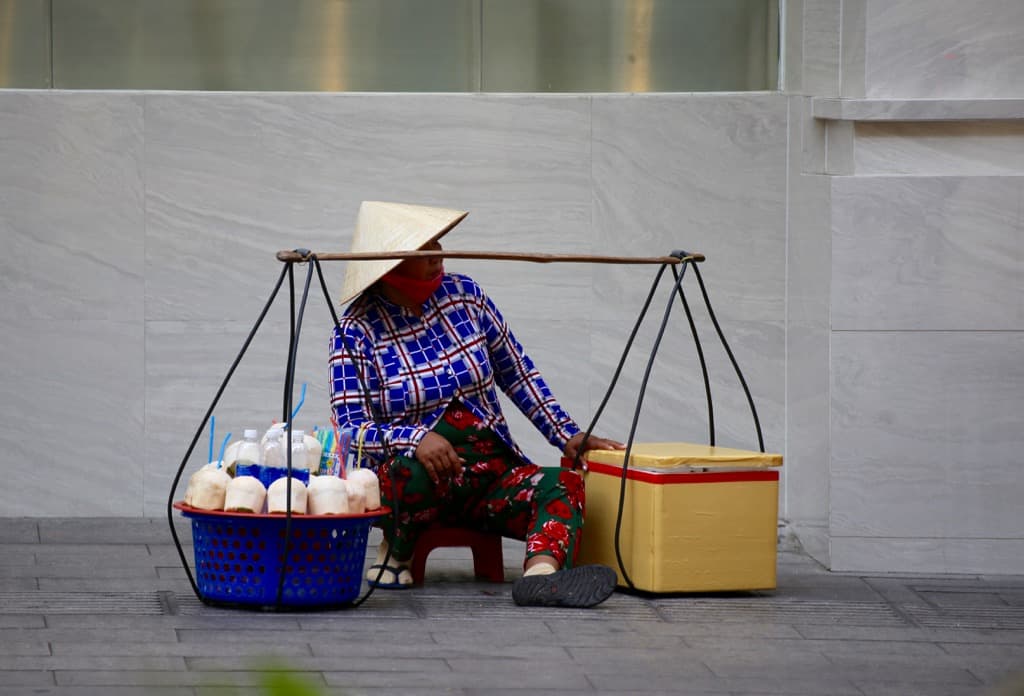 The coconut itself is from a mangrove palm tree that grows in the marshes around the Mekong Delta. It seems that Vietnamese farmers use these water coconuts for so many things. Things like roofs for their houses, to use as firewood. They also extract the coconut juice/milk from the flower stalks to make wine or beer, vinegar, or sugar.
More Vietnamese Drinks: Juices
Watermelon Juice (nước ép dưa hấu)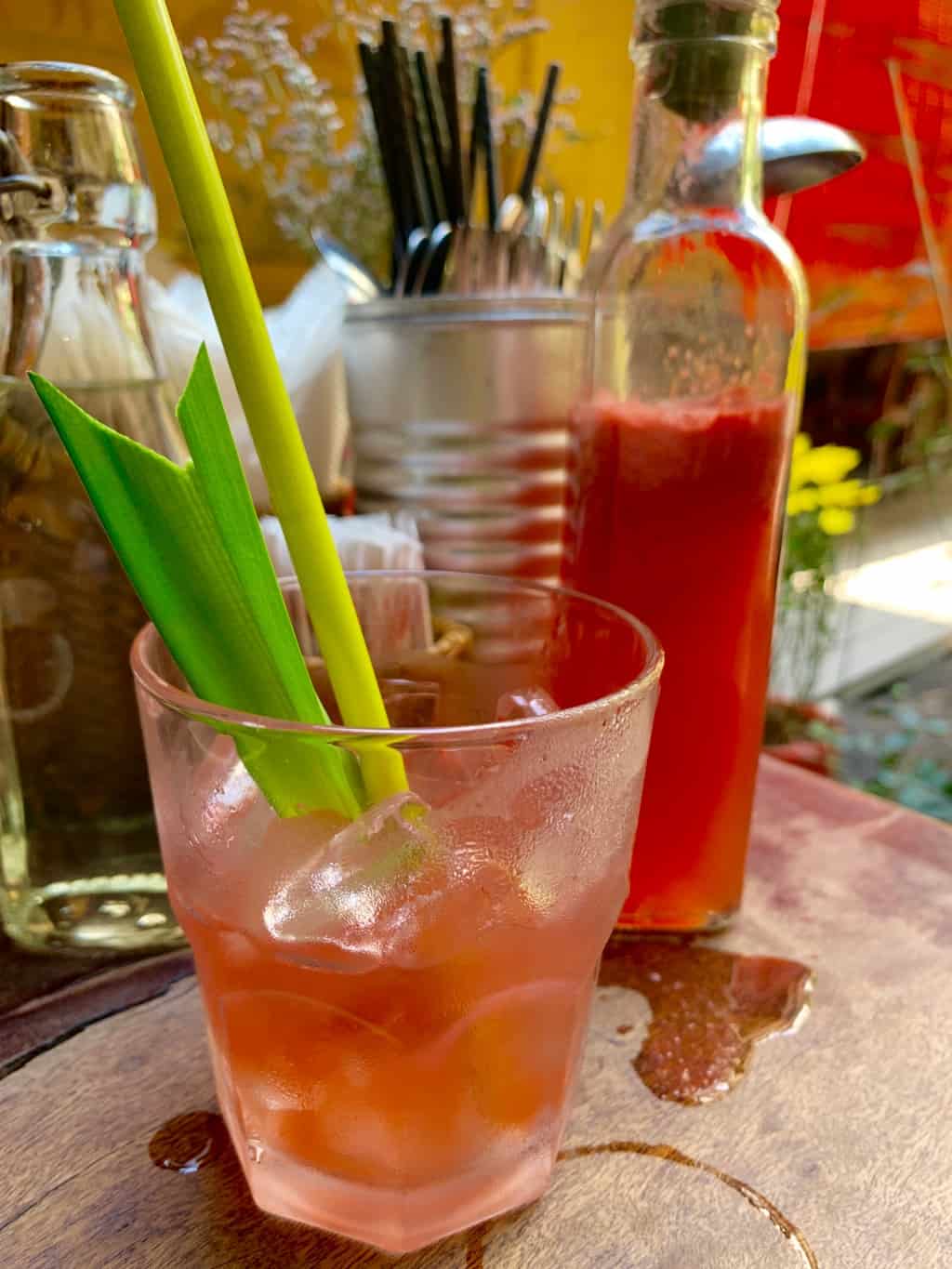 I think I had my best glass of watermelon juice at the Secret Garden restaurant in Ho Chi Minh City. And although they brought out a sweetener to be added to the juice, I didn't feel it even needed it. It was so good and fresh!
Orange Juice (Cam Vat)

Pennywort Juice – (Nuoc Rau Má)
This green juice is made from the leaves and stems of the Pennywort plant, an herb that is indigenous to Asia. Loaded with vitamins and minerals, it has a cooling property to balance heat in the body. Pennywort Juice has a mild taste similar to asparagus and does not have that grassy flavor that you get with most green drinks.
Mango Juice (Sinh to Xoai)

Sugar Cain Juice (Nuoc Mia)

This juice has a light, sweet flavor. It is usually seen on every street corner in Vietnam and served on ice. This is a welcome treat to tourists in the hot city of Ho Chi Minh City! The locals typically put toppings into the juice like durian, tropical fruits, or even peanuts.
More Vietnamese Drinks: Teas
Iced Tea with Citrus – (Trà Chanh)
Smoothies also Made the List of Vietnamese Drinks:
Plain Banana Smoothie

Banana and Passion Fruit Smoothie

Strawberry and Melon Fruit Smoothie

Durian Fruit Smoothie
I don't know about you, but my mouth is already watering at the talk of Vietnamese desserts. If you get the chance to visit Vietnam, then I would not miss the opportunity to try any of these scrumptious desserts. These Vietnamese foods are a must-try for any traveler who enjoys sampling traditional foods from their travels around the world. You can always bring a little Vietnam into your home by making some of the amazing recipes featured in the article.
Happy baking and eating! In fact, you can take a look at some other traditional country foods and drinks I have written about in these articles:
---
---
Panama City Beach, Florida Restaurants
---