Having been invited on many cruise ships over the course of the last 8 years, I was quite surprised to be invited on this massive and gorgeous ship, the Costa Smeralda. Not that I was surprised, but in the times of COVID, I wasn't sure right away about leaving the United States for a fabulous trip to Spain, Mallorca, and Italy. How would you like to go to sleep in Barcelona and wake up in Rome? You can be exploring the ship to eating gelato in Sicily the next day! It is like magic and the Costa Smeralda Italian cruise ship can take you there. And remember, you only have to unpack once. Don't you love that about cruising?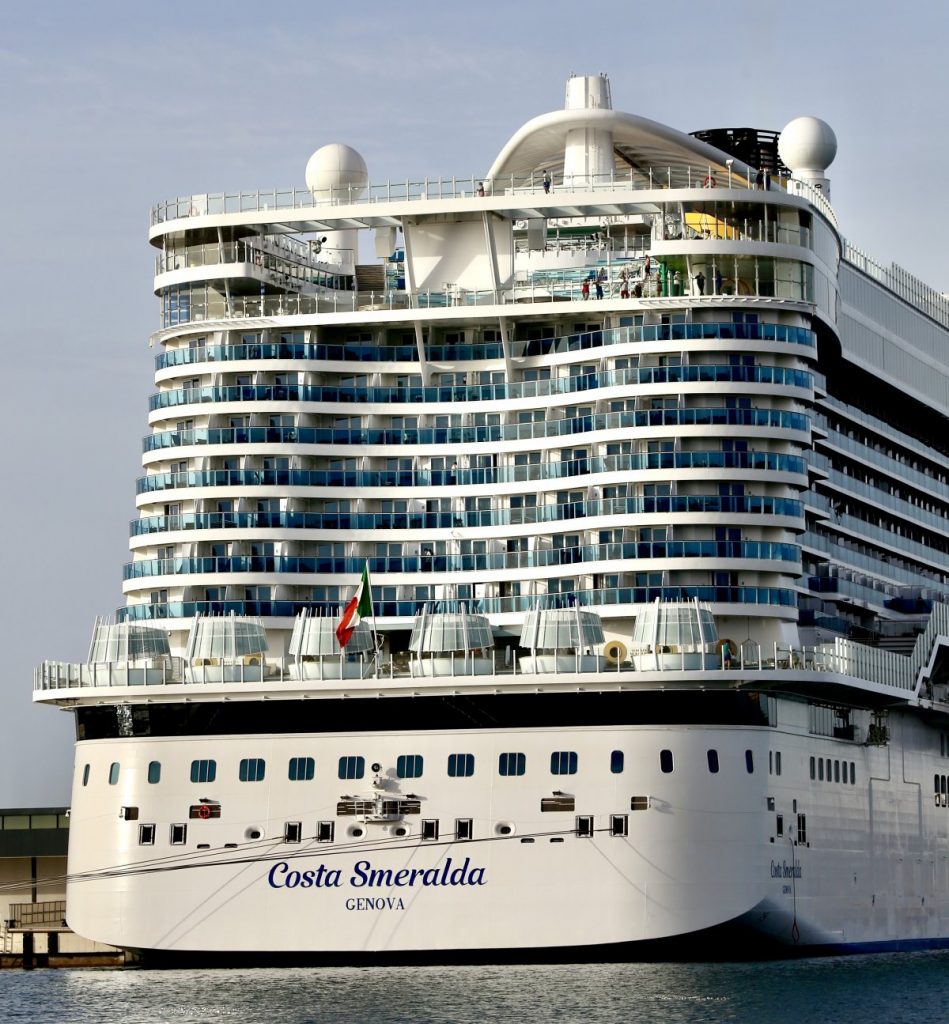 ---
What's in this post:
hide
Costa Cruises and its Dynamic Ship Smeralda!
---
For me, and for the rest of the world, times have changed. Everyone wants to travel, but most are not willing to meander too far from their home. But the choice was mine, so I decided to do it, so here I am in Barcelona.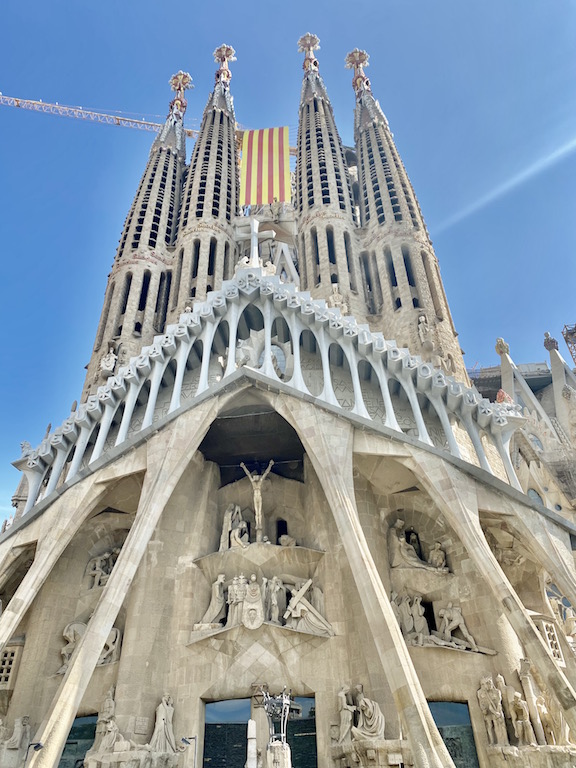 To see more Costa Cruise excursions visit their website.
Protocols for European Travel
As you may know, the protocols for travel seem to change daily depending on what is going on in this world. As for me, I had to take a PCR test 78-hours before entry into Spain or a 48-hour RAPID test. So I took two test, just to make sure when I arrived in Spain, everything was good. They also want a copy of your vaccination card, so bring it with you too.
Then you also have to fill out a form via the Spanish government for entry into the country 48 hours before coming in. Once you have all of that you are good. I felt like most of the things to enter into Spain had to be done before hand and once I landed, they whisked me right through.
Barcelona was my First Stop
Once landing, we took a cab ride over to our hotel, because I had come three days before to explore the Barcelona area and to catch up on some sleep. If you are interested in doing things in Barcelona, you can read my article about "3 days in Barcelona for a First Timer", as it is an excellent adventure.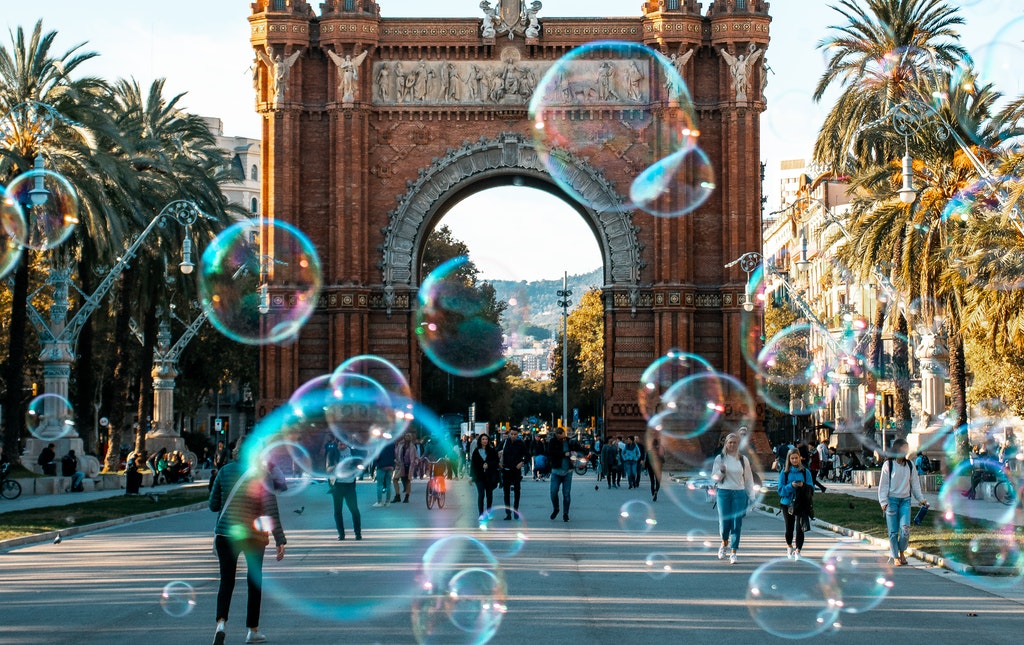 Costa Smeralda
But soon enough, the Calvary arrived and we were on a bus to see the ship: Costa Smeralda. As soon as I saw it, I have to say I was stunned to see how BIG it is. Costa Cruises is an Italian cruise line based in Genoa, Italy. It is completely full of about 80% of Italians. I would say American's make up about 10 % of the ship and the rest is a mix from EU countries. In fact, Costa Smeralda is their largest operating cruise ship and is the fifth-largest in the world!
Once On Board
Once we arrived on board, which did take a while, as we were there as a group of travel writers. Our luggage immediately got taken to our rooms, and we were off for a delicious lunch. We pretty much had that whole day to take a look at the ship and see all the bells and whistles this magnificent ship has. Honestly, I was super surprised that it has so many things for people to do. So without further adieu, I will discuss the decks, cabins, shore excursions, dinners and entertainment.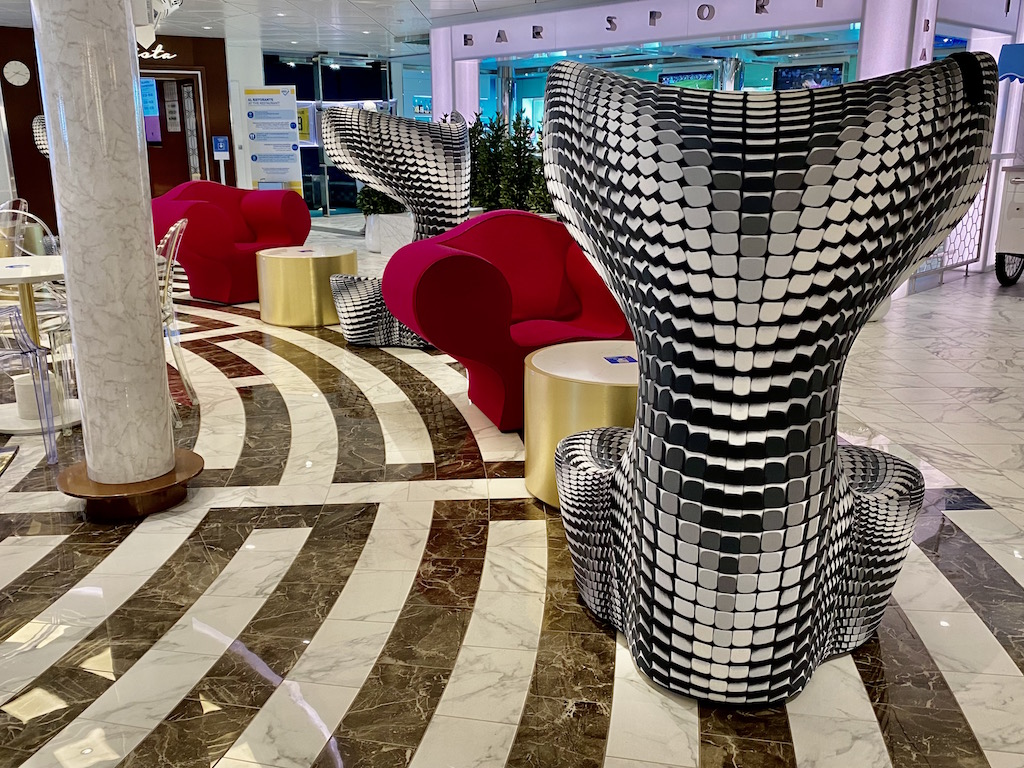 Premium Balcony Cabins
There are 4 types of cabins you can choose from on the Costa Smeralda: Inside, Ocean View, Premium Balcony, and Suite. All cabins have air conditioning, a flat-screen satellite TV, hairdryers, WiFi, and even 24-hour room service. Personally, I loved my premium balcony cabin, with a full size bed, a sofa sleeper, a desk and chair, plus a large screen television. How could you go wrong? I loved the lay out, as this is a newer ship and it had two large mirrors and a nice sized bathroom.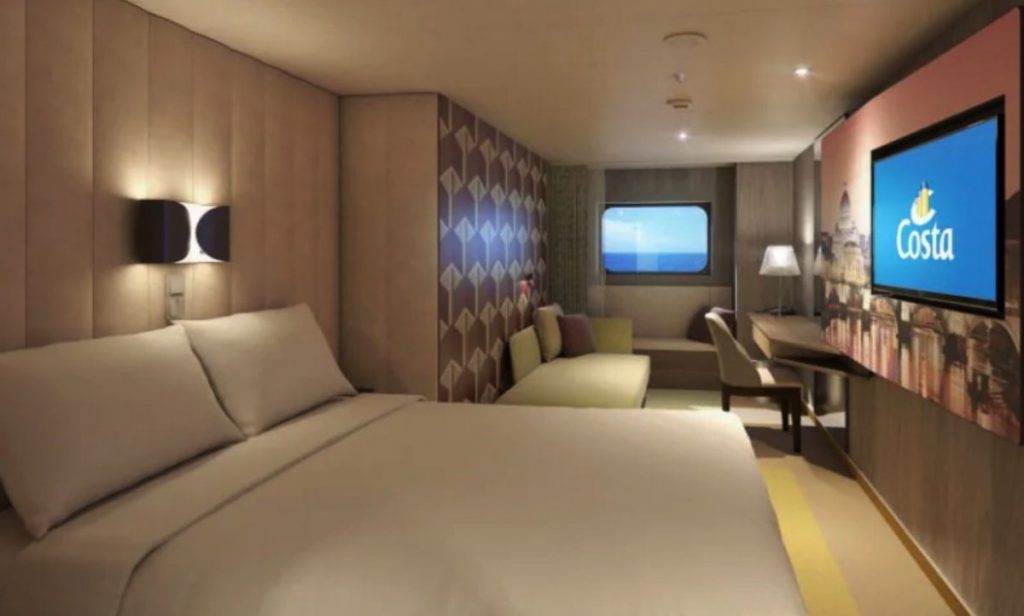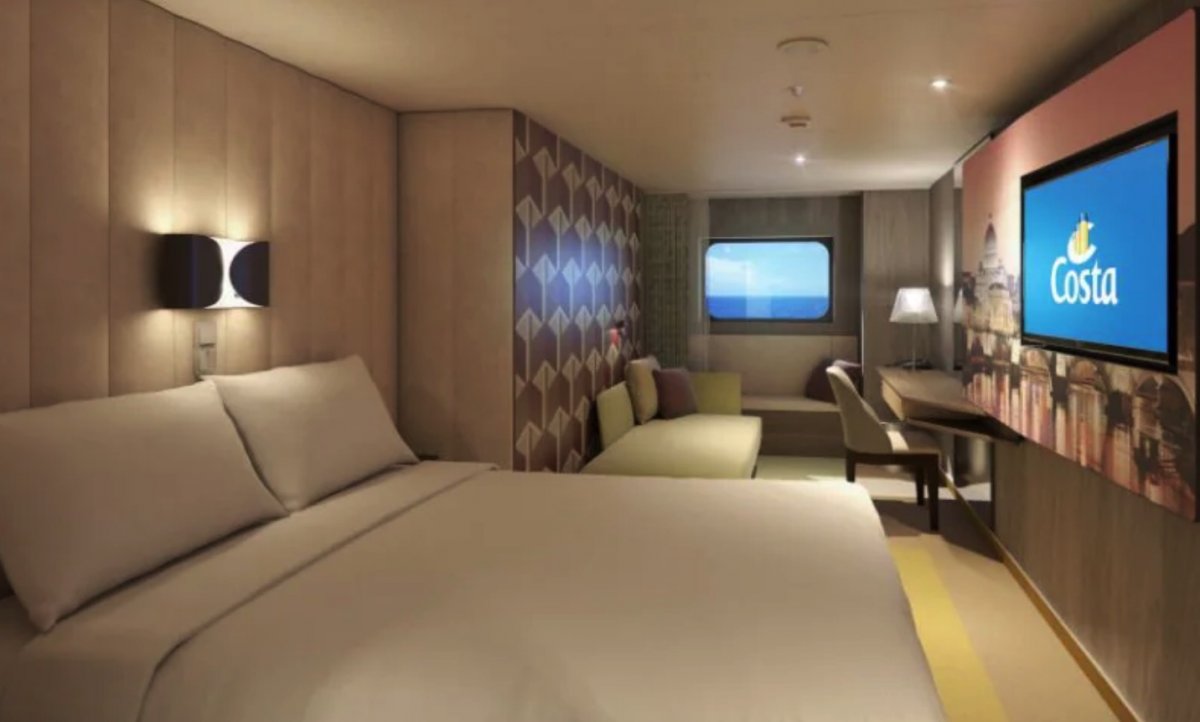 In fact, the bathroom was a good size (minus no shampoo – so bring it!) and it also had a balcony with two chairs. So there is plenty of room for two people to enjoy themselves in this room. Plus, the shower was a good size and had great hot water. There were plenty of outlets as well and great storage.
Shore Excursions
For Shore Excursions, we had our choice of what we wanted to do – so I chose the catamaran for the day out of Barcelona and the Naxos Beach Day just outside of Messina in Sicily. I had been to Taormina before, so I wanted something different. Both were beach days, and I thoroughly enjoyed each one.
Shore Excursion: Catamaran Day 1
Having met a gal before boarding, I was happy to get on that catamaran and set sail for 6 hours with two stops. It took us about an hour and a half to get to the first stop, which was a gorgeous cove. By the time we parked the catamaran, the guys on the ship were cooking away with a giant pan of paella! And delicious it was, as I ate every bite. We had paella, salad, and for dessert we had sliced pieces of watermelon.
We lounged around there for about 2 hours, getting in the water, and I even swam to shore! Then they pulled up the anchor and we were off to our second stop for the day. Both were nice areas to swim and honestly, I had a ball! I truly enjoyed spending some time on the water.
Shore Excursion: Naxos Beach Day 3
My second excursion had me a little worried, as I realized I had forgotten to get my Italian card to enter the country of Sicily. But as the minutes ticked by, I soon realized I was anxious over nothing and I had everything I needed to board the bus that took us to Naxos Beach.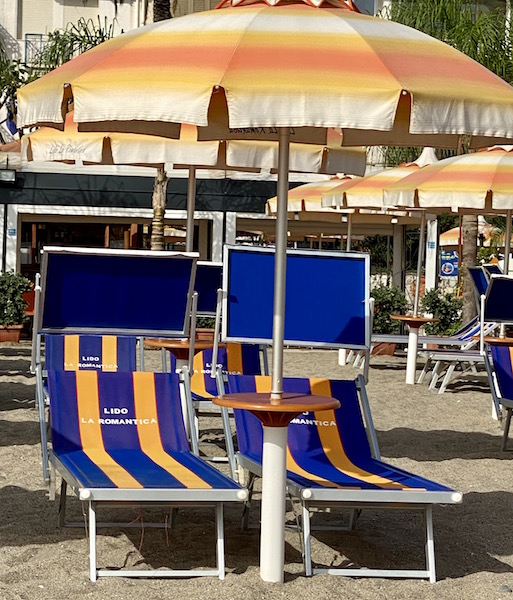 I love seeing how other countries visit their beach and I was super surprised at how Italians like to visit the beach. With rows and rows of umbrellas, we were assigned a spot to take and dropped off around 9 and were to be back on the bus by 11:45. For me, I got in the water, walked around and took photographs, and enjoyed an ice cream.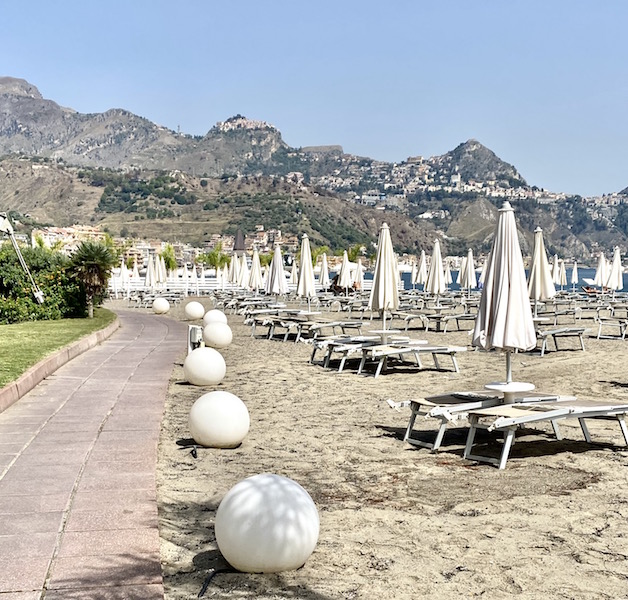 Costa Esmeralda – there is Nothing Quite Like it!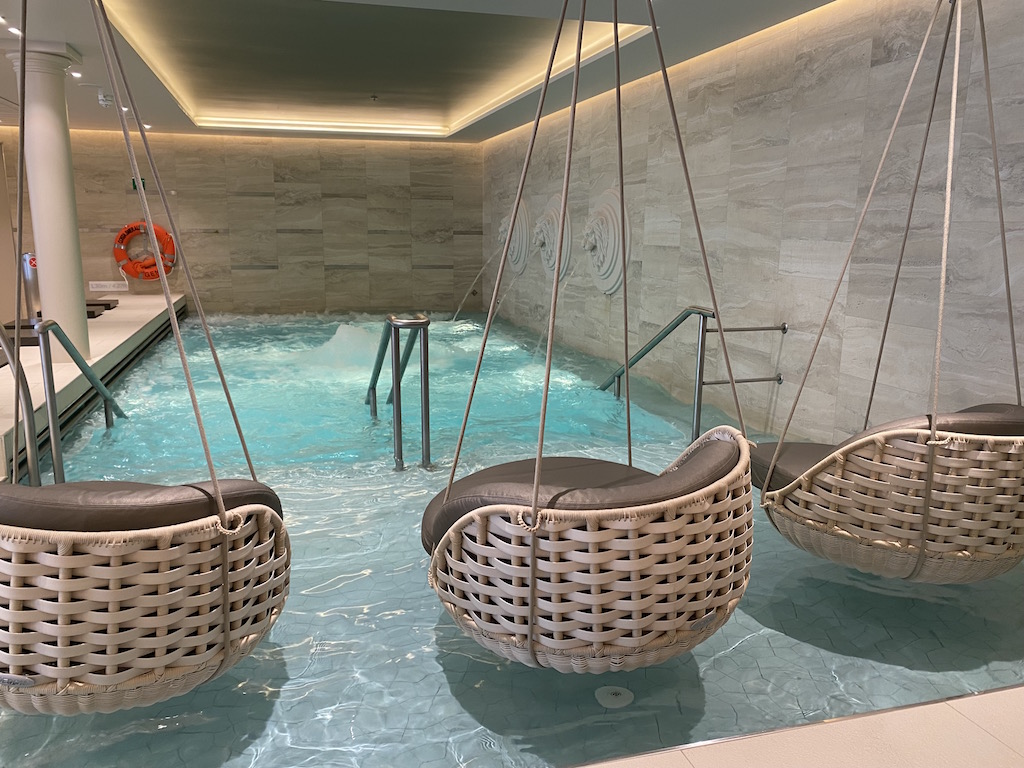 I love how this ship is laid out. There is space for everyone and plenty of room. It has 20 decks, 19 restaurants, and more than 17 bars and lounges. Plus other amenities like 12 venues for entertainment. There is truly something for everyone.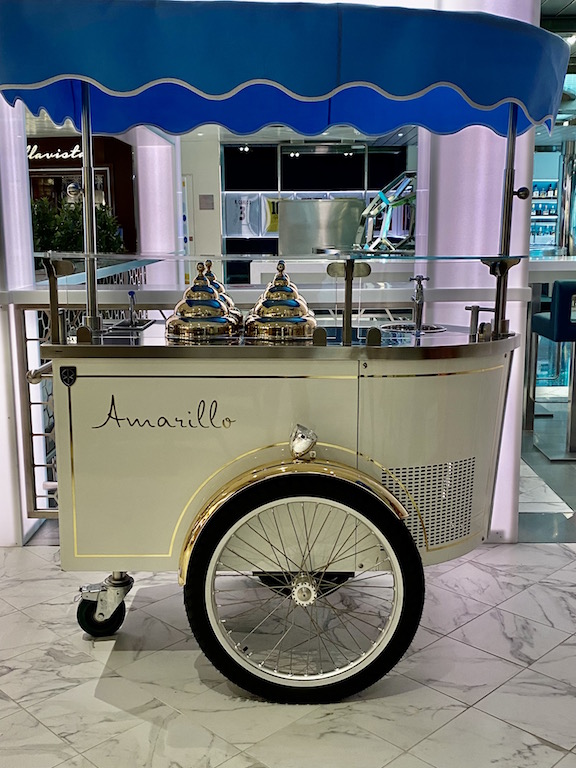 Plus, on top of all that, they have a gelato bar, wellness and sports areas (ten of them) and four shops to shop in. As well as a reception area, swimming pools, Jacuzzi's and a tours desk. I don't know why anyone wouldn't want to be on this ship!
The main decks were Decks 6, 7, and 8 for most of the food, bars, restaurants, entertainment and photo stores are. The top floors were reserved for the wellness and spa areas. They call this ship "a floating feast of fun and flavors!" Not to mention "The Zona":
Plus multiple swimming pools. Literally, this ship has it all. It even has a museum!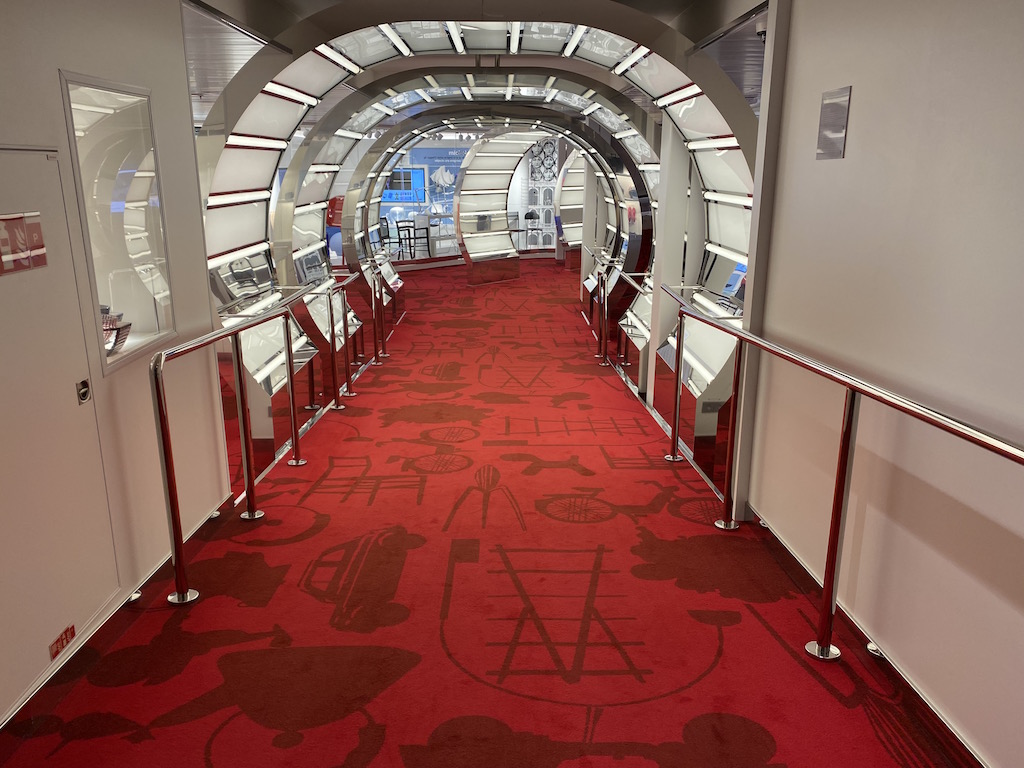 Day 2 was a Sea Day
My day two was a sea day, where we got to tour the ship, eat the delicious food, and check out the suites and entertainment. I also worked a little, and caught up on some sleep, which worked for me!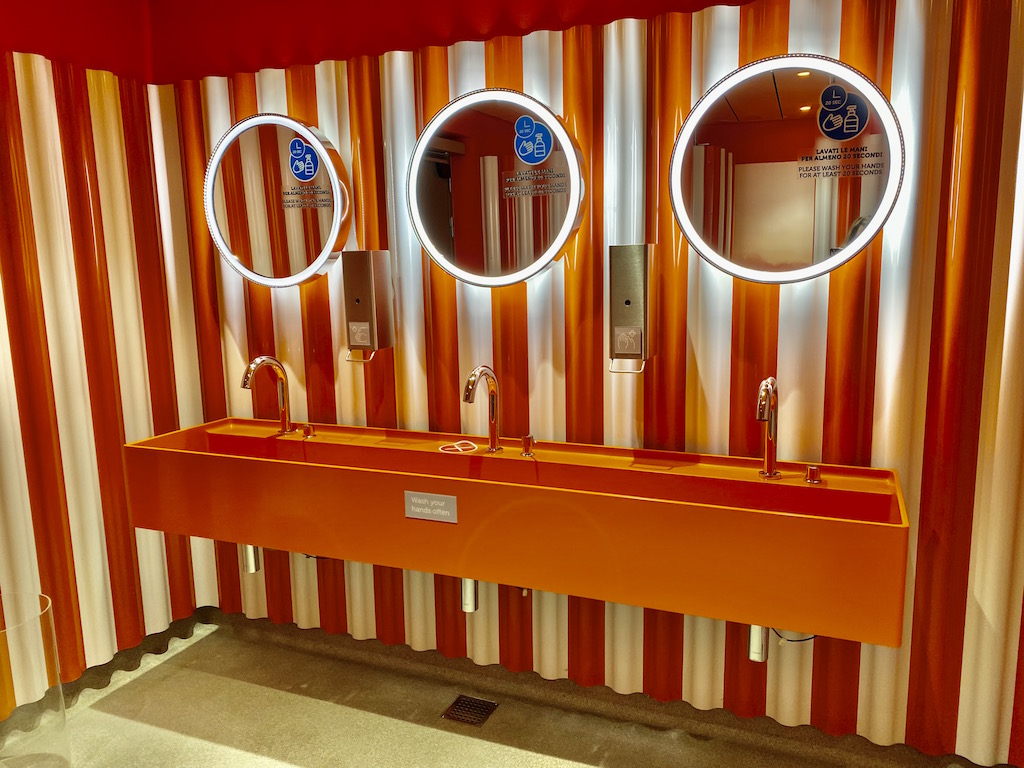 Sports and Wellness
Be sure and pampering yourself with Costa Smeralda's variety of wellness facilities. These include beauty treatments, a swimming pool and jacuzzi, and relaxing massages.
For a great experiences, be sure and visit the snow room that is literally filled with snow!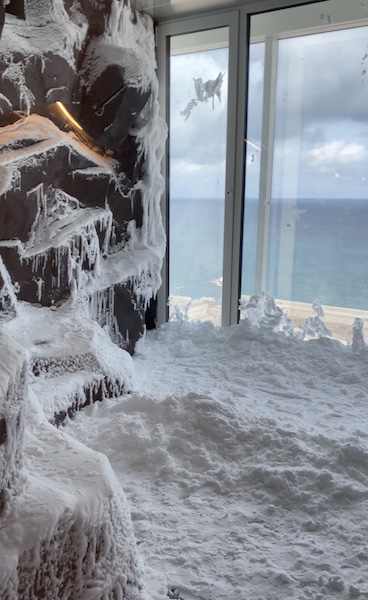 But what else does Costa Esmeralda have?
To get on and off the ship, you have to have your costa card
Cost uses QR codes for restaurants to read the menu
Costa has a kid's club where the kids can play
While you can relax at the spa or exercise at the gym
Visit the Campari Lounge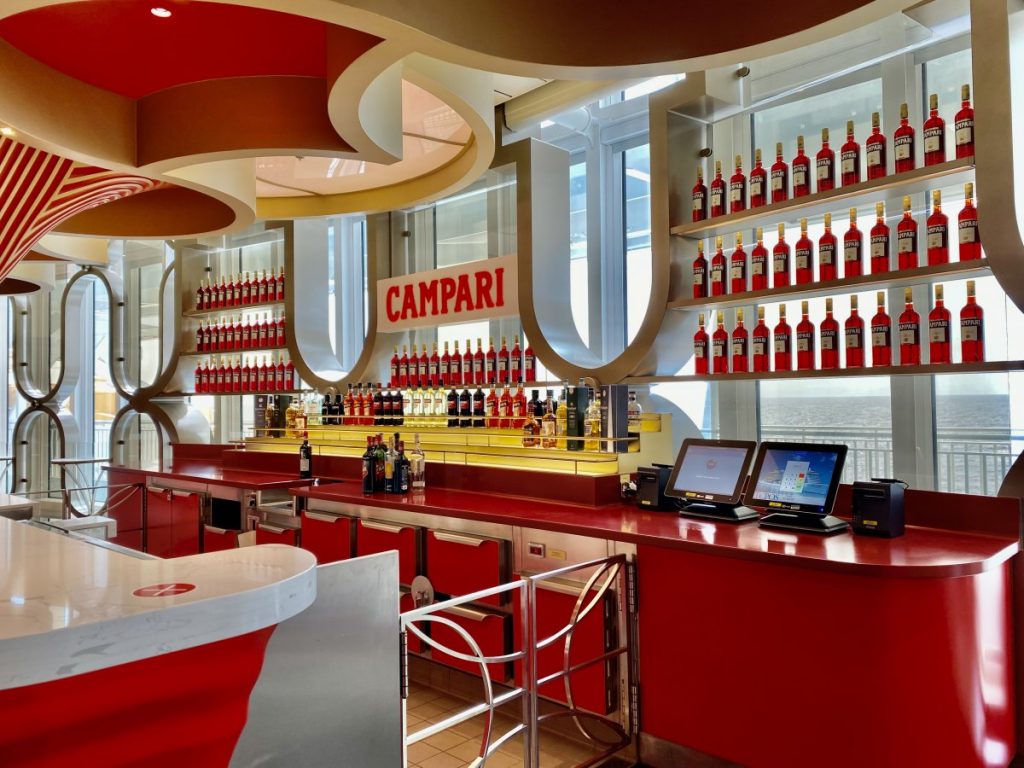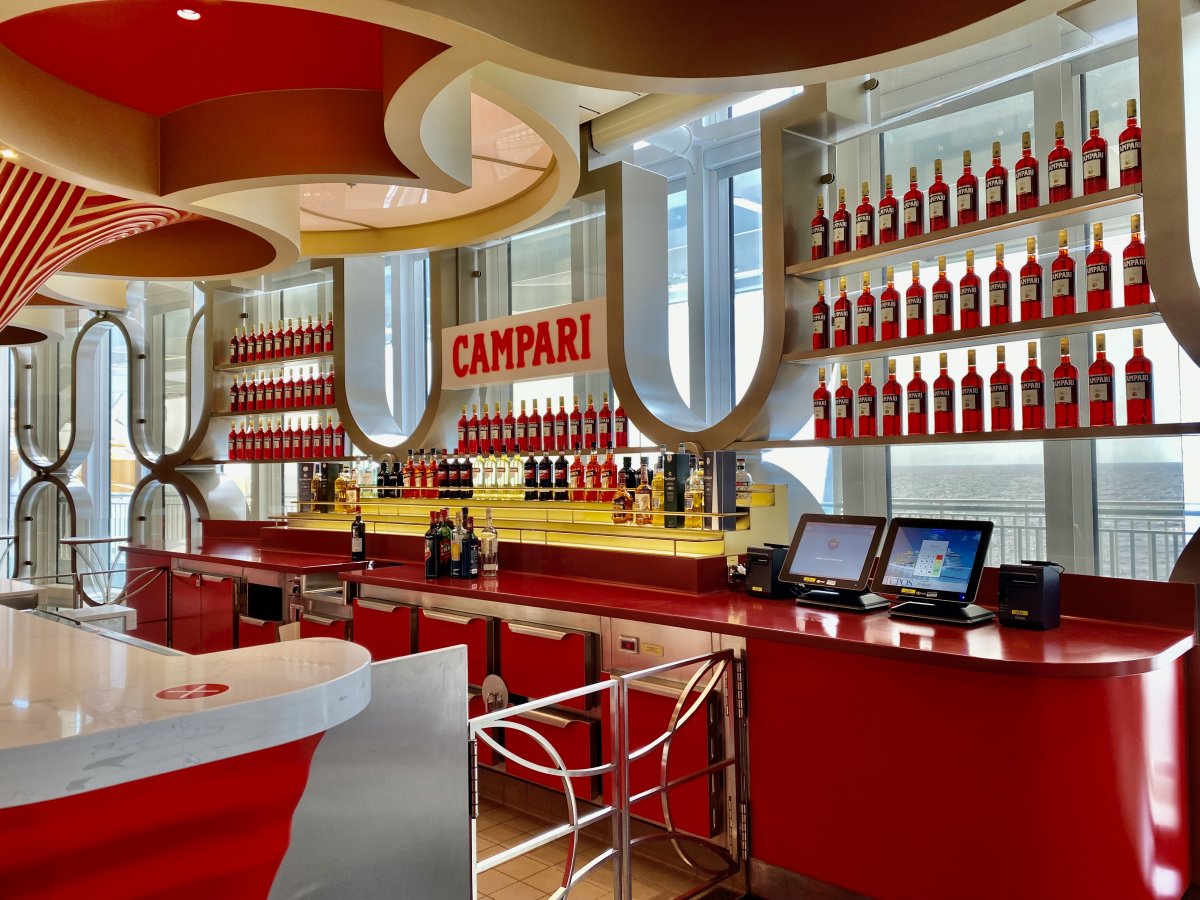 Or why not go to the Casino? I did!
Bring a mask, as it is required in the main areas
Costa uses sanitized buses for your shore excursions
You can use the costa app to book shore excursions
They have photographers who will take professional photos
You can also join the Costa Club for discounts at the restaurants and bars
There are gel dispensers everywhere
Create memories with your family by dancing, singing and enjoying yourself
Love is in the air – enjoy the Campari Bar!
#SensationalSmeralda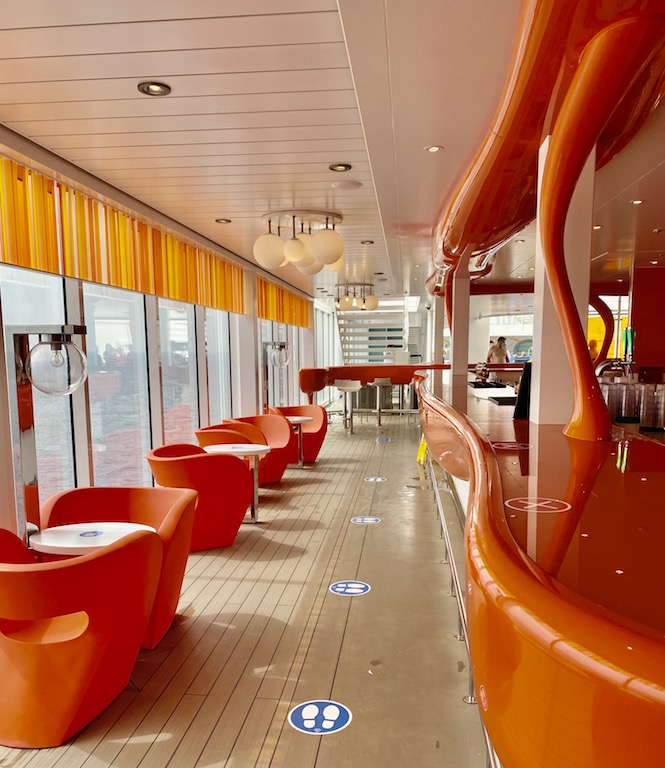 In conclusions, I truly enjoyed my time on the Costa Smeralda. I couldn't think of anything that they didn't have. In the end, you take your 40 euro PCR test onboard and you are then off to visit Rome with a form. Believe me, I would do this trip again in a heartbeat.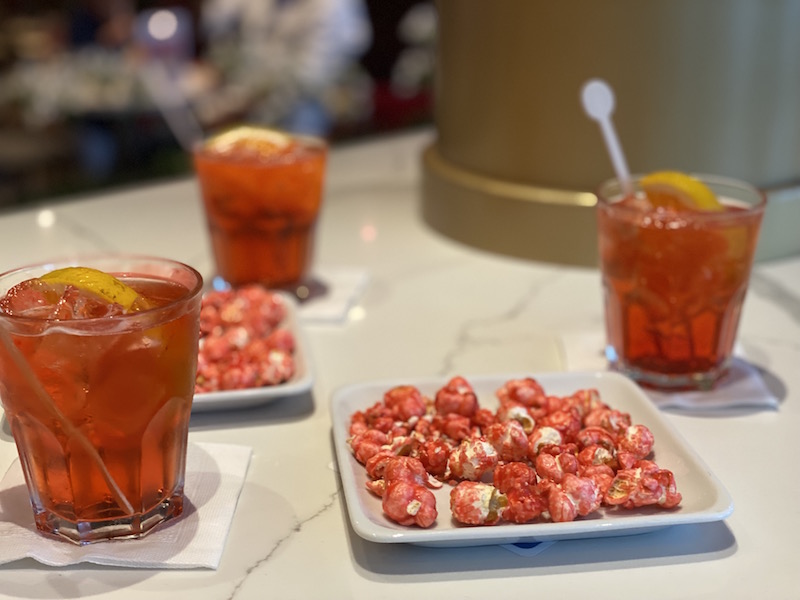 How to Book at Costa Smeralda
You can book a cruise at Costa Smeralda on their official site. With a lot of different cruise itineraries to choose from. They also offer cruise discounts, as well as other perks for Costa Club members. The Costa Smeralda can take you on that journey.
This post was provided in a partnership with Costa Cruises. All opinions my own. If you make a purchase through my links, I earn a commission that helps to keep this blog running—at no extra cost to you.
---
You may also enjoy: