Mexico's Pacific coast is an excellent place to start your whale-watching adventure. Whether traveling from Los Angeles, San Diego, or San Francisco, getting down to Mexico will take you no more than a couple of hours.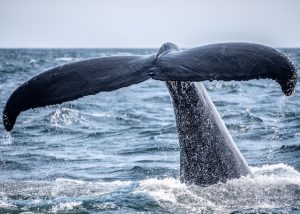 ---
What's in this post:
hide
The Best Whale Watching Spots
in Mexico
---
---
Mexico's Baja Peninsula is divided into two states. The first one is Baja California and the second is Baja California Sur. One of the best experiences in Mexico is watching whales swim and play in their natural habitat. It's something that's recommended for both children and adults.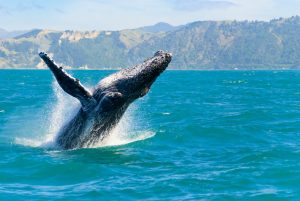 It's also a great way to learn more about these wonderful aquatic animals. So, it's good to choose those trusted tour companies that offer small groups for whale tours. This maximizes your best chances of having a more unforgettable experience during the whale season.
When is the best time to see whales in Mexico and its many regions?
The whale-watching season runs from late November through early March. The curious whales leave the chilly waters of Alaskan shores behind at the end of the summer and travel to the warm beaches of Mexico.
The whales reemerge off the shore of the Baja California peninsula at an unknown date. Some of them continue to the Pacific Coast.
Some whales go to Mexican waters to mate and start nursing their young. They spend December, January, and February with us in Mexico. They begin their return to northern waters in early March.
During this period, whale-watchers can find plenty to do in Cabo San Lucas, Todos Santos, San Jose del Cabo, and La Paz. If you want to go for a swim, there are plenty of places where you can go snorkeling with these creatures.

Where can I see whales in Mexico?
Grey, blue, humpback, and killer whales are among the world's largest mammals. All of them can be found in significant quantities off the coast of North America.
If you go whale watching in Baja California, you might observe sperm whales, minke whales, fin whales, and the occasional orca. Marine biologists travel to Baja California specifically to research their habits.
Where would you go if you were to travel to Mexico and wanted to see whales? There are plenty of spots you can visit and see these majestic creatures. With that said, we will explore some of the best whale-watching areas in Mexico.
1. Cabo San Lucas
If you are a lover of the sea, whale watching Cabo is an activity you must do during your stay in Los Cabos. From January through April, gray whales swim along Los Cabos in Baja California. This is the time when common whales are looking for the ideal conditions for mating.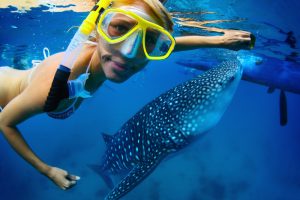 Cabo is one of the best sites in Mexico for whale viewing, as its location suggests. After all, the Sea of Cortez is known as the "world's aquarium." It's the one area where you're almost sure to encounter whales.
During the long journey, take in the breathtaking vistas of the Pacific Ocean while photographing sea lions and unusual birds.
The gray whale migration is one of the most important natural phenomena in Baja California Sur. It is also part of its cultural heritage. Pack your bags and book a trip to your Cabo adventures now!
2. Loreto Bay Marine Park
Whale watching enthusiasts can witness grey whales and their larger cousin, the blue whale, in the broad waters of Loreto Bay Marine Park.
The blue whale is the world's largest animal. It migrates across Baja California Sur every year to reproduce and graze in the warm waters. This activity is strictly regulated, and only a limited number of whale viewing passes are available each year.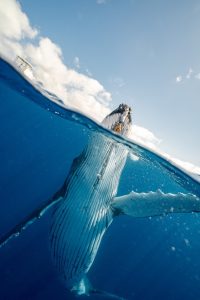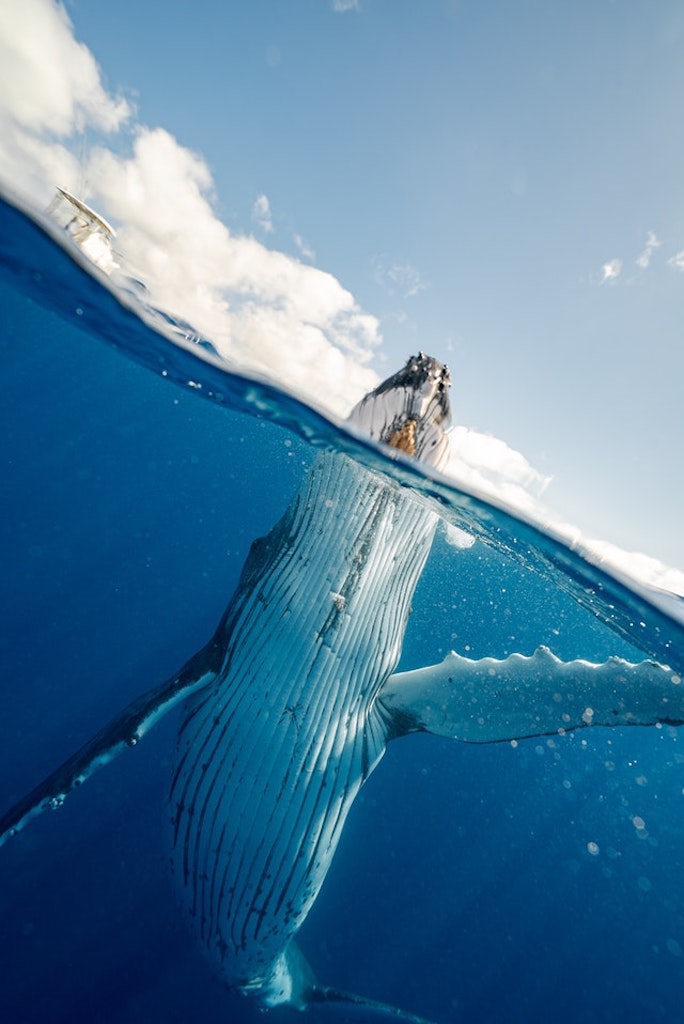 Mexican Government authorities patrol the waterways, ensuring no one is chasing or disturbing the whales. Gray whales can be touched. However, this is not common worldwide, and San Ignacio Lagoon in Baja California Sur is a one-of-a-kind situation.
The best place to see these gentle giants of the sea is from a boat on the open ocean. Many tour operators offer whale watching excursions in Loreto Bay and La Paz. You'll have no problem finding an opportunity for an up-close look at this extraordinary marine life.
3. Banderas Bay, Puerto Vallarta
There's no denying the popularity of whale watching in Mexico. It's one of the top attractions for tourists, and it seems like every number of boats on the water is carrying tourists hoping for a glimpse of marine mammals.
If you're looking for whales, avoid the land activities. Head to Banderas Bay, where humpback whales spend the winter months every year. Humpback whales (Megaptera novaeangliae) are baleen whale species. It's a rorqual that belongs to the Balaenopteridae family.
There are over 11,000 humpbacks that visit the bay of Banderas each year from December through the end of March. They come from all over North America and as far away as Brazil to give birth or raise their young in warmer waters.
The best time of day to see them is early morning or late afternoon when they tend to surface for air. They can be spotted just off the coast. It's important not to disturb them by getting too close or splashing around in the water.
4. Todos Santos Island
Ensenada, Mexico, has a lot going for it, including proximity to the United States and Mexico's developing wine area.
The local communities along the coast have fantastic surfing and delicious local cuisines. Todos Santos Island, right off the coast of Ensenada, is more thrilling if you enjoy aquatic life.
Todos Santos Island (actually two islands) is not far off the coast and is not to be confused with the picturesque town of Todos Santos on the mainland. It is mainly undeveloped and uninhabited, ideal for snorkeling and scuba diving.
The waters around Todos Santos Island are rich with marine life. This includes sea turtles, manta rays, whale sharks, and even bottlenose
When you're done swimming through schools of tropical fish or watching spinner dolphins play in the surf, there are plenty of affordable places to stay on Todos Santos Island.
5. Puerto Adolfo López Mateos, Magdalena Bay Whale
Magdalena Bay (Spanish: Bahía Magdalena) is one of Mexico's most beautiful bays. They have white sand beaches and crystal-clear waters. Several tour operators offer whale-watching on boat tours that go from La Paz or Mulegé (you'll need a car).
Gray whales come to this local fishermen's settlement at the north end of Magdalena Bay from Canada and the Arctic. The island is also home to a colony of sea lions.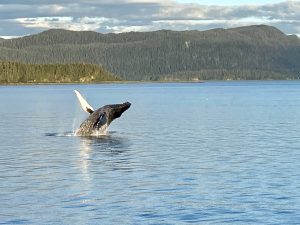 On these tours, you'll have an opportunity to get close encounters with friendly whales and even watch them feed by surface breaching.
If you want to get out on the water, rent a kayak or fish for snook or redfish on San Carlos Bay. Alternatively, take a small boat ride along the coast to look up at marine life, including dolphins and manatees.
In addition to the whale watching experience, you can visit Los Islotes for snorkeling or scuba diving. There are other activities, including kayaking through mangroves. Also, you can hike along trails through sand dunes and marshes that connect with other islands.
6. Guerrero Negro
The gray whales make their way from Alaska to the warm waters off of Guerrero Negro every year, passing by the Sea of Cortez.
The whales start arriving from late December through February. You can still catch them as late as April if you're willing to spend enough time at sea.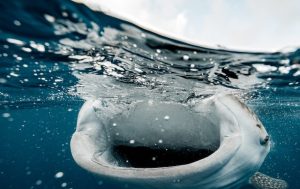 If you schedule a whale watching tour with Mario's Tours in Guerrero Negro, you'll get a 15-minute safety briefing before the tour.
They rapidly go over the history and biology of the gray whale. The expert tour guides have been doing this for years, so they know what they're talking about when it comes to spotting and responsible whales.
They use binoculars and telescopes to look out over the ocean and listen for their blowholes spouting air when they surface.
7. Punta Mita Whale Tours
Punta Mita is a small town situated on Mexico's Pacific Coast in Nayarit. It is a popular vacation spot for tourists from all over the world.
The town of Punta Mita is surrounded by beautiful beaches. It acts as a gateway to some of Mexico's most popular destinations, including Puerto Vallarta and Cabo San Lucas.
The town itself has become a tourist attraction in its own right. This is because of its unique location and breathtaking views of the Pacific Ocean.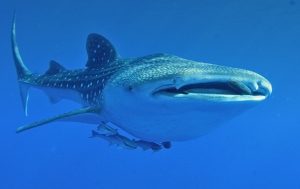 One of the most popular activities in Punta Mita is whale watching. Whale watching tours are available throughout the year. But they are most prevalent during winter when whales swim close to shore to mate or give birth to baby whales.
The best time for whale watching is between December and March, when there are more sightings.
8. Laguna Ojo de Liebre, Mexico
If you are looking for a whale-watching adventure, the Ojo de Liebre Lagoon in Mexico is a great choice. This lagoon is home to thousands of gray whales that migrate from their feeding grounds in Alaska to give birth and raise their young.
The lagoon also has a rich history of being used as a place for both food and trade. The lagoon is pretty tiny — only about four feet deep at its deepest point. But there are plenty of things to do while there.
You can go snorkeling or scuba diving in the lagoon and get up-close views of the gray whales' unique skin patterns and scars. These are the marine biologist guides to identify individual whales.
Gray whales are found in all oceans except the Arctic Ocean. The migratory species migrate each year from winter breeding grounds in Mexico and the Gulf of California to summer feeding grounds in Alaska and Siberia.
9. Whale Shark Snorkeling Adventure in Isla Mujeres
The whale shark is the largest fish globally and one of the most majestic animals on the planet. Their massive size, gentle nature, and playful behavior make them a favorite among divers and snorkelers alike.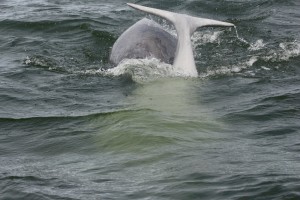 Whale sharks are filter feeders and spend most of their time eating plankton, which they scoop up using their mouth as a net. Isla Mujeres is one of the best places in the world to see whale sharks and pectoral fins with sightings reported year-round.
The island is also home to some of Mexico's premier dive sites, including El Arco (the Arch), an underwater cave easily accessible from shore.
In addition to whale shark snorkeling adventures, Isla Mujeres has a vibrant nightlife scene. There will be plenty of bars and restaurants serving delicious Mexican food.
10. Laguna San Ignacio
The best whale camp is in San Ignacio Lagoon, one of only three gray whale birthing and breeding lagoons in the world, all of which are in Baja.
San Ignacio has the largest whale population and the most consistent encounters. It's the only lagoon that hasn't been developed.
The whales travel to this lagoon from December through March to give birth and raise their calves. The young are born from late January through March and multiply during their first year of life.
The season usually starts around New Year's Day and lasts until mid-March. This may vary slightly depending on weather conditions. There is typically a window of opportunity when it's worth going out on the water.
If you're lucky enough to find yourself in Baja during this time, it would be difficult not to come away with some great photos!