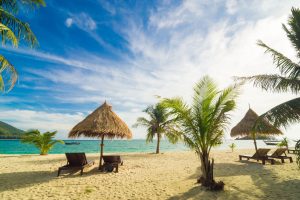 Mexico is every tourists' dream. Aside from its rich cultural history, it also boasts stunning beaches complemented by crystal clear waters. On top of that, the food here is to die for as well. Aside from that, there are plenty of wonders waiting to be discovered in this country.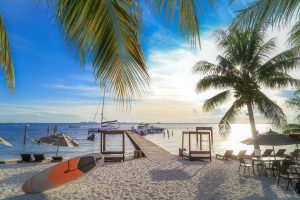 ---
What's in this post:
hide
10 Majestic Waterfalls in Mexico To Visit
---
---
For example, you have several Mayan ruins to explore here. Also, you can find the third-largest barrier reef here if you are among those who want to explore the wonders of the deep. In addition, do check out the cenotes connected by an underground river. These are found away from the main road and boast clear waters that are ideal for swimming.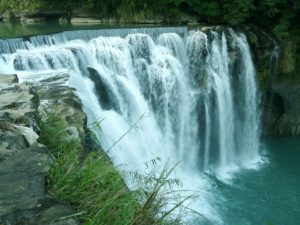 Meanwhile, you will be happy to know that Mexico is also home to several majestic waterfalls. These are perfect for tourists who want to see the hidden wonders of the country.
Mexico City and its surrounding towns are home to some of the most beautiful waterfalls you'll ever see. It would be better if you know which of these waterfalls to add to your itinerary.
Top 10 Best Waterfalls to Visit in Mexico
For tourists who want to do something new when visiting Mexico, why not consider exploring the famous waterfalls in the country? If you are not sure where to start, here is a list of waterfalls you don't want to miss out on.

Huasteca Potosina – San Luis Potosí
#1. La Huasteca Potosina
La Huasteca Potosina is a region in San Luis Potosi known for its amazing network of waterfalls and rivers. In fact, you will need to spend at least four days here just to see the natural beauty of the area. Make sure that you time your trip here during the winter dry season. The weather here will be cooler and you'll get to enjoy the blue water too. Since we are talking about waterfalls, there are three here that you should check out.
1. Tamul Waterfall
Tamul is the most scenic and adventurous of the waterfalls in this region. It is a two-hour drive from Ciudad Valles. Upon arrival, you will need to join other tourists on a boat which you will row yourselves. If you don't want to row, your guide can do it for you. Guests should wear water shoes since you will be walking along the river, going over large rocks, and even going inside a small cave. Aside from appreciating the beauty of the waterfall, you can also go swimming in the waters.
What makes Tamul one of the most beautiful places to visit is its location. Aside from being isolated, there is plenty of wildlife and lush vegetation around it. The waterfall itself spans 300 meters and it is here where the rivers, Santa Maria and Gallinas, converge. The best part is that there are shallow pools and water cascades that you can swim in.
2. El Salto del Meco
El Salto is just north of Ciudad Valle but it is hidden within the woods and villages. The best time to visit this place is during the wet season to see the fall flowing. You will need to rent a taxi to take you to this spot, however, since there is no public transportation available.
3. Minas Viejas
This is one of the amazing waterfalls that you will find in this area which you don't want to miss. You can easily see the grandeur of this fall as you descend the steps toward it. Adventurous tourists who want to add more thrill to their trip can request to rappel down the side of the waterfall. Down below, you can swim in the blue-green waters or just rest and relax on the grass. You can also bring your lunch with you while you relax at the foot of the waterfall.
#2 Puente De Dios
Puente De Dios is another site that is worth mentioning here and with good reason. Locals and tourists alike flock here in Sierra Gorda during peak season. Aside from paying for the entrance fee, you will also need to pay for the parking lot and life jackets too. This is a good investment once you see the waterfall.
After paying the entrance fee, you will go down the steps to reach the fall. The main area is a circular canyon where you will see the main waterfall. Plus a series of waterfalls on the side. This lookout point will give you a great view of the waterfalls and your surroundings.
If you are confident about your swimming abilities, you can go cliff diving here. On the other hand, if you are here to admire the view, you can sit back and enjoy your lunch on one of the picnic tables here.
#3 Chihuahua
Another place to spot waterfalls in Mexico is in the Copper Canyon itself. This is the ideal spot for nature lovers to explore because of its scenic beauty. Aside from that, it is also home to these waterfalls.
#4 Basaseachic Falls
Another option that you can add to your list is the Basaseachic Falls. This is the highest waterfall in Mexico with an impressive height of 853 ft. The best way to reach this place is by joining a guided tour. Fortunately, there are many available from Creel. Unless you have your own car rental to drive, you are better off joining tours since buses seldom go in this area.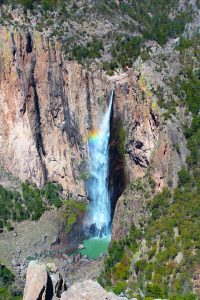 As much as you would like to go on a DIY adventure in Mexico, you should go for a tour for this one instead. It is a little bit safer to travel in groups especially if you are traveling on a dirt road to see these hidden gems.
#5 Jalisco
Puerto Vallarta is one of the popular tourist spots in Mexico. This is not surprising since the beaches here are quite beautiful. But aside from that, there are attractions to see and enjoy while you are in Jalisco. In fact, these waterfalls are worth visiting.
1. Quimixto Fall
Quimixto is a small village that is accessible by boat only. You will need to make your way to Boca de Tomatlan by bus/taxi before renting a water taxi to take you here. Tourists do flock here because of its pristine beach. But if you want to explore the area, visit in the fall. Fortunately, it is just a short hike from the beach. The view is not as majestic as the others, true, but it is still worth the hike to see the fall surrounded by the lush jungle. Afterward, you can head back to the beach to have your picnic lunch before heading back to the city.
2. Yelapa Waterfalls
Meanwhile, you can also opt to visit the Yelapa waterfalls in the small town of Yelapa. Just like with Quimixto, you need to ride a boat to reach it. It is another popular tourist destination with good reason. You only need to go on a 30-minute walk from the village to the fall. Along the way, you will see impressive views of the bay until you reach the Yelapa waterfall. Make sure that you head here during the rainy season to see the power of this waterfall.
#6 Chiapas
The state of Chiapas is best known for being one of the best regions for outdoor activities in the Yucatan Peninsula. It is a great place to be in because it offers something for everyone. Aside from the Mayan ruins that reveal the country's history, there are cenotes and extensive cave systems here too. In addition, you should not miss the beautiful Chiapas waterfalls.
The easiest way to get around here is by taking a Chiapas road trip. This will take you around El Chiflon to Las Nubes all the way to Agua Azul.
1. Aguas Azul
The Agua Azul waterfalls are a must-see when you are in Chiapas. One reason behind this is the thousands of liters of water hurtling down the falls. However, the local people are making it difficult for tourists to enjoy the place as they try to sell their wares near the falls. This is understandable since a small commission can go a long way for them. In addition, the extra cost to see the fall up close on top of the entrance fee may not sit well with other tourists.
Since Crucero de Agua Azul is one of the main attractions in Chiapas, it is only fair that you spend some time here. It is better that you join a tour at Palenque if you want to explore this waterfall and the surrounding areas.
#7 El Chiflon
El Chiflon is a great place to visit because it has the most impressive waterfalls. You will find several pools collecting water from different waterfalls. Especially as you hike the trail towards the largest fall. The waters rush down 120 feet from the top to form that deep, gorgeous blue water that looks so inviting. Aside from that, the combination of the sound of rushing water, the mist that forms, as well as the size and volume of the water makes this a great place to be in.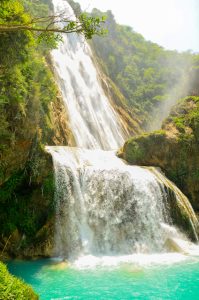 There are two tour operators here which you will find on either side of the river. They keep the area clean and provide services to tourists who make their way here. No matter which tour guide you choose, you will be taken along the well-beaten path and stairs. From the bottom of the pool, you will work your way upwards until you reach the head of the fall. The waterfall hike will only take half an hour at least. The best part is that you will get the chance to dip in the designated swimming pool on site.
Aside from that, you can relax and have your snack or lunch at their picnic area to recuperate from the hike. You can also visit Velo de Novia waterfall if you are eager to see more of these natural wonders. Afterward, you can head to Tuxtla Guiterrez to book a stay in one of their accommodations there. You can also visit Tuxtla Gutiérrez. where you can go rappelling or ride in a boat along the waterfalls.
You can also opt for San Cristobal de Las Casas if you plan on extending your stay here. This is a charming colonial town popular with tourists and locals alike.
#8 Las Nubes Waterfalls
Las Nubes is a spectacular waterfall that is hidden within the Lacandon Jungle. Although it is not as massive as that of El Chiflon, it makes up for it with the impressive size of the Rio Santo Domingo river that flows through it. Aside from that, the stunning scenery adds to the overall beauty of Las Nubes.
Before you can explore the area, you will need to pay an entrance fee of $30 pesos. You can take advantage of the tourism center that is beside the falls. This means that you don't have to travel far to start enjoying Las Nubes. Aside from that, you can swim in the blue pools above the falls to cool down. Also, you can explore the falls through white water rafting. You can have this arranged for you at the tourism center.
Additional Waterfalls Worth Visiting
These are not the only waterfalls that you get to see around Mexico. In fact, you can visit others on your day trip. Here are other options to consider.
#1 Misol Há
Misol Ha is one of the waterfalls where you can swim in the pool below. One of the best things that you can do here is to go behind the cascading water to be close to it. There is a fee, of course, but worth it especially if you are looking for a unique experience.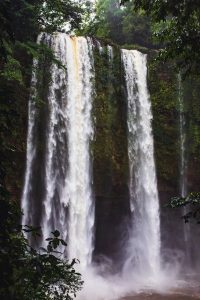 #2 Cola de Caballo
Another option to consider is the Cola de Caballo which you can visit after Pozas Azules. It is a good idea to have a tour guide show you the way to the waterfall. A sixty-minute hike will take you to the 180mt tall waterfall. Along the way, you will see an old church and some amazing views of the valley too.
#3 Hierve El Agua
This is not exactly an active waterfall. However, it is a petrified waterfall made from limestone that attracts tourists to Oaxaca. Head to the waterfall-shaped rock where you will have some natural pools that you can swim in. You should visit this place early in the morning while there is no crowd. This stone waterfall in San Lorenzo is a must-see when you are in the area. After all, it boasts of hot springs that attract travelers around the world.
#4 Tzararacua Waterfalls
You should also check out Tzararacua Waterfalls if you are looking for the best place to visit in Mexico. There are two ways to enjoy this waterfall. First, you can go down more than 600 steps which can be challenging for some. Second, you can go horseback riding down the steep road. Local guides are available to show you the path or hold on to your horse as you traverse the trail.
So Why Don't you Come to the Waterfalls?
It doesn't matter if you are visiting Puerto Vallarta or Playa del Carmen, there are plenty of activities to do here. In fact, the only way for you to truly appreciate their beauty is to spend a few days here. Aside from being home to the best beaches, they also have impressive waterfalls to see as well.