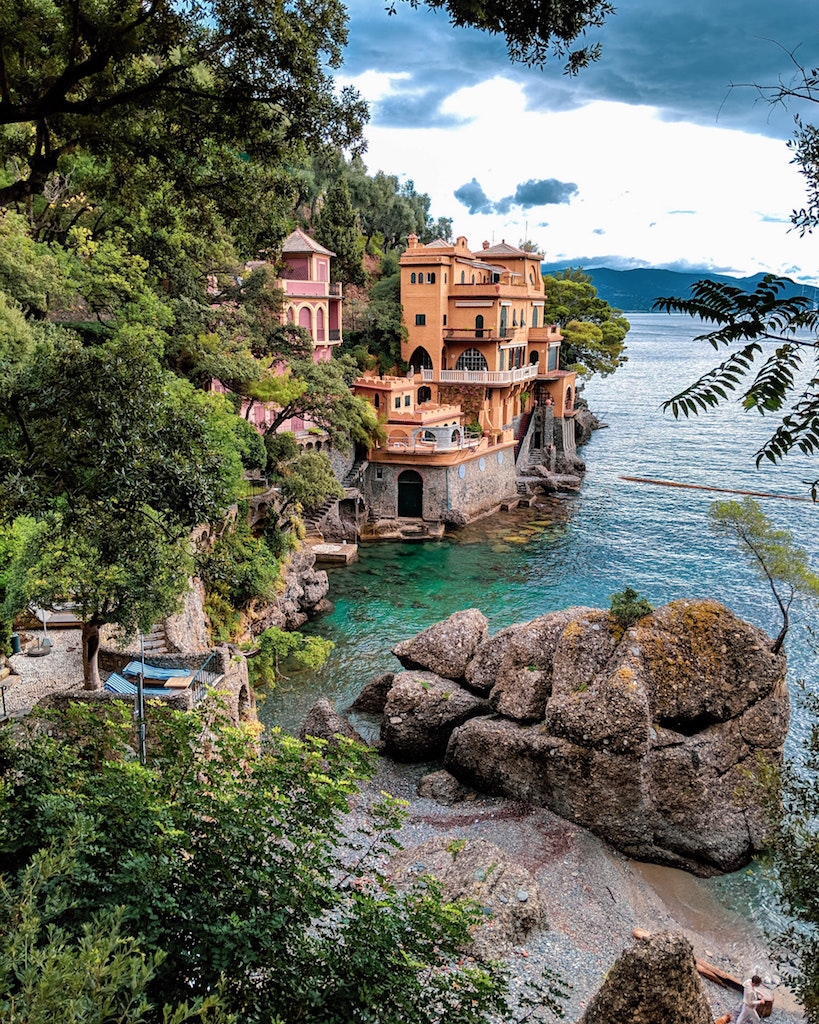 Portofino Italy has long been the pitstop along the Mediterranean coastline for the rich and famous who love to park their yachts in the harbor. And for good reason. This charming harbor is matched only by the wonderful restaurants that take pride in typical heavy Ligurian cuisine and seafood. Restaurants located in the charming Piazzetta of Portofino enjoy the view of its famous marina. With this article, I will help you pick the best places to enjoy a romantic meal in this Italian coastal city of Portofino. So sit back, relax, and imagine eating at these wonderful restaurants in Portofino!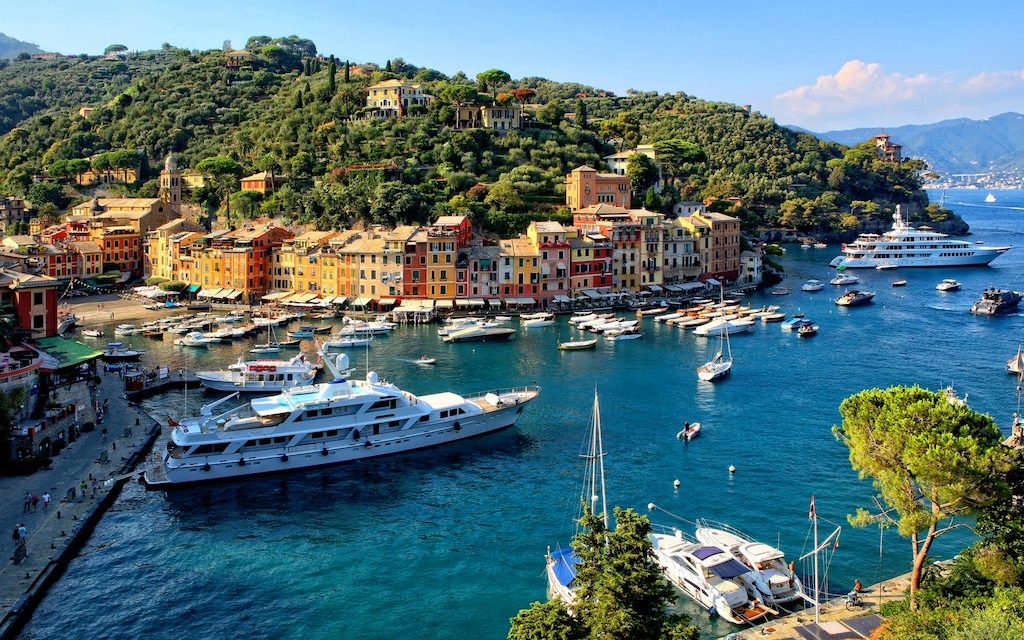 ---
Restaurants in Portofino!
---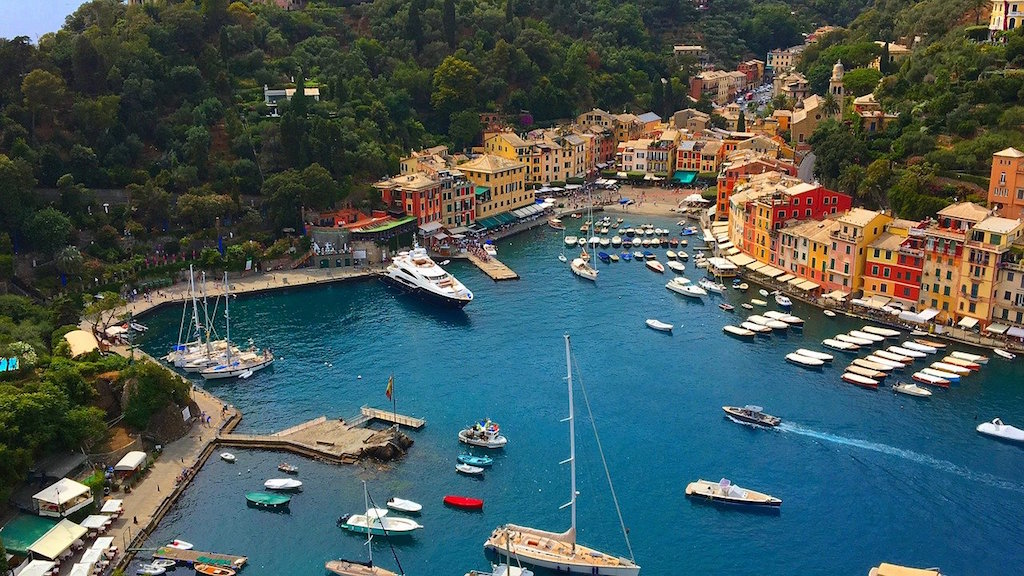 #1 ChuFlay Restaurant and Bar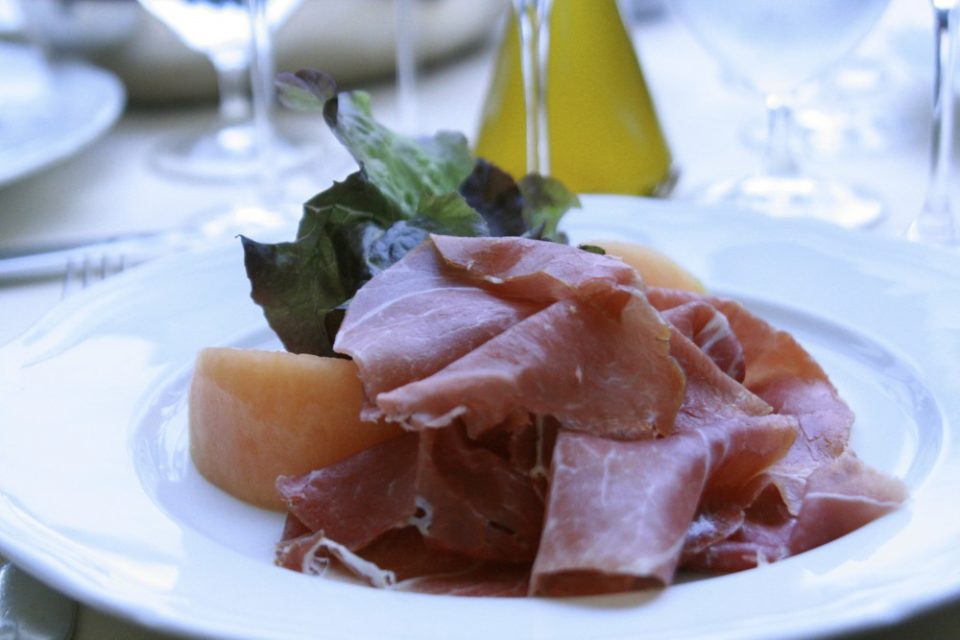 The setting of the ChuFlay Restaurant and Bar on the property of Hotel Splendido's sister property Splendido Mare is as stunning as the food is brilliant. Perfectly prepared with nothing left out, including one's imagination. Before our first course was served, they brought out Prosecco, a sparkling white wine made from the Glera ("Prosecco") grapes.
In 1754, the word "Prosecco" appears for the first time in the book "Ill Roccolo Ditirambo", written by Aureliano Acanti: "And now I would like to wet my mouth with that Prosecco with its apple bouquet".
---
And this is exactly what we did and the prosecco tasted wonderful!
---
As soon as we took a seat on the terrace bordering the bustling Piazzetta, the first course arrived. I ordered prosciutto with melon, as my appetizer, while others had grilled vegetables in season served with extra virgin olive oil.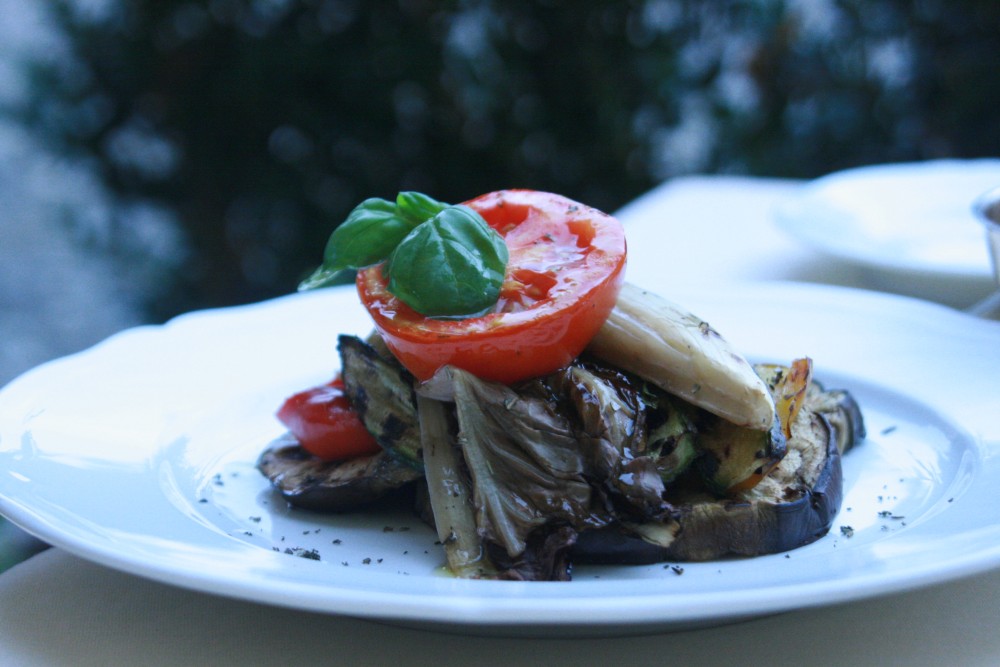 ChuFly has Exceptional Service
Before we begin to partake of these amazing flavors, white coat waiters were there to offer freshly ground pepper, extra virgin olive oil, and freshly sliced parmesan cheese. These waiters are top-of-the-line in quality and are there for your every beckoned call. I must say that the service is exceptional!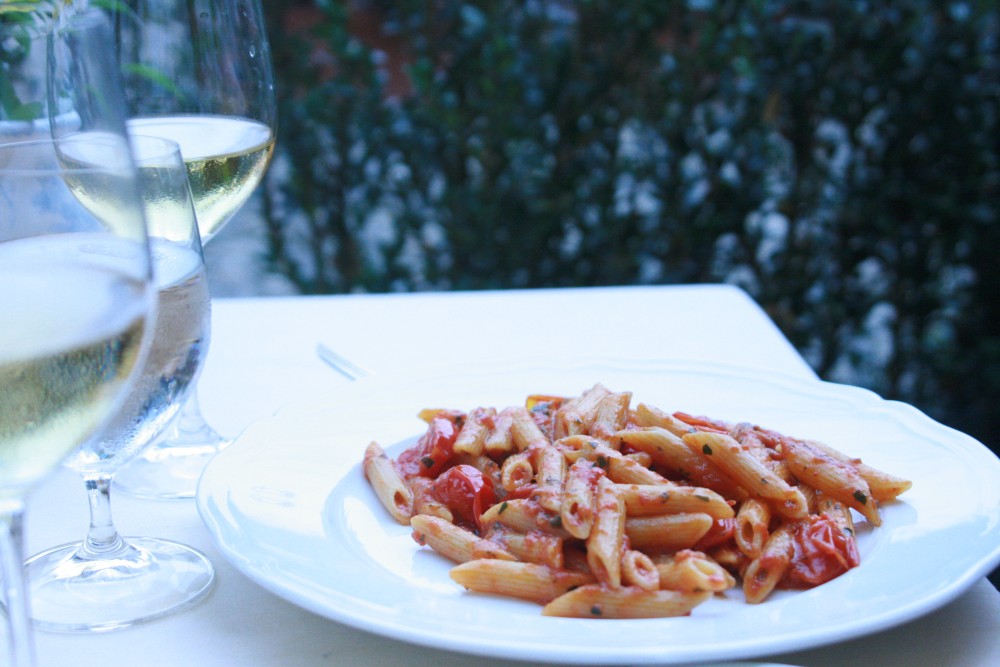 Then we had flowing white wine from the region and again we clanked our glasses together to wish each other "Buon Salud", ("good health") and that each of us would return again to this tiny picturesque village in Italy. Soon enough, other flavors begin to find their way to our taste buds with gnocchi made with pesto and tomato mixture, an unusual combination for the region and honestly, a wonderful one.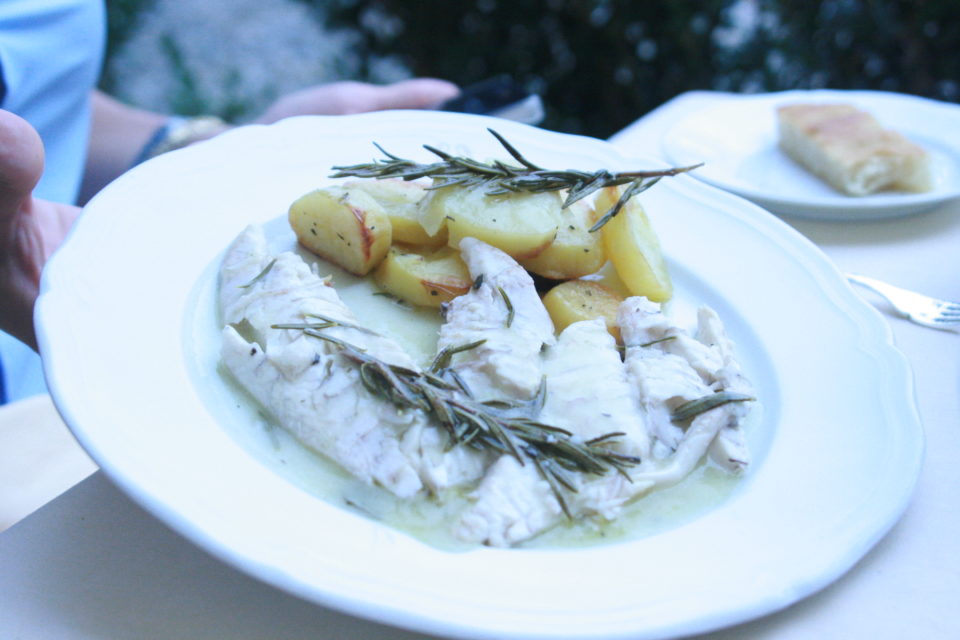 Since it was lunch, I went light with a fresh grilled vegetable salad with goat cheese. While my other guests had the sea bass, which is the specialty of this region since it is caught fresh daily. Overall, for an extra special day, you will want to pick ChuFlay Restaurant as the place to have a nice lunch or dinner in the village of Portofino.
Where: Portofino, Italy
Prices: 14€ to 40€
Location: Directly across the harbor in the village of Portofino, underneath the Splendido Mare.
Tip: Gentle piano music fills the air each evening until midnight.
---
Recommended reading about Italy
Authentic Italian Recipes for the Soul
Tuscany Region, Italy:
Luxury Italy: A Journey for the Soul
---
#2 Il Tridente Restaurant & Cocktail Bar
Rooftop Restaurant and cocktail bar Il Tridente is located in a very privileged position. It is literally in the center of Positano. High enough to enjoy unparalleled views, but still very close to the main beach inside of Hotel Poseidon. It is easily reachable from the road coming into Positano and from neighboring towns. In fact, Il Tridente is considered to be "the place to be" on the Amalfi Coast and was awarded the "10 best rooftops in Italy" by The Rooftop Guide in 2021! Tables in this stunning place are reserved! And don't forget, there is a dress code of no bathing suits for women, and men are not to wear shorts or tank tops during dinner!
"The Cocktail Bar" is a rooftop lounge with comfortable furniture and offers its patrons new "light dinner options" and is the perfect venue to have a drink in Positano with the best views. While the menu focuses on traditional Neapolitan cuisine, they do have tastes for everyone. For me, I tried the risotto with buffalo cream, scampi, lemon, and mint for lunch and it was delicious! My husband tried the Paccheri with lobster and tomato concasse sauce with asparagus powder and loved it! Il Tridente offers one-of-a-kind views that will make you want to come back for more!
Prices: 16€ to 80€
Location: Inside Hotel Poseidon, Viale Pasitea, 140, 84017 Positano SA, Italy
Tel: +39 089 81 11 11
---
Recommended reading about Italy
Lazio Region, Italy:
5 Reasons to Rent an Apartment in Rome
Get the Scoop on the Best Gelato in Rome
Tiber Island: A Tiny Island in the Middle of Rome
---
'Positano bites deep. It is a dream place that isn't quite real when you are there and becomes beckoningly real after you have gone.' – John Steinbeck, who visited Positano in 1953.
---
#3 La Sponda Restaurant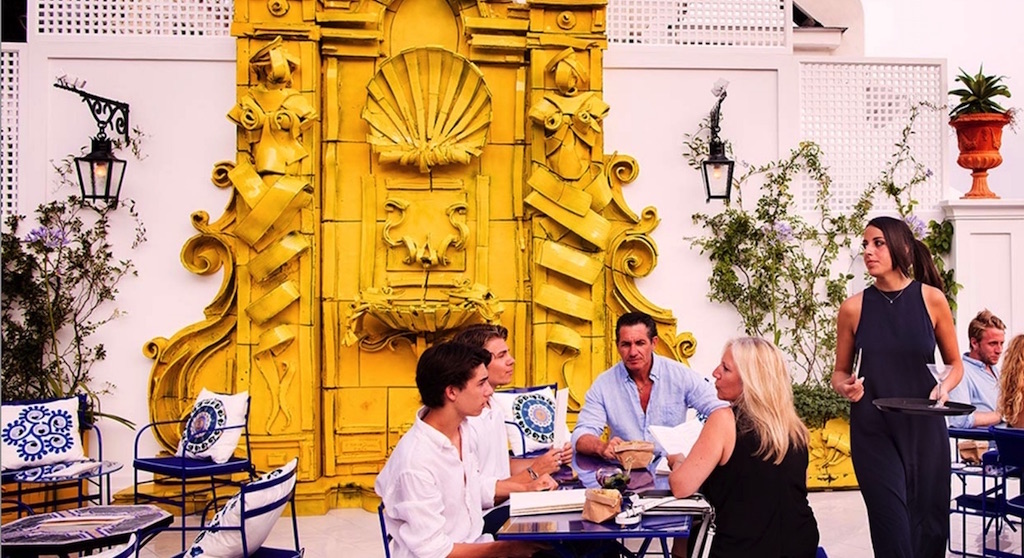 Le Sirenuse Hotel opened in 1951 with eight rooms and a large terrace overlooking the Portofino harbor. John Steinbeck stayed at Le Sierenuse and wrote this in 1953…
"We went to the Sirenuse, an old family house converted into a first-class hotel, spotless and cool, with grape arbors over its outside dining rooms. Every room has its little balcony and looks out over the blue sea to the islands of the sirens from which those ladies sang so sweetly".
Currently, the hotel has 59 rooms and suites with all the comforts of a five-star luxury hotel without losing the atmosphere of a family home. The light Mediterranean cuisine of its romantic La Sponda Restaurant is based on fresh, local ingredients. Their food is inspired by the great culinary traditions of the Amalfi Coast. La Sponda at night is illuminated by four hundred candles that create an unforgettable atmosphere. Believe me, it is completely worth a visit (and a stay!).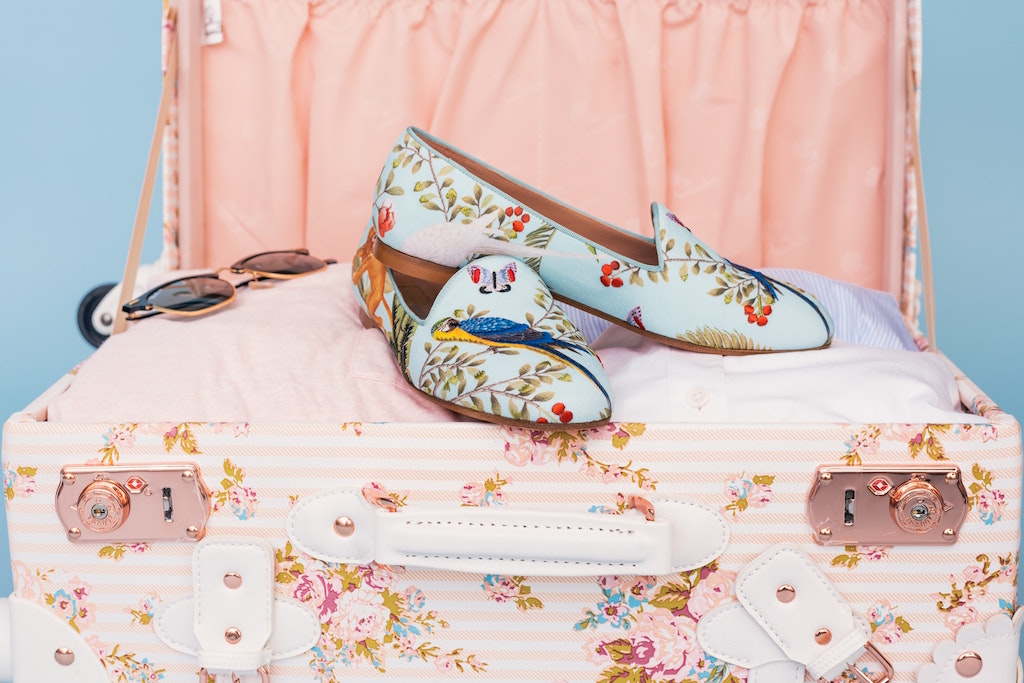 Where: Portofino, Italy
Prices: 28€ – 38 € per person plus drinks
Location: Le Sirenuse Hotel, Via Cristoforo Colombo, 30 84017 Positano
#4 Restaurante Puny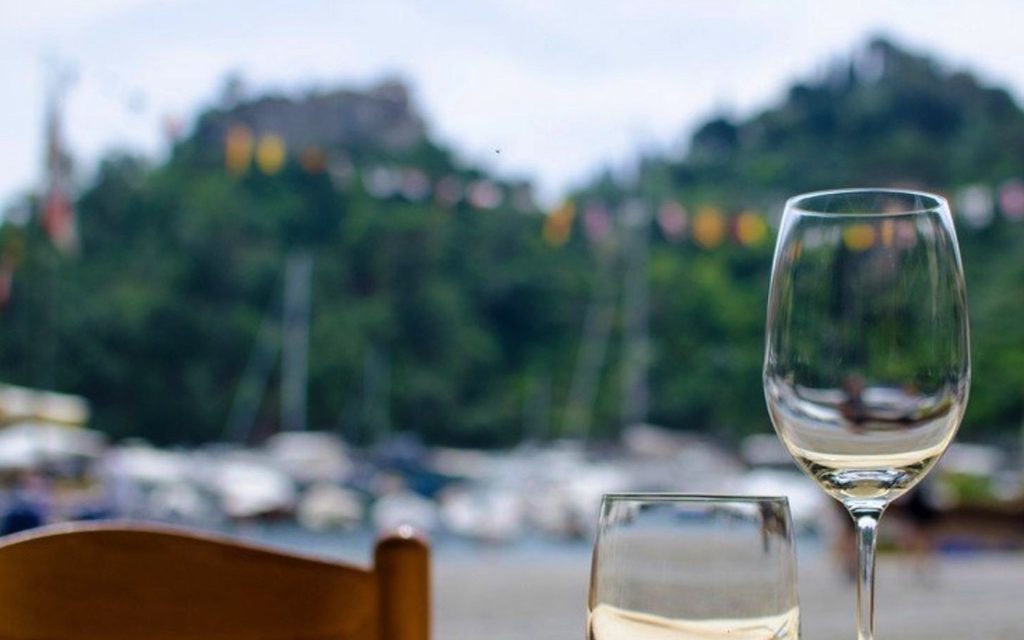 For over two generations, Restaurante Puny has been offering Ligurian dishes that are easily linked to the seasons for the perfect ingredients. The Ligurian cuisine has delicious flavors in its fish-based dishes, such as the salt fish, the cappon magro, the pappardelle alla Portofino, and the very small-leaved Prà basil fish.
Luigi Miroli, also known as "Puny or Da Puny", the owner, worked tirelessly in his restaurant with his usual smile and gave his patrons the deliciousness of his food as only he was able to do. Unfortunately, he passed away in 2017, leaving the restaurant to his son Andrea. And it is Andrea who carries on the traditions of his father.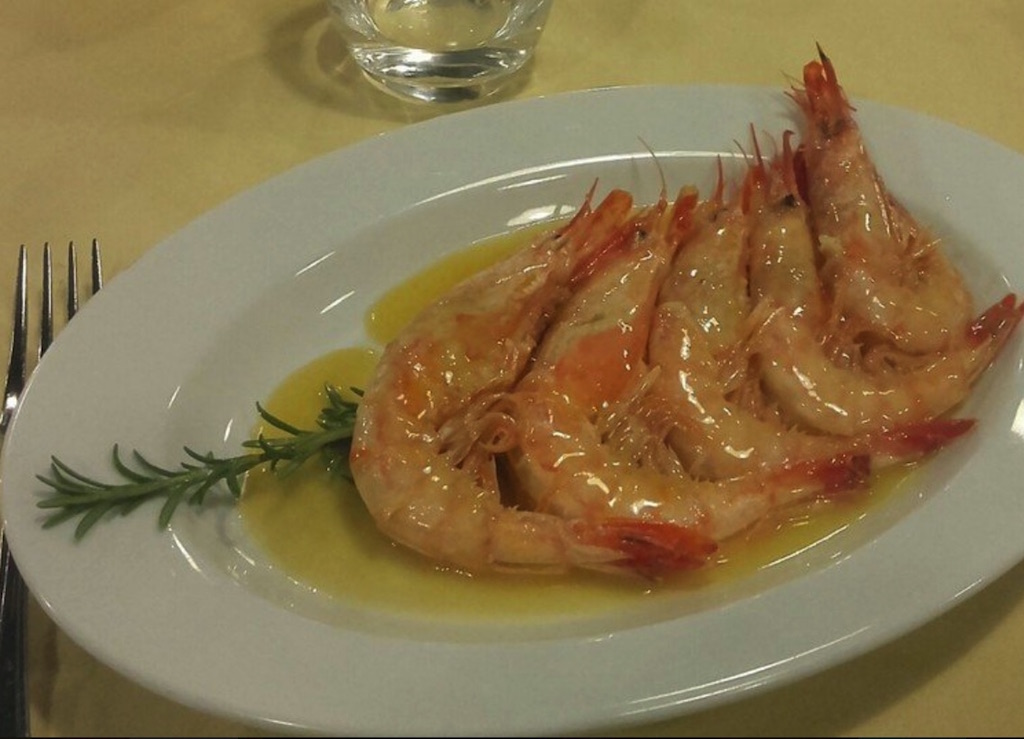 Where: Portofino, Italy
Prices: 50 € per person, Splurge!
Location: Piazza Martiri dell'Olivetta, 5 16034 Portofino GE
Tel: +39 0185 269037
---
More reading about lovely Italy:
Emilia-Romagna Region, Italy:
La Bottega del Legno: The Woodshop in Forli, Italy
First Words: La Biblioteca Malaestina in Cesena, Italy
A weekend trip to Cesenatico, Italy
The Magnificient Masselina Estate and the Women of Faenza, Italy
---
#4 Chez Black – Positano
If we really want to talk about some great restaurant history, then Chez Black is the place. It was opened in 1949. Here you will feel like you are on a real ship with a lot of portholes and sailors! It will feel as if you are on a ship right on the beach of Positano! And who on earth wouldn't want to be there?
This is a restaurant for the VIPs' in the area with homemade heart-shaped pizzas, paccheri pasta with lobster, and Positanses sauce! They also serve sea urchins, fish soup, and succulent meats, and refined desserts. Plus they have a wide array of wines Italian wines not to miss. They have the perfect setting for a romantic dinner!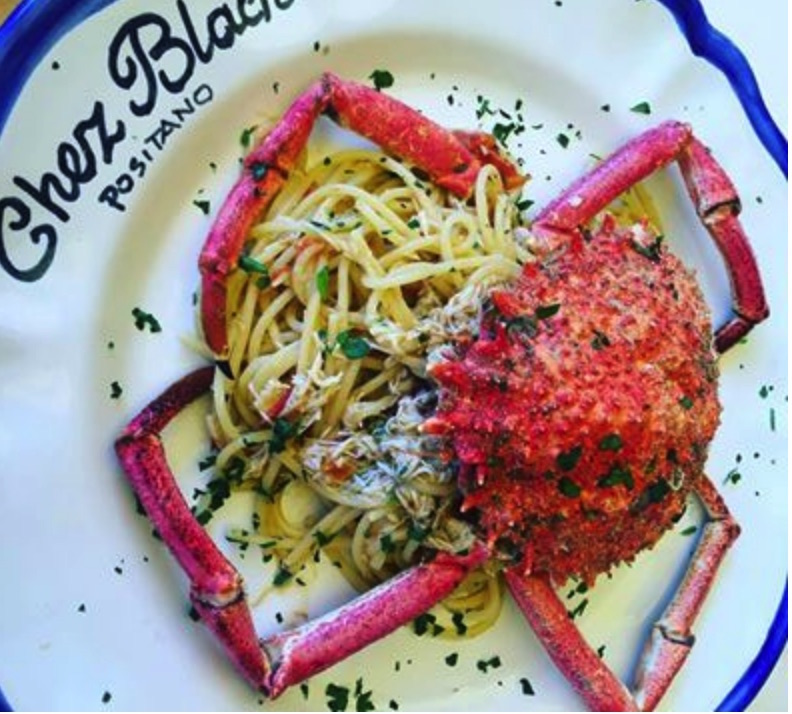 Where: Portofino, Italy
Prices: 40 € per person
Location: Via del Brigantino, 19, 84017 Positano SA
Tel: +39 089 875036
---
More reading about lovely Italy:
Veneto Region, Italy:
A Voyage Thru Time: Things to do in Venice, Italy
Puglia Region, Italy:
The Power of Travel Seen Through the Eyes of a Travel Company
---
#6 Terrazza Celè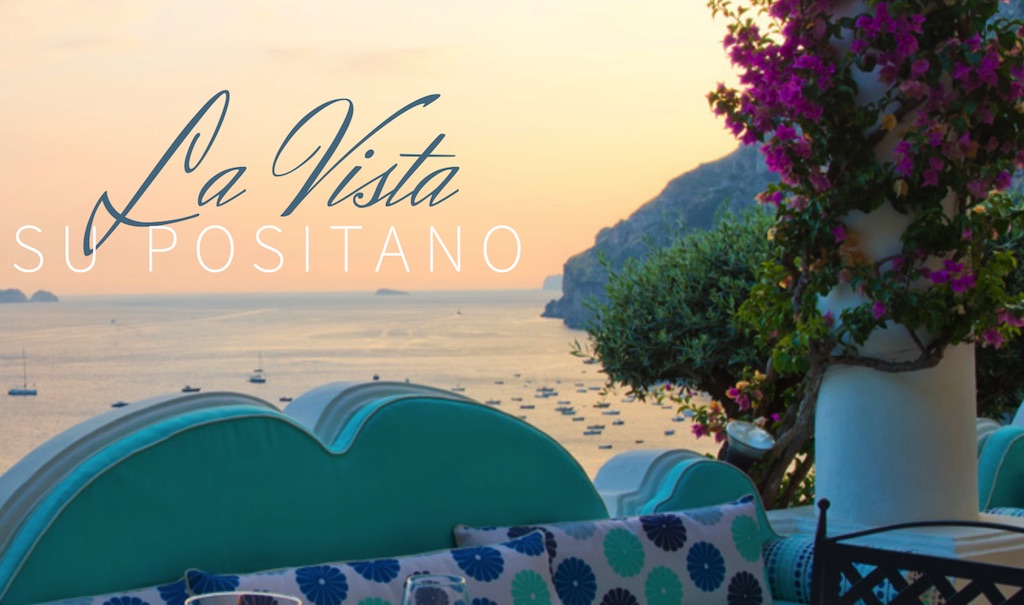 Terrace Celè owes its name to Celeste, the founder of Hotel Marincanto. She was lovingly called Celè by her husband. And of course, the Terrace Celè is set in a spectacular corner of Positano. It has a refined ambiance and is surrounded by a secluded garden facing the marina and the sea. For me, it is a dream come true. Honestly, they have exceptional quality, for an unforgettable romantic dinner.
Where: Portofino, Italy
Prices: 60 €
Location: Via Cristoforo Colombo, 50, 84017 Positano, Italia
Tel: 089 875130
---
More reading for the Liguria Region, Italy
Portofino, Italy: At least Once in a Lifetime
Genoa, Italy and the BW City Hotel
Treat Yourself to the Suite Life: Hotel Splendido, Portofino, Italy
Hotel Splendido: Absolutely Splendid
The Poetry of an Old Fisherman's Village: Bocadasse, Italy
Italy Revealed: Camogli, Italy
---
#7 Taverna del Marinaio
Taverna del Marianaio is more affordably priced than many of the other restaurants in Portofino, Italy, and well worth a visit. One thing that Taverna del Marianaio is not missing is quality. Born in Portofino in 1989 by the brothers Pinuccio and Paolino Viacava, this restaurant has been here for over 30 years!
Their cuisines try to enhance the famous Ligurian tradition and many travelers rave about their antipasti, fresh seafood, and creme brulee. Some of their dishes are now "classics" while others are seasonal.
Where: Portofino, Italy
Prices: 15 € to 50 €
Location: Taverna del Marinaio, Piazza Martiri dell'Olivetta, 36, Portofino Italia
---
Le Marche Region, Italy:
Food, Friendship, and Wine in Le Marche Region, Italy
The Lost Art of Print Blocking in Carpegna, Italy Regenerated
Calabria Region, Italy:
---
#8 Ristorante Da Ö Batti
Perhaps a more relaxing alternative to the hustle and bustle of the tourists in town, Restorante Da ö Batti is located on a quiet side street. Tourists and visitors, as well as locals alike, typically delight in Du ö Batti's delicious pesto, and fresh fish grilled with lemon and olive oil. When the current owners took over 40 years ago, Old Batti passed down the secret recipe to the "Scampi alla Batti". This recipe is still painstakingly followed to this day. Stewed in a one-of-a-kind "guazzetto", the prawns you ordered, you will wish there would always be one more of them!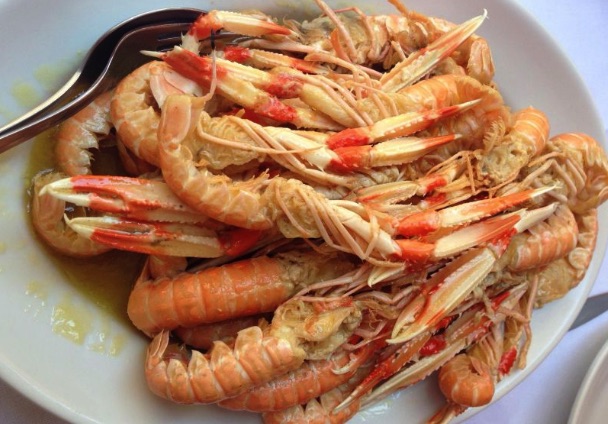 It may not have the view you are looking for but the food is delicious and the prices are so much better! Great for a quick lunch or takeaway for your hotel room.
Where: Portofino, Italy
Prices: 10€ to 28€
Location: Vico Nuovo 17 – 16034 Portofino, Italia
---
Campagna Region, Italy:
The Abbey of Montecasino and Herculaneum
Positano, Italy: Bellisimo Part 1
Positano, Italy Bites Deep: Part 2
Furore, Italy: The Most Beautiful Place on Earth
---
Tip: Be sure and pass on going to Restaurante Delfino, as my service there was horrid and they charged a "sitting fee" of 14 euros for two people if you appear to be a tourist. Although they have a good location, it is not as superb as the Chuflay. The only thing good here is the VIEW!
Disclosure: My meal at the Chuflay Bar and Restaurant was courtesy of Hotel Splendido, an Orient-Express Hotel.