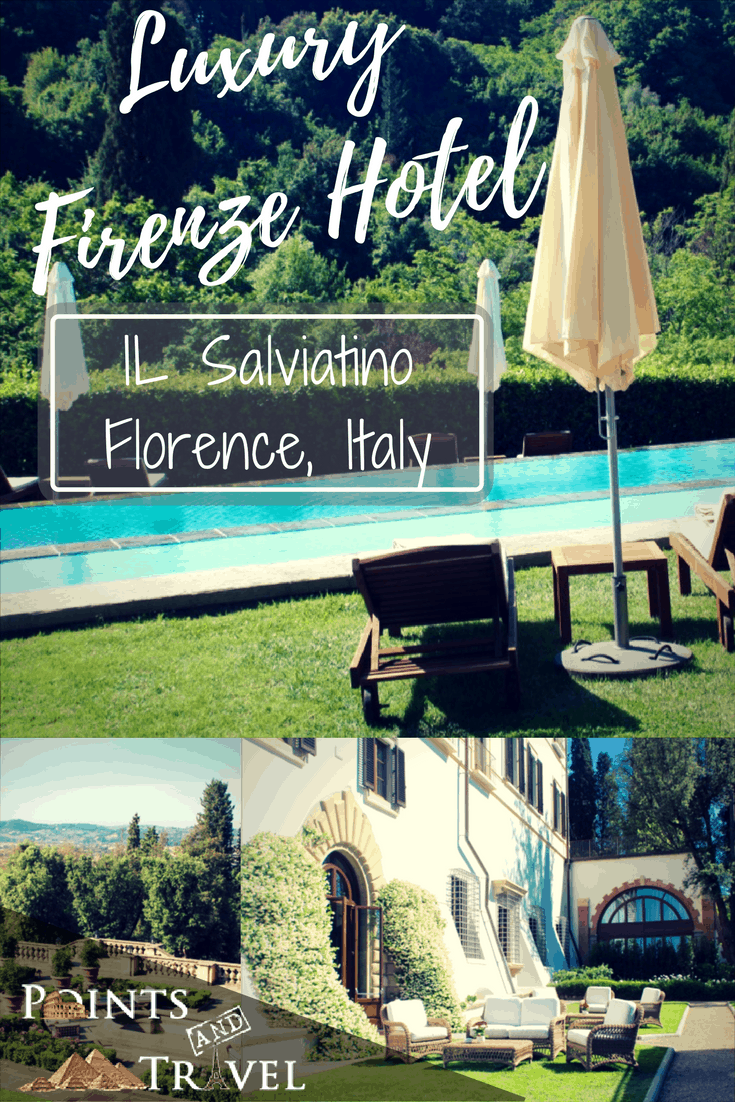 Exhausted from my overnight flight to Rome from the USA, and then my train ride to Florence, I was bound and determined to make it to my Firenze hotel to find my suite with a king-sized bed soon. It was not exactly in the center of Florence, but in a neighborhood on a hill overlooking Florence known as Fiesole. Fiesole is a hillside summer retreat neighborhood of wealthy Florentine families.
---
Luxury Firenze Hotel: IL Salviatino
Florence, Italy
---
---
I just happened to be staying at the grande dame of the neighborhood – the Il Salviatino! Oh, and by the way, you can go see the Duomo Florence as soon as you get your things packed. Soon you can be out the door. Then head on over to the Uffizi Gallery for a wild ride of Florence's most visited museum. You will be visiting the 12th century to the 17th century, including Botticelli's famed "Birth of Venus".
Once here…
This 45-room grand villa from the 15th century is an impressive masterpiece with a spectacular view of the town below. Getting to my hotel Firenze – Il Salviatino was not hard, it just took me a while to get here!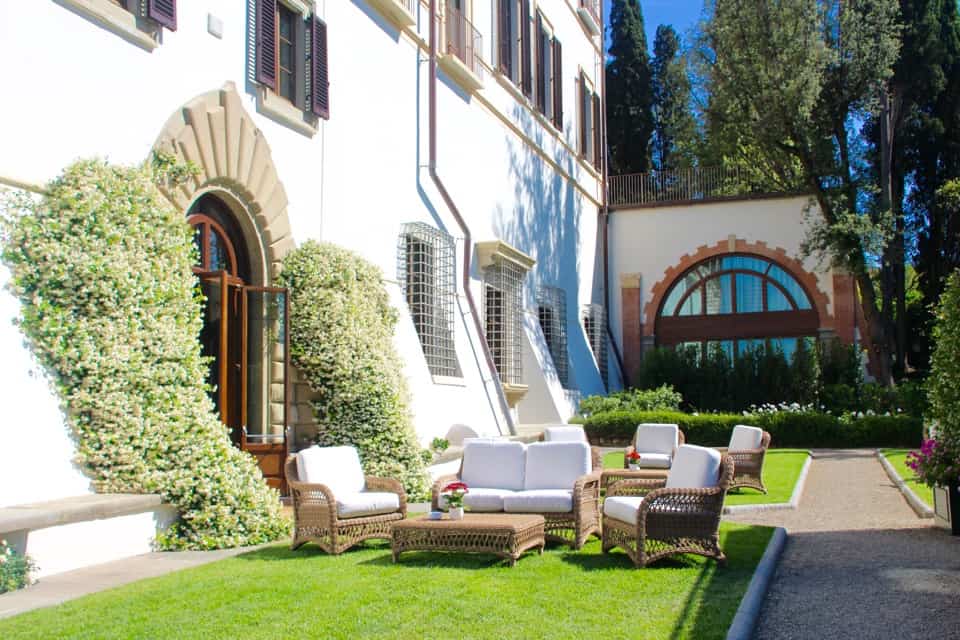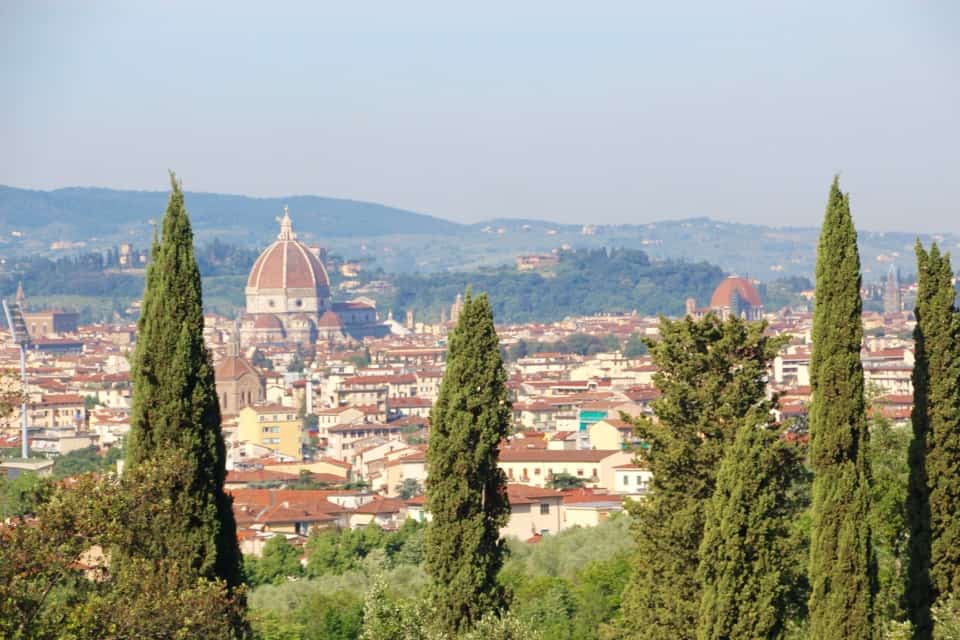 Getting To The Luxury Firenze Hotel: Il Salviatino
Via The Firenze Santa Maria Novella Train Station
There was a long queue at the taxi line in Florence at the train station Firenze Santa Maria Novella when I arrived. I waited for almost 15 minutes until it was my turn to catch the next cab (No Uber here!). I walked up to the next taxi driver and told him my destination of Il Salviatino when I was told, "It is not possible!" Looking back through my journeys around Italy that month, I had to laugh about the times I have been told these simple four words in English!
"It is not possible!" He said.
"Everything is possible!" I said.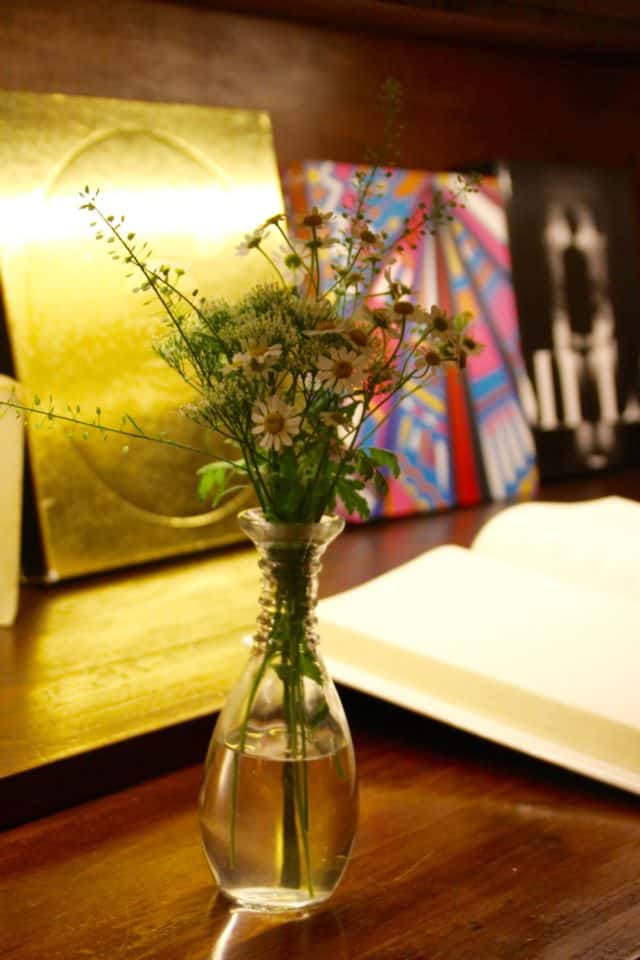 My friend and Italy expert Margie Miklas and I laughed a few times about this phrase during our romp throughout Italy!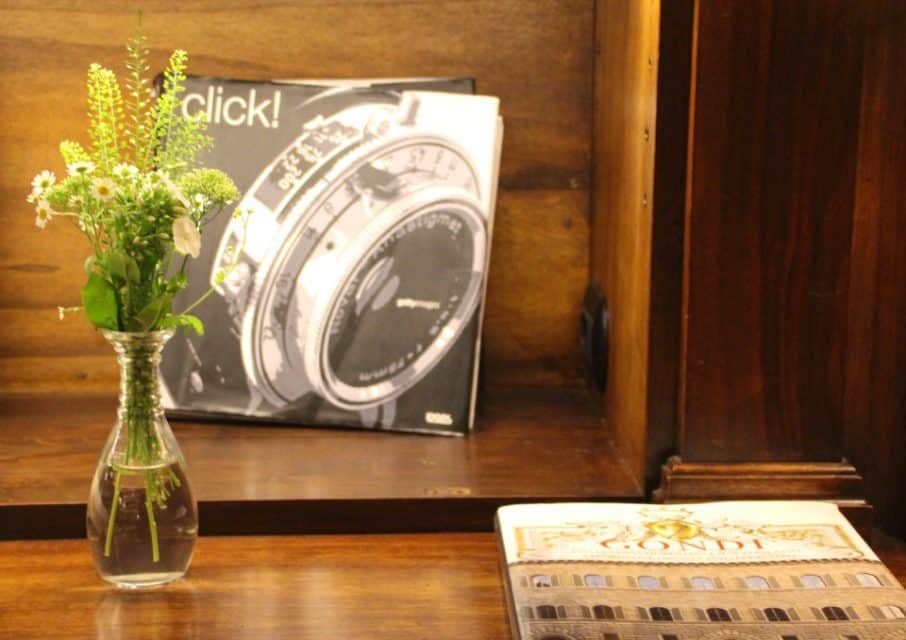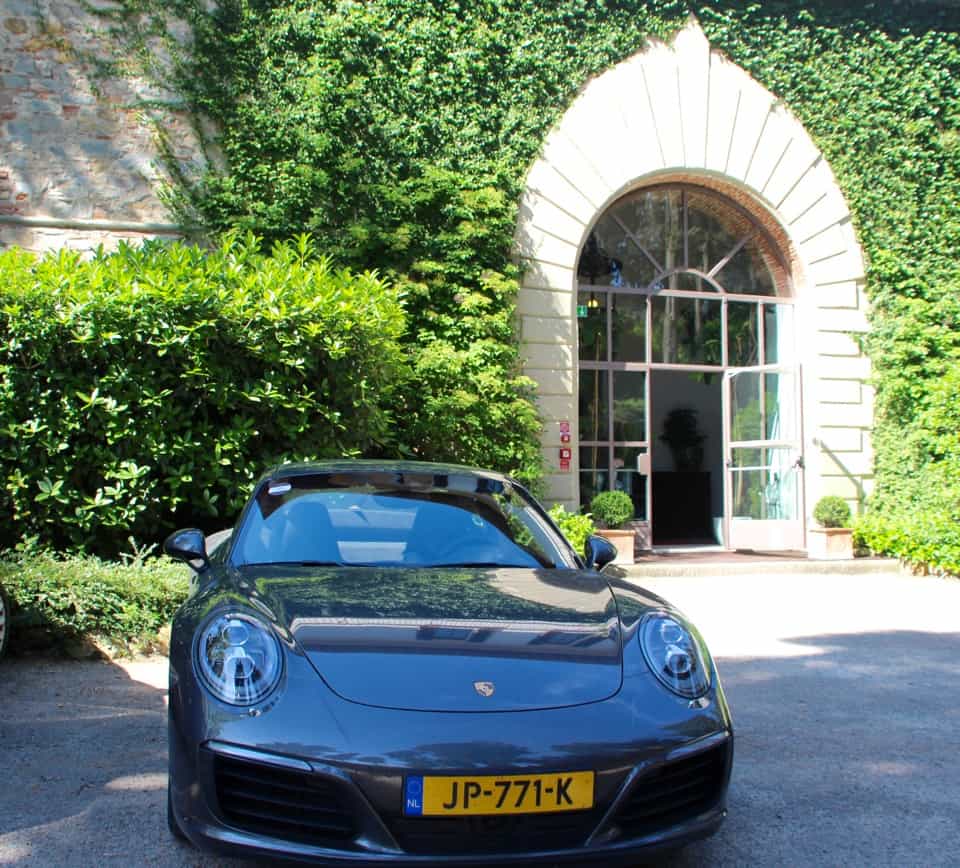 The Luxury Firenze Hotel Il Salviatino is up in the Hills!
The cab driver looked around until he found another taxi driver to take me to where I wanted to go. I suspect it was "not possible" because I was not going towards the touristy parts of town. Instead, my ride was up into the hills overlooking Florence. He probably did not want to take me because he might not get a cab ride fare back and thus would be out of his needed cab fare money for the day!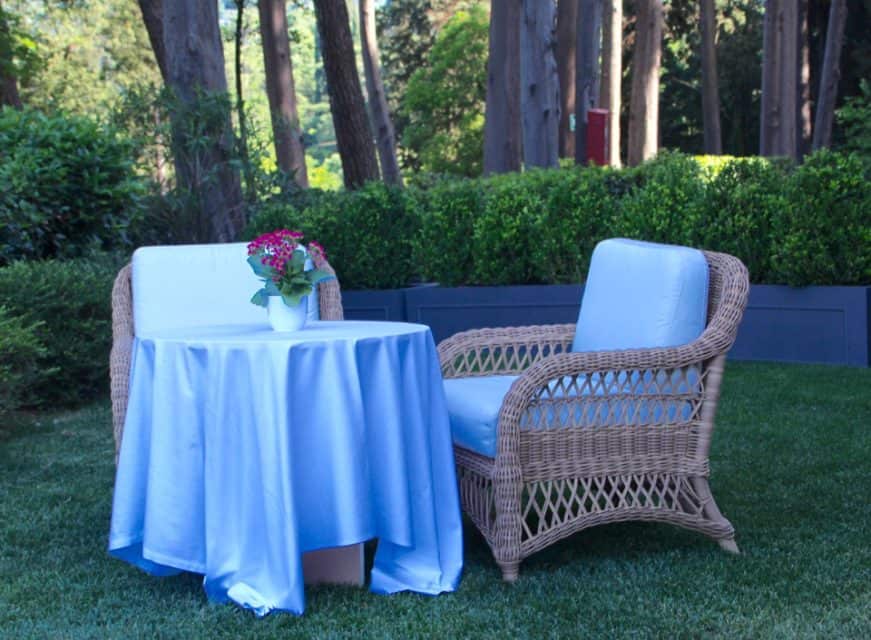 Had I done a bit of homework, I would have known that Il Salviatino could have sent someone to pick me up with their concierge service, but when you travel like I do to 47 countries in 2016 and take a lot of travel photos, sometimes you don't have the time to do a lot of the detailed research beforehand! But now you luxury travelers can learn from my mistakes!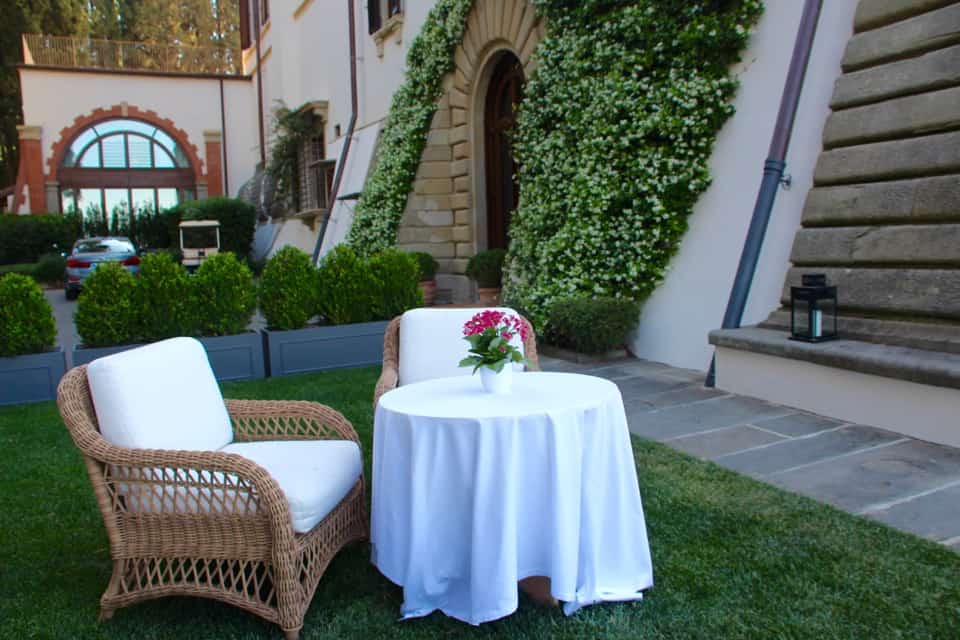 At only 15 minutes away from the city center of Florence, the Hotel Il Salviatino is one of the most luxurious hotels in all of Florence. And so off we went through the winding hills with Florence getting smaller and smaller in the rearview mirror as we climbed the hill to the grand estate. Once on the vast grounds, the white plaster façade of the building and main staircase entrance was quite spectacular.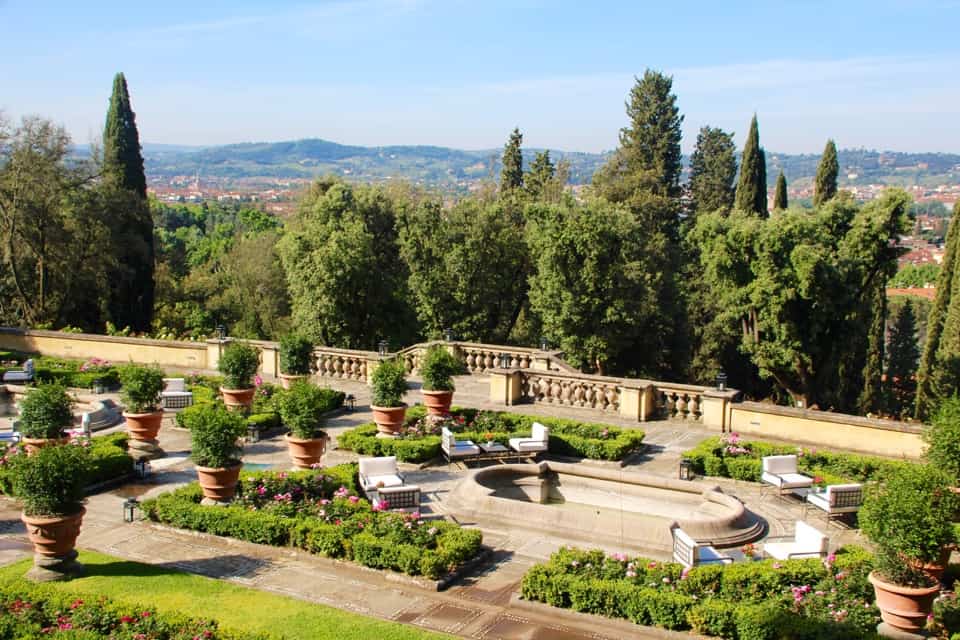 I actually loved the moment that I got to peek into my deliciously decorated red and gold room with marble floors and frescoed ceilings. My oversized television that turned into a mirror when it was not on with a flashing note welcoming me to Florence was very chic!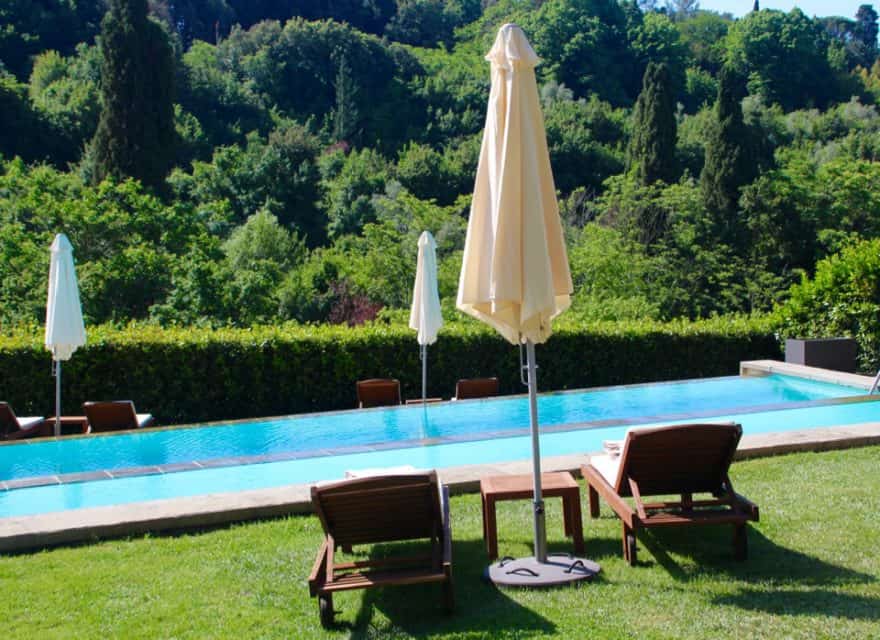 Luxury Firenze Hotel: Il Salviatino – Florence, Italy
This medieval country house estate dates back to the 15th century and has been beautifully restored since its original owners built it in 1427. It is located hillside among parks and a vast outdoors surrounding, so there is a feeling of being in the countryside, even though Florence with its busy cobblestone streets down below the hill is close by.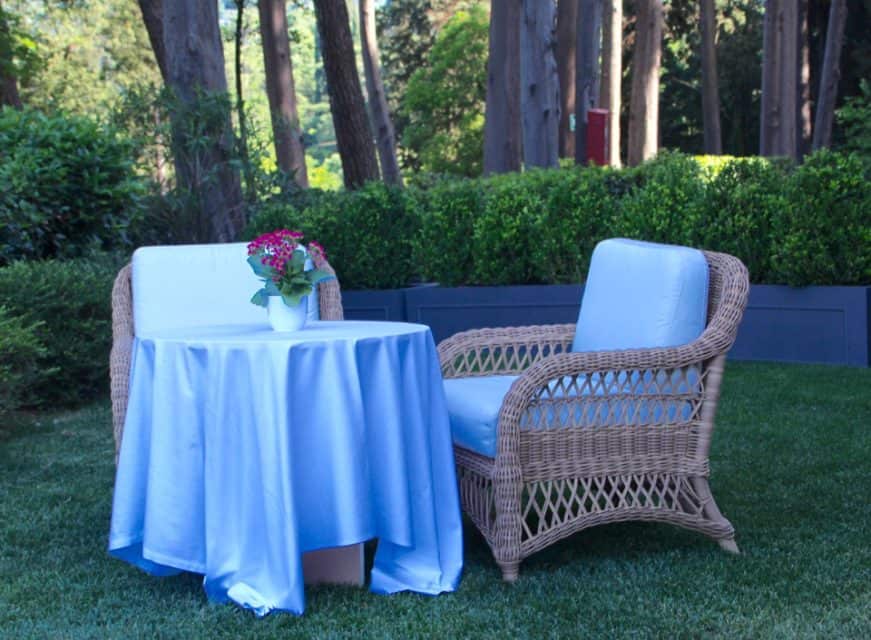 At night, the staff would bring out a vast number of candles and outdoor lanterns to help decorate the luscious estate and give it that gorgeous nighttime glow. The entire estate is filled with 19th-century frescoes and antique furnishings and is candy for your eyes.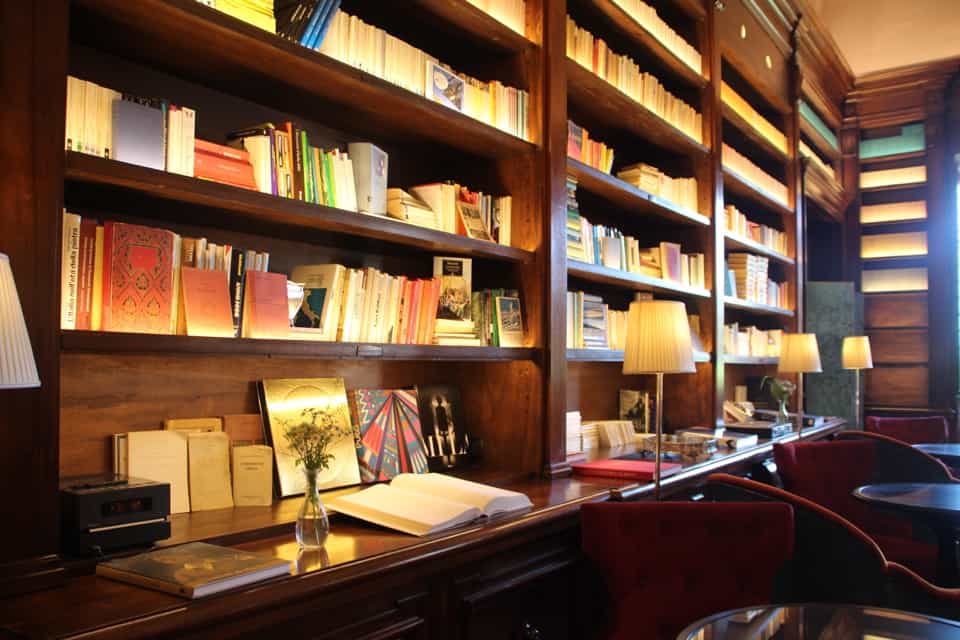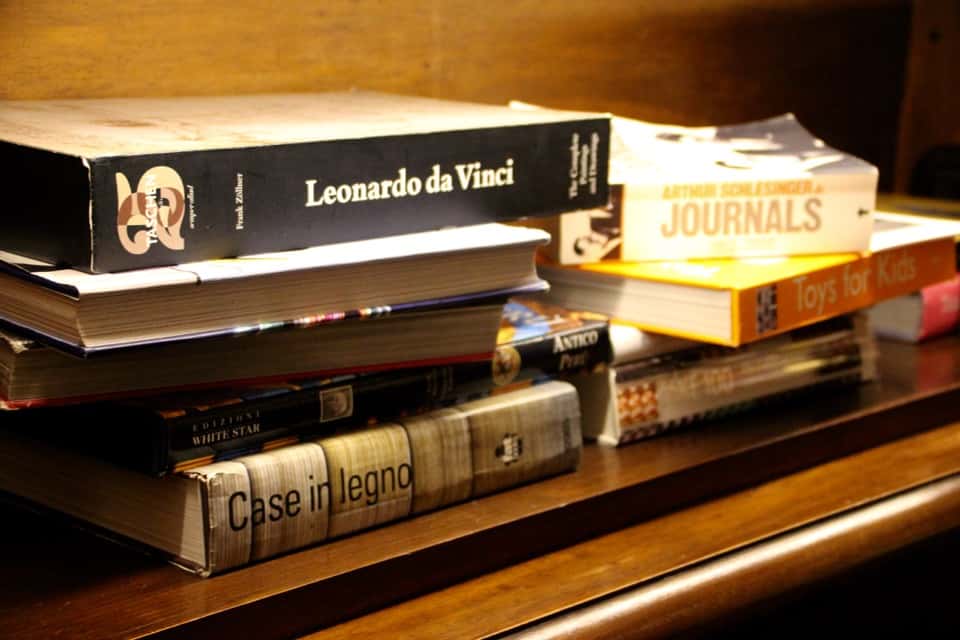 After a good rest, I was ready to explore the grounds and have dinner at its wonderful restaurant "Il Grappolo", which has a fabulous outdoor setting overlooking Florence. I enjoyed "Grigliata di crostacei" (grilled shellfish – half lobster, shrimp, and red prawns), a glass of Prosecco, and a panoramic view on my first night in Florence!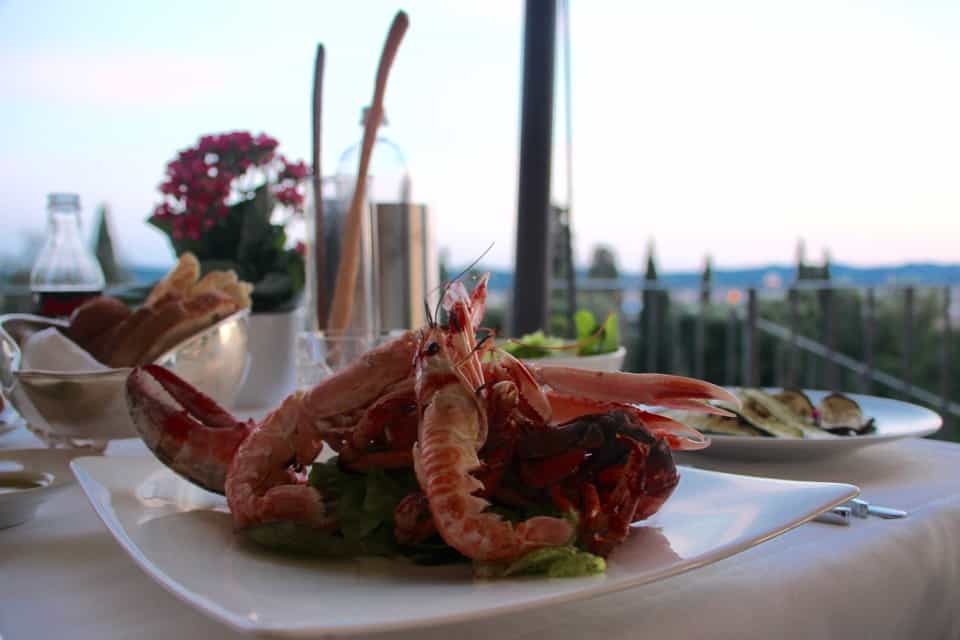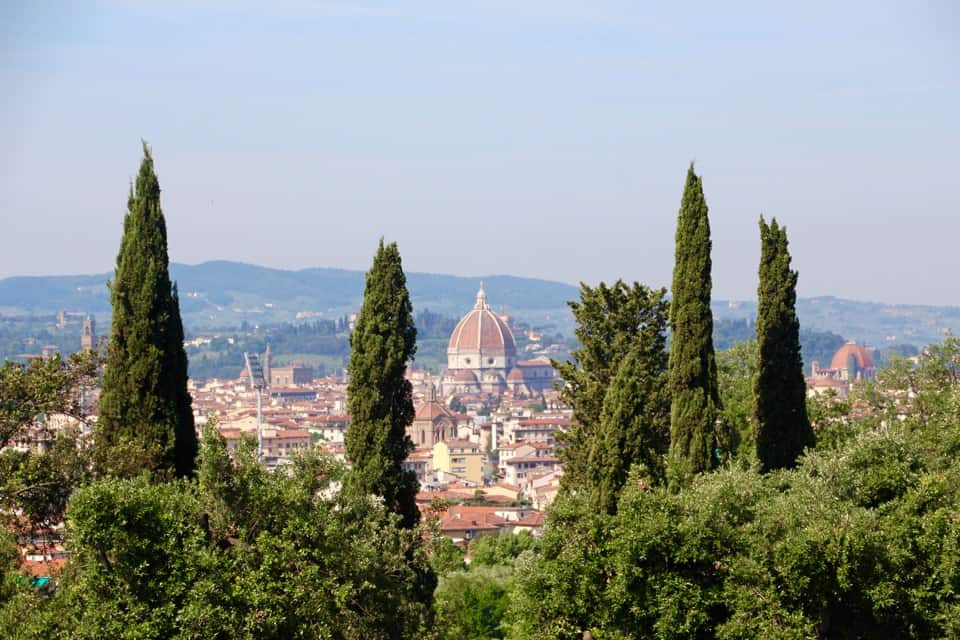 Disclosure: The writer believes in full disclosure and wanted to let you know that this trip was provided by IL Salviatino. As is common in the travel industry, the writer was provided with accommodations, meals, and other compensation.
Interested in reading more about Italy?
Recommended Reading:
Authentic Italian Recipes for the Soul
LeMarche Region, Italy:
Food, Friendship, and Wine in Le Marche Region, Italy
The Lost Art of Print Blocking in Carpegna, Italy Regenerated
Tuscany Region, Italy:
Luxury Italy: A Journey for the Soul
One of the Best Place to go in Italy
Hotel Adler Spa in Tuscany, Italy
Veneto Region, Italy:
More Things to do in Venice, Italy
Best Things To Do In Venice, Italy
Umbria Region, Italy:
Eat in Italy: Eat. Drink. Be Italian.
Lazio Region, Italy:
5 Reasons to Rent an Apartment in Rome
Get the Scoop on the Best Gelato in Rome
Tiber Island: A Tiny Island in the Middle of Rome
Campagna Region, Italy:
The Abbey of Montecasino and Herculaneum
Positano, Italy: Bellisimo Part 1
Positano, Italy Bites Deep: Part 2
Furore, Italy: The Most Beautiful Place on Earth
Emilia-Romagna Region, Italy
La Bottega del Legno: The Woodshop in Forli, Italy
First Words: La Biblioteca Malaestina in Cesena, Italy
A weekend trip to Cesenatico, Italy
Altavita Winery: The High Life of Cesena
The Magnificient Masselina Estate and the Women of Faenza, Italy
Puglia Region, Italy:
The Power of Travel Seen Through the Eyes of a Travel Company
Liguria Region, Italy:
Portofino, Italy: At least Once in a Lifetime
Genoa, Italy and the BW City Hotel
Treat Yourself to the Suite Life: Hotel Splendido, Portofino, Italy
Hotel Splendido: Absolutely Splendid
The Poetry of an Old Fisherman's Village: Bocadasse, Italy
Italy Revealed: Camogli, Italy
Calabria Region, Italy: